The Land Act 1998: Uganda's 20 year old gambling to Land Ownership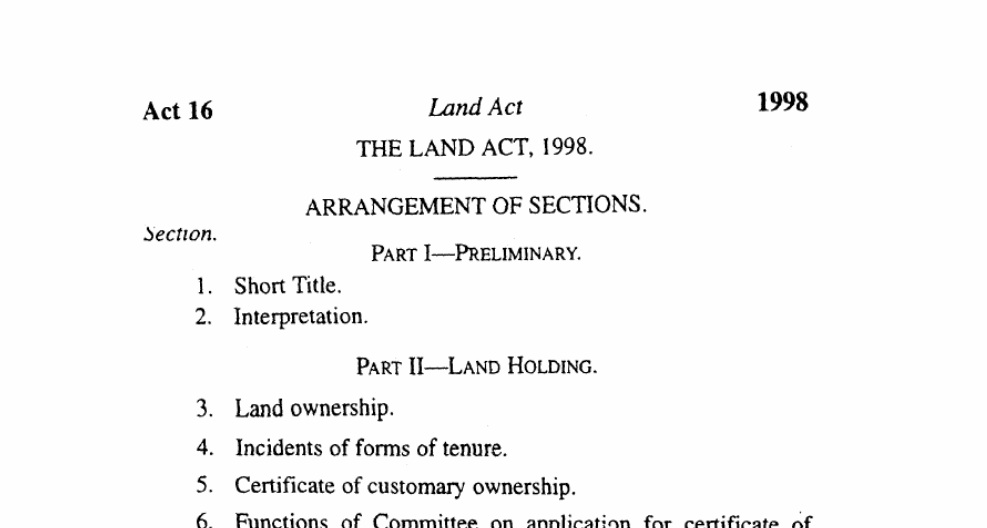 By witnessradio.org Team
It was supposed to act as a guideline to what is accepted in society including recognizing land tenure systems, directing land access, ownership and land use. Twenty years down the road, the Land Act 1998 can only be assessed basing on the trends that have occurred to get an accurate answer.
A 20-year-old law that has been amended twice in 2004 and 2010 to appropriately fix the land puzzle, but according to sources to the 1998 as amended is yet to face a third amendment in search for providing correct guidelines.
As the stakeholders gather at the first ever National Land Forum this week, to reflect on the 1998 Land Act's 20th anniversary, the witnessradio.org has analyzed  key research on the land question in Uganda whose general observation is that; inherited colonial injustices and political interferences are the major bottlenecks to be dealt with if land is to serve all.
A research report released by Makerere University Human Rights and Peace Centre (HURIPEC) in 2017 concludes that Uganda's political class is responsible for acute state of land affairs in the country.
"Land crisis is intricately connected to the structures and methods of governance introduced with the advent to power of the National Resistance Movement (NRM) government led by President Yoweri Kaguta Museveni. As such, land has become an intricate component of the networks of patronage, nepotism and neo-patrimonial governance which have been instituted since 1986" report.
The 80 page report casts doubt on the ability of the Commission of Inquiry into Land Matter headed by Justice Bamugemereire to fix land question, but welcomed its coming and regarded as a proverbial stitch in time in a bid to save nine.
In 2012, Oxfam International Uganda and Uganda Land Alliance released a report implicating members of the first family in several land grabbing incidents. On the same land grabbing issue, witnessradio.org early 2018 released shocking findings in Mubende district.
"1,975,834 hectares of land had been grabbed in Mubende district were grabbed by the end of 2017 with over 200,000 families displaced. 75% of the total land which had been grabbed was still undeveloped by the time of writing the report with the majority of land grabbers being local businessmen" revealed by the Report    
At the opening of the National Land Forum, 2018, Ugandan government noted an increase in land use conflicts within and across its borders ranging from human-wildlife conflicts, livestock-crop farming conflicts, competition over water conflicts, territorial and boundary conflicts, human settlement and environment conflicts, mining and rural settlement conflicts, historical injustices conflicts, and Landlord – Tenant conflicts.
"These conflicts have persisted because of lack of a comprehensive land reform programme to adequately address causes and resolve them once and for all through a Systematic Demarcation programme of all land in Uganda" said Persis Namuganza, state minister for land.
Namuganza, however noted that several reforms were passed by the government in the 2013 National land Policy despite facing implementation challenges.
On land and investment, a number of reports point out that several foreign companies have come to Uganda under global initiatives like climate change, but have been used to exploit native communities.
A report released by Oakland Institute in 2014, revealed that foreign companies trading in plantation forestry are committing carbon violence against local communities. 'Carbon violence' term was used to give context to the diversity of structural, social, political, economic, and cultural harms connected with the way carbon markets have evolved.
Under the title "The Dark Side of Green" the institute pinned the Green Resources, a Norwegian company for using violence with support from security agencies including police, to forcefully displace and seize local communities land.  
Breaking; Lands Minister directs police chief to arrest armed mobs involved in forced and illegal land evictions.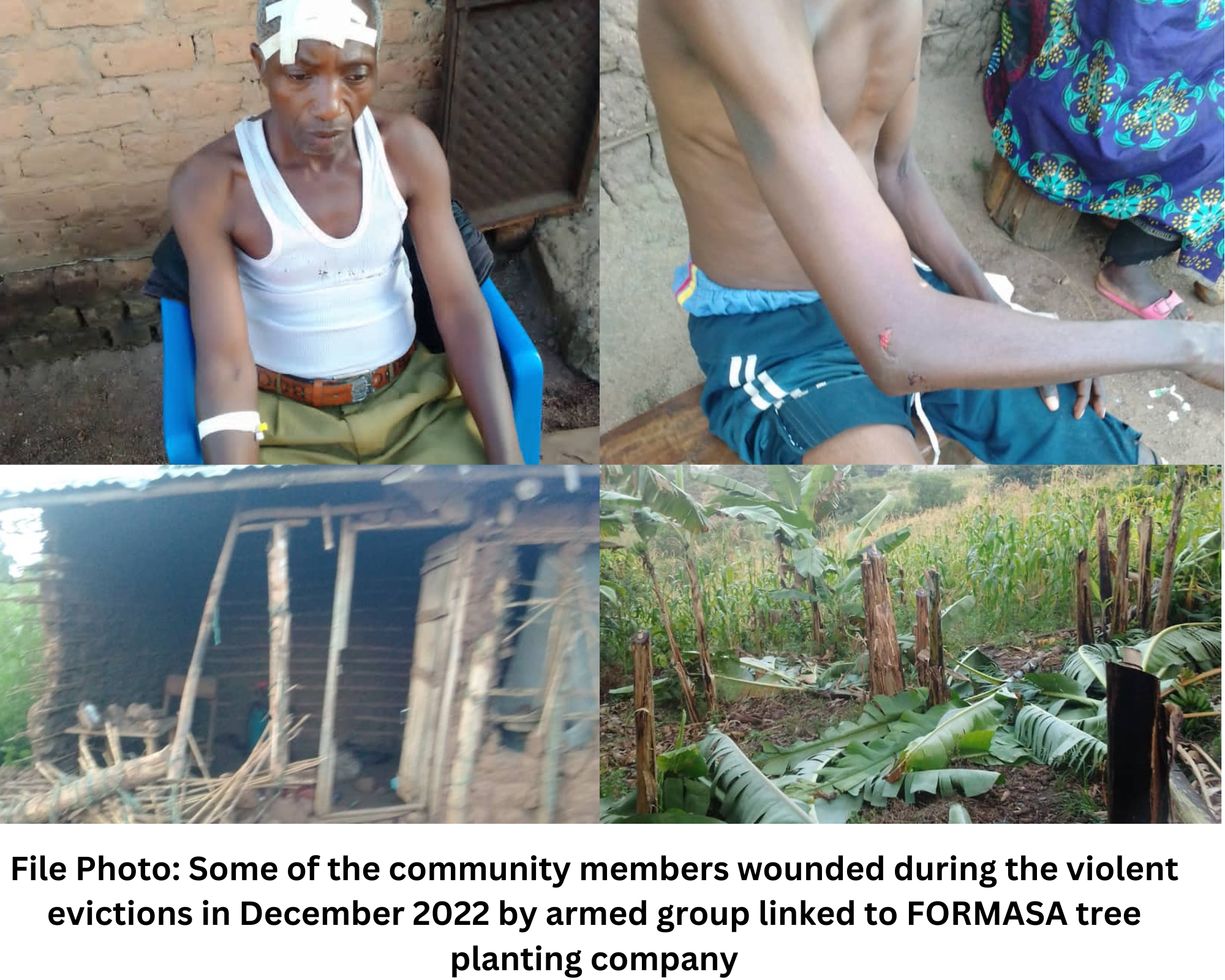 By Witness Radio team
Uganda's Lands Minister Judith Nabakooba has directed the Inspector General of Police (IGP), Martins Okoth Ochola to arrest all organized and armed mobs involved in forced and illegal land evictions.
The directive is the second one from the same minister to the police chief in three (3) months due to widespread forced and illegal land evictions in Uganda.
On February 28, 2022, President Yoweri Museveni came out and banned all land evictions in the country that are carried out without the consent of the respective District Security Committees (DSC).
The latest directive was triggered by violent scenes that occurred on the 19th of March 2023 when armed groups of men with graders invaded the St peter's Church of Uganda's land in Kibiri and started destroying crops planted on the church land. The armed group whose employer is not yet established claims the church is occupying someone's land illegally.
In an attempt to stop the unlawful eviction, Church leaders, led by Reverend Maxwell Ssebuggwawo and some faithful tried to intervene but in vain.
According to eyewitnesses, the armed group immediately attacked the Clergyman and other Christians causing severe bodily injuries. In the scuffle, Rev. Maxwell Ssebuggwawo's vestments were torn by the mob, whom the community believes was being targeted.
In response to the violent attack against the church leader and congregation, the minister observed that many land grabbers have resorted to using organized and armed mobs to evict people from their land. She further describes eviction as illegal and unacceptable since the government has capable security agencies that can effect lawful evictions.
"We have noted incidents where some crooks employ mobs to evict people yet we have security forces that can do this concerning the law. This is wrong. I have therefore directed the IGP to arrest everybody involved in these illegal acts and be brought to book", the Minister added in an interview with the local media.
Witness Radio in the recent past has documented incidents where organized and armed mobs are participating in violent land evictions.  For instance, a recent eviction of a 99-year-old Hellena Namazzi in Numugongo in Kira Municipality in Wakiso district by Sema Properties boss, Ssemakula Sulait, another ugly case involved a violent eviction of over 2000 people off 328.1 hectares by one Moses Karangwa and Abid Alam in Kassanda district among others.
Over 500 Kapapi families in Hoima district remain stranded after the district security committee fails to resettle them back on their land as directed by the minister.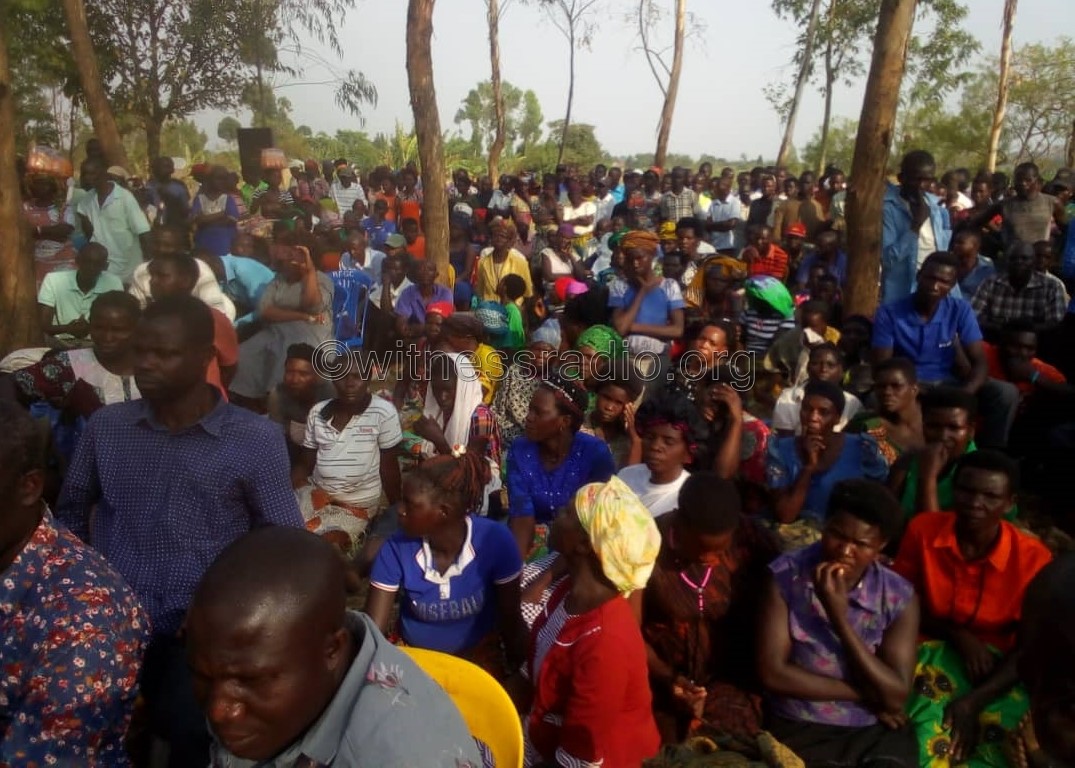 By Witness Radio team.
Hundreds of families, violently evicted from their land in Kapapi and Kiganja sub-counties in Hoima district are still pondering their next moves as efforts to return to their grabbed land remain ambiguous.
The directive came after Hoima district police and private guards from Magnum, a private security company raided people's homes in Waaki North, Kapapi Central, Waaki South, Runga, and Kiryatete villages in Kapapi and Kiganja sub-counties, Hoima district on 10th of February 2023 at 1:00 am.
The violent scenes left hundreds of children with scores of injuries, houses were torched, and property worth billions was destroyed.  The animals such as goats, sheep, and cows were butchered and others were looted.
On 22nd of February 2023, the Minister of Lands, Housing and Urban Development, Honorable Judith Nabakooba while addressing a meeting in Rukola village Kapapi sub-county, Hoima district directed the security committee to return the victim villagers back to their land.
She considered the eviction unlawful since it was conducted at night and without a court order.
In that meeting, area leaders, Hoima district police and Hoima Resident District commissioner, Mr. Rogers Mbabazi, Deputy Resident District Commissioner, Mr. Michael Kyakashari were in attendance.
The victim community accuses a group of people including Ndahura Gafayo, Aston Muhwezi, David Mpora, Monica Rwashadika, Agaba, and Wilber Kiiza of being responsible for the land grab.
The grabbed land is situated at the shores of Lake Albert adjacent to the Kabaale parish in Buseruka Sub-county where the greenfield oil refinery is to be established. In April 2018, the government selected the Albertine Graben Refinery Consortium (AGRC) as the private sector investment to finance, develop, construct, and operate the Greenfield oil Refinery estimated to cost $4b.
According to the Witness Radio research team, ever since the directive was made instead, there's increased human rights violations including arbitrary arrests, detentions and threats, and intimidation against victims of residents encamped at Rwenyana Church to vacate.
The evictees report that after the minister's directive, three community members include; Mbombo Steven, and Kalongo Steven have been arrested, charged, and remanded to Hoima government prison.
"Our families encamping at church and waiting to be resettled back as directed by the Minister are facing further threats and intimidation to go away. They say they don't want us at the church. Some of us are currently in hiding for fear of arbitrary arrests or kidnaps." A community member who preferred to be called Enos due to fear of retaliation told Witness Radio.
He further added that the community is living at the mercy of God, with no food, or shelter, and predicted an uncertain future for their children since they are not attending school.
"Families are scattered in different centers while others continue to live with their relatives. However essential services such as shelter, food, health services, and education for their children remain a challenge. These people found us on land and started claiming ownership of this land. Imagine when we went for a search at a land registry, we found out that they only have a title of 2 acres but everyone knows we have been on this land for over 30 years. We have people who were born on this land." He added.
Witness Radio contacted Mr. Rogers Mbabazi, Hoima Resident District Commissioner who heads the district security committee, to understand how far the committee had gone with the implementation of the minister's directive. He instead referred us to his Deputy Mr. Michael Kyakashari.
Mr. Michael Kyakashari, when asked about the status of the directive, told our reporter that he did not have an answer for him before he hung up.
"I don't have an answer for you" He repeatedly said.
State House Anti-Corruption Unit nets a surveyor implicated in Mubende district land-grabs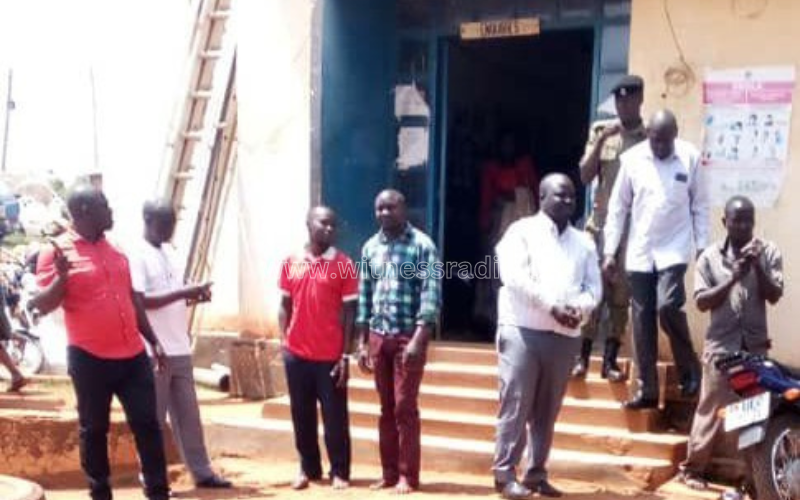 By Witness Radio Team,
The State House Anti-corruption Unit has arrested an alleged landgrabber in Mubende district whose evictions have rendered masses homeless.
Mr. Mafumu Paul, a Mubende based surveyor is accused of using police and conniving with some officials in the Lands ministry to issue forged titles that have been instrumental in illegal land evictions in the districts of Mubende, Kiboga and Kyankwanzi.
The alleged land grabber has been arrested alongside two of his farm workers who include Ssenyondo Ronald and Sseruyange Ben.
The arrest follows complaints of grave human rights abuses to the State House Anti-Corruption Unit and the minister for lands housing and urban development. In response, the Minister of Lands, Housing and Urban Development, the Hon. Judith Nabakooba Nalule, visited the families whose crops were sprayed with chemicals by Mafumu's workers. She later requested the State House Anti-Corruption Unit to intervene and investigate circumstances under which forged certificate of land titles are issued and used to forcefully evict local communities off their land. She further directed the Mubende Police to oversee the arrest of the Mufumu.
He has been implicated in instigating unlawful arrests, beating people, denying communities to access clean water sources, razing-down people's houses and gardens, fly-grazing, and spraying their crops with chemicals in order to evict them from their land.
In one of the recent cases, on the 14th of January 2023, violence was meted out on the residents in Nalyankanja village, Kyenda Town Council in Mubende district. Mafumu is said to have ordered his workers to spray their crops, an act they believe has escalated hunger in their area. The crops sprayed with chemicals included: sweet potatoes, pineapples, coffee, bananas, and Cassava.
According to Witness Radio research, Mafumu has been accused of violently evicting over 17 families since 2018 from their land measuring approximately 248 acres.
The alleged land grabber and his accomplices are currently being detained at Mubende Police.