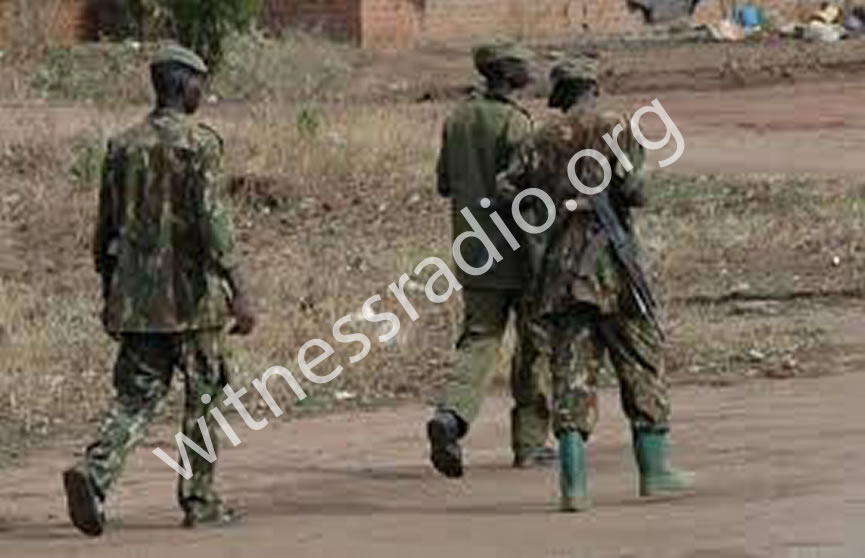 Witnessradio.org team
Charles Lwanga Masengere, 51, is counting 17 years of fighting for his land and lost properties worth billions of shillings but the journey is still far From over with no sign yet of regaining his access to land and use…!
"The 17 year-fight has been coupled with kidnap and put into a car boot, violent arrests, torture and being subjected to different forms of inhumane degrading treatment throughout my entire youthful time fighting to get back my land, which has been my employer and source of livelihood for my entire family" Masengere narrated
witnessradio.org findings indicate that the grabbed 642.65 hectares hosted five villages namely Mitigyabisobyo, Katuugo, Kasagi, Katovu, and Kyerimira, Mundadde parish, Kitumbi Sub-County, Mubende district.
Masengere, 51 said he lost his ancestral land to one Moses Karangwa, whose source of backing is not yet established, he is believed to be a powerful businessman with connections to the first family and the ruling party National Resistance Movement. Masengere said that he owned fixed assets including houses, both digging and planting tractors, maize flour millers, maize garden measuring over 80 acres and family land worth billions.
"I have been in and out of police cells, incarcerated in prisons on trumped-up criminal charges after being beaten numberless times by armed personnel. My private parts were at on point squeezed, which affected my manhood and life has never been the same again. I have survived four assassinations so far and [Moses] Karangwa himself attempted to shoot me [dead]" Masengere told witnessradio.org in an interview.
Can you imagine a rich man owning properties worth billions of money being charged with chicken and goats' robbery and at times armed robbery? It's a true story that Masengere faced such charges inside different courts.
Masengere who once lived a happy man besides his family told witnessradio.org that Karangwa uses armed personnel from police and Star React, his personal security firm. "He (Karangwa) has a strong connection with top leadership especially in Mubende district namely Resident District Commissioner (RDC) and both regional and district police commanders, who provide protection and manpower anytime he wants.
Although witnessradio.org has not confirmed yet names of people occupying public offices in a racket to protect land grabbers in the country but Masengere insisted that these individuals were purposely appointed to work in key criminal justice institutions to frustrate land grabbing cases namely in judiciary, Uganda police Force and Director of Public Prosecutions (DPP).
Masengere claims that he has on several times met his tormentors in private meetings with public officials working on his case files whenever he tried to make follow ups on his matters, who after tell him to a money offer since he's not going to win these land cases.
So, upon completing his five-year original lease period, Masengere was allowed to extend his lease offer and registered his Mitigyabisobyo mixed farm in 1978 on top of surveying and demarcating the land on plot number 28, block 489 at Mitigyabisobyo estate. So, when he succeeded his father, Masengere rightly carried on with his father's work.
"After succeeding him, I got letters of administration which enabled me to proceed with his farming activities on the land," Masengere said.
He added; "In 1997, I went to Lands to check on the status of the land and I was informed that dad had surveyed it and allocated plot number 28, block 489 at Mitigyabisobyo estate. Lands allowed me to open boundaries of the land they got me the surveyor only identified as Dhaka who wrote a report to Lands."
Trouble strikes: Although he had made strides in obtaining the title of the land he inherited, Masengere met resistance from the lands officer at Mubende district. "Before obtaining my title, one Namukoye who worked as land officer, Mubende district wrote a letter stopping me from getting it." Masengere said.
Her reasoning was that during the process of opening the boundaries, "I encroached on Mugenyi's land."
Masengere says that "I later discovered that she had curved out 200 hectares out of my land and allocated it to Kabagambe, Kasamunyiga and Kanamunyiga, all casual workers who were hired to look after heads of cattle before entering into a 1-year rent agreement on my land in 1998 with my manager Anthony Kasozi."
Upon expiration of their rent agreement, the trio adamantly "refused to vacate the land which prompted me to charge them with criminal trespass in 2000 at Mubende court."
Though he won the case, Masengere says that it wasn't easy ride as different people opted to "charge me with criminal offences." But fortunately, the court ruled in Masengere's favor.
Masengere is the heir to his father Josephat Kasozi Lubega who was shot dead at Makindye, a Kampala surburb in 1986. Before his death, Lubega acquired a lease-hold of the contested land in 1972 from the Uganda Land Commission for farming activities.