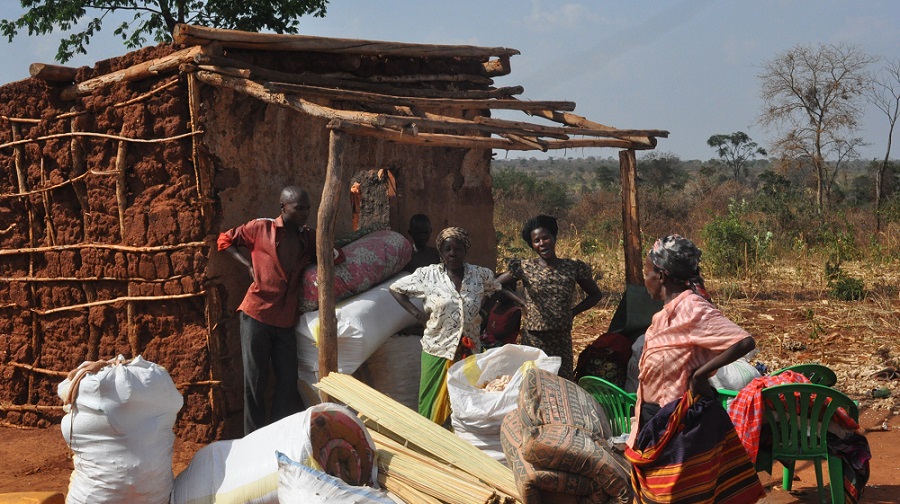 By witnessradio.org Team
Masindi – Uganda – A case in which over 2300 families are accusing a multi-million agribusiness Agilis Partners limited of illegal eviction has been saved by the intervention of witnessradio.org's lawyers. The company had filed an application asking court to dismiss the main case alleging that it had no cause of action, whose hearing was slated to take place on November, 29th, 2019.
The attempt to dismiss the main case followed a loss of two applications seeking to stop Agilis Partners limited from further illegal and forceful eviction of victims off their land. The first application was thrown out earlier this year by the retiring Justice Frank Albert Rugadya Atwoki on grounds that the applicants "failed to produce evidence that the situation is dire warranting an injunction," while the second application was dismissed by the court's Assistant Registrar, Kintu Simon Zirintuusa on grounds that many of the occupants had vacated the contested land.
It is now 20 months since the impoverished families first dashed to court challenging their eviction which is superintended by Agilis partners limited, an agricultural development company owned by American twin brothers Philipp Prinz and Benjamin Prinz. Agilis Partners, which owns Joseph Initiative a beneficiary of UK's Department for International Development (DFID) financial support and CFC based in the Netherlands, supplies food to United Nations' World Food Program, among others.   
The 2300 victims under the auspices of Nyamalebe Landless Association accuse the company for undermining a free, prior and informed consent standard or principal.
We have suffered all round since our land was targeted by Agilis Partners limited and we shall take long to recover. "our case has suffered sabotage in court premises because we're poor. On Monday, November 28th, we served Masindi high court about our new legal team that had come on board but while following up on the next day, we found court papers missing from the file and court official had no explanation" Said, Joseph Walekula, one of the community leaders.
Independent investigations by witnessradio.org's reveal that the investment of Agilis Partners limited has caused a permanent disability to a school going boy who was shot at by police during an eviction exercise at Kisalanda village, while 1200 pupils have dropped out of school after schools (private) were demolished, fourteen (14) community land defenders have since 2017 been under police harassment and intimidation with endless reporting on police bond after being arrested and charged with inciting violence among others. The victimized community has also lost churches, private hospitals, plantations, homes, subsistence piglets and cattle farms and small and medium businesses including retail shops among others.