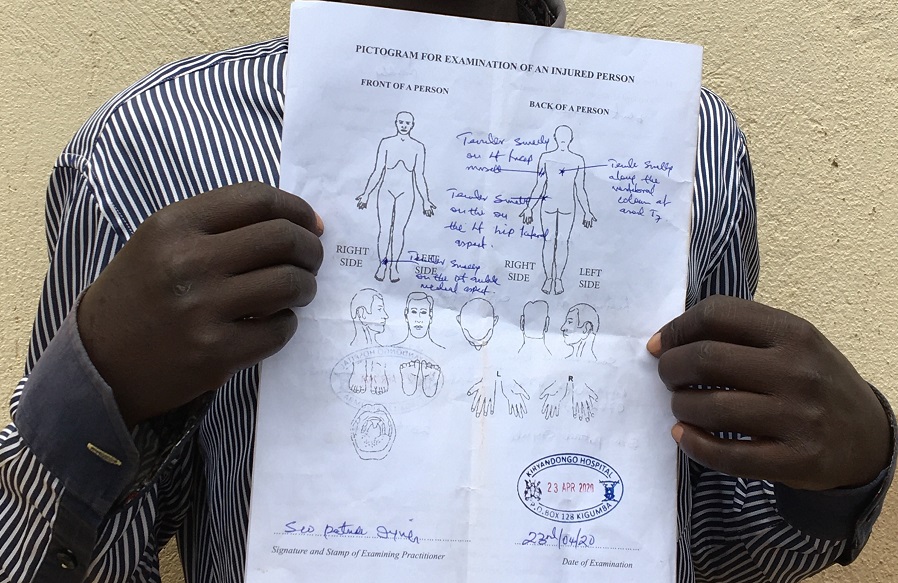 By witnessradio.org Team
Kiryandongo – Uganda – Just like any country under lockdown and a curfew, people living in Uganda are obliged to adhere to stipulated guidelines and time limits to be indoor. For Byaruhanga John, little did he know that his home when everyone is in bed would be raided at midnight and get kidnapped by unknown people because he has resisted illegal and violent land eviction orchestrated by Agilis Partners/Asili Farms; a company owned by American investor
Byaruhanga is the latest victim of torture, inhuman and degrading treatment after more than a dozen of smallholder land owners including Katusabe William, who was attacked and severely beaten by Agilis Partners/Asili Farms workers, One Odonga Jackson, a security guard deployed by Saracen, a private security firm hired by the company. Katusiime reports that on top of being tortured and degrading treatment, Kiryandongo district police blocked him from receiving treatment as a victim as well as opening criminal cases against the company, its workers and guards.
Agilis Partners/Asili Farm violence has caused permanent disability of an 11-year old Ssewankambo Ponsiano who has since dropped out of Kabyanga Memorial School. He was shot while in classroom studying with fellow pupils when police officers working on Agilis Partners opened live bullets and tire gas at residents. The incident incident occurred at Kisalanda village, Kimogola Local Council 1, Kiryandongo Sub county, Kiryandongo district.
On April, 22nd, 2020, Byaruhanga heard a knocking noise reverberating from the door to his house. It followed with voices of some unknown people who were demanding him to open the door and that should he refuse, they threatened to break into the house.
According to witnessradio.org investigations, Byaruhanga a resident of Nyamuntende and a bonafide land owner was raided by a group of laborers dressed in Asili Farms uniform, a subordinate of Agilis Partners while others were from Saracen, a private security firm. Agilis Partners plantations are guarded by its internal security firm (Asili Farms), Uganda Police Force (UPF) and Saracen, a private security firm.
witnessradio.org has learnt that once Byaruhanga succumbed to pressure, opened and stepped out of his house, a group of men grabbed him, beat and kicked him. " I was severely beaten, which beating lasted about 30 minutes. When I started making noise, they bundled me into the trunk of an awaiting pick-up truck, and drove off to the Agilis Partners's camp which is about 30 miles from my home" Said Byaruhanga. 
Byaruhanga added that when they arrived at the camp, he was locked up in a company store, saying the security personnel, were instructed to shoot him if he dares to get out.
In an interview with witnessradio.org, Byaruhanga testifies that the following day, the Kiryandongo District Police Commander (DPC) One Bakaleke Joseph and other police personnel visited him in the illegal detention dressed in plain clothes did nothing.
Before to his torture, Byaruhanga lost his banana and maize plantations, paw paw as well as pine trees which were plowed down by Agilis Partners without compensation.
Byaruhang has since opened up criminal charges against company workers and private security guards but no arrests have since been made.