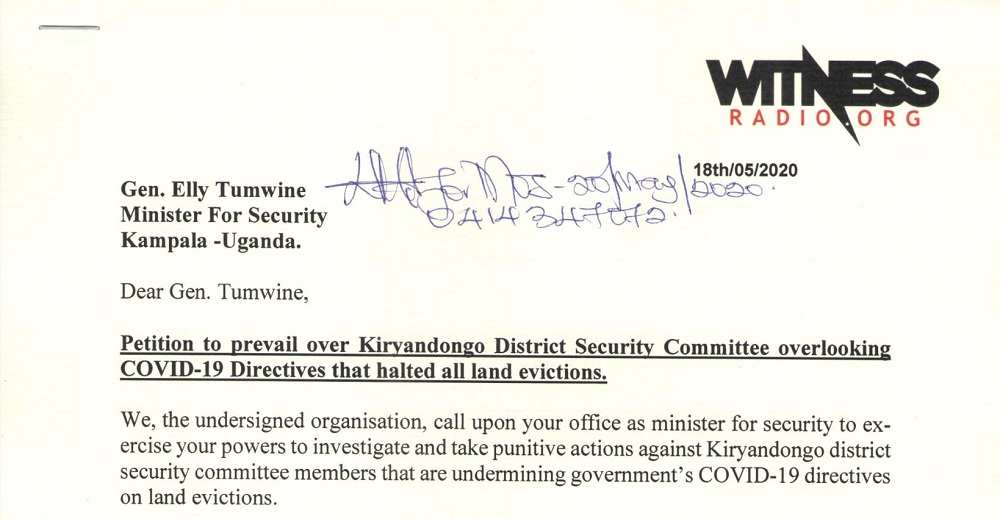 By witnessradio.org Team
Kampala – Uganda – Witness Radio – Uganda, has petitioned the ministry of security to immediately investigate and take punitive actions against Kiryandongo District security committee for undermining government's COVID-19 directives on land evictions.
The district security committee is headed by a Resident District Commissioner (RDC), a representative of the president at the district as actions of the committee  are contrary to the law and directive issued by the lands minister, Betty Kamya, on the 16th day of April 2020 halting evictions during the COVID-19 lockdown period.
The petition indicates that since the directives were announced more than two dozens of families have had their houses demolished and unknown number of acres of maize, cassava, and other food crops were plowed by tractors owned by companies, and victim families have been blocked from opening cases against companies, security personnel and company laborers.
The petition further reports that the district security committee has stopped all administrative units of Police in Kiryandongo district from attending to complainants of the forced evictions regarding torture, assault, malicious damage to property and other transgressions of the evictions as the biased Kiryandongo Police only receives, records and investigates complaints of the evictors.
"The police is siding with the evictors and participating in the evictions. Destruction of properties and plowing families' gardens continue to take place in community as some of the families such as Baruma Sipriano, Alias Wanjala, Mwawula Fred, Ramu Ndahimana, Majid Olaro, Isingoma David, Martin Haweka, Bumali Stephen, Munyansia Martin, Luholere Lawrence, Evelyn Ndege, Agarubanda Emmanuel, Anna Ndege, Shukuru Jackson, Erias Wanzala, Karegeya Wilson, William Katusiime, Niko Sirasi, Komakech Francis Aol, Mukasafari Joyce, Kabayo George and Lucy Akot have lost their food plantations to companies with unmistakable collusion of police officers led by DPC Bakeleke and RDC Debele" the petition reads in part.  
Its however noted that a few cases that have 'strictly' been opened at Kiryandongo central police have not been attended to and their perpetrators have not been apprehended. The victims whose cases were opened include; Byaruhanga John, Okot Lucy and Katusiime William.
The petition also points out that Kiryandongo district police, led by the District Police Commander (DPC), Bakeleke Joseph, and RDC Debele Peter and others are colluding with companies such as; Agilis Partners, Kiryandongo Sugar Limited, Great Seasons Company Limited, and businessman Rueben Mwesigye to dispossess poor communities and deprive them of their right to food, shelter and other basic needs especially during this difficult times.
"Our request to government is very clear: investigate and discipline the culprits especially the police chief in Kiryandongo and the RDC as well as the subordinates that are master minding the forced evictions". Said Wokulira Geoffrey Ssebaggala, Team Leader at Witness Radio – Uganda
He further said that government should guarantee protection to the community to avoid loss of the little food left especially during the hard situation under COVID-19 lockdown.