Development finance for Covid-19 crisis should uphold human rights
May 18, 2020 – In a statement published today, the Coalition urged development finance institutions to ensure that the funding and support they provide for the Covid-19 response, and during the economic recovery period, upholds human rights and leads to economic justice for those who are most vulnerable.
We see that Covid-19 and the ensuing economic lockdowns are having unequal impacts, hurting already vulnerable communities the most and exacerbating issues around inequality, violence, militarisation, and surveillance. DFIs have committed to contribute billions of dollars as part of the global response to the Covid-19 pandemic.  While we recognize that the pandemic necessitates an urgent response, members and community partners of our coalition have concerns about the implications of DFI support and how this money will be spent.
A significant amount of DFI support is going toward governments and other clients with poor human rights records. There are gaps in transparency and accountability. And in many cases the money will go to corporations and banks and may never reach those who are the most vulnerable. At the same time, the focus on combating the spread of Covid-19 has created additional risks and challenges for those standing up for their rights or speaking out against development activities that are harming them and their communities. Thus, Covid-19 is both a test and an opportunity for DFIs to align their policies and practices with laws, policies and standards on human rights and responsible business conduct.
DFIs' response to Covid-19 should support equitable and universal access to healthcare, food, water and other essential services. This includes avoiding projects that harm the environment, displace people, increase surveillance and militarisation risks, or threaten sustainable livelihoods and food security.
Recognizing that there are real challenges to meaningful consultation and participation due to the pandemic, especially in communities that are worst hit by the crisis, DFIs should take additional steps to support communities' access to the information, power and resources they need to determine their own development paths. This means DFIs should take steps to plan for the changed environment around reprisals and restricted freedoms, and ensure that their Covid-19 response supports, and does not hamper, communities' ability to hold DFIs, governments, and other actors accountable, now and into the future.
Download here the full statement in English , French  and Spanish .
Download here the press release in English , French  and Spanish .
SIGNATORIES
Coalition members: Accountability Counsel; Alyansa Tigil Mina (Alliance to Stop Mining); Asociación Interamericana para la Defensa del Ambiente; Buliisa Initiative for Rural Development Organisation (BIRUDO); Community Empowerment and Social Justice Network (CEMSOJ); COMPPART Foundation for Justice and Peacebuilding -Nigeria; Derecho Ambiente y Recursos Naturales (DAR); Environics Trust; Forest Peoples Programme; Fundeps (Foundation for the Development of Sustainable Policies); Gender Action; Green Advocates International; Initiative for Right View (IRV); International Accountability Project; International Rivers; Jamaa Resource Initiatives; Maryknoll Office for Global Concerns;  Recourse; RECODH; Sustentarse; Witness Radio – Uganda.
Others: African Women's Development and Communication Network – FEMNET; AfricanDefenders (Pan African Human Rights Defenders Network); Alliance Sud; Business & Human Rights Resource Centre; Center for Economic and Social Rights; Centro de Investigación, Documentación y Asesoría Poblacional-CIDAP; Chirapaq, Centro de Culturas Indígenas del Perú; Civicus; CLEAN (Coastal Livelihood and Environmental Action Network); Combat Climate Change Network, India; First Peoples Worldwide; Grupo de Estudos: Desenvolvimento, Modernidade e Meio Ambiente (GEDMMA-UFMA); Fundación Integral para el Desarrollo Regional FINDER; Human Rights International Corner ETS; Joy for Children; Mekong Watch; MOCICC; Nouveaux Droits de l'homme Congo Brazzaville;  Observatoire d'études et d'appui à la responsabilité sociale et environnementale; Proyecto sobre Organización, Desarrollo, Educación e Investigación (PODER); Pontificia Universidad Católica del Perú; Protection International Mesoamérica; RV Serviços Sociais e Ambientais Colaborativos; University of Wollongong.
2,000 Karimojong flee to Teso in search for food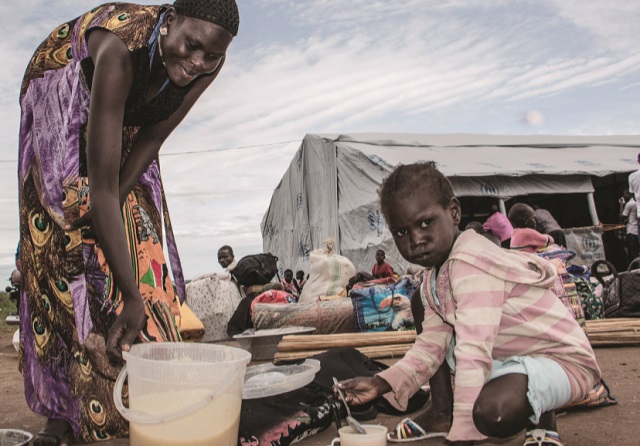 Kampala, Uganda | Several families in Napak district in the Karamoja sub-region have fled their homes into the Teso region to search for casual jobs. This follows the current food shortage which is hitting the region.
Joseph Lomonyang the Napak LC V chairperson says that over 2,000 people mainly from six sub-counties of Matany, Lopei, Lokopo, Lorengechora, Iriiri and Apeitolim have crossed to the neighbouring  Teso districts of Amuria, Katakwi, Kapelebyong and Soroti looking for food.
According to Lomonyang, the number of people to flee the district is most likely to go higher given the current hunger situation.
"Last year, very many people planted crops but all the crops got destroyed by floods making our people vulnerable," he said.
Elijah Lobucel, the Lokopo sub-county chairperson said everyday mothers and their children walk while those who can afford the costs pay for transport to Teso.
"What we are advising them is not to go to Kampala streets, but if its going to Teso for work to get food it is not bad since the Itesot are brothers and sisters under Ateker cluster," he said.
Jimmy Tebenyang, the district councillor for Ngoleriet sub-county in Napak district said many children were getting emaciated as a result of lack of enough food.
"There are families where you find children yawning from morning to evening without eating anything and that is why we are calling the government to come to the rescue of people," he said.
Robert Okitoi, the LC V chairperson Amuria confirmed the presence of Karamoja families in the district and urged the Itesot families to treat the Karimojong as their brothers and sisters.
He also appealed to other district leaders in the Teso region to receive the people of Karamoja with a good heart and share the little they have.
"This is the situation that requires to share, I call upon the people of Amuria and Teso at large that not all the Karimojong are bad people, those who are bad disturbing to raid people of Teso are few and so we should not victimise every one because the law will deal with those raiding but let's support the Karimojong families," he said.
******
Source: THE INDEPENDENT 
A local businessman embroiled in land-grab scandals, is in a new case of illegal land eviction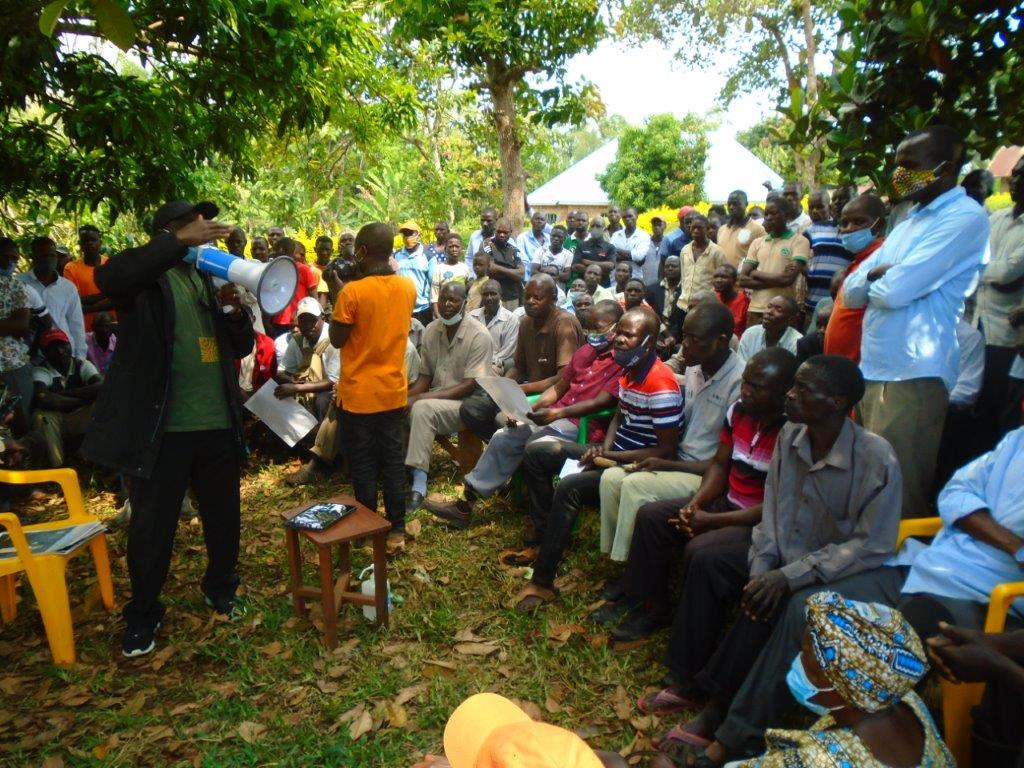 By witnessradio.org Team
Hoima – Uganda – Hoima – Uganda – at least six villages in the Hoima district are on the verge of being grabbed from native communities that have derived their livelihood from the targeted land for decades. The land in contention accommodates more than 10,000 residents.
The affected families are from Kigomba, Kyamucumba, Kalyambuzi, Kyataruga, Kamugembe 1 and 2 villages in Kigorobya Sub County in Hoima district.
Residents accuse a prominent businessman Edgar Agaba of illegally acquiring a title measuring about 438 hectares on which the six villages sit.
The affected learned Agaba's move when the leadership of Kamugembe Church of Uganda, which also seats on the land wanted to title its land.
According to one of the church leaders who preferred anonymity, the Bunyoro – Kitala diocese suggested that all churches in the dioceses should have titles in order to secure their land, however, we were surprised to see the land we have occupied for decades titled in someone else's names.
"It's the district land board that halted our work of registering our land on a condition that we cannot obtain another title on the same land," a source added.
The source also revealed that all developments on the church land have been halted due to fear of eviction.
"We are in fear, stranded and we don't even know what is next. That rich man 2 years back evicted our neighboring communities forcefully, and now he is back for us", says a 68 year old Yedida Nyamwabura a resident of Kamugembe II
Nyamwabura who has been on her 6 acres since her birth calls for help from well-wishers to halt the move.
"We shall have to defend our land, we cannot allow him to evict us, though we are experiencing sleepless nights we know we shall succeed," says Christopher Kirisi, a 60 years old resident from Kigomba village in an exclusive interview.
In an interview with the vice chairperson of Kamugembe II LC I, Mr. Tibananuka Johnson, he refers a move as a tactic by Mr. Agaba to evict the villages.
"Agaba claims his surveyors surveyed a different chunk of land, but how comes he is not aware, we imagine if the church had not started a move, it would have remained in silence," added Mr. Tibananuka.
In our interview with Mr. Agaba, he denied the allegations
"I am not aware of what you are talking about, it seems my surveyors made a mistake" he added.
Mr Agaba has been implicated in several forceful and brutal land evictions in areas of hoima, In February 2019, Agaba with the help of the army and the police, forcefully evicted over 500 families off their 485 acres of land from residents of Kyabisagazi 1 and Kyabisagazi 2 villages in Kyabisagazi parish in Kigorobya Sub County. In the brutal eviction four toddlers were reported dead and others with severe injuries.
The toddlers were identified as Samuel Owuuchi, Stephen Ondizi, Rogers Jalwing and Samuel Awungi.
Biden lists US plans for Africa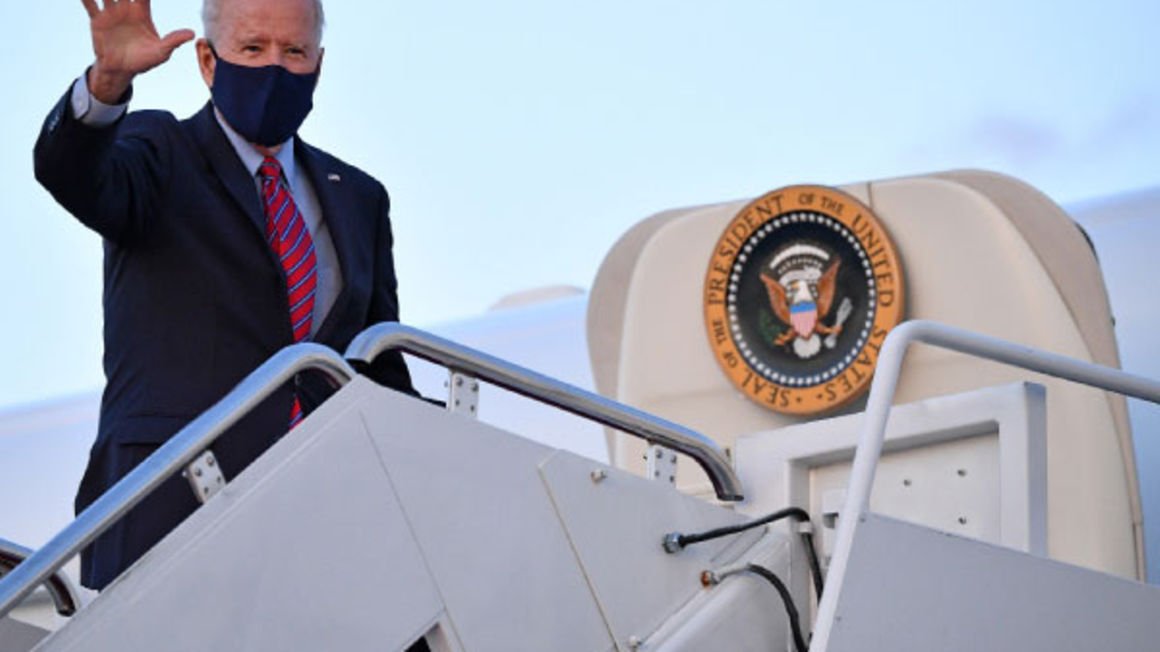 US President Joe Biden waves as he boards Air Force One before departing from Andrews Air Force Base in Maryland on February 5. Mr Biden sent a video message to the African Union leaders last Friday. PHOTO/AFP
The United States President, Mr Joe Biden, has spotlighted promoting democracy and human rights, peace and security, trade and investment as his administration's priorities in Africa.
"… the United States stands ready now to be your partner, in solidarity, support, and mutual respect.  We believe in the nations of Africa, in the
continent-wide spirit of entrepreneurship and innovation," Mr Biden said in advance remarks to the 34th African Union (AU) summit released last Friday.
Leaders of the 55 AU countries met virtually last Saturday and "committed to strengthen the collective response to the crisis, marshalling resources for the benefit of all, and striving to ensure that no country is left behind," the continental bloc said in a press statement.
Some of the thematic points that AU has outlined – responding to crisis and investing for the benefit of all – dovetail with Biden's priority areas such as advancing prosperity for all nations and addressing conflicts costing lives in Africa.
"…my administration is committing to rebuilding our partnerships around the world and re-engaging with international institutions like the African Union. We must all work together to advance our shared vision of a better future," added Mr Biden, who said Washington was rebounding to active international and multilateral engagement.
This would be a marked foreign policy departure from his predecessor Donald Trump whose administration pursued a more insular "America first" strategy that culminated in his withdrawal of the US from, among others, the Paris Climate Accord, the Iran nuclear deal and the World Health Organisation (WHO).
Mr Biden took over office as America's 46th President on January 20 and has signed several executive orders reversing multiple Trump policies, including returning Washington to the climate deal and WHO, as well as lifting the ban on Muslim countries.
Mr Biden has engaged the AU within the third week of his administration, contrasting the disposition to the continent of his predecessor whom the Washington Post quoted in January 2017 to have derogatively branded Haiti and African states as "shithole countries".
Mr Trump never visited Africa during his four-year tenure and his pro-life administration's defunding of abortion and other health programmes crippled many organisations on the continent.
In addition, six of the 13 countries on Mr Trump's travel ban or restricted travel list — Sudan, Somalia, Nigeria, Eritrea, Tanzania and Libya — are from Africa.
Mr Biden lifted the ban, which he called a "moral blight", on the day of his swearing-in and his administration has separately announced fresh funding for multiple women health and rights programmes, and promotion of rights of all, including gays, lesbians and transgender people.
In last Friday's virtual remarks, Mr Biden promised to invest to defeat the Covid-19 pandemic and build capacity to detect, prevent, and respond to future health emergencies .
Original Source: Daily Monitor