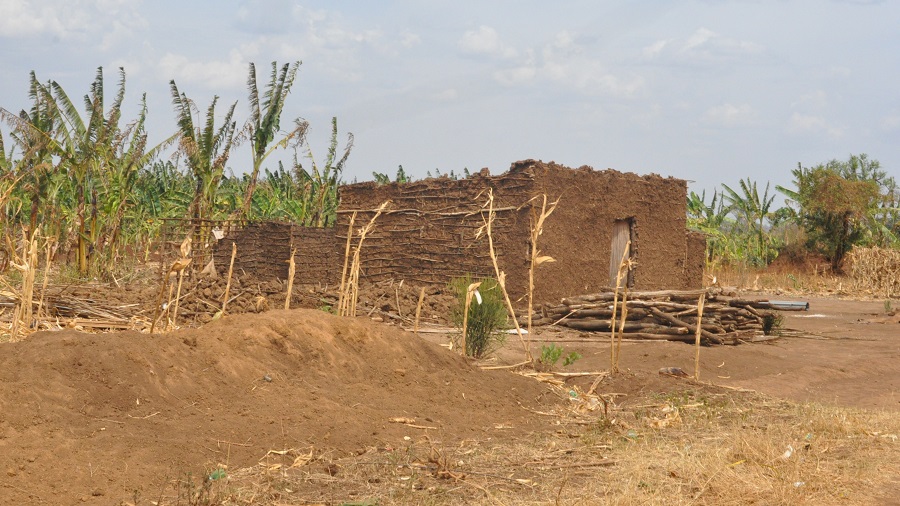 One of the demolished houses 
By witnessradio.org Team
Kiryandongo – Uganda – Police in Kiryandongo is blatantly abusing a 48-hours constitutional order to illegally detain three (3) land rights defenders for 6 days and 9 days respectively.
Otyaluk David Richard and Olupot James were arbitrarily arrested on March 25th by soldiers and a group of Kiryandongo Sugar workers and they are still being held at Kiryandongo police without a charge.
On a fateful day, Four (4) Uganda People Defense Forces (UPDF) officers backing and guarding Kiryandongo Sugar Company fired live bullets and arrested the duo before being manhandled and beaten.
The Kiryandongo Sugar tractor under the protection of UPDF soldiers entered the property of Otyaluk and plowed through his 4 acres of maize garden. When Otyaluk went to stop the tractor from destroying his garden, UPDF soldiers arrested and started beating him.
It took some minutes for Otyaluk's wife and Olupot to intervene. She said, they found Otyaluk being beaten and when Olupot took out his camera to take photos of UPDF soldiers and workers of the company involved in beating Otyaluk, he (Opolot) was grabbed and soldiers attempted to strangle him.
I witnessed UPDF soldiers shooting near Olupot's leg and shouting, "if you take our photos we shall kill you". In a few seconds, I saw both of them on forced to seat down" said Otyaluk's wife, Atuko Jennifer.
Meanwhile, Sipiriano Baluma who was arrested on March 22nd, 2020 by Kimogola police where he had gone to open up the case of an animal destroying his food crops, was transferred to Kiryandongo police station and he's still detained at the same police without a charge.
Article 23 (4) of the 1995 Constitution states that; "A person arrested or detained for the purpose of bringing him or her before a court in execution of an order of a court; or upon reasonable suspicion of his or her having committed or being about to commit a criminal offense under the laws of Uganda, shall, if not earlier released, be brought to court as soon as possible but in any case not later than forty-eight hours from the time of his or her arrest."