Breaking! Abducted villagers found at Kiryandongo district police, charged and released on police bond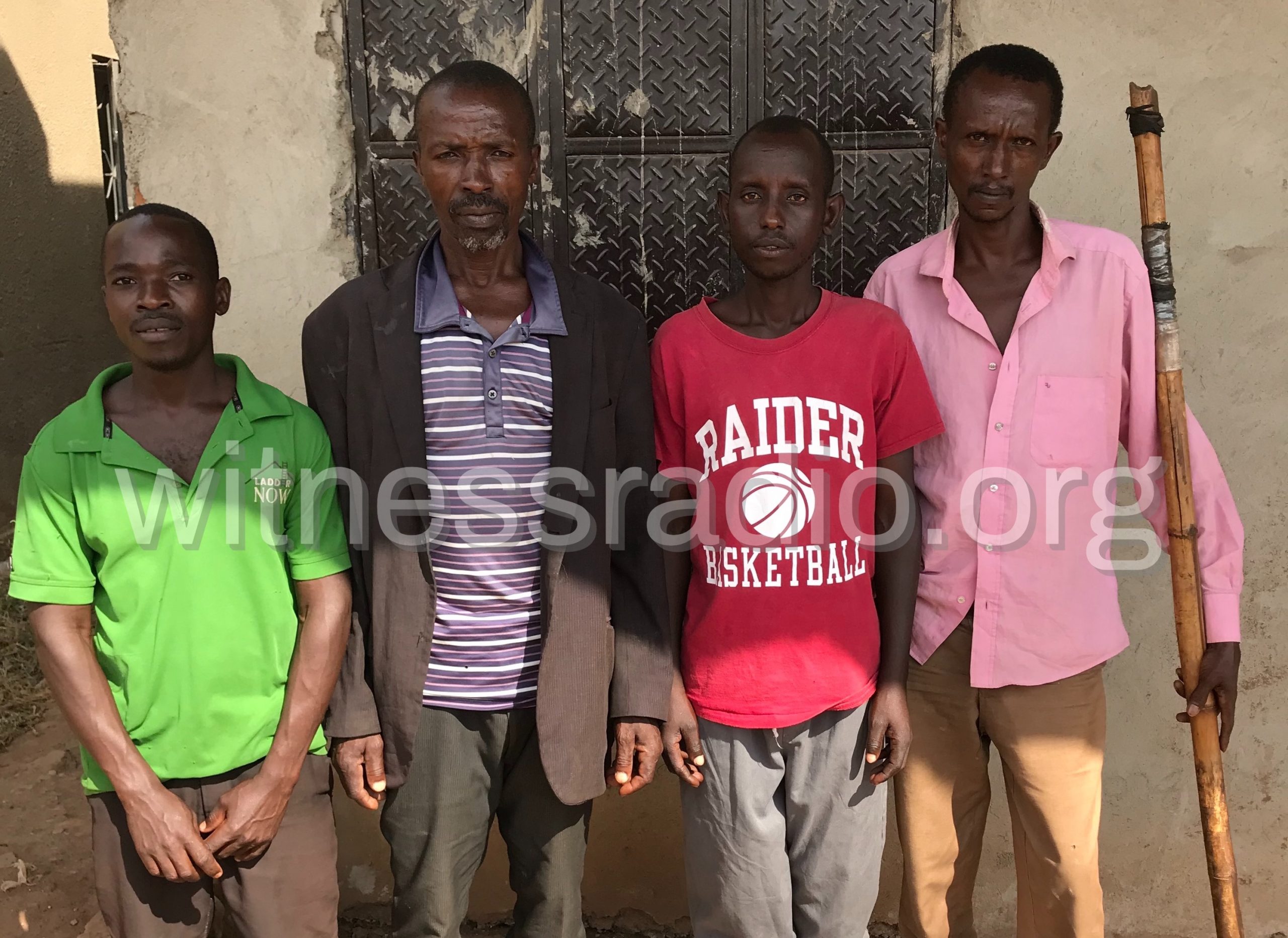 From right, Aliganyira, Baluma, Byaruhanga and Karangwa shortly after their release from police custody.
By witnessnessradio.org Team
Confirmed! The 4 village members who were abducted by both armed police and workers of a multinational company Great Seasons SMC limited last week have been found, charged, and released on police bond amidst pressure from the victims' lawyers and relatives demanding for their unconditional release or be taken to courts of law. The four went missing on March, 18th, 2021 when armed anti-riot police and company workers raided their village.
The four have since been charged with criminal trespass, a charge which carries one (1) year imprisonment on conviction.
Sipiriano Baluma, Byaruhanga John, Aliganyira Francis, and Karangwa Frank are residents of Kisalanda – Jerusalem village, Kitwala sub-county in Kiryandongo district who could not escape the raid mounted by armed anti-riot police, and armed company workers with bows and arrows.
After a 6 day search for the missing villagers, on March, 23rd, 2021, Witness Radio – Uganda lawyers received information from relatives that the four (4) had been taken to Kiryandongo Central Police Station in one of the evenings.
"It's true that when we visited Kiryandongo district police, we were able to find all the four villagers including Karangwa Frank, who's a person with a disability. They were in good health condition. And, when we demanded their unconditional release, police instead released them on a police bond and we have them with us" Said Joan Bulyerali, one of the Witness Radio – Uganda lawyers on Tuesday, the 23rd, March 2021.
The abduction of villagers is part of the wider use of violence orchestrated to them by Kiryandongo police, which has decided to work for investors including Great Seasons SMC Limited and it's linked to the community's resistance to a land grab.
Great Seasons SMC Limited, owned by Sudan's investor based in Dubai is part of a group of three multinationals including Kiryandongo Sugar Limited, owned by an Indian family (RAI Dynasty), and Agilis Partners Limited which is owned by American twin brothers (Benjamin Prinz and Phillip Prinz).
The multinationals since 2017 are evicting over 35000 natives off their land without any due processes or court order to give way for different agribusiness investment projects.
"All our fields are guarded by anti-riot police and armed company workers protecting company tractors that have entered into our gardens and plowing our crops and pulling down our natural trees. We cannot speak out, when you dare to, you will be beaten seriously and arrested," Said Samuel Kyaligonza, a retired civil servant and a resident of Kisalanda.
The four members will report back for their bond on 29th March 2021.
…….Special Report; abridged testimony……. ABDUCTION AND TORTURE: New methods used by multinationals and security agencies to grab land from the poor communities…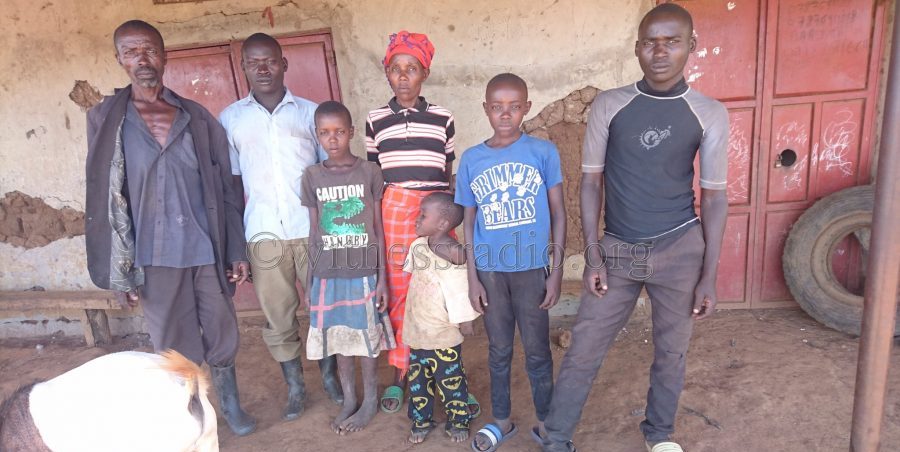 Baluma (wearing a coat) and some of his family members.
…….Special Report; abridged testimony…….
ABDUCTION AND TORTURE: New methods used by multinationals and security agencies to grab land from the poor communities…
By witnessradio.org Team
Sipiriano Baluma, 60 is among the 35000 residents who have lawfully occupied and cultivated their land since the 1930s. But, the right to own land was brought to an end in early 2019, when residents woke up to the news of a local land broker Mwesigwa Reuben claiming that he owns their land. Just in a week news spread like wildfire that the land ownership had changed to Great Season SMC Limited, a company solely owned by a Sudan investor currently based in UAE, Dubai.
Immediately, residents witnessed the deployment of casual laborers from Darfur, Sudan, armed with bows and arrows to carry out forced evictions under the protection of Kiryandongo district police.
Without any meaningful consultation or compensation, the company, its agents, and security agencies in Kiryandongo district resorted to using violence targeting family heads and leaders of the project affected persons that were standing up for their rights. Acts of violence ranged from kidnaps, torture, beating, cutting down people's crops to demolishing of houses, among others.
Baluma, a father of twelve (12) children, a resident of Kisalanda- Jerusalem, Kitwala Sub County in Kiryandongo district got kidnapped, and while in captivity, the company grabbed his 20 acres, which had houses, plantations of maize, banana, sweet potatoes, and cassava.
Baluma said, his land was life to him as he would earn Uganda Shillings close to one and half a million (1.5M) equivalent to about USD 500 every season before Great Seasons SMC Limited grabbed it.
He added that such an income would meet basic needs for his family including paying school fees.
Baluma shares his ordeal on how he lost his land: "I was at my home at 8:00 am local time on 18th, March 2021, when armed anti-riot police and company workers armed with bows and arrows traveling on two police patrols raided my home. I was kidnapped and taken to Kiryandongo district central police. This incident was witnessed by my family members (my wife and children)" Said Baluma.
He said while in captivity, one of the workers of the company questioned him about why he was cultivating on the land owned by the company and accused him of refusing to surrender his land.
According to his wife, Njeze Donati, in an hour's time after Baluma's abduction, the company's workers returned with a tractor, plowed their land up-to the doorstep, and planted maize.  As a result, their house now stands in the middle of the company's plantation, inaccessible and isolated from the rest of the world.
"The armed workers under the protection of Kiryandongo police put us on the gunpoint ordered us to enter and to lock ourselves in the house, which moment was used to grab our family land," Said Donati.
She added that they were able to identify a police officer who oversaw the land grab exercise as Abura Felix attached to the Kiryandongo police
Baluma spent six (6) days in police cells without a charge and after the intervention of Witness Radio – Uganda lawyers, he was granted police bond.
On the police bond paper, Kiryandongo district police preferred a charge of criminal trespass on his own land.
……Special Report abridged testimony…… How a pregnant woman was beaten by multinationals and local police over her land…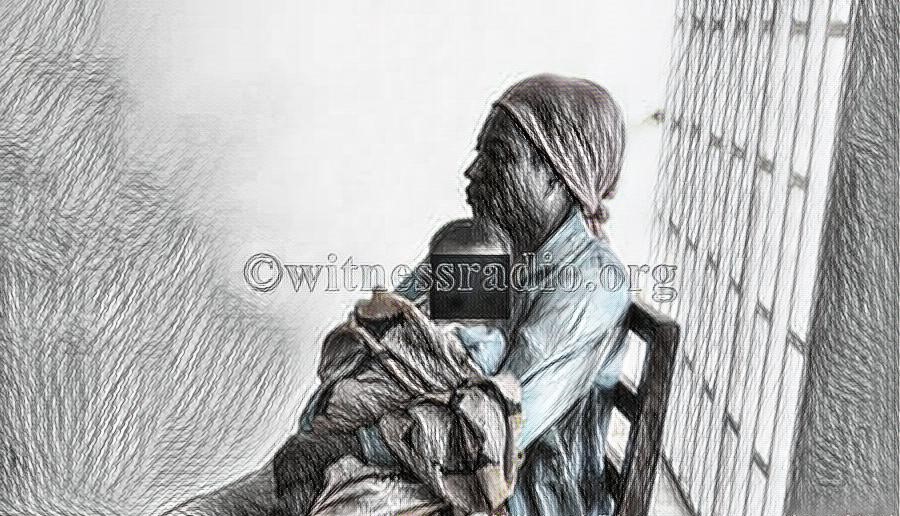 …..Special Report abridged testimony…..
How a pregnant woman was beaten by multinationals and local police over her land…
By witnessradio.org Team
Wineza Kuluwudini, is one of the many smallholder farmers that have tested the wrath of the multinational companies and police in Kiryandongo district because she was found digging in her garden.
Kuluwudini, a mother of four children before her 16 acres were grabbed by Great Season SMC Company Limited, she would earn about 2 million shillings equivalent to USD 720 per season after harvesting cabbages, rice, matooke and maize.
Great Seasons SMC limited, solely owned by a Sudan investor currently based in Dubai, is part of the three multinational companies that are forcefully evicting more than 35000 poor off their land to give way for agribusiness investments without any legal process. Other companies include Kiryandongo Sugar Limited owned by the RAI Dynasty from Mauritius and Kenya; and Agilis Partners Limited owned by American twin brothers.
Kuluwudini a resident of Kisalanda – Jerusalem, Kitwala sub-county in Kiryandongo district was on a fateful day of 8th September 2020 attacked by a group of armed men attached to Great Season SMC Company under the protection of police officers attached to Kiryandongo police station led by a one Abura Felix attached to Kiryandongo district police.
According to medical reports seen by Witness Radio – Uganda, Wineza Kuluwudini was 8 (eight) months pregnant at the time when she was attacked and severely beaten.
"I was cultivating in my garden at around 9 am local time when a group of 7 men attacked me, they asked what I was doing and I replied that I was in my garden digging. Out of the blue, they started beating me, I pleaded that they should stop but they could not, I felt unconscious after counting to about 8 strokes, beating every part of my body including my stomach, and yet they would visibly see that I was pregnant but could not stop beating me" Narrated Wineza Kuluwudini.
According to an eyewitness, who preferred anonymity, after beating Kuluwudini into a state unconsciousness, the seven-male attackers, grabbed her from the ground, and dumped her into their tractor to be transferred to an unknown place.
Ndahimana Ramu, the husband to Kuluwudini told Witness Radio – Uganda that after escaping from police and company workers that had stormed their garden, he briefly hid in the bush and later returned back home but said, he could not
see his wife.
He said, he called his fellow villagers to mount a search exercise for the missing wife.
"In few minutes, we found her laying alongside the road and she was too weak and could not walk. We briefly took her back home to bath and later to the hospital, but condition was so worrying" Narrated Ndahimana.
Ndahimana further explained that upon reaching the hospital, the medical team told them that the baby was not in a bad state but the victim (Kuluwudini) may fail to do her usual work and that indeed his wife cannot continue with the said work.
He added that he was blocked from opening up a criminal case at Kiryandongo district police by  police officer Abura and company workers.
According to Ms. Bulyerali Joan, one of the victim's lawyers, the companies are preferring violent methods to intimidate and force the poor villagers to leave their only available source of income.
"This is not the first case of torturing a pregnant woman in Kiryandongo, we have received several victims of brutality, rape, and defilement by workers of multinational companies. Police, too has perpetrated brutality." She added.
Joan also blames the police for being indifferent and paying lip-service to the vulnerable women.
"I am shocked! Some have suffered miscarriages, their plight has been exacerbated by the inaction of the would be protector – the police. It will either condone or pay aloof to these heinous crimes that threaten motherhood whenever called upon to act" She noted.
Witness Radio – Uganda condemns in the strongest terms possible the use of violence against poor communities, and demands that police and other agencies should protect the poor communities land.
Rights Groups Say Villagers Not Compensated for East Africa Oil Pipeline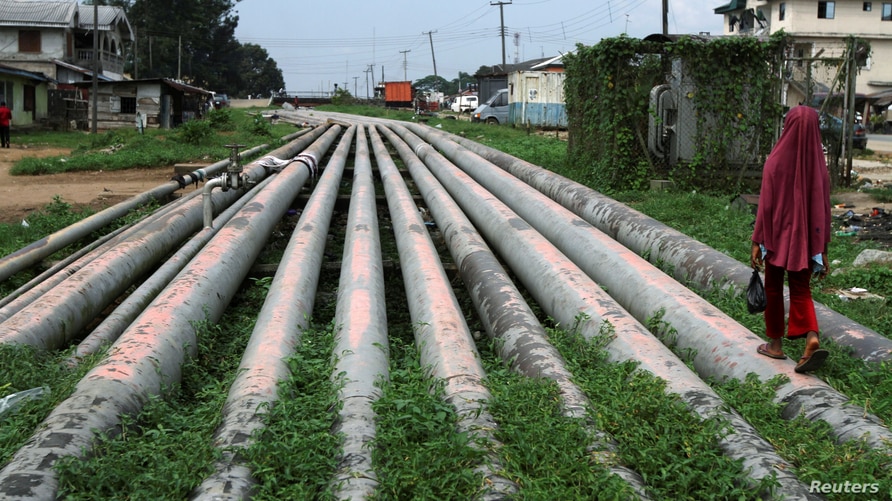 A girl walks on a gas pipeline running through Okrika community near Nigeria's oil hub city of Port Harcourt, Dec. 4, 2012. A new $3.5 billion East African Crude Oil Pipeline is projected to run 1,450 kilometers from the Uganda to Tanzania.
KAMPALA – Chinese and French oil companies involved in the East African Crude Oil Pipeline project, to be built from Uganda to Tanzania, say affected villagers are being compensated. But rights groups representing hundreds of families who will be displaced by the project tell a different story.
The $3.5 billion project is projected to run 1,450 kilometers from the southwestern Homia district of Uganda to the Port of Tanga in Tanzania.
On Sunday, President Yoweri Museveni of Uganda and President Samia Suluhu Hassan of Tanzania signed three agreements paving the way for construction of the pipeline, expected to be completed in 2025.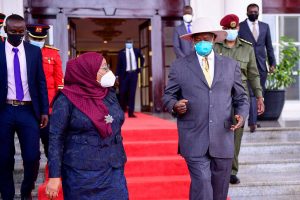 President Museveni talks to President Suluhu soon after she arrived in Entebbe
Kitutu Mary Goretti, Uganda's minister for energy and mineral development, says the agreements will be a significant boost to Uganda's economy and its people.
"Other processes are already ongoing, including the acquisition of land for the pipeline and (Engineering, Procurement and Construction) EPC Management activities," Goretti said. "It is important for the people of Uganda to take note of and position themselves to benefit from the extensive activities already going on."
However, human rights organizations say pipeline construction will displace up to 10,000 people, who are not being adequately compensated.
Sewanyana Livingstone, the head of the Foundation for Human Rights organization, says locals are not being heard.
"Of course, the population along the pipeline are interested in compensation. Because they were displaced; they were not heard; they are not party to the negotiation. We are trying in our follow-up activities to see how (French energy company) Total can bring them on board. But at the moment, they seem to be excluded," Livingstone said.
According to the agreements signed Sunday, Total will hold the largest stake in the pipeline with 62 percent. The Uganda National Oil Company and Tanzania Petroleum Development Corporation will each hold 15 percent, and the China National Offshore Oil Corporation, or CNOOC, will own the other 8 percent.
Pierre Jessua, Total's general manager, says the company has not voluntarily delayed the compensation to the affected families.
"It was, I would say, due to the stop-and-go of the project that we had to interrupt the process," Jessua said. "But we never actually took the lands and deprive the people from the land. We have evaluated the land, evacuated the crops from the land, evaluated the buildings which were on the land."
Chen Zhugobia, president of CNOOC's Uganda branch, says very few people in their areas of jurisdiction are yet to be compensated.
"We have already compensated most of the people related to the land. And from my memory, only about 6 households are not compensated," Zhugobia said.
Upon completion, the East Africa Crude Oil Pipepline will be the longest in the world, carrying 230,000 barrels of oil per day from Ugandan oil fields to Africa's east coast.
Original Source: voanews