The global farmland grab goes green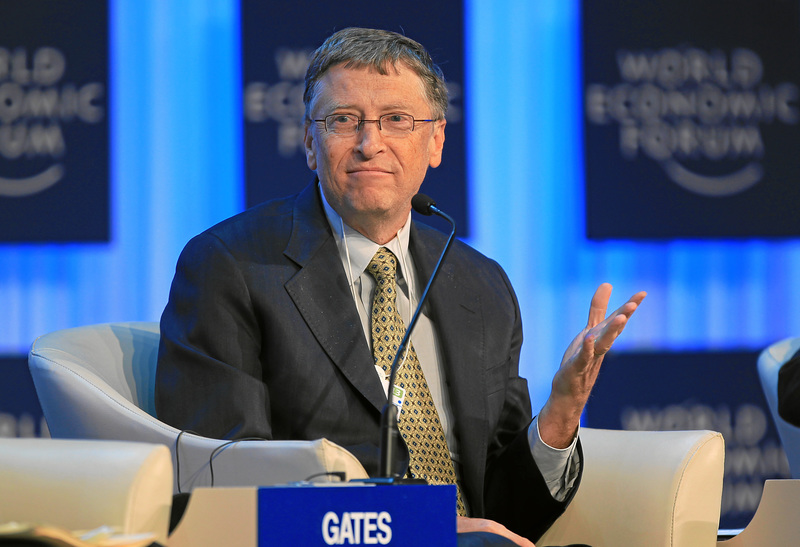 Back in March of this year, Bill Gates was fielding questions on the online platform Reddit, promoting his new book on the climate crisis. Gates had just recently been revealed to be the largest farmland owner in the US, and one of the Reddit participants asked him why he was buying so much agricultural land. Gates replied: "My investment group chose to do this. It is not connected to climate."
The first part of his answer is typical billionaire-speak. The world's richest tend to place their money with family offices whose managers are tasked to make as much profit as possible. If they get called out for funding pipelines and factory farms, then the billionaires can feign ignorance and say their "investment group" chose to do it. It's a similar dynamic with pension funds, where workers entrust their retirement savings to schemes that invest in all kinds of projects that undermine the well-being of working people around the planet.
Today there are 7,000 family offices that collectively manage US$5.9 trillion in assets, while pension funds in just 22 countries control a staggering US$52.5 trillion in assets. An increasing number of these family offices and pension funds are, like Gates' group, choosing to buy up farmland. This can be done directly, as Gates's group has done buying farms in the US, or indirectly via private equity funds, as those managing Gates' trust fund have done to acquire a stake in farms in East Africa and oil palm plantations in the Congo.
Contrary to what Gates' stated in the second part of his answer to the Reddit participant, this growing interest in farmland is deeply connected with climate. On a straightforward level, food and farming account for up to 37% of global greenhouse gas emissions according to the UN's International Panel on Climate Change, and the model of industrial agriculture practiced and promoted by Bill Gates' funded agencies is largely to blame.
But there's another connection: these days the companies that are in the business of selling farmland to billionaires and pension funds are peddling it as a green, sustainable and socially responsible investment. They are even marketing farmland investing for its potential to generate carbon offsets. And the propaganda is working. Farmland is an increasingly appealing proposition for pension fund managers and billionaires who are under pressure to show some action on the climate crisis– and to hold off regulators that might force them to do more.
"There are some big macro-level trends around why existing institutional investors are becoming interested in land again, or looking to expand their portfolios if they already invest in land," said Emily Norton, head of rural research at the property agency Savills, to the Financial Times. "There was a post-recessionary flight to safe assets [after the 2008 financial crisis], but the bigger trend is probably factors related to climate mitigation . . . increasingly, climate-positive trends are driving institutions and family offices to say: 'Yes, that's the reason we want to be in that asset class'."
As an example, this year the pension fund of the Dutch postal company PostNL put €200 million into a new farmland fund, bluntly called the SDG Farmland Fund (SDG refers to the sustainable development goals of the United Nations).
"We found farmland interesting as it overlaps with sustainable themes such as climate change, food safety and food security," said René van der Kieft, president of Pensioenfonds PostNL. "The investment fits with the SDG 'Climate Action', but also with 'Life Below Water, 'Zero Hunger, 'Clean Water and 'Sanitation and 'Responsible Consumption and Production'. It provides us with an ideal opportunity to combine many SDGs."
The Dutch pension fund, like most other institutional investors, is, for the time being, focussing on acquiring farmland in the "business secure" geographies of North America, Europe, Oceania and South America. But that could change. Indeed, private equity funds are already channeling important volumes of pension fund money into companies that operate farms in Africa and Asia, often with backing from development banks.
US pension fund manager TIAA, a co-founder of the UN's Principles for Responsible Farmland Investing, has probably done more than any other company to market farmland investing as "green". Today, TIAA manages a portfolio of nearly one million hectares of farmland around the world, worth about US$8 billion, on behalf of numerous pension funds in Asia, North America and Europe. But it has come under scrutiny, in particular for its land deals in Brazil's Cerrado region, which have been shown to be linked to land grabs, deforestation and environmental destruction. Several US university unions and faculty associations with pensions managed by TIAA have recently passed or put forward resolutions condemning TIAA for its farmland acquisitions.
TIAA's responded by going further and further with its green branding. In April 2020, TIAA's agricultural subsidiary, Westchester, joined about a dozen other major farmland investors in launching Leading Harvest, "the first scalable, industry-wide standard paving the way for universal sustainable farmland management". This standard is so far only available in the US but, as noted by TIAA, "it may be adapted for use outside of the United States in the future."
The goal here is to define a global standard for sustainability that is suited to the large-scale, industrialised farming operations that TIAA and other farmland players are buying up and building but that is also good enough to appease most potential investors and downstream buyers of their harvests.
"There was a lot of effort in making sure that this standard meets the needs of the investor as well as of the farmer and the landowner," says Steve Bruere, president of Peoples Company, another US-based farmland management company that co-founded Leading Harvest.
The big farmland players are also pushing farmland and corporate farmland ownership as a way for corporations to achieve net zero carbon emission targets, and are investing heavily to quantify the emissions that can be reduced or carbon that can be captured in the soil by tweaking their industrial agricultural practices.
"Many [companies] have been coming out with targets to be carbon neutral by a certain date, and one tool to help with that is to invest in timberland and farmland," says Martin Davies, chief executive of TIAA's Westchester Group. His company just hired a new head of sustainability to "support Westchester's response to rising investor demand for carbon neutral portfolios, providing scalable, natural solutions to counter climate change through farmland investments."
All of this is closely tied to developments in the digitalising of agriculture. The digital land records and massive quantities of data that big tech companies like Microsoft and Amazon are vacuuming up from farmers' fields make it easier for the farmland companies to scour the planet for profitable farmland deals. They can also use satellite technologies and drones to monitor their farms from a distance, ensuring that those operating their farms are complying with their standards and directives.
Taken together, the advances in digital agriculture and the opportunities for carbon credits and greenwashing have the potential to make transnational, financialised farming operations more profitable, and certainly more appealing to investors.
The world's farmland, as the farmland fund managers like to repeat, is finite. So, as corporations inhabit more of it, the less there is for small farmers, indigenous peoples and rural communities. Already these people are surviving on a dwindling fraction of the world's farmlands, and still producing most of the world's food. In 2014 we estimated that small farms occupied less than a quarter of the world's farmlands.
The corporate farmland grabbers want people to think that this does not matter.
"I don't think there's anything especially notable about who buys farmland, if an institutional buyer buys it or a wealthy individual buys it or a neighboring farmer buys it … It's still going to be used the same way in the following year and the returns to that asset are not influenced much at all by who happens to own it at a point in time," says Bruce Sherrick, the director of TIAA Center for Farmland Research and board member of Leading Harvest.
But it absolutely does matter whether farmlands are in the hands of a corporation or a community of small farmers or pastoralists. Small farms have greater biodiversity and tree cover. They feed their communities with healthy foods. They generate and distribute wealth locally and fairly and build dynamic communities. They can and often do practice agroecology without fossil fuels or chemical inputs. And, as a new global study published in Nature concludes, they even produce significantly higher yields than big corporate farms. Small farms do not, however, offer much opportunity for pension fund managers and billionaire family offices to extract profits.
And that is the crux of the problem. Those who presently control the world's financial flows are not capable of supporting the food producers and food systems that can deal with the climate crisis or the many other crises afflicting food and agriculture. Our challenge is to get both farmland and money out of their hands, as fast as we can.
Farmers in Bunyoro counting losses as dry spell continues to bite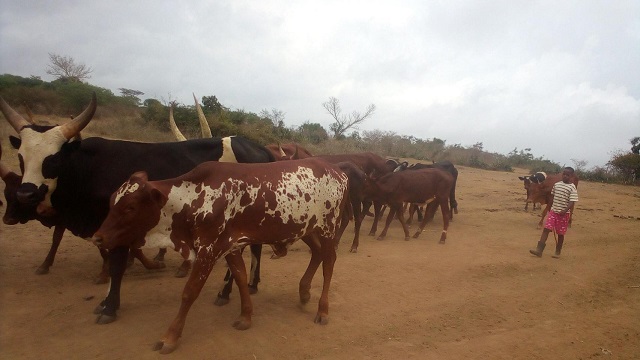 Cattle farmers in Bunyoro are counting losses as their animals continue to die due to a lack of pasture and water as a result of the prolonged dry spell in the region.
The farmers from the districts of Buliisa, Hoima, Kiryandongo, Masindi and Kikuube are struggling to find pasture and water for their animals following the dry spell that has hit the area for the past four months.
Currently, most of the pasture has dried out and all the available valley dams have dried up leaving cattle keepers stuck.
In some districts, most cattle farmers have started selling off their animals fearing that they could be killed by the persistent dry spell.
Jacob Kanyindo and Godfrey Kahiigwa, cattle farmers from Kikuube, said if the current dry spell continues, they are likely to lose all of their animals. They noted that they have decided to sell off some of the older cows fearing that they might not survive the harsh conditions.
Kahiigwa said he has lost 10 cows since May due to a lack of pasture and water, adding that the situation could become worse if the dry spell persists.
Benson Rugyira, a farmer in Buliisa said since April, he has lost 15 cows as a result of a lack of pasture resulting from the prolonged drought.
He says that because of the lack of water and pastures, the cows are no longer giving them milk which they have been also dependent on to sell and buy food for their families.
Rugyira noted that he has nowhere to relocate the animals because the dry spell has hit the inter Albertine region and neighbouring regions.
He noted that if there is no intervention in this crisis, they are likely to lose all their animals and sources of income.
Sam Ntambara, a livestock farmer with hundreds of cows at Kiryamboga landing site in Hoima, expressed worry that their animals could all die due to the dry spell. He adds that all the available dams that used to provide their animals with water dried up.
He noted that as cattle farmers, they've never experienced such a dry spell in the last decade, adding that the situation is giving them sleepless nights.
"Our animals are suffering. The situation is beyond our understanding, were just waiting on God to intervene otherwise we are going to lose all our animals," he said.
Lam Karubanga, another farmer in Hoima district, said that the situation is compelling them to sell off their cows cheaply. He says a bull that would cost sh1.5m is currently being sold at between sh700,000 and sh800,000.
He noted that they would opt to buy feeds for their animals but the challenge is that the feeds are scarce and expensive.
"Previously, whenever we would face such a dry spell, some would buy the rice and maize brand but because of the dry spell, the rice did not do well this season," he said.
Emeriki Kakura, the chairperson of Kasenyi village, expressed concern over the lack of pastures for the animals which he says has resulted in conflict between the livestock farmers and crops farmers.
He noted that some cattle farmers have decided to graze their animals in people's gardens in the hunt for pasture, something he said is fuelling conflicts.
He noted that if the dry spell persists, they may see bloodshed because they have tried to engage the cattle farmers to stop this habit but they failed to adhere.
Barnabas Ntume, the Kikuube district production officer, said that they have no solution to the situation, adding that the current dry spell is going to affect the population of livestock in the region.
He advised them to relocate the animals to areas with water and some pastures, adding that those who cannot manage to relocate their animals to sell off the cows, adding that they should restock after the situation normalises.
Ntume however asked the farmers to use this situation as a learning lesson so that they can always prepare for such climate changes by producing and stocking feeds and building valley dams.
Original Source: New Vision
How dry spells have affected milk supply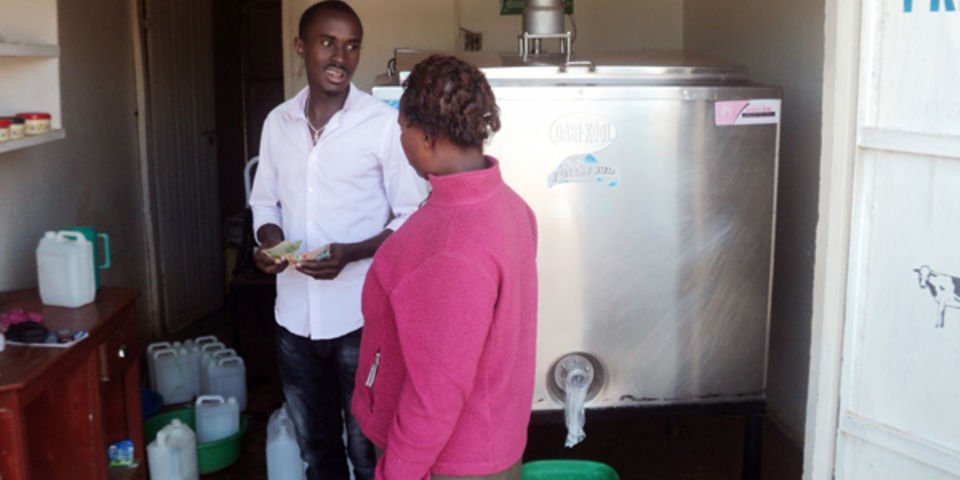 A milk dealer attends to a customer at Kabula Farmers' Cooperative Society centre in Lyantonde District on July 25.
During the rainy season, Mr Asiimwe produces up to 1,120 litres of milk every week, but the prolonged dry spells have affected milk production at his farm and currently produces only 400 litres.
"I am spending a lot of money on looking after these dairy cows, buying both water and pasture and if we fail to get rain in the coming weeks, I will lose some animals," he predicts.
Some of the farmers in various cattle corridor districts say milk production has drastically gone down in the past months when dry spells set in, which has affected water sources and pasture. The dry spells have led to a spike in milk prices, but farmers say they still make little profits due to high expenses incurred.
Currently, the farm gate price per litre of milk in many districts is trading at between Shs1,000 and Shs2,000 up from Shs600 two months ago. A litre of processed milk is going for either Shs3,800 or Shs4,000, depending on the brand.
According to Mr Robert Kanyete, the chairperson of Rakai District Livestock Farmers Association, their members have lost many animals during the long spells and dealers are buying them cheaply.
"We sell some of the cattle that are starving at a very cheap price as low as Shs100,000," he says.
Mr Naboth Mabega, a butcher at Kabungo Trading Centre in Ddyango Town Council, Rakai District, reveals that increased cases of starving animals has affected the prices of beef.
"In some villages where starving cattle are dying, a kilo of beef goes for Shs3,000, some animals are slaughtered when they have already died," he says.
Mr Perezi Karamuzi, a resident of Maddu Sub-county in the Gomba District, says he has since lost 11 dairy cows due to prolonged dry spells, and this recently prompted him to start hiring a water bowser truck at a cost of Shs700,000 to fetch water from River Katonga every week.
"Milk production has drastically reduced to the extent that some farmers no longer sell milk and the little they get is consumed by their families," he says.
Despite the reduction in milk production and supply, the demand had remained high, according to Mr Fred Kuhabwa of Ever Fresh Dairy /Bwera Farmers' Cooperative Society, which has since dominated the milk market in Masaka.
 "The farm gate price of a litre of milk was Shs800 in May, but it has increased to Shs1,600. So, considering the high fuel prices and other expenses involved, we have been prompted to sell a litre at Shs2,300 in most of the urban centres around," Mr Kuhabwa says.
Mr Enock Gumisiriza, the chairperson of Lugusulu Livestock Farmers Association in Sembabule District, says he took a painful decision to relocate his livestock to the neighbouring Lyantonde District where there is still some pasture and water for animals.
 "When we took the decision to relocate [to Lyantonde] in the first week of July, most of our livestock  suffered tick-borne related diseases and some have  since died, we can hardly observe routine spraying to prevent ticks and measures for our livestock," he says.
A similar measure has been adopted by Mr Tom Superman Opwonya, a livestock farmer in Nambieso Sub-county in Kwania District, who relocated his cattle near the shores of Lake Kwania.
"Here [near Lake Kwania] water is in abundance, but we buy hay for our cattle. We used to get more than 20 litres of milk per day, but currently it has reduced to less than five litres," he says.
 Mr David Agweno, a cattle keeper at Obalia Village, Ibuje Sub-county in Apac District, says his cattle have started dying due to inadequate water and pasture.
 "I have more than 200 head of cattle in my kraal, but I lost more than 10 calves and I believe it happened due to poor feeding," he adds.
In Arua City, the prices of milk have gone up from Shs1,000 a cup to Shs1,200.
Ms Salma Abiko, a resident of Nsambya North Cell, Arua Central Division, says: "This is going to affect the breast feeding mothers who need milk supplement because we mainly depend on milk coming from Mbarara."
  "If children are not fed well on milk, it will cause malnutrition which is bad for their health," she adds.
 In Moyo District, Mr Adam Mamawi, the secretary for Production at Lefori Town Council, says water sources in the area have all dried up.
 "Our animals are starving, we don't know what we can do and what kind of help we can get from the government over this matter," he says.
 The cattle farmers, who are few in the West Nile Sub-region, have for a long time urged the government to construct valley dams in cattle rearing areas. This, the farmers say, would help in storage of water for animals.
 Mr Charles Adrawa Young, the assistant agriculture officer Lefori Sub-county, says animals are now surviving on leaves and others are destroying gardens in order to get food.
 "We advise cattle owners to control their animals from straying in people's gardens in order to avoid conflicts," he says.
 Although the dry season has not led to the death of domestic animals in Kigezi, the quantity of milk production has reduced leading to the increase in prices.
The vice chairperson for Kigezi Dairy Farmers Cooperative Society, Mr Francis Kateiguta, says while they used to get about 4,000 litres of milk every day during the rainy season, they currently receive only 2,500 litres.
"The price of a litre of milk has increased from Shs800 to Shs1,400 because of milk scarcity resulting from the dry season as the cows are not getting enough pastures, but we expect the situation to get better now that the rain has started in some areas," Mr Kateiguta says.
The Uganda National Metrological Authority ( UNMA ) has since indicated that this month is likely to be characterised by enhanced rainfall in most parts of the country.
"The rainfall outlook for August indicates that areas of northern, eastern and parts of mid-western are likely to receive enhanced rainfall while the rest of the country is likely to receive occasional rainfall," a weather outlook focus released at the weekend reads in part.
Mr Wilberforce Tigawalana, a livestock farmer   in Namasagali Sub-county, Kamuli District, says the milk production on his farm has dropped from three to two jerrycans per day.
"We have to maintain our customers who trust us with pure milk. What we have done is to increase the price per cup from Shs500 to Shs700," he says.
To avoid more losses in future, Mr Obed Nayijuka, a cattle Keeper in Nyarubanga Ward, Mbarara City North, says they are planning to start planting pasture such as Napier grass (elephant grass), brachiaria mulato (Congo siginal grass or locally known as kifuta)  that can sustain them during dry spells.
"It is increasingly becoming difficult to sustain livestock farming without enough pasture. We have been looking for banana peelings to ensure our cattle survive, but now we are planning to plant our own grass," he says.
Mr Steven Mugisha, a cattle farmer in Rwebishuri Ward, Mbarara City, says he has been buying water since June to feed his animals and the area only received some rain on August 1.
Source: Daily Monitor
Uganda's coffee industry eyes new markets, value addition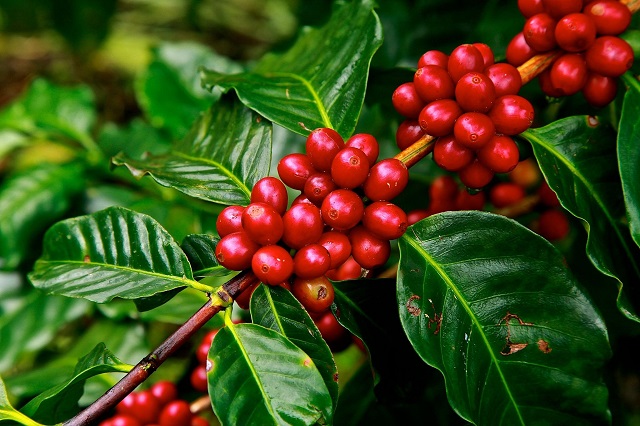 But the country still has a lot of coffee that is still being dried on the ground
Kampala, Uganda  Uganda's coffee industry will seek new international market for their products to reduce over concentration on traditional buyers to boost farmer's income.
Coffee is the country's second biggest source of foreign exchange after tourism and provides a living for around 8 million people or about 19% of the population.
"In 2017, stakeholders in the coffee industry discussed the coffee road map on how to accelerate production but also increase income to the farmers," said Emmanuel Niyibigira, managing director of the regulator, Uganda Coffee Development Authority.
"They were concerned that we need to have value addition for our coffee but also have the demand. We are looking at some markets such as China which has 1.4billion people and it is an emerging market. We are also looking at Middle East, Maghreb region, Eastern Europe though now we have this conflict (between Russia and Urkaine) and also the Balkan states."
Uganda exports most of its coffee to Italy, Germany, Algeria, India and Sudan.
Niyibigira, who was speaking during the Agribusiness Mkutano 2022 at Mestil Hotel in Kampala on April.28, said the regulator is looking forward to supporting   local coffee businesses for value addition including soluble coffee processing plants.
He said the government aims to ensure that the country has at least two soluble coffee plants in the next five years. He said UCDA and the Uganda Development Corporation, a government investment arm, are carrying out a feasibility study to ascertain its viability.
The country has 38 registered coffee roasters although the government's plan to have a soluble coffee plant has been on the table since 1994.
"We are also looking at branding our coffee. Most of our coffee is being exported and blended with other coffees due to its good aroma. We need to be recognized as an origin of Ugandan coffee," Niyibigira said, adding that it is unacceptable that countries including  India, Vietnam and others in Latin America, which also produce huge volumes of coffee, import Ugandan coffee beans especially Robusta  only to blend with their coffees to boost  aroma and  fetch premium prices on the international market.
Niyibigira, however, noted that the industry still faces some challenges.
"We still have a lot of coffee that is still being dried on the ground," he said, adding that low bean sizes, low productivity as well as pests and diseases are being addressed with new coffee varieties.
Tony Mugoya, the executive director at the Uganda Coffee Farmers Alliance said as the country pursues value addition in the coffee industry, farmers should be able to sale their products to the highest bidder.
"Uganda is a free market economy and us as farmers, we shall give our coffee to anyone who offers the highest price. That is all we want," he said. "So the more the people or companies in the market, the more competition and the better for us."
The government has in past weeks faced opposition over its move to exclusively grant Enrica Pinetti-owned Uganda Vinci Coffee Company to purchase and export the country's coffee.
Mugoya said as the country embrace value addition, they should be aware of the existing tariff and non-tariff barriers in the international market.
Joseph Nkandu, the executive director of the National Union of Coffee Agribusiness and Farm Enterprises (Nucafe) said value addition in coffee need to be in the entire value chain.
"Farmers need to own the value addition component beyond the farm level as it enhances their income," he said.
Nkandu said countries such as Uganda striving to embrace value addition need to enter into partnerships in targeted markets so that the product is easily accepted.
Martha Wandera, managing director at Kimco Coffee Ltd said the government should probably consider setting up a production plant for production of packaging materials for processed coffee to lower coffee prices  stimulate local demand.
She said also suggests that the costs of accessing quality mark be reduced to encourage coffee producers to access the services.
Uganda's coffee export volumes and earnings has consistently grown over the past 20 years and accounts for 7% of the world's production.
Last year, farmers exported 6.49million 60 kg bags of coffee worth US$629.8million compared to 5.36million 60kg bags in the 2019/2020 season worth US$512.22million in the previous year.
Source: The Independent