The global farmland grab goes green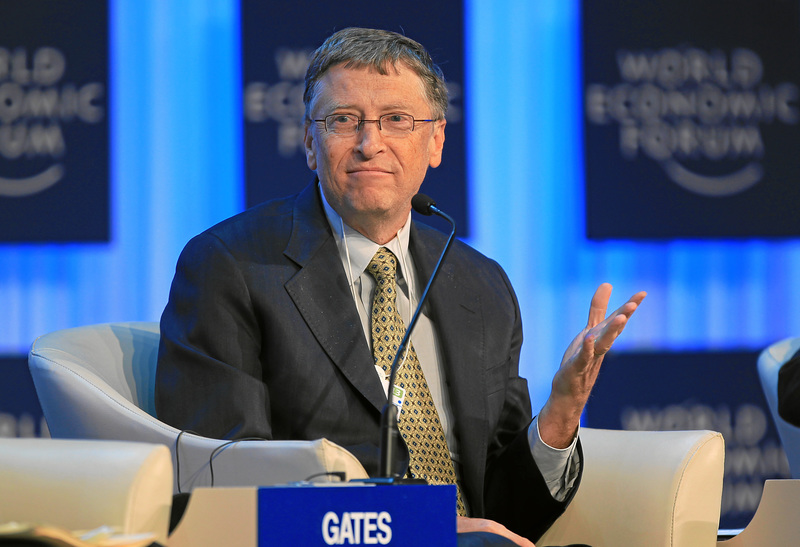 Back in March of this year, Bill Gates was fielding questions on the online platform Reddit, promoting his new book on the climate crisis. Gates had just recently been revealed to be the largest farmland owner in the US, and one of the Reddit participants asked him why he was buying so much agricultural land. Gates replied: "My investment group chose to do this. It is not connected to climate."
The first part of his answer is typical billionaire-speak. The world's richest tend to place their money with family offices whose managers are tasked to make as much profit as possible. If they get called out for funding pipelines and factory farms, then the billionaires can feign ignorance and say their "investment group" chose to do it. It's a similar dynamic with pension funds, where workers entrust their retirement savings to schemes that invest in all kinds of projects that undermine the well-being of working people around the planet.
Today there are 7,000 family offices that collectively manage US$5.9 trillion in assets, while pension funds in just 22 countries control a staggering US$52.5 trillion in assets. An increasing number of these family offices and pension funds are, like Gates' group, choosing to buy up farmland. This can be done directly, as Gates's group has done buying farms in the US, or indirectly via private equity funds, as those managing Gates' trust fund have done to acquire a stake in farms in East Africa and oil palm plantations in the Congo.
Contrary to what Gates' stated in the second part of his answer to the Reddit participant, this growing interest in farmland is deeply connected with climate. On a straightforward level, food and farming account for up to 37% of global greenhouse gas emissions according to the UN's International Panel on Climate Change, and the model of industrial agriculture practiced and promoted by Bill Gates' funded agencies is largely to blame.
But there's another connection: these days the companies that are in the business of selling farmland to billionaires and pension funds are peddling it as a green, sustainable and socially responsible investment. They are even marketing farmland investing for its potential to generate carbon offsets. And the propaganda is working. Farmland is an increasingly appealing proposition for pension fund managers and billionaires who are under pressure to show some action on the climate crisis– and to hold off regulators that might force them to do more.
"There are some big macro-level trends around why existing institutional investors are becoming interested in land again, or looking to expand their portfolios if they already invest in land," said Emily Norton, head of rural research at the property agency Savills, to the Financial Times. "There was a post-recessionary flight to safe assets [after the 2008 financial crisis], but the bigger trend is probably factors related to climate mitigation . . . increasingly, climate-positive trends are driving institutions and family offices to say: 'Yes, that's the reason we want to be in that asset class'."
As an example, this year the pension fund of the Dutch postal company PostNL put €200 million into a new farmland fund, bluntly called the SDG Farmland Fund (SDG refers to the sustainable development goals of the United Nations).
"We found farmland interesting as it overlaps with sustainable themes such as climate change, food safety and food security," said René van der Kieft, president of Pensioenfonds PostNL. "The investment fits with the SDG 'Climate Action', but also with 'Life Below Water, 'Zero Hunger, 'Clean Water and 'Sanitation and 'Responsible Consumption and Production'. It provides us with an ideal opportunity to combine many SDGs."
The Dutch pension fund, like most other institutional investors, is, for the time being, focussing on acquiring farmland in the "business secure" geographies of North America, Europe, Oceania and South America. But that could change. Indeed, private equity funds are already channeling important volumes of pension fund money into companies that operate farms in Africa and Asia, often with backing from development banks.
US pension fund manager TIAA, a co-founder of the UN's Principles for Responsible Farmland Investing, has probably done more than any other company to market farmland investing as "green". Today, TIAA manages a portfolio of nearly one million hectares of farmland around the world, worth about US$8 billion, on behalf of numerous pension funds in Asia, North America and Europe. But it has come under scrutiny, in particular for its land deals in Brazil's Cerrado region, which have been shown to be linked to land grabs, deforestation and environmental destruction. Several US university unions and faculty associations with pensions managed by TIAA have recently passed or put forward resolutions condemning TIAA for its farmland acquisitions.
TIAA's responded by going further and further with its green branding. In April 2020, TIAA's agricultural subsidiary, Westchester, joined about a dozen other major farmland investors in launching Leading Harvest, "the first scalable, industry-wide standard paving the way for universal sustainable farmland management". This standard is so far only available in the US but, as noted by TIAA, "it may be adapted for use outside of the United States in the future."
The goal here is to define a global standard for sustainability that is suited to the large-scale, industrialised farming operations that TIAA and other farmland players are buying up and building but that is also good enough to appease most potential investors and downstream buyers of their harvests.
"There was a lot of effort in making sure that this standard meets the needs of the investor as well as of the farmer and the landowner," says Steve Bruere, president of Peoples Company, another US-based farmland management company that co-founded Leading Harvest.
The big farmland players are also pushing farmland and corporate farmland ownership as a way for corporations to achieve net zero carbon emission targets, and are investing heavily to quantify the emissions that can be reduced or carbon that can be captured in the soil by tweaking their industrial agricultural practices.
"Many [companies] have been coming out with targets to be carbon neutral by a certain date, and one tool to help with that is to invest in timberland and farmland," says Martin Davies, chief executive of TIAA's Westchester Group. His company just hired a new head of sustainability to "support Westchester's response to rising investor demand for carbon neutral portfolios, providing scalable, natural solutions to counter climate change through farmland investments."
All of this is closely tied to developments in the digitalising of agriculture. The digital land records and massive quantities of data that big tech companies like Microsoft and Amazon are vacuuming up from farmers' fields make it easier for the farmland companies to scour the planet for profitable farmland deals. They can also use satellite technologies and drones to monitor their farms from a distance, ensuring that those operating their farms are complying with their standards and directives.
Taken together, the advances in digital agriculture and the opportunities for carbon credits and greenwashing have the potential to make transnational, financialised farming operations more profitable, and certainly more appealing to investors.
The world's farmland, as the farmland fund managers like to repeat, is finite. So, as corporations inhabit more of it, the less there is for small farmers, indigenous peoples and rural communities. Already these people are surviving on a dwindling fraction of the world's farmlands, and still producing most of the world's food. In 2014 we estimated that small farms occupied less than a quarter of the world's farmlands.
The corporate farmland grabbers want people to think that this does not matter.
"I don't think there's anything especially notable about who buys farmland, if an institutional buyer buys it or a wealthy individual buys it or a neighboring farmer buys it … It's still going to be used the same way in the following year and the returns to that asset are not influenced much at all by who happens to own it at a point in time," says Bruce Sherrick, the director of TIAA Center for Farmland Research and board member of Leading Harvest.
But it absolutely does matter whether farmlands are in the hands of a corporation or a community of small farmers or pastoralists. Small farms have greater biodiversity and tree cover. They feed their communities with healthy foods. They generate and distribute wealth locally and fairly and build dynamic communities. They can and often do practice agroecology without fossil fuels or chemical inputs. And, as a new global study published in Nature concludes, they even produce significantly higher yields than big corporate farms. Small farms do not, however, offer much opportunity for pension fund managers and billionaire family offices to extract profits.
And that is the crux of the problem. Those who presently control the world's financial flows are not capable of supporting the food producers and food systems that can deal with the climate crisis or the many other crises afflicting food and agriculture. Our challenge is to get both farmland and money out of their hands, as fast as we can.
Falling coffee prices, reduced output forecasts rattle Uganda farmers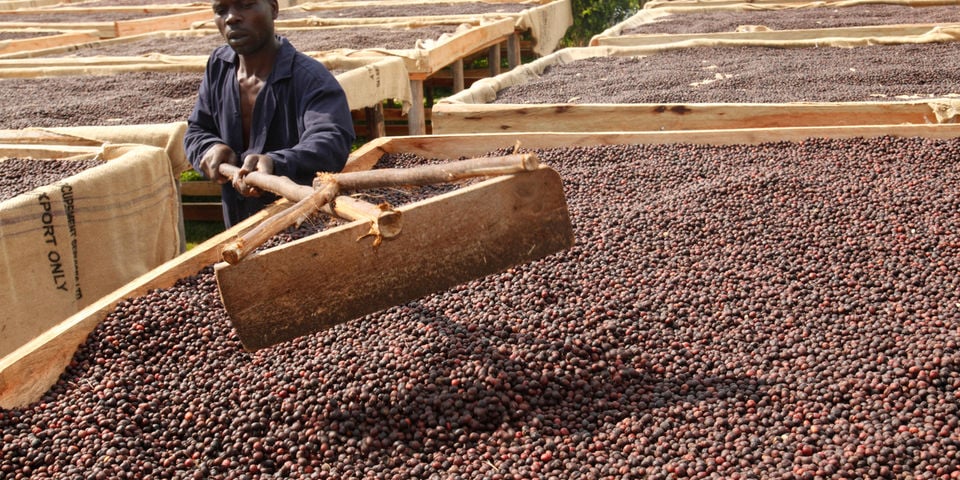 There has been a slump in international coffee prices and shipping costs in the last quarter of 2022
Uganda's coffee industry is walking into a challenging 2023 defined by falling prices and diminished output forecasts following the recent dry spell that hit major growing areas.
While the sector enjoyed a boom between 2020 and 2022 – with surging coffee prices, rising export volumes and considerable incomes for farmers – decline in international shipping costs and improved production forecasts in Brazil triggered a slump in coffee prices in the last quarter of 2022, according to industry players.
International shipping costs dropped from record highs of $10,000 per container charged on certain sea routes in January 2022 to less than $2,000. Shipping fees charged per 20-foot container ferried from Indonesia to North America, for example, are estimated at $800-$1,000 currently.
Consequently, local and international coffee prices have dropped since October 2022.
International robusta coffee prices fell from an average price of $2,400 per tonne to $1,856 per tonne towards the end of last year, according to industry data. Local robusta coffee prices declined from Ush7,200 ($1.9) per kilogramme to Ush5,800 ($1.6) per kilogramme during the second half of 2022 while Arabica coffee prices fell from Ush11,000 ($2.9) per kilogramme to Ush8,000 ($2) per kilogramme in the period.
In 2021, average coffee prices stood at more than Ush15,000 ($4) per kilogramme.
Robusta coffee production accounts for more than 60 percent of Uganda's overall coffee output.
Besides gloomy coffee price forecasts for 2023, a severe dry spell in the past six months could pose a huge threat to coffee production levels. The weather affected major coffee-growing areas like the Central region and risks cutting this year's output to around 5.5 million bags, industry players forecast.
"Brazil and Vietnam are headed for a bumper coffee harvest this year while India and Indonesia have discounted their local coffee prices in a way that has undercut Uganda's growth momentum on the international market," said Robert Byaruhanga, chief executive of local exporter Funzo Coffee Ltd.
Asian and Latin American coffee exporters are regaining dominance in European and North American markets after the lockdown period because of the lower coffee prices, reduced freight charges, shorter port clearance turnaround times and reasonable coffee quality grades, Byaruhanga explained.
Ugandan farmers are now holding onto their coffee produce in anticipation of better prices.
Overall coffee exports stood at 6.26 million bags valued at $862.28 million in 2021/22 compared to 6.08 million bags worth $559.16 million registered in 2020/21, data from the Uganda Coffee Development Authority shows.
An estimated 447,162. 60 kilogramme bags of coffee valued at $64.1 million were exported in November 2022 at an average price of $2.39 per kilogramme — 6 US cents lower than the average price of $2.45 per kilogramme posted in October 2022.
Original Source: Daily Monitor
Over 40 goats die of PPR disease in Madi-Okollo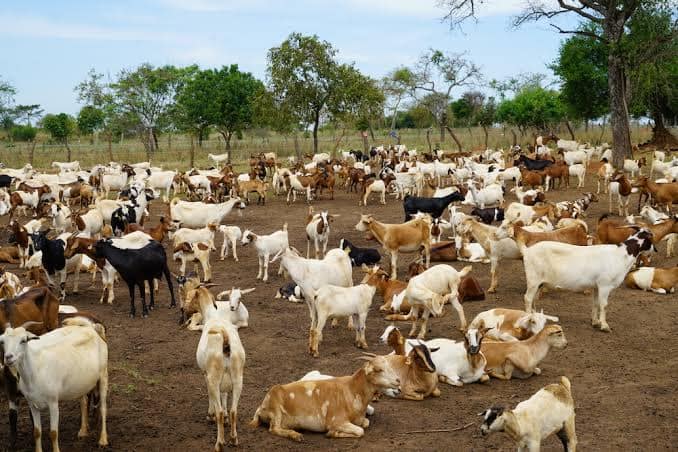 At least 43 goats have died of Peste des Petits Ruminants (PPR) disease, also known as 'goat plague' and several others are undergoing treatment in Madi-Okollo district.
Madi-Okollo district veterinary officer, Dr Charles Onzima, says the viral disease, which is related to rinderpest in sheep as well as goats, has claimed the lives of goats in Olali parish in Ogoko sub-county.
He adds that PPR disease was confirmed in the district after 500 local and 94 Boer goats were supplied to families in Olali parish under a poverty eradication programme that he suspects infected the local goats.
43 of the boar goats died while 10 of the local goats of the communities also died of PPR disease.
Onzima says immediately after receiving information about the disease, the veterinary officers got the goats manifesting the signs of PPR that include sudden onset of depression, fever, discharge from the eyes and nose, sores in the mouth, breathing difficulty and death among others.
He says that they have already had three rounds of vaccination for the available goats in the affected area.
Original Source: New Vision Via harvestmoney.co.ug
Artisanal gold miners defy government on mercury use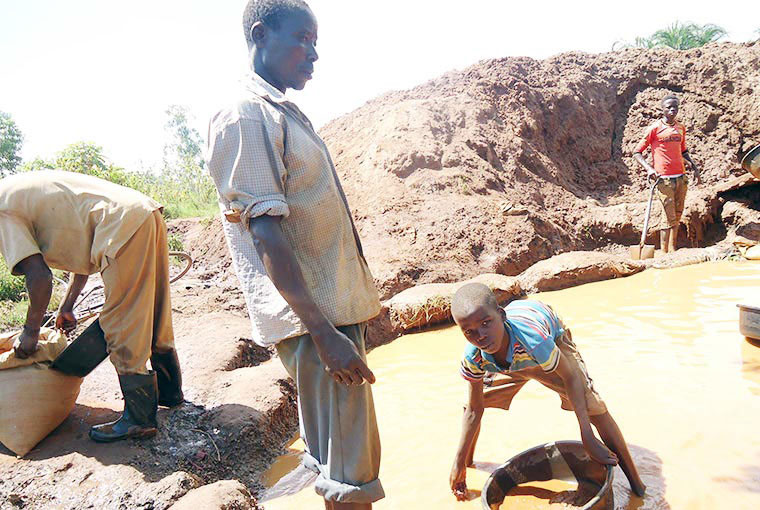 In October, President Museveni signed into the law the Mining and Minerals Act 2022. One of the key provisions in the law is the banning of mercury use in mining activities.
Artisanal and small scale gold miners in Uganda use mercury to separate gold from the ores, a method they say is cost effective, fast and easy to use. During this process, mercury is mixed with gold containing materials to form a mercury gold amalgam which is then heated to obtain the gold from the sediments.
The miners do the processing without wearing any personal protective gear. However, different Non- Government and Civil Society Organizations have over the years warned these miners against using mercury as it poses serious health threats to human life and dangerous to the environment.
But even with the government banning the use of mercury and several warning about the dangers it imposes, gold miners are not yet ready to stop using the substance especially since the government is not providing any viable alternative method they can use.
In Tiira mining site, Tiira town council, Busia district, gold miners expressed their concerns on this ban. Stephen Engidhoh, the Eastern Uganda chairman of Uganda Association of Artisanal and Small Scale Mining (UGAASM) said that mining has created jobs for over 30,000 people in Busia alone and with the government ban on use of mercury, many of them are likely to remain jobless.
He noted that in every sub county in Busia district, there are people during the exploration of minerals but the large gold discoveries here should not be an excuse to eliminate the small-scale miners from the mining sector because these minerals belong to all of them and it where they make a living from.
He added that if government wants this directive to be implemented, it should enforce it gradually and after finding an alternative method the miners can use.
"Government should first sensitize the miners about the dangers of using mercury before eliminating it. By government coming to abruptly ban the use of mercury, it is already creating indirect employment for smugglers to smuggle it into the country than they think they are eliminating," Engidoh said.
Paul Angesu, the chairman on Tiira Landlords and Artisanal Miners Association said that even though they have been told that mercury is dangerous, for all the years they have used, they have never seen anyone experiencing the danger they say it causes.
"The government still needs to carry out thorough investigations on the possible dangers of using mercury so that it presents to the local miners with practical evidence that indeed mercury is dangerous and this will make us to easily stop using it," Angesu said.
He added that sometime back, the Uganda National Association of Community and Occupational Health (UNACOH) came and took samples of mercury from the miners but they were not able to submit in the feedback for them to know if indeed they are indeed being affected by mercury.
An alternative gold extraction method which has been suggested to the artisanal gold miners is the use of borax method' a technique of artisanal gold mining which use borax (a chemical compound) as a flux to purify gold. However, the miners say the government has not taken the initiative of introducing this method to them and training them on how to use it.
"They want us to use borax as an alternative to mercury but most of us don't even know how borax looks like or even how it works. How do they expect us to start using something they have never taken the initiative to introduce to us?" Angesu asked.
Ramadhan Birenge, a gold miner in Namayingo district has tried using borax before after an NGO brought a sample of it to them. He however said that there is no any another way a miner can use to get gold clearly and quickly other than using mercury.
"The borax they are telling us to use is very expensive and not easily accessible to us, we don't even know where it is sold and to get gold through using borax is a very long process yet mercury is a very easy, shorter process and relatively cheap."
John Bosco Bukya, the chairman of Uganda Artisanal Miners Association told The Observer that they are law abiding citizens and since they have tested the consequences of operating in irregularities, they have no big problem with banning of mercury use in mining areas.
But however, before government bans it, it should provide the miners with an alternative processing reagent. He noted that government may not succeed with the ban and not because the miners don't want to stop using mercury, but because the available alternatives must be effective, efficient and affordable.
"We don't know anything about the borax method which they say can be an alternative. We don't know where it is manufactured from, neither its cost or effectiveness. Government should first train the miners of an alternative method, test its effectiveness and efficiency before banning the method currently being used. If it is more efficient, definitely miners will stop using mercury," Bukya said.
He also advised government to first sensitize these miners about the dangers of mercury before enforcing it and then phase it out gradually and not immediately because it is going to affect the livelihoods of Ugandans who are in this sector and yet it is the responsibility of government to make sure that all Ugandans thrive in their businesses.
Mercury is smuggled into Uganda through the porous borders with Kenya by cartels which makes its trade illegal. It is then discreetly sold to artisanal miners in Busia with a Kg costing between Shs 600,000 to Shs 1 million.
According to the World Health Organization (WHO), exposure to mercury, even small amounts may have toxic effects on the nervous, digestive and immune systems and on lungs, kidneys, skin and eyes as well as pose a threat to the development of the child in the womb for pregnant women.
Most of these ailments manifest over time. People who burn the gold usually take in large doses of mercury because they directly inhale the metals but those who may get it after eating food or drinking water that is contaminated with mercury take it in slowly and it accumulates over time.
Mercury also contaminates the soil making it infertile and unable to support agriculture, water and air. Mercury emitted to the air can also circulate around and contaminate water, fish and wildlife far from the mine from which it was released which affects the biodiversity.
Original Source: The Observer