Bill Gates is the biggest private owner of farmland in the United States. Why?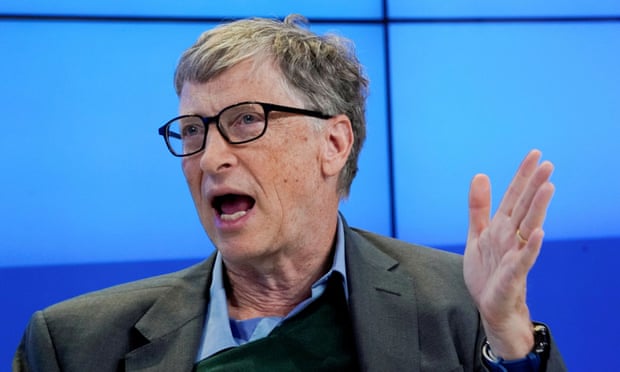 Gates has been buying land like it's going out of style. He now owns more farmland than my entire Native American nation.
Bill Gates has never been a farmer. So why did the Land Report dub him "Farmer Bill" this year? The third richest man on the planet doesn't have a green thumb. Nor does he put in the back-breaking labor humble people do to grow our food and who get far less praise for it. That kind of hard work isn't what made him rich. Gates' achievement, according to the report, is that he's largest private owner of farmland in the US. A 2018 purchase of 14,500 acres of prime eastern Washington farmland – which is traditional Yakama territory – for $171m helped him get that title.
In total, Gates owns approximately 242,000 acres of farmland with assets totaling more than $690m. To put that into perspective, that's nearly the size of Hong Kong and twice the acreage of the Lower Brule Sioux Tribe, where I'm an enrolled member. A white man owns more farmland than my entire Native nation!
The United States is defined by the excesses of its ruling class. But why do a handful of people own so much land?
Land is power, land is wealth, and, more importantly, land is about race and class. The relationship to land – who owns it, who works it and who cares for it – reflects obscene levels of inequality and legacies of colonialism and white supremacy in the United States, and also the world. Wealth accumulation always goes hand-in-hand with exploitation and dispossession. In this country, enslaved Black labor first built US wealth atop stolen Native land.
The 1862 Homestead Act opened up 270m acres of Indigenous territory – which amounts to 10% of US land – for white settlement. Black, Mexican, Asian, and Native people, of course, were categorically excluded from the benefits of a federal program that subsidized and protected generations of white wealth.
The billionaire media mogul Ted Turner epitomizes such disparities. He owns 2m acres and has the world's largest privately owned buffalo herd. Those animals, which are sacred to my people and were nearly hunted to extinction by settlers, are preserved today on nearly 200,000 acres of Turner's ranchland within the boundaries of the 1868 Fort Laramie Treaty territory in the western half of what is now the state of South Dakota, land that was once guaranteed by the US government to be a "permanent home" for Lakota people.
The gun and the whip may not accompany land acquisitions this time around. But billionaire class assertions that they are philosopher kings and climate-conscious investors who know better than the original caretakers are little more than ruses for what amounts to a 21st century land grab – with big payouts in a for-profit economy seeking "green" solutions.
Our era is dominated by the ultra-rich, the climate crisis and a burgeoning green capitalism. And Bill Gates' new book How to Avoid a Climate Disaster positions himself as a thought leader in how to stop putting greenhouse gases into the atmosphere and how to fund what he has called elsewhere a "global green revolution" to help poor farmers mitigate climate change. What expertise in climate science or agriculture Gates possesses beyond being filthy rich is anyone's guess.
When pressed during a book discussion on Reddit about why he's gobbling up so much farmland, Gates claimed, "It is not connected to climate [change]." The decision, he said, came from his "investment group." Cascade Investment, the firm making these acquisitions, is controlled by Gates. And the firm said it's "very supportive of sustainable farming".
It also is a shareholder in the plant-based protein companies Beyond Meat and Impossible Foods as well as the farming equipment manufacturer John Deere. His firm's largest farmland acquisition happened in 2017, when it acquired 61 farming properties from a Canadian investment firm to the tune of $500m.
Arable land is not just profitable. There's a more cynical calculation. Investment firms are making the argument farmlands will meet "carbon-neutral" targets for sustainable investment portfolios while anticipating an increase of agricultural productivity and revenue.
And while Bill Gates frets about eating cheeseburgers in his book – for the amount of greenhouse gases the meat industry produces largely for the consumption of rich countries – his massive carbon footprint has little to do with his personal diet and is not forgivable by simply buying more land to sequester more carbon.
The world's richest 1% emit double the carbon of the poorest 50%, an 2020 Oxfam study found. According to Forbes, the world's billionaires saw their wealth swell by $1.9tn in 2020, while more than 22 million US workers (mostly women) lost their jobs.
Like wealth, land ownership is becoming concentrated into fewer and fewer hands, resulting in a greater push for monocultures and more intensive industrial farming techniques to generate greater returns. One per cent of the world's farms control 70% of the world's farmlands, one report found. The biggest shift in recent years from small to big farms was in the US.The land we all live on should not be the sole property of a few
The principal danger of private farmland owners like Bill Gates is not their professed support of sustainable agriculture often found in philanthropic work – it's the monopolistic role they play in determining our food systems and land use patterns.
Small farmers and Indigenous people are more cautious with the use of land. For Indigenous caretakers, land use isn't premised on a return of investments; it's about maintaining the land for the next generation, meeting the needs of the present, and a respect for the diversity of life. That's why lands still managed by Indigenous peoples worldwide protect and sustain 80% of the world's biodiversity, practices anathema to industrial agriculture.
The average person has nothing in common with mega-landowners like Bill Gates or Ted Turner. The land we all live on should not be the sole property of a few. The extensive tax avoidance by these titans of industry will always far exceed their supposed charitable donations to the public.
The "billionaire knows best" mentality detracts from the deep-seated realities of colonialism and white supremacy, and it ignores those who actually know best how to use and live with the land. These billionaires have nothing to offer us in terms of saving the planet – unless it's our land back.
Original Source: The Guardian.
FAO launches solar powered irrigation systems in Kalungu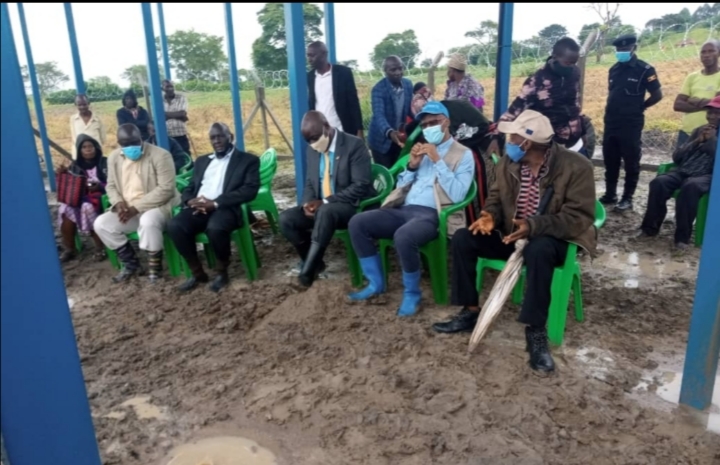 FAO Country Representative Dr. Antonio Querido, Agriculture Minister Vincent Ssempijja flanked by Kalungu District leadership during the commissioning of a solar irrigation system in Bugomola A, Lwebenge Sub County in Kalungu
KALUNGU — The Food and Agriculture Organization of the United Nations (FAO,) last week, launched two solar powered irrigation systems in Kalungu District. The projects are part of efforts to strengthen resilience of rural populations and agricultural production systems through the provision of water for irrigation in the the cattle corridor districts.
FAO, in collaboration with the Ministry of Agriculture, Animal Industry and Fisheries – MAAIF has been implementing a Global Climate Change Alliance (GCCA) Project on agriculture adaptation to climate change in Uganda since 2012 — through the establishment of small scale irrigation systems in the Central Cattle Corridor districts of Mubende, Nakasongola, Luwero, Kiboga, Nakaseke, Sembabule, Kalungu and Rakai amongst others, to help farmers cope with harsh climatic conditions by sustaining all season crop production, but mainly during the dry seasons.
Residents in Bugomola A, Lwebenge Sub County and Mabuyenzo village in Kalungu District were the first beneficiaries of the small scale micro irrigation system in the greater Masaka.
Agriculture Minister – Vincent Ssempijja and Dr. Antonio Querido – the FAO Country Representative in Uganda, jointly launched the solar powered irrigation systems, last week.
The area has been prone to water shortage, especially during drought spells, affecting both domestic and commercial agricultural activities.
The system is, according to Dr Querido, part of FAO and government of Uganda's efforts to build capacities of communities and farmers to cope with climate change and strengthen resilience of rural populations and agricultural production systems through provision of water for irrigation, particularly in districts vulnerable to drought and climate variability.
In Bugomola A, for instance, the Ugx260m solar powered irrigation project will provide water for the four-acre Lwabenge Integrated Group garden.
"Agriculture in the cattle corridor region of Uganda is rain-fed and highly dependent on local weather conditions. This means that farming activities have to be put on hold during the dry season.
"With the new sprinkles system, we are certain that farmers will have access to water for dry season agricultural activities," said Dr. Querido.
The FAO boss noted further that the system will not only increase agricultural production and returns to small scale farmers, but will also improve living conditions of the rural population.
Minister Ssempijja commended FAO for 'changing lives of my people,' adding that the solar irrigation systems in Kalungu will serve as a demonstration of modern agricultural practices to small scale farmers.
The Minister exclusively told PML Daily that historically, the government had been more engaged in promoting large-scale irrigation for commercial farmers due to a limited understanding of the business cases for small-scale irrigation.
He said that access to irrigation will provide farmers with a more reliable income, since one farm can produce several yields a year.
"Many will be ready in three months, which means farmers can gather three or four harvests in a year," he said.
FAO engineer Mr. Denis Besigye said solar was a great fit with irrigation, because on days when plants need the most water, 'you get the most water out of the pump.'
The engineer advised farmers' groups to advantage of the availaable opportunity ofsolar irrigation systems in their areas to change their lives as well as vigirously guarding the facilities against vandalism, noting that each facility cost FAO about Ugx 260m.
Josephine Namagga Muwanga, a member of the beneficiary group in Lwabenge-Bugomola said for tomato cultivation, timely irrigation was vital – cautining that even missing one day could severely affect the crop quality and yield. She said her group had depended on expensive diesel generators for irrigation – a scenario that presented one of the biggest challenges to the farmers.
The solar irrigation systems in Kalungu are some of such other similar projects under construction in 13 other districts in the cattle corridor.
In addition, other schemes such biogas construction are being done in the same area to support local communities.
In reference to Uganda solar water pumping report 2019, the ratio of cultivated area under irrigation to Uganda's irrigation potential is lower than the Sub Saharan Africa average at only 0.5 per cent, whereas approximately 15 percent of the country's surface area is covered by fresh water sources.
The land under irrigation in Uganda is almost exclusively under large-scale projects.
However, the national focus is increasingly shifting towards smaller projects, driven by a combination of demographics and rural realities.
Original Source: pmldaily.com
…….Special Report; abridged testimony……. ABDUCTION AND TORTURE: New methods used by multinationals and security agencies to grab land from the poor communities…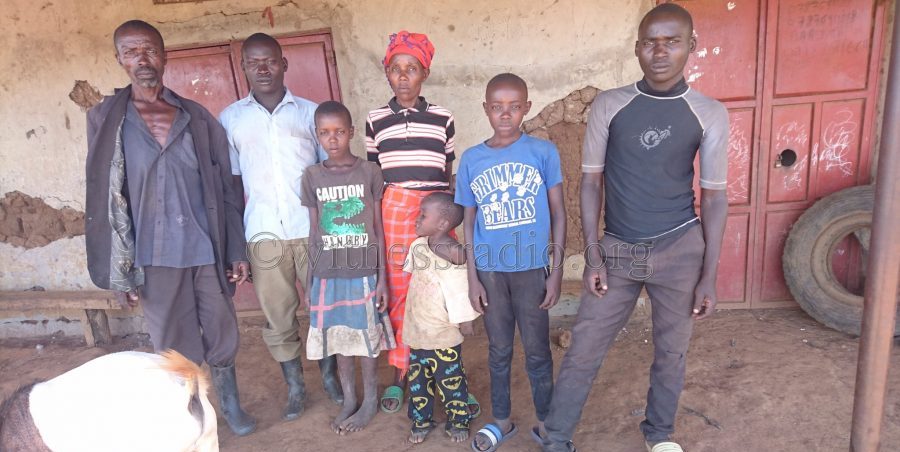 Baluma (wearing a coat) and some of his family members.
…….Special Report; abridged testimony…….
ABDUCTION AND TORTURE: New methods used by multinationals and security agencies to grab land from the poor communities…
By witnessradio.org Team
Sipiriano Baluma, 60 is among the 35000 residents who have lawfully occupied and cultivated their land since the 1930s. But, the right to own land was brought to an end in early 2019, when residents woke up to the news of a local land broker Mwesigwa Reuben claiming that he owns their land. Just in a week news spread like wildfire that the land ownership had changed to Great Season SMC Limited, a company solely owned by a Sudan investor currently based in UAE, Dubai.
Immediately, residents witnessed the deployment of casual laborers from Darfur, Sudan, armed with bows and arrows to carry out forced evictions under the protection of Kiryandongo district police.
Without any meaningful consultation or compensation, the company, its agents, and security agencies in Kiryandongo district resorted to using violence targeting family heads and leaders of the project affected persons that were standing up for their rights. Acts of violence ranged from kidnaps, torture, beating, cutting down people's crops to demolishing of houses, among others.
Baluma, a father of twelve (12) children, a resident of Kisalanda- Jerusalem, Kitwala Sub County in Kiryandongo district got kidnapped, and while in captivity, the company grabbed his 20 acres, which had houses, plantations of maize, banana, sweet potatoes, and cassava.
Baluma said, his land was life to him as he would earn Uganda Shillings close to one and half a million (1.5M) equivalent to about USD 500 every season before Great Seasons SMC Limited grabbed it.
He added that such an income would meet basic needs for his family including paying school fees.
Baluma shares his ordeal on how he lost his land: "I was at my home at 8:00 am local time on 18th, March 2021, when armed anti-riot police and company workers armed with bows and arrows traveling on two police patrols raided my home. I was kidnapped and taken to Kiryandongo district central police. This incident was witnessed by my family members (my wife and children)" Said Baluma.
He said while in captivity, one of the workers of the company questioned him about why he was cultivating on the land owned by the company and accused him of refusing to surrender his land.
According to his wife, Njeze Donati, in an hour's time after Baluma's abduction, the company's workers returned with a tractor, plowed their land up-to the doorstep, and planted maize.  As a result, their house now stands in the middle of the company's plantation, inaccessible and isolated from the rest of the world.
"The armed workers under the protection of Kiryandongo police put us on the gunpoint ordered us to enter and to lock ourselves in the house, which moment was used to grab our family land," Said Donati.
She added that they were able to identify a police officer who oversaw the land grab exercise as Abura Felix attached to the Kiryandongo police
Baluma spent six (6) days in police cells without a charge and after the intervention of Witness Radio – Uganda lawyers, he was granted police bond.
On the police bond paper, Kiryandongo district police preferred a charge of criminal trespass on his own land.
Kiruhura and Kazo lift ban on milk sale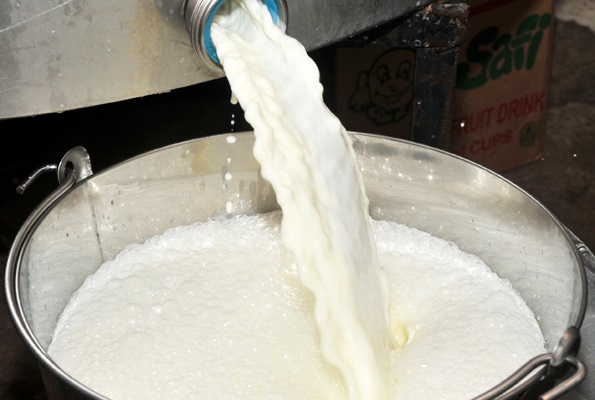 Ban on the sale of milk has been lifted for two weeks under strict regulations
Kiruhura, Uganda.  Authorities in Kiruhura and Kazo districts have reversed the earlier ban imposed on the sale of milk. The two districts that are under quarantine following the outbreak of Foot and Mouth disease had banned the sale of animal products and the movement of livestock.
However, in a meeting held between the dairy farmers and district Foot and Mouth disease task forces of both districts, it was agreed to lift the ban on the sale of milk for two weeks but under strict regulations.
Kiruhura District Resident Commissioner Aminadan Muhindo says they have stopped traders who move from house to house collecting milk on motorcycles, but asked them to set up collection centres where farmers will personally deliver their milk.
Kiruhura LC V chairperson Rev Samuel Katugunda welcomed the partial lifting of the ban. He also asked the residents to respect the regulation.
He says the districts are facing an economic crisis because of the total quarantine.
Kazo District Veterinary Officer Richard Kiyemba says they have agreed with dairy farmers to continue selling the milk. He says they are faced with the challenge of unscrupulous people who smuggle livestock out of the district at night.
The quarantine in these districts has increased the smuggling of livestock and its products which is done during the night. Recently, a trader was arrested carrying animals in a Fuso truck heading to Kampala.
Emmanuel Kyeishe, chairperson Kiruhura district Framers Sustainable Development Association, welcomed the lifting of the ban on the sale of milk but warned that the task force is to blame for the widespread of the disease.
He asked the team to ask for reinforcement to boost their monitoring and implementation of the quarantine.
Original Source: THE INDEPENDENT