Close to 120 land rights defenders, lawyers, and PAPs leaders have been arbitrarily arrested during the COVID-19 lockdown…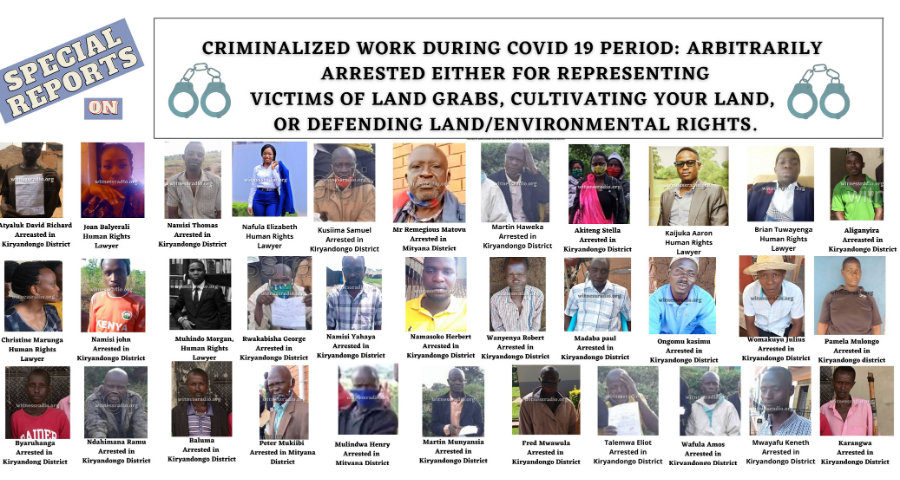 Close to 120 land rights defenders and lawyers representing PAPs have been arbitrarily arrested by security forces facilitating land grabs for investors during COVID-19 lockdown.
A special report by witnessradio.org Team
12th/04/2021 – Kampala – Uganda – as Uganda struggles to strengthen measures to curb the spread of COVID-19, security agencies working for multinational companies and local investors are resorting to the use of criminal charges to criminalize the work of community land rights defenders and farming activities of local communities to fasten land grabs in Uganda.
When Uganda entered into a total COVID-19 lockdown on 31st March 2020, access to justice was constrained as courts remained closed and administrative units of police were inaccessible as well as public transport nonfunctional, which worsened the situations for land grab victims.
Since late last 2020, Uganda has eased the lockdown where some sectors including public transport, public courts, higher institutions of learning, and shopping malls have been allowed to re-open under strict orders to adhere to COVID-19 Standing Operating Procedures.
According to documented figures by Witness Radio – Uganda, lawyers representing project-affected persons, community land rights defenders, and project-affected persons' leaders have suffered the wrath of the army, police, and private security guards protecting plantations where most victims have been tortured and mistreated while in detention.
In some cases, victims were way-laid while others were kidnapped from their homes by men cladding army uniforms and kept in incommunicado for several days.
A handful of victims have been taken to court while others are on police bond and routinely required to report on their bonds. The commonest criminal charges slapped to land rights defenders and landowners range from criminal trespass, threatening violence, and setting fire on crops.
In the case of Kiryandongo district where several multinational companies are grabbing communities' land for several agribusinesses, more than 50 people have either been kidnapped or illegally arrested. Some of the victims are lawyers representing land grab victims including, Nafula Elizabeth, Kaijuka Ezron, Tuwayenga Brian, Buryelali Joan, Muhindo Morgan, Koloa Eric, and Marunga Christine.
The seven lawyers were rounded up by police while in the process of collecting evidence to support the human rights enforcement applications that had been filed at the Masindi High Court in order to strengthen the eviction case. On orders from the former Kiryandongo DPC Joseph Bakaleke, they were arbitrarily arrested and detained at Kiryandongo central police and charged with holding unlawful assembly and neglect to spread harmful diseases (COVID-19)
Kiryandongo, which has several multinationals including Great Seasons SMC Limited, owned by Sudan's investor based in Dubai, Kiryandongo Sugar Limited, owned by an Indian family (RAI Dynasty), and Agilis Partners Limited which is owned by American twin brothers (Benjamin Prinz and Phillip Prinz) experienced a high level of impunity before and during COVID period as affected communities are blocked from opening criminal cases against individual police officers or individual workers of multinational companies.
On the long list of community land rights defenders from Kiryandongo district, it has Atyaluk David Richard, Akiteng Stella, Sipiriano Baluma, Mwawula Fred, Ndahimana Ramu, Kusiima Samuel, Martin Munyansia, Martin Haweka, Wafula Amos, Talemwa Eliot, Pamela Mulongo, Byaruhanga John, Namanya Samwiri Paulo, Tumusiime Sylvester, Sanyu Eriya, Byaruhanga Rogers, Nsubuga Ahmada, Zironda Simon, Aliganyira Francis, Karangwa Frank, Kaliisa Giliigoli, Emmanuel Mulyanasaka and many others.
"We are witnessing the rise of criminalization of farming activities of poor smallholder farmers and the work of community land/environmental rights defenders because security agencies working for multinationals took advantage of COVID-19 lockdown to weaken voices of affected communities from demanding access to justice. We COVID period witnessed project affected persons being sent to prison without appearing before any magistrate or judge" Said Wokulira Geoffrey Ssebaggala, Team Leader Witness Radio – Uganda.
He further explained that guards from the multinational companies accompanied by the area police in broad daylight to attack families, whisk away family heads or defenders who usually amplify voices of the affected poor families, take them to their military detach, severely beaten and tortured before being transferred to Kiryandongo district police for detention.
Ever since 2021 started, about ten (10) community land rights defenders and PAPs leaders have experienced arbitrary arrests. On the list, Olupot James and Martin Haweka, both community land rights defenders are the latest victims. Each of the victims was kidnapped from his homes by unidentified men donning Uganda People Defense Forces (UPDF) uniform.
According to eyewitnesses, when soldiers saw the smoke in Olupot's garden, they came and asked who had set the fire, Olupot positively responded that it was him who did so trying to clear his garden for the ongoing planting season. They ordered him to sit down and started beating him. His two neighbors (Kaliisa Giligoli and Emmanuel Mulyanasaka) came to his rescue when they heard him screaming. When they tried to take photos of what was happening, when the security guard who saw them, they were manhandled before the arrest. However, the two were later released by police on their way to Kamusenene barracks. Olupot was however taken to Kiryandongo police station
For Martin Haweka, he was picked from his home by a police patrol with 10 armed men before being taken to Kimogola police post and later transferred to Kiryandongo central police station. Haweka who was found in his garden was charged with criminal trespass.
So, much as international human rights organizations such as the UN and many others have also condemned the violent arrests and evictions of the poor families from their land especially during the covid period, the three multinational companies, government, and Kiryandongo police station, evictions are still ongoing.
In a letter dated 8 December 2020 to the government of Uganda from the UN Special Rapporteur on the situation of human rights defenders, the two were extremely concerned by the continued oppressing of land rights defenders in the Kiryandongo district.
They expressed their grave concerns on how local communities in Uganda are being forcefully displaced from their territory and their rights are not being upheld in line with international human rights law.
Despite a ministerial directive not to evict any land occupants during the lockdown, the companies have still intensified pressure on the locals to leave.
On 16th April 2020, the minister for Lands, Housing, and Urban Development, Mrs. Beti Kamya, announced as the government had halted all land transactions for all citizens to comply with the Presidential directive of staying at home to save their lives from COVID-19.
Among other people arrested in land eviction exercises, in other parts of the country during lockdown include; Namasiko Herbert, Namisi John, Kikenyi Anthony, Wagohoko Amuza, Wakoko Moses, Madaba Paul, Nasinge Thomas, Wanyenya Robert, Mukutte Godfrey, Wakoba Stephen, Wamukunyu Julius, Wandera Godfrey, Magobi sam, Wabuyaka Ivan, Serenyi Robert, Misaj Nasuba, Ongom Kasim, Muwayafu Kenneth, Mugisa Moses, and Nasiyo Rose were illegally arrested and charged with arson, assault, criminal trespass, and malicious damage.
Paul Buzaale, Peter Sserwanga, Francis Ssenyange, Harima Nakalema Namwandu Byarugaba, Lwanga Butenza, Alex Muddu, John Mukaku, John Mukiga, and Adam Bakku were arrested and charged with criminal trespass on a 300 acres piece of land that one Joseph Bukenya claims ownership in Masaka district.
Peter Mukiibi, Mulindwa Henry, Lukyamuzi Moses, Remegious Matovu in Mityana district and charged with threatening violence.
Edward Ssengendo, Beatrice Nabaggala, Silvia Nakaweesa, Fred Ssebakka, and Robinah Luyiga arrested by Mityana police on orders of Afande Kasooga and charged with threatening violence.
Access to land, capital hampering youth's involvement in agri-business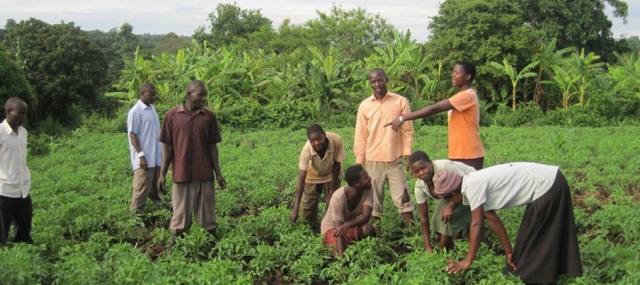 Stakeholder engagement with governments to support the youths should be a component of every programme
Young people in sub-Saharan Africa have keen interest in agriculture especially with the use of technology but are hampered with numerous challenges including limited access to land, skills set, sustainable financing and access to markets, a new report has revealed.
A new study carried out by Heifer International in 21 African countries titled 'The Future of Africa's Agriculture – An Assessment of the Role of Youth and Technology,' reveals that 10 out of 11 countries, with the exception of Tanzania agreed that the most important support required is funding.
However, more training and mentorship were seen as more important than funding in Ghana, Kenya, Tanzania and Zimbabwe.
The survey also reveals that whereas more youths in Uganda, Tanzania and Zimbabwe stressed the need for support in the area of access to markets, their counterparts in Senegal, Kenya, Nigeria and Ghana prioritized the need for support in agri-technologies. Access to land was the major concern for the youth in Rwanda, Zimbabwe and Zambia.
The organisations working in the sector suggested that the best way to engage youths in agriculture is through technological innovation (39%), government support for young farmers (32%) and inclusion of youths in agriculture policy formulation (21%).
"Most youths in Africa also do not have access to land for agriculture.  59% of youths surveyed do not have access or own land. Land ownership amongst young people is lowest in Ghana, Zambia, Senegal and Rwanda," the survey notes. "Youths in Malawi seem to have access to land, with only 14% having no access, the lowest among countries surveyed."
Technology adoption
Overall, technology adoption in Africa too remains low, with Ghana, Senegal and Zambia having the lowest agri-tech adoption rate.  Zimbabwe, Kenya and Nigeria have the highest technological adoption rates, according to the survey that featured 30,000 youths, stakeholders in innovations and small holder farmers.
William Matovu, a director at Heifer International-Uganda said the paradox of Africa's economic development is that the continent's urban and rural populations who produce most of the food is mostly comprised of smallholder farmers practicing subsistence farming while living in extreme poverty.
"This scenario scares away the continent's youth from careers in agriculture, yet ordinarily Africa's youth should be replacing the aging farming population but this generational shift is not happening fast and well enough to secure Africa's food security goals," he said.
He reckoned that Africa's youths disapproving attitude towards agriculture is mainly a result of lack of funding which is the biggest barrier towards their interest in the sector.
Africa's agricultural sector accounts for nearly 30% of the GDP of sub-Saharan Africa and employs 54% of the work force, but it is still underdeveloped.
Mondo Kyateeka, the Commissioner for Youth and Child Affairs at the Ministry of Gender, Labour and Social Development said unfortunately, young people are selling off the only available land to migrate to cities or go abroad for low-skills jobs
He said there are also feelings that older people are not willing to relinquish the land they can no longer use, to the younger persons to use it.
He, however, said the government is seeking ways of curbing the sale of agricultural land, saying the position is that agricultural land should remain for that purpose.
Key recommendations
As a result, the survey recommends a review of existing programmes that targets smallholder farmers and that youths must be conducted to determine if the current strategies support the African farmer with the use of technology.
"Innovation must be viewed within the context of the current realities,' the survey notes. Beyond a smart App, the survey says providing linkages to local and regional markets will go a long way in improving the financial bottom-line of every farmer. The survey says digital literacy must also be a key consideration.
The survey says while smallholder farmers in rural areas do not have access to smart phones or Internet access, a basic phone is a good starting point in introducing the use of technology, through weekly SMS on prevailing market prices and best input bargains.
Furthermore, youths with a keen interest in agri-tech must work collaboratively with smallholder farmers to get a better understanding of their challenges and how to provide sustainable and affordable solutions.
"There is also need to capture data to provide evidence-based results on the immediate benefit and long-term impact of the use of technology by smallholder farmers," the survey notes, adding that stakeholder engagement with the governments to provide access to land, tax waivers and fiscal policies that deliberately support youths in the sector should be a component of every programme.
East Africa poised to monitor carbon emission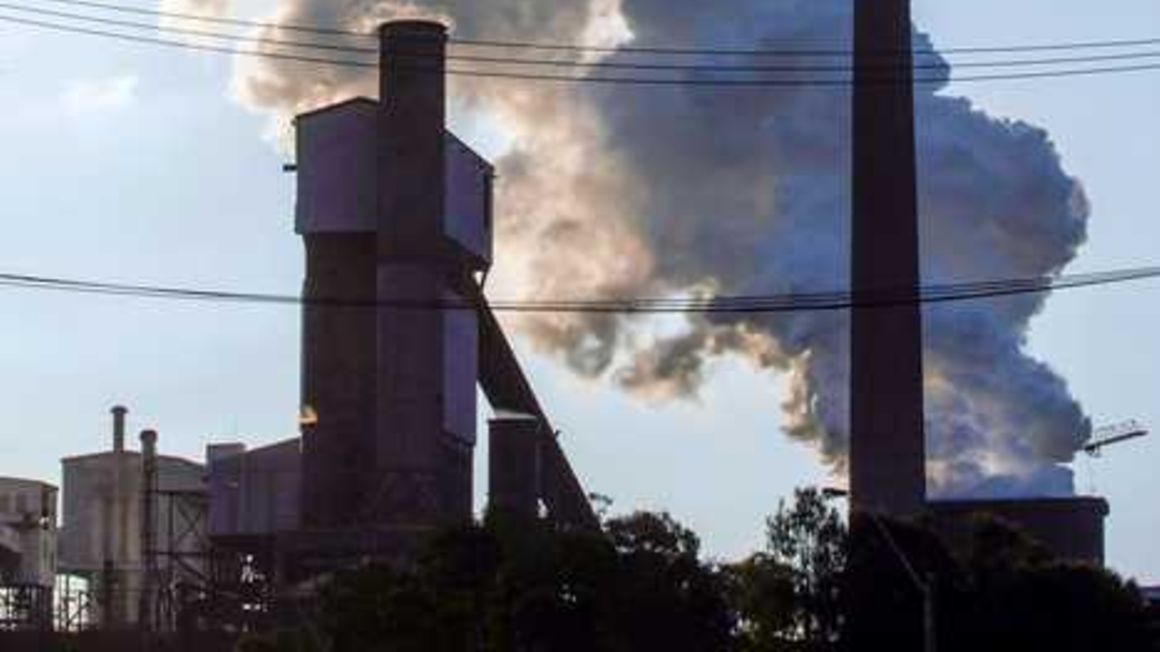 A factory emits smoke.
East Africa will soon be able to monitor how much carbon dioxide or methane is produced by particular activity at any particular point in time thanks to a NASA-aided system that combines observable ground data, real time satellite measurements of carbon dioxide and next-generation microbial soil modelling.
Cornell University researchers will develop the system that combines what they called "bottom-up" ecological modelling with "top-down" satellite data, thanks to a three-year, $1 million NASA grant, which began on July 1.
The researchers said last week Kenya, Tanzania, Uganda and Ethiopia have experienced deforestation will be covered by the system.
The system estimate will help in monitoring increase in carbon gained from potential afforestation, as well as how long this accumulation could take. These East African countries have ambitious climate mitigation programmes to sequester carbon in soils. Since the countries don't produce a lot of energy that emits carbon, their mitigation measures rely on putting carbon into ecosystems such as soils.
It is hoped that the rigorous, accurate and low-cost carbon monitoring system will help policymakers verify the effectiveness of their efforts when they seek international climate financing. The data will also inform food-security policies, as more soil carbon provides crop resilience to climate change.
Carbon also helps store more water in soils, making crops more tolerant and resistant to droughts, which increases yields.
Original Source:   THE EAST AFRICAN
Climate change will see East Africa get wetter say scientists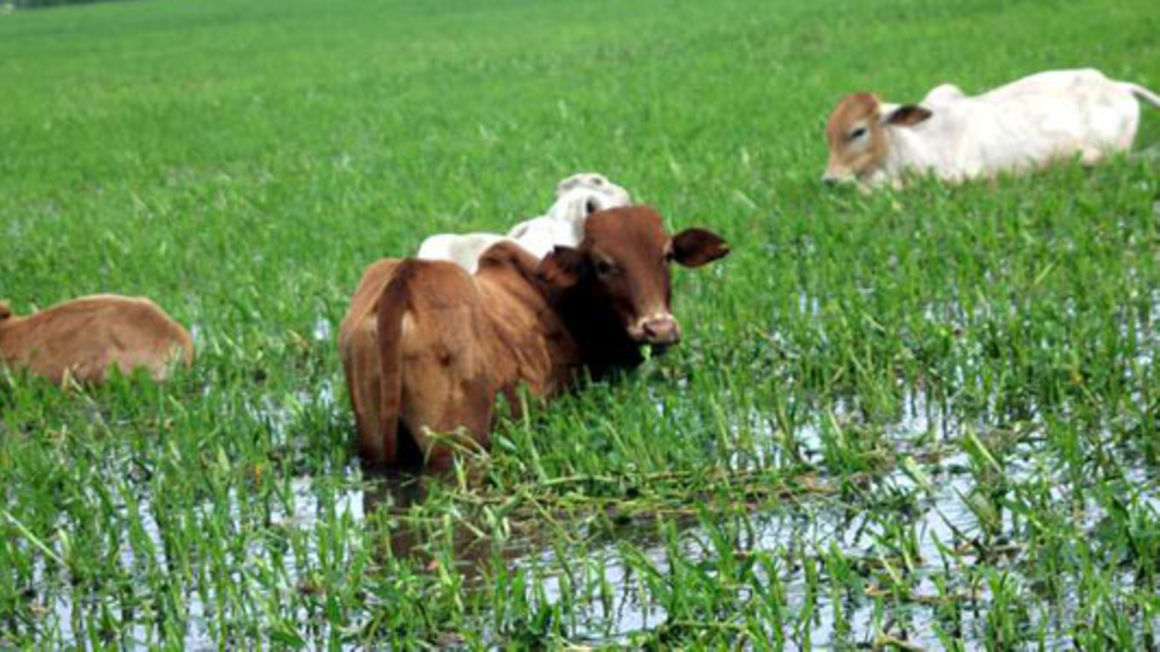 Cows in flooded pastures in the Tana delta, Kenya. According to scientists, while temperatures are predicted to rise, the region will likely get wetter mid-century. 
East Africa could be the lucky exception to the disastrous effects of climate change as scientists predict increased precipitation as temperatures rise.
Four scientists — working with the Association for Strengthening Agricultural Research in Eastern and Central Africa (Asareca) — Kizito Kwena, William Ndegwa, Imad Ali-Babiker and Hezron Mogaka — say the flipside to rising temperatures is that East Africa is likely to get wetter mid-century.
Citing separate studies by the Food and Agriculture Organisation (FAO) and the World Bank, the researchers say the projected 2°C increase in surface temperatures will result in an 11 per cent increase in rainfall over 80 per cent of the region.
"As unfamiliar as this counter-narrative seems, climate change presents the region an opportunity to think and act differently, to change the way it views growth and interacts with the environment," says of their paper titled The curse of food insecurity and climate change in Africa.
The scientists say the 2025 zero hunger target set by African leaders is achievable, if governments in the region invest at least 10 per cent of their GDP in agriculture and direct resources into climate-smart agriculture.
READ: Climate-smart farming boosting food security around the globe
According to Dr Kwena, while most climate models remain optimistic about the rainfall situation in East Africa — where vast areas of land are arid or semi-arid — the challenge is that governments may not be prepared to maximise the associated benefits.
"Climate change is not disaster all round. Climate models are predicting drought in one part of the continent and increased rainfall in the other. That is a huge opportunity considering the vast areas in the region that are arid or semi-arid. The challenge is how we harness this opportunity," said Dr Kwena.
And while there have been attempts, Dr Kwena said most climate-smart interventions have been limited to a farm or plot level, which restricts the impacts that could be achieved if climate smart agriculture technologies were applied on a larger scale.
There will also be a need for some adjustments. For instance, if the arid and semi-arid areas of the region become wetter, communities may be required to adopt new livelihood activities. These views stand in sharp contrast to other scenarios that predict that in many parts of Africa, every 1°C increase in temperature will result in a five per cent decline in food yields.
"Already, there have been several climate-induced grain shocks in the world. In the medium-term, climate change causes production losses and increases cost structures. In the long-term, climate change causes production collapse," said Asareca's executive secretary Professor Francis Wachira, adding, "With this kind of forecast, it is important to make our cropping systems better adapted to a warming world."
Enhance resilience
Climate-smart agriculture would enhance the resilience of food systems while also contributing to reduction of emissions, Prof Wachira said, adding that every dollar invested in agricultural research and development results in a 68kg reduction in emissions of carbon dioxide while a one per cent increase in agricultural water productivity frees up 24 litres of water per person per day.
Prof Wachira added that despite its potential, Africa remains a net importer of food even as other regions of the world have tripled their output.
In East and Central Africa, crop yields have stagnated over the past half a century, leading to sharp declines in per capita food production and an increase in poverty and hunger.
He pointed to market failures and over-dependence on rain-fed agriculture as the major factors behind the under-performance of African agriculture, a situation he warns will be exacerbated by climate change.
Original Source:  THE EAST AFRICAN