Close to 120 land rights defenders, lawyers, and PAPs leaders have been arbitrarily arrested during the COVID-19 lockdown…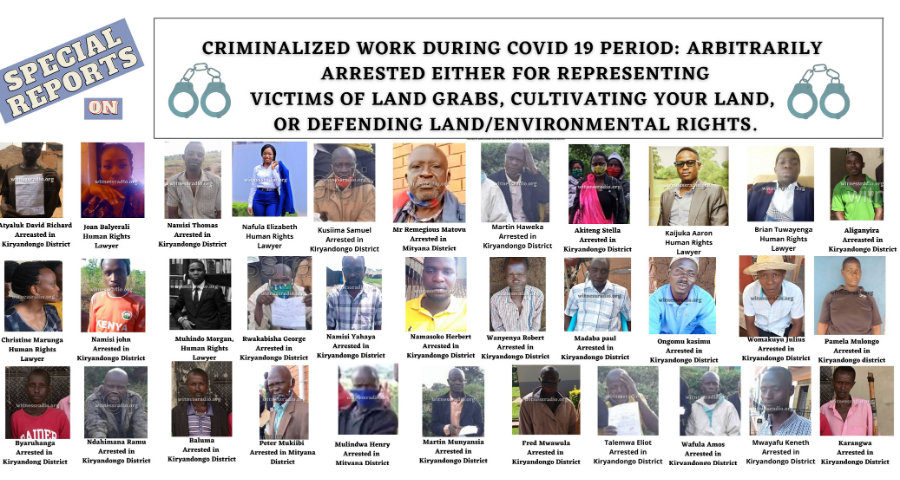 Close to 120 land rights defenders and lawyers representing PAPs have been arbitrarily arrested by security forces facilitating land grabs for investors during COVID-19 lockdown.
A special report by witnessradio.org Team
12th/04/2021 – Kampala – Uganda – as Uganda struggles to strengthen measures to curb the spread of COVID-19, security agencies working for multinational companies and local investors are resorting to the use of criminal charges to criminalize the work of community land rights defenders and farming activities of local communities to fasten land grabs in Uganda.
When Uganda entered into a total COVID-19 lockdown on 31st March 2020, access to justice was constrained as courts remained closed and administrative units of police were inaccessible as well as public transport nonfunctional, which worsened the situations for land grab victims.
Since late last 2020, Uganda has eased the lockdown where some sectors including public transport, public courts, higher institutions of learning, and shopping malls have been allowed to re-open under strict orders to adhere to COVID-19 Standing Operating Procedures.
According to documented figures by Witness Radio – Uganda, lawyers representing project-affected persons, community land rights defenders, and project-affected persons' leaders have suffered the wrath of the army, police, and private security guards protecting plantations where most victims have been tortured and mistreated while in detention.
In some cases, victims were way-laid while others were kidnapped from their homes by men cladding army uniforms and kept in incommunicado for several days.
A handful of victims have been taken to court while others are on police bond and routinely required to report on their bonds. The commonest criminal charges slapped to land rights defenders and landowners range from criminal trespass, threatening violence, and setting fire on crops.
In the case of Kiryandongo district where several multinational companies are grabbing communities' land for several agribusinesses, more than 50 people have either been kidnapped or illegally arrested. Some of the victims are lawyers representing land grab victims including, Nafula Elizabeth, Kaijuka Ezron, Tuwayenga Brian, Buryelali Joan, Muhindo Morgan, Koloa Eric, and Marunga Christine.
The seven lawyers were rounded up by police while in the process of collecting evidence to support the human rights enforcement applications that had been filed at the Masindi High Court in order to strengthen the eviction case. On orders from the former Kiryandongo DPC Joseph Bakaleke, they were arbitrarily arrested and detained at Kiryandongo central police and charged with holding unlawful assembly and neglect to spread harmful diseases (COVID-19)
Kiryandongo, which has several multinationals including Great Seasons SMC Limited, owned by Sudan's investor based in Dubai, Kiryandongo Sugar Limited, owned by an Indian family (RAI Dynasty), and Agilis Partners Limited which is owned by American twin brothers (Benjamin Prinz and Phillip Prinz) experienced a high level of impunity before and during COVID period as affected communities are blocked from opening criminal cases against individual police officers or individual workers of multinational companies.
On the long list of community land rights defenders from Kiryandongo district, it has Atyaluk David Richard, Akiteng Stella, Sipiriano Baluma, Mwawula Fred, Ndahimana Ramu, Kusiima Samuel, Martin Munyansia, Martin Haweka, Wafula Amos, Talemwa Eliot, Pamela Mulongo, Byaruhanga John, Namanya Samwiri Paulo, Tumusiime Sylvester, Sanyu Eriya, Byaruhanga Rogers, Nsubuga Ahmada, Zironda Simon, Aliganyira Francis, Karangwa Frank, Kaliisa Giliigoli, Emmanuel Mulyanasaka and many others.
"We are witnessing the rise of criminalization of farming activities of poor smallholder farmers and the work of community land/environmental rights defenders because security agencies working for multinationals took advantage of COVID-19 lockdown to weaken voices of affected communities from demanding access to justice. We COVID period witnessed project affected persons being sent to prison without appearing before any magistrate or judge" Said Wokulira Geoffrey Ssebaggala, Team Leader Witness Radio – Uganda.
He further explained that guards from the multinational companies accompanied by the area police in broad daylight to attack families, whisk away family heads or defenders who usually amplify voices of the affected poor families, take them to their military detach, severely beaten and tortured before being transferred to Kiryandongo district police for detention.
Ever since 2021 started, about ten (10) community land rights defenders and PAPs leaders have experienced arbitrary arrests. On the list, Olupot James and Martin Haweka, both community land rights defenders are the latest victims. Each of the victims was kidnapped from his homes by unidentified men donning Uganda People Defense Forces (UPDF) uniform.
According to eyewitnesses, when soldiers saw the smoke in Olupot's garden, they came and asked who had set the fire, Olupot positively responded that it was him who did so trying to clear his garden for the ongoing planting season. They ordered him to sit down and started beating him. His two neighbors (Kaliisa Giligoli and Emmanuel Mulyanasaka) came to his rescue when they heard him screaming. When they tried to take photos of what was happening, when the security guard who saw them, they were manhandled before the arrest. However, the two were later released by police on their way to Kamusenene barracks. Olupot was however taken to Kiryandongo police station
For Martin Haweka, he was picked from his home by a police patrol with 10 armed men before being taken to Kimogola police post and later transferred to Kiryandongo central police station. Haweka who was found in his garden was charged with criminal trespass.
So, much as international human rights organizations such as the UN and many others have also condemned the violent arrests and evictions of the poor families from their land especially during the covid period, the three multinational companies, government, and Kiryandongo police station, evictions are still ongoing.
In a letter dated 8 December 2020 to the government of Uganda from the UN Special Rapporteur on the situation of human rights defenders, the two were extremely concerned by the continued oppressing of land rights defenders in the Kiryandongo district.
They expressed their grave concerns on how local communities in Uganda are being forcefully displaced from their territory and their rights are not being upheld in line with international human rights law.
Despite a ministerial directive not to evict any land occupants during the lockdown, the companies have still intensified pressure on the locals to leave.
On 16th April 2020, the minister for Lands, Housing, and Urban Development, Mrs. Beti Kamya, announced as the government had halted all land transactions for all citizens to comply with the Presidential directive of staying at home to save their lives from COVID-19.
Among other people arrested in land eviction exercises, in other parts of the country during lockdown include; Namasiko Herbert, Namisi John, Kikenyi Anthony, Wagohoko Amuza, Wakoko Moses, Madaba Paul, Nasinge Thomas, Wanyenya Robert, Mukutte Godfrey, Wakoba Stephen, Wamukunyu Julius, Wandera Godfrey, Magobi sam, Wabuyaka Ivan, Serenyi Robert, Misaj Nasuba, Ongom Kasim, Muwayafu Kenneth, Mugisa Moses, and Nasiyo Rose were illegally arrested and charged with arson, assault, criminal trespass, and malicious damage.
Paul Buzaale, Peter Sserwanga, Francis Ssenyange, Harima Nakalema Namwandu Byarugaba, Lwanga Butenza, Alex Muddu, John Mukaku, John Mukiga, and Adam Bakku were arrested and charged with criminal trespass on a 300 acres piece of land that one Joseph Bukenya claims ownership in Masaka district.
Peter Mukiibi, Mulindwa Henry, Lukyamuzi Moses, Remegious Matovu in Mityana district and charged with threatening violence.
Edward Ssengendo, Beatrice Nabaggala, Silvia Nakaweesa, Fred Ssebakka, and Robinah Luyiga arrested by Mityana police on orders of Afande Kasooga and charged with threatening violence.
FAO launches solar powered irrigation systems in Kalungu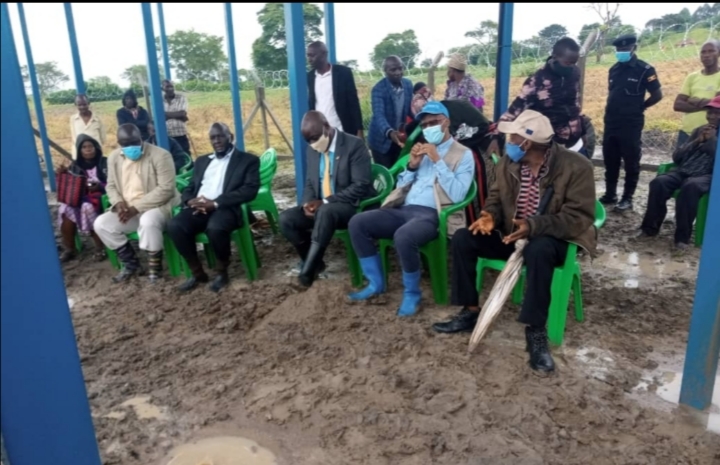 FAO Country Representative Dr. Antonio Querido, Agriculture Minister Vincent Ssempijja flanked by Kalungu District leadership during the commissioning of a solar irrigation system in Bugomola A, Lwebenge Sub County in Kalungu
KALUNGU — The Food and Agriculture Organization of the United Nations (FAO,) last week, launched two solar powered irrigation systems in Kalungu District. The projects are part of efforts to strengthen resilience of rural populations and agricultural production systems through the provision of water for irrigation in the the cattle corridor districts.
FAO, in collaboration with the Ministry of Agriculture, Animal Industry and Fisheries – MAAIF has been implementing a Global Climate Change Alliance (GCCA) Project on agriculture adaptation to climate change in Uganda since 2012 — through the establishment of small scale irrigation systems in the Central Cattle Corridor districts of Mubende, Nakasongola, Luwero, Kiboga, Nakaseke, Sembabule, Kalungu and Rakai amongst others, to help farmers cope with harsh climatic conditions by sustaining all season crop production, but mainly during the dry seasons.
Residents in Bugomola A, Lwebenge Sub County and Mabuyenzo village in Kalungu District were the first beneficiaries of the small scale micro irrigation system in the greater Masaka.
Agriculture Minister – Vincent Ssempijja and Dr. Antonio Querido – the FAO Country Representative in Uganda, jointly launched the solar powered irrigation systems, last week.
The area has been prone to water shortage, especially during drought spells, affecting both domestic and commercial agricultural activities.
The system is, according to Dr Querido, part of FAO and government of Uganda's efforts to build capacities of communities and farmers to cope with climate change and strengthen resilience of rural populations and agricultural production systems through provision of water for irrigation, particularly in districts vulnerable to drought and climate variability.
In Bugomola A, for instance, the Ugx260m solar powered irrigation project will provide water for the four-acre Lwabenge Integrated Group garden.
"Agriculture in the cattle corridor region of Uganda is rain-fed and highly dependent on local weather conditions. This means that farming activities have to be put on hold during the dry season.
"With the new sprinkles system, we are certain that farmers will have access to water for dry season agricultural activities," said Dr. Querido.
The FAO boss noted further that the system will not only increase agricultural production and returns to small scale farmers, but will also improve living conditions of the rural population.
Minister Ssempijja commended FAO for 'changing lives of my people,' adding that the solar irrigation systems in Kalungu will serve as a demonstration of modern agricultural practices to small scale farmers.
The Minister exclusively told PML Daily that historically, the government had been more engaged in promoting large-scale irrigation for commercial farmers due to a limited understanding of the business cases for small-scale irrigation.
He said that access to irrigation will provide farmers with a more reliable income, since one farm can produce several yields a year.
"Many will be ready in three months, which means farmers can gather three or four harvests in a year," he said.
FAO engineer Mr. Denis Besigye said solar was a great fit with irrigation, because on days when plants need the most water, 'you get the most water out of the pump.'
The engineer advised farmers' groups to advantage of the availaable opportunity ofsolar irrigation systems in their areas to change their lives as well as vigirously guarding the facilities against vandalism, noting that each facility cost FAO about Ugx 260m.
Josephine Namagga Muwanga, a member of the beneficiary group in Lwabenge-Bugomola said for tomato cultivation, timely irrigation was vital – cautining that even missing one day could severely affect the crop quality and yield. She said her group had depended on expensive diesel generators for irrigation – a scenario that presented one of the biggest challenges to the farmers.
The solar irrigation systems in Kalungu are some of such other similar projects under construction in 13 other districts in the cattle corridor.
In addition, other schemes such biogas construction are being done in the same area to support local communities.
In reference to Uganda solar water pumping report 2019, the ratio of cultivated area under irrigation to Uganda's irrigation potential is lower than the Sub Saharan Africa average at only 0.5 per cent, whereas approximately 15 percent of the country's surface area is covered by fresh water sources.
The land under irrigation in Uganda is almost exclusively under large-scale projects.
However, the national focus is increasingly shifting towards smaller projects, driven by a combination of demographics and rural realities.
Original Source: pmldaily.com
…….Special Report; abridged testimony……. ABDUCTION AND TORTURE: New methods used by multinationals and security agencies to grab land from the poor communities…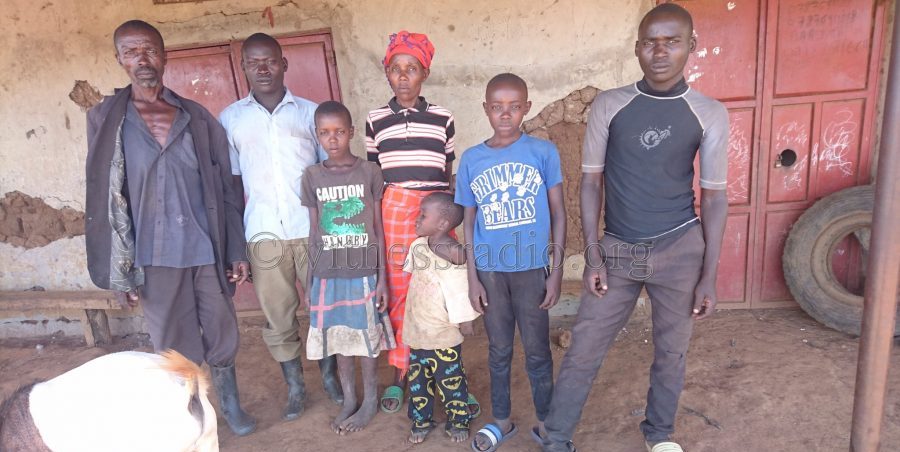 Baluma (wearing a coat) and some of his family members.
…….Special Report; abridged testimony…….
ABDUCTION AND TORTURE: New methods used by multinationals and security agencies to grab land from the poor communities…
By witnessradio.org Team
Sipiriano Baluma, 60 is among the 35000 residents who have lawfully occupied and cultivated their land since the 1930s. But, the right to own land was brought to an end in early 2019, when residents woke up to the news of a local land broker Mwesigwa Reuben claiming that he owns their land. Just in a week news spread like wildfire that the land ownership had changed to Great Season SMC Limited, a company solely owned by a Sudan investor currently based in UAE, Dubai.
Immediately, residents witnessed the deployment of casual laborers from Darfur, Sudan, armed with bows and arrows to carry out forced evictions under the protection of Kiryandongo district police.
Without any meaningful consultation or compensation, the company, its agents, and security agencies in Kiryandongo district resorted to using violence targeting family heads and leaders of the project affected persons that were standing up for their rights. Acts of violence ranged from kidnaps, torture, beating, cutting down people's crops to demolishing of houses, among others.
Baluma, a father of twelve (12) children, a resident of Kisalanda- Jerusalem, Kitwala Sub County in Kiryandongo district got kidnapped, and while in captivity, the company grabbed his 20 acres, which had houses, plantations of maize, banana, sweet potatoes, and cassava.
Baluma said, his land was life to him as he would earn Uganda Shillings close to one and half a million (1.5M) equivalent to about USD 500 every season before Great Seasons SMC Limited grabbed it.
He added that such an income would meet basic needs for his family including paying school fees.
Baluma shares his ordeal on how he lost his land: "I was at my home at 8:00 am local time on 18th, March 2021, when armed anti-riot police and company workers armed with bows and arrows traveling on two police patrols raided my home. I was kidnapped and taken to Kiryandongo district central police. This incident was witnessed by my family members (my wife and children)" Said Baluma.
He said while in captivity, one of the workers of the company questioned him about why he was cultivating on the land owned by the company and accused him of refusing to surrender his land.
According to his wife, Njeze Donati, in an hour's time after Baluma's abduction, the company's workers returned with a tractor, plowed their land up-to the doorstep, and planted maize.  As a result, their house now stands in the middle of the company's plantation, inaccessible and isolated from the rest of the world.
"The armed workers under the protection of Kiryandongo police put us on the gunpoint ordered us to enter and to lock ourselves in the house, which moment was used to grab our family land," Said Donati.
She added that they were able to identify a police officer who oversaw the land grab exercise as Abura Felix attached to the Kiryandongo police
Baluma spent six (6) days in police cells without a charge and after the intervention of Witness Radio – Uganda lawyers, he was granted police bond.
On the police bond paper, Kiryandongo district police preferred a charge of criminal trespass on his own land.
Kiruhura and Kazo lift ban on milk sale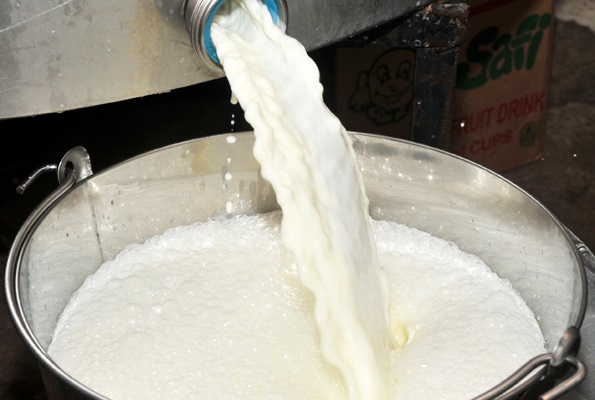 Ban on the sale of milk has been lifted for two weeks under strict regulations
Kiruhura, Uganda.  Authorities in Kiruhura and Kazo districts have reversed the earlier ban imposed on the sale of milk. The two districts that are under quarantine following the outbreak of Foot and Mouth disease had banned the sale of animal products and the movement of livestock.
However, in a meeting held between the dairy farmers and district Foot and Mouth disease task forces of both districts, it was agreed to lift the ban on the sale of milk for two weeks but under strict regulations.
Kiruhura District Resident Commissioner Aminadan Muhindo says they have stopped traders who move from house to house collecting milk on motorcycles, but asked them to set up collection centres where farmers will personally deliver their milk.
Kiruhura LC V chairperson Rev Samuel Katugunda welcomed the partial lifting of the ban. He also asked the residents to respect the regulation.
He says the districts are facing an economic crisis because of the total quarantine.
Kazo District Veterinary Officer Richard Kiyemba says they have agreed with dairy farmers to continue selling the milk. He says they are faced with the challenge of unscrupulous people who smuggle livestock out of the district at night.
The quarantine in these districts has increased the smuggling of livestock and its products which is done during the night. Recently, a trader was arrested carrying animals in a Fuso truck heading to Kampala.
Emmanuel Kyeishe, chairperson Kiruhura district Framers Sustainable Development Association, welcomed the lifting of the ban on the sale of milk but warned that the task force is to blame for the widespread of the disease.
He asked the team to ask for reinforcement to boost their monitoring and implementation of the quarantine.
Original Source: THE INDEPENDENT