Uganda government ignores its directive on COVID evictions, evicts thousands of smallholder farmers, artisanal miners.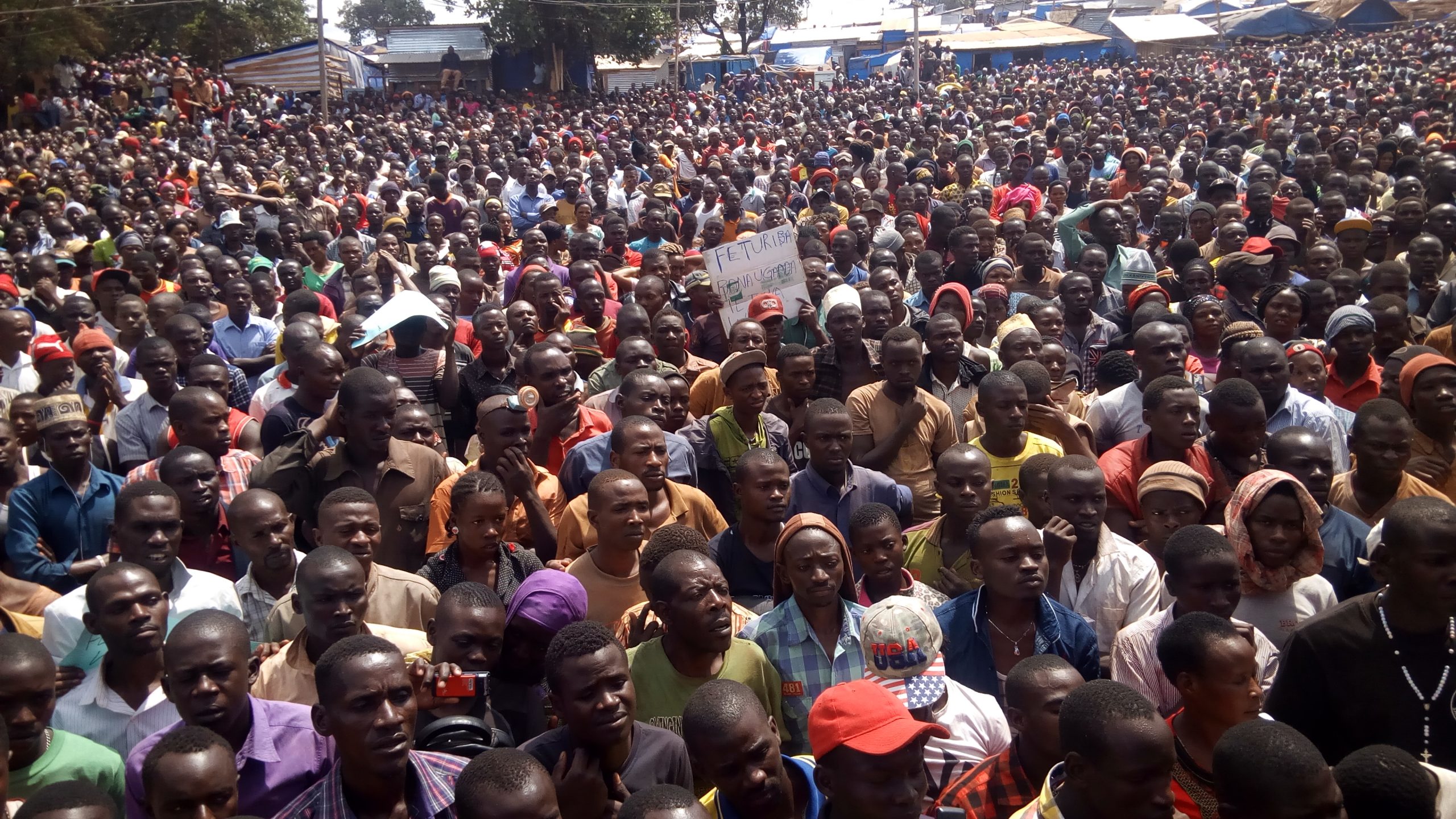 Meeting of artisanal miners in Uganda
With the pandemic striking higher in Uganda, poor families continue to be forced off their land by their government and investors despite several directives halting evictions during the COVID period.
Uganda first went into lockdown on Monday the 30th of March, 2020, and the second lockdown was first announced on June, 06th 2021, and later revised by the government on June, 18th 2021 respectively to curb the spread of the novel coronavirus.
On April 16th, 2020, the government of Uganda through the ministry of lands ordered a total halt of all land evictions during the ongoing COVID-19 lockdown and directed all local governments and security agencies to enforce the order.
A second directive was announced on the 18th July 2021, with the current lands minister Judith Nabakooba stating that nobody should carry out evictions in this period.
Article 237 (1) of the 1995 Constitution of the Republic of Uganda states that land in Uganda belongs to the citizens of Uganda and shall vest in them in accordance with the land tenure systems provided for in this Constitution.
However, with the increased commoditization of land, such directives are hard to conform to.
Of the worst cases of forced evictions that have been documented in both lockdowns, the government of Uganda has had a lion's share.
For instance, in May 2020, the government using armed forces forcefully evicted over 600 smallholder farmers in Hoima and Kikuube districts citing that they were occupying illegal fish land sites.
In another case that occurred on August 3rd, 2021 the government evicted over 200 people occupying the Maruzi ranch in the Apac district.
While in the same month of August, a government agency, the National forestry Authority torched several houses of poor families whom it regarded as encroachers in Moyo district, found in the northern region of Uganda.
In the latest looming evictions, the Uganda government is evicting more than 35,000 artisanal miners in the Kisita mines, located in Kisita village, Mbirizi sub-county in Kassanda district, 104 km from Uganda's capital Kampala.
Both letters written by President Yoweri Museveni on the the12th day of October 2020 and 3rd May 2021, that were followed by his minister Peter.T. Lokeris, Minister of State for Mineral development dated the 24th of June 2021, directed the eviction of the artisanal miners before the 3rd day of November 2021 referring to them as illegal miners.
The community under the Kisita Mining Company were granted a mining lease ML 4603 for 21 years in 2002 over an area of 873 Ha in Kisita by the Ministry of Energy and Mineral Development under the Directorate of Geological Survey and Mines (DGSM) which casts doubt in government's allegations that they are illegal miners.
Mr. Ssekate Abdullah is one of those whose livelihood has been thriving on artisanal mining. He joined Kisita in 2006 to try out his luck. Born in Malaba, a town in Tororo District, on Uganda's eastern border with Kenya, he says mining has been his job and has painfully gained from it.
Residents say they are bound to lose a livelihood in case the government goes on with its intended and illegal evictions.
Sharing a brief history of gold exploration in Kisita, Wegule Isaac says the activity began in the 1970s.
"In those years, very few people knew gold, the foreigners who knew it would purchase it from us but at low prices," Mr. Wegule, one of the oldest people in the area said in an interview with this defender.
But in the early 2000s, mining activity boomed and many villagers switched from farming to gold mining in the hope that they would be able to increase their income. However, the new boom was short-lived as the government is now threatening the villagers with eviction.
According to Ssekate, more than 1,000,000 people have benefited or earned living ever since the exploration began.
Despite the pitfalls in the economy caused by the surging COVID-19 numbers, several Ugandans are being pushed into extreme poverty by their government.
Earlier in June 2021, while reading the National Budget, Mr. Amos Lugoloobi, who is now the minister of state planning said the mining in which the artisanal belong and extractives sector's contribution to the country's GDP increased from 1.1% in 2016/17 to 2.3% in 2020/21. He said the industry was allocated Shs. 49 billion (equivalent to USD 13.9 millions) in the budget for Financial Year 2021/22 to support the mineral development.
Many miners believe that the Kampala regime is subjecting them to absolute poverty since they are losing their land and source of income.
It should be noted that the same regime under the guise of not paying taxes, 3 years ago, deployed the army and forcefully evicted over 60,000 artisanal miners in Lugongwe gold mines in the same district.
The victims were never accorded an alternative resettlement
A reference filed by CSOs against the planned construction of the East African Crude Oil Pipeline (EACOP) is set for hearing.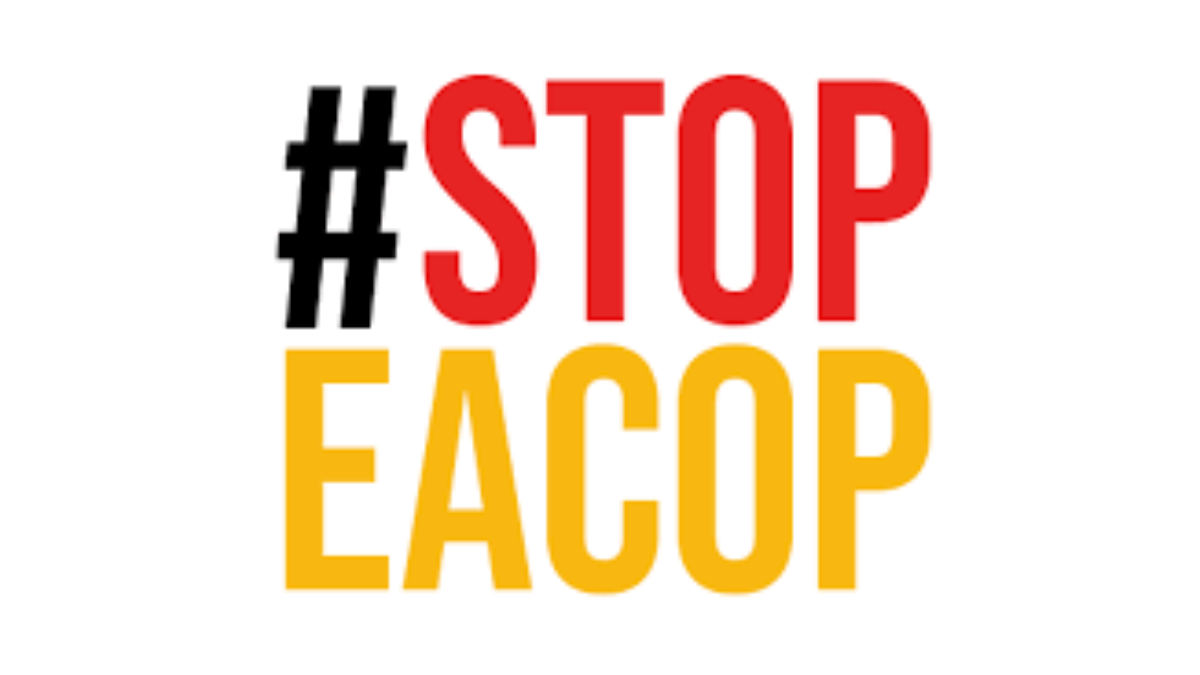 By Witness Radio Team
Four East African Civil Society Organizations (CSOs) have petitioned the regional court of justice, seeking both temporary and permanent injunctions against the planned construction of the East African Crude Oil Pipeline (EACOP)
The reference submitted by the Center for Food and Adequate Living Rights (CEFROHT), Africa Institute for Energy Governance (AFIEGO), Natural Justice-Kenya, and Center for Strategic Litigation in Tanzania highlights significant issues including threatening local livelihoods, food security, public health, biodiversity and the global climate that have failed to be addressed by both the governments of Uganda and Tanzania.
According to the reference filed on the 6th of November 2022, the governments of Uganda, and Tanzania and the Secretary General of the East African Community have violated environmental laws, human rights obligations, and regional agreements, in authorizing French oil giant, Total, to build a massive oil pipeline from Hoima, Uganda to Tanga, Tanzania.
For years, communities and civil societies have echoed concerns over the impacts of the East Africa Crude Oil Pipeline (EACOP) project which has affected thousands in Uganda and Tanzania. Human rights organizations claim French energy giant Total and its partner China National Offshore Oil Corporation involved in the $3.5 billion EACOP have failed to fully address concerns raised by the project to host communities.
The 1,443km people crude oil export pipeline which is expected to impact over 118000 people will transport Uganda's crude oil from Hoima in Uganda to Tanga port in Tanzania.
The project will cross through 10 districts in Uganda, a distance of 296 kilometers, and 25 districts in Tanzania, covering eight regions, and 25 districts is estimated to be the longest electrically heated pipeline in the world.
Its impact has largely been witnessed by the PAPs, leaders, and human rights activists opposing the project including land grabbing, harassment, and arrests of community leaders and rights activists.
"Construction of the pipeline will destroy farmland, disrupt livelihoods and exacerbate food insecurity. Thousands of people are to be displaced and have already been told not to set up or plant any long-term structures or crops and yet they have not been given any compensation yet. These impacts are set to cause major social disruption and erode social cohesion, leading to increased poverty in areas affected by the EACOP in Uganda and Tanzania." The reference reveals in part.
The reference further adds that the pipeline will traverse protected forests, such as the Wambabya and Bugoma reserves, and endanger numerous water sources of great importance to millions of people in East Africa, including Lake Victoria. The pipeline passes along the Lake Victoria basin which is a major water source for millions in not only East Africa but the whole of the African region. This risks and exposes Lake Victoria and River Nile to danger through oil spills and pollution. The EACOP will also significantly impact biodiversity and put numerously vulnerable and endangered species native to Uganda and Tanzania at risk, including elephants, lions, and giraffes.
The EACOP has been widely criticized by civil societies and other actors advocating for the rights of affected people expressing the unaddressed concerns the project is likely to expose to the host communities.
On the 14th of September 2022, the European Union Parliament passed an advisory resolution to suspend the oil pipeline for a year citing disastrous human and environmental rights violations associated with the project.
According to the resolutions by the European Parliament legislators, the oil pipeline has caused the displacement of people from their land without fair compensation, caused harassment, criminalization, intimidation, and arrests of human rights defenders, and closure of NGOs, and is likely to endanger the nature reserves and habitats.
The case is scheduled to be heard in Kampala on the 11th of November 2022.
The private sector, civil society organizations, government bodies, and development partners are to meet and discuss how to strengthen responsible business conduct in Uganda.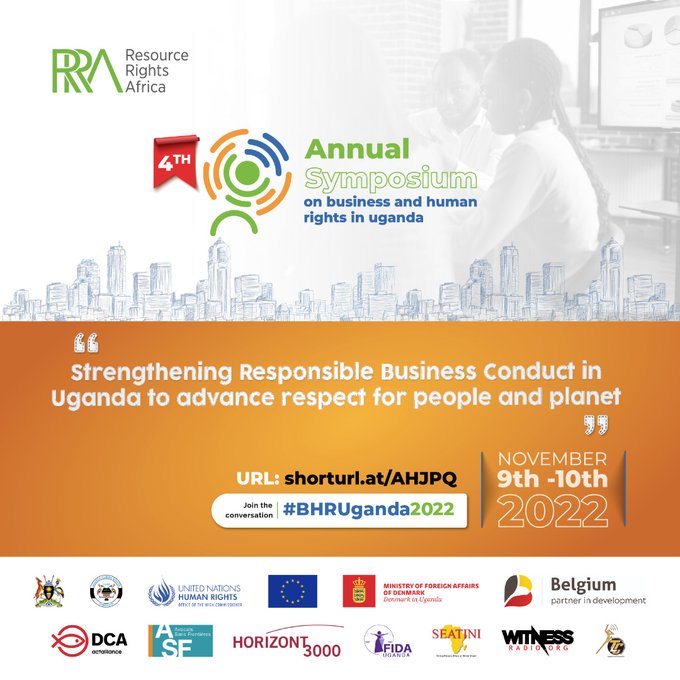 By Witness Radio team.
For years, victim communities, and community land and environment defenders in Uganda have been facing negative impacts and reprisals arising from business investments. These investments often require large sizes of land and the government occasionally takes the responsibility to acquire land for these investments. However, the acquisitions or allocations of public or community land tend to leave the communities past retrieval.
Communities are faced with devastating impacts ranging from environmental challenges such as pollution of air and water, forceful evictions, and unfulfilled pledges such as good jobs that not only cause damages to their lives but also to the future generations.
Recently, a government entity the Kampala Capital City Authority (KCCA) wanted to expand the Lubigi drainage project with funds from the World Bank. But, during the initial stages of land acquisitions, the KCCA hid under the public health Act, Cap 281Act, to evict the people and then smoothly expand the drainage channel. This happened without sensitization, compensation, or resettlement of the project-affected persons.
According to documents seen by Witness Radio Uganda and testimonies from the affected communities, they had lived on the land for many years and were surprised to face eviction threats.
Continuously members of this community continue facing retaliation for their resistance to the land grab for the infrastructural project. Ever since the project began, community land defenders have been persecuted for their works and subjected to false charges including fraud, simple robbery and currently continue to report at police and courts over the charges. In contrast, others are on run for their dear lives.
Similarly in the Mubende district, a Chinese company has rendered thousands homeless over since it started its tree planting activities in 2011. Formosa tree planting company is planting eucalyptus and pine trees within the district. Over 12 villages have suffered the worst of this so-called development. These include; Butoro, Kyedikyo, Nakasozi, Namayindi, Kitebe, Kisiigwa, Namagadi, Mukiguluka, Busaabala, Ngabano, and Kicucuulo located both in Maduddu and Butoloogo sub-counties and those that resisted continuing to face violent threats from the company and its workers.
At least seven community land rights defenders since 2018 are languishing in jails for crimes they did not perform. According to the residents, the Formosa Company is responsible for false charges against the defenders. They were arrested for 15- 35 years.
"Wounds caused by Formosa to me can never heal. In 2017 my two sons; Sam Serugo and Yona Sejjombwe were arrested and imprisoned for 34 years over the same struggles. And again they came threatening to kill us if we did not move off our land. We have lived and occupied this land for decades." Cecilia Namawejje revealed this to Witness Radio researchers.
Communities still grapple with these related outcomes, sadly those who advocate for their rights are arrested for sabotaging the projects. These and other related issues are expected to be discussed by participants in a two-day 4th symposium on business and human rights on November 9th and 10th 2022.
The 4th annual symposium that will be held at Imperial Royale Hotel Kampala will bring together more than 100 stakeholders across Uganda and beyond to advance responsible business and human rights agenda in the region.
The symposium organized by Resource Rights Africa (RRA) and partners will bring together private sector players, government actors, academia, media, civil society, and local community representatives from Karamoja and Tooro regions to explore how accountability and remedy mechanisms for business-related human rights abuses can be enhanced to advance respect for people and the planet in the next decade.
The symposium is based on the theme "Strengthening Responsible Business Conduct in Uganda to advance respect for people and planet in the next decade."
NFA land giveaway bonanza turns Luweero farmers into destitute.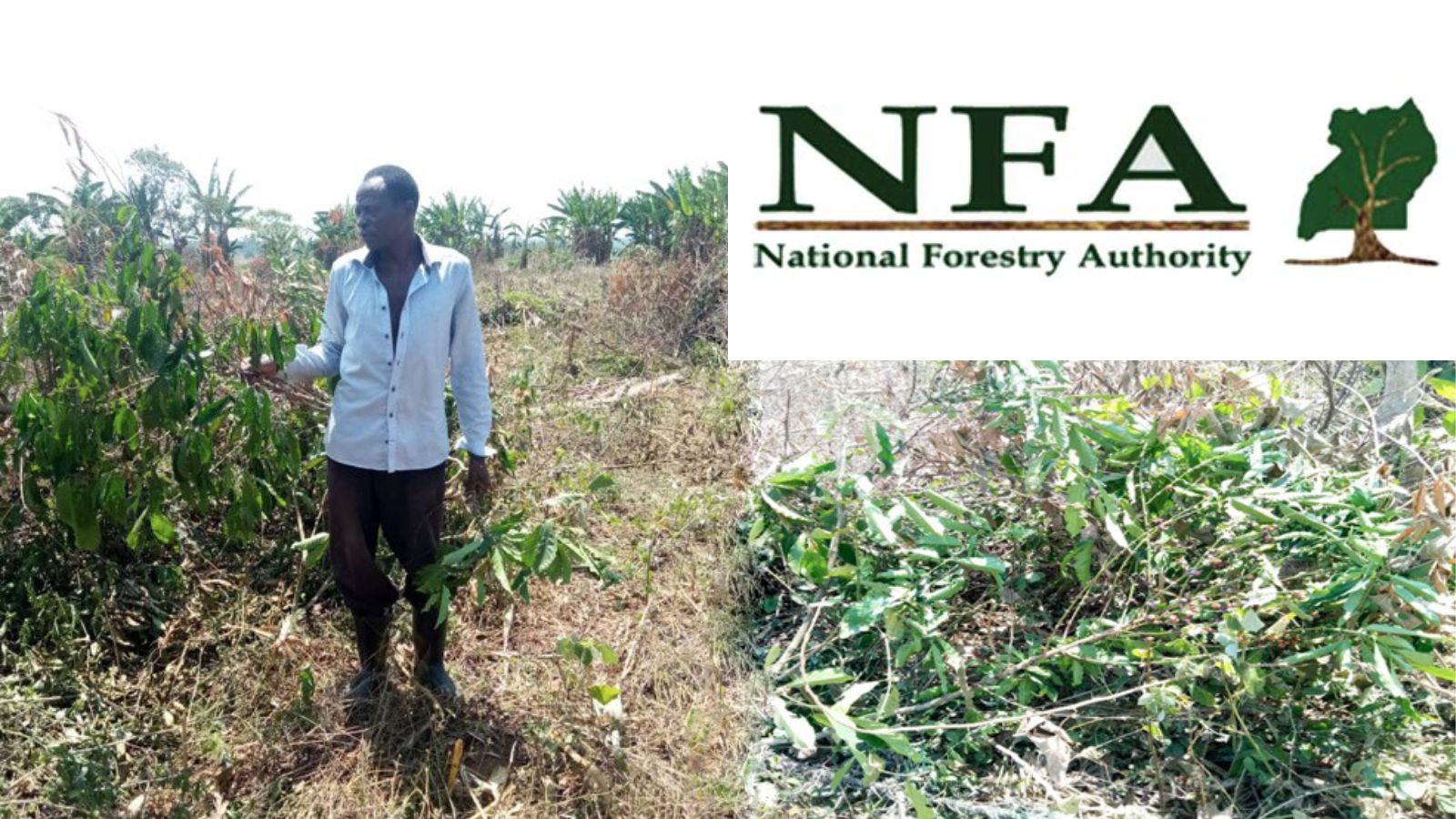 By Witness Radio Team
Land evictions in Uganda spiral and are a thorn in the lives of many poor Ugandan communities whose entire livelihood thrives on substance farming.
The government, and its agencies, especially the National Forest Authority (NFA), have been singled out by communities for aiding forced evictions to give way for land-based investments by the untouchable wealthy local and foreign investors.
The insatiable thirst for carbon credit schemes has left many smallholder farmer communities grappling with the life-threatening effects of violent land grabs masterminded by the National Forest Authority and fueled by unpoliced and loitering international funding.
The continuous evictions have left millions of indigenous and local smallholder farmers homeless and landless. Uganda's National Forestry Authority has been cited in several cases for donating land occupied by communities to investors (both local and foreign) for planting trees in the name of reforestation of depleted forests for carbon credits.
Over 2900 acreages in the Luweero district belonging to residents were donated to investors to grow eucalyptus and pine trees while part of the said land is occupied by a goat farm.
Every time a conversation about NFA crops up, Topi Nalwoga is a taken-back to the 2015 eviction by NFA in Yandwe, Butuntumula Sub-County, Luweero district. It disintegrated her community and deprived her of human interaction. What used to be homes to friends and relatives is now littered with trees. Neither was she spared.  Her home is in the middle of a tree plantation.
Nalwoga said before the evictions would harvest coffee, maize, matooke, and mangoes from six acres of land to educate and provide for her family of 7.
This practice is not different in other parts of the country. On a fateful day of 18th May 2019, in Luweero, Yandwe village woke up under the invasion of armed soldiers and police who burnt houses and razed down their gardens claiming they were illegally occupying Mbale Central Forest Reserve land.
A 49-year-old, former landlord is now a casual laborer on nearby plantations to put food on the table for her family. In a day, Topi earns 5,000 Uganda Shillings (equivalent to 1.31 USD) explaining that it cannot meet all her family's needs. Before, she was earning about 1,000,000 Million Uganda Shillings (about 262.62 dollars) from her proceeds in a season.
"I spend my daily wages on food.  My children no longer go to school because we have been turned into slaves in our own country," she revealed.
Her settlement on the land has a lineage bond. Her grandfather Mr. Kosia Katula occupied the grabbed land in 1921 before its gazettement as a forest reserve. Later in 1944, her father was born and inherited the land.
The NFA gazetted the Mbale Central Forest Reserve in 1967 when people had already settled on it. This accordingly meant that the community had to be consulted, compensated, or resettled before the evictions.
Her story is not different from the other 700 community members who lost their source of livelihood in NFA evictions in the same area.
Some of the residents that have resisted the forceful evictions were barred from using the land. About 9 families have their houses trapped in the middle of the tree plantations laboring elsewhere to feed their families.
Mr. Wilson Kabiira who had 20 acres says he was denied access to his land. He said the NFA employed gangs to beat people who had refused to vacate the land.
"My family is starving because I have nowhere to work from, when they find you attempting to do any work on the land, they beat you and raze down your crops," he added.
He added, "Our young girls have been married because ideally, they dropped out of school, families do not have food and many of them have separated as a result.
During the evictions, people lost property worth millions. The community says the NFA did not consult, or compensate them for their land.