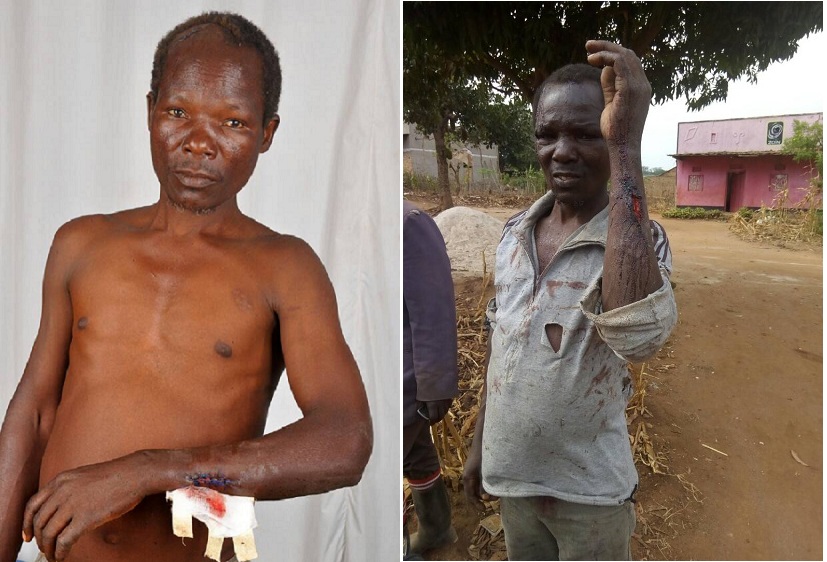 By witnessradio.org team
As witnessradio.org joins the rest of the world to commemorate the International Day in support of victims of torture 2018, acts of torture, cruel, inhuman and degrading treatment are existing and being committed against smallholder farmers in Uganda today to dispossess their land and properties. The perpetrators are state actors, investors and their agents
witnessradio.org recently released statistics put the figure of evicted families at over 2 million by end of 2017 where all evictions have been carried out in total disregard to the UN minimum guidelines on forced eviction nor Africa's guidelines on large scale land based investment.
Article 24 of the 1995 Constitution of the Republic of Uganda states that no person shall be subjected to any form of torture or cruel, inhuman or degrading treatment or punishment.
March 2018, flagged off fresh evictions coupled with torture being carried out on over 700 families by an investor Alam Abid despite an order  from  the Land Inquiry Commission restraining him from undertaking any eviction until the investigations were complete.
The investor with help of police committed atrocities including arrests, torture and detentions against occupants of five square miles land at Bukoba, Zika, Kakungube and Bukompe villages in Nalutuntu Sub County, in Mubende district.
Victims of torture testified that Abid and his agents used bayonets, live ammunition and teargas, shot at people and arrested some community members after establishing an illegal detention center at Lwamasanga village among others.
In Kiryandongo district, Agilis Partners Limited, a full subsidiary of Joseph Initiatives Limited used excessive force and tortured people while evicting over 2,300 families off more than 2,600 hectares for agribusiness. Ms. Joseph Initiatives deals in grain businesses and a beneficiary of UK's Department for International Development.
One of the tortured victims who was shot at while in the classroom was an eleven (11) year boy, Ssewankambo Posiano at Kabyanga Primary School in primary three. "Matovu Salapio, Ssewankambo's father said, they spent over 30days in the hospital but they could not save his son's left arm that got paralyzed and eventually dropped out of school.
witnessradio.org's investigations indicate that Agilis Partners Ltd allegedly earmarked a billion shillings about USD 25,000 to benefit communities through community extension services, training centers, schools, hospitals and infrastructure development among others but also wants to empower 50,000 farmers through community mobilization in sustainable commercial agriculture.
"It's disheartening to note that no smallholder farmer subjected to torture has been offered any rehabilitation or treatment by the state. Its hurting for one to lose his/her dignity, livelihood and survival on top of being a torture survivor with no treatment. Such victims must be planned for and provided with all necessary relief support" said Wokulira Geoffrey Ssebaggala, Executive Director, witnessradio.org
He added that torture must be condemned and the perpetrators must face the law.
…