How politically connected individuals abuse their powers to grab land from poor communities; a case of a Ugandan presidential aide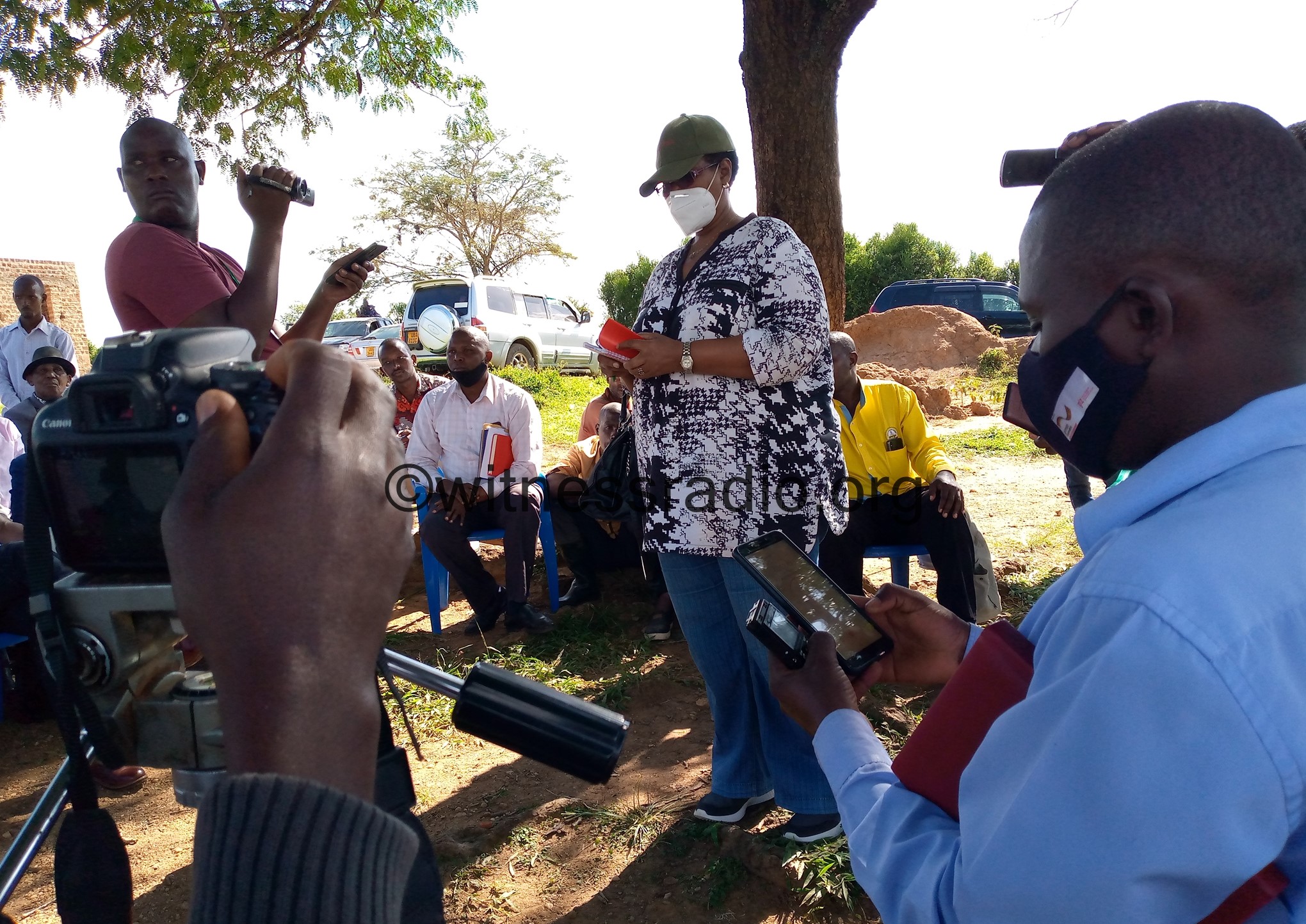 Mrs. Grace Majoro Kabayo, (standing in the middle) in a meeting that was blocked by residents.
By witnessradio.org Team
As the demand for land for land based investments soars, the middleman's role in the unlawful land transactions between investors and government agencies remains crucial in the broader scheme. The middleman business has become a lucrative venture in Uganda; more people are being recruited into it. For a public servant with access to vital information from land registries, the business is a goldmine. Middlemen are grabbing land for investors.
From the stage of land grabbing to investing, middlemen resort to the use of violence orchestrated by both police and other security agencies; at this point, high levels of impunity are exhibited, land rights defenders and land owners who demand for justice are then arrested for non-existent offences.
Witness Radio – Uganda records show that a reasonable percentage of grabbed land from poor communities in the country have for instance remained undeveloped.
In Mubende District, Central Uganda, residents accuse Mrs. Grace Majoro Kabayo a Senior Presidential Advisor for using her position to fraudulently acquire their land using police and officials from the Ministry of Lands. Ironically, Kabayo advises the President of Uganda on Pan-Africanism, and doubles as the Executive Secretary of the Pan African Women Organization's PAWO Eastern Africa chapter, where she oversees the organization's day-to-day activities.
Mubende District according to Witness Radio – Uganda figures, is ranked as one of the districts with the highest incidents of forced and illegal evictions and has registered with more than five cases since the year 2021 started.
Mubende District is bordered by Kyankwanzi District to the north, Kiboga District, Kassanda to the northeast and Mityana District to the east. Gomba district and Sembabule District lie to the south, whereas Kyegegwa District to the southwest and Kibaale District to the northwest.
Mrs. Kabayo with her political influence is allegedly using survey and boundary opening tactics to grab 625 Ha of land for thousands of inhabitants, which she has never lived on or owned.
According to locals, this is not the first time for the presidential advisor to engage into land grabbing, in 2017 while accompanied by the police in Mubende, she forcefully surveyed and grabbed 20 square miles and now wants to expand.
It is anticipated if Kabayo succeeds with the land grab, more than 5000 people on five villages comprising Kattambogo A, Kattambogo B, Rwobushumi, Rwonkubi and Nyaruteete, in Kigando-Buwekula Sub County in Mubende district, will lose their livelihood.
A letter dated 29th March, 2021, signed by the Permanent Secretary, Ministry of Lands, Housing and Urban Development, Mrs. Docus Okalanyi which Witness Radio – Uganda obtained a copy, okayed the move by the president's advisor to open boundaries on land located at block 379 and all adjacent blocks which include: 378, 380 and 381 a process which the residents opposed.
Without any prior notice to the residents, Kabayo accompanied by the officers from Ministry of Lands, State House officials, and security personnel for the Uganda Peoples' Defence Forces (UPDF) and Uganda Police had planned to conduct a rally at Nyarutete, one of the 5 villages, but was blocked by the angry residents.
Mr. Ruzhoga Laurent, 53, a resident of the village from birth, said, they have been facing threats of forced evictions for the last three years by Kaboyo. He asserted that his family would not leave the land for an imposter. Ruzhoga added that he would only leave as a corpse.
Jordan Byakatonda, an area land committee, chairperson said, the land targeted is public land with people on living on it.
He said, any person who wishes to get a leasehold on public land must first show his or her interest in the land before picking application Form 8 from the District Land Office or Area Land Committee, fill it, and attach 4 passport photos. He stated that the area land committee's mandate involves receiving applications and issuing notices for public hearings concerning land ownership using Form 10, Byakatonda observed that Kaboyo had not engaged the committee during the process.
Information Sources from Mubende district preferring anonymity for security reasons accused some government officials of manipulating the stated legal procedures and guidelines. "Everything is coming from the center (ministry) instead of starting from an area where the land is located", said the source.
"The first time we saw her, she was grabbing land and now she has come back to take ours. When she was asked by the land probe committee headed by Justice Catherine Bamugemereire why she had surveyed the land forcibly, she replied that she never surveyed any land and did not know those people," another villager who preferred anonymity said.
According to guidelines of Ministry of Lands, Housing and Urban Development Planning Act, 2010 and Land Act, Cap 227, state that;
Any applicant for a leasehold on the public land must have in his/her possession fully completed form 4,10,19 23, a set of 3 authentic deed plans, 3 passport photographs, receipts of payment and a forwarding letter requesting for a freehold title signed by the District Land officer of the respective district where the land is located.
Step 2
The applicant presents the full set of original documents in duplicate and a photocopy of the same to the department of land administration for checking.
The photocopy is stamped received and returned to the applicant. The applicant checks with the department of land administration after 10 working days to confirm their approval or rejection.
Step 3
Once approved the documents are forwarded to the department of the land registration for issuance of a freehold land title. The applicant checks after 20 working days.
Step 4
The applicant presents the photocopy given to him/her by the department of land administration stamped, received and identification documents on collecting the freehold Title. The applicant signs for the title and the photocopy is stamped returned on completion.
Documents required include; Deed plans, set of passport photographs, general receipts of payment and a requesting letter. Fees paid at the ministry. Registration fees-10,000#, Assurance of the title- 20,000#, issuance of the title-20,000#.
The preliminary steps that involve the Area Land Committee were not complied with by Mrs. Grace Majoro Kabayo as she acquired land that accommodates thousands of people.
The abducted community land rights defender is found and released on a police bond.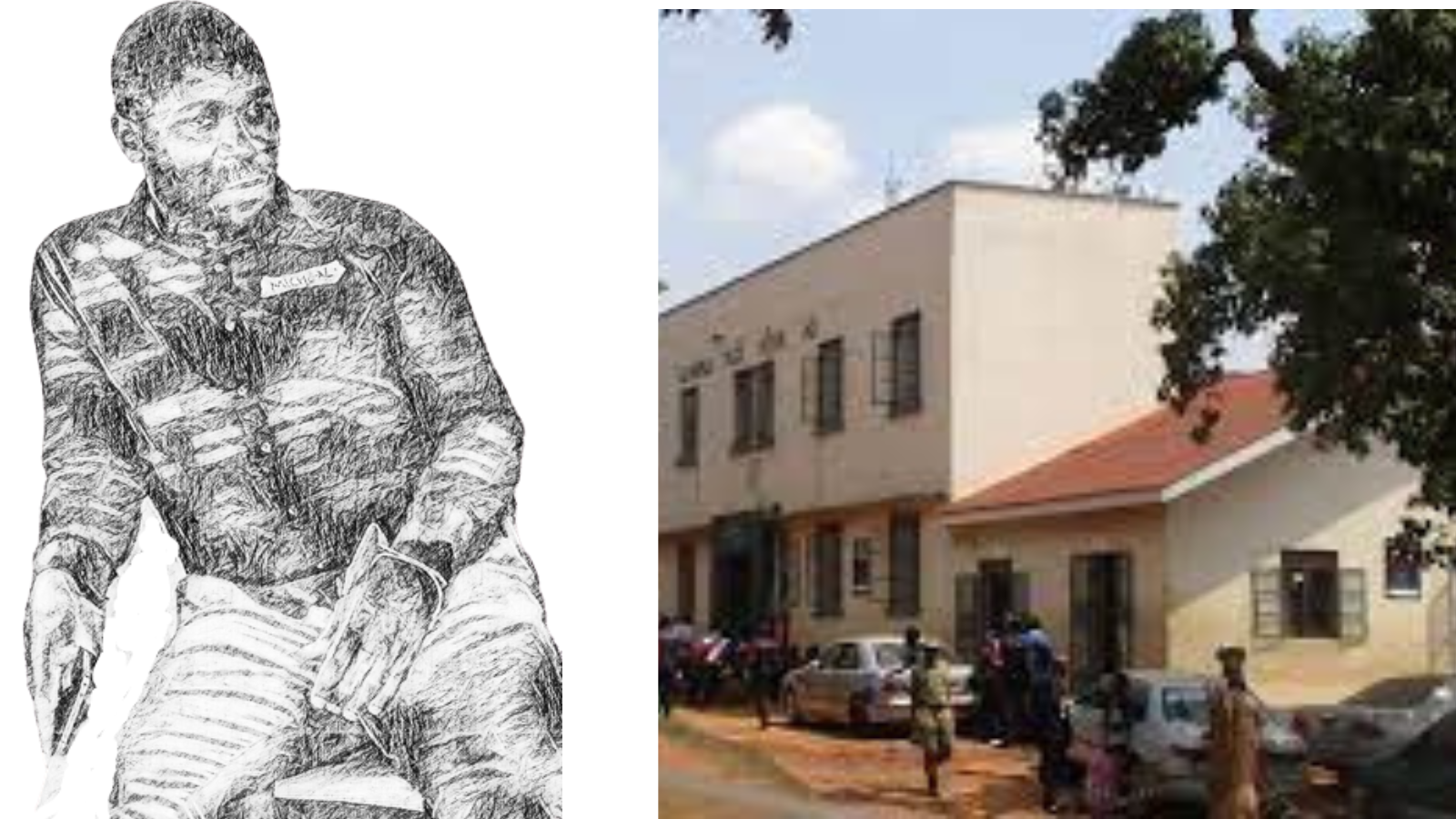 By Witness Radio Team.
A Kawaala Zone II community land rights defender who was waylaid and arrested by eight (8) armed policemen has been found at Old Kampala regional police headquarters and released without a charge.
On 31st/10/2022, armed Policemen arrested Kabugo Michael who was due to set off for a community meeting between the residents, Witness Radio – Uganda, and the Accountability Counsel intended to discuss issues surrounding their land interests targeted by the infrastructural project.
Kabugo is a community land rights defender in Kawaala Zone II Rubaga division, Kampala district. He is one of the community land rights defenders facing reprisals for defending the community's land targeted by Kampala Capital City Authority (KCCA) for a drainage channel construction and expansion project funded by the World Bank.
After a long day search for the abducted community defender, Witness Radio lawyers found him held at the Old Kampala regional police headquarters.
Mrs. Adongo Sarah, one of the victim's lawyers said the police reviewed an old file where the victim was accused of 'fraud' and re-interviewed him.
"He was able to make an additional statement, and his police bond and that of his other colleagues accused alongside with on the old file was extended to Friday 4th November this year." She added.
She further said Michael's arrest was arbitrary, adding that even the Officer in Charge of the case at Old Kampala Regional Criminal Investigations Department could not give reasons.
The victim's lawyers believe these increased actions of arrests, kidnaps, and detentions of Kawaala community land rights defenders are reprisals for their work of opposing
Breaking: A Kawaala community land rights defender kidnapped and taken to unknown destinations, others on the run.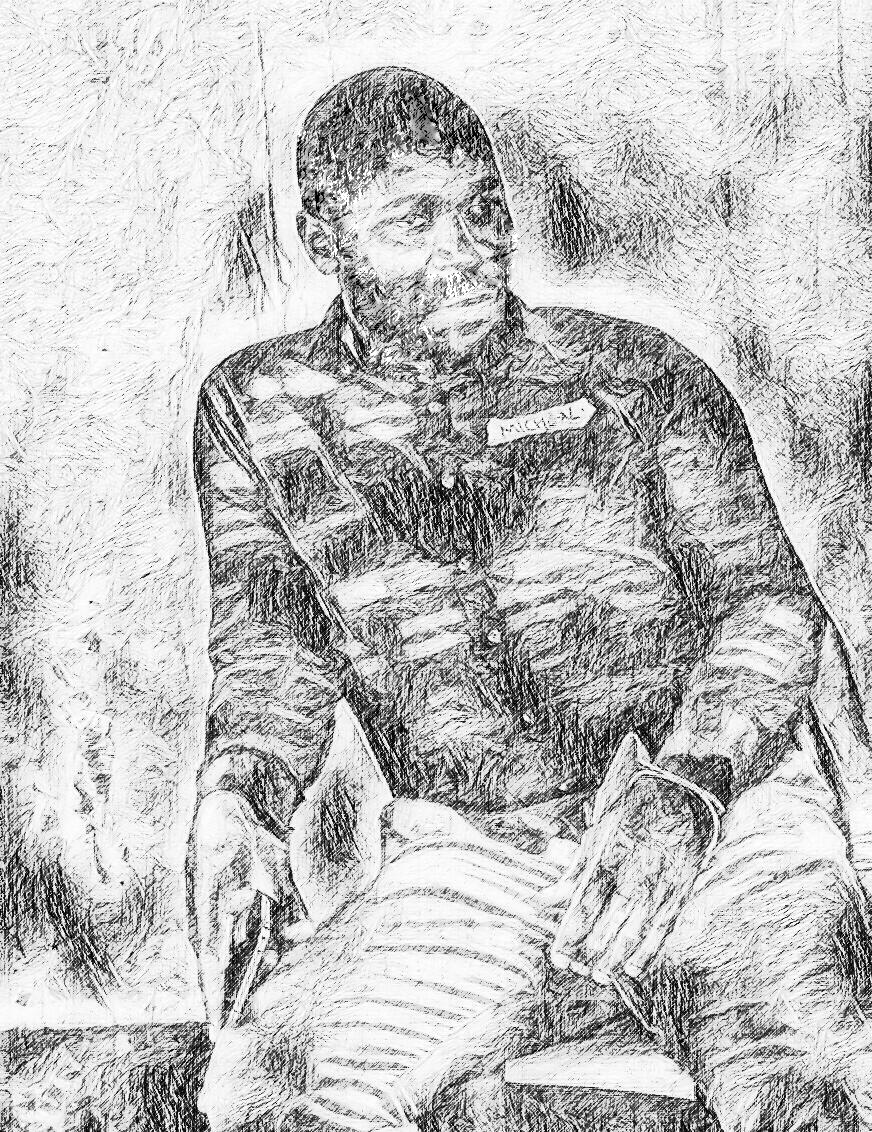 Armed Policemen have this morning waylaid and arrested a community land rights defender in Kawaala zone II Rubaga division, Kampala district, Witness Radio-Uganda has learned.
Mr. Kabugo Micheal is a renowned community land rights defender who advocates for fair compensation of the community land on an ongoing project of Lubigi drainage channel expansion funded by the World Bank and implemented by the Kampala Capital City Authority (KCCA).
According to eyewitnesses, the defender was at Mr. Kasozi's home (one of the community defenders) before setting off for a community meeting between the residents, Witness Radio – Uganda, and Accountability Counsel. The meeting was to discuss issues surrounding their land interests targeted by the infrastructural project.
"As he was sitting on a Boda (motorcycle taxi driven in Uganda and other East African States), police rounded him up before his arrest. We saw him being manhandled. They (police) forced him onto one of the police bodas before he was taken to unknown destinations." Said an eyewitness.
Another eyewitness further explained that he was arbitrarily arrested by eight (8) armed policemen on a police patrol
Mr. Kasozi Paul Ssengendo who also witnessed the arbitrary arrest of Michael said police are targeting them with arrests because of their work to resist forced eviction by Kampala Capital City Authority.
"I am currently on the run. I was a target of police but I managed to escape." The defender told Witness Radio.
In June this year, Mr kabugo and 5 others were arrested and falsely charged with forgery, a charge they said is retaliation for their work in fighting for their land rights.
Breaking: Court dismisses a criminal case against a community land rights defender for want of prosecution.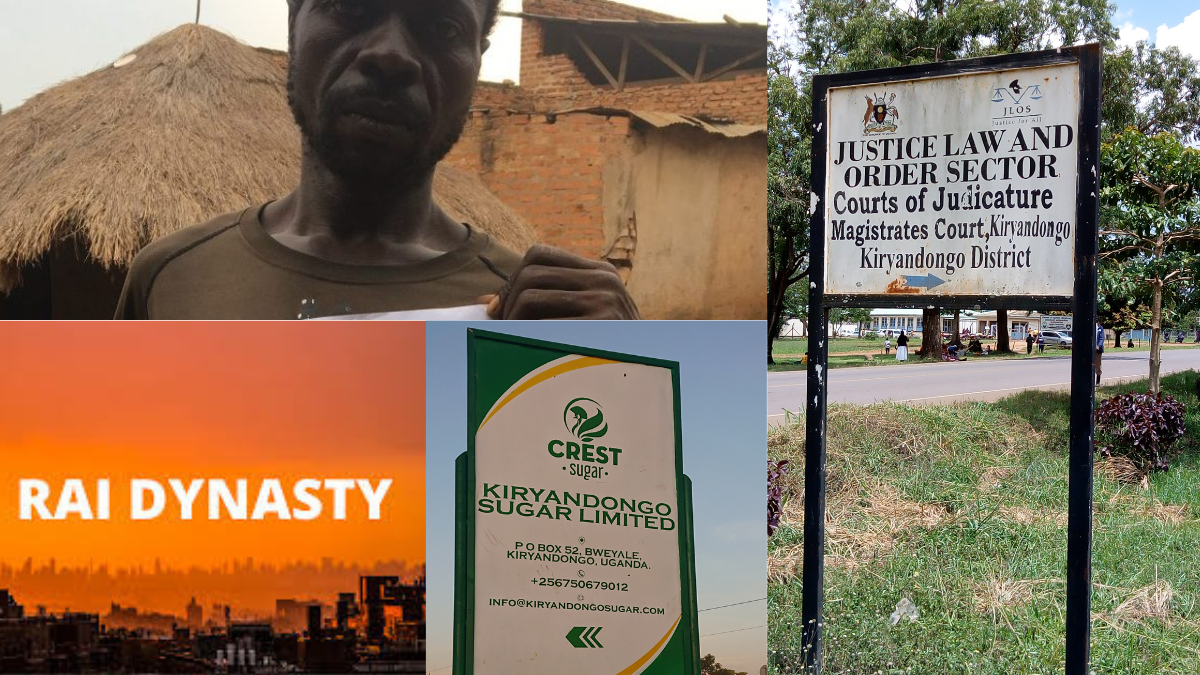 By Witness Radio Team.
Kiryandongo. A criminal trespass case against a community land rights defender has been dismissed over the prosecution's failure to adduce evidence before the Chief Magistrate Court that pinned the community defender on the alleged charges.
On 27th October 2021, Kiryandongo Chief Magistrate Court charged Otyaluk David with criminal trespass and remanded him to Masindi prison. He was later granted court bail and since then, he has been traveling 48 kilometers to and from court every fortnight.
Before he was presented before a court, Otyaluk was kidnapped and illegally detained in Kiryandongo Central Police Station (CPS) cells for five (5) days for trespassing on a piece of land he (Otyaluk) had lived and cultivated since he was born.
In the afternoon of 21st October, two (2) armed men cladding Uganda People Defense Forces (UPDF) uniform and police personnel raided Otyaluk's home and got him kidnapped to an unknown destination. UPDF soldiers guard Kiryandongo Sugar Limited plantations.
"On the day of his kidnap, Otyaluk was found praying in his house. In a blink of an eye, the defender was rounded up and bundled onto a vehicle owned by Kiryandongo Sugar Limited, forcefully evicting us off our land. We later learned that he was taken into evictor's facilities where he was kept for some time before being transferred to Kiryandongo CPS" A family member remembers.
A family member further added that before the kidnap, Otyaluk's family had lost about 12 acres of land to Kiryandongo Sugar Limited.
"Company workers under the protection of soldiers brought a tractor and plowed acres of semi-mature maize, beans, sorghum, and sim-sim. We were only left with a small piece of land where our house sits and we are currently trapped in the middle of a sugarcane plantation" a family member added.
Since the trial period was announced, the prosecution failed to bring witnesses to pin Otyaluk for trespassing on his land. It was only on the 19th of July, 2022 during a court session, one Adamuru Peter, allegedly to be a company manager turned up as a company representative but not as a witness.
In her ruling last week, a magistrate at Kiryandongo Magistrate court discontinued the trial of Otyaluk and dismissed the case.
Otyaluk is one of the luckiest among hundreds of community land and environmental rights defenders currently under persecution to have his case dismissed. It's an order of the day for the community land and environmental rights defenders to be kidnapped, arbitrarily arrested, and tortured on orders of investors for their work of mobilizing the communities to desist land grabs.
Kiryandongo Sugar Limited is among multinationals forcefully evicting over 35000 local and indigenous people off their land to give way to large-scale agribusinesses.
Kiryandongo Sugar Limited is one of the many companies owned by the Rai Group of Mauritius. The dynasty owns several other companies in DR Congo, Kenya and Malawi, and Uganda. A dynasty owns companies such as West Kenya Sugar (which owns Kabras Sugar), Timsales Limited, Menengai Oil Refineries, Rai Ply, and Webuye Panpaper.
In Uganda, the Rai Group of Mauritius owns Nile Ply limited, Kinyara Sugar Limited, and Masindi Sugar Limited among others. One of its directors is a shareholder of a British Virgin Islands company, listed in the Panama Papers database recently.
The same company has fraudulently gotten a license to replace part of Bungoma natural forest with a sugarcane plantation.
"Court has shown today that the company is maliciously arresting us to keep us in jails. To weaken our hearts, wasting our time and resources. They intentionally do this because we refused to surrender the land we have lived on for years. It is shaming that the government has failed to protect the rights of the poor people." The defender noticed.