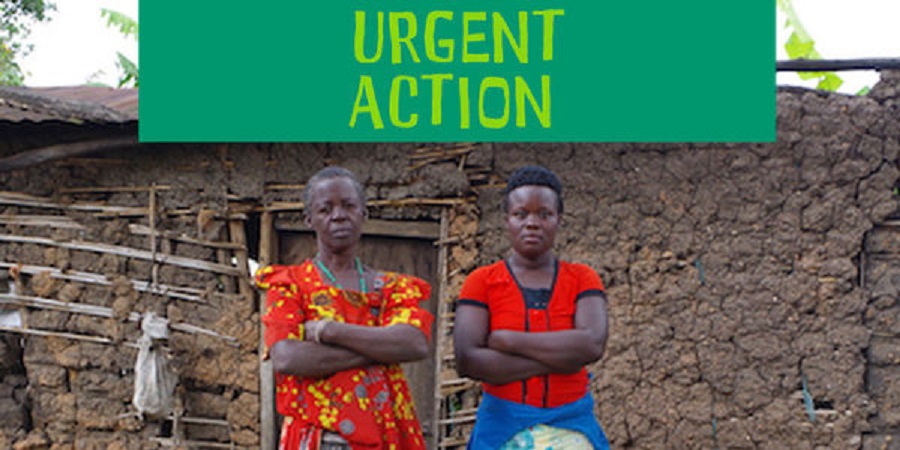 Photo was taken by Fian International
By witnessradio.org Team 
People from across the world are calling on Ugandan President, Yoweri Museveni and Neumann Coffee Group CEO Christian Neumann to fully compensate displaced people from Kaweri coffee plantation in Uganda and resettle them on the grabbed land.
In August 2001, the Ugandan army destroyed four villages in Mubende district and forcefully displaced their inhabitants to pave way for the Kaweri coffee plantation. 
The approximately 4,000 inhabitants were not compensated and their human rights are still violated as a result of this expulsion. 
In 2002, they sued the Ugandan government and the Ugandan subsidiary of the Neumann Group in a trial that is still ongoing.
On 1 July 2019, the responsible judge ordered mediation proceedings until 28 August 2019. "If all parties so wish, this long-standing conflict can be quickly resolved through mediation. The displaced persons have always declared their willingness to reach an amicable settlement under fair conditions," explains FIAN representative Gertrud Falk, who has accompanied the case for 17 years. 
"With the online petition, we are pointing out to the Ugandan government and the Neumann Kaffee Group that the case enjoys international attention and that it is now in their hands to end the conflict. The petition can still be signed: http://bit.ly/SupportPetition
The human rights organization FIAN has also carried out a letter campaign to Foreign Minister Maas. The Foreign Ministry has now answered the letters received; www.fian.de/artikelansicht/2019-08-22-fian-reagiert-auf-antwort-der-bundesregierung-zur-mediation-im-kaweri-fall
According to recent reports by the displaced, a high-level meeting between the Neumann Coffee Group, the Ugandan government and the German embassy took place on 20 August on the grounds of the Kaweri coffee plantation. The results of the meeting are not yet known.