A land broker in the Kiryandongo land grab saga is charged with fraud, forgery…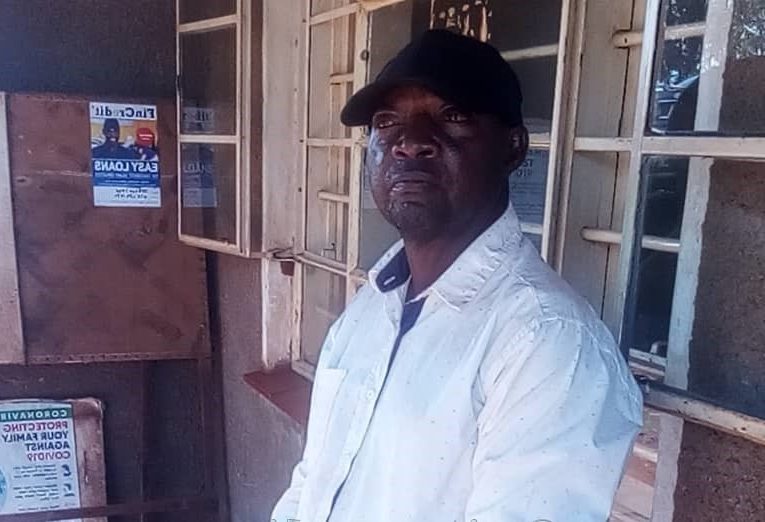 Mr. Mwesigye Reuben shortly after the hearing at Masindi Magistrate Court.
By witnessradio.org Team
Masindi – Uganda – a Chief Magistrates Court in Masindi, has charged Mwesigye Reuben, a land broker in the Kiryandongo land grab saga, which has rendered tens of thousands of poor communities landless with three counts including fraud.
The Masindi Chief Magistrate, His Worship Ssejemba Deogratius read there three (3) charges to Mwesigye Reuben all the offenses arising from land comprised in Block 7, Plots 66, 68 and 69 at Kimogora in Kiryandongo District to wit: Count One (1); Forgery contrary to Section 342 and 347 of the Penal Code Act. (Forged an application for lease in February 2015). Count two (2); Uttering a false Document contrary to Section 351 of the Penal Code Act. (Purporting that the lease application was signed by the Mutunda sub-county Area Land Committee), and count three (3); Fraudulent procuration of a certificate of Title Contrary to Section 190 of the Registration of Titles Act. (July 2015 at Masindi Zonal Lands Office).
Mwesigye, who was first arrested on May, 28th 2021, and responsible for the forced displacement of tens of thousands of poor communities off their land, entered a plea of not guilty.
Residents (victims of forced land eviction) accuse Mwesigye of using machete-wielding men, private security guards, and police officers attached to Kiryandongo district police to commit violent acts which include: sexual and gender-based violence, illegal arrest and detention, torture, kidnap, demolition of houses, cutting down their food crops, and stealing their household properties among others.
The communities plagued by the continued forced evictions comprise three categories: The first category consists of people who were born on the land since 1935; the second, those that settled on the land during and after civil wars, including the Lord's Resistance Army (LRA) which lasted for 2 decades in Northern Uganda; and lastly, those who settled on the eviction site at the instance of government in 2011 through the Nyamalebe Landless Association.
After the fraudulent acquisition of the community land, Mwesigye sold the land to Great Seasons SMC Limited for large-scale coffee and maize growing.
Great Seasons SMC Limited, solely owned by a Sudanese investor based in Dubai, is part of a group of three multinational companies consisting of Kiryandongo Sugar Limited and Agilis Partners Limited owned by an Indian family (RAI Dynasty) and the American twin brothers (Benjamin Prinz and Phillip Prinz) respectively.
The State Prosecutor, Kyaligonza Francis, and witnessradio.org legal team on the watching brief requested for adjournment of the case to allow more time for investigation.
Mwesigye applied for bail and was granted a non-cash bail of UGX 4 Million. Each of the Sureties was bound in the sum of UGX 10 Million not cash.
He's set to return to court on Tuesday 6th July 2021 for the next hearing.
The lives and properties of community activists and land rights defenders continue to be targeted as harmful investments are getting rooted in the Kiryandongo district.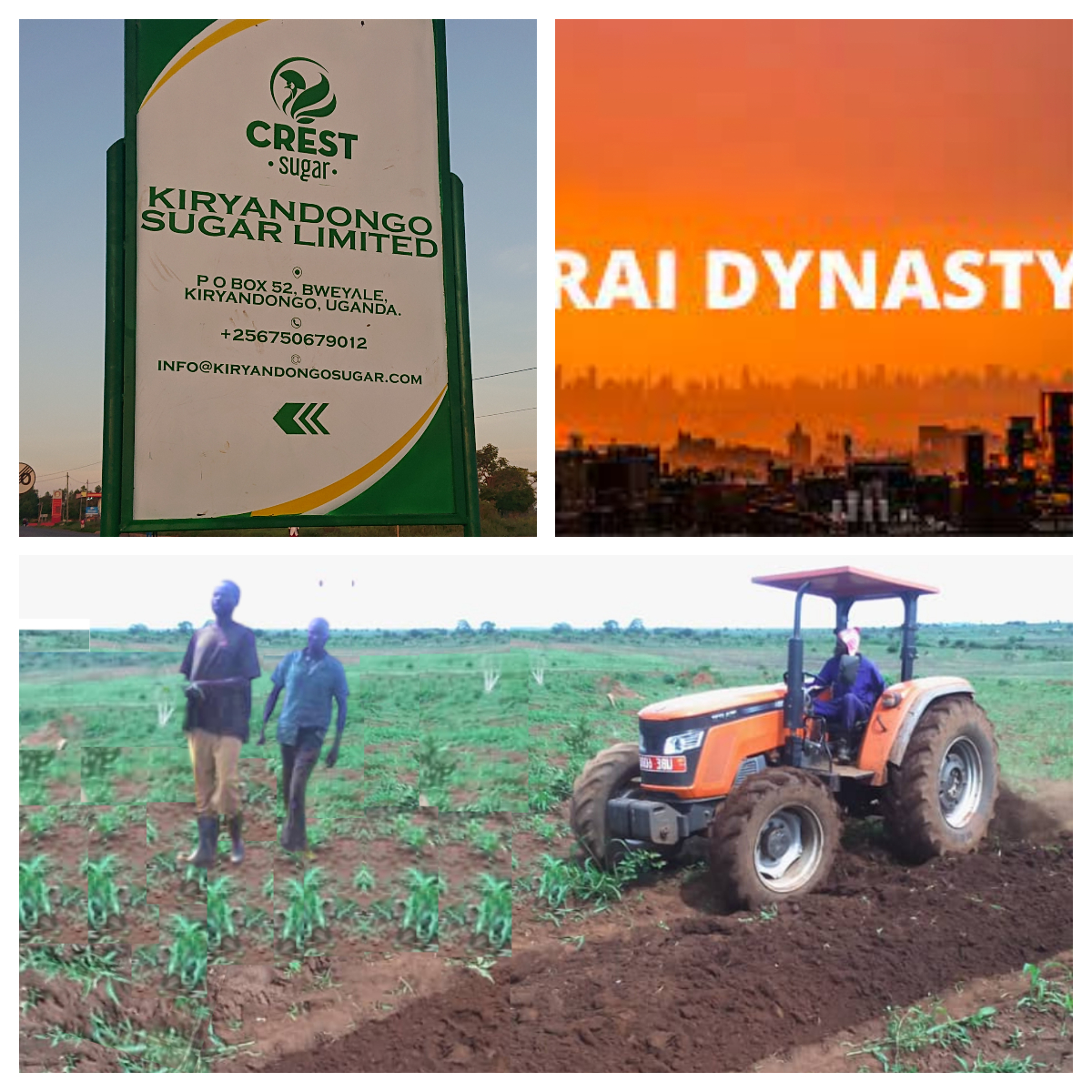 By Witness Radio Team.
As land grabs spike in Uganda, community land rights defenders continue to pay the price for protecting land for vulnerable and poor people.
In areas affected by forced evictions, land rights defenders mobilize and organize local communities to resist the forced evictions. But their work gets appreciated by arrests, detention, and prosecution on trumped-up charges.
The main target of the grabbers is to eliminate the few people that amplify the voices of the communities to ease the forced eviction processes. In this instance, forms of human rights violations/abuses include arbitrary arrests, kidnaps, illegal detentions, and tortures, among others with the intent to instill fear among community members.
One of the most targeted community land rights defenders is Mr. Otyaluk Ben Wilson. At first, land grabbers targeted his life but, he could bow down and now, tactics changed to his garden, which is a source of food for him and his family. At the beginning of 2022, Otyaluk planted 6 acres of Maize and intercropped it with Sorghum but the company workers of Kiryandongo Sugar Company limited came with a tractor and plowed it down.
Kiryandongo Sugar Limited, owned by the Rai dynasty is one of the multinationals that practice violence in name of making profits.  For over 5 years, the company has targeted community activists and land rights defenders speaking against harmful investment.
The company is one of the three multinational companies that have evicted over 35000 residents in the Kiryandongo district since 2017. The other companies are Great seasons SMC Limited and Agilis Partners Limited.
On several occasions, particulars of tractors and agents behind forced evictions have been written down and reported to the police but, nothing changes. According to eyewitnesses, the company tractor with registered number plate UBE 600U came at around 15:00 hours (E.A.T) on the 30th of April and razed down Otyaluk's 6 acres of maize and sorghum with impunity whereby after, company agents directed him (Otyaluk) vacate his land with out compensation.
Before the above incident, on the 13th and 29th of April, 16 acres of maize that belonged to Otyaluk, 06 acres belonging to Mr. Amanyi Tom and 03 acres of maize belonging to Mr. Tusabe Emmanuel were razed down by the same company workers using tractors whose numbers were written down namely UAM 823L and UBA 737A. He was never compensated and Kiryandongo Sugar Limited does not allow him to use his land to date, which situation is causing suffering and poverty to his family of 8. Anywar is the
According to Anywar David, the area Local Council One (1) Chairperson, he wrote a letter as an elected leader of the area to the Kapundu area police Officer in Charge to intervene but in vain.
"This has become a serious headache and a norm in my area of jurisdiction, I herein forward them to you for further assistance," a letter seen by Witness Radio – Uganda reads in part.
Another incident happened on 25 March 2020, at Nyamuntende village. Agents of Kiryandongo Sugar Limited in the company of four government soldiers from Uganda People's Defence Forces (UPDF), entered the property of the defender with a tractor and plowed down his maize garden. When he (Otyaluk) tried to stop the tractor from destroying his crops, the soldiers roughed him up, took him to a kangaroo detention center, and he was badly beaten. He was later taken to a facility located on the sugarcane plantation. At the company facility, he (Otyaluk) alleges that he was tortured before being transferred to the Kiryandongo district Police headquarter where he was illegally held for seven days before being charged with an abusive criminal charge of trespass. Later, he was released on bond.
Similarly, on Friday 12th March 2021, Otyaluk was assaulted and picked from his home at gunpoint by armed soldiers guarding Kiryandongo Sugar Limited's sugarcane plantation and tortured. He was later transferred to Kiryandongo Central Police station and charged with setting fire to crops. https://witnessradio.org/violence-escalation-land-right-defender-is-picked-from-his-home-on-a-gunpoint/
On 21st October, the defender was picked from his garden, arrested, and charged with criminal trespass. https://www.farmlandgrab.org/post/view/30575-uganda-militarized-corporate-agriculture-companies-are-resorting-to-reprisals-to-grab-land
Since 12th August 2021, the Kiryandongo Sugar Limited workers under the protection of the army have repeatedly parked their tractors in front of people's houses to instill fear among community members.
He added that this work has not spared his family since he is not allowed to cultivate on his land.
"I am being harassed because of my work of defending the land for the poor and vulnerable communities, which I must defend jealously from grabbers. My family land is being targeted and we have no food to eat, ever since COVID lockdown was lifted my children no longer go to school because of the company." a weeping Otyaluk revealed.
Gov't body evicts hundreds, orders the remaining families on the land to de-molish their houses…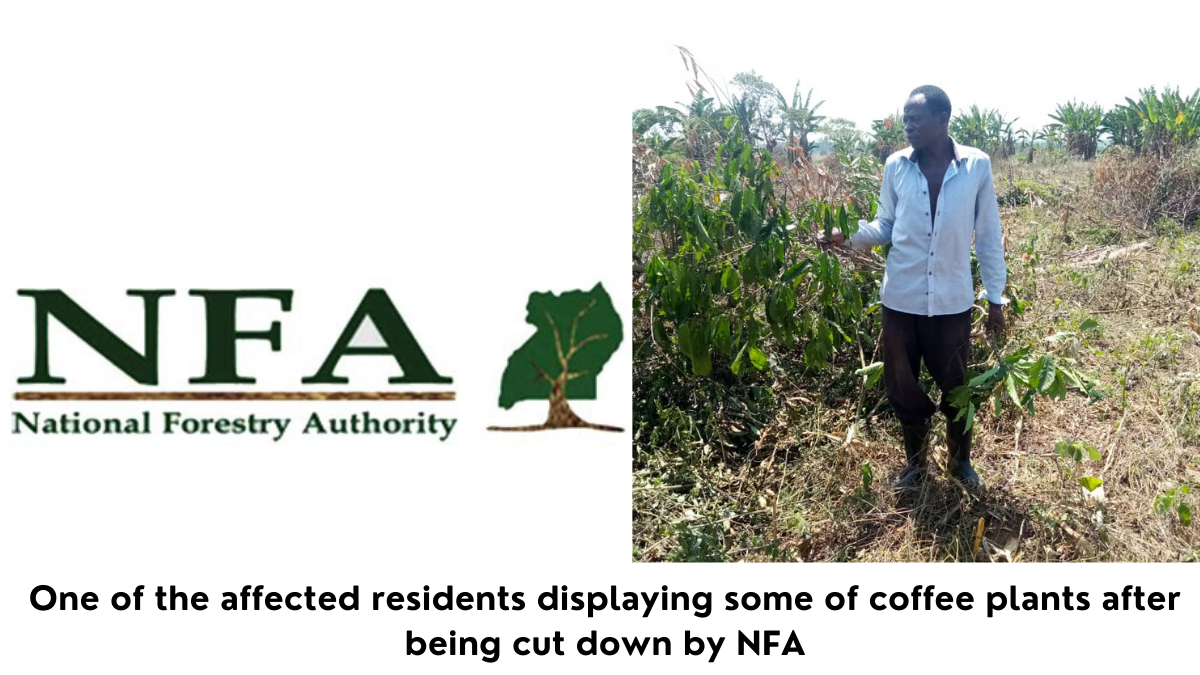 A forest body in Uganda, the National Forestry Authority (NFA) is displacing over 700 poor families that have lawfully settled and cultivated their land since the 1920s. The targeted land is needed to plant monoculture trees.
The National Forestry Authority is a semi-autonomous statutory body established by c National Forestry and Tree Planting Act of 2003 and it's charged with the responsibility to manage and control the country's forests.
The land measuring about 2900 acres is located at Yandwe village, Butuntumula Sub County in Luweero district in Buganda region, in Uganda.
The forest authority is responsible for causing loss of properties and committing human rights violations/abuses against local and indigenous communities as land belonging to them is leased out to investors to plant trees for carbon offsets without following due processes.
According to Global Forest Watch (GFW), in 2010, Uganda had a tree cover of 6.93 Mha, extending over 29% of its land area. However as of 2020 the GFW latest data presented a tree cover loss of 76.3 kha in Uganda. In the same year, Luwero district was named with the most tree cover loss. It lost 9.10kha of tree cover, equivalent to 4.48Mt of CO₂ emissions.
Principle 10 of the Rio Declaration asserts that 'environmental issues are best handled with the participation of all concerned citizens. This principle is seen to be in reverse in Uganda's practice.
Before forced evictions which started in 2015, families used the land for subsistence farming to raise money to meet basic needs and grow food for feeding, burial grounds and constructed permanent houses that have earned them a sense of belonging for generations but NFA has since destroyed 70% of their heritage.
Since 2015, the families have been forcefully evicted without court orders, prior consultation, and consent to give away their land. "There has not been any single document that permitted them to evict us since 2015. They came with graders, armed police, and soldiers to terrorize the whole village and enforce their evictions. We were not informed, consulted, and neither did we consent to give them our land." The local council chairman, Mr. Buule Cossy, also one of the affected said in an interview with Witness Radio – Uganda.
According to documents seen by Witness Radio – Uganda, ownership of land by the indigenous community is traced between the 1910s and early 1920s. Some locals have receipts indicating payments made to the then colonial matters while others have presented sale agreements.
On a fateful night, 18th March 2019, the entire village of Yandwe woke up to face the wrath of armed police, soldiers, and armed workers of NFA. Victims narrated that armed groups burnt their houses, razed gardens, and looted their properties at gunpoint before the majority of community members fled their homes.
The violence orchestrated by different armed groups left one villager identified as Ntalo Simon shot and badly wounded.
"We had one incident in which our community member Ntale was shot in the process of eviction and the victim was badly wounded while others were beaten, houses demolished and crops were cut down," Buule confirmed.
The NFA claims that residents are occupying the forest land illegally. According to residents, Mbale Forestry Reserve was gazetted in 1967 as a central forest reserve land, found their ancestors already on the land. They claim they are the lawful owners of the land and accuse the NFA of forcefully grabbing their land tactically.
Another victim, Katongole John said his grandparents settled on this land in 1915 and claimed that they were paying some dues to the colonial administrators then.
"Upon making payment, colonial matters would issue a certificate known as an occupational license to the payee. The documents would prove land ownership". he claimed.
Hundreds of families affected by several dev't projects in Kiryandongo turn up in big numbers as Masindi High Court attends to their cases filed in 2020.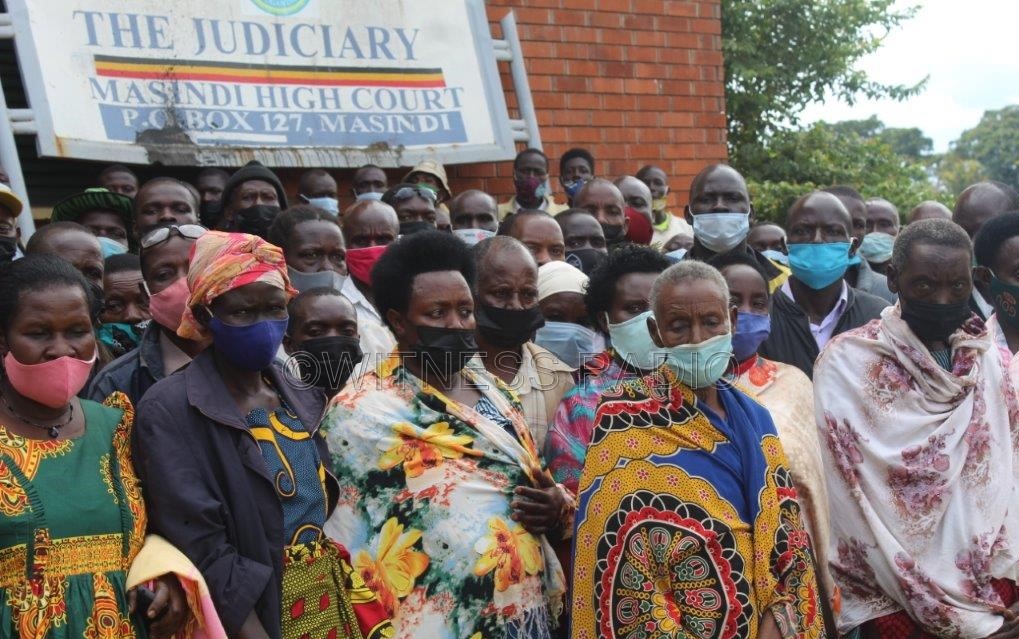 Some of the affected families turn up in big numbers at the Masindi High court for hearing of their cases.
By Witness Radio Team
Hundreds of families on Wednesday 20th and Thursday 21st gathered at the Masindi High Court for the first hearing of the human rights suits filed against multinational companies. The families from Jerusalem, Kisalanda, Kapapula, Nyamutende, Kikungulu, Canani, Kamisoni, and Kololo villages, amongst others in the Kiryandongo District all affected by large-scale agriculture operations of multinational companies. Kiryandongo sugar Company Limited, Agilis Partners Limited, and Great Seasons SMC limited are implicated in human rights violations. Communities accuse multinationals of forced evictions and committing gross human rights violations and abuses that deprived them of their rights to property, food, education, and a good living.
The High Court had set Wednesday 20th April 2022 for a hearing of Miscellaneous Cause No. 11 of 2020 filed against Agilis Partners Limited and Thursday 21st April 2022 for a Miscellaneous Cause No. 007 of 2020 filed against Great Seasons SMC limited, but both cases were adjourned to the 20th of May, this year as some respondents on the case were not in court.
For the case against Agilis Partners Limited and others, the attorney general chambers and former Kiryandongo district police commander during 2017 and thereabout Byaruhanga Patrick were not in court while, for the case against Great Season SMC Limited and others, former Kiryandongo Police Commander during 2019 and thereabout Bakaleke Joseph neither did he attend court.
Court heard from applicants lawyers led by Kiiza and Mugisha Advocates that all former police commanders of Kiryandongo district could not be traced or located and get served as the duo have since been transferred from their known places of work and were re-deployed elsewhere. However, Masindi High Court extended the time of service for two weeks from the dates both suits were heard and guided the applicants' lawyers to look for police officers.
Uganda Police Force is being held responsible for aiding multinationals and participating in committing violence and human rights violations while carrying out force evictions of local communities
48-year-old Mukangwizi Grace, a mother of five that was evicted by Agilis Partners Limited, boarded a Boda Boda to travel over 70 km distance from Kisalanda to Masindi town, where the High Court sits. "All my property on my 6 acres were destroyed including gardens and houses by the Agilis men at a gunpoint. I was not even given chance to pick my belongings," she said in an interview with Witness Radio before the court session.
Currently, Grace rents land in the nearby Gasper center where she owns a makeshift structure covered with a tarpaulin as a roof. She said she borrows money from the Maize buyers and rents one acre of land at 150,000 Uganda Shillings (about 42 USD) each season to plant maize that she sells to pay back the borrowed money and the rest is milled for flour.  This is the same for all evictees.
The land in question was settled on by two groups; the residents displaced by the northern war insurgency and those under the Nyamalebe Landless Association, who were also permitted to settle on the land by the government of Uganda through the Ministry of Lands, Housing, and Urban Development. But in 2017, their lives and dreams were shattered by the companies interested in large-scale commercial farming. Over 35,000 residents were evicted by the Kiryandongo-based multinationals with the assistance of state- agencies such as the police and the army.
The mother of five was one of those who braved the day to see the justice that they had long sought. "I needed to be in court to pin their abuses. These companies have disturbed us a lot. I had to borrow money from my relatives to cater for my transport. She was overwhelmed with happiness after the court started hearing their case and hopes for justice. We are only waiting for the court's decision because these companies thought they are untouchables." She said.
The Masindi High Court resident Judge, Justice Jesse Byaruhanga adjourned the two cases, to 20th May at 11 am. The victims' lawyers said the Judge, for convenience and expeditious disposal of the matters, adjourned the two applications to the same date.
"We believe this time will be enough to serve the missing respondents though it has not been easier to trace these respondents." Said Achak Carol Kay of M/s. Kiiza and Mugisha Advocates.
Mr. Wokulira Geoffrey Ssebaggala, on behalf of Witness Radio – Uganda which provides support to development-affected communities, said "we are happy that the court has finally allocated time to listen to the cries of poor local communities that have lost livelihood to 'investors'. We want this to act as an example to other investors who do take the land of poor people for free and use violence as means to acquire land that your time is up".
He said Ugandans deserve responsible investments that respect their land rights and bring real development.
Meanwhile Agilis Partners Limited continues to deny having forcefully evicted communities in the areas where they operate while the known contacts for Wycliffe Birungi, a lawyer for Great Season SMC Limited were switched off.