More women are going to be sexually abused and forced to lose their land to the rich/investors as Uganda goes into a semi lockdown of 42 days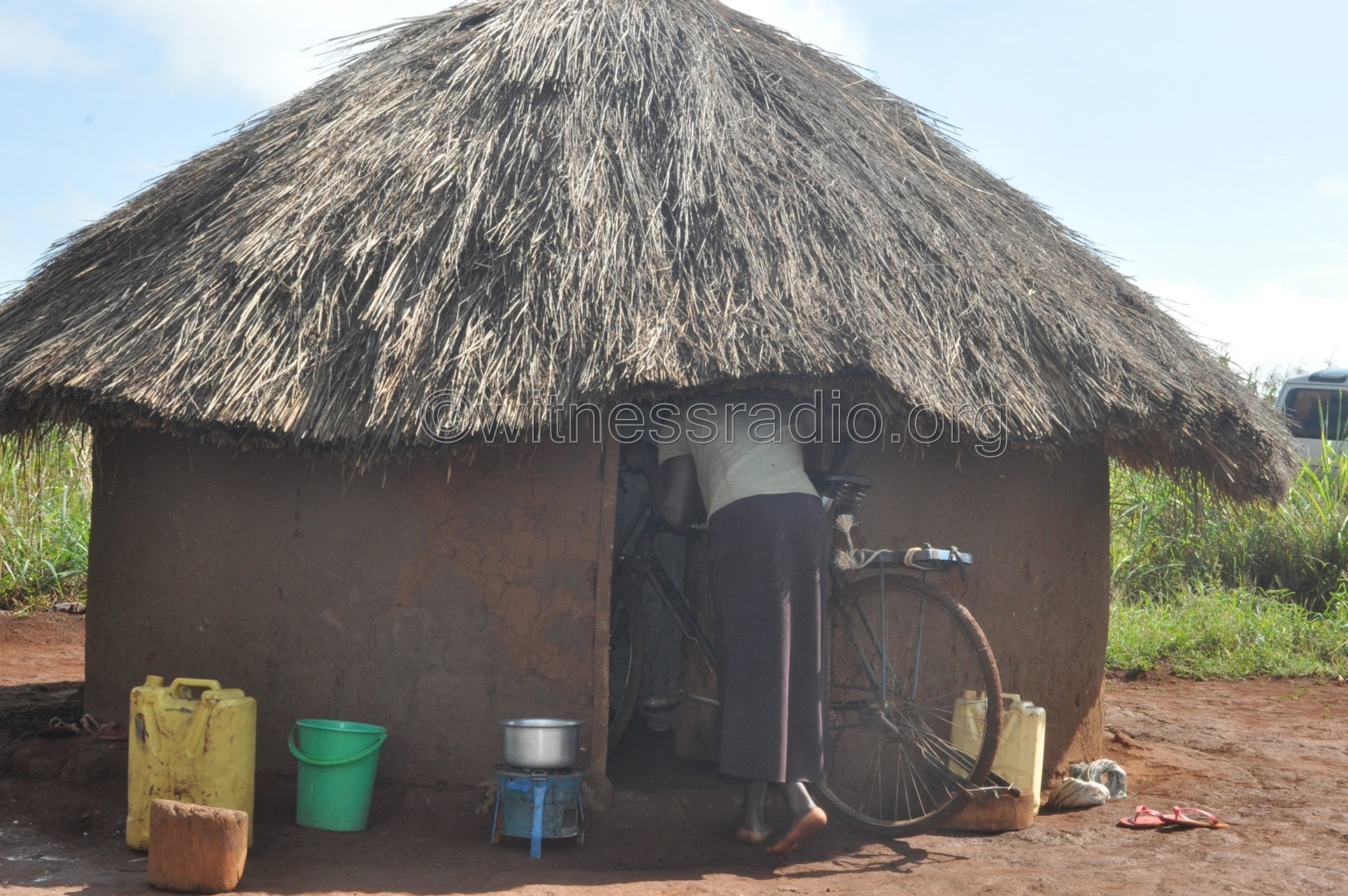 Opondo entering with a bicycle in her muddy thatched house.
By witnessradio.org Team
Opondo Cathy, (not real name due to the sensitivity of the matter), has never owned even a small radio in her entire life. This is a clear indication that the villager may not be aware of critical developments in the country. And this does not come as a shock, since the first time she heard the news of the COVID-19 in Uganda was when she visited her neighbor who's 500 meters away from her home, barely a month after Uganda had even registered a first case COVID-19.
Little did she know that land grabbers would take advantage of the lockdown to sexually abuse and humiliate, subdue demolish her house and grab her land.
Before COVID-19 misfortune struck, Opondo lived peacefully on her 6-acre piece of land, where she used to grow crops like banana, cassava, beans, and maize for both home consumption and sale. And experienced a happy life in her muddy structured house with her four children.
She could properly feed her family, and offer basic needs, but now, she rents in a nearby village, working like Trojans to find ends meet.
There were many violent attempts to evict her and others on their land but they would always resist. This time around, the grabbers resorted to sexually abuse her because she's a woman as a tool to weaken the poor lady and force her to leave the only source of income.
According to her, a dozen of women and young girls have been sexually abused and harassed in their area, because they resisted surrendering their land to the company.
"We withstood all their beatings, destruction of our property, arrests, but the rape thing was intolerable," she adds while weeping.
On the fateful day of 18th August 2020, Opondo had gone to pick her pieces of stuff at a nearby Bweyale town. While returning home at about 8:00 pm, she was attacked and sexually abused by a private security guard attached to one of the multinational companies involved in large-scale agribusinesses. The rapist attacker her from behind and tried to strangle her neck and grabbed her mouth, and hit her to the ground.
"I struggled with him, but he overpowered me, he put me down and raped me. I yelled louder for my rescue, but the neighbors were far. As soon as the rapist had them coming, he ran away," she adds.
"The louder yelling brought those nearby to come to my rescue, they did not even bother to ask me what had happened, because I already looked victimized. They decided to look for the rapist. Whereas I had a walking disability after the horrific incident, we went to the company offices where I always used to see him but unfortunately, he was not there," she further reveals.
During the first lockdown, public transport had been banned, which made it hard to reach out to a police post for help since it was distant.
After two days, Opondo managed to get to the area police to report the incident. In her own words, the officer on duty (a policeman) asked her if she had evidence and if that was not assaulted. When she asked for a police medical form to be examined, she was referred to a nearby Health Centre Three (III) with a small chit of a paper indicating that she was assaulted not raped. On meeting the medical officer, she handed over the chit and was examined on grounds of assault, not rape.
"I could hardly walk and had severe pain in my genital organs, which even a blind person could see, but because the police work with the multinational companies to evict us, they said I was only assaulted not raped, the mother of four adds.
According to Opondo, she had already received several threats and warnings from the agents of her evictors (Agilis Partners Limited). "They used to tell me, if I don't leave the land I should not regret what will happen to me. Indeed I now regret," she reveals.
Despite being raped is not even enough, her house was later torched by agents of Agilis Partners who claimed that she had illegally occupied their land. On that day they (her family) slept in cold and exposed to vagrancies of nature.
Agilis Partners Limited is among the three multinational companies that have violently and illegally evicted the poor communities off their land in Kiryandongo district without a court order or following due processes.
Other multinationals include Great Seasons SMC Limited, solely owned by a Sudanese investor based in Dubai, and Kiryandongo Sugar Limited owned by RAI Dynasty.
In the same village, Opondo and others, close to 100 were evicted to pave way for large-scale grain and oilseeds farming business. The company claimed it had lawfully acquired the land.
"I am an emotional wreck, my life was ruined, if I can't afford to provide for my family, do I have any meaning?" she angrily asks.
"I always burned the candle at both ends to be able to provide for my family, but all their dreams were shuttered, they no longer attend school. I had no money to feed them and had to transfer them to the village, they currently live with their 78 aged grandmas somewhere in northern Uganda", she adds.
Although the kids were transferred, they face a lot of destitutions due because of the grandmother who can hardly meet their basic needs.
"Even when they went to the village I still the caretaker of the family. I do distasteful works that I don't want them to know," she reveals.
While Uganda starts its 42 days semi- COVID-19 lockdown, it is notably clear that a significant number of Ugandans will be sharing the same eviction stories as Opondo's.
Research findings from Witness Radio show more than 50,000 people across Uganda were subjected to sexual and gender based violence, illegally evicted off their land during the first COVID-19 lockdown, further more women and girls suffered most.
Shortly after Uganda went into a total lockdown on March, 18th 2020, the government through the ministry of Lands, Housing and Urban Development halted all land evictions throughout the lockdown to comply with the president's directive of staying at home, but, the evictions suddenly increased as the pandemic gave a total advantage to the opportunists to easily access millions of hectares with the backing of the government and other influential politicians in the country. The first lockdown was later relaxed in mid-August, the same year.
Now, Uganda announced a second semi-lockdown on 6th, June 2021 for 42 days where schools, Worshipping places and inter-district public transport have been burned.
President of Uganda Mr. Yoweri Museveni on a televised address announced 40 new measures to curb the second wave of the pandemic. Among them include, the closure of schools, ban of communal prayers, and public gatherings/workshops all for 42 days, inter-district travel banned for 14 days, private vehicles limited to just 3 people including the driver, and many other measures.
Currently, Uganda has 53,961 COVID-19 confirmed cases, 383 deaths and 47,760 have recovered from the disease.
According to witness radio, evictions will not only live many Ugandans landless but also puts them at higher chances of being sexually abused by people who are supposed to protect them.
Experts say that in a pandemic, an eviction is particularly dangerous, leading a person to double up with friends and family in a crowded housing situation that easily accelerates the virus' speed.
With no guidelines at the moment to protect indigenous and poor people, it is evident that tens of thousands of Ugandans will be affected by the ruthless actions of the land grabbers.
"If the grabbers managed to disregard the previous guidelines and continued to carry out their dubious schemes, what will happen to people now when there are no political heads of ministries including Land? Says, Witness Radio.
In the meantime, earlier today, the Chief Justice of Uganda, Alfonse Owiny Dollo also suspended court hearings and appearances for 42 days as a measure to curb the spread of coronavirus.
The Chief Justice said the move is in line with President Museveni's directives on prevention and mitigation of the virus.
Whereas the closing of courtrooms makes sense for public health reasons, the delays are likely to create an overwhelming backlog of cases and have legal ramifications, since defendants are guaranteed a speedy and fair trial under the Constitution.
Police harassment: Six land rights defenders from Kawaala have been summoned for interrogation.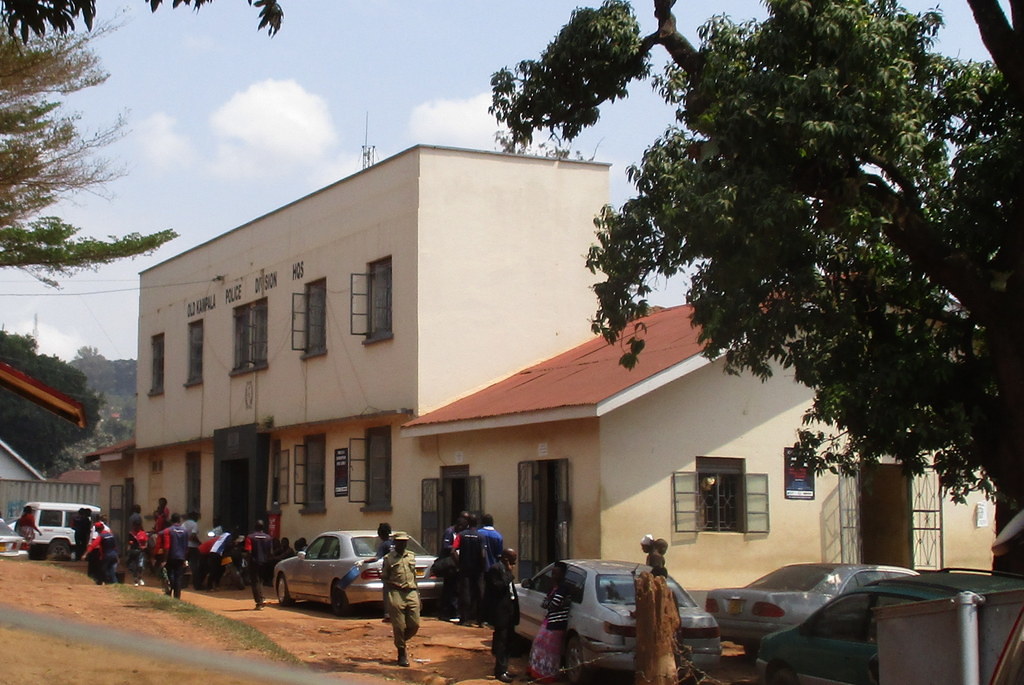 A photo of old Kampala police station where defenders are expected to report tomorrow. 
By Witness Radio – Uganda team
As forced evictions and land giveaways to investors accelerate in Uganda, police continue to be deployed to criminalize the work of community land and environmental rights defenders supporting communities to push back illegal evictions.
For many years ago, hundreds have been arrested, charged, abducted, and beaten for their work by machete-wielding men, police, and army sidelining with investors or grabbers.
The latest to fall prey is a group of six community land rights defenders and a local council vice-chairperson of Kawaala zone II, Lubaga Division, in Kampala district. The group and other defenders have been leading a pushback campaign since 2020 against the multimillion dollars drainage channel being implemented by Kampala Capital City Authority (KCCA) with finances from the World Bank under Kampala Institutional and Infrastructure Development Project (KIIDP-2)
This project first impacted Kawaala Zone II around 2014, when a channel diversion was constructed. The current planned expansion will widen that channel and require forced evictions across an area at least 70 meters wide and 2.5 km long.
The group must appear at the Old Kampala Regional Police headquarters criminal investigations directorate tomorrow, 29th/06/2022 before the Deputy Assistant Inspector of Police (D/AIP) Domara Patrick at 9: 00 AM local time.
The defenders summoned include; Kasozi Paul, Busobolwa Adam, Kabugo Micheal, Serugo Charles, Ssemanda David, Sserukwaya David, and vice-chairman of Kawaala zone II Mr. Patrick Kato Lubwama.
According to the police summons, a copy obtained by Witness Radio – Uganda does not mention the charge nor state the complainant (s).
The chairman of the affected group of people Mr. Kasozi Paul believes these are retaliation for their strong resistance to land grabs being spearheaded by KCCA to construct a drainage channel.
"We have always been targeted by KCCA and other fellow opportunists that we are sabotaging the drainage construction which is not true. We refused to give away our land without being compensated. We believe this is the reason for the summons. We shall go and meet the police tomorrow," Kasozi stated.
When Witness Radio contacted Deputy Assistant Inspector of Police (D/AIP) Domara Patrick who signed those summons declined to share details of the charges instead he invited the Witness Radio team to visit his bosses.
Advocates criticize AfDB for excluding CSOs and communities from participating in the Bank's policy review process.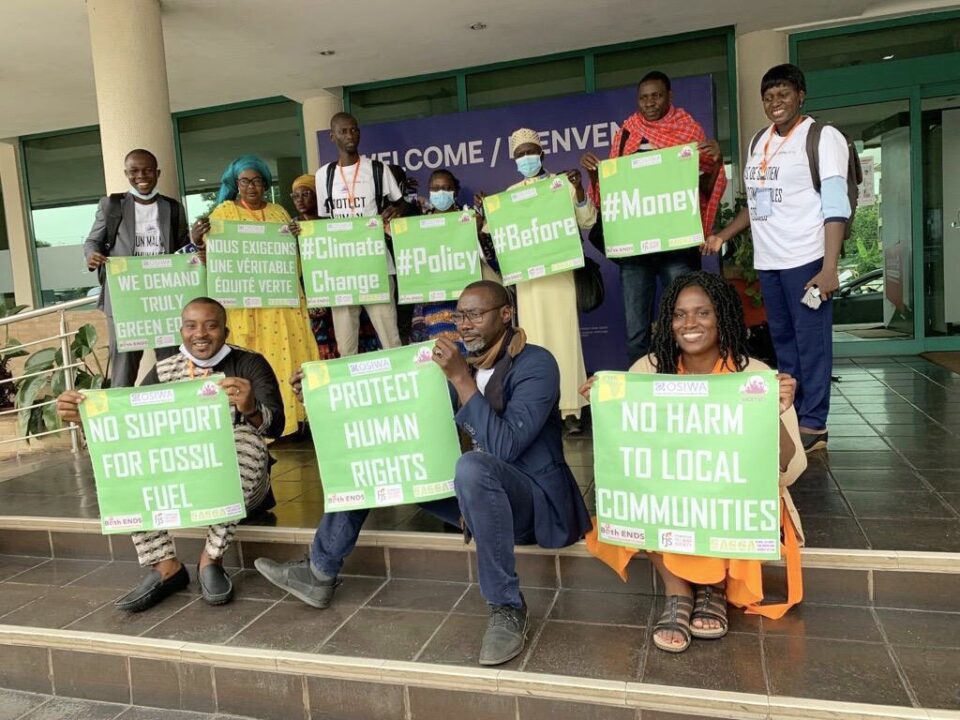 Some of the activists staging a demo in Accra, Ghana
By Witness Radio Team
Witness Radio Uganda joins other civil society organizations across Africa and beyond to criticize the bank's decision to exclude CSOs and communities from participating in the recently concluded African Development Bank (AfDB) 2022 annual meeting in Accra. The groups also called upon the bank to stop funding projects that exacerbate climate change and human rights violations. When member states signed an agreement on August 14, 1963, that consequently led to the establishment of the Bank, many touted it as one of the long-lasting solutions to African problems, however, that hope has dwindled.
The annual meetings held from the 23rd to 27th of May in Accra, Ghana presented an opportunity for the Bank to redeem itself from sustainable development mediocrity, and convince and commit to the world that it was willing to be metamorphosized from a sustainable development jester into a people-centered bank, instead, the AfDB opted to bury its head in the sand.
Key on its agenda; is the role the bank can play in the just energy transition and achieving climate resilience in Africa. However, communities most affected by climate change, and civil society groups supporting them were excluded. It was restricted to a clique of Governors, Senators, Bank Colleagues, investors, presidents, and other cherry-picked participants that were invited to discuss pressing issues affecting mankind.
As expected, the pertinent issues affecting the poor African communities, including those resulting from the adverse impacts of projects financed by AfDB, that is, the disintegration of families, lost livelihoods, and the continued affront to dignity was sacrificed at the altar of painting a Rosy picture about the Banks "gains and projections."
In Uganda, the downtrodden have paid the biggest price for AfDB's irresponsible banking. The Paten clan in the Pakwach district has experienced and continues to experience gross human rights violations arising from the Wadelai irrigation scheme implementation funded by the AfDB.
According to the communities, the project forcefully acquired more land for the Wadelai Irrigation Scheme project under The Farm Income Enhancement and Forestry Conservation Project-Phase 2 (FIEFOC-2). This was contrary to the earlier understanding with the community that the project would utilize 365 acres which the community had freely offered for the project. Instead, 365 hectares were forcefully acquired.
Information obtained from the Coalition for Development's website and published on August 10, 2021, indicates, that sixteen members of the Paten Clan, a community in Pakwach District in northern Uganda, were shot at and wounded by local police and army officers for opposing the Wadelai irrigation project implementation.
"…Staff of the construction company in charge of implementing the project, together with representatives of the local authorities and the police, forcefully entered the community. When communities questioned and protested against the trespass, the local police and members of the Uganda People's Defence Force (UPDF) started firing bullets and teargas to disperse them. 16 community members were injured.
After the shooting, the police refused to hand them the forms for documenting the injuries suffered, meaning they were unable to easily access healthcare in government health centers. The day after, UPDF officers arrested and beat up four women, including one pregnant woman, while they were on their way to fetch water…, according to victims.
A community in Kiyindi, Buikwe district was also evicted by the African Development Bank's water project that allegedly aimed at benefiting them and given little compensation in 2020.
The area Councilor, Mr. Amir Kiggundu says the community now grapples with cases of hunger and poverty. "The government said we would benefit a lot if we accepted the project but people were paid as little as 2 million Uganda Shillings (Approximately 540 US Dollars) for their land. This was little money that could not afford to relocate them and buy the land elsewhere in Uganda. As a result, these people are now renting and work hand to mouth. Their children have since dropped out of school" the area Councilor said in an interview with Witness Radio.
Listed as one of the Development Bank's principles, it has fallen short of inclusivity and participation of all stakeholders during the review process of the bank's policies.
"Transparency and participation are among the greatest shortcomings in AfDB's governance, and the 2022 Annual Meetings, unfortunately, demonstrate the failure to prioritize engagement with civil society and communities. We are so concerned that there is no space for civil society in the official program." Aly Marie Sagne, Founder and Executive Director, Lumìere Synergie pour le Développement, Sénégal said.
Apart from including climate change, food security, and energy development on its agenda list, the Bank was equivocal on these issues. The speeches delivered by Dr. Akinwumi Adesina , the bank's President and the ilk were carefully scripted and choreographed to paint a wrong picture, transparency as a key driver of sustainable development was not mentioned.
On food security, Dr. Akinwumi Adesina said there is no need for Africans begging food and that the bank has approved the $1.5 billion plan that will be used to support African countries to produce food rapidly to ensure sustained supply producing 38 million metric tons of food, including wheat, maize, rice, and soybeans.
About the increased climate crisis, Adesina said Africa suffers $7-15 billion per year in losses to climate change, and losses are projected to rise to $40 billion per year by 2030. "Africa has no choice but to adapt to climate change but African Development Bank has doubled its financing for the climate to $25 billion by 2025," he said.
The Bank is also implementing the $20 billion Desert to Power initiative in the Sahel, to build 10,000 megawatts of solar power generation. This will provide electricity via solar for 250 million people and turn the Sahel into the largest solar zone in the world.
Whereas all these strategies mentioned are meant to uplift the project beneficiaries, there is no guarantee to ensure the realization of their commitments.
Witness Radio's Executive director, Mr. Wokulira Ssebaggala added his voice to the 30 participants in 11 countries that held a separate meeting in Accra from 23-25 May to allude to his concerns over the absence of the project beneficiaries excluding their views in critical issues.
"Many development projects have proven harmful including those funded by this Bank. They have had issues with human rights violations and propelled many into excess poverty and hunger. Because the local people are the beneficiaries, their interests should be represented". He spoke.
The AfDB funds hundreds of projects across the continent and it is one of the key economic players in Africa. Through its direct and indirect financing, it supports projects and policies across a wide range of sectors. However, in practice, the Bank is not different from the loan sharks operating in the streets of Kampala.
"Although the AfDB is supposed to serve the interests of African people, it lags behind its peer institutions in terms of transparent and participatory policies and implementation, and it is very difficult for civil society, local communities, indigenous Peoples, and all rights holders to hold the Bank accountable at all stages of its operations," a statement from members of the #Dev4Africa campaign read.
This approach to development has led to negative impacts on communities from AfDB projects, including human rights, labor, and environmental violations. Additionally, it has led to contradictory approaches to challenges like the climate crisis, whereby the AfDB is supporting needed adaptation and mitigation projects on the one hand, and funding climate-harmful fossil fuel projects on the other hand.
"We don't understand why the AfDB put such a risky project in our community." Fatou Samba is a representative of a community whose livelihoods and environment have been affected by the AfDB-financed Sendou coal power project in Senegal said.
As the court starts to hear a case filed against Kiryandongo Sugar Limited, president Museveni offers to compensate forced eviction victims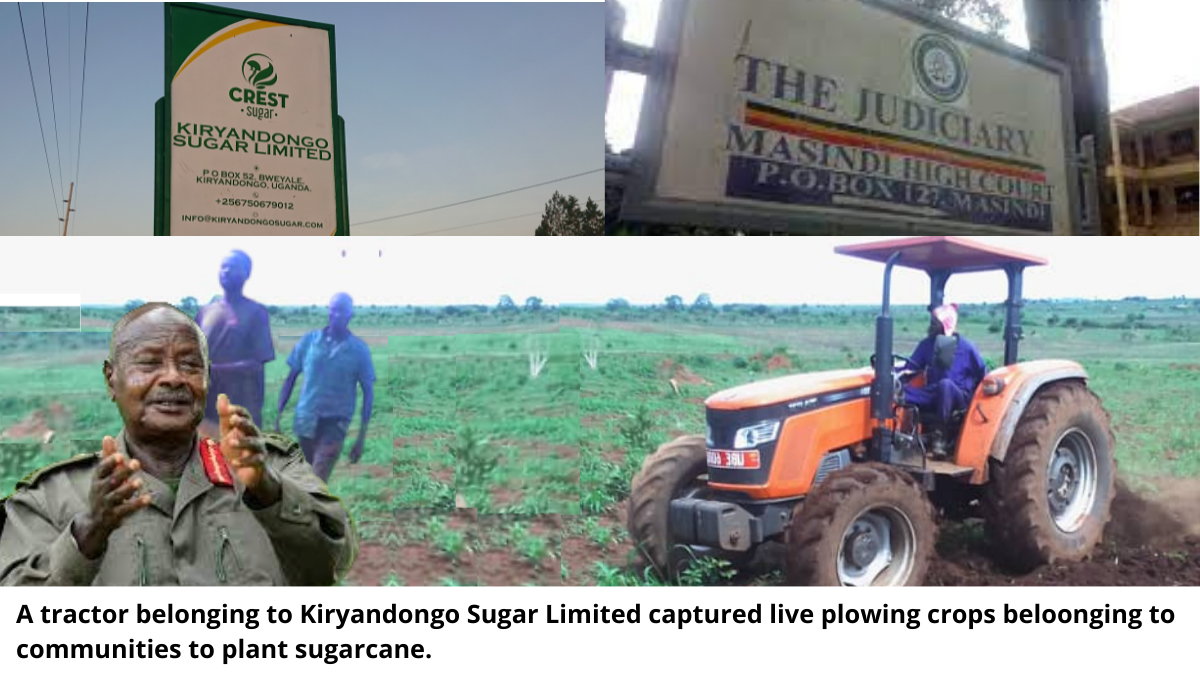 By Witness Radio Team
President Yoweri Museveni pledged to compensate Kiryandongo Sugar Limited forced eviction victims shortly after the Masindi High court fixed a hearing date.
Today, the 30th May 2022, Witness Radio lawyers, representing the victim community are in court as the hearing of the case kicks off.
A victim community that is part of a bigger group of 35,000 people being forced off their land by several multinationals, has suffered unabated violence and gross human rights violations/abuses orchestrated by government soldiers that grab land on behalf of the company.
Since 2017, a year after the company arrived in the area, human rights violations/abuses ranging from abduction, torture, and inhuman and degrading treatment, keeping people in kangaroo detention centers, rape, defilement, demolition of houses, cutting down food plantations for community members, demolishing of schools and private health centers to plowing gardens have been committed against local communities.
Kiryandongo Sugar Limited is one of the many companies owned by the Rai Group of Mauritius. The dynasty owns several other companies in DR Congo, Kenya and Malawi, and Uganda. A dynasty owns companies such as West Kenya Sugar (which owns Kabras Sugar), Timsales Limited, Menengai Oil Refineries, RaiPly, and Webuye Panpaper.
In Uganda, the Rai Group of Mauritius owns Nile Ply limited, Kinyara Sugar Limited, and Masindi Sugar Limited among others and one of its directors is a shareholder of a British Virgin Islands company, which was listed in the Panama Papers database recently.
The same company has fraudulently gotten a license to replace part of Bugoma natural forest with sugarcane plantation.
Mrs. Anna Maria Mukabaryanga, a mother of 5 is one of the hundreds of victims that have tested the wrath of the army. She sustained serious injuries during forced evictions.
"I was sternly beaten by Uganda People's Defense Forces soldiers (UPDF) on my back while I was pregnant. They were very many and eventually got a miscarriage and lost my twins. I did not get enough treatment since I did not have money to cater for the bills. I have visible scars and I cannot afford to do any work due to severe pain. It is hurting that I continue to suffer when the foreign company is reaping big on grabbed land. Whereas I lost everything during the evictions, I was not compensated nor treated. I am deeply suffering up to now." The 32-year-old recounts.
Although Anna Maria and her community have been tormented by forceful and violent evictions, they were blocked to open a case with the area police against the company.
"The police officers attached to Kiryandongo and Kimogola police units refused us to open cases of criminal trespass and destruction of property against the company. When we went to report, we were threatened with arrests, which caused us to abandon our fight for justice," Anna revealed.
The area Woman Member of Parliament, Hon. Hellen Max Kahunde said her office had been receiving several complaints of forced evictions, human rights violations by armed soldiers guarding Kiryandongo Sugar Company, and the little compensation offered to them.
"People were beaten, arrested, tortured, and forcefully evicted by the company on the land that they called home. People have visible scars resulting from the torture by the army on behalf of the investors. Can you imagine even the company went ahead to deduct the already undervalued properties by 40%? It's very unfair," she added.
While commissioning the $60 million equivalent to Uganda Shillings 216 billion, factory last week in Kimogora village in Kiryandongo, President Museveni said that the government will compensate the people despite encroachment on government ranch land.
In his speech quoted by one of Uganda's dailies, the Daily monitor on Monday 16th, Museveni said, "The squatters had encroached on government ranch land and were not bona fide occupants but are our people. Bonafide occupants are those who had stayed on the land before 1983, but these came much later. The NRM government, however, we will compensate them."
In 2020, the Kiryandongo affected victims through their lawyers from Witness Radio lodged a case at Masindi High court against the Kiryandongo Sugar Limited over forced eviction and committing human rights abuses/violations. The victims are seeking compensation and to be returned to their land.
The Masindi resident Judge Hon Jessie Byaruhanga fixed the hearing of Miscellaneous Cause Number 12 of 2020 of Otyaluk Ben Wilson and 8 others vs. Kiryandongo Sugar Company