More women are going to be sexually abused and forced to lose their land to the rich/investors as Uganda goes into a semi lockdown of 42 days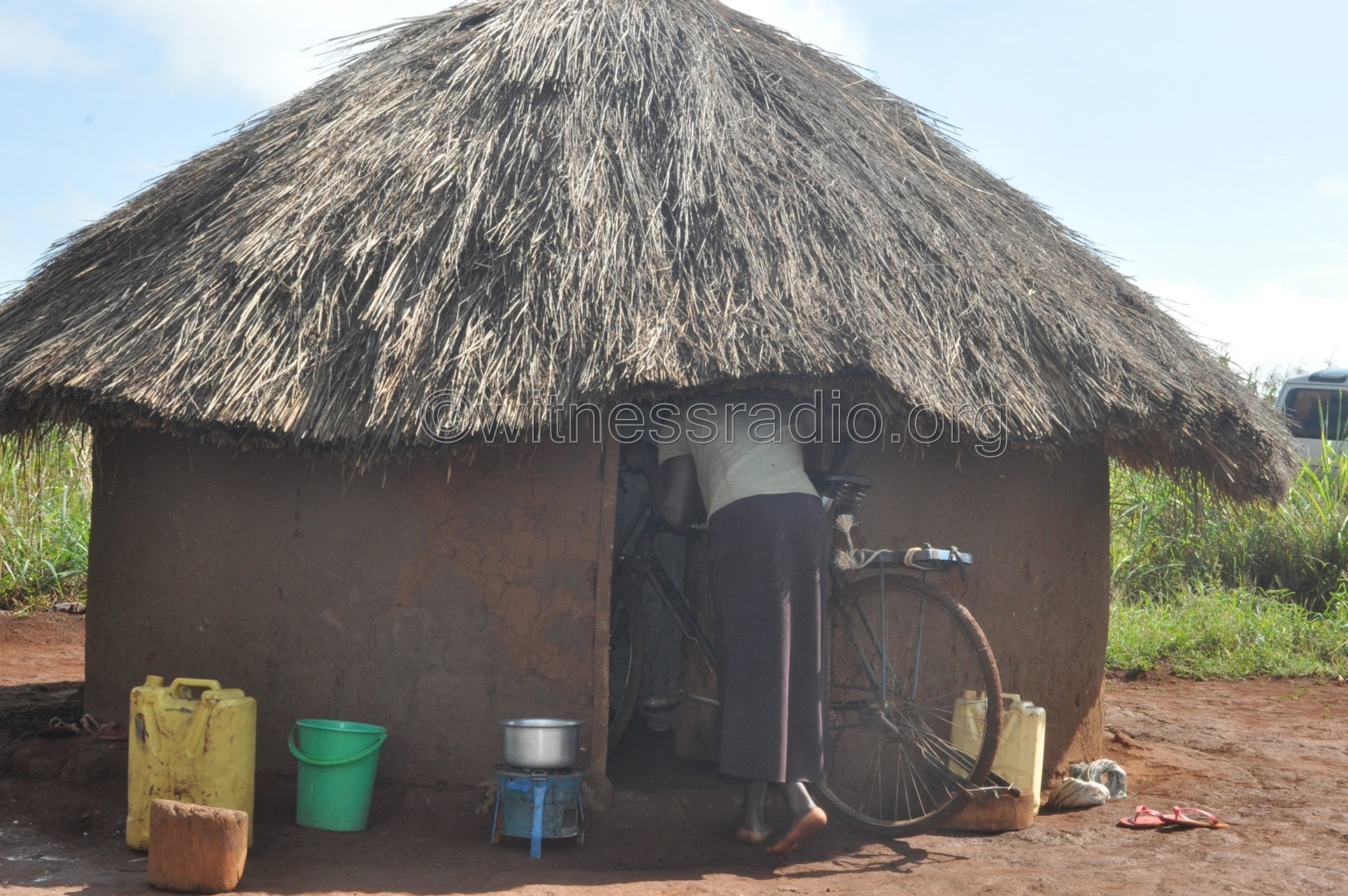 Opondo entering with a bicycle in her muddy thatched house.
By witnessradio.org Team
Opondo Cathy, (not real name due to the sensitivity of the matter), has never owned even a small radio in her entire life. This is a clear indication that the villager may not be aware of critical developments in the country. And this does not come as a shock, since the first time she heard the news of the COVID-19 in Uganda was when she visited her neighbor who's 500 meters away from her home, barely a month after Uganda had even registered a first case COVID-19.
Little did she know that land grabbers would take advantage of the lockdown to sexually abuse and humiliate, subdue demolish her house and grab her land.
Before COVID-19 misfortune struck, Opondo lived peacefully on her 6-acre piece of land, where she used to grow crops like banana, cassava, beans, and maize for both home consumption and sale. And experienced a happy life in her muddy structured house with her four children.
She could properly feed her family, and offer basic needs, but now, she rents in a nearby village, working like Trojans to find ends meet.
There were many violent attempts to evict her and others on their land but they would always resist. This time around, the grabbers resorted to sexually abuse her because she's a woman as a tool to weaken the poor lady and force her to leave the only source of income.
According to her, a dozen of women and young girls have been sexually abused and harassed in their area, because they resisted surrendering their land to the company.
"We withstood all their beatings, destruction of our property, arrests, but the rape thing was intolerable," she adds while weeping.
On the fateful day of 18th August 2020, Opondo had gone to pick her pieces of stuff at a nearby Bweyale town. While returning home at about 8:00 pm, she was attacked and sexually abused by a private security guard attached to one of the multinational companies involved in large-scale agribusinesses. The rapist attacker her from behind and tried to strangle her neck and grabbed her mouth, and hit her to the ground.
"I struggled with him, but he overpowered me, he put me down and raped me. I yelled louder for my rescue, but the neighbors were far. As soon as the rapist had them coming, he ran away," she adds.
"The louder yelling brought those nearby to come to my rescue, they did not even bother to ask me what had happened, because I already looked victimized. They decided to look for the rapist. Whereas I had a walking disability after the horrific incident, we went to the company offices where I always used to see him but unfortunately, he was not there," she further reveals.
During the first lockdown, public transport had been banned, which made it hard to reach out to a police post for help since it was distant.
After two days, Opondo managed to get to the area police to report the incident. In her own words, the officer on duty (a policeman) asked her if she had evidence and if that was not assaulted. When she asked for a police medical form to be examined, she was referred to a nearby Health Centre Three (III) with a small chit of a paper indicating that she was assaulted not raped. On meeting the medical officer, she handed over the chit and was examined on grounds of assault, not rape.
"I could hardly walk and had severe pain in my genital organs, which even a blind person could see, but because the police work with the multinational companies to evict us, they said I was only assaulted not raped, the mother of four adds.
According to Opondo, she had already received several threats and warnings from the agents of her evictors (Agilis Partners Limited). "They used to tell me, if I don't leave the land I should not regret what will happen to me. Indeed I now regret," she reveals.
Despite being raped is not even enough, her house was later torched by agents of Agilis Partners who claimed that she had illegally occupied their land. On that day they (her family) slept in cold and exposed to vagrancies of nature.
Agilis Partners Limited is among the three multinational companies that have violently and illegally evicted the poor communities off their land in Kiryandongo district without a court order or following due processes.
Other multinationals include Great Seasons SMC Limited, solely owned by a Sudanese investor based in Dubai, and Kiryandongo Sugar Limited owned by RAI Dynasty.
In the same village, Opondo and others, close to 100 were evicted to pave way for large-scale grain and oilseeds farming business. The company claimed it had lawfully acquired the land.
"I am an emotional wreck, my life was ruined, if I can't afford to provide for my family, do I have any meaning?" she angrily asks.
"I always burned the candle at both ends to be able to provide for my family, but all their dreams were shuttered, they no longer attend school. I had no money to feed them and had to transfer them to the village, they currently live with their 78 aged grandmas somewhere in northern Uganda", she adds.
Although the kids were transferred, they face a lot of destitutions due because of the grandmother who can hardly meet their basic needs.
"Even when they went to the village I still the caretaker of the family. I do distasteful works that I don't want them to know," she reveals.
While Uganda starts its 42 days semi- COVID-19 lockdown, it is notably clear that a significant number of Ugandans will be sharing the same eviction stories as Opondo's.
Research findings from Witness Radio show more than 50,000 people across Uganda were subjected to sexual and gender based violence, illegally evicted off their land during the first COVID-19 lockdown, further more women and girls suffered most.
Shortly after Uganda went into a total lockdown on March, 18th 2020, the government through the ministry of Lands, Housing and Urban Development halted all land evictions throughout the lockdown to comply with the president's directive of staying at home, but, the evictions suddenly increased as the pandemic gave a total advantage to the opportunists to easily access millions of hectares with the backing of the government and other influential politicians in the country. The first lockdown was later relaxed in mid-August, the same year.
Now, Uganda announced a second semi-lockdown on 6th, June 2021 for 42 days where schools, Worshipping places and inter-district public transport have been burned.
President of Uganda Mr. Yoweri Museveni on a televised address announced 40 new measures to curb the second wave of the pandemic. Among them include, the closure of schools, ban of communal prayers, and public gatherings/workshops all for 42 days, inter-district travel banned for 14 days, private vehicles limited to just 3 people including the driver, and many other measures.
Currently, Uganda has 53,961 COVID-19 confirmed cases, 383 deaths and 47,760 have recovered from the disease.
According to witness radio, evictions will not only live many Ugandans landless but also puts them at higher chances of being sexually abused by people who are supposed to protect them.
Experts say that in a pandemic, an eviction is particularly dangerous, leading a person to double up with friends and family in a crowded housing situation that easily accelerates the virus' speed.
With no guidelines at the moment to protect indigenous and poor people, it is evident that tens of thousands of Ugandans will be affected by the ruthless actions of the land grabbers.
"If the grabbers managed to disregard the previous guidelines and continued to carry out their dubious schemes, what will happen to people now when there are no political heads of ministries including Land? Says, Witness Radio.
In the meantime, earlier today, the Chief Justice of Uganda, Alfonse Owiny Dollo also suspended court hearings and appearances for 42 days as a measure to curb the spread of coronavirus.
The Chief Justice said the move is in line with President Museveni's directives on prevention and mitigation of the virus.
Whereas the closing of courtrooms makes sense for public health reasons, the delays are likely to create an overwhelming backlog of cases and have legal ramifications, since defendants are guaranteed a speedy and fair trial under the Constitution.
LOCKDOWN ILLEGAL EVICTION: Fresh waves of unabated acts of forced eviction violence have hit Kiryandongo once again…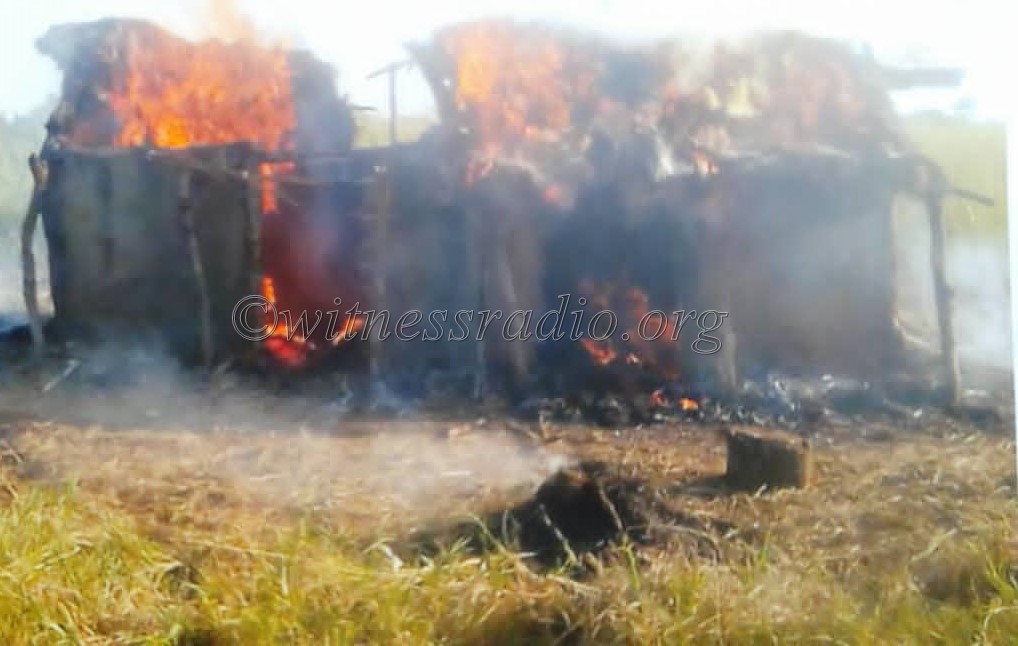 Mr. Baluma Sipiriano's house that was burnt by the workers of Great Seasons SMC in Kiryandongo district.
By witnessradio.org Team
With only a few weeks of the second COVID 19 lockdown in Uganda, multinational companies have taken the advantage of the situation to brutalize and use other violent methods to force poor communities off their land in the Kiryandongo district.
Ever since Uganda went into a total lockdown on June 6th, 2021, agents of multinationals under the protection of area police, the army, and private security guards are burning people's houses, arbitrarily arresting community land rights defenders, attack and beat up community leaders, and, have now hired out part of the grabbed land to pastoralists outside Kiryandongo district to purposely graze animals into poor communities' gardens among other acts of violence.
The second lockdown was a result of a new surge of COVID causing outrageous infections and deaths. Currently, Uganda has 92,490 Coronavirus Cases and 2,557 deaths.
Multinationals with the support from security organs and operatives deployed to guard the grabbed land are likely not to stop the forced eviction despite this year's ministerial directive halting further evictions that were issued on July 18th, 2021 by the lands minister, Mrs. Judith Nabakooba Nalule.
Since 2017, three multinationals have orchestrated violence to over 35000 inhabitants in the Kiryandongo district to give way to large-scale agribusiness projects.
The Multinationals include; the Dubai domiciled Great Season SMC Limited, Cayman Islands domiciled Agilis Partners Limited, and Mauritius domiciled Kiryandongo Sugar Limited.
Since that period, the area has witnessed various forms of violence ranging from rape, defilement, kidnap, torture, intimidation, illegal detention, imprisonment to the demolition of schools, worship centers, and homes, among others.
Early this month, at 8:00 AM local time, a family of Baluma Sipiriano was attacked by three armed agents allegedly part of Great Season SMC Limited and torched one of his houses before running away. Baluma is a community land rights defender who has been charged and persecuted on trumped-up charges.
"I was not at my home by the time of the attack. But three of my children, who were at home told me that armed with machetes, spears, bows, and arrows, company workers with the protection from armed police carried out the attack. One of them pulled out a matchbox and set my house on fire and all property was reduced to ashes".  Baluma narrated.
According to residents, more than 10 houses have been burnt in the area but the police are silent and no intervention has been made.
Whereas Mr. Baluma reported the incident to the area police in Kimogola, police have not taken any against the perpetrators.
Another case of violence involves a 78-year-old Mr. Kajasiyo David. He was attached by cattle keepers who hired part of the grabbed land from companies and was severely beaten.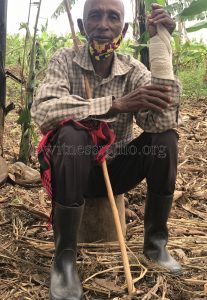 Mr. Kajasiyo David a small holder farmer showing his forearm that was fractured during a scuffle with herders
A medical report seen by Witness Radio -Uganda confirms that the old man's left hand got a fracture.
"Three (3) herdsmen came and grazed their cattle in my small garden left. When I approached and requested them not to destroy my food crops, they responded by beating me until I became unconscious" Narrated the old man.
According to residents, multinationals are using fly-grazing as a form of eviction with more than 1000 heads of cattle.
"These cattle keepers have abandoned grazing spaces to target gardens and destroy our food crops, we are being pushed into extreme hunger and poverty while the multinationals reap huge profits from our own country," Said Benon Baryeija, one of the community leaders.
New booklet: Nine Reasons to Say NO to Contract Farming with Palm Oil Companies
Why do peasant farmers lose out when they produce for the palm oil industry? A publication based on experiences from Latin America, sub-Saharan Africa and Southeast Asia.
This publication explains how contract farming with palm oil companies works, and why it is a serious threat to peasant farming and food sovereignty. The booklet looks at nine of the most common promises that companies make, and most importantly, the information they conceal behind each promise.
The publication is available in English, Portuguese, French, Spanish and Bahasa Indonesia.
 Download the publication in English here: Two pages per sheet | Single pages
The main focus of industrial palm oil companies is to maximise their profits. Their goal is to keep production costs as low as possible and to sell as much palm oil as they can. The more land they can control, the more palm oil they can sell.
With the full support of governments and financial institutions, palm oil companies have taken control of millions of hectares of land. They have destroyed and contaminated fishing grounds, fertile soils, water sources and forests. This corporate takeover of community land has also resulted in violence against people living in and around oil palm plantations, including abuse and sexual violence against women. The few jobs on plantations that are available to community members are poorly paid and dangerous.
Because resistance to these large-scale concessions is rising, companies have started to use different strategies to take control of community land. One of these strategies is to create smallholder, or outgrower schemes. Other names for this are contract farming or alliances with smallholders.
What companies do is propose that peasant farmers grow oil palm on their own land, and in turn, the company will buy all the oil palm fruit they produce. Governments usually support these schemes, which are presented as a win-win deal. But in fact, they are a trap. Peasant farmers accumulate debt right from the start, lose the freedom to decide who to sell their production to, face strict restrictions on planting other crops, and give up autonomy and even their land. These are some of the major consequences for peasant farmers who get locked into contract farming. Experiences in Latin America, sub-Saharan Africa and Southeast Asia have already shown this.
Contract farming allows oil palm companies to control more land and increase their production without being accused of land grabbing or evicting peasant families. Governments have also started to promote these schemes, in order to avoid the social conflicts that tend to arise when large concessions are handed over to corporations. Furthermore, contract farming has become a tactic for palm oil companies to access new, often public funding from development banks, aid agencies, governments and other funders.
>> Download the publication in English here: Two pages per sheet | Single pages
The booklet is also available in Portuguese, French, Spanish and Bahasa Indonesia..
Original Source: World Rainforest Movement
Forced eviction during covid-19 lockdown: KCCA with the World Bank funding is excluding me and my siblings from being compensated for our properties because we evolved lawyers in the eviction process.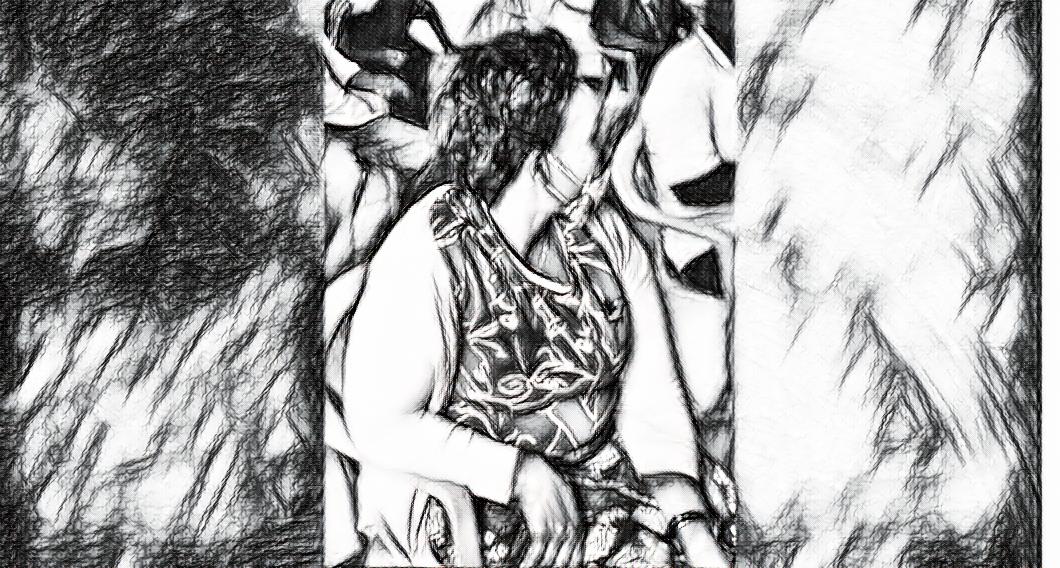 Nasande Kadijah, seated in one of the village meetings.
By witnessradio.org Team
Nasande Kadijah, not real name due to fear of retaliation, is one of the residents of Kawaala zone II, in Rubaga division, in Kampala district whose piece of Kibanja is being grabbed by Kampala Capital City Authority, (KCCA) to expand and construct the Lubigi Primary Channel with the aid of the World Bank loan to tune of USD 175 Million without compensation.
Nasande was born on the same piece of land in 1972 and, later with her siblings, they inherited the same property from their parents. The land measures an acre on which she constructed a house and also uses it to grow beans, bananas, and maize.
In early December 2020, Nasande's family was among the 120 families that first received an eviction notice from KCCA without prior notice. It later dawned on them that the eviction notice was to pave way for the channel construction.
According to Nasande, they learned about the Second Kampala Institutional and Infrastructure Development Project (KIIDP-2) from Witness Radio – Uganda lawyers.
A selfless community leader claims that she has been targeted by KCCA for mobilizing other community members to resist the COVID-19 land grab. As a result, her land has not been valued and compensated for, and yet KCCA is insisting on constructing and finishing the channel by December 2021.
After filing a complaint to the World Bank's Inspection Panel on 17th June  2021, and holding a meeting with all stakeholders, KCCA was advised to repeat the whole evaluation process however, KCCA instead went ahead to carry out a forceful surveying exercise. Many property owners were excluded from the exercise including Nasande. KCCA also went ahead and asked them  to sign documents whose contents were  unknown to the project Affected Persons since they are illiterate who can barely read and write in English.
"We have requested lawyers from Witness Radio – Uganda to represent us. I never went to school, and I don't know how to read. Documents were in English and no one could interpret for me. This is why I wanted my lawyers to be present on my behalf," she said.
She added that there was a list of property owners allegedly circulating from KCCA but her name (Nasande) did not appear on it.
"One of the project members, Mr. Kyaddondo David accused me of 'fighting KCCA work' in one of the interfaces. I told him I was not fighting them but instead fighting their injustices in the eviction process. This is my land and I deserve to be compensated. If they claim what they are doing is right, why do they discouraged me from associating with my lawyers? My lawyers are there to fight for me and it is their role to do what I cannot. If they believe they want my land, let them follow what is right. Am one of the persons who welcomed the project for the development of our community,  of what importance does it have when we are left suffering?", she added.
"My land is my everything. Am a poor woman unlike them working in the offices, this is what I depend on to feed my family of five. Do they want to find me on the streets begging? I asked those officials if they can give me part of their land, then I leave this for them but they refused," she emphasised.
According to Kadijah, even those that were allegedly valued, KCCA did not display the evaluation rates.
"Many of them were caught unaware, they are now crying, and no one knows which rates were used. The systems were fraudulent. And some of us who were mobilizing others to resist started using fellow villagers to fight us back. They told them that we are the ones holding KCCA from paying them by involving lawyers who will take our money. Our purpose of getting lawyers was to get justice, because if these people wanted to compensate us, why did they think of evicting us at first. Before saying we are bad, they are bad too," she further added.
According to Kadijah, had it not been for the intervention of Witness Radio Uganda, and Accountability Council they would have been already evicted.
"No one could hear our voices, everyone would not listen to our stories, not even the government offices. When Witness Radio came in to help us, they slowed down and even accepted to compensate us. So why do they want us to leave Witness Radio, they want to grab our land which we cannot accept. We have given KCCA many chances and we agree to be compensated but fairly and allow the government project to proceed," she explained.
Such unlawful processes prompted, Witness Radio Uganda together with its partner Accountability Counsel on behalf of community members to file a complaint to the inspection panel seeking their interventions.