More women are going to be sexually abused and forced to lose their land to the rich/investors as Uganda goes into a semi lockdown of 42 days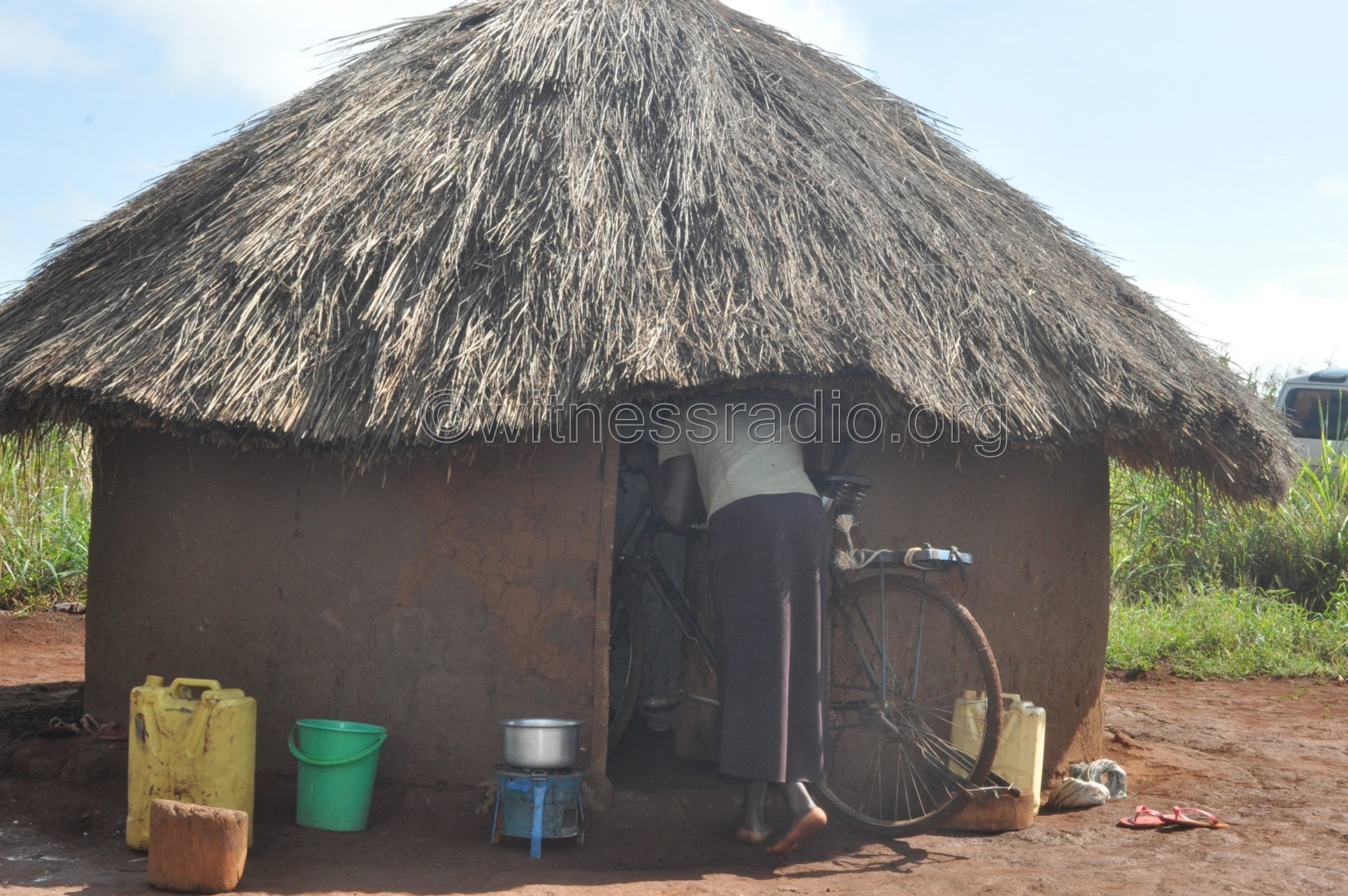 Opondo entering with a bicycle in her muddy thatched house.
By witnessradio.org Team
Opondo Cathy, (not real name due to the sensitivity of the matter), has never owned even a small radio in her entire life. This is a clear indication that the villager may not be aware of critical developments in the country. And this does not come as a shock, since the first time she heard the news of the COVID-19 in Uganda was when she visited her neighbor who's 500 meters away from her home, barely a month after Uganda had even registered a first case COVID-19.
Little did she know that land grabbers would take advantage of the lockdown to sexually abuse and humiliate, subdue demolish her house and grab her land.
Before COVID-19 misfortune struck, Opondo lived peacefully on her 6-acre piece of land, where she used to grow crops like banana, cassava, beans, and maize for both home consumption and sale. And experienced a happy life in her muddy structured house with her four children.
She could properly feed her family, and offer basic needs, but now, she rents in a nearby village, working like Trojans to find ends meet.
There were many violent attempts to evict her and others on their land but they would always resist. This time around, the grabbers resorted to sexually abuse her because she's a woman as a tool to weaken the poor lady and force her to leave the only source of income.
According to her, a dozen of women and young girls have been sexually abused and harassed in their area, because they resisted surrendering their land to the company.
"We withstood all their beatings, destruction of our property, arrests, but the rape thing was intolerable," she adds while weeping.
On the fateful day of 18th August 2020, Opondo had gone to pick her pieces of stuff at a nearby Bweyale town. While returning home at about 8:00 pm, she was attacked and sexually abused by a private security guard attached to one of the multinational companies involved in large-scale agribusinesses. The rapist attacker her from behind and tried to strangle her neck and grabbed her mouth, and hit her to the ground.
"I struggled with him, but he overpowered me, he put me down and raped me. I yelled louder for my rescue, but the neighbors were far. As soon as the rapist had them coming, he ran away," she adds.
"The louder yelling brought those nearby to come to my rescue, they did not even bother to ask me what had happened, because I already looked victimized. They decided to look for the rapist. Whereas I had a walking disability after the horrific incident, we went to the company offices where I always used to see him but unfortunately, he was not there," she further reveals.
During the first lockdown, public transport had been banned, which made it hard to reach out to a police post for help since it was distant.
After two days, Opondo managed to get to the area police to report the incident. In her own words, the officer on duty (a policeman) asked her if she had evidence and if that was not assaulted. When she asked for a police medical form to be examined, she was referred to a nearby Health Centre Three (III) with a small chit of a paper indicating that she was assaulted not raped. On meeting the medical officer, she handed over the chit and was examined on grounds of assault, not rape.
"I could hardly walk and had severe pain in my genital organs, which even a blind person could see, but because the police work with the multinational companies to evict us, they said I was only assaulted not raped, the mother of four adds.
According to Opondo, she had already received several threats and warnings from the agents of her evictors (Agilis Partners Limited). "They used to tell me, if I don't leave the land I should not regret what will happen to me. Indeed I now regret," she reveals.
Despite being raped is not even enough, her house was later torched by agents of Agilis Partners who claimed that she had illegally occupied their land. On that day they (her family) slept in cold and exposed to vagrancies of nature.
Agilis Partners Limited is among the three multinational companies that have violently and illegally evicted the poor communities off their land in Kiryandongo district without a court order or following due processes.
Other multinationals include Great Seasons SMC Limited, solely owned by a Sudanese investor based in Dubai, and Kiryandongo Sugar Limited owned by RAI Dynasty.
In the same village, Opondo and others, close to 100 were evicted to pave way for large-scale grain and oilseeds farming business. The company claimed it had lawfully acquired the land.
"I am an emotional wreck, my life was ruined, if I can't afford to provide for my family, do I have any meaning?" she angrily asks.
"I always burned the candle at both ends to be able to provide for my family, but all their dreams were shuttered, they no longer attend school. I had no money to feed them and had to transfer them to the village, they currently live with their 78 aged grandmas somewhere in northern Uganda", she adds.
Although the kids were transferred, they face a lot of destitutions due because of the grandmother who can hardly meet their basic needs.
"Even when they went to the village I still the caretaker of the family. I do distasteful works that I don't want them to know," she reveals.
While Uganda starts its 42 days semi- COVID-19 lockdown, it is notably clear that a significant number of Ugandans will be sharing the same eviction stories as Opondo's.
Research findings from Witness Radio show more than 50,000 people across Uganda were subjected to sexual and gender based violence, illegally evicted off their land during the first COVID-19 lockdown, further more women and girls suffered most.
Shortly after Uganda went into a total lockdown on March, 18th 2020, the government through the ministry of Lands, Housing and Urban Development halted all land evictions throughout the lockdown to comply with the president's directive of staying at home, but, the evictions suddenly increased as the pandemic gave a total advantage to the opportunists to easily access millions of hectares with the backing of the government and other influential politicians in the country. The first lockdown was later relaxed in mid-August, the same year.
Now, Uganda announced a second semi-lockdown on 6th, June 2021 for 42 days where schools, Worshipping places and inter-district public transport have been burned.
President of Uganda Mr. Yoweri Museveni on a televised address announced 40 new measures to curb the second wave of the pandemic. Among them include, the closure of schools, ban of communal prayers, and public gatherings/workshops all for 42 days, inter-district travel banned for 14 days, private vehicles limited to just 3 people including the driver, and many other measures.
Currently, Uganda has 53,961 COVID-19 confirmed cases, 383 deaths and 47,760 have recovered from the disease.
According to witness radio, evictions will not only live many Ugandans landless but also puts them at higher chances of being sexually abused by people who are supposed to protect them.
Experts say that in a pandemic, an eviction is particularly dangerous, leading a person to double up with friends and family in a crowded housing situation that easily accelerates the virus' speed.
With no guidelines at the moment to protect indigenous and poor people, it is evident that tens of thousands of Ugandans will be affected by the ruthless actions of the land grabbers.
"If the grabbers managed to disregard the previous guidelines and continued to carry out their dubious schemes, what will happen to people now when there are no political heads of ministries including Land? Says, Witness Radio.
In the meantime, earlier today, the Chief Justice of Uganda, Alfonse Owiny Dollo also suspended court hearings and appearances for 42 days as a measure to curb the spread of coronavirus.
The Chief Justice said the move is in line with President Museveni's directives on prevention and mitigation of the virus.
Whereas the closing of courtrooms makes sense for public health reasons, the delays are likely to create an overwhelming backlog of cases and have legal ramifications, since defendants are guaranteed a speedy and fair trial under the Constitution.
Breaking Alert: Uganda passes the National Action Plan (NAP) on Business and Human Rights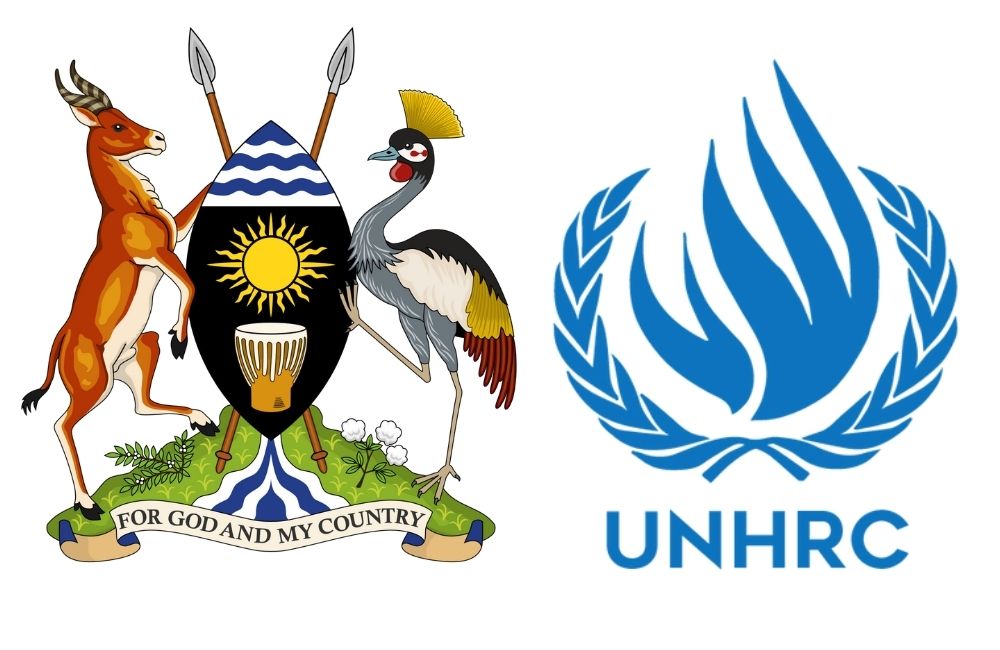 By witnessradio.org Team
Kampala – Uganda – the Government of Uganda is yet to launch the first-ever National Action Plan (NAP) on business and human rights, Witness Radio – Uganda has learned.
Bernard Mujuni, the Commissioner of Equity and Rights at the Ministry of Gender Labor and Social Development, has confirmed that the NAP document was signed and approved by the cabinet.
In June 2011, the UN Human Rights Council established the United Nations Working Group on Business and Human Rights (UNWG) and tasked it with facilitating the global dissemination and implementation of the United Nations Guiding Principles (UNGPs). The framework provided by the UNGPs entails the duties of States and responsibilities of business enterprises in addressing adverse business-related human rights impacts.
As part of the state's responsibility to disseminate and implement the Guiding Principles on Business and Human Rights based on this mandate, the UNWG strongly encouraged all states to develop, enact and update national action plans (NAPs) and has also developed a Guidance on National Action Plans on Business and Human Rights (GNAPs) which provides recommendations on the development, implementation, and update of NAPs.
In June 2014, the Human Rights Council passed a resolution calling upon states to develop NAPs. In 2016, the Government of Uganda acknowledged recommendations under the Universal Periodic Review (UPR) to develop a National Action Plan (NAP) on Business and Human Rights to implement the UN Guiding Principles (UNGP).
According to the United Nations Human Rights Council (UNHRC), the Universal Periodic Review (UPR) is a unique process that involves a review of the human rights records of all UN Member States. The UPR is a State-driven process, under the auspices of the Human Rights Council, which provides the opportunity for each State to declare what actions they have taken to improve the human rights situations in their countries and to fulfill their human rights obligations.
The UPR is often designed to ensure equal treatment for every country when their human rights situations are assessed. It is aimed at advancing the situation of human rights and human rights violations in all countries.
Uganda's NAP was first drafted by the NAP Resource group, comprised of the Ministry of Gender Labor and Social Development (MGLSD), the Office of the President, the Ministry of Foreign Affairs, the Uganda Human Rights Council (UHRC), the Equal Opportunities Commission (EOC), the UN Global Compact Uganda chapter and CSOs (including the Initiative for Social and Economic Rights, the Uganda Consortium for Corporate Accountability and FIDA-Uganda) and OHCHR held consultations from different stakeholders on key issues arising from the business-related developments.
According to the Initiative for Social and Economic Rights, the major issues identified by the participants during the stakeholder consultations included; environmental pollution, low remuneration for workers, and absence of contracts, child labor, human rights violations concerning the externalization of labor, sexual exploitation, and gender-based violence, land conflicts and forced evictions.
In Uganda, violent and forced evictions resulting from business activities aided by national and foreign investors are escalating. The communities are grappling with evictions by multinational companies, politically connected and wealthy individuals. Districts such as Mubende, Kiryandongo, Kassanda, Mityana, Kayunga, Kiboga, and Hoima, according to a survey by Witness Radio are riddled with evictions.
Mr. Haweka Martin is one of the land rights defenders in Jerusalem-Kisalanda, Kiryandongo district. His family is being evicted by Great Seasons SMC limited owned by a Sudanese investor to pave way for a coffee plantation.
He owned over 20 (twenty) acres of land, but he currently stays on less than an acre. His family of 10 (ten) lives in their small, wattle and daub house in the middle of the plantation.
"We are sleeping in a small house. The others were razed by the company, and they don't allow you to reconstruct them," he said
Since 2017 an estimated number of 36,000 people have been evicted from their land in the Kiryandongo district by the three (3) multinational companies without prior consultation, education, or compensation.
The companies have not stopped.  Rape, defilement, and fly-grazing are being meted to some of the residents who refused to vacate the said land. The evictees are now jobless.
"We are not accepted to dig on our land. We spend all the time at home. Our families are starving, because we used to survive on agriculture which we no longer practice," the 52-year-old defender shares.
Land evictions have affected the wellbeing of the poor families, whose entire livelihood only depended on their land.
"The only thing we can do now is collecting pieces of dry wood, burning them to charcoal to get what to feed the family. You have to struggle to find them and if the guards see you, you are arrested and charged either with criminal trespass or malicious damage. Due to lack of food, the entire village depends on water but even then, some wells were contaminated by the companies while others like boreholes were also fenced off." he revealed.
According to Mujuni,  Haweka and other people whose rights have been breached as a result of business-related activities will have a lasting solution. "The NAP is a big achievement for Uganda as a country. Having and acting on a National Action Plan on Business and Human Rights shall fulfill the state's duty to protect citizens and communities from business-related human rights abuses. It is now a National document awaiting to be launched," he said.
Since, and conflicts being one of the major issues raised during the stakeholder consultations, he believes all developments causing disintegration of families, shall first and foremost be required to consult, educate and compensate residents before the projects take off.
"No project is expected to start without clearing the processes, we are tired of seeing our people suffering," he added.
For complaints arising from the unfair compensation, he says that there shall be a grievance redress mechanism comprised of different stakeholders to resolve the matters before seeking justice from courts of law.
Corporates count profits from palm oil plantations grown on a grabbed land, as former landowners reduced to a poverty-stricken community…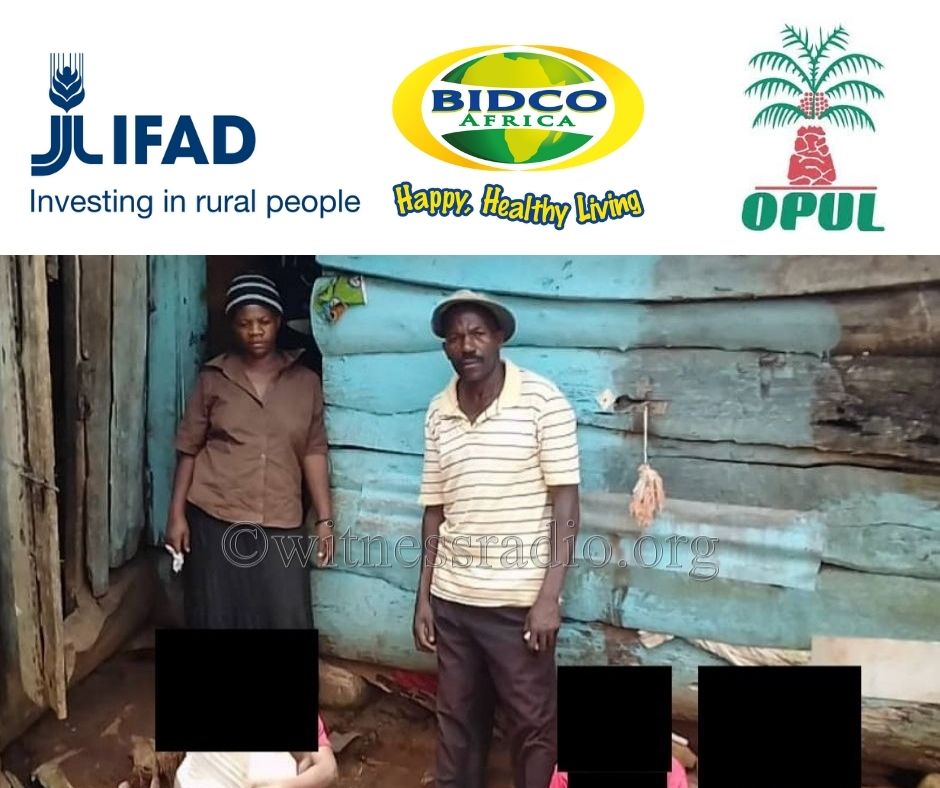 Ssalongo Jjuko and his family in front of their wooden house in Kalangala district.
By witnessradio.org Team
Kalangala – Uganda – Sometime in 2011, the crows of cocks and the sweet sound of the Great Blue Turaco that once reminded the residents of Kyabwima village, Mugoye Sub County in Kalangala district of their calling-agriculture, were unusually adulterated.  They initially ignored it, but on stepping their feet out of the households, it dawned on them that it was not something they would wish away like the frightening Bogeyman story that was passed down to hundreds of generations by their ancestors to assist them in making a good choice.
Little did they know, that violent eviction was the common global trait the UN's International Fund for Agricultural Development (IFAD) backed oil-palm projects announced their arrival.  "From the Soil to the Pan" is the catchy philosophy for Bidco-Uganda, a beneficiary of the cut-throat financing by the IFAD Oil Palm Plantations.
Whereas the financiers, IFAD, are fronting food security as the "ideal" they intend to achieve, the "targeted beneficiaries" are wallowing in poverty.  The evictees who lost acres of land to a multi-national in an inhumane eviction, hold a different view. To them, the project is a Trojan horse for the primitive accumulation of capital – that has left them landless, hungry, and homeless. The eviction is still fresh in their minds.
"We woke up in the morning seeing graders putting down every structure, all our plantations and we were told to vacate the place. We had nowhere to go and neither were we compensated." Ssalongo Jjuuko recounts.
This would be the ideal time for Ssalongo and Nalongo Jjuuko to attend to their farm which they had cultivated for more than 10 years.  On the flip side, the former smallholder farmer and the rest of the family are now spectators in the second season of their traditional agricultural calendar. The past month, "Kasumbula" (July) which means to clear the land, is a month in Buganda's agricultural calendar, has gone to waste.
They cannot come to terms with the fact that they being landless is the reason why they didn't clear any gardens in preparation for new planting. The family of 8 (eight) that owned 20 acres of farmland and thrived on farming are now caretakers of a 100×100 Ft (A hundred by a hundred feet) offered to them by a good Samaritan in Kasenyi village, a fishing community, as shelter.
The glorious days are now gone but the good memories still linger. The 20 acres piece of land was a gold mine. It comes with certainty but above all food security. Before the eviction. The family grew a variety of food crops. The harvests blessed them with maize, cassava, beans, bananas, and avocados for consumption, and even the luxury to sell.
It should be remembered that following an agreement signed between the Government of Uganda and BIDCO, to increase palm oil production in the country leading to the birth of Oil Palm Uganda Limited (OPUL) was launched in 2002.
Bidco Uganda is a joint venture formed between Wilmar International, Josovina Commodities, and Bidco Oil Refineries, a Kenya-based company. The project is financed by both the government of Uganda and the IFAD. According to the available information, the project also received $12 million in financing from the Government of Uganda and $20 million from IFAD
In 2011, OPUL acquired land leases from a Ugandan businessman, Amos Ssempa, intending to expand its plantations. About 7,500 hectares (18,500 acres) of oil palm have been planted since 2002. OPUL describes the project as part of an initiative to increase vegetable oil production in the country.
According to the residents, their Land Lord Mr. Amos Sempa leased land without their consent. They claim he had a hand in their eviction which allegations he denies. "Yes they were evicted but they have to deal with the company (Bidco- Africa) not me," he said in an interview with Witness Radio – Uganda research team.
In 2015, the company begrudgingly offered peanuts as compensation. "Just imagine for 20 acres I owned, the company was paying me Uganda Shillings three (3) millions (USD 883), my fellow villagers and I refused to take the little money," he narrates.
However, when they piled more pressure on it, the multinational adopted the carrot and stick approach. It promised to compensate but set unfair conditions.  They had to vacate their land before the compensation and had to either accept peanuts offered or forget everything about it.  Some of them stormed their offices to convey their dissatisfaction.
A meeting was called, and in the meeting, the company undertook to re-compensate them in three months but all in vain. "They told us to only wait for three months that the amounts would be raised and deposited back on our accounts but up to now I have never seen any," he painfully recounts.
Since 2011 when they were evicted, his family has never been compensated and its state is worrying. On the other end, and in all its efforts to justify this as a magic bullet to food sovereignty, the renegade to food sovereignty, IFAD, uses glowing language to justify its blind-financing of agri-business.
"We are working to increase the incomes of rural households living in poverty, along with improving their food security and reducing their vulnerability." Reads part of its statement on an oil-palm project.
On the contrary, the family is starving, and cannot afford what to eat, children do not attend school, medication is also a problem, and provision of all other necessities is a distant dream.
"We eat once in a day, and it is hard to get it, we have no work to do," Nalongo Jjuuko opens up on their ordeal.
Salongo and Nalongo JJuko who earned more than 3 Million Uganda Shillings (834 US Dollars) from their produce in one season now resorted to collecting palm leaves, crumbs of the IFAD project, which they dry and turn into brooms.
These palm leaves whose broom costs one thousand Uganda shillings do not come on a silver platter. There is a price to pay for them. They have to be on guard against possible arrests.  "You have to time when the workers in the plantations are not there because when they find you, they arrest you and then make money out of you. So you can spend a whole day on a lookout to see if no one is there. On a good day you can earn yourself 2000 to 5000 shillings, about 0.55 to 1.37 dollars," a struggling Nalongo Jjuuko revealed.
The story of Ssalongo Jjuuko is not different from that of over 100 similar families, similar in Kyabwima village Kalangala district that were evicted to pave way for the palm growing project but failed to move on with the new life.
The families that could feed their families, educate their children and provide all other necessary needs now cannot sustain themselves.
Residents add that they have not received any benefit, which is worth celebrating, from the project. Instead, they are living miserable lives and grappling with malnutrition diseases due to scarcity of food.
"Most of us have failed to secure alternative land for settlement and food production, those that got where to stay, have nowhere to practice farming," Nalongo Nakirya Dorothy a mother of 7 (seven) paints a picture of the far-reaching effects of the project.
The former RDC of Kalangala district, Mr. Daniel Kikoola, says that the available information proves that residents in his area have not benefited from the project
"People who had enough food and even could sell off some have been reduced to beggars in their own country yet the oil palm giants are making profits, this is wrong and the government must stop it," Mr. Kikoola explains with a crestfallen tone.
The scarcity of food has also spiked food-related theft on the island. The Local Council One, Vice-Chairman Kasenyi village, Mrs. Namutebi Vicky, says that food theft in her area has increased. "About 8-10 cases in a month are reported to us," she shares.
When the Bidco community liaison officer, Mr. Kizito Ssentongo, was contacted he insisted that they paid for everyone's land. "Their land was valued and paid, those who refused the money should wait."
That waiting has continued to bite. No one knows, including IFAD, when the poor farmers like Salongo Jjuko will be adequately compensated, and yet everyone, including IFAD, is certain that nothing will stop the "godfather of modern agri-business" (IFAD) from sinking more money because the profitability of these loans is more appealing.
Double tragedy as KCCA uses the World Bank's money to evict a Kawaala resident from both his home and place of work: TALES OF A BUSKER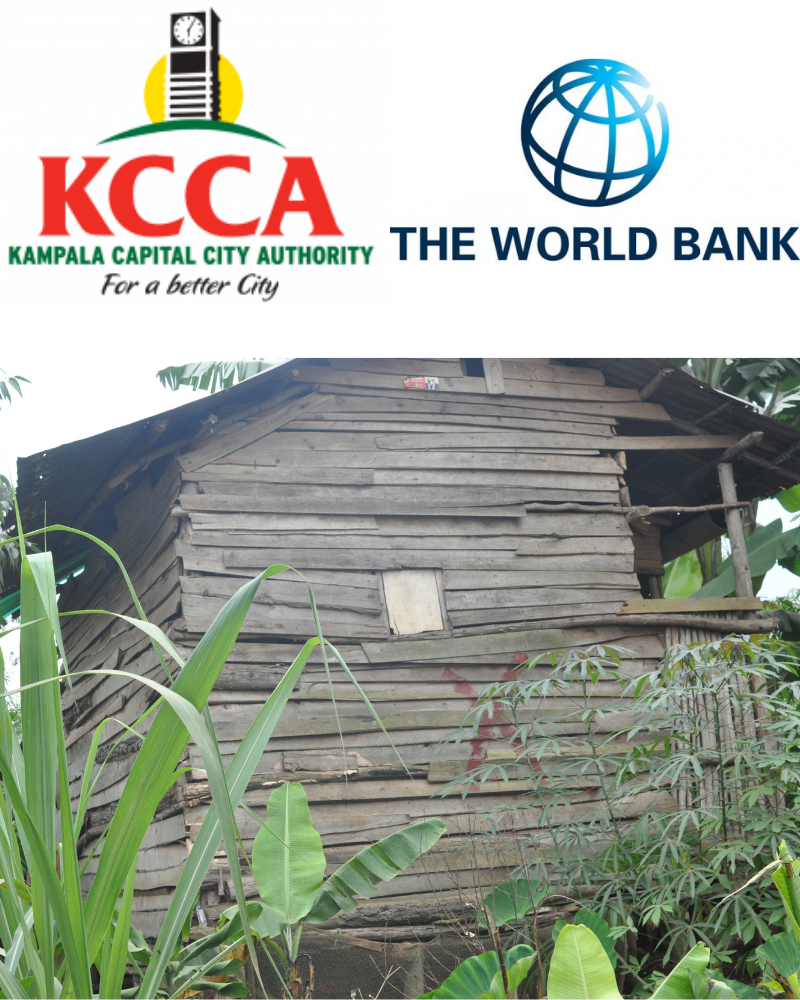 Mr. Mutaasi's house marked with "X" by KCCA for demolition.
By witnessradio.org Team
"…Ekuba omunaku tekya…", loosely translated as "The rain that falls on a down-and-out is a relentless deluge," is one of the adages applied among the Baganda, and its equivalent among the English is, "it never rains but it pours", highlight the 12 years of misery of 42-year-old Mutaasi Ali.
Mutaasi, a resident of Kawaala zone II in Kampala had a dream of living a better life, but it has never turned out as he had envisioned it. His suffering started way back from the fire-outbreak that twice gutted his merchandise in the Owino-Park Yard market. A market that mothered the urban poor. That Market is no more. It was replaced with a gigantic mall whose construction was preceded by a brutal night of forced eviction carried out with impunity by Kampala Capital City Authority (KCCA). The Authority is the governing body and administers the Capital City of Uganda.
Now the ghosts of the past are back, he hardly sleeps. A nightmare of a looming eviction to give way to the expansion and construction of Lubigi-Channel under a World-Bank funded project, KIIDP-1or 2, pre-occupies his mind. And the outbreak of the pandemic is another setback that has kept him on tenterhooks waiting for the Covid-19 relief from the government.
The father of ten (10), has spent about a half of his age on the streets of Kampala trying out different odd jobs to feed his family.
Before the pandemic, he was a maid of all work. He gurgled busking, farming, singing, and playing aback-up artist role. Mutaasi who is now a backup artist moved from his home village in Mpigi town in Mpigi district, 50 km from the western side of Uganda's capital Kampala for greener pasture in the capital at the age of 18.
"I was born to in an extended poor family; we had little chances of getting the basic needs we wanted because of being poor. I had to look for a livelihood elsewhere to support my needs and those of my family," Mutaasi narrated.
Mutasi said a village friend who had come earlier in Kampala informed him of a job. "A friend of mine in Kamwokya, a Kampala suburb helped me to get it. It was a hawking job. I did it for about 4 years on the streets of Kampala. In 1997, we shifted to the Park Yard market," he added.
When he was moved to Park Yard market, it was a great achievement. "Because we were expanding, and our second hand-clothing business was showing signs of success, he (my boss) decided we move to Park Yard since it was busier and had enough space. And after making some little money, I parted ways with him (my boss) and I started a similar business in the same market in 2004," he added.
He was determined to learn and worked hard. He becomes an inspiration not only to his peers but also to his former coworkers. "Mutaasi was a promising bright child that everyone wanted to be with. We looked up to him for inspiration," a close friend confirmed in an interview with Witness Radio.
His business continued to boom, but misfortune struck.  Mutaasi and many other traders suffered big blows when merchandise, worth billions of Ugandan shillings was razed in the fire that first gutted the market in 2009.
"I had shopped a day before the fire, so I was left with nothing and no capital to start again with," he said.
But as the saying of the Banna Kampala (people living in Kampala) that "Kampala kuyiiya," literally meaning that to thrive in Kampala you have to hustle.  Mutaasi and two of his friends moved onto the city streets as buskers with a reggae music version.
"I would practice singing in my free time and some friends of mine had described my voice as euphonious. Because I had nothing to do at home at that time, we formed a group of three, went to the streets, and started entertaining people. Some of us were even employed as backup artists during shows," Mutaasi reveals.
He says the little money they earned helped them to cater to their needs. "At least on a good day, we could earn 6000 Shillings (USD 1.7) each, which I would use to look after my family in the village. In about a year, I had also saved some money and went back to Park Yard market to give selling clothes a second-shot," he shares with a nostalgic look.
According to Mutaasi, initially, his business had failed to pick up, but the desire for better life kept him soldiering on.
"I had to limit on other roles, so I left the street entertainment and concentrated much on growing my business in Park Yard and recording music. Every single coin I would get from music would be invested in my second-hand clothing business," he added.
Whereas it had grown, fire gutted the market on 31st July 2011 and destroyed traders' merchandise worth millions of shillings. It did not spare his business either. And according to Mutaasi, this was the second fire in one year and subsequent fire outbreaks until Park Yard Market land was forcefully grabbed by KCCA, politically connected investors, and police in 2017 without any prior consultation or compensation.
"When this happened, I felt like I had lost my senses. Asking myself why I don't succeed yet others do, and why my businesses collapse yet others stand the taste of time," he recounts.
In an interview with the Sunday Monitor, a local newspaper in March 2017, Mr. Kiggundu acknowledged being behind the eviction of Park Yard vendors. He said he demolished the temporary structures at Park Yard to make it a better place. Mutaasi was left grasping at straws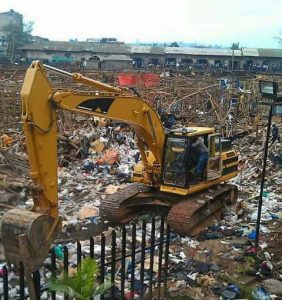 Helpless traders watch as their merchandise are destroyed by an excavator during an eviction in march 2017.
After a double loss, he had to pick up his broken pieces and focus on music and entertainment which had been his initial source of income, but the ghosts of the past continued to haunt him. In July 2020, a countrywide lock-down was imposed and the entertainment industry was hit hard. No concerts! No bars! No clubs! This was later lifted except for the entertainment industry.
Then when he thought the state would lift the ban on the music industry, there was a surge in COVID-19 cases, the government of Uganda imposed a second lockdown. This continued to pile misery upon him.
"Backing up other artists pays less and it is what I used to rely on now. We depend on God's mercy to survive. I have not even received the government's COVID relief ever since the lockdown started." he added.
As he still recounts his ordeal; the misery in Park Yard market and the heart-wrecking lockdowns, the father of 10 is now facing forced eviction from his 27×40 piece of land by a World Bank-funded project. Mutaasi bought his piece of land 10 years ago from his hard-earned money.
In all that he has gone through his land without a doubt is being grabbed by Kampala Capital City Authority (KCCA) officials to pave way for the Lubigi primary channel expansion.
He said, "I started working in 1991. Look, my merchandise perished and the only thing I have is a piece of land that I have, and now is being taken away without any compensation.
"KCCA's imminent eviction has taken me aback. I remember when I was evicted from a rental. I was verbally abused in front of my children, wife, and neighbors, my household items were thrown out and others confiscated. I was forced to move out of the house since the rent arrears had accumulated," he shares the distressing memories. That day, he and the rest of the family had to brave the cold night outside.  The following day, he could not bear the embarrassment and scorn that came with the eviction.  He took it upon himself to construct a makeshift shelter, without walls, on his piece of land to temporarily serve as a house.
Good times may not last, but bad memories never fade, and Mutaasi, now penniless at the time, vividly remembers the price he had to pay to put up the make-shift shelter; "I had some sugarcane on the land, and on the second day, I requested my neighbors to give me eucalyptus poles to in exchange for the sugarcane. That is how I started a new life without a coin."
He wonders why KCCA, the project implementer, is using the World Bank project to grab his land without being compensated. He is among the 120 households being evicted to pave away for the Lubigi drainage channel expansion project.
"You cannot tell me that you want my land on which you have found me living and you don't want to compensate me for it. You want to take it and you don't want to prepare for me who owns it. Why don't they first prepare for the people affected by the project and then think of taking the land?" He questioned.
He also blames KCCA for the corrupt networks under the Buganda Land Board (BLB), a company that manages the Kabaka's land who solicit money from them in rewards to a letter taken to KCCA to carry out the surveying and valuation of their property.
"We are required to clear UGX 250,000 (USD 70.46) for a letter proving your ownership in Mengo, the Busuulu (ground rent) of UGX 550,000 (USD 155), and UGX 150,000 (USD 42.28) to the chairman for the stamp. This is a lot of money that some of us don't have. We are in a lockdown, and like me, I stopped working last year, where do they expect me to get all that money," he further wondered.
He wonders what will happen if the others pay the BLB fee and is valued and surveyed but he fails to clear the fee. "It seems I am losing my land too, because if I lack what to eat, then where will I get the money to pay for the surveying and valuation," he said.
He proposes that KCCA uses its money to survey and value his land, clear BLB, and then deduct it from the compensation money instead of losing the property they have worked for generations.
"I have suffered a lot and I feel I am tired…, he painfully concluded.