Breaking Alert! A community fighting forced eviction during COVID-19 lockdown, Witness Radio-Uganda together with Accountability Counsel file a complaint before the World Bank's Inspection Panel…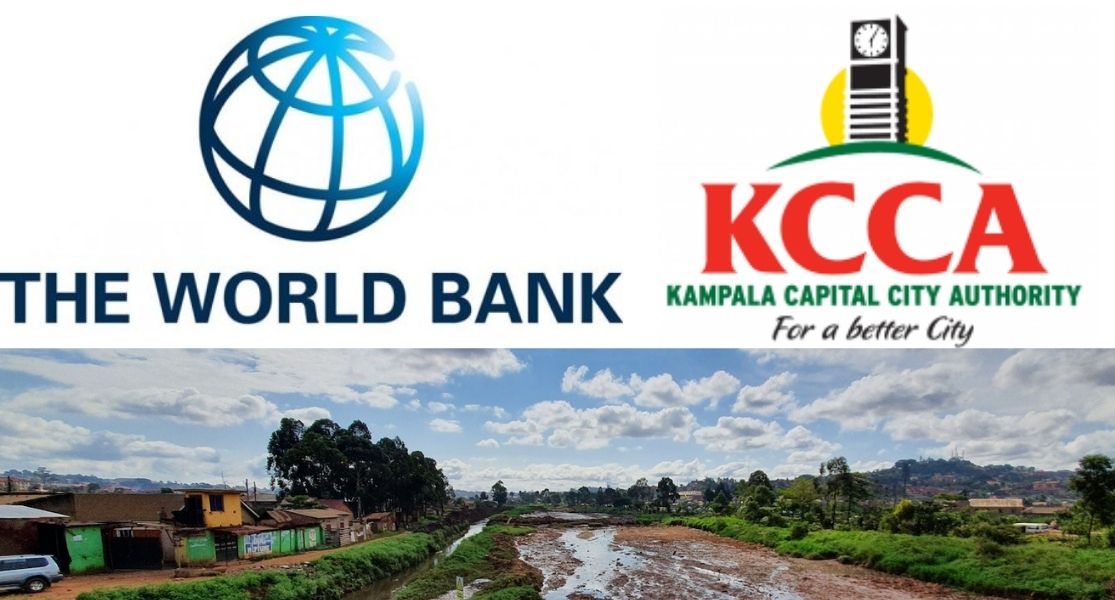 In the midst of the COVID-19 pandemic, the Kawaala community of Kampala, Uganda, is facing eviction to pave the way for the construction of the World Bank-funded Lubigi drainage channel. Accompanied by armed soldiers, representatives of the Kampala Capital City Authority (KCCA) turned up at shocked residents' homes, placing a red "X" on many structures and explaining that they were earmarked for demolition – the first those families had heard of the KCCA's plan to take their homes and land.
The construction of the Lubigi drainage channel will displace more than 100 families from their shelter and farmlands. These farms enable community members to feed their families and sell other produce, earning income that pays for their children to attend school. For some of the community members, family grave sites will be lost, as well as ancestral land intended for their children and grandchildren. Yet neither the KCCA nor the World Bank provided adequate information to the community about project plans, nor did they meaningfully consult them on the extent of displacement and any plans for compensation and resettlement, as required by World Bank policies, before issuing eviction notices.
After its glaring mismanagement of this project was highlighted by the Kawaala community and its local partners, including Witness Radio, KCCA and its agents have begun to push affected community members through a rushed and problematic resettlement process, prioritizing project timelines over the livelihoods and wellbeing of affected people and the accuracy and completeness of the process. Out of desperation, many community members have signed documents they do not understand.
The Kawaala community raised its concerns with the World Bank Uganda country office and asked them to closely monitor the project, but the World Bank refused – using restrictions associated with the COVID-19 pandemic as an excuse for their inaction – seemingly indifferent to the risks and impacts of forcibly displacing a vulnerable community during that same pandemic.
Given these failures, in the face of the severe threats to their wellbeing and livelihoods, the Kawaala community has filed a complaint about the project to the World Bank's Inspection Panel seeking protection from the forced and unfair eviction processes, as well as meaningful consultation and participation in the design of a comprehensive and fair resettlement solution.
THE STORY: 
An attempted forced eviction, during a pandemic
In December 2020, in the midst of the COVID-19 pandemic, communities living in Kawaala Zone II, in Kasubi Parish, Rubaga Division, Kampala were awoken in the early morning hours to find excavators and armed guards destroying their property, without any prior consultation or plan for compensation and resettlement. The previous day, they had received eviction notices requiring them to vacate their lands within 28 days. The eviction notice was issued by the Kampala Capital City Authority (KCCA). The KCCA, with support from the World Bank, is constructing the Lubigi drainage channel as part of a broader road and infrastructure project.
The Kawaala community has lived, built their homes, and earned their livelihoods through farming and livestock-keeping in the area since the 1960s. With a population of approximately 300, the community is composed mostly of elderly men and women. Given the high number of elderly persons in the community, most are illiterate. Their farms enable community members to feed their families and sell other produce, earning income that pays for their children to attend school.
On December 3, 2020, the Kawaala communities were shocked to find KCCA representatives in their village, accompanied by armed guards, distributing eviction notices and informing residents that they had 28 days to vacate their homes. KCCA representatives approached residents' homes, placing a red "X" on many structures and explaining that they were earmarked for demolition.
The eviction notices included a claim that violations of health and safety code were the reason for the evictions. However, through active investigations, the community was able to confirm that the area was being cleared to make way for the expansion of the Lubigi drainage channel, part of the World Bank-funded Second Kampala Institutional and Infrastructure Development Project (KIIDP-2).
Over the following two days, in contravention of the 28-day notice period, the KCCA began attempting to evict residents. They brought excavators and destroyed some homes and gardens before community members were able to contact local leaders, who successfully intervened and persuaded the KCCA to halt the eviction process.
The Kawaala community, with the support of Witness Radio, was then able to challenge the eviction by filing a case at the High Court in Kampala. This prompted the KCCA to halt the eviction process. However, the court case remains undecided and the eviction notice still has not been withdrawn, leaving the community at risk of sudden eviction.
The World Bank's involvement
The World Bank's KIIDP-2 project funds the construction and rehabilitation of roads and associated infrastructure throughout Kampala via a USD 175 million loan. This project includes, among other works, the expansion and construction of the Lubigi Primary Drainage Channel, which forms part of the eight primary channels in Kampala and is 2.5 kilometers long. The project also involves institutional and systems development support to the KCCA, including for engineering and technical services.
KIIDP-2 follows the Kampala Institutional and Infrastructure Development Project (KIIDP-1), which had similar objectives. Around 2014, KIIDP-1 led to the construction of a channel diversion that ran through the land of many local residents and cut others off from easy access to schools and basic services. Residents report that this diversion was described to them as "temporary," and they were therefore not offered resettlement compensation. Some received a small sum for temporary disturbance from project works, while other families affected by the diversion did not receive even this much and were thrown into a state of desperation or even homelessness following the original channel diversion. KIIDP-2 will expand on this diversion, widening it significantly and requiring forced eviction of residents across an area 70 meters wide and 2.5 km long. Many residents report that they never realized that the diversion would be made permanent until the forced eviction process began last December.
A general project fact sheet by the KCCA claims that all affected properties were registered years ago, and states that no new developments will be valued or compensated, but residents dispute this claim. The KCCA has since walked back from this assertion and begun a rushed and problematic resettlement process, based on a contested and non-consultative surveying process that residents believe does not accurately reflect their land rights.
The devastating impacts of this project
The Lubigi drainage channel project will result in most affected families losing their homes and others losing their farmland, leaving very little for them to sustain themselves. In addition to that displacement, the construction of the drainage channel poses a series of other environmental and social concerns:
Loss and disruption of family remains: Some community members risk losing the remains of their loved ones that are buried in the land set aside for the project.
Food insecurity: This risk comes as a result of the destruction of crops, including those crops already destroyed in the attempted forced eviction in December 2020.
Loss of education: In case of any eviction or relocation without adequate compensation, community members fear that the children will be forced to drop out of school since the houses built and the crops grown on the land are their sole sources of income to cover their fees and tuition. Community members fear that this in turn will lead to increased marriage rates for young girls with limited options.
Safety risks: Following the construction of the channel to date, the local area has become unsafe for children to play outside due to a constant risk of drowning, which is especially heightened during rainy periods. There have been reported cases of people drowning.
Sexual exploitation: Some women in Kawaala have been compelled to engage in transactional sexual relationships to ensure that their children's basic needs are met ever since the KCCA coerced them into abandoning their gardens to make way for the construction of the channel diversion under KIIDP-1. Residents fear that this pattern will be intensified if community members are not provided with fair and complete compensation to address the full extent of economic impacts from another forced resettlement.
Cumulative impacts of multiple infrastructure projects: The Kampala Northern Bypass Highway, funded by the European Union and the Government of Uganda, as well as the Lubigi Sewage Treatment Plant, funded by the European Union and the German Government, were also constructed in the community's immediate vicinity in recent years, surrounding the Kawaala community on multiple sides by government-sponsored and internationally funded infrastructure projects.
Flooding: Far from improving the flooding problems that plague the area, community members have observed that flooding has actually increased in Kawaala Zone II, since the channel diversion and other multiple infrastructure projects began.
Other social impacts: Residents expect that eviction without adequate compensation will likely lead to a host of other foreseeable social issues, such as increased rates of domestic violence, child abandonment, or other family rifts.
Because of the totality of these impacts, the community deems it best to be compensated and resettled elsewhere in order to live with dignity.
Raising concerns with the World Bank Uganda country office
The KIIDP-2 project is proceeding in blatant contravention of a host of World Bank commitments designed to ensure meaningful consultation of communities and to avoid or mitigate environmental and social impacts, including resettlement. Although the KCCA has walked back from its initial assertions denying residents' rights to compensation, in recent months it has undertaken a forced, rushed, and non-transparent survey process that some residents were unable to participate in. Residents are deeply skeptical that any compensation determined based on this incomplete survey will provide them with fair and accurate compensation assessments.
On March 4, 2021, community representatives raised their concerns regarding the project and the potential harm in a meeting with KCCA officials and the World Bank Uganda country office team. The World Bank team directed that the KCCA intensify citizen and stakeholder engagement and provide adequate project information to the community in Luganda rather than English. Further, the KCCA was asked to carry out proper identification of the project-affected persons and, through a consultative process, determine the amount and type of compensation needed. Lastly, the World Bank team directed that the KCCA re-constitutes a Grievance Redress Committee composed of representatives of all the stakeholders in the project.
The World Bank, however, refused the community's demand that Bank staff visit the project site and engage in follow-up meetings with the community. The community feared that, without this supervision, the KCCA would continue to abuse the rights of affected community members.
Those fears have been realized. The KCCA has not followed the directions of the World Bank and is continuing to rely on its forced survey process, as well as failing to meaningfully consult community members on the details of any compensation.
Inspection Panel complaint
Through Witness Radio, community representatives reached out to Accountability Counsel to support the filing of a complaint. Because of the non-responsiveness of the KCCA and the World Bank to their concerns, the community wanted to escalate those concerns to the World Bank's independent accountability mechanism, the Inspection Panel. After several consultations with different groups in the community to understand their concerns and goals of the complaint, Witness Radio and community representatives filed a complaint on June 17, 2021 with the following demands (in summary):
That the project should be investigated and evictions halted until affected people are properly informed about the project and consulted about its impacts and necessary mitigation measures, and are consulted on the formation of a resettlement action plan that addresses the concerns of local residents;
That the KCCA formally withdraws the eviction notice issued under the Public Health Act Cap. 281 against the residents and other similarly affected persons;
That the community be resettled and fairly compensated, given that the land is now uninhabitable;
That the compensation processes be aimed at ensuring that the entire family is included and able to share in the benefits, rather than being provided to the head of household only, which can contribute to intra-family and social conflicts and gender disparities. For example, the KCCA should encourage both spouses to sign compensation documents and attend related meetings, and it should provide compensation funds into jointly-owned bank accounts; and
That the affected people should be provided with resettlement assistance, including scholarships for their children at least until families have an opportunity to find an alternative livelihood. Any resettlement assistance should include social support programs such as stress management, anger management, and domestic violence sensitization programming to reduce common social problems that can accompany physical displacement.
The complaint is currently awaiting registration and an assessment of eligibility by the Inspection Panel.
Case Partners
Accountability Counsel is partnering on this case with Witness Radio, an advocacy and media organization focused on issues of rights in development in Uganda, cutting across sectors (including agribusiness, environment, mining, and extraction). They monitor, document, and report human rights violations using traditional and new media formats and, where possible or necessary, support communities to seek justice through judicial and non-judicial mechanisms.
THE CASE: 
Jun 2021

Community representatives filed a complaint with the World Bank's independent accountability mechanism, the Inspection Panel, on June 17.

Mar 2021

Community representatives met with the World Bank Uganda country office and the Kampala Capital City Authority (KCCA).

Dec 2020

In spite of the 28-day notice period communicated on the previous day, on December 4 and 5, the KCCA began attempting to evict residents. They brought excavators and destroyed some homes and crops before community members were able to contact local leaders, who successfully intervened and persuaded the KCCA to halt the eviction process. Shortly after, the Kawaala community, with the support of Witness Radio, was then able to challenge the eviction by filing a case at the High Court in Kampala. This prompted the KCCA to halt the eviction process. However, the eviction notice still has not been withdrawn.

Dec 2020

On December 3, the KCCA issued a notice to residents of Kawaala Zone II to vacate their land within 28 days.

IMPACT:

Through their local partner, Witness Radio, community representatives reached out to Accountability Counsel because their concerns were not being heard by the World Bank or its client, the Kampala Capital City Authority. As is too often the case, as soon as Accountability Counsel became involved, the World Bank became more responsive – although their actions continue to be woefully inadequate to prevent harm and comply with their own environmental and social safeguards.

Given those failures on the part of the World Bank and its client, community members decided to elevate their concerns to the World Bank's Inspection Panel. In April 2021, Accountability Counsel's Africa Communities Associate, Robi Chacha Mosenda, traveled to Kampala to document the community's concerns and goals in preparation for complaint filing.

On June 17, 2021, Witness Radio filed an Inspection Panel complaint on behalf of the Kawaala Zone II community, seeking protection from the forced and unfair eviction processes, as well as meaningful consultation and participation in the design of a comprehensive and fair resettlement solution.

In close partnership with Witness Radio, we will continue to support the Kawaala Zone II community to prepare for, understand, and navigate through each stage of the Inspection Panel's process, demanding accountability and remedy from the World Bank for its oversight and lack of due diligence that has harmed these communities.

CASE MEDIA: 

Photos

Family burial sites have experienced regular flooding ever since the initial channel diversion directed water through residents' properties. These burial sites now in the path of the planned channel expansion (Credit Witness Radio).

This channel diversion constructed around 2014 will be widened to 70 meters, requiring extensive evictions. (Credit: Witness Radio).

A makeshift bridge connects Kawaala residents with schools and shops across the channel but creates a safety hazards, especially during frequent flood events.

The channel diversion constructed in 2014 has led to increased flooding and safety hazards, including at least one drowning due to inadequate walkways around the channel. (Credit Witness Radio)

A community kickboxing academy marked for demolition by KCCA.

A homeowner hesitates to finish construction his home, as it is marked for demolition by the KCCA.

Original Source: accountabilitycounsel.org
Breaking Alert: Uganda passes the National Action Plan (NAP) on Business and Human Rights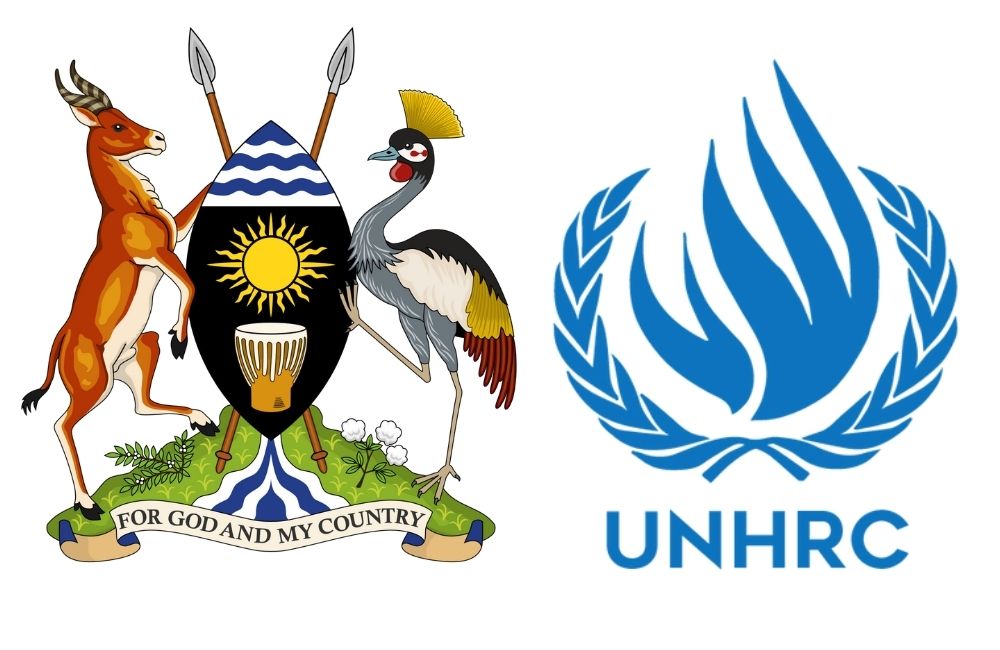 By witnessradio.org Team
Kampala – Uganda – the Government of Uganda is yet to launch the first-ever National Action Plan (NAP) on business and human rights, Witness Radio – Uganda has learned.
Bernard Mujuni, the Commissioner of Equity and Rights at the Ministry of Gender Labor and Social Development, has confirmed that the NAP document was signed and approved by the cabinet.
In June 2011, the UN Human Rights Council established the United Nations Working Group on Business and Human Rights (UNWG) and tasked it with facilitating the global dissemination and implementation of the United Nations Guiding Principles (UNGPs). The framework provided by the UNGPs entails the duties of States and responsibilities of business enterprises in addressing adverse business-related human rights impacts.
As part of the state's responsibility to disseminate and implement the Guiding Principles on Business and Human Rights based on this mandate, the UNWG strongly encouraged all states to develop, enact and update national action plans (NAPs) and has also developed a Guidance on National Action Plans on Business and Human Rights (GNAPs) which provides recommendations on the development, implementation, and update of NAPs.
In June 2014, the Human Rights Council passed a resolution calling upon states to develop NAPs. In 2016, the Government of Uganda acknowledged recommendations under the Universal Periodic Review (UPR) to develop a National Action Plan (NAP) on Business and Human Rights to implement the UN Guiding Principles (UNGP).
According to the United Nations Human Rights Council (UNHRC), the Universal Periodic Review (UPR) is a unique process that involves a review of the human rights records of all UN Member States. The UPR is a State-driven process, under the auspices of the Human Rights Council, which provides the opportunity for each State to declare what actions they have taken to improve the human rights situations in their countries and to fulfill their human rights obligations.
The UPR is often designed to ensure equal treatment for every country when their human rights situations are assessed. It is aimed at advancing the situation of human rights and human rights violations in all countries.
Uganda's NAP was first drafted by the NAP Resource group, comprised of the Ministry of Gender Labor and Social Development (MGLSD), the Office of the President, the Ministry of Foreign Affairs, the Uganda Human Rights Council (UHRC), the Equal Opportunities Commission (EOC), the UN Global Compact Uganda chapter and CSOs (including the Initiative for Social and Economic Rights, the Uganda Consortium for Corporate Accountability and FIDA-Uganda) and OHCHR held consultations from different stakeholders on key issues arising from the business-related developments.
According to the Initiative for Social and Economic Rights, the major issues identified by the participants during the stakeholder consultations included; environmental pollution, low remuneration for workers, and absence of contracts, child labor, human rights violations concerning the externalization of labor, sexual exploitation, and gender-based violence, land conflicts and forced evictions.
In Uganda, violent and forced evictions resulting from business activities aided by national and foreign investors are escalating. The communities are grappling with evictions by multinational companies, politically connected and wealthy individuals. Districts such as Mubende, Kiryandongo, Kassanda, Mityana, Kayunga, Kiboga, and Hoima, according to a survey by Witness Radio are riddled with evictions.
Mr. Haweka Martin is one of the land rights defenders in Jerusalem-Kisalanda, Kiryandongo district. His family is being evicted by Great Seasons SMC limited owned by a Sudanese investor to pave way for a coffee plantation.
He owned over 20 (twenty) acres of land, but he currently stays on less than an acre. His family of 10 (ten) lives in their small, wattle and daub house in the middle of the plantation.
"We are sleeping in a small house. The others were razed by the company, and they don't allow you to reconstruct them," he said
Since 2017 an estimated number of 36,000 people have been evicted from their land in the Kiryandongo district by the three (3) multinational companies without prior consultation, education, or compensation.
The companies have not stopped.  Rape, defilement, and fly-grazing are being meted to some of the residents who refused to vacate the said land. The evictees are now jobless.
"We are not accepted to dig on our land. We spend all the time at home. Our families are starving, because we used to survive on agriculture which we no longer practice," the 52-year-old defender shares.
Land evictions have affected the wellbeing of the poor families, whose entire livelihood only depended on their land.
"The only thing we can do now is collecting pieces of dry wood, burning them to charcoal to get what to feed the family. You have to struggle to find them and if the guards see you, you are arrested and charged either with criminal trespass or malicious damage. Due to lack of food, the entire village depends on water but even then, some wells were contaminated by the companies while others like boreholes were also fenced off." he revealed.
According to Mujuni,  Haweka and other people whose rights have been breached as a result of business-related activities will have a lasting solution. "The NAP is a big achievement for Uganda as a country. Having and acting on a National Action Plan on Business and Human Rights shall fulfill the state's duty to protect citizens and communities from business-related human rights abuses. It is now a National document awaiting to be launched," he said.
Since, and conflicts being one of the major issues raised during the stakeholder consultations, he believes all developments causing disintegration of families, shall first and foremost be required to consult, educate and compensate residents before the projects take off.
"No project is expected to start without clearing the processes, we are tired of seeing our people suffering," he added.
For complaints arising from the unfair compensation, he says that there shall be a grievance redress mechanism comprised of different stakeholders to resolve the matters before seeking justice from courts of law.
Corporates count profits from palm oil plantations grown on a grabbed land, as former landowners reduced to a poverty-stricken community…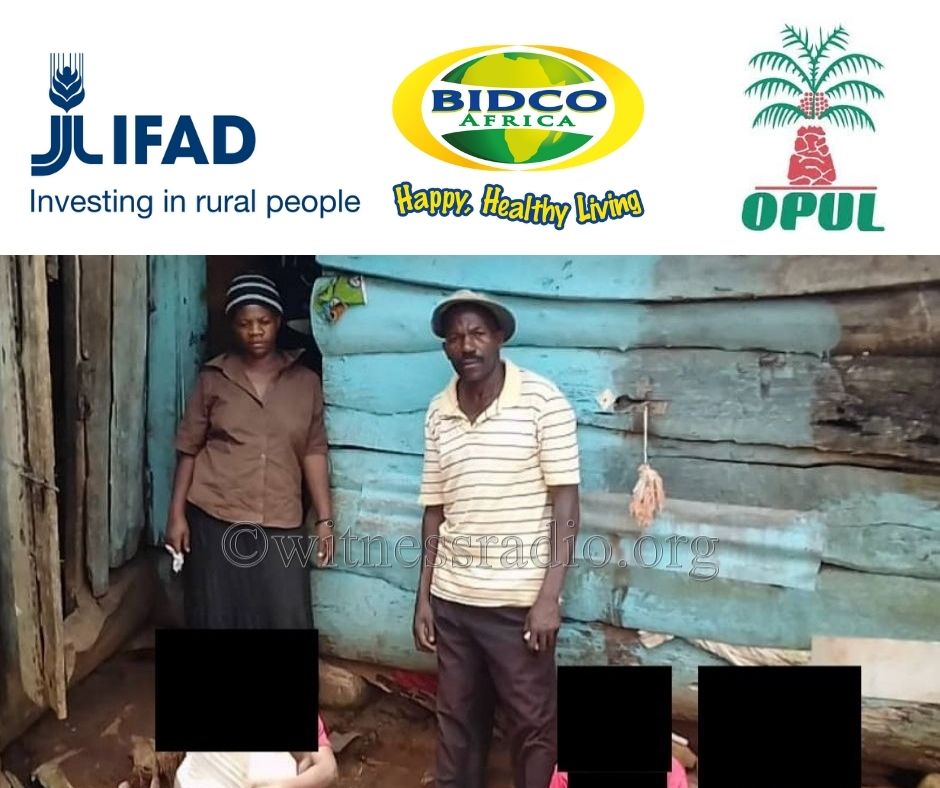 Ssalongo Jjuko and his family in front of their wooden house in Kalangala district.
By witnessradio.org Team
Kalangala – Uganda – Sometime in 2011, the crows of cocks and the sweet sound of the Great Blue Turaco that once reminded the residents of Kyabwima village, Mugoye Sub County in Kalangala district of their calling-agriculture, were unusually adulterated.  They initially ignored it, but on stepping their feet out of the households, it dawned on them that it was not something they would wish away like the frightening Bogeyman story that was passed down to hundreds of generations by their ancestors to assist them in making a good choice.
Little did they know, that violent eviction was the common global trait the UN's International Fund for Agricultural Development (IFAD) backed oil-palm projects announced their arrival.  "From the Soil to the Pan" is the catchy philosophy for Bidco-Uganda, a beneficiary of the cut-throat financing by the IFAD Oil Palm Plantations.
Whereas the financiers, IFAD, are fronting food security as the "ideal" they intend to achieve, the "targeted beneficiaries" are wallowing in poverty.  The evictees who lost acres of land to a multi-national in an inhumane eviction, hold a different view. To them, the project is a Trojan horse for the primitive accumulation of capital – that has left them landless, hungry, and homeless. The eviction is still fresh in their minds.
"We woke up in the morning seeing graders putting down every structure, all our plantations and we were told to vacate the place. We had nowhere to go and neither were we compensated." Ssalongo Jjuuko recounts.
This would be the ideal time for Ssalongo and Nalongo Jjuuko to attend to their farm which they had cultivated for more than 10 years.  On the flip side, the former smallholder farmer and the rest of the family are now spectators in the second season of their traditional agricultural calendar. The past month, "Kasumbula" (July) which means to clear the land, is a month in Buganda's agricultural calendar, has gone to waste.
They cannot come to terms with the fact that they being landless is the reason why they didn't clear any gardens in preparation for new planting. The family of 8 (eight) that owned 20 acres of farmland and thrived on farming are now caretakers of a 100×100 Ft (A hundred by a hundred feet) offered to them by a good Samaritan in Kasenyi village, a fishing community, as shelter.
The glorious days are now gone but the good memories still linger. The 20 acres piece of land was a gold mine. It comes with certainty but above all food security. Before the eviction. The family grew a variety of food crops. The harvests blessed them with maize, cassava, beans, bananas, and avocados for consumption, and even the luxury to sell.
It should be remembered that following an agreement signed between the Government of Uganda and BIDCO, to increase palm oil production in the country leading to the birth of Oil Palm Uganda Limited (OPUL) was launched in 2002.
Bidco Uganda is a joint venture formed between Wilmar International, Josovina Commodities, and Bidco Oil Refineries, a Kenya-based company. The project is financed by both the government of Uganda and the IFAD. According to the available information, the project also received $12 million in financing from the Government of Uganda and $20 million from IFAD
In 2011, OPUL acquired land leases from a Ugandan businessman, Amos Ssempa, intending to expand its plantations. About 7,500 hectares (18,500 acres) of oil palm have been planted since 2002. OPUL describes the project as part of an initiative to increase vegetable oil production in the country.
According to the residents, their Land Lord Mr. Amos Sempa leased land without their consent. They claim he had a hand in their eviction which allegations he denies. "Yes they were evicted but they have to deal with the company (Bidco- Africa) not me," he said in an interview with Witness Radio – Uganda research team.
In 2015, the company begrudgingly offered peanuts as compensation. "Just imagine for 20 acres I owned, the company was paying me Uganda Shillings three (3) millions (USD 883), my fellow villagers and I refused to take the little money," he narrates.
However, when they piled more pressure on it, the multinational adopted the carrot and stick approach. It promised to compensate but set unfair conditions.  They had to vacate their land before the compensation and had to either accept peanuts offered or forget everything about it.  Some of them stormed their offices to convey their dissatisfaction.
A meeting was called, and in the meeting, the company undertook to re-compensate them in three months but all in vain. "They told us to only wait for three months that the amounts would be raised and deposited back on our accounts but up to now I have never seen any," he painfully recounts.
Since 2011 when they were evicted, his family has never been compensated and its state is worrying. On the other end, and in all its efforts to justify this as a magic bullet to food sovereignty, the renegade to food sovereignty, IFAD, uses glowing language to justify its blind-financing of agri-business.
"We are working to increase the incomes of rural households living in poverty, along with improving their food security and reducing their vulnerability." Reads part of its statement on an oil-palm project.
On the contrary, the family is starving, and cannot afford what to eat, children do not attend school, medication is also a problem, and provision of all other necessities is a distant dream.
"We eat once in a day, and it is hard to get it, we have no work to do," Nalongo Jjuuko opens up on their ordeal.
Salongo and Nalongo JJuko who earned more than 3 Million Uganda Shillings (834 US Dollars) from their produce in one season now resorted to collecting palm leaves, crumbs of the IFAD project, which they dry and turn into brooms.
These palm leaves whose broom costs one thousand Uganda shillings do not come on a silver platter. There is a price to pay for them. They have to be on guard against possible arrests.  "You have to time when the workers in the plantations are not there because when they find you, they arrest you and then make money out of you. So you can spend a whole day on a lookout to see if no one is there. On a good day you can earn yourself 2000 to 5000 shillings, about 0.55 to 1.37 dollars," a struggling Nalongo Jjuuko revealed.
The story of Ssalongo Jjuuko is not different from that of over 100 similar families, similar in Kyabwima village Kalangala district that were evicted to pave way for the palm growing project but failed to move on with the new life.
The families that could feed their families, educate their children and provide all other necessary needs now cannot sustain themselves.
Residents add that they have not received any benefit, which is worth celebrating, from the project. Instead, they are living miserable lives and grappling with malnutrition diseases due to scarcity of food.
"Most of us have failed to secure alternative land for settlement and food production, those that got where to stay, have nowhere to practice farming," Nalongo Nakirya Dorothy a mother of 7 (seven) paints a picture of the far-reaching effects of the project.
The former RDC of Kalangala district, Mr. Daniel Kikoola, says that the available information proves that residents in his area have not benefited from the project
"People who had enough food and even could sell off some have been reduced to beggars in their own country yet the oil palm giants are making profits, this is wrong and the government must stop it," Mr. Kikoola explains with a crestfallen tone.
The scarcity of food has also spiked food-related theft on the island. The Local Council One, Vice-Chairman Kasenyi village, Mrs. Namutebi Vicky, says that food theft in her area has increased. "About 8-10 cases in a month are reported to us," she shares.
When the Bidco community liaison officer, Mr. Kizito Ssentongo, was contacted he insisted that they paid for everyone's land. "Their land was valued and paid, those who refused the money should wait."
That waiting has continued to bite. No one knows, including IFAD, when the poor farmers like Salongo Jjuko will be adequately compensated, and yet everyone, including IFAD, is certain that nothing will stop the "godfather of modern agri-business" (IFAD) from sinking more money because the profitability of these loans is more appealing.
Double tragedy as KCCA uses the World Bank's money to evict a Kawaala resident from both his home and place of work: TALES OF A BUSKER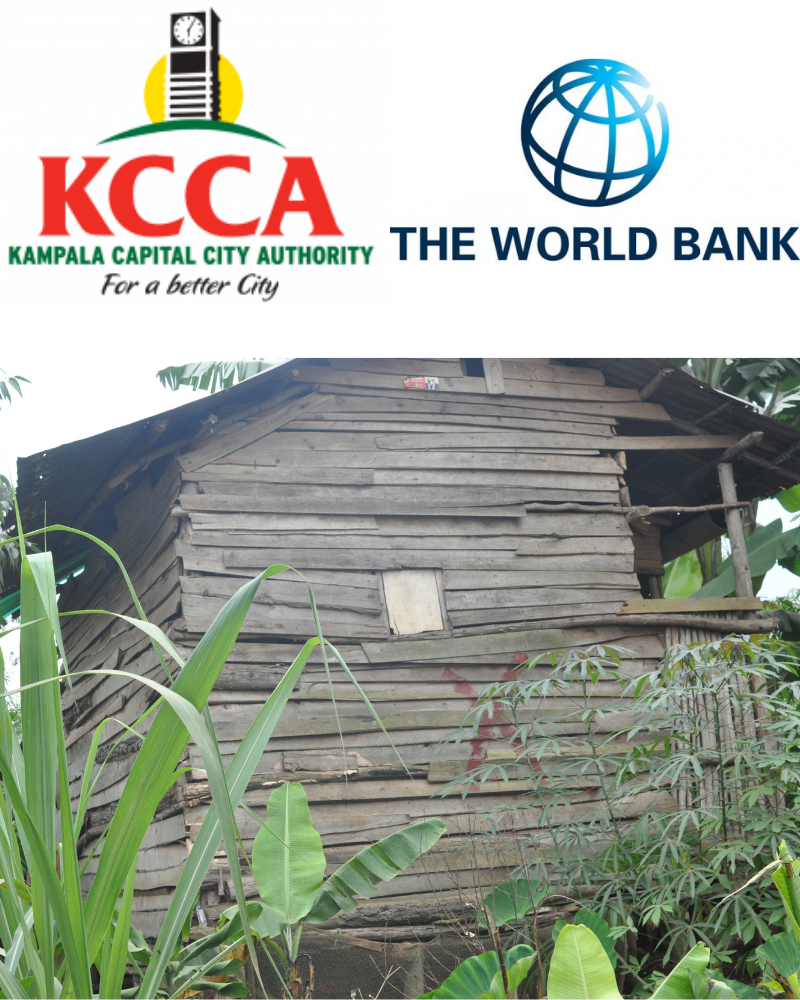 Mr. Mutaasi's house marked with "X" by KCCA for demolition.
By witnessradio.org Team
"…Ekuba omunaku tekya…", loosely translated as "The rain that falls on a down-and-out is a relentless deluge," is one of the adages applied among the Baganda, and its equivalent among the English is, "it never rains but it pours", highlight the 12 years of misery of 42-year-old Mutaasi Ali.
Mutaasi, a resident of Kawaala zone II in Kampala had a dream of living a better life, but it has never turned out as he had envisioned it. His suffering started way back from the fire-outbreak that twice gutted his merchandise in the Owino-Park Yard market. A market that mothered the urban poor. That Market is no more. It was replaced with a gigantic mall whose construction was preceded by a brutal night of forced eviction carried out with impunity by Kampala Capital City Authority (KCCA). The Authority is the governing body and administers the Capital City of Uganda.
Now the ghosts of the past are back, he hardly sleeps. A nightmare of a looming eviction to give way to the expansion and construction of Lubigi-Channel under a World-Bank funded project, KIIDP-1or 2, pre-occupies his mind. And the outbreak of the pandemic is another setback that has kept him on tenterhooks waiting for the Covid-19 relief from the government.
The father of ten (10), has spent about a half of his age on the streets of Kampala trying out different odd jobs to feed his family.
Before the pandemic, he was a maid of all work. He gurgled busking, farming, singing, and playing aback-up artist role. Mutaasi who is now a backup artist moved from his home village in Mpigi town in Mpigi district, 50 km from the western side of Uganda's capital Kampala for greener pasture in the capital at the age of 18.
"I was born to in an extended poor family; we had little chances of getting the basic needs we wanted because of being poor. I had to look for a livelihood elsewhere to support my needs and those of my family," Mutaasi narrated.
Mutasi said a village friend who had come earlier in Kampala informed him of a job. "A friend of mine in Kamwokya, a Kampala suburb helped me to get it. It was a hawking job. I did it for about 4 years on the streets of Kampala. In 1997, we shifted to the Park Yard market," he added.
When he was moved to Park Yard market, it was a great achievement. "Because we were expanding, and our second hand-clothing business was showing signs of success, he (my boss) decided we move to Park Yard since it was busier and had enough space. And after making some little money, I parted ways with him (my boss) and I started a similar business in the same market in 2004," he added.
He was determined to learn and worked hard. He becomes an inspiration not only to his peers but also to his former coworkers. "Mutaasi was a promising bright child that everyone wanted to be with. We looked up to him for inspiration," a close friend confirmed in an interview with Witness Radio.
His business continued to boom, but misfortune struck.  Mutaasi and many other traders suffered big blows when merchandise, worth billions of Ugandan shillings was razed in the fire that first gutted the market in 2009.
"I had shopped a day before the fire, so I was left with nothing and no capital to start again with," he said.
But as the saying of the Banna Kampala (people living in Kampala) that "Kampala kuyiiya," literally meaning that to thrive in Kampala you have to hustle.  Mutaasi and two of his friends moved onto the city streets as buskers with a reggae music version.
"I would practice singing in my free time and some friends of mine had described my voice as euphonious. Because I had nothing to do at home at that time, we formed a group of three, went to the streets, and started entertaining people. Some of us were even employed as backup artists during shows," Mutaasi reveals.
He says the little money they earned helped them to cater to their needs. "At least on a good day, we could earn 6000 Shillings (USD 1.7) each, which I would use to look after my family in the village. In about a year, I had also saved some money and went back to Park Yard market to give selling clothes a second-shot," he shares with a nostalgic look.
According to Mutaasi, initially, his business had failed to pick up, but the desire for better life kept him soldiering on.
"I had to limit on other roles, so I left the street entertainment and concentrated much on growing my business in Park Yard and recording music. Every single coin I would get from music would be invested in my second-hand clothing business," he added.
Whereas it had grown, fire gutted the market on 31st July 2011 and destroyed traders' merchandise worth millions of shillings. It did not spare his business either. And according to Mutaasi, this was the second fire in one year and subsequent fire outbreaks until Park Yard Market land was forcefully grabbed by KCCA, politically connected investors, and police in 2017 without any prior consultation or compensation.
"When this happened, I felt like I had lost my senses. Asking myself why I don't succeed yet others do, and why my businesses collapse yet others stand the taste of time," he recounts.
In an interview with the Sunday Monitor, a local newspaper in March 2017, Mr. Kiggundu acknowledged being behind the eviction of Park Yard vendors. He said he demolished the temporary structures at Park Yard to make it a better place. Mutaasi was left grasping at straws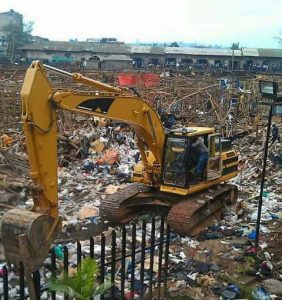 Helpless traders watch as their merchandise are destroyed by an excavator during an eviction in march 2017.
After a double loss, he had to pick up his broken pieces and focus on music and entertainment which had been his initial source of income, but the ghosts of the past continued to haunt him. In July 2020, a countrywide lock-down was imposed and the entertainment industry was hit hard. No concerts! No bars! No clubs! This was later lifted except for the entertainment industry.
Then when he thought the state would lift the ban on the music industry, there was a surge in COVID-19 cases, the government of Uganda imposed a second lockdown. This continued to pile misery upon him.
"Backing up other artists pays less and it is what I used to rely on now. We depend on God's mercy to survive. I have not even received the government's COVID relief ever since the lockdown started." he added.
As he still recounts his ordeal; the misery in Park Yard market and the heart-wrecking lockdowns, the father of 10 is now facing forced eviction from his 27×40 piece of land by a World Bank-funded project. Mutaasi bought his piece of land 10 years ago from his hard-earned money.
In all that he has gone through his land without a doubt is being grabbed by Kampala Capital City Authority (KCCA) officials to pave way for the Lubigi primary channel expansion.
He said, "I started working in 1991. Look, my merchandise perished and the only thing I have is a piece of land that I have, and now is being taken away without any compensation.
"KCCA's imminent eviction has taken me aback. I remember when I was evicted from a rental. I was verbally abused in front of my children, wife, and neighbors, my household items were thrown out and others confiscated. I was forced to move out of the house since the rent arrears had accumulated," he shares the distressing memories. That day, he and the rest of the family had to brave the cold night outside.  The following day, he could not bear the embarrassment and scorn that came with the eviction.  He took it upon himself to construct a makeshift shelter, without walls, on his piece of land to temporarily serve as a house.
Good times may not last, but bad memories never fade, and Mutaasi, now penniless at the time, vividly remembers the price he had to pay to put up the make-shift shelter; "I had some sugarcane on the land, and on the second day, I requested my neighbors to give me eucalyptus poles to in exchange for the sugarcane. That is how I started a new life without a coin."
He wonders why KCCA, the project implementer, is using the World Bank project to grab his land without being compensated. He is among the 120 households being evicted to pave away for the Lubigi drainage channel expansion project.
"You cannot tell me that you want my land on which you have found me living and you don't want to compensate me for it. You want to take it and you don't want to prepare for me who owns it. Why don't they first prepare for the people affected by the project and then think of taking the land?" He questioned.
He also blames KCCA for the corrupt networks under the Buganda Land Board (BLB), a company that manages the Kabaka's land who solicit money from them in rewards to a letter taken to KCCA to carry out the surveying and valuation of their property.
"We are required to clear UGX 250,000 (USD 70.46) for a letter proving your ownership in Mengo, the Busuulu (ground rent) of UGX 550,000 (USD 155), and UGX 150,000 (USD 42.28) to the chairman for the stamp. This is a lot of money that some of us don't have. We are in a lockdown, and like me, I stopped working last year, where do they expect me to get all that money," he further wondered.
He wonders what will happen if the others pay the BLB fee and is valued and surveyed but he fails to clear the fee. "It seems I am losing my land too, because if I lack what to eat, then where will I get the money to pay for the surveying and valuation," he said.
He proposes that KCCA uses its money to survey and value his land, clear BLB, and then deduct it from the compensation money instead of losing the property they have worked for generations.
"I have suffered a lot and I feel I am tired…, he painfully concluded.