The World Bank and its partners flout business and human rights standards to evict hundreds of families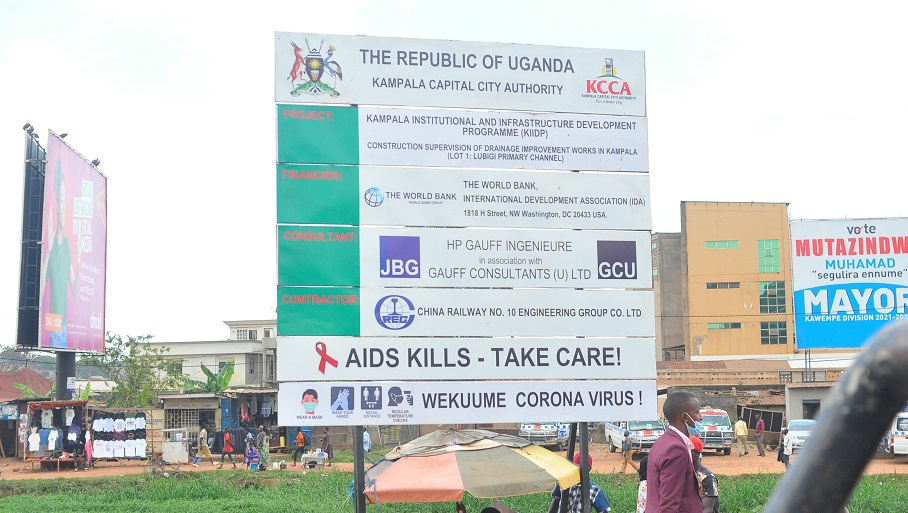 By witnessradio.org Team
Kampala – Uganda – more than 300 families that are legally occupying and cultivating their land in Kawaala zone II, a suburb of Kampala are accusing the World Bank and its partners for fast trucking illegal eviction to give way for a multibillion shillings project before consultations and sensitization among others.
Kampala Capital City Authority (KCCA) acquired a loan of 60 billion Uganda shillings (equivalent to about USD 17 million) from the World Bank and the International Development Association (IDA) to construct a 2.58 KM, Lubigi water drainage channel, which stretches from Kawaala Zone II, Rubaga Division, Kampala district.
Kampala Capital City Authority (KCCA) is the legal entity, established by an act of Parliament (KCCA Act, 2010), which is responsible for the administration and operations of the capital city of Kampala in Uganda.
In a community meeting, residents revealed that before and during the planning process and the implementation of the constriction of the drainage channel, no official from the World Bank or its partners like KCCA has never consulted them during the planning process to get their inputs for the project nor sensitized them but instead, World Bank and KCCA are hiding under the Public Health Act, Cap 281Act, to disposes of them.
According to an eviction notice issued by KCCA on December, 03rd, 2020, and seen by witnessradio.org, KCCA has termed residents' houses as 'illegal structures'  and ordered residents to demolish them by December, 30th, 2020.
According to residents, they have lived and cultivated on the land for decades and are wondering the circumstances under which KCCA obtained the land.
Namaala Christine, 65, says she has lived on her land since 1969 and questions the development project the World Bank and KCCA are bringing if it (the project) is to disposes of them of their land.
"At my age, you want to evict me, where do you want me to go, do you want me to go to the street," questioned Namaala.
She added that the World Bank and KCCA did not consult them, did not value and compensate them for their land their properties.
Another victim, identified as Charles Sserugo, 55, challenged the Kampala Capital City Authority to present its legal rights over the land they are being evicted from.
"We are the original occupants and some of us have ancestors buried in this area, where do they want to go" asked Sserugo.
Witness Radio – Uganda, pledged to work with the affected community to ensure that justice for all affected families prevails.
Six community land rights defenders have been set free after spending three years on remand without trial on murder charges.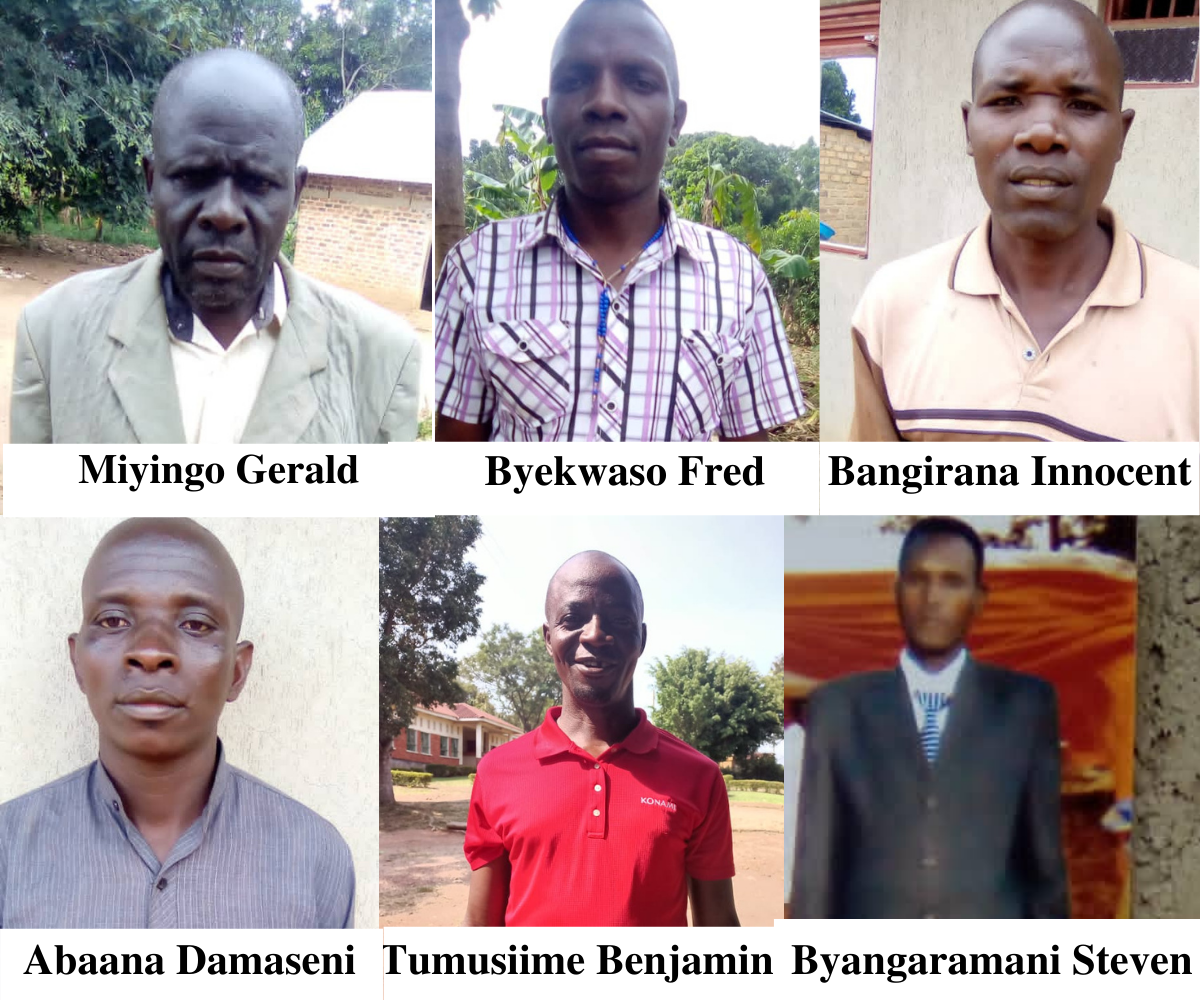 By Witness Radio – Team
The Director of Public Prosecution (DPP) Ms. Jane Francis Abodo has withdrawn murder charges against six land rights defenders who were arrested, charged, and sent to prison in 2019. 
On Friday, the 24th of June, 2022, Mubende Grade one Magistrate Her Worship Atim Harriet Okello signed a release order to free the six defenders who have been on remand without trial.
Tumusiime Benjamin, Bagirana Innocent, Habana Domoro, Miyingo Gerald, Byangaramani Charles, and Byekwaso Fred were arrested in February 2019 by armed policemen attached to Mubende police on orders of one Naava Milly Namutebi. They were accused of empowering the community to resist forced evictions. 
The defenders were fighting to stop forced eviction on land measuring 3.5 square miles covering villages namely; Kirwanyi central, Kirwanyi East, Kirwanyi West, Nakasagazi, Kituule A, Kituule B, Kibalagazi A, Kibalagazi B, Kakkanembe, Bukyambuzi A, Bukyambuzi B, Kisende, Mulanda, Kituule central, Kirwanyi A, and Butayunja in Kirwanyi and Kituule parishes in Butoloogo Sub County in Mubende district.
The current update on the grabbed land indicates that it's still raw land.
The defenders' imprisonment was intended to eliminate them after they were framed for having killed one Mbabazi Samuel who was a casual laborer to a self-claimed landlord Naava Milly Namutebi.  
One of the imprisoned defenders Tumusiime Benjamin narrated that before they were detained on murder charges, Mubende police had earlier arrested and charged them with aggravated robbery, a case that was also land-related, and released them on police bond.
On March, 2nd, 2019 while reporting on bond, they were instead re-arrested taken to Mubende magistrate court to be charged with murder, and remanded to Kaweeri Prison. 
"One day while we were being taken to court for our case mention, a prison officer told us we don't deserve to be free since we are killers, but some of us even did not know the worker they accused us of killing", Tumusiime narrated. 
Tumusiime further narrated that after six months on remand, they were taken back to the same court, which committed them to the High court to be tried, and later, remanded to different prisons which include Muyinaina, Kaweeri, and Kitalya respectively, adding that they had never been brought back to court until their release.
"As soon as we were eliminated (arrested and imprisoned), Naava found ease in grabbing more land because the community was left in cold upon learning about our arrest and imprisonment. She deployed the army and private security guards that have been protecting the grabbed land." Tumusiime added. 
Such tactics of weakening land rights defenders through abusive criminal charges are on the rise in Uganda. Not only in the Mubende district where such abusive charges are used to silence defenders but also in other areas that experience rampant land grabs namely; Kiryandongo, Kayunga, Hoima, Buliisa, Moroto, and other districts in Uganda.
"Take notice that government of Uganda intends to discontinue proceedings against 6 charged with murder" A legal notice seen by Witness Radio – Uganda and signed by the DPP on the 22nd of May 2022 reads in part
Since 2012, Naava with support from a senior officer of Uganda People Defense Forces Major Eric Kigamboha have displaced over 4000 people from their land without a court order and continues to perpetrate violence against families that are still staying on the land.
"We used to sleep in the bush to avoid being attacked at night by armed gangs employed by Naava. People were beaten, arbitrarily arrested, and accused of trumped-up charges. Since then, some have been forced to vacate the land for fear of their lives." Mr. Ssesazi Christopher another defender told Witness Radio – Uganda.
Whereas Benjamin and others were released, their lives remain distorted, their land was grabbed by Naava and they now depend on well-wishers for their survival. "My family separated. I had two wives and 20 children but all separated looking for their means of survival. My children stopped going to school and the girls were married because ideally, they had nothing to feed on or where to go. In addition to that, all 40 acres of my land were grabbed. I remained with only my little house," Benjamin revealed.
Police harassment: Six land rights defenders from Kawaala have been summoned for interrogation.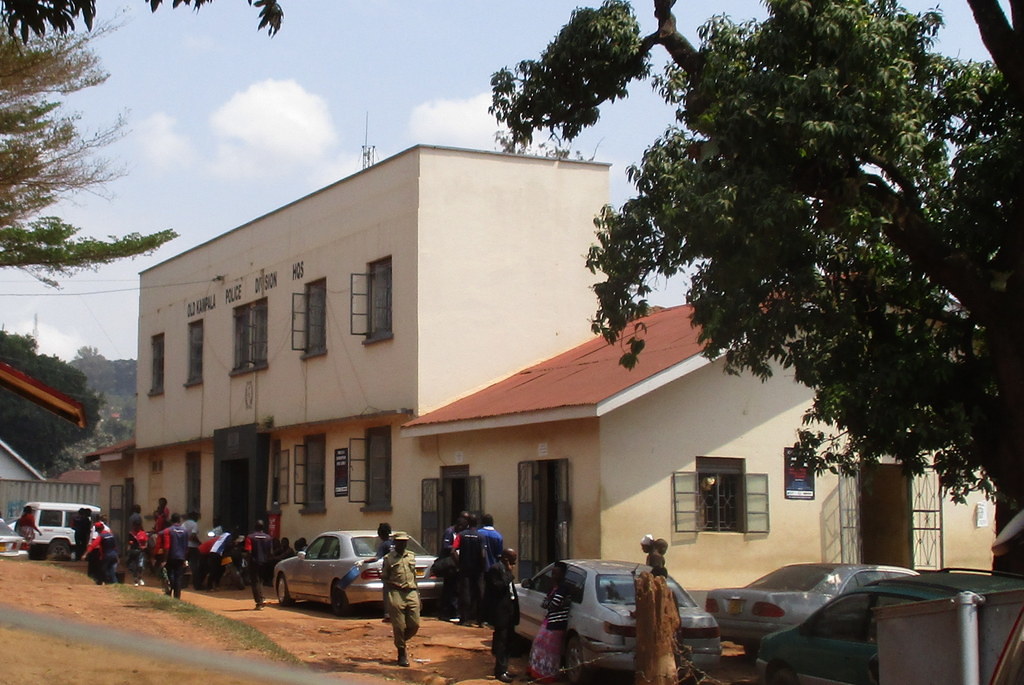 A photo of old Kampala police station where defenders are expected to report tomorrow. 
By Witness Radio – Uganda team
As forced evictions and land giveaways to investors accelerate in Uganda, police continue to be deployed to criminalize the work of community land and environmental rights defenders supporting communities to push back illegal evictions.
For many years ago, hundreds have been arrested, charged, abducted, and beaten for their work by machete-wielding men, police, and army sidelining with investors or grabbers.
The latest to fall prey is a group of six community land rights defenders and a local council vice-chairperson of Kawaala zone II, Lubaga Division, in Kampala district. The group and other defenders have been leading a pushback campaign since 2020 against the multimillion dollars drainage channel being implemented by Kampala Capital City Authority (KCCA) with finances from the World Bank under Kampala Institutional and Infrastructure Development Project (KIIDP-2)
This project first impacted Kawaala Zone II around 2014, when a channel diversion was constructed. The current planned expansion will widen that channel and require forced evictions across an area at least 70 meters wide and 2.5 km long.
The group must appear at the Old Kampala Regional Police headquarters criminal investigations directorate tomorrow, 29th/06/2022 before the Deputy Assistant Inspector of Police (D/AIP) Domara Patrick at 9: 00 AM local time.
The defenders summoned include; Kasozi Paul, Busobolwa Adam, Kabugo Micheal, Serugo Charles, Ssemanda David, Sserukwaya David, and vice-chairman of Kawaala zone II Mr. Patrick Kato Lubwama.
According to the police summons, a copy obtained by Witness Radio – Uganda does not mention the charge nor state the complainant (s).
The chairman of the affected group of people Mr. Kasozi Paul believes these are retaliation for their strong resistance to land grabs being spearheaded by KCCA to construct a drainage channel.
"We have always been targeted by KCCA and other fellow opportunists that we are sabotaging the drainage construction which is not true. We refused to give away our land without being compensated. We believe this is the reason for the summons. We shall go and meet the police tomorrow," Kasozi stated.
When Witness Radio contacted Deputy Assistant Inspector of Police (D/AIP) Domara Patrick who signed those summons declined to share details of the charges instead he invited the Witness Radio team to visit his bosses.
Signs of harmful projects with financing from development institutions are spotted in Uganda…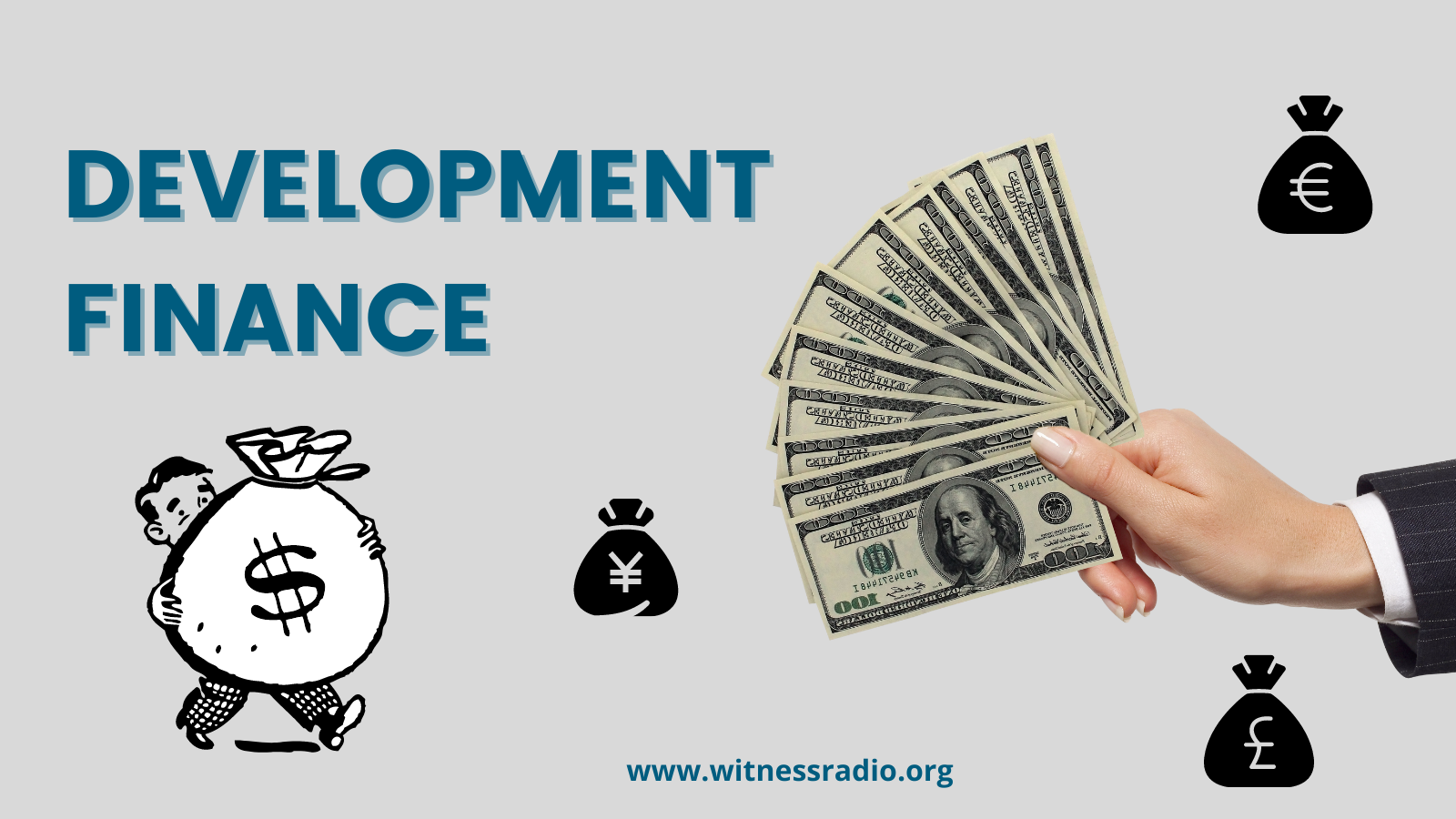 By Witness Radio Team.
The growth of a country is discerned by great leaders and innovators who see opportunities out of darkness and transform their areas from nothing to success. Those are great leaders whose interest is to see the developments in their countries and the well-being of their citizens.
Every single day, countries all over the world receive investors that acquire loans, grants, and donations to implement mega projects that are seemingly expected to develop host countries. countries and investors borrowing the money Often, countries and investors portray how these projects improve the livelihood of the browbeaten, au contraire, they have left many broken families, poor-dirty homesteads, and shattered dreams.
Uganda is one of those countries, whose citizens have paid a price for reckless or unsupervised and profit-led international investment. In a bid to implement its industrial policy, the country has welcomed both foreign and local investors with interests in the fields of extraction, industrial agriculture, carbon credit tree plantation, mining, infrastructural projects, and many others.
It has received billions of dollars from different financiers including commercial banks, Pension Funds, and International Development Finance Banks or institutions, among others. For instance, the World Bank has invested more than 20 Billion Dollars since 1963 and currently
Every project comes with its own chilling story. More often their stories are unheard by the World. Witness Radio – Uganda surveyed some projects in Uganda. This study revealed agony, illegal evictions, abject poverty, environmental degradation, and loss of life among others, as some of the consequences suffered by the would-be beneficiaries of these international funded projects across the country.
In the capital of Uganda, Kampala, over 1750 families were forcefully evicted from a city suburb, Naguru, for Naguru- Nakawa housing estates.  11 years down the road the project that was highly hyped is to take off on the grabbed land. Pleas from the victims of the eviction to regain their land have all fallen on deaf ears.
About 80km away from Kampala is the island district of Kalangala surrounded by the World's second-largest lake, Victoria, and known for palm growing. When the palm-oil project was introduced to residents they were given the impression that it would improve their livelihoods and create job opportunities.  Instead, it has dumped thousands into poverty after their land was grabbed by BIDCO, a Wilmer international-funded project. People lost land and now work on plantations as casual laborers. The neighboring communities are accusing BIDCO workers of sexual and gender-based violence.
In the South-Western District of Kiryandongo, multinational companies including Agilis Partners Limited, Kiryandongo Sugar Limited, and Great Seasons SMC Limited with funding from The United States Agency for International Development (USAID), The Department for International Development (DFID) of the United Kingdom, and Common Fund for Commodities among other financiers are forcefully evicting more than 35,000 people. The eviction has been on since 2017.
Workers that worked on a World Bank Project in Soroti, in the far east of the country, are accused of sexually harassing minors. Several young girls were defiled and left pregnant. Despite the government being aware of this none of the pedophiles have been brought to book, the World Bank-funded project in the Eastern Town of Soroti left several underage girls defiled and impregnated.
In late 2020, residents of Kawaala zone II woke up to the hail of armed men and graders evicting and destroying their properties to implement a multimillion-dollar project funded by the World Bank. The project is being implemented by the Kampala Capital city Authority (KCCA) on behalf of the government of Uganda.
The above-listed and other projects, on the other hand, continue to perpetuate violence and judicial harassment against leaders of Project Affected Persons (PAPs) and community land and environmental rights defenders because of their work that resists illegal evictions and destruction of the environment among others.
Although project implementers such as government entities accuse local communities of occupying land targeted for projects illegally, in most cases victim communities have rights over these pieces of land because their settlement on the same land can be traced to have happened generations ago.
No matter how people are negatively impacted being by these harmful projects, financiers continue to release more money to the government and investors. The banks aim at profit margins other than the livelihoods of the people. In Bulebi village, Mbazi parish, Mpunge Sub County in Mukono district, Akon's futuristic city is about to lead to the eviction of over 1000 residents whose entire lives have been built on their land.
In April last year, American rapper Aliaune Damala Badara well known for his stage name AKON visited Uganda in search of land for constructing the city. On the same business trip, he met President Museveni Yoweri Kaguta and expressed his interest in building a futuristic city with its currency. The president ordered the Ministry of Lands, housing, and urban development to look out for free land for his city.
However, on 7th Jan 2022, the Uganda Land Commission showed the Minister for Lands, Housing, and Urban Development "Hon Judith Nabakooba" land that was proposed for the Akon city. According to the Uganda land commission, the land is Freehold Volume 53 Folio 9 measuring I square mile.
This has sparked outrage amongst the affected as they were never consulted or consented to allow the project in their community. According to community members that Witness Radio interviewed, they said they heard the distressing news of Akon city through the Media.
The community said no official from the ministry has ever approached them about their land giveaway. "Our country is full of land evictions and evictors begin in that way. There has been no official coming on the ground to officially inform us about the project and neither have we heard any official communication of compensation." Obori said.
Residing in the attractive village surrounded by freshwaters, the community asserts this has been the source of livelihood and advised the government to get alternative land for the City.
Controversies surrounding the land giveaway and ownership of the area still exist. A section of residents have protested and vowed not to surrender their land for the City. They claim to have acquired freehold titles from the Mukono lands board.