The United Nations Food Systems Summit is a corporate food summit —not a "people's" food summit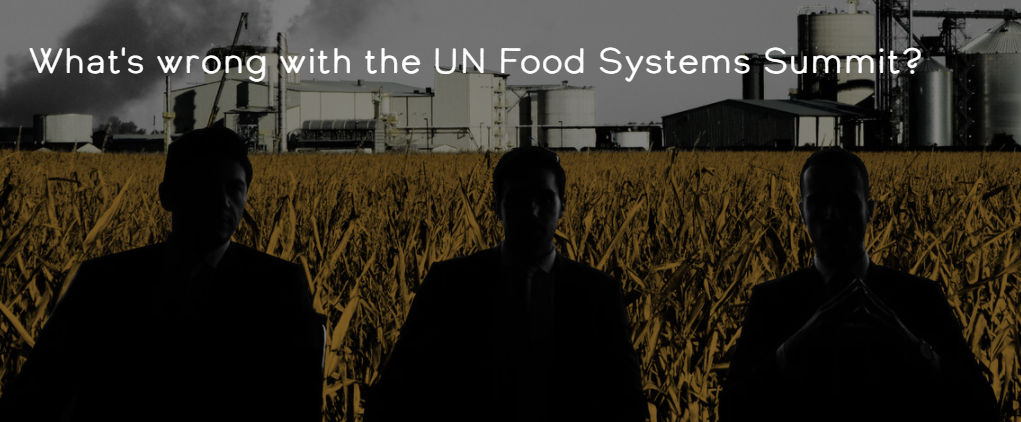 Although the UN has called the Food Systems Summit a "people's summit", it marks a departure from past World Food Summits, which developed innovative, inclusive and participatory global food governance mechanisms anchored in human rights. By contrast, the UNFSS follows a multi-stakeholder approach that, while appearing inclusive, ends up privileging agribusiness and food corporations and is conducted in partnership with the World Economic Forum (formed by the world's top 1000 corporations). The UNFSS has sidelined civil society and and lacks transparency and accountability mechanisms. In response, civil society groups around the world are refusing to participate in the UNFSS and are instead leading parallel events and actions.
The People's Autonomous Response to the UNFSS in July has argued that the UNFSS detracts from the real solutions needed to tackle the multiple hunger, climate and health crises. The globalized, industrialized food systems advanced at UNFSS fail most people, and the Covid-19 pandemic has worsened the situation. According to the 2021 UN Report on the State of Food Security and Nutrition, the number of chronically undernourished people has risen to 811 million, while almost a third of the world's population has no access to adequate food. The Global South still reels from Covid-19, unveiling the entrenched structural power asymmetries, fragility and injustice that underpin the predominant food system.
What we need: Food systems and food sovereignty for the people
Food sovereignty: the right of peoples to healthy and culturally appropriate food produced through ecologically sound and sustainable methods, and their right to define their own food and agriculture systems
Equitable and sustainable solutions already exist—and they need more support. There is much to learn from the networks of solidarity and care that people – often the most vulnerable and historically oppressed – have put in place during the pandemic. Currently, 70% of the world gets food from the peasant food web, which works with only 25% of the resources.
We don't need "sustainable intensification", "climate-smart agriculture" or 'nature-positive solutions," which often greenwash corporate agendas. Millions of smallholder farmers, fishermen, pastoralists, agricultural and rural workers, and entire indigenous communities practice agroecology, a way of life and a form of resistance to an unfair economic system that puts profit before life. Agroecological farming constantly adapts to local needs, customs, soils and climates. As countless experts have attested, agroecology improves nutrition, reduces poverty, contributes to gender justice, combats climate change, and enriches farmland.
Agroecology, unlike industrial agriculture, embraces and encourages diversity—of crops, people, farming methods, and knowledges—to allow for locally-adapted food systems that are responsive to environmental conditions and community needs.
The movement for food sovereignty is united in our diversity and in our shared opposition to centralized, top-down models of decision-making and agricultural production.
Original Source: unfss2021.org
Offsets don't stop climate change.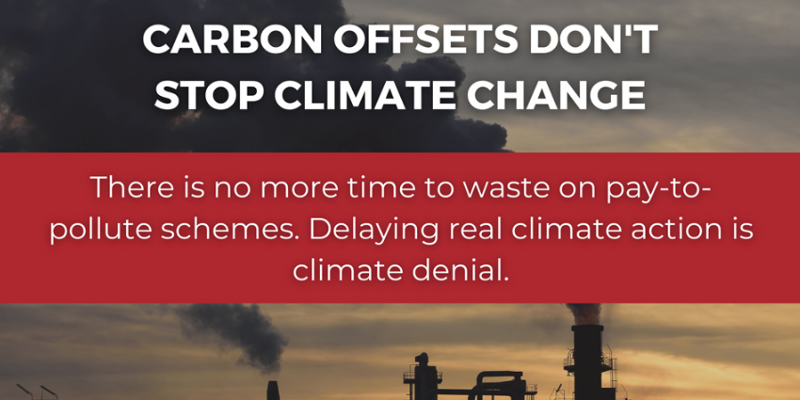 Shortly before COP26, Amazon Watch and more than 170 organisations signed on to a statement under the headline "Offsets don't stop climate change".
The headline is borrowed from a December 2020 letter to the Financial Times in response to an editorial about Mark Carney's Taskforce on Scaling Voluntary Carbon Markets.
The letter, from Doreen Stabinsky (College of the Atlantic, USA), Wim Carton (Lund University, Sweden), Kate Dooley (University of Melbourne, Australia), Jens Friis Lund (University of Copenhagen, Denmark), and Kathy McAfee (San Francisco State University, USA), states that, "Offsets don't stop climate change because they don't stop emissions."
They write that,
In an ideal world, some types of offsets might theoretically balance out emissions with removals. But the whole point of an offset is that one entity gets to keep emitting.
And they explain that the problem is that with continued emissions, CO2 continues "to accumulate in the atmosphere where it resides for hundreds to thousands of years, and the temperature of the planet continues to increase".
They point out that the oil industry is a primary beneficiary of offsetting and Carney's taskforce was stacked with respresentatives of Big Polluters:
All the major oil companies are planning to continue with exploration and new extraction projects. None of them have plans for a managed decline of production that is anywhere near in line with the Paris goal aiming to limit warming to 1.5C. Indeed some fossil fuel majors have even stated their intent to increase exploration and production for at least the next five years. These are hardly decarbonisation goals. All of them intend to rely heavily on carbon offsetting to keep drilling and emitting-as-usual.
They conclude that if Carney were serious about addressing the climate crisis, he would "convene a taskforce on the managed decline of fossil fuels and bring the fossil fuel industry to the table".
It's not controversial to point out that offsetting does not reduce emissions (and therefore does not help address the climate crisis). Even proponents of offsetting will, if pushed, admit this fact:
In a press release about the statement signed by more than 170 organisations, Jim Walsh of Food & Water Watch says,
"Offsets are nothing short of a scam that corporate interests push, allowing them to continue polluting our climate and frontline communities with impunity. The harm does not end there, as these offset schemes displace indigenous communities and prop-up corporate agriculture and factory farming. Addressing the climate crisis means keeping fossil fuels in the ground, rather than pursuing these scams that harm our communities and climate for nothing other than corporate profits."
Here is the statement, "Offsets don't stop climate climate change". The list of signatories is available here:
Offsets don't stop climate changeClimate-driven wildfires, flooding, droughts and other extreme weather events daily impact every corner of the globe.Yet the fossil fuel industry, big utilities, big agriculture, big finance — and their political allies — are pushing carbon offset schemes to allow them to continue releasing the greenhouse gases driving the climate crisis, harming Indigenous, Black, and other already-marginalized communities, and undermining sustainable farming and forestry practices.The science is clear: we need to rapidly phase out fossil fuels and emissions-intensive agricultural practices like factory farming, while protecting forests, wetlands, and other natural carbon sinks. Every delay means greater impacts on our climate and more pollution in historically overburdened communities.[1]We call on leaders around the world to join us in rejecting offset schemes because these pay-to-pollute practices are nothing more than false and harmful solutions to the climate crisis.
We call on global policy makers to reject offset schemes and embrace real climate solutions that will keep fossil fuels in the ground, support sustainable food systems, and end deforestation, while eliminating pollution in frontline communities.
---
[1] IPCC, Global Warming of 1.5°C. International Energy Agency, Net Zero by 2050. IPCC, AR6 Climate Change 2021.
[2] Carton et al. "Undoing Equivalence: Rethinking Carbon Accounting for Just Carbon Removal," Frontiers in Climate, 16 April 2021.
[3] Anderegg, W. et al., Climate-driven risks to the climate mitigation potential of forests, Science 368 (6947) 2020. Mackey, B. et al. 2013., "Untangling the confusion around land carbon science and climate change mitigation policy," Nature Climate Change, 3(6),pp.552-557, 2013.
[4] Food & Water Watch, "Cap and trade: More pollution for the poor and people of color," November 2019 at 1 to 2.
[5] Gilbertson, Tamara, Carbon Pricing: A Critical Perspective for Community Resistance, Indigenous Environment Network and Climate Justice Alliance, 2017.[6] Anderegg, W., "Gambling with the climate: how risky of a bet are natural climate solutions?," AGU Advances, 2021. Coffield, S.R. et al., "Climate-driven limits to future carbon storage in California's wildland ecosystems," AGU Advances, 2021.
[7] Ahmend, N., "World Bank and UN carbon offset scheme 'complicit in genocidal land grabs – NGOs," The Guardian, 3 July 2014. Forest Peoples Programme, The Reality of REDD in Peru: Between Theory and Practice, November 2011.
[8] Institute for Agriculture and Trade Policy, "Why carbon markets won't work for agriculture," January 2020 at 2.
[9] Elgin, B., "A Top U.S. Seller of Carbon Offsets Starts Investigating Its Own Projects," Bloomberg. 5 April 2021.
[10] Hache, F., Shades of Green: The Rise of Natural Capital Markets and Sustainable Finance, Green Finance Observatory, March 2019.
Original Source: Redd-monitor.
NO more GE trees! Open Letter Denouncing Suzano Papel e Celulose's glyphosate-resistant Genetically Engineered (GE) Eucalyptus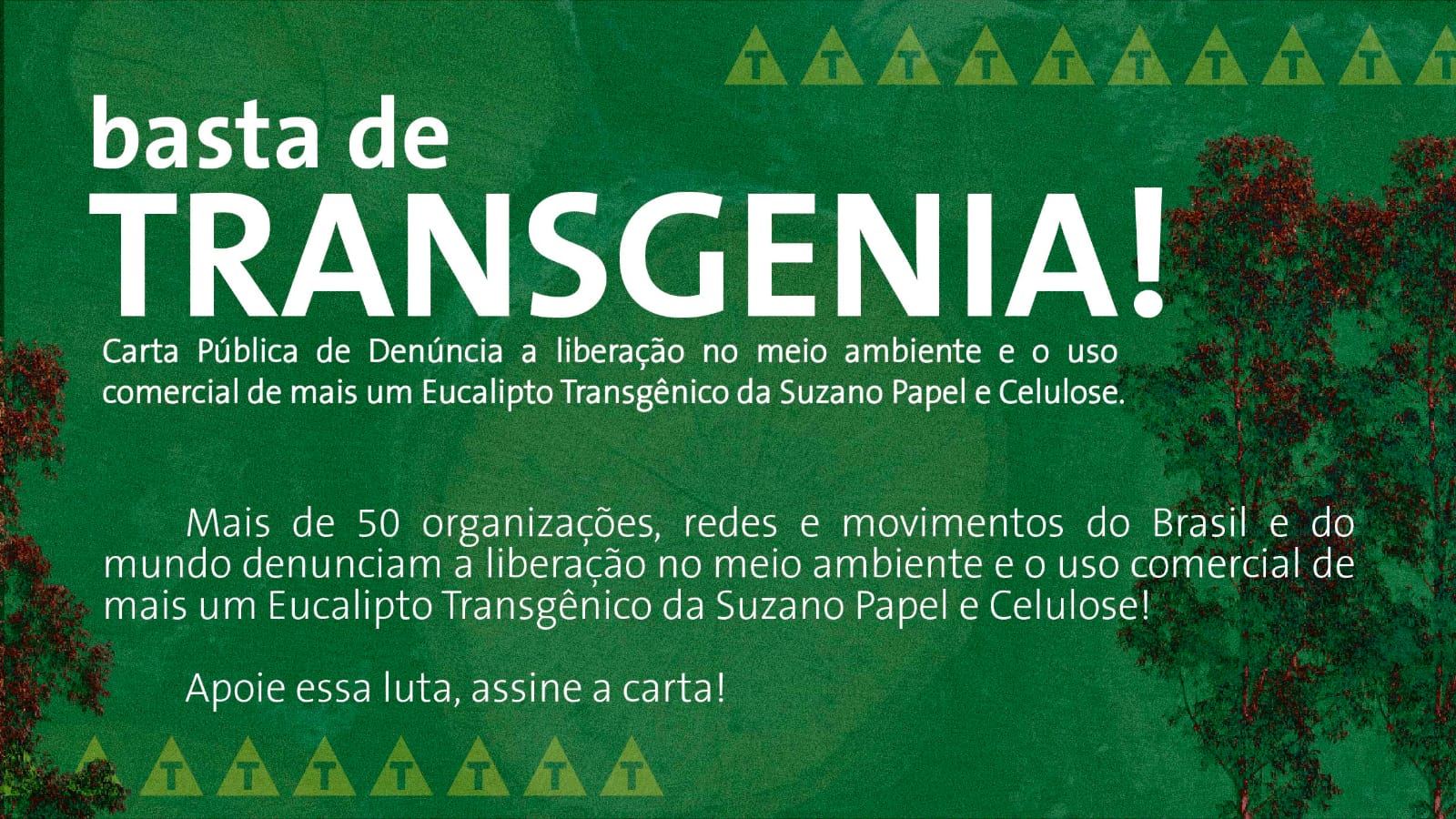 More than 50 organizations, networks and movements from Brazil and around the world denounce the release into the environment and the commercial use of a new transgenic eucalyptus from the Brazilian company Suzano Papel e Celulose!
The approval by the National Technical Commission on Biosafety (CTNBio) of the GE eucalyptus resistant to glyphosate, identified as 751K032, is a serious threat to life, to society and to nature. It was approved without any democratic consultation with Brazilian civil society in general and the neighboring communities of the areas where the plantations will be located in particular. The only concern was granting the license in the benefit of the commercial interests of Suzano Papel e Celulose, instead of the detrimental effect on life.
Organizations denounce the CTNBio decision from November 16, 2021 to approve the release into the environment, commercial use and any other related activities of the new GE eucalyptus developed by FuturaGene, owned by Suzano Papel e Celulose.
The letter ends by demanding the immediate revocation of the license granted for the use of Suzano GE eucalyptus 751KO32, as well as the action and intervention of the Federal Public Prosecution Service to revoke the decision made by the CTNBio, a decision made without a full public debate, especially in regions of Brazil that have been exposed for many years to eucalyptus monoculture.
Read the complete letter here.
Original Source:  Alert Against Green Desert. 
As the court starts to hear a case filed against Kiryandongo Sugar Limited, president Museveni offers to compensate forced eviction victims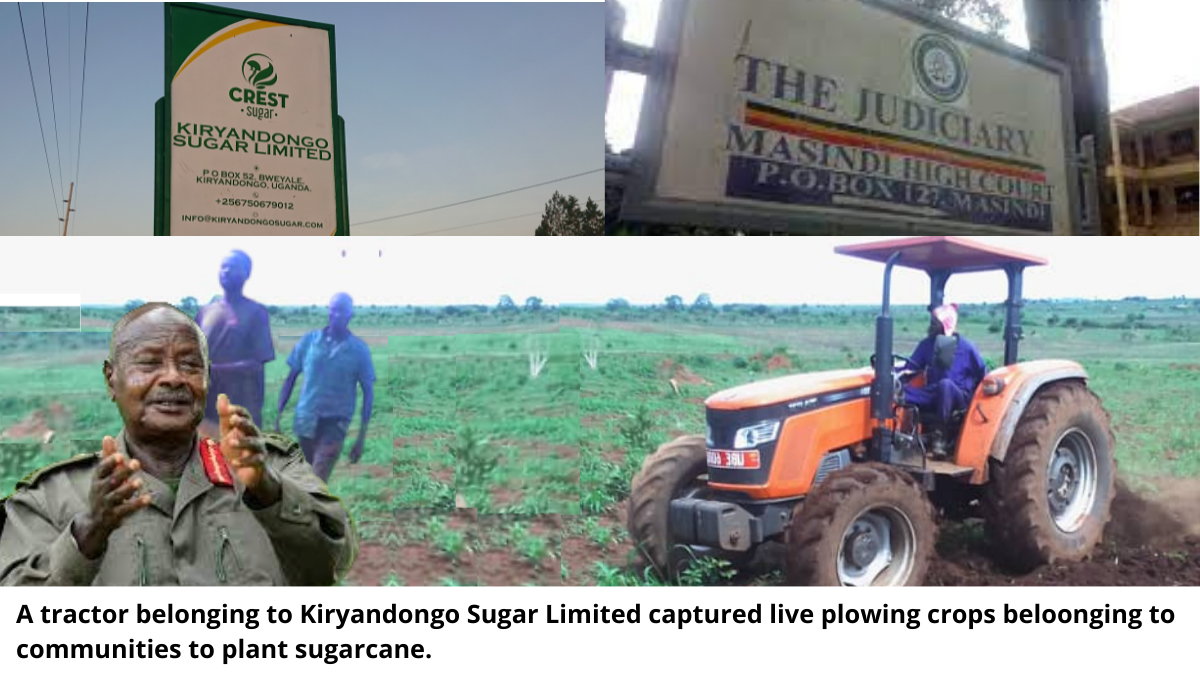 By Witness Radio Team
President Yoweri Museveni pledged to compensate Kiryandongo Sugar Limited forced eviction victims shortly after the Masindi High court fixed a hearing date.
Today, the 30th May 2022, Witness Radio lawyers, representing the victim community are in court as the hearing of the case kicks off.
A victim community that is part of a bigger group of 35,000 people being forced off their land by several multinationals, has suffered unabated violence and gross human rights violations/abuses orchestrated by government soldiers that grab land on behalf of the company.
Since 2017, a year after the company arrived in the area, human rights violations/abuses ranging from abduction, torture, and inhuman and degrading treatment, keeping people in kangaroo detention centers, rape, defilement, demolition of houses, cutting down food plantations for community members, demolishing of schools and private health centers to plowing gardens have been committed against local communities.
Kiryandongo Sugar Limited is one of the many companies owned by the Rai Group of Mauritius. The dynasty owns several other companies in DR Congo, Kenya and Malawi, and Uganda. A dynasty owns companies such as West Kenya Sugar (which owns Kabras Sugar), Timsales Limited, Menengai Oil Refineries, RaiPly, and Webuye Panpaper.
In Uganda, the Rai Group of Mauritius owns Nile Ply limited, Kinyara Sugar Limited, and Masindi Sugar Limited among others and one of its directors is a shareholder of a British Virgin Islands company, which was listed in the Panama Papers database recently.
The same company has fraudulently gotten a license to replace part of Bugoma natural forest with sugarcane plantation.
Mrs. Anna Maria Mukabaryanga, a mother of 5 is one of the hundreds of victims that have tested the wrath of the army. She sustained serious injuries during forced evictions.
"I was sternly beaten by Uganda People's Defense Forces soldiers (UPDF) on my back while I was pregnant. They were very many and eventually got a miscarriage and lost my twins. I did not get enough treatment since I did not have money to cater for the bills. I have visible scars and I cannot afford to do any work due to severe pain. It is hurting that I continue to suffer when the foreign company is reaping big on grabbed land. Whereas I lost everything during the evictions, I was not compensated nor treated. I am deeply suffering up to now." The 32-year-old recounts.
Although Anna Maria and her community have been tormented by forceful and violent evictions, they were blocked to open a case with the area police against the company.
"The police officers attached to Kiryandongo and Kimogola police units refused us to open cases of criminal trespass and destruction of property against the company. When we went to report, we were threatened with arrests, which caused us to abandon our fight for justice," Anna revealed.
The area Woman Member of Parliament, Hon. Hellen Max Kahunde said her office had been receiving several complaints of forced evictions, human rights violations by armed soldiers guarding Kiryandongo Sugar Company, and the little compensation offered to them.
"People were beaten, arrested, tortured, and forcefully evicted by the company on the land that they called home. People have visible scars resulting from the torture by the army on behalf of the investors. Can you imagine even the company went ahead to deduct the already undervalued properties by 40%? It's very unfair," she added.
While commissioning the $60 million equivalent to Uganda Shillings 216 billion, factory last week in Kimogora village in Kiryandongo, President Museveni said that the government will compensate the people despite encroachment on government ranch land.
In his speech quoted by one of Uganda's dailies, the Daily monitor on Monday 16th, Museveni said, "The squatters had encroached on government ranch land and were not bona fide occupants but are our people. Bonafide occupants are those who had stayed on the land before 1983, but these came much later. The NRM government, however, we will compensate them."
In 2020, the Kiryandongo affected victims through their lawyers from Witness Radio lodged a case at Masindi High court against the Kiryandongo Sugar Limited over forced eviction and committing human rights abuses/violations. The victims are seeking compensation and to be returned to their land.
The Masindi resident Judge Hon Jessie Byaruhanga fixed the hearing of Miscellaneous Cause Number 12 of 2020 of Otyaluk Ben Wilson and 8 others vs. Kiryandongo Sugar Company