Agribusiness and big finance's dirty alliance is anything but "green"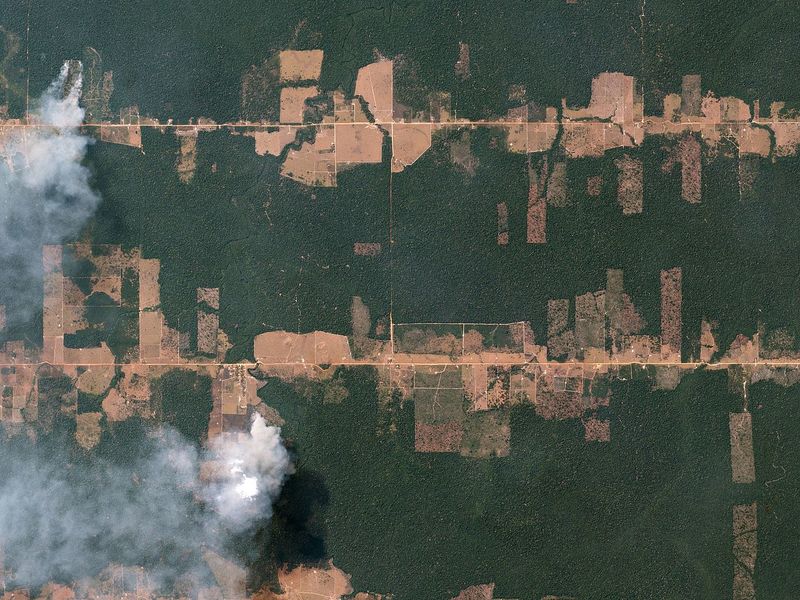 Big finance is concerned about the growing support for regulations on their investments, as well as for public control over the financing and implementation of the infrastructure and social services required to deal with today's multiple crises – be it climate change or Covid-19.
Green finance provides a way for financial companies to show that they can be trusted to oversee and administer "green" and "socially responsible" investments, and that laws and regulations that penalise and limit their lending to dirty companies are not needed. It also helps ensure that they are not sidelined by public programmes. Green finance keeps them in control over the flow of money, so they can continue to extract billions of dollars in fees and other charges.
This is the case in Colombia where a national programme called the "Investment Zones for Rural, Economic and Social Development" (ZIDREs) aims to allocate 7 million hectares of agricultural land to agribusiness companies.
The Brazilian government recently introduced legislation that simultaneously privatises large swaths of public land and allows agribusiness to issue bonds on financial markets using rural land as collateral. The bonds can be issued in foreign currencies and can be purchased by foreign companies or individuals.
Even the purchasing of green bonds could arguably be described as public. The biggest buyers of green bonds are, alongside development banks, institutional investors such as pension funds and asset managers like BlackRock. Most of the funds they manage are workers' retirement savings – now worth over USD 50 trillion dollars. This is fundamentally people's money, from which financial companies are making fortunes by extracting fees.
The key question is what actually constitutes a "green" investment? A dirty company like Amaggi or Shell can raise green funding for some segments of its operations where it may be putting in place alternative energies, while continuing to engage in overall business practices that contribute massively to the climate crisis and other environmental disasters.
Even with all this greenwashing, corporations are not carrying out enough "green" activities to absorb the money that big finance has on the table. So the "green" has to be invented, and agribusiness is well-positioned to provide the land and natural resources that can serve as collateral.
The food system accounts for over a third of all global greenhouse gas emissions, and agriculture takes up the largest share of emissions within this sector. Agriculture is also a leading cause of deforestation and land degradation – both of which have major implications for the climate. This means that agriculture is critical to reducing emissions and could help take CO2 out of the atmosphere by restoring it to the soil.
For agribusiness, therefore, there is a huge opportunity to access green finance for operations they claim will reduce their emissions, and to get paid through carbon credits for avoiding deforestation or regenerating soils on their farms or among their suppliers.
Digital agriculture companies also stand to win big from green finance. The early batch of green finance instruments indicates that many of the proceeds will be used to fund the adoption of digital technologies in agriculture under the assumption that these can create efficiency and reduce greenhouse gas emissions.
The project measures, tracks and provides a continuous digital record of the soil emissions produced by soybean farmers supplying Cargill.
All of this clearly adds up to more corporate and financial control; it is a lot harder to see how it will make things greener.
Investment in the expansion of agribusiness can never be "green". Nor does it seem possible for big finance to invest in anything other than agribusiness when it comes to agriculture. Both depend on the financialisation of nature and the relentless dispossession of people's control over their lands, forests, waters and biodiversity. Under global finance's new green architecture, the formula remains the same: capture public goods and spending to maximise profits for a select group of investors, while providing large polluting corporations with access to a new source of "green" money to maintain business as usual. The only difference this time is that "nature" is being used directly for the issuance of debt.
Whether it is called "green" or "socially responsible", nothing good can come out of the marriage of big finance and corporate agribusiness. Food sovereignty – the only viable solution for climate justice – will not be financed by Wall Street or the City of London, nor will it be constructed by Cargill and Bayer. It can only be built when people take back control over their lands, seeds, knowledge, and the money supply too.
Green bond worth USD 94 million issued in 2020. It was raised in green agribusiness bonds (Agribusiness Receivables Certificates) to be applied in digital and low Carbon Farming Practices, Integrated Systems (Crop-Livestock) in its 460 thousand hectares of soy, maize and cotton monoculture plantations. The green bond was issued through 

Bradesco bbi, Itaú and Santander banks

.

The second party opinion (SPO), Resultante, listed in its report several passages linking SLC Agricola with environmental crimes and land grabbing. Although it was approved, the issuance of the green bond was validated with the recommendation of not allocating the funds to those questionable 

areas.

Sustainability bond worth USD 750 million in 2021 to be applied to its 170 thousand hectares in a mix of environment projects such as renewable energy and land use, as well as in socio-economic activities as job creation. The bond 

was coordinate

d by BNP Paribas, Bradesco Securities, Inc., Citigroup Global Markets, Inc., Itaú BBA USA Securities, Inc., JP Morgan Chase & Co., Rabobank and

 Santander Investment.

Green bond of EUR 75 million (USD 89 million). to be issued in Europe in 2021. 

Proceeds

 will be used for various activities including reducing greenhouse gas emissions and expanding

 its farming operations.

Olam has 

secured

 three "green" loan facilities since 2018 from different consortiums of banks: a sustainability-linked loan of USD 500 million in 2018, a USD 525 million sustainability-linked revolving credit facility in 2019 and a

 USD 525 million sustainability loan in 2020– all to be used for general spending but with an interest margin dependent on Olam's ability to meet various targets. In 2019 it launched the world's first "digital loan" of USD 350 million.

Olam is an Indian non-resident company based in Singapore. It is one of the world's largest commodity traders and has invested heavily in farming operations and contract farming schemes, particularly in Africa and Latin America. It is part-owned by Singapore's sovereign wealth fund Temasek and Japan's Mitsubishi. It claims to have 2.4 million hectares under direct management, including a 

controversial

 144,000 hectare

 oil palm plantation concession in Gabon.

Sustainability-linked loan with 20 banks, worth USD 2.3 billion in 2019. 

ING, BBVA and Rabobank acted as sustainability coordinators. ABN AMRO has acted as coordinator and facility agent.

In July 2021, Samunnati 

issued

 a USD 4.6 million agricultural green bond via the market platform Symbiotics. The proceeds are to be "fully allocated towards climate smart agriculture."

Samunnati is an Indian micro-credit lender for farmers and agribusiness. Its investors include the US pension fund TIAA and the US government's International Development Finance Corporation.

A ten-year loan of USD 50 million to soybean suppliers in Cerrado to support a deforestation-free target. This is Santander Bank and The Nature Conservancy ("TNC") financial mechanism that is not formally considered as green finance, but that links the expansion of soy to

 a "compliance with environmental law" in Brazil.

The 

Responsible Commodities Facility (RCF

) and the 

Soft 

Commodities

 Forum 

Platform, bring together giant agribusiness traders (ABCD, Cofco, Viterra -ex Glencore Agriculture)

 to issue new "green" agribusiness debt instruments for the expansion of soybean plantations over pasture areas.

Land Innovation Fund

,

 created with Cargill's USD 30 million to support the expansion of soybean over degraded pasture areas in Argentina and Paraguay's Cerrado and Grand Chaco. The fund is incorporating the suppliers into a traceability chain for measuring soil carbon emissions. 

The Bank of Cargill

 is increasing its use of agribusiness bonds to fund soybean suppliers, with a rise of 30% in 2020 in Agribusiness Letters of Credit. The company is part of the Brazilian Initiative

Cargill is perhaps the soybean trader most linked to deforestation and fires in their supply chain. In 2019, Nestlé 

stopped

 sourcing all of its purchases of Brazilian soy from Cargill with the trader not being able to trace soybeans from its suppliers. In 2020, Norwegian Grieg Seafood did not allow any funds from its Green Bond worth 

USD 103 million to be used to purchase feed supply from Cargill

 until the company had significantly reduced itsrisk of soybean

-related deforestation in Brazil.

One

sustainable transition bond

 worth USD 500 million issued in 2019 through BNP Paribas, ING and Santander, to purchase deforestation-free cattle from direct suppliers in Amazonia.

One

sustainability-linked loan

 worth USD 30 million in 2021 as part of green financing to support Mafrig's transition to a

 no-deforestation requirement across its entire chain.

The first labelled "transition bond" issued in the world, after the green bonds held by one of the world's biggest beef producers were refused by investors. The bond was re-labelled to support high-emitting companies that do not fit green bonds requirements to clean up their supply chain. Only two other transition bonds of this kind were issued in 2020 due to the lack of reliability.

Green bond worth USD 5 million issued as a green agribusiness bond (Agribusiness Receivables Certificates) to support the expansion of regenerative and organic agriculture production in its 1200 hectares located in São Paulo, Brazil. It was structured by the financial consultancy Ecoagro.

The first certified agriculture green bond issued in the world, according to the new CBI principles for the agriculture sector. According to Rizoma's founding partner, Pedro Paulo Diniz, regenerative agriculture has the potential to offset "more than 100% of human carbon emissions" and often "has more biodiversity than a native forest".

Chilean salmon farmer Ventisqueros 

announced

 at the end of 2020 that it had landed a USD 120 million green loan from banks Rabobank and DNB. The proceeds will fund the expansion of production from the current 40,000 metric tonnes to 

60,000 metric tonnes.

In 2019, there was a massive 

escape

 of salmon from one of Ventisqueros' farms in Chiloé leading to a complaint from the National Fisheries and Aquaculture Service (Sernapesca) before the Superintendency of the Environment and in court. The company has also 

refused

 to comply with a sentence issued by the Council for Transparency ordering them to provide Oceana with data on their use of antibiotics in 2015, 2016 and 2017.

Mowi

Mowi 

completed

 a USD 165 million green bond in 2020, the first green bond issued by a seafood company. The proceeds will be used for green projects as defined by Mowi's 

green bond framework

.

Norway-based Mowi is the world's largest aquaculture company and largest salmon producer. It is 

notorious

 for the aggressive tactics it deploys against critics and for the damage it has caused to the environment, particularly to 

wild salmon stocks.

Long-term loan for the recovery of degraded pasture areas by soybean planting via the Reverte programme, led by Syngenta in partnership with TNC and Itaú bank. Although not formally a "green loan", the Itaú bank already reserved USD 86 million to "restore" 

30 thousands hectares in Cerrado with soybean and other inputs provided by Syngenta.

The Reverte programme announced by Syngenta aims to "restore" 1 million hectares by 2025. In addition to using green finance to sell inputs and the obligation to use the traceability system, the Syngenta Group traded the seeds in exchange for the soybean harvest (barter operation) and operated the export 

of the company's first cargo ship of soybeans from Brazil to China

.

One sustainability-linked bond worth USD 26 million with Credit Suisse Bank and one sustainability-linked loan of USD 33 million in 2020 with Santander bank, conditioned to: reducing the carbon footprint; improving the traceability of suppliers, and disclosure and transparency in its

 annual reports.

This was the first green agribusiness bond for the bioenergy sector, called Agribusiness Receivable Certificates (CRA). The company produced 100% of ethanol for maize. The bioenergy sector, along with the forestry sector, is one of the biggest issuers

 of green and sustainability bonds.

Four

 Green bonds since 2016

 totalling USD 1.6 billion for pulp and paper industrial forestry. The offering was coordinated by J.P. Morgan, Goldman Sachs, Morgan Stanley, Bank of America, BNP, Crédit Agricole, MUFG, Santander, Rabobank, SMBC Nikko, Scotiabank and Mizuho.

Two sustainability-linked bonds (SLB) totalling USD 1.2 billion in 2020 and another

 USD1 billion SLB issued in June 2021

, through BNP Paribas, BofA, J.P. Morgan, Mizuho, Rabo Securities and Scotiabank.

Both SL bonds and loans are linked to reducing the company's direct emissions and water consumption across all its operations and purchases (scopes 1 and 2) and also have an "inclusion" target to have woman in leadership positions.

Suzano was the first issuer of green bonds and sustainability-linked bonds in Brazil and has 37% of its debts tied to green finance. Suzano S.A has more than 1 million hectares of industrial pine and eucalyptus monoculture plantations in Brazil and is historically linked 

to a

 series of human rights violations

 against local communities and the 

labour rights of its workers

.

Sustainability bond worth USD 95 million issued in 2018 by the USAID initiative Tropical Landscapes Financing Facility (TLFF) through BNP Paribas in partnership with WWF. The bond was issued to fund 88 thousand hectares of

 rubber plantation for PT Royal Lestari Utama (RLU), an Indonesian joint venture between France's Michelin and Indonesia's Barito Pacific Group.

Asia's first sustainability debt instrument

and part of the 

Memorandum of Understanding

 between UN Environment and BNP Paribas that was signed at the One Planet Summit in Paris in December 2017. The target is to reach USD 10 billion of

 innovative sustainable finance by 2025 for projects that support sustainable agriculture and forestry in ways that help solve the climate crisis.
The committee calls for the protection of projects' host communities.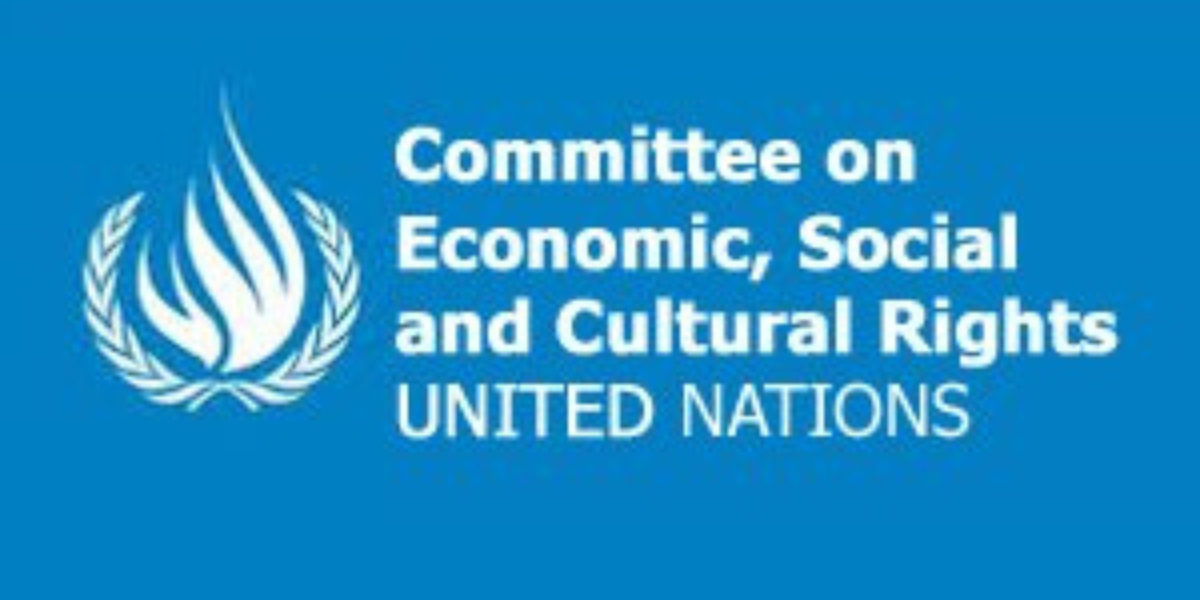 By Witness Radio team
Development Banks and investors have been urged to invest in activities or projects that do not deprive individuals or communities of access to land or land-associated resources on which they depend for their livelihoods.
The negative effects arising from the projects funded by some development banks and investors have forced the Committee on Economic, Social, and Cultural Rights General Comment No. 26 (2022) on Land and Economic, Social and Cultural Rights while giving its general comment on land to call on development banks and states hosting the projects to refrain from actions that interfere, directly or indirectly, with the enjoyment of the Covenant rights in land-related contexts outside their territories
In 2014, an investigation by the International Consortium of Investigative Journalists revealed that some 3.4 million of the most vulnerable people were left homeless by the projects funded by World Bank. Till today, more of the bank's funded projects continue to harm communities.
Currently, there is an ongoing mediation process between the project-affected persons of Kawaala Zone II and Kampala Capital City Authority, an implementer of a World Bank funded-project over human rights violations.  In December 2020, their houses were marked with an x as a sign of demolition and later some of the residents' crops got destroyed.
In the Pakwach district, the Paten clan continues to experience gross human rights violations arising from the Wadelai Irrigation Scheme implementation funded by the African Development Bank (AfDB).
According to the communities, the project forcefully acquired more land for the Wadelai Irrigation Scheme project under The Farm Income Enhancement and Forestry Conservation Project-Phase 2 (FIEFOC-2). This was contrary to the earlier understanding with the community that the project would utilize 365 acres which the community had freely offered for the project. Instead, 365 hectares were forcefully acquired.
The committee while reviewing state parties' reports, claims has encountered an increasing number of references to the negative impact on individuals, groups, peasants, and indigenous peoples' access to productive resources, as a result of international investment negotiations, agreements, and practices, including in the form of public-private partnerships between state agencies and foreign private investors
The committee says land transfers are quite often financed by international actors, including public investors such as development banks financing development projects requiring lands, such as dams or renewable energy parks, or by private investors.
"Parties must take concrete measures to prevent their domestic and international policies and actions, such as trade, investment, energy, agricultural, development and climate change mitigation policies, from interfering, directly or indirectly, with the enjoyment of human rights that applies to all forms of projects implemented by development agencies or financed by development banks." The committee noted.
Adding that " there is a need to establish the necessary regulatory mechanisms to ensure that business entities, including transnational corporations, and other non-State actors that they are in a position to regulate, not impair the enjoyment of Covenant rights in land-related contexts in other countries and moving the necessary steps to prevent human rights violations abroad in land-related contexts by non-State actors over which they can exercise influence, without infringing the sovereignty or diminishing the obligations of the host States."
The committee further emphasized the conduct of human rights impact assessments before making such investments and regularly assess and revise them. Such assessments shall be conducted with substantive public participation and the results shall be made public and inform measures to prevent, cease and remedy any human rights violations or abuses.
In addition to responsible investment, the committee directed states to take all necessary measures to respect human rights defenders and their work, including concerning land issues and to refrain from imposing criminal penalties on them or enacting new criminal offenses to hinder their work.
World Bank extends the Lubigi drainage project dispute resolution process for another six months.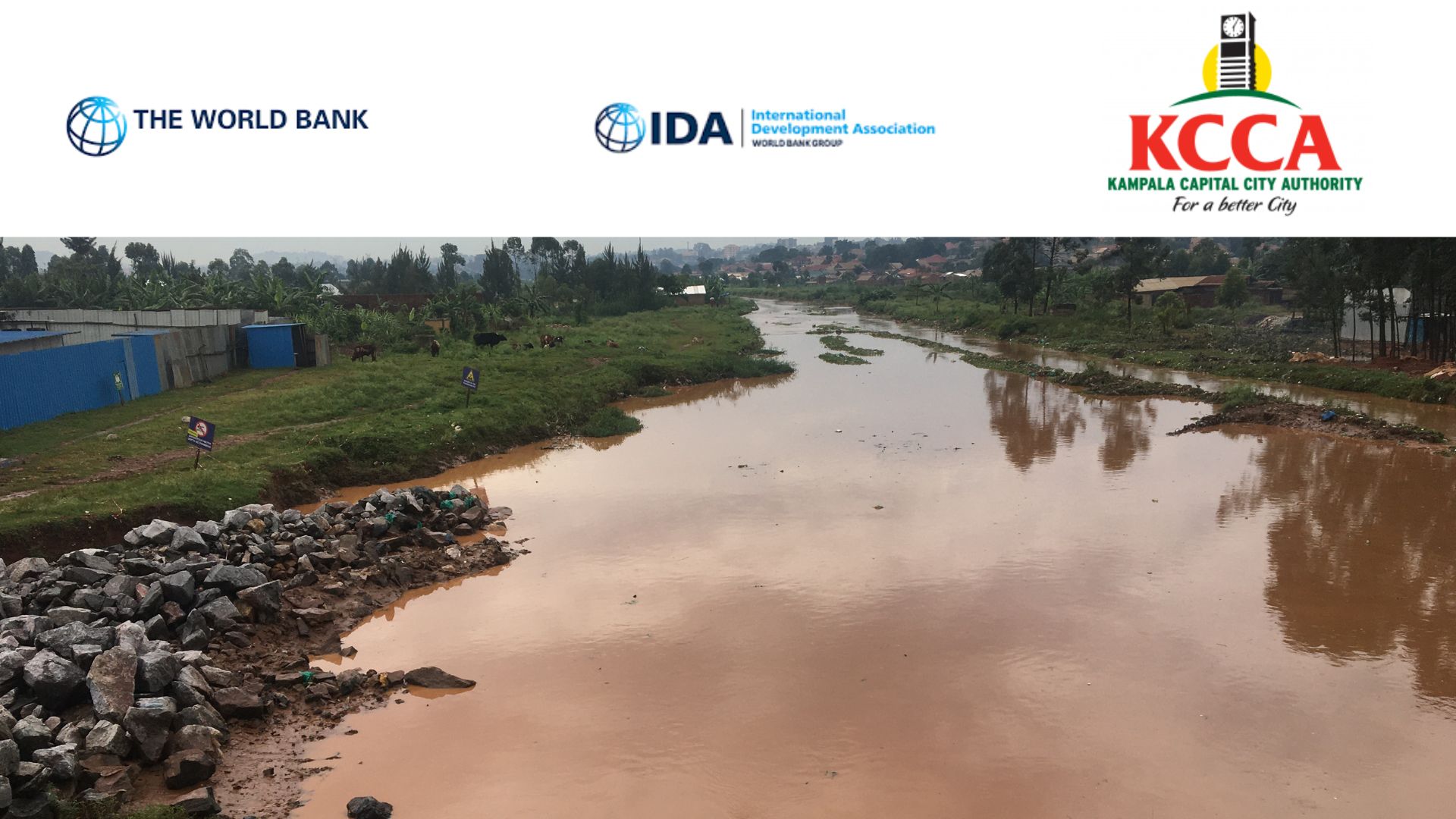 By Witness Radio Team.
The World Bank, Accountability Mechanism has granted the Parties involved in a dispute resolution case in Uganda an additional six months with expectations of achieving better mediation in the ongoing dispute resolution between the Kampala Capital City Authority (KCCA) and the Projected Affected Person.
According to the brief by World Bank Accountability Mechanism Secretary, Ms. Orsolya Szekely, the DRS extended the dispute resolution process which was supposed to end in December 2022, to six months which began this January 2023. Orsolya believes the added time will help all the parties resolve their differences.
The World Bank Accountability Mechanism is an independent complaints mechanism for people and communities who believe that they have been or are likely to be harmed by a World Bank-funded project.
The extension follows the failure to negotiate between the two parties in one-year-long negotiations of the dispute resolution process which started in December 2021.
The Kampala Capital City Authority is implementing the Lubigi drainage Channel expansion project under the KIIDP-2 with funding from the World Bank.
On December 3, 2020, the Kawaala communities were shocked to find KCCA representatives in their village, accompanied by armed police officers, distributing eviction notices and informing residents that they had 28 days to vacate their homes. A few days later, for instance, in the wee hours of 05th/12/2020, the community started experiencing attacks by armed anti-riot police and workers of the construction company; destroying properties, without any prior consultation or plan for compensation and resettlement.
In a bid to find justice, in June 2021, the affected community filed a complaint with the World Bank's Inspection Panel raising concerns about forced evictions during COVID-19.
According to the complaint filed against KCCA, the implementor of the KIIDP-2 project excluded the affected community from benefiting from the Project's Resettlement Plan (RAP) and instead resorted to the use of force to have them evicted. Following the intervention of the World Bank, KCCA conducted another Project's Resettlement Plan. However, according to the affected community, the process was rushed and intended to promote inequality.
The project is marred with retaliatory attacks from people believed to be project implementers against project affected community.
The Accountability Mechanism's operating procedures allow for a one-year period for all parties to resolve, with a six-month extension period in case parties fail to reach an amicable understanding.
Festive holiday forced evictions: armed gangs linked to a Chinese tree planting company descend on a village, severely beat and wound dozens of villagers.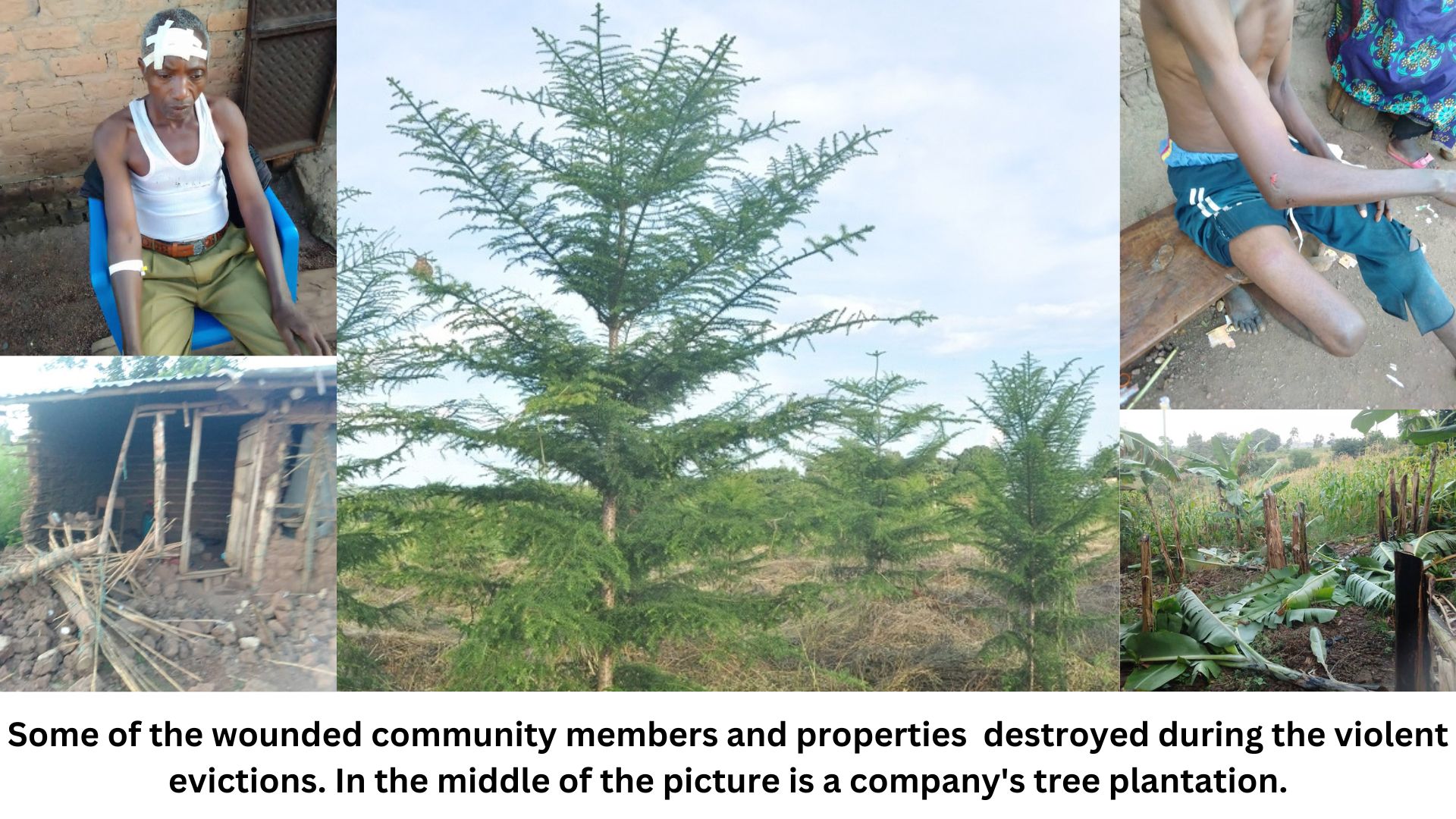 By Witness Radio Team
A festive holiday is happily waited for by many people in every corner of the world. It's a period for merry-making and family get together. In Africa, particularly in Uganda, most people travel from towns to their ancestral homes to spend that time with family members, make parties and meet longtime childhood friends.
For a community at Kicuculo village, Kiruuma Sub-county, in Mubende district was a different experience. The much-awaited season was marred with violence, anxiety, and death threats from Formasa Tree Planting company targeting the community's land to expand its commercial trees business.
Formosa is a Chinese-owned tree-planting company planting pine and eucalyptus trees in the Mubende district, Central Uganda.
Ugly incidents started happening on December 7th, 2022 in the wee hours of that night. A group of over 20 casual workers linked to Formasa invaded homesteads, started cutting people with pangas, and beat everyone found in their houses accompanying them with threats to kill them if they don't leave the land.
Three people were hacked with pangas and clobbered with sticks by armed company laborers in an attempt to force them off the land they have lived on for decades.
While more than seven (7) people got hospitalized after sustaining deep cut wounds during the scuffle. Mr. Byakatonda David who sustained a deep cut wound on the head narrates his ordeal. "At around 11 pm, I heard my neighbor crying for help, and decided to respond. On reaching there, I found a group of armed workers from Formosa destroying his house while others were beating him. When one of them saw me, "he said, he is also among the people on our wanted list".
"I wanted to run but was immediately caught by the rogues. They beat me and left me unconscious with deep cuts on my head. I got back to my normal senses admitted and bandaged at Maduddu Health Center II." The father of 13 revealed this in his interview with the Witness Radio team.
According to his relatives, they found him lying in a pool of blood and rushed him to the hospital. "We waited for someone who had gone to the neighborhood to respond to an alarm, but he wasn't returning. Due to fear, we searched only to find him bleeding on his head and lying in blood. I called the chairman on the phone who helped with a BodaBoda motorcycle to rush him to the hospital." His wife revealed.
Violent forced evictions in the Mubende district occurred despite a government ban on evictions during the festive seasons. The lands minister, honorable Judith Nabakooba on December 2022, ordered that no family should be evicted during the festive holiday. She directed police and Resident District Commissioners (RDCs) to respect the order.
Mr. Byamukama Yuda, an area chairman of Kicuculo village told Witness Radio that Formosa company is a threat in their village because of continuous and violent attacks on his people for refusing to surrender their land to the company to grow commercial trees.
"Ever since the company started operations in 2012, the company under the protection of the police has been grabbing people's land, beating them, raping women and young girls, cutting them, and causing arrests to community land rights defenders. Over 2500 hectares of people's land have been grabbed and rendered families landless. And for only 2022, over 100 people have been terrorized by angry company workers." He added.
He further said company workers seem to have powerful people protecting them and respect or fear no one. Adding that on Christmas, a group of workers went to his home and threatened him to be castrated in front of his wife and children.
The same company in 2017 caused the arbitrary arrest, and imprisonment of 5 community land rights defenders for 15 years and 35 years on murder and other charges. The five among others include; Paul Sinamenya, Richard Ssemombwe, Fenehansi Kaberuka, Esau Hategeka, Godfrey Bukenya, Yonnah Ssebanenya, and Sserugo Sam Ssemigo
Witness Radio has since appealed against the conviction on grounds that the evidence relied on by the court was doctored.
When we contacted the Company Manager, Ms. Annah Kyoheirwe, she declined to discuss the allegations. She said she was busy attending a meeting and hung up.