Impacts of Projects funded by Development Finances: Case series of local landlords in Ugandan that have been reduced to casual laborers.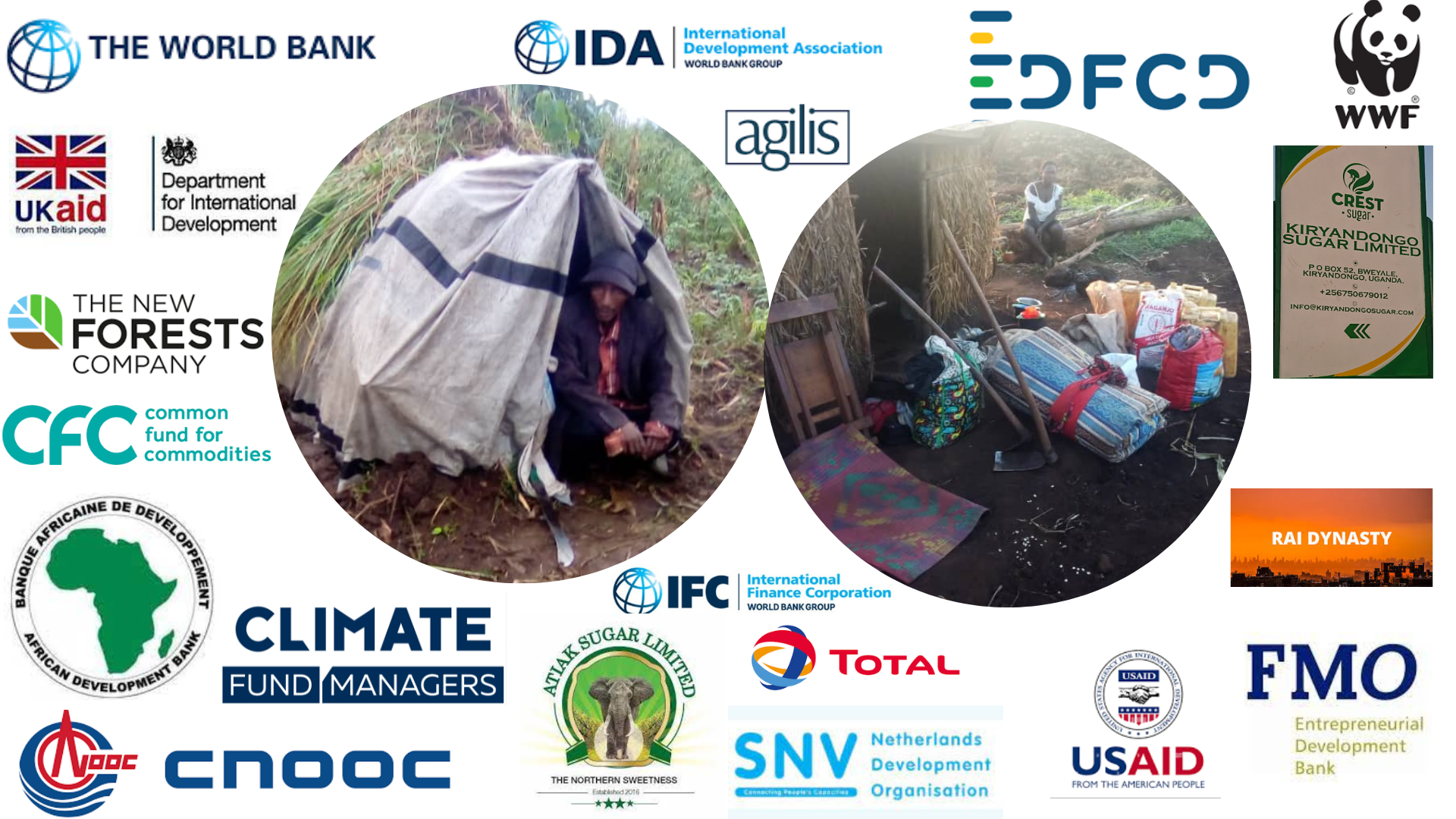 By Witness Radio– Uganda Team
Communities in Uganda whose land is targeted for industrial agriculture, mining, carbon credit tree planting, infrastructural development projects, and others will take decades to understand the 'true' meaning of the word "development" due to sufferings associated with forced land acquisition
To them, the development-financed projects mean kidnapping, causing disappearance and torturing of landowners that resist violence from the time of acquiring land for investments, gang raping of women by companies' workers, and destruction of properties worth millions of dollars among other human rights violations/abuses.
Kikungulu, one of the villages affected by harmful investments in Kiryandongo, a Mid-Western District in Uganda, was once a community of budding smallholder farmers. Gifted with fertile soils, and hospitable culture attributable to its cosmopolitan fabric is no more.
Between 2017 and 2018, Kiryandongo Sugar Limited, a subsidiary of Rai Dynasty based in Kenya, under the guard ship of soldiers cladding Uganda People Defense Forces (UPDF) uniforms, forcefully evicted communities in the Kiryandongo district without prior consultation, compensation, or being offered alternative resettlement.
Tusabe Emmanuel is one of the farmers whose land was forcefully taken by Kiryandongo Sugar limited. He said before losing his land, he would harvest over 12 bags of maize and eight (8) bags of sorghum from his land, which could earn him at least Uganda Shillings over 3.6 million, equivalent to US dollar 1,100 that would cater to the needs of his family.
"I fed my family well, educated my children, and provided basic needs from the proceeds of my harvest" Tusabe, a 25-year-old, reminisced about his past.
Over 15000 smallholder farmers lost their farming land to the company and were left to gamble for life. The company is currently using land that belonged to smallholder farmers to grow sugarcane as raw materials for its sugar factory.
In May 2022, while commissioning the company's 60 million United States Dollars Kiryandongo Sugar Plant, President Yoweri Museveni urged the evictees to maximize the low-lying benefits associated with a project by seeking employment opportunities.
From a landlord to a laborer: after losing his livelihood, Tusabe sought employment from his evictor Kiryandongo Sugar limited. In an interview with Witness Radio, he sought and got employment, as a casual laborer and paid a daily payment of 3500/= which is equivalent to 0.98 United States Dollars on which shillings 1500 is deducted for his lunch hence remaining with 2000/= that tallies to 60,000/= UGX (15.94 USD) a month.
After a year, he had to quit the job over low payment. He said because there was no other way one could survive without land other than being a slave to the evictor and getting paid peanuts.
"Our dreams were shattered by a company, which took our land for free and claimed was bringing development and employment. This was a myth. We do not have investors instead we have parasites surviving on our resources" he said.
He further revealed that after losing his land, he can not feed his family as all his children have since dropped out of school.
Another case involves New Forests Company (NFC), which plants monoculture forests for carbon credit mitigation. Between 2006 and 2010, more than 10,000 people were forcefully evicted from their lands in the district of Mubende to make way for monoculture tree plantations.
Following the forced eviction of locals from their land, exemplary villages no longer exist. Acreages of banana, coffee, and maize crops, among others, were razed down, and families were brutally evicted by the London-based New Forests Company (NFC).
NFC is currently also benefiting from a new project supported by the Dutch Fund for Climate and Development (DFCD); 160 million euros (more than 185 million dollars) from the Dutch government fund that aims to mobilize private sector finance into carbon projects. The DFCD is managed by investment manager Climate Fund Managers (CFM), NGO Worldwide Fund for Nature Netherlands (WWF-NL), and NGO SNV, and it is led by the Dutch Development Bank, FMO.
In August 2020, DFCD approved a 279,001 euros (around 327,000 dollars) grant and WWF technical assistance package for the New Forests Company (NFC) to develop the final business investment proposal for carbon certification in Uganda for sustainable smallholder growth and timber market diversification. In reality, this would translate into generating carbon finance to support expanding their monoculture plantations and land grabbing.
A 59-year-old Steven Ndyanabo still recounts the misery caused by the eviction. He said on a fateful day, he lost his garden of 35 acres in Kicucula village, houses were destroyed, and livestock was looted. His property was not inherited from his parents but bought them using his hard-earned money.
"I received no compensation after the eviction not even being resettled. My family of 14 lives in poor life. We currently live on my brother's half-acre land in the Rakai district. My children have nothing to eat, and dropped out of school as the majority of them have been forced into early marriages because of the situation were forced into by an investor.
He added that he was one of the richest people in the area, with plantations of maize, beans, bananas, and coffee that I grew at my farm. He further said, he would earn about 5 million enabling me to live a better life.
The committee calls for the protection of projects' host communities.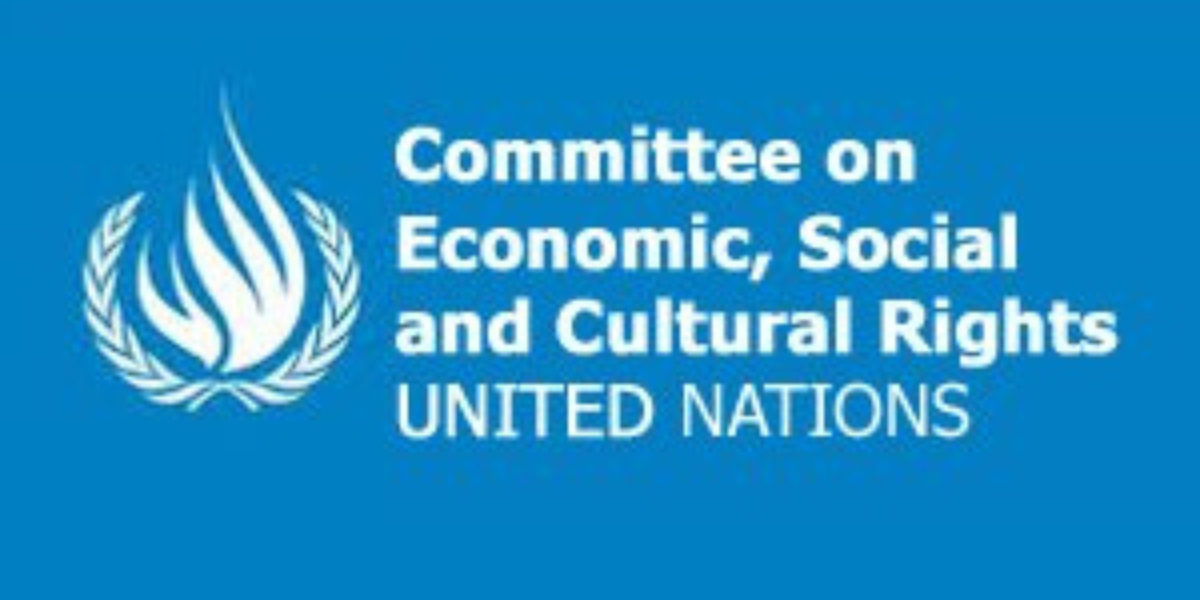 By Witness Radio team
Development Banks and investors have been urged to invest in activities or projects that do not deprive individuals or communities of access to land or land-associated resources on which they depend for their livelihoods.
The negative effects arising from the projects funded by some development banks and investors have forced the Committee on Economic, Social, and Cultural Rights General Comment No. 26 (2022) on Land and Economic, Social and Cultural Rights while giving its general comment on land to call on development banks and states hosting the projects to refrain from actions that interfere, directly or indirectly, with the enjoyment of the Covenant rights in land-related contexts outside their territories
In 2014, an investigation by the International Consortium of Investigative Journalists revealed that some 3.4 million of the most vulnerable people were left homeless by the projects funded by World Bank. Till today, more of the bank's funded projects continue to harm communities.
Currently, there is an ongoing mediation process between the project-affected persons of Kawaala Zone II and Kampala Capital City Authority, an implementer of a World Bank funded-project over human rights violations.  In December 2020, their houses were marked with an x as a sign of demolition and later some of the residents' crops got destroyed.
In the Pakwach district, the Paten clan continues to experience gross human rights violations arising from the Wadelai Irrigation Scheme implementation funded by the African Development Bank (AfDB).
According to the communities, the project forcefully acquired more land for the Wadelai Irrigation Scheme project under The Farm Income Enhancement and Forestry Conservation Project-Phase 2 (FIEFOC-2). This was contrary to the earlier understanding with the community that the project would utilize 365 acres which the community had freely offered for the project. Instead, 365 hectares were forcefully acquired.
The committee while reviewing state parties' reports, claims has encountered an increasing number of references to the negative impact on individuals, groups, peasants, and indigenous peoples' access to productive resources, as a result of international investment negotiations, agreements, and practices, including in the form of public-private partnerships between state agencies and foreign private investors
The committee says land transfers are quite often financed by international actors, including public investors such as development banks financing development projects requiring lands, such as dams or renewable energy parks, or by private investors.
"Parties must take concrete measures to prevent their domestic and international policies and actions, such as trade, investment, energy, agricultural, development and climate change mitigation policies, from interfering, directly or indirectly, with the enjoyment of human rights that applies to all forms of projects implemented by development agencies or financed by development banks." The committee noted.
Adding that " there is a need to establish the necessary regulatory mechanisms to ensure that business entities, including transnational corporations, and other non-State actors that they are in a position to regulate, not impair the enjoyment of Covenant rights in land-related contexts in other countries and moving the necessary steps to prevent human rights violations abroad in land-related contexts by non-State actors over which they can exercise influence, without infringing the sovereignty or diminishing the obligations of the host States."
The committee further emphasized the conduct of human rights impact assessments before making such investments and regularly assess and revise them. Such assessments shall be conducted with substantive public participation and the results shall be made public and inform measures to prevent, cease and remedy any human rights violations or abuses.
In addition to responsible investment, the committee directed states to take all necessary measures to respect human rights defenders and their work, including concerning land issues and to refrain from imposing criminal penalties on them or enacting new criminal offenses to hinder their work.
World Bank extends the Lubigi drainage project dispute resolution process for another six months.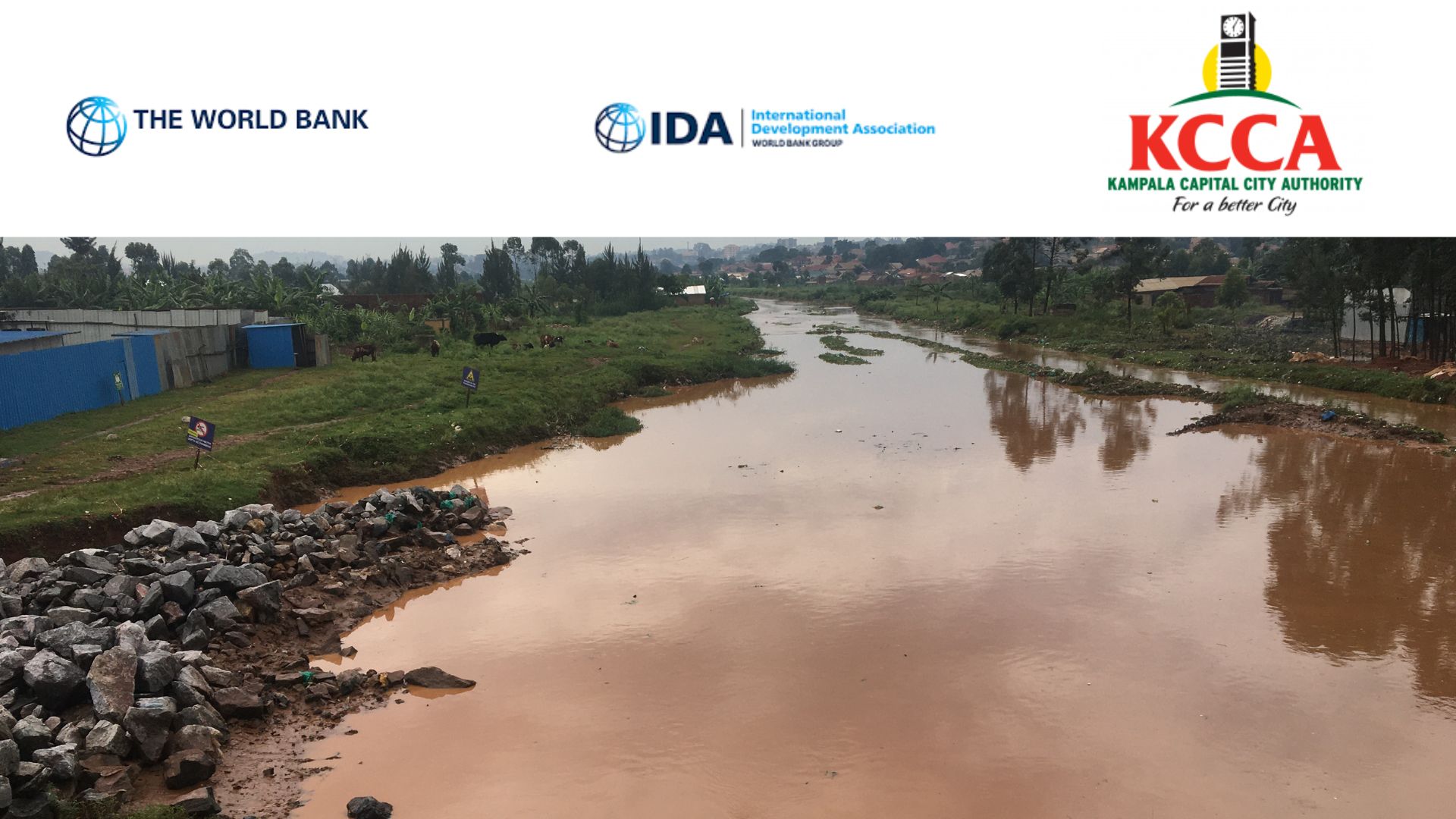 By Witness Radio Team.
The World Bank, Accountability Mechanism has granted the Parties involved in a dispute resolution case in Uganda an additional six months with expectations of achieving better mediation in the ongoing dispute resolution between the Kampala Capital City Authority (KCCA) and the Projected Affected Person.
According to the brief by World Bank Accountability Mechanism Secretary, Ms. Orsolya Szekely, the DRS extended the dispute resolution process which was supposed to end in December 2022, to six months which began this January 2023. Orsolya believes the added time will help all the parties resolve their differences.
The World Bank Accountability Mechanism is an independent complaints mechanism for people and communities who believe that they have been or are likely to be harmed by a World Bank-funded project.
The extension follows the failure to negotiate between the two parties in one-year-long negotiations of the dispute resolution process which started in December 2021.
The Kampala Capital City Authority is implementing the Lubigi drainage Channel expansion project under the KIIDP-2 with funding from the World Bank.
On December 3, 2020, the Kawaala communities were shocked to find KCCA representatives in their village, accompanied by armed police officers, distributing eviction notices and informing residents that they had 28 days to vacate their homes. A few days later, for instance, in the wee hours of 05th/12/2020, the community started experiencing attacks by armed anti-riot police and workers of the construction company; destroying properties, without any prior consultation or plan for compensation and resettlement.
In a bid to find justice, in June 2021, the affected community filed a complaint with the World Bank's Inspection Panel raising concerns about forced evictions during COVID-19.
According to the complaint filed against KCCA, the implementor of the KIIDP-2 project excluded the affected community from benefiting from the Project's Resettlement Plan (RAP) and instead resorted to the use of force to have them evicted. Following the intervention of the World Bank, KCCA conducted another Project's Resettlement Plan. However, according to the affected community, the process was rushed and intended to promote inequality.
The project is marred with retaliatory attacks from people believed to be project implementers against project affected community.
The Accountability Mechanism's operating procedures allow for a one-year period for all parties to resolve, with a six-month extension period in case parties fail to reach an amicable understanding.
Festive holiday forced evictions: armed gangs linked to a Chinese tree planting company descend on a village, severely beat and wound dozens of villagers.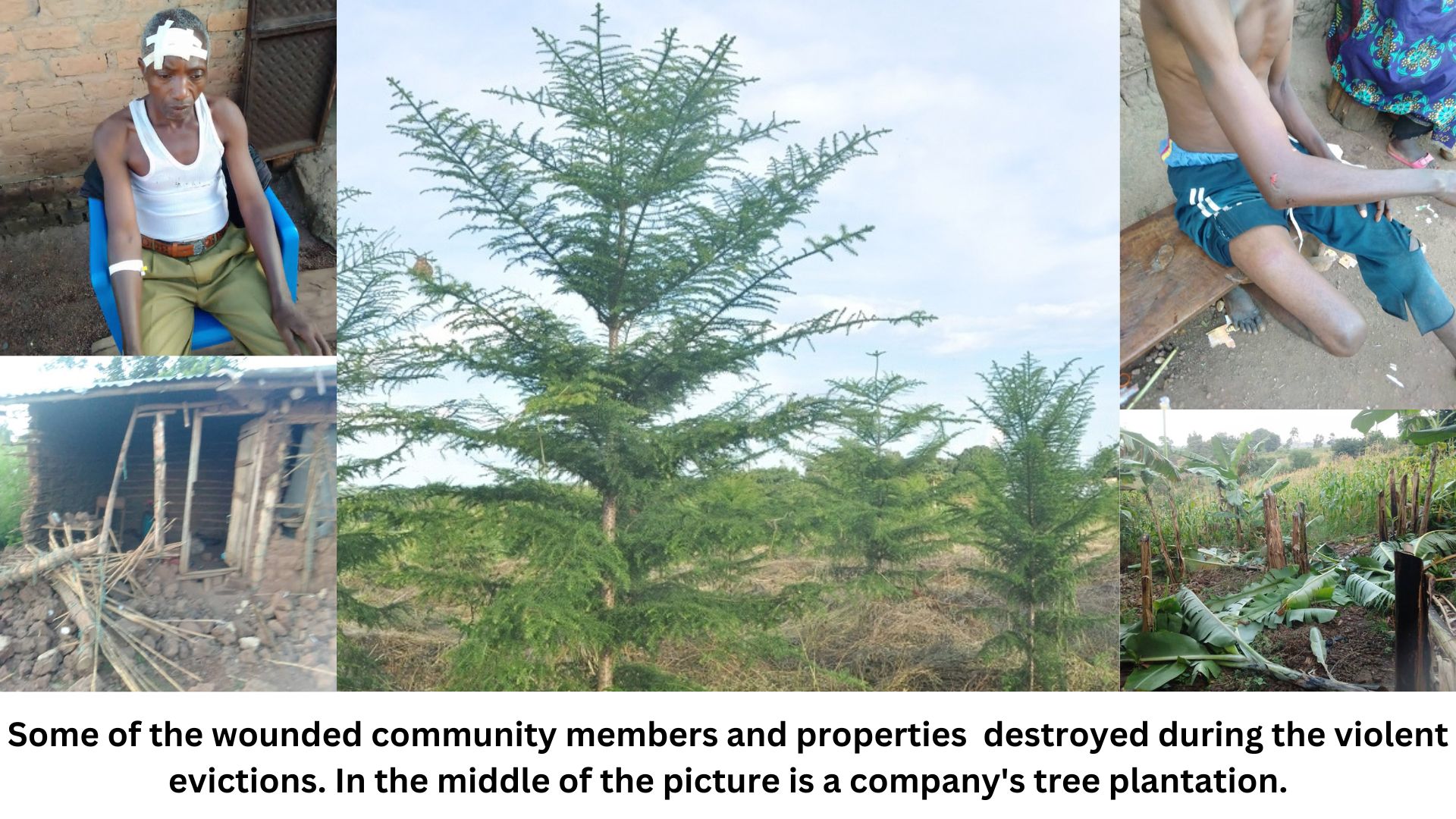 By Witness Radio Team
A festive holiday is happily waited for by many people in every corner of the world. It's a period for merry-making and family get together. In Africa, particularly in Uganda, most people travel from towns to their ancestral homes to spend that time with family members, make parties and meet longtime childhood friends.
For a community at Kicuculo village, Kiruuma Sub-county, in Mubende district was a different experience. The much-awaited season was marred with violence, anxiety, and death threats from Formasa Tree Planting company targeting the community's land to expand its commercial trees business.
Formosa is a Chinese-owned tree-planting company planting pine and eucalyptus trees in the Mubende district, Central Uganda.
Ugly incidents started happening on December 7th, 2022 in the wee hours of that night. A group of over 20 casual workers linked to Formasa invaded homesteads, started cutting people with pangas, and beat everyone found in their houses accompanying them with threats to kill them if they don't leave the land.
Three people were hacked with pangas and clobbered with sticks by armed company laborers in an attempt to force them off the land they have lived on for decades.
While more than seven (7) people got hospitalized after sustaining deep cut wounds during the scuffle. Mr. Byakatonda David who sustained a deep cut wound on the head narrates his ordeal. "At around 11 pm, I heard my neighbor crying for help, and decided to respond. On reaching there, I found a group of armed workers from Formosa destroying his house while others were beating him. When one of them saw me, "he said, he is also among the people on our wanted list".
"I wanted to run but was immediately caught by the rogues. They beat me and left me unconscious with deep cuts on my head. I got back to my normal senses admitted and bandaged at Maduddu Health Center II." The father of 13 revealed this in his interview with the Witness Radio team.
According to his relatives, they found him lying in a pool of blood and rushed him to the hospital. "We waited for someone who had gone to the neighborhood to respond to an alarm, but he wasn't returning. Due to fear, we searched only to find him bleeding on his head and lying in blood. I called the chairman on the phone who helped with a BodaBoda motorcycle to rush him to the hospital." His wife revealed.
Violent forced evictions in the Mubende district occurred despite a government ban on evictions during the festive seasons. The lands minister, honorable Judith Nabakooba on December 2022, ordered that no family should be evicted during the festive holiday. She directed police and Resident District Commissioners (RDCs) to respect the order.
Mr. Byamukama Yuda, an area chairman of Kicuculo village told Witness Radio that Formosa company is a threat in their village because of continuous and violent attacks on his people for refusing to surrender their land to the company to grow commercial trees.
"Ever since the company started operations in 2012, the company under the protection of the police has been grabbing people's land, beating them, raping women and young girls, cutting them, and causing arrests to community land rights defenders. Over 2500 hectares of people's land have been grabbed and rendered families landless. And for only 2022, over 100 people have been terrorized by angry company workers." He added.
He further said company workers seem to have powerful people protecting them and respect or fear no one. Adding that on Christmas, a group of workers went to his home and threatened him to be castrated in front of his wife and children.
The same company in 2017 caused the arbitrary arrest, and imprisonment of 5 community land rights defenders for 15 years and 35 years on murder and other charges. The five among others include; Paul Sinamenya, Richard Ssemombwe, Fenehansi Kaberuka, Esau Hategeka, Godfrey Bukenya, Yonnah Ssebanenya, and Sserugo Sam Ssemigo
Witness Radio has since appealed against the conviction on grounds that the evidence relied on by the court was doctored.
When we contacted the Company Manager, Ms. Annah Kyoheirwe, she declined to discuss the allegations. She said she was busy attending a meeting and hung up.