Impacts of Projects funded by Development Finances: Case series of local landlords in Ugandan that have been reduced to casual laborers.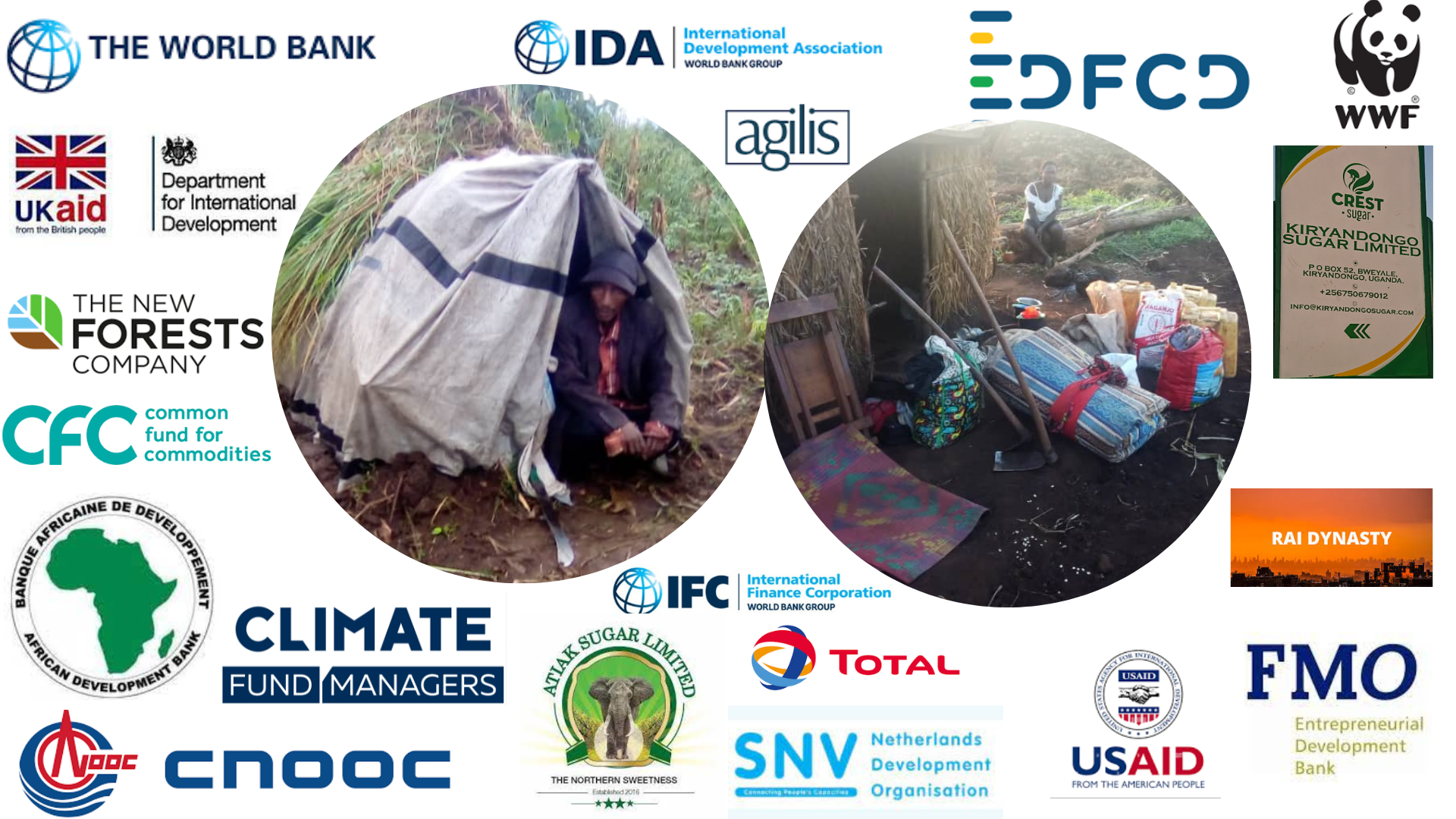 By Witness Radio– Uganda Team
Communities in Uganda whose land is targeted for industrial agriculture, mining, carbon credit tree planting, infrastructural development projects, and others will take decades to understand the 'true' meaning of the word "development" due to sufferings associated with forced land acquisition
To them, the development-financed projects mean kidnapping, causing disappearance and torturing of landowners that resist violence from the time of acquiring land for investments, gang raping of women by companies' workers, and destruction of properties worth millions of dollars among other human rights violations/abuses.
Kikungulu, one of the villages affected by harmful investments in Kiryandongo, a Mid-Western District in Uganda, was once a community of budding smallholder farmers. Gifted with fertile soils, and hospitable culture attributable to its cosmopolitan fabric is no more.
Between 2017 and 2018, Kiryandongo Sugar Limited, a subsidiary of Rai Dynasty based in Kenya, under the guard ship of soldiers cladding Uganda People Defense Forces (UPDF) uniforms, forcefully evicted communities in the Kiryandongo district without prior consultation, compensation, or being offered alternative resettlement.
Tusabe Emmanuel is one of the farmers whose land was forcefully taken by Kiryandongo Sugar limited. He said before losing his land, he would harvest over 12 bags of maize and eight (8) bags of sorghum from his land, which could earn him at least Uganda Shillings over 3.6 million, equivalent to US dollar 1,100 that would cater to the needs of his family.
"I fed my family well, educated my children, and provided basic needs from the proceeds of my harvest" Tusabe, a 25-year-old, reminisced about his past.
Over 15000 smallholder farmers lost their farming land to the company and were left to gamble for life. The company is currently using land that belonged to smallholder farmers to grow sugarcane as raw materials for its sugar factory.
In May 2022, while commissioning the company's 60 million United States Dollars Kiryandongo Sugar Plant, President Yoweri Museveni urged the evictees to maximize the low-lying benefits associated with a project by seeking employment opportunities.
From a landlord to a laborer: after losing his livelihood, Tusabe sought employment from his evictor Kiryandongo Sugar limited. In an interview with Witness Radio, he sought and got employment, as a casual laborer and paid a daily payment of 3500/= which is equivalent to 0.98 United States Dollars on which shillings 1500 is deducted for his lunch hence remaining with 2000/= that tallies to 60,000/= UGX (15.94 USD) a month.
After a year, he had to quit the job over low payment. He said because there was no other way one could survive without land other than being a slave to the evictor and getting paid peanuts.
"Our dreams were shattered by a company, which took our land for free and claimed was bringing development and employment. This was a myth. We do not have investors instead we have parasites surviving on our resources" he said.
He further revealed that after losing his land, he can not feed his family as all his children have since dropped out of school.
Another case involves New Forests Company (NFC), which plants monoculture forests for carbon credit mitigation. Between 2006 and 2010, more than 10,000 people were forcefully evicted from their lands in the district of Mubende to make way for monoculture tree plantations.
Following the forced eviction of locals from their land, exemplary villages no longer exist. Acreages of banana, coffee, and maize crops, among others, were razed down, and families were brutally evicted by the London-based New Forests Company (NFC).
NFC is currently also benefiting from a new project supported by the Dutch Fund for Climate and Development (DFCD); 160 million euros (more than 185 million dollars) from the Dutch government fund that aims to mobilize private sector finance into carbon projects. The DFCD is managed by investment manager Climate Fund Managers (CFM), NGO Worldwide Fund for Nature Netherlands (WWF-NL), and NGO SNV, and it is led by the Dutch Development Bank, FMO.
In August 2020, DFCD approved a 279,001 euros (around 327,000 dollars) grant and WWF technical assistance package for the New Forests Company (NFC) to develop the final business investment proposal for carbon certification in Uganda for sustainable smallholder growth and timber market diversification. In reality, this would translate into generating carbon finance to support expanding their monoculture plantations and land grabbing.
A 59-year-old Steven Ndyanabo still recounts the misery caused by the eviction. He said on a fateful day, he lost his garden of 35 acres in Kicucula village, houses were destroyed, and livestock was looted. His property was not inherited from his parents but bought them using his hard-earned money.
"I received no compensation after the eviction not even being resettled. My family of 14 lives in poor life. We currently live on my brother's half-acre land in the Rakai district. My children have nothing to eat, and dropped out of school as the majority of them have been forced into early marriages because of the situation were forced into by an investor.
He added that he was one of the richest people in the area, with plantations of maize, beans, bananas, and coffee that I grew at my farm. He further said, he would earn about 5 million enabling me to live a better life.
Thousands of smallholder farmers in Uganda have forcefully lost their land in exchange for carbon offset projects.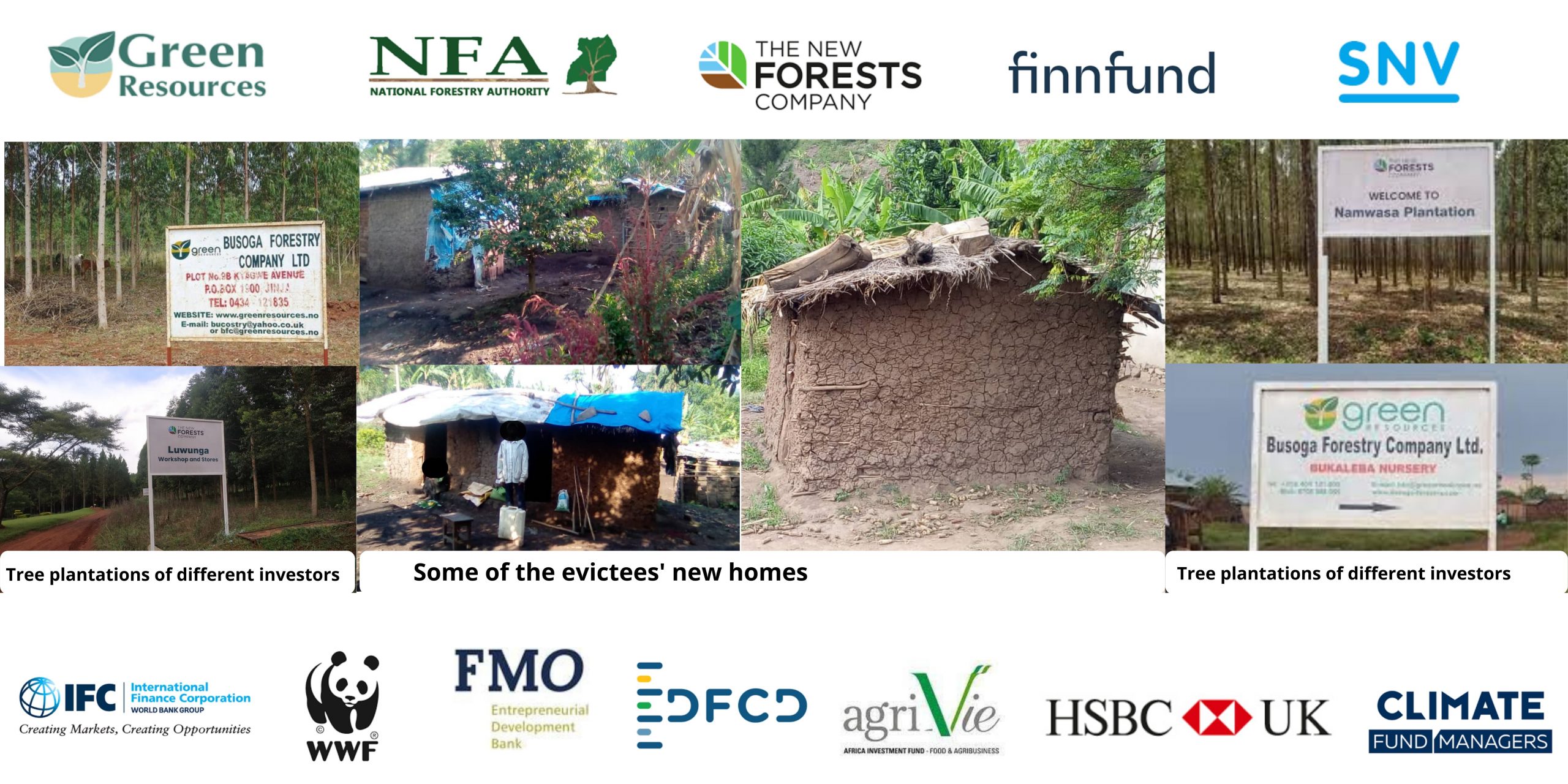 By Witness Radio Team.
For over a decade now, a forest regulator, National Forests Authority (NFA) has donated tracts of land for indigenous and local communities to commercial tree growers/investors with funding from International Financial Institutions (IFIs) to offset carbon emissions in the global north.
With a lot of money for carbon offsets, individuals in NFA officials sacrificed the lives of poor communities. The land for the community is lost without following due process by NFA and its agents and investors. In all areas visited by Witness Radio – Uganda, non of the carbon offset projects have expressed views from victim communities, were never consulted, never sensitized, compensated, or offered alternative resettlement before forced eviction.
Since the early 2000s, NFA land giveaways are characterized by violence that has left hundreds of farmers tortured, arbitrarily arrested, and illegally imprisoned as others have lost lives. Evictions have been carried out by government soldiers, police, and security guards from private firms in the name of accommodating investors.
As a result of NFA land giveaways, hundreds of children have dropped out of schools and gotten into early marriage, evictees have to hire out land to bury their loved ones, some have been forced into refugee camps, and others have been reduced to laborers from landlords.
The latest victim of the NFA land giveaway is the 158 hectares of farmland belonging to over 1000 smallholder farmers which were given out to local investors for planting trees in the Llera 'forest reserve'.
According to Odongo Martin, the Llera community chairperson said NFA violent forced evictions started in 2008 despite being resisted by the local communities.
"Our forefathers lawfully occupied and cultivated this land since 1930 but no one was informed about the existence of a forest reserve in the area until around 2008 when some unscrupulous people started saying that this is a forest reserve. Where was the government for all those 89 years?" Mr. Odongo Martin asked.
Before the Llera eviction, NFA since 2015 has violently evicted over 700 families off their 1174 hectares of land which was their source of food, shelter, and survival. The grabbed land by NFA is located in Yandwe village, Butuntumula Sub-County in Luweero district.
NFA said the evictees were encroaching the Mbale forest reserve. Some evictees told Witness Radio that their relatives lived on the land since 1915. The evictees remain dumped in destituteness, and their former land is turned into a eucalyptus forest belonging to some officials in NFA.
Around 2014, over 10,000 villagers were forcefully evicted by the NFA off their 500 hectares of land in 13 villages occupying the Bukaleba forest reserve in the Mayuge district. The NFA leased the land to the Norwegian Forest group, Green Resources. The evictees had occupied the land for over 30 years.
In the central region of Uganda, Namwasa and Luwunga 'forest reserves' in Mubende and Kiboga districts, close to 20,000 smallholder farmers got evicted by NFA. They allocated their land to New Forests Company, a UK-based company planting pine and eucalyptus trees. The evicted communities struggle to make ends meet up-to-date.
Section 5 of the NFA Act states that the Minister may, on the advice of the Board, after consultation with the local council and the local community in whose area the proposed forest reserve is to be located; and with the approval of Parliament signified by its resolution by statutory order, declare an area to be a central forest reserve. However, while gazetting communities' lands, no consultations are carried out to seek landowners' consent before land giveaways.
Breaking: Ministries, gov't departments, and security organs in syndicate forced eviction of an urban-poor community to give way for an infrastructural project.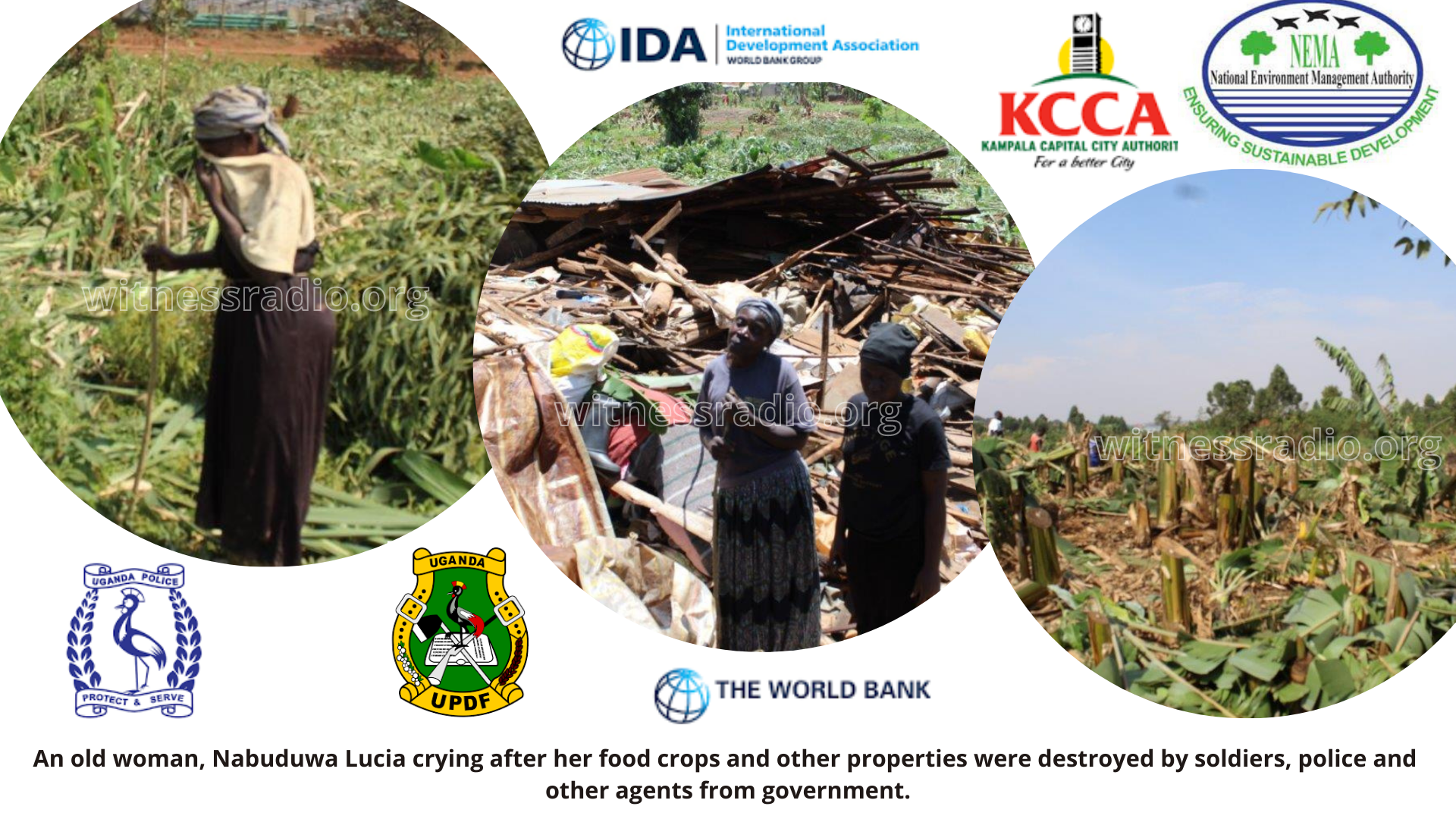 By Witness Radio Team
Barely twenty-one (21) months after a team of lawyers foiled a forced eviction of urban poor families to give way for a drainage channel construction, ministries, government departments, and security organs are again up in arms carrying out forced evictions.
This second forced eviction is another attempt by the government to run away from the free, prior, and informed consent and provide a fair and timely compensation responsibility to a community affected by an infrastructural project. Now National Environment Management Authority (NEMA) is disguising as 'evicting wetland encroachers' a move targeting the urban-poor families' land.
In December 2020, amidst the COVID-19 pandemic, the Kawaala Zone II community in Kampala district received an eviction notice of 28 days without any explanation from the government. Accompanied by armed soldiers, representatives of the Kampala Capital City Authority (KCCA) turned up at Kawaala village and started placing a red "X" on many structures and explaining that they were earmarked for demolition.
The first foiled forced eviction by KCCA was hiding under the Public Health Act Cap 281 which states that in the event of contravention of any of the public health rules related to the erection of buildings, the local authority, without prejudice has the right to take proceedings for a fine in respect of the contravention and may by notice require the owner either to pull down or remove the works.
Upon Witness Radio – Uganda's investigation of the intended eviction, it was discovered that KCCA was to use the targeted land for Lubigi drainage construction using the World Bank funds under the second phase of the Kampala Institutional and Infrastructural Development Project (KIIDP-2). In reality, without consultation and compensation, individuals within the authority were grabbing land from the urban poor to amass wealth.
On 23rd August 2022, NEMA and other government departments and ministries under the protection of the military and anti-riot police descended on gardens for families in Kawaala Zone II, a victim community of KIIDP 2, and cut down food crops and demolished houses belonging to over 100 families.
As hundreds pondered their next move, Mrs. Nabuduwa Lucia was weeping to recount the memories of her well-established home and garden that had been demolished by the NEMA officials. She said she had been given 4 hours to vacate the premises but she had lost where to take her family of 5.
Nabuduwa, 54, heard one of the officials communicating to his fellow evictor, "don't waste your time demolishing that house, just burn it, and won't take seconds to be destroyed" She was terrified.
She added that "I came from Mbale and settled on this land which was bought for me by one of my children with his hard-earned money. I have been living here for many years and have been able to feed my grandchildren. My house, sugarcanes, yams, banana plantation, eucalyptus trees, and mangoes were all destroyed." she cried aloud.
Nabuduwa is not the only one. Mr. Ssemulyo Richard had seated next to his wife and children. He also lost everything during the evictions.
"I am here and my family of 10. I don't have where to take them. I don't have food or land. I also don't have money to relocate to other places. Here is the place I have called home and lived for most of my years," he said.
The community being evicted claimed that they were waiting for compensation from KIIDP-2 for the lost properties and land for drainage construction.
Breaking: Court dismisses a criminal case against a community land rights defender for want of prosecution.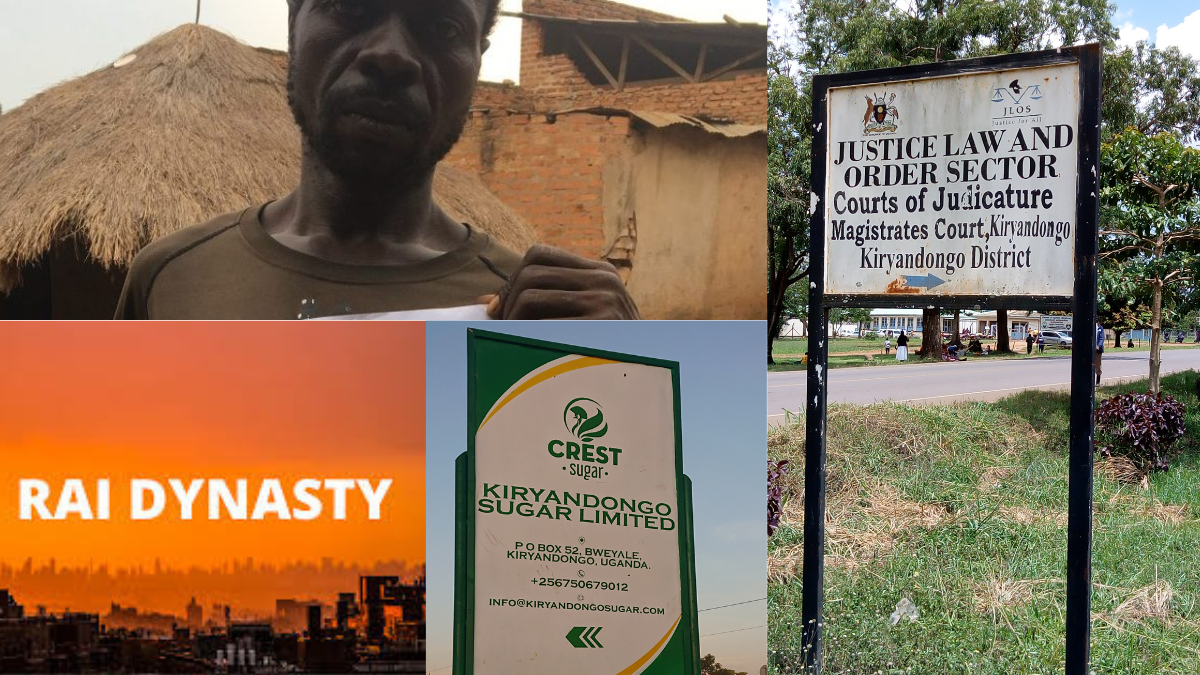 By Witness Radio Team.
Kiryandongo. A criminal trespass case against a community land rights defender has been dismissed over the prosecution's failure to adduce evidence before the Chief Magistrate Court that pinned the community defender on the alleged charges.
On 27th October 2021, Kiryandongo Chief Magistrate Court charged Otyaluk David with criminal trespass and remanded him to Masindi prison. He was later granted court bail and since then, he has been traveling 48 kilometers to and from court every fortnight.
Before he was presented before a court, Otyaluk was kidnapped and illegally detained in Kiryandongo Central Police Station (CPS) cells for five (5) days for trespassing on a piece of land he (Otyaluk) had lived and cultivated since he was born.
In the afternoon of 21st October, two (2) armed men cladding Uganda People Defense Forces (UPDF) uniform and police personnel raided Otyaluk's home and got him kidnapped to an unknown destination. UPDF soldiers guard Kiryandongo Sugar Limited plantations.
"On the day of his kidnap, Otyaluk was found praying in his house. In a blink of an eye, the defender was rounded up and bundled onto a vehicle owned by Kiryandongo Sugar Limited, forcefully evicting us off our land. We later learned that he was taken into evictor's facilities where he was kept for some time before being transferred to Kiryandongo CPS" A family member remembers.
A family member further added that before the kidnap, Otyaluk's family had lost about 12 acres of land to Kiryandongo Sugar Limited.
"Company workers under the protection of soldiers brought a tractor and plowed acres of semi-mature maize, beans, sorghum, and sim-sim. We were only left with a small piece of land where our house sits and we are currently trapped in the middle of a sugarcane plantation" a family member added.
Since the trial period was announced, the prosecution failed to bring witnesses to pin Otyaluk for trespassing on his land. It was only on the 19th of July, 2022 during a court session, one Adamuru Peter, allegedly to be a company manager turned up as a company representative but not as a witness.
In her ruling last week, a magistrate at Kiryandongo Magistrate court discontinued the trial of Otyaluk and dismissed the case.
Otyaluk is one of the luckiest among hundreds of community land and environmental rights defenders currently under persecution to have his case dismissed. It's an order of the day for the community land and environmental rights defenders to be kidnapped, arbitrarily arrested, and tortured on orders of investors for their work of mobilizing the communities to desist land grabs.
Kiryandongo Sugar Limited is among multinationals forcefully evicting over 35000 local and indigenous people off their land to give way to large-scale agribusinesses.
Kiryandongo Sugar Limited is one of the many companies owned by the Rai Group of Mauritius. The dynasty owns several other companies in DR Congo, Kenya and Malawi, and Uganda. A dynasty owns companies such as West Kenya Sugar (which owns Kabras Sugar), Timsales Limited, Menengai Oil Refineries, Rai Ply, and Webuye Panpaper.
In Uganda, the Rai Group of Mauritius owns Nile Ply limited, Kinyara Sugar Limited, and Masindi Sugar Limited among others. One of its directors is a shareholder of a British Virgin Islands company, listed in the Panama Papers database recently.
The same company has fraudulently gotten a license to replace part of Bungoma natural forest with a sugarcane plantation.
"Court has shown today that the company is maliciously arresting us to keep us in jails. To weaken our hearts, wasting our time and resources. They intentionally do this because we refused to surrender the land we have lived on for years. It is shaming that the government has failed to protect the rights of the poor people." The defender noticed.