Artisanal miners' agonizing tales at the hands of mineral police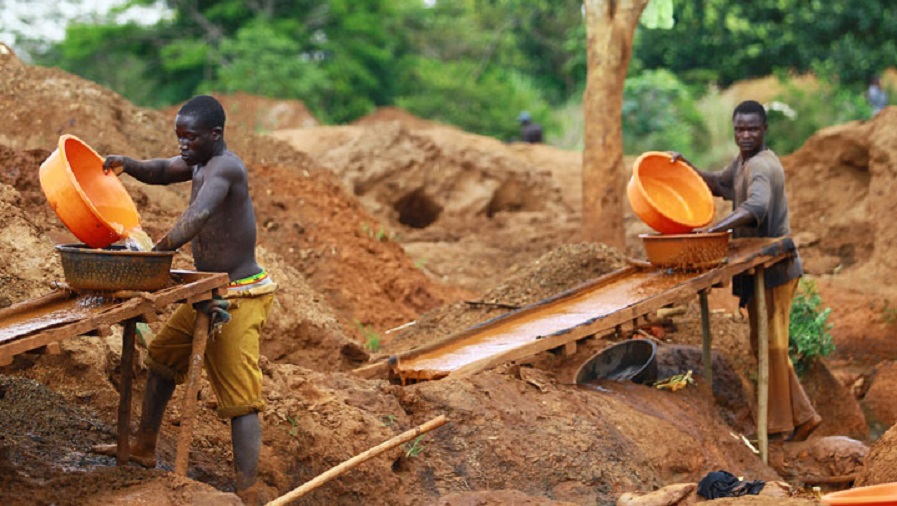 A police officer hit me with a baton, I became unconscious, only to wake in hospital," narrates Fred Ssentamu as he displays scars from beatings when The Observer visited his home in Lugingi, Kitumbi sub-county, Kassanda.
Ssentamu is one of the hundreds of artisanal and small-scale gold miners who have suffered human rights violations at the hands of the Police Minerals Protection Unit (PMPU). These violations include intimidation, extortion, confiscation of ores, physical abuse as well as displacement from villages.
These allegations of brutal harassment and human rights violations of artisanal miners at the hands of PMPU are common in many gold, tin, tantalum and tungsten mining areas mainly in central and western Uganda. "These police officers are to too brutal," Ssentamu says.
Indeed, his testimony is not an isolated case as The Observer found out. His neighbour shares a similar harrowing tale, "A police officer ordered me to kneel on piercing stones as his colleague handcuffed me. Then, another afande [police officer] was beating me in front of my children," she narrates.
To foot the medical bill, Ssentamu says, his family sold his motorcycle for Shs 3 million. Artisanal gold miners in many parts of the country accuse the PMPU of hiding under the cover of cleansing the minerals sector of illegal mining to harass, torture and even maim artisanal miners, among other human rights violations.
Miners say, instead of offering local protection, the PMPU officers have turned their guns against civilians and artisanal miners. "It is a whip and a gun that rule in these mines," another miner narrates, before asking the police leadership to rein in errant PMPU officers.
BACKGROUND
The PMPU was created in 2017 by the then Inspector General of Police (IGP) Gen Kale Kayihura. It is charged with, among others, inspection, monitoring and surveillance to detect and prevent illegal mining as well as to sensitize mining communities on safe mining practices. Gen Kahiyura appointed Superintendent of Police (SP) Jessica Keigomba to head the unit.
However, three years after its creation, PMPU is on the spotlight again over human rights violations and involving itself in illegal mining. Simon Alibariho, artisanal miner at Katenga goldmine in Buhweju district, remembers when PMPU violently evicted them from the mines which left some miners nursing injuries.
"When they [police] came, they started beating us without any explanation. Some people were injured in the process. We are Ugandans; why is police beating us when we are here to eke out a living, even cows are no longer beaten," Alibariho wonders. He says though artisanal miners mine without licences, it shouldn't be a ground for beating and treating them violently.
EXTORTION AND SHOOTINGS
In an ugly incident of human rights violations, a police officer attached to PMPU shot and injured an artisanal miner following a simple verbal exchange in Lugingi mine recently.
"We failed to agree with the officer; so, he told me "I promised to shoot you in the head." Those are the last words I heard; the next thing I woke up in hospital in pain nursing injuries from gunshots," one of the miners in Kassanda district narrates.
In a clear manifestation of impunity, the officer has never been reprimanded, arrested or prosecuted for the shooting. In June, 2020, John Mufumbira, one of the artisanal miners and a member of Kassanda Miners Association, complained to the police Professional Standards Unit (PSU) against Superintendent of Police Sarah Mwesigwa, who is the administration and finance officer of PMPU, over the unit's harassment and human rights violations against artisanal miners.
However, Mufumbira says to date he has not received any response. Francis Mwijukye, the Buhweju MP, concurs with artisanal miners on the brutality of PMPU officers. "These police officers are extorting money. If you don't give them money, they will chase you away and the process of chasing is dehumanizing," he notes.   
Carolyne Nakajubi, the extractive governance officer at ActionAid International Uganda, says it is unfortunate that PMPU has misused its mandate to stamp out illegal mining and instead turned its guns on the civilian mining population. She urges PMPU to respect and uphold human rights in enforcing the law. 
Henry Nickson Ogwal, the director, Programs and Policy at ActionAid Uganda, calls for the probe into PMPU. "Those who have evidence on human rights violations shouldn't be intimidated when they talk. Such violation is unacceptable in a democratic Uganda and must be probed. Meanwhile, the PMPU command structure and mandate should be reviewed," Ogwal says.
MINING POLICE!
In addition to human rights violations, PMPU has also been accused of engaging in gold-mining after evicting artisanal miners. "The PMPU has become a mining police. They are the ones now doing the mining," says Deusdedit Beinomugisha, an artisanal miner from Buhweju.
However, Moses Karakire Musinguzi, the PMPU head of operations, denies the allegation that the unit is engaged in illegal mining activities.  "If there is a police officer involved in mining, then he or she should be reported to PSU.  You can also take them to court and prosecute them individually if you have evidence," Musinguzi said recently. "Some of these mistakes are individual, but not institutionalized."
In a recent interview with NTV Uganda, Sarah Opendi, the minister of state for Energy and Mineral Development, confirmed that some security officials are indeed engaged in illegal mining. "I know some people within the security circles have also gotten involved in mining but I want to tell them that what they are doing is actually wrong. You don't go and mine simply because you have a gun, which I [artisanal miners] don't have," she said, before pledging that offices who have deviated from their cardinal responsibility to switch to mining will be brought to book.
ENTER UHRC
It is on the background of these human rights violations that civil society organizations (CSOs) have asked the Uganda Human Rights Commission (UHRC) to do an investigation into the allegations and bring the culprits to book. In a press statement recently, the CSOs further accuse police of illegal gold mining under the cover of law enforcement.
Don Binyina Bwesigye, the executive director, Africa Centre for Energy and Mineral Policy (ACEMP), says PMPU has overstepped its mandate. "This has exposed artisanal miners to cruel treatment from security organizations such as police and the army," Bwesigye said in a statement.
Bwesigye argues that without any law, the PMPU has taken over many of the supervisory and regulatory roles that the Mining Act vests in the Directorate of Geological Survey and Mines (DGSM). 
"The UHRC should investigate, document and address allegations of human rights abuses meted out on artisanal and small-scale miners and landowners in different regions by PMPU and other security agencies," the statement reads in part.
Amidst the advocacy, it remains to be seen whether there will be any tangible steps by state institutions to investigate the PMPU, which seems to enjoy impunity in carrying out its operations.
**The Observer
Pushing back: The EACOP victim community rushes to court seeking reinstatement onto their land and compensation.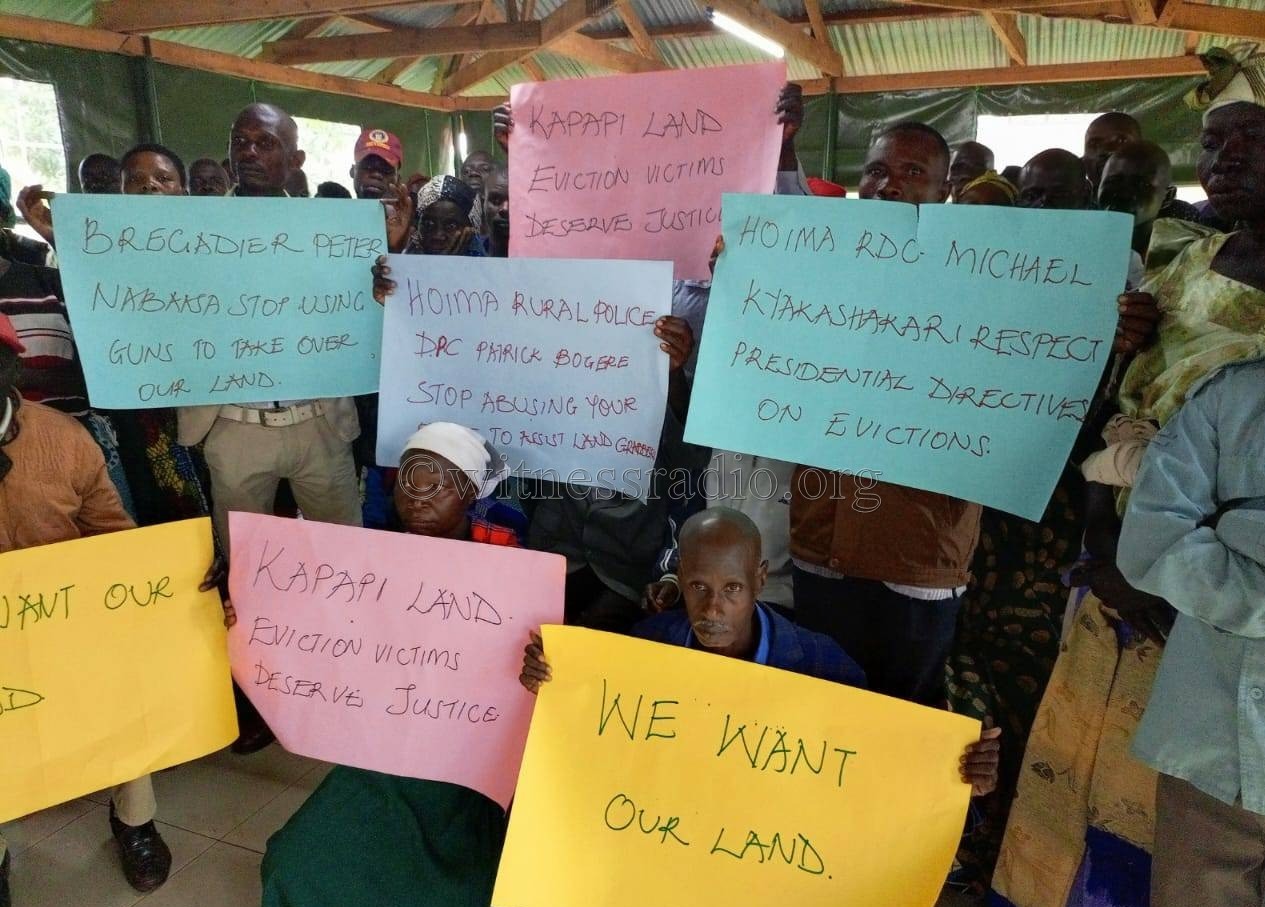 By Witness Radio team
One of the East Africa Crude Oil Project (EACOP) victim communities in Hoima district has run to Hoima high court challenging a forceful and violent eviction which pushed them off their land, asserting that it was very illegal and unconstitutional and subjected them to degrading treatment.
The Kapapi community, as commonly referred to, is composed of both pastoralists and cultivators that were lawfully living in Waaki North, Kapapi Central, Waaki South, Runga, and Kiryatete villages in Kapapi and Kiganja sub-counties in Hoima district since the 1950s.
In a February 2021 report from Total Energies Uganda, titled "Tilenga Project – Resettlement Action Plan 4," it identified Kapapi, Runga, Waaki, and Kiryatete villages as areas that will be affected by the proposed Tilenga Feeder Pipeline Component (RAP 4).
The Tilenga feeder pipeline corridor is approximately 95 km long originates from the Tilenga Project Central Processing Facility (CPF), about 8 km northeast of Buliisa town in Buliisa District and 5 km south of the Albert Nile. The purpose and the need for the Tilenga feeder pipeline, according to Total Energies, is to deliver crude oil to the planned refinery in Kabaale and the East African Crude Oil Pipeline (EACOP).
Uganda National Oil Company (UNOC), as the Government nominee, holds a 15% participating interest in the Tilenga project; Total Energies E&P Uganda B.V., the operator, holds 56.67% while the other partner, China National Offshore Oil Corporation (CNOOC) Uganda Limited holds 28.33% shares.
On 10th February 2023 at 1:00 am local time, unidentified dozens of men cladding Uganda Police Force (UPF) and Uganda People's Defense Force (UPDF) uniforms, together with armed guards from Magnum, a private security company violently evicted over 2,500 locals from 1294.99 hectares of land with no compensation or resettlement, looted animals and food stuffs. The eviction was executed without a court order.
Through their lawyers Arinaitwe Peter & Company Advocates, Mulega Eria and 13 others on behalf of the pastoralists community in a Civil Suit no. 78 of 2023, sued a UPDF Brigadier General. Nabasa Peter, Bogere Patrick, a Hoima Rural District Police Commander, Kyakashari Micheal, the Deputy Resident District Commissioner (RDC) of Hoima district, one Gafayo Ndawula William, Kiiza Nathan Byarugonjo, Oketcha Micheal, Oromo Luzira, Magnum Security company limited, Muhwezi Aston, William Kiiza, Kyamanywa Alex, Wilber Kiiza, Hoima district Land Board and Commissioner land registration among others.
In a second matter, Civil Suit no. 79 of 2023, Ajaruva Uchida and 112 others on behalf of the crop growers community, sued a UPDF Brigadier General Nabasa Peter, Bogere Patrick, a Hoima Rural District Police Commander, Kyakashari Micheal, a the Deputy Resident District Commissioner (RDC) of Hoima district, a one Gafayo William Ndawula, Kizza Nathan Byarugonjo, Oketcha Micheal, Asimwe Moses Byangire, Oromo Luzira and Magnum security company limited among others.
Both communities are accusing the latter of carrying out a forceful and violent eviction from their land, alleging a disregard of lawful procedures driven by a desire to profit from EACOP related projects.
In both suits, both communities demand for several remedies from the courts of law, such as a permanent injunction restraining all defendants and their agents from further interference with their land, an order for an immediate return onto their land, and compensation.
Arinaitwe Peter, one of the lawyers, expressed optimism that Courts would hear the cries of the Kapapi people, who have endured destitution, significant suffering, and displacement, with some living in internally displaced people's camps following the brutal eviction.
"We are optimistic that the honorable Court will listen to the cries of the Kapapi people. These people are destitute, they have suffered immensely, and some of them are currently residing in internally displaced people's camps due to a brutal eviction carried out by the individuals mentioned in different suits. Our purpose here is to ensure that their voices are heard, have justice served, and that they are immediately returned to their land while the legal case is ongoing." Said Mr. Arinaitwe.
Mr. Kataza Samuel, one of the community environmental defenders, called on Hoima Court to expedite the hearing of their matters since many of the residents are undergoing hardships as a result of forceful evictions.
"Our people are enduring immense suffering, with many families torn apart by poverty. They are scattered across in different parts of the country, struggling for survival, while some are forced to live with relatives. Unfortunately, essential services like shelter, food, healthcare, and education for their children remain elusive. We are here to seek justice for our violated rights, and, therefore, we implore Court to intervene urgently," He added.
As we write this story, the grabbed land continues to be heavily guarded by Uganda People's Defense Forces (UPDF) Soldiers and Magnum Security Company guards.
Court is yet to fix hearing dates for both suits.
A multi-billion project funded by AfDB and NDF is furthering poverty and food insecurity in Paten community targeted for a development project.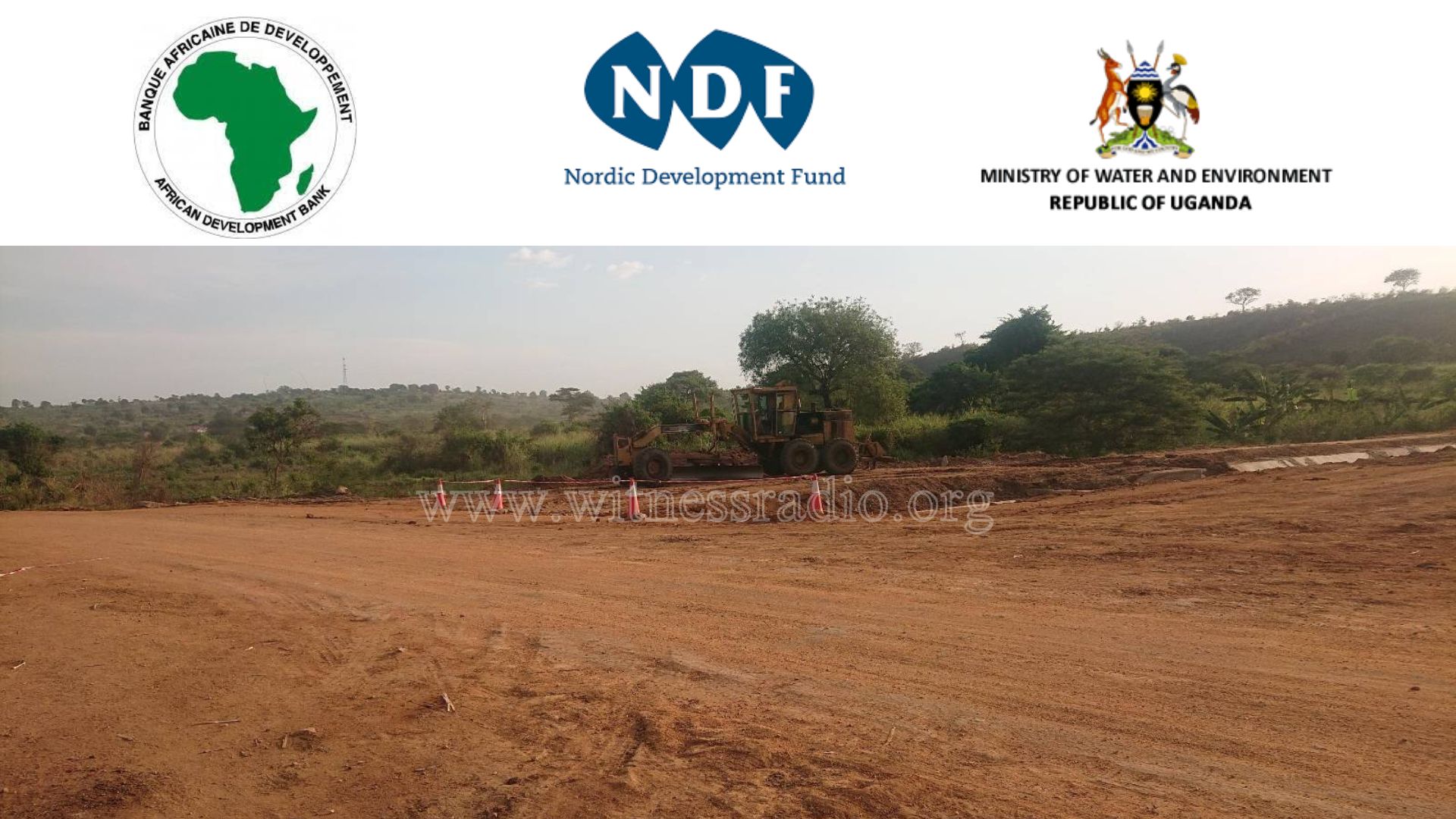 By Witness Radio team
The Wadelai irrigation scheme project funded by the African Development Bank (AfDB) and Nordic Development Fund (NDF) has turned out to be a curse to the Paten community targeted to benefit from a development project as individual members of the local community for some time now spend their precious time pushing back forced land eviction and human rights violations perpetrated by the army and police force personnel brought to guard the project.
The Wadelai irrigation scheme, under the Farm Income Enhancement and Forest Conservation Programme –Phase 2 (FIEFOC-2Project) is financed with an African Development Bank (ADB) loan of USD 76.70 million. The Project is co-financed by the Nordic Development Fund with a grant of Euro 5.00 million, and the Government of Uganda's counterpart contribution of USD 9.13 million. The overall cost of this project is USD 91.43 million (341,576,079,900.00 Ugandan Shillings), approved in January 2016.
According to documents on the African Development Bank's website, the Wadelai Irrigation Scheme covers a total area of about 1365 hectares (ha) including the proposed extension area of Paten. The original design of the Wadelai Irrigation Scheme included a portion of the command area of 365 hectares which, was owned by Ragem Prison (government facility). During the Mid-Term Review and upon the request of the Paten Community through their district head, the Executing Agency (Ministry of Water and Environment) proposed to substitute the same land area (365 ha) with Paten community land which the Bank agreed to.
The project objective is to improve household incomes, food security, and climate resilience through sustainable natural resources management and agricultural enterprise development. However, residents have expressed concerns that it is pushing them further into a state of extreme poverty.
To the contrary, the "development project" is being fought by locals to save their land which is the source of their livelihood.
The fight to defend Paten's land rights from being grabbed by Wadelai irrigation scheme project has been marked by courage, and those who have stood against the project have endured violence orchestrated by project implementers.
The Paten Clan, an integral part of the Shilluk Luo tribe, traces its roots to a migration that took place between the 14th and 16th centuries from South Sudan. Initially, they found their first settlement in the Acholi region. However, their journey continued as they crossed both the Omee River and the formidable River Nile, eventually arriving at their current homeland, which they aptly named Paten.
The heart of Paten's identity is in its language, as the inhabitants predominantly speak Jonam. Their way of life is deeply intertwined with their environment, primarily revolving around fishing and farming as their main sources of livelihood.
This resilient clan is composed of  seven (7) villages namely Adiri, Paten Upper and Lower, Paten Central, Borowio, Oborowio central and Paten Ocayo, each contributing to the rich tapestry of Paten's culture and heritage. Located within the Pakwach district, Paten enjoys a picturesque setting on the western bank of the majestic River Nile. The clan's geographical boundaries are defined by the Oraa River to the north, Madi Ayabu to the east, the Ocayo Clan to the west, and the Kaal Ragem chiefdom to the south. In this lush and historically significant region, the Paten Clan has thrived for generations, nurturing its traditions and cherishing its ancestral lands.
This community is known for its unique traditional mud and thatch homes, which serve as a proud representation of their rich cultural heritage. These dwellings, showcasing local craftsmanship, seamlessly integrate with the environment, underscoring the clan's dedication to preserving their ancestral traditions.
The Clan accuses financiers and government of Uganda for forcibly taking their land through violent means. According to them, the government has been expanding the Wadelai Irrigation Scheme in the sub-county since 2020 and in the process, they allege that their land is being seized without compensation or being offered alternative settlements.
At least 16 Paten clan members fell victim to violence when they were shot and wounded. These grievous injuries were inflicted on them by soldiers from the Uganda Police and Uganda People's Defense Forces (UPDF) who had been deployed by the Resident District Commissioner, district chairperson, and Chief Administrative Officer of the Pakwach district local government.
One of the victims, whose identity remains confidential due to concerns about potential retaliation, recounted to Witness Radio Uganda that on "August 9th, 2021, UPDF and police officers, under the command of Resident District Commissioner (RDC) Sunday Eseru, arrived on their land with a team of people from the Pakwach district. They began surveying and clearing communities' land without prior notification. In response, the following morning on 10th August 2021, "we went to the site to plant trees, demonstrating our commitment to utilizing our land. The heavily guarded RDC, returned and got us planting trees in our land. We explained that this is our land, which was being forcibly taken from us without compensation. The RDC then ordered his soldiers to take action against us for interfering with their project. This marked the beginning of the confrontation." A victim revealed.
According to eye-witnesses, about 20 community members were shot at using rubber bullets and wounded by security personnel.
"As if the shooting was not enough, victims were denied medical treatment at a government hospital in Pakwach district. Police refused to give us a medical check-up form known as police form three (3) to be used while diagnosing victims of violence. Sadly, area police refused to register our case when we went to report the attack" one of the victims said.
On August 11th, 2021, another distressing incident occurred when four women, one of whom was pregnant, were severely beaten and forced to sleep in dirty and stagnant water because they attempted to access their land to fetch water.
Adding to the already troubling circumstances, on August 16th, 2021, two clan members who also served as civil servants within the Pakwach district local government faced dire consequences when they were interdicted from their position.
Residents continue to live in fear as their land remains heavily guarded by government officers, severely limiting their access to and use of their own land.
The Resident District Commissioner (RDC) of Pakwach, Mr. Sunday Eseru maintains that the issue was resolved three months ago when representatives from the African Development Bank and the Ministry of Water and Environment visited. According to the commissioner, during this visit, the concerned parties were taken to Gulu, where they engaged in discussions and negotiations.
Furthermore, a Cooperation Agreement was signed to formalize the agreed-upon terms and conditions. The commissioner asserts that, to date, no formal complaints or disputes have been raised regarding the project.
"Every project affected person was compensated, and if there is anybody who hasn't compensated, they will be compensated because there is nobody that government can't compensate." The commissioner said during an interview with Witness Radio on August 27, 2023.
Efforts to contact the African Development Bank for confirmation of the RDC's statements proved to be challenging.
Members of the Paten Clan however maintain that they have not received any compensation and argue that the government has imposed the project on their land through coercive methods.
Transgenic rice once again proposed as solution to bacterial blight outbreaks, this time in Africa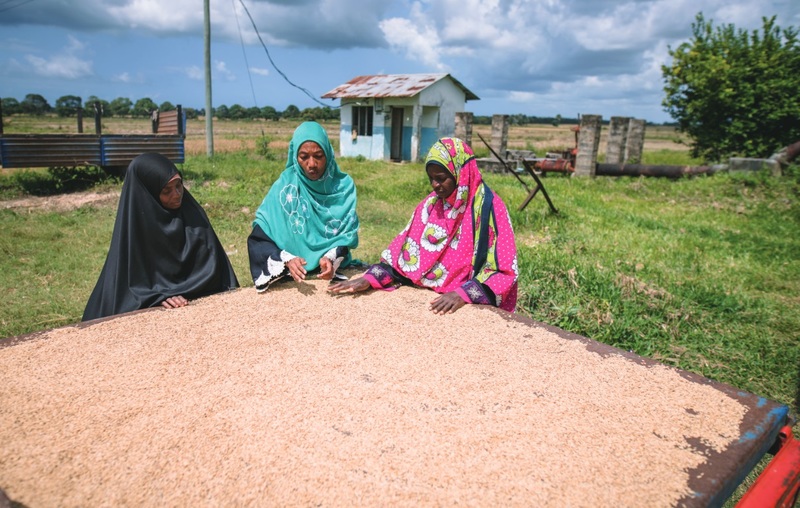 Scientists with an international rice initiative have been raising the alarm about a strain of bacterial blight causing outbreaks in rice fields in East Africa, and they say the patented transgenic varieties they have developed are the solution.
The scientists are with the Healthy Crops Project, a non-profit consortium funded by the Gates Foundation that brings together US and German universities, the French national research institute (IRD), the International Rice Research Institute (IRRI) and others. In a scientific article published in June 2023, the team claims to have identified an outbreak of a Chinese variant of bacterial blight in Tanzania, which was previously unknown on the continent, and then to have employed gene-editing techniques to confer broad resistance to bacterial blight in rice grown in Africa.
The scientists plan to first introduce their transgenic rice in Kenya, where recent regulations allow for the introduction of gene-edited crops. They have already crossed their resistant line with a variety called Komboka, which was developed by IRRI and the Kenya Agricultural and Livestock Research Organisation. While team leader Wolf Frommer told GRAIN they have "no interest in making profits from small scale producers", he acknowledged that there is a patent on their gene-edited rice lines. He also said outbreaks of the Chinese bacterial blight strain have now spread to Kenya and Madagascar.
This is not the first time that IRRI and its partners have proposed GM rice as a solution to bacterial blight. Twenty years ago, farmer and consumer groups in Asia protested against the introduction of a rice known as "BB rice"— IRRI's first transgenic rice to be field tested at its research centre in the Philippines. The Healthy Crops gene-edited rice varieties would be the first transgenic lines to be commercialised in Africa, if the project moves forward.
Groups in Asia that were opposed to IRRI's "BB rice" argued that bacterial blight outbreaks are a product of IRRI's green revolution model. The disease only began to be a major problem when IRRI's semi-dwarf varieties were planted over large areas, replacing diverse local varieties with vast, uniform monocultures. The uniformity and reliance on huge amounts of chemical fertilisers created the ideal breeding grounds for bacterial blight and other diseases. IRRI's response, beyond the promotion of chemical pesticides, was to try and integrate resistant genes from farmer varieties into its varieties, but this single gene resistance (or even multiple gene resistance) was inevitably overcome by the disease, leading to an endless race to try and identify and integrate new genes, and an escalation in pesticide use. Those opposing BB rice argued that the GMO rice would also not provide durable resistance, and that the only effective solution was to bring back diversity in the fields by restoring farmer seed systems and by moving away from chemical fertilisers and pesticides to practices that keep disease pressures down. IRRI never did manage to gain approval for the release of "BB rice" in Asia.
The situation is similar in Tanzania and Kenya. For decades now, farmers have resisted constant efforts by IRRI and other agencies to get them to abandon their farmer varieties and switch to the so-called high-yielding varieties (HYVs), including the Komboka variety of rice that the Healthy Crops team is now gene-editing. Farmer seeds still account for the vast majority of rice grown in Tanzania, one of the only countries in Africa that is self-sufficient in rice. This push for HYVs has been especially heavy in the "epicentre" of the recent bacterial blight outbreak identified by the Healthy Crops team: the Dakawa irrigation scheme in Tanzania's fertile Morogoro Region.
It is noteworthy that the outbreak appears to have first affected fields planted to a variety called Saro 5, which has been promoted by numerous donors including the World Bank, USAID, AGRA and the Gates Foundation, despite its requirement for high levels of chemical fertilisers. For several years, the Norwegian fertiliser company Yara heavily promoted Saro 5, in combination with its fertilisers, under the Southern Agriculture Growth Corridor of Tanzania (SAGCOT) programme. Saro 5 seeds were given out to farmers for free and were multiplied at the Chollima Rice Institute in Dakawa and distributed to farmers in other parts of the country. These different agencies and companies have thus spread a variety of rice highly susceptible to a new strain of bacterial blight across many farms in Tanzania, creating the conditions for the disease to amplify and spread.
Several rice farmers in Dakawa contacted by Tanzania's national farmers' organisation MVIWATA confirmed that the disease is present in their fields. They said that the government has been promoting Saro 5 to deal with the disease, but that this has failed dramatically, since Saro 5 is highly susceptible. "Saro 5 is the type of seed that is mostly affected," says Saumini Hamisi, a rice farmer at Dakawa.
The farmers also said that the national research agency and the extension agents in the area have been telling farmers to use various pesticides against the disease, which has done nothing to help either.
Some speculate that this new strain of bacterial blight came to Dakawa via the Chinese province of Yunnan, since this strain of the disease is only found there. They say that infected material was likely brought over by the Chongqing Zhongyi Seed Company, which took over the Chinese Agro-technology Demonstration Centre built in Dakawa in 2009 with cooperation funds from China. Like the other foreign funded programmes at Dakawa, the Chinese initiative aimed to displace local varieties, in this case with Chongqing Zhongyi's patented hybrid varieties. The Chinese seed company has not commented on these speculations, and did not respond to GRAIN's inquiries either. The possibility raises serious concerns, given that Chinese seed companies are engaged in hybrid rice programmes in many other countries across Africa and the world.
But whether or not the Chinese seed company is the source, the disease is now spreading without it, as the Chinese project shut down last year. The question now is how to deal with the outbreak.
In Tanzania and other rice growing regions of the world, farmers have long managed bacterial blight and other diseases. Farmers in the Philippines with the farmer-scientist network MASIPAG, for instance, do regularly select for disease resistance within their farmer varieties of rice, but their main focus is not on breeding for resistance but in using farming practices that negate the factors that favour pest or disease population build-up and outbreaks. According to MASIPAG scientist and founding member, Dr. Chito Medina, this includes planting at least three different rice varieties on each farm "so that the differential resistance of each variety prevents the development and outbreak of any biotype or any continuous increase of population of any biotype or kind of pest or pathogen" (a technique that is also used to control rice diseases in Yunnan). They also deploy certain water management techniques and avoid the use of chemical fertilisers, especially nitrogen fertilisers, which increases the reproductive rate of insects and pathogens, including bacterial blight. Medina says that, because of this approach, "there have been no reports among MASIPAG farmers of any outbreaks or recurrent pest or disease problems for a long time", despite the presence of many strains of bacterial blight across the country.
The local varieties favoured by farmers in East Africa may be susceptible to the bacterial blight strains now circulating in the region. But this does not have to lead to major crop losses. Rather than use the outbreak as another excuse to destroy farmer seed systems, efforts must focus on helping farmers to build up resistance within their local varieties through selection and seed sharing, and to utilise farming practices that can control the disease. It is bad enough that a foreign-funded programme brought a disease outbreak; it will be much worse if this paves the way for another foreign-funded programme to displace local varieties with patented, transgenic rice seeds.
Original Source: Grain.org