The Agony of a Tree-Planting Project on Communities' Land in Uganda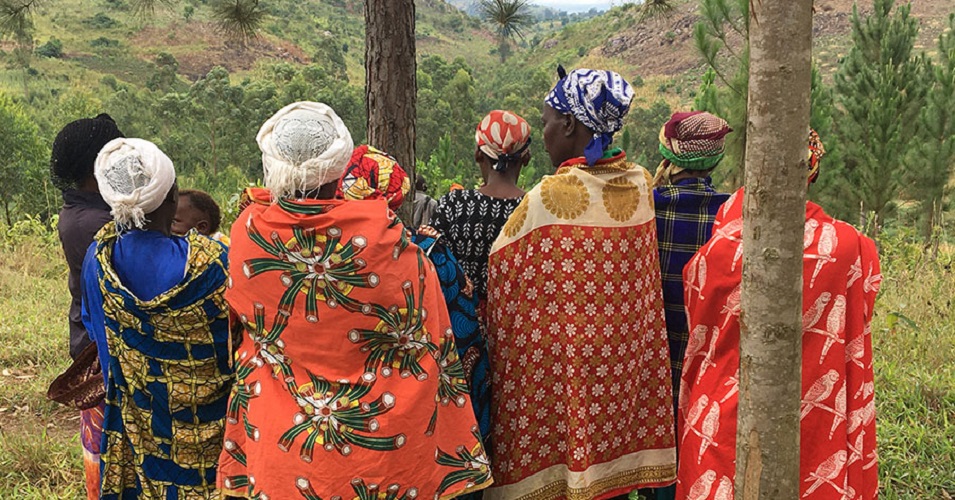 Some mothers who lost children due to the lack of food after New Forests Company's evictions. Ph: witnessradio.org
The large-scale plantations from UK-based New Forests Company (NFC) have meant violence, forceful evictions and misery for thousands of residents from Mubende, Uganda. More than 15 years after the company began its operations in Uganda, affected communities still confront the long-lasting and severe damages.
Misery is what fills the hearts of the residents of seven villages in the Mubende district where the New Forests Company illegally evicted close to 1000 households from their land.
The UK-based New Forests Company (NFC) was founded with the vision of creating "sustainable timber products" in East Africa amidst rampant deforestation NFC plantations are also a carbon project, which generates additional profits for the Company from the selling of carbon credits. The first tree was planted in Mubende, Uganda, in 2004. Since then, the Company has rapidly expanded with four new plantation areas in Uganda as well as in Tanzania and Rwanda.
The expansion has however come with unimaginable pain to hundreds of households and gross human rights abuses, mainly in the Mubende district. Between 2006 and 2010, more than 10,000 people were evicted from their lands in the district of Mubende, in some cases with the use of violence, to make way for the NFC plantations.
NFC and the World Bank, one of the Company's financial supporters, were once in dialogue with their evictees but abandoned them. According to documents seen by Ugandan media platform witnessradio.org, NFC was dragged into dialogue with its evictees after a critical report exposed in 2011 the lack of respect for communities' human rights in the name of a carbon credit project. (1) The report, which was released by the NGO Oxfam, accused NFC and its security agents for committing human rights violations/abuses with impunity. The World Bank appointed a mediator from the Office of Compliance Advisor/Ombudsman (CAO). The CAO handles complaints from communities affected by investments made by the International Finance Corporation, the private sector arm of the World Bank.
By 2011, NFC had attracted investment from international banks and private equity funds. These include the European Investment Bank (EIB), EU's financing institution, that had loaned NFC five million Euros (almost US 6 million dollars) to expand one of its plantations in Uganda. The Agri-Vie Agribusiness Fund, a private equity investment fund, focused on food and agribusiness in sub-Saharan Africa, had invested US 6.7 million dollars in NFC. Agri-Vie is in itself backed up by development finance institutions, notably the World Bank's private sector lending arm, the International Finance Corporation (IFC). But the most significant investment came from UK bank HSBC (around US 10 million dollars), which gave HSBC 20 per cent ownership of the Company and one of the six seats on the NFC Board. All these investors have, in theory, social and environmental standards in order to maintain and manage their own portfolios.
Long-lasting suffering and violence
After a15-months long dialogue facilitated by the CAO, evictees were offered very little compared to what they owned before. The little payments were not based on the results of any valuation exercise to assess what the evictees had lost due to the violent and forceful evictions.
Witnessradio.org has uncovered that during the dialogue, NFC forced evictees to establish a Cooperative club if they were to get any payment from the company. Also, evictees were forced to pay subscription fees to become a member of the club and benefit from the company's contribution. Many could not afford this fee, but the handful of people that managed to pay their subscription fees to the Cooperative, were at the end of the day given an acre of land each (less than half an hectare). Only 48% of the 10,000 evictees received this piece of land.
Our investigations indicate that after NFC paid 600,000,000 Uganda Shillings (close to US 180,000 dollars) through the Cooperative club's account for 8,958 hectares of land and other damages suffered by the evictees, the stakeholders involved abandoned the evictees to suffer the anguish.
The Company's plantations have shuttered lives and caused irreparable damages to the affected communities.
According to the evictees, NFC's plantations have caused a big number of deaths among children due to malnutrition. At the time of the evictions, all children dropped out of schools and married at a tender age. Further, many families of the evictees began to live in refugee camps after failing to obtain food to feed their families, while hundreds of families broke up. And the list of long-standing impacts goes on.
The testimonies of forceful evictions and lack of due compensation overshadow the social development projects that the company flags whenever it talks about its achievements.
Shantel Tumubone, aged 50, and her family, was evicted 10 years ago from their ancestral home in Kyamukasa Village, Kitumbi Sub-county, Kassanda District. They were promised compensation that would enable them to find alternative land for their settlement.
She moved to a nearby village as she looked for land in anticipation of receiving compensation. "I have waited for the money to date. There is no single coin that we have received as compensation and we don't know if it will happen" Tumubone, whose hope is fading away, tells witnessradio.org.
After waiting in vain, Tumubone managed to get casual employment on a farm in the Kabweyakiza Village, which is a few kilometres from where she used to live with her family. Having lost everything during the eviction, Tumubone later lost her husband because they could no longer afford the medical bills. Even worse, she did not have where to bury her husband and, thus, a swap deal was made between her and the plantations company: in exchange of her carrying out casual work in the plantations for eight months, the Company would give her a piece of land in her former village valued at 1 million Uganda Shillings (around US 270 dollars) so that she could bury her husband.
Tumubone is one of the many people who have been driven into poverty and landlessness by the New Forests Company. People who used to own land for cultivation and survival have been turned into beggars, while several others have become labourers at the Company working on what used to be their land.
Many of the people that Witnessradio.org spoke to dispute reports of due consultation and of compensation for alternative land.
"We were never consulted or agreed to what the New Forests Company did. We have been reduced to paupers and who would choose such a life. I personally used to own 15 acres [6 hectares] of land where I planted a variety of crops," said one of the residents who is now a casual labourer at the Company's plantations.
Despite all this, in its 2011 report to the UN, the New Forests Company claims that the people vacated their land voluntarily and peacefully, which does not tally with the situation at hand when you talk with and listen to the affected communities.
FSC: Certifying devastation
What is also striking is that NFC managed to obtain an FSC certification for its plantations, which allegedly vouches for a company's "socially beneficial" practices. The FSC certification is supposed to ensure that products with the seal come from responsibly managed plantations that provide environmental, social, and economic benefits.
In an audit report conducted in 2010, FSC declared regarding the evictions that the company had followed peaceful means and acted responsibly.
With the situation in the areas where the New Forests Company is implementing its tree planting projects, there is no doubt that the company is flouting the certification company's standard criteria in acquiring land. In consequence, many homeless people have been left with limited hope of returning to their land and homes.
The chairperson of the displaced households, Mr. Julius Ndagize, has said that several meetings with the managers of the New Forests Company have not been fruitful.
"The Company only managed to resettle a few families after we managed to secure 500 acres [200 hectares] of land in Kampindu Village, where each family managed to get an acre of land and the rest are landless". Says Mr. Ndagize.
Background to the increasing large-scale investment
Following the spike in commodity prices in 2007-2008, investors expressed interest in 56 million hectares of land for agriculture and timber production, and Sub-Saharan Africa accounted for 2/3 of this expressed demand. Despite the poor record of large agricultural investments in Africa and parts of Asia, the global median project size of 40,000 hectares implies that these investments could have major implications for rural land rights and existing land users, especially smallholders.
Alarmingly, countries with weak legal frameworks for recognizing rural land rights as well as poor environmental regulation for business operations are most likely to be targeted by large-scale investments.
The Ugandan constitution states that "land in Uganda belongs to the citizens of Uganda". But stories of non-compensation for over ten years point to gross abuse of the Ugandan law and total abuse of the citizens' rights to whom the land belongs.
Forced evictions also constitute gross violations of a range of internationally recognized human rights, including the human rights to adequate housing, food, water, health, education, work, security of the person, freedom from cruel, inhuman and degrading treatment, and freedom of movement.
The impacts of forced evictions go far beyond material losses, leading to deeper inequality and injustices, marginalization, and social conflicts.
With the evictions happening in Uganda unabated, there is no doubt that the margin between the rich and poor is widening on top of gross abuse of human rights.
The Witness Radio team, Uganda
witnessradio.org
(1) WRM Bulletin 171, Uganda: New Forests Company – FSC legitimizes the eviction of thousands of people from their land and the sale of carbon credits, 2011; and Oxfam International, The New Forests Company and its Uganda plantations, 2011
Original Post: wrm.org
Statement: The Energy Sector Strategy 2024–2028 Must Mark the End of the EBRD's Support to Fossil Fuels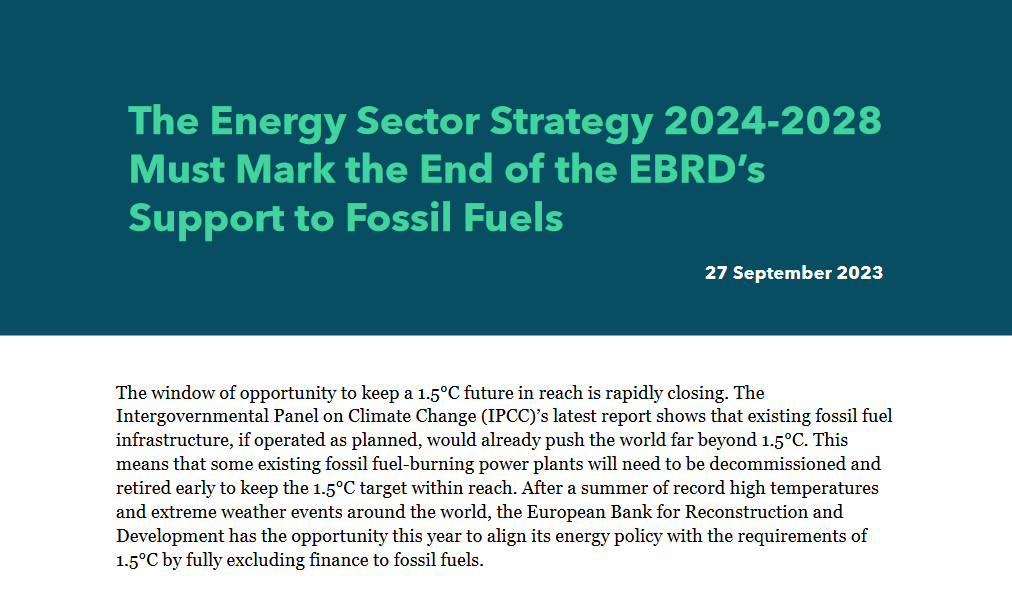 The European Bank for Reconstruction and Development (EBRD) is due to publish a new Energy Sector Strategy before the end of 2023. A total of 130 civil society organizations from over 40 countries have released a statement calling on the EBRD to end finance for all fossil fuels, including gas.
From 2018 to 2021, the EBRD invested EUR 2.9 billion in the fossil energy sector, with the majority of this support going to gas. This makes it the third biggest funder of fossil fuels among all multilateral development banks, behind the World Bank Group and the Islamic Development Bank.
The EBRD has already excluded coal and upstream oil and gas fields from its financing. The draft Energy Sector Strategy further excludes oil transportation and oil-fired electricity generation. However, the draft strategy would continue to allow some investment in new fossil gas pipelines and other transportation infrastructure, as well as gas power generation and heating.
In the statement, the civil society organizations point out that any new support to gas risks locking in outdated energy infrastructure in places that need investments in clean energy the most. At the same time, they highlight, ending support to fossil gas is necessary, not only for climate security, but also for ensuring energy security, since continued investment in gas exposes countries of operation to high and volatile energy prices that can have a severe impact on their ability to reach development targets. Moreover, they underscore that supporting new gas transportation infrastructure is not a solution to the current energy crisis, given that new infrastructure would not come online for several years, well after the crisis has passed.
The signatories of the statement call on the EBRD to amend the Energy Sector Strategy to
fully exclude new investments in midstream and downstream gas projects;
avoid loopholes involving the use of unproven or uneconomic technologies, as well as aspirational but meaningless mitigation measures such as "CCS-readiness"; and
strengthen the requirements for financial intermediaries where the intended nature of the sub-transactions is not known to exclude fossil fuel finance across the entire value chain.
Source: iisd.org
Download the statement: https://www.iisd.org/system/files/2023-09/ngo-statement-on-energy-sector-strategy-2024-2028.pdf
Pushing back: The EACOP victim community rushes to court seeking reinstatement onto their land and compensation.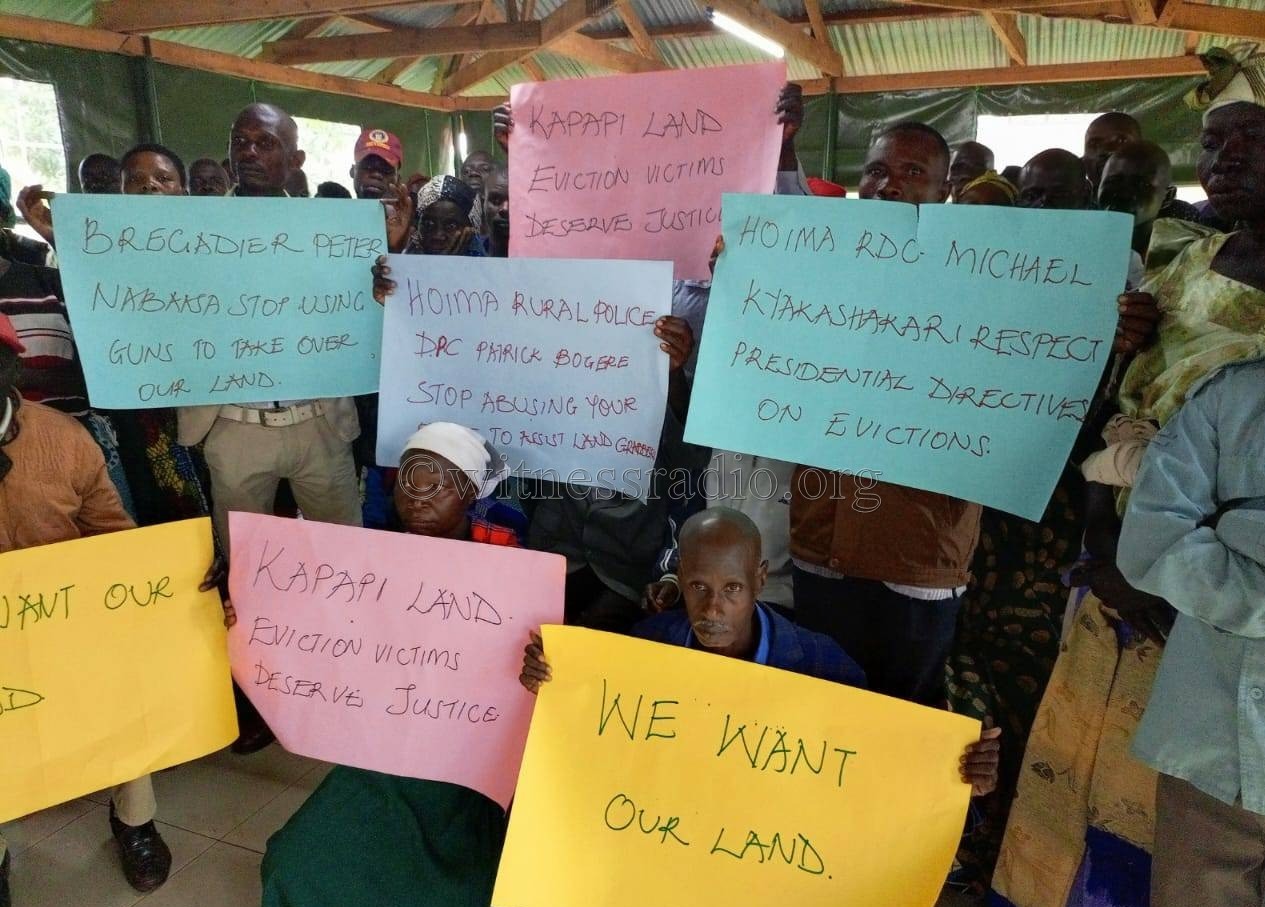 By Witness Radio team
One of the East Africa Crude Oil Project (EACOP) victim communities in Hoima district has run to Hoima high court challenging a forceful and violent eviction which pushed them off their land, asserting that it was very illegal and unconstitutional and subjected them to degrading treatment.
The Kapapi community, as commonly referred to, is composed of both pastoralists and cultivators that were lawfully living in Waaki North, Kapapi Central, Waaki South, Runga, and Kiryatete villages in Kapapi and Kiganja sub-counties in Hoima district since the 1950s.
In a February 2021 report from Total Energies Uganda, titled "Tilenga Project – Resettlement Action Plan 4," it identified Kapapi, Runga, Waaki, and Kiryatete villages as areas that will be affected by the proposed Tilenga Feeder Pipeline Component (RAP 4).
The Tilenga feeder pipeline corridor is approximately 95 km long originates from the Tilenga Project Central Processing Facility (CPF), about 8 km northeast of Buliisa town in Buliisa District and 5 km south of the Albert Nile. The purpose and the need for the Tilenga feeder pipeline, according to Total Energies, is to deliver crude oil to the planned refinery in Kabaale and the East African Crude Oil Pipeline (EACOP).
Uganda National Oil Company (UNOC), as the Government nominee, holds a 15% participating interest in the Tilenga project; Total Energies E&P Uganda B.V., the operator, holds 56.67% while the other partner, China National Offshore Oil Corporation (CNOOC) Uganda Limited holds 28.33% shares.
On 10th February 2023 at 1:00 am local time, unidentified dozens of men cladding Uganda Police Force (UPF) and Uganda People's Defense Force (UPDF) uniforms, together with armed guards from Magnum, a private security company violently evicted over 2,500 locals from 1294.99 hectares of land with no compensation or resettlement, looted animals and food stuffs. The eviction was executed without a court order.
Through their lawyers Arinaitwe Peter & Company Advocates, Mulega Eria and 13 others on behalf of the pastoralists community in a Civil Suit no. 78 of 2023, sued a UPDF Brigadier General. Nabasa Peter, Bogere Patrick, a Hoima Rural District Police Commander, Kyakashari Micheal, the Deputy Resident District Commissioner (RDC) of Hoima district, one Gafayo Ndawula William, Kiiza Nathan Byarugonjo, Oketcha Micheal, Oromo Luzira, Magnum Security company limited, Muhwezi Aston, William Kiiza, Kyamanywa Alex, Wilber Kiiza, Hoima district Land Board and Commissioner land registration among others.
In a second matter, Civil Suit no. 79 of 2023, Ajaruva Uchida and 112 others on behalf of the crop growers community, sued a UPDF Brigadier General Nabasa Peter, Bogere Patrick, a Hoima Rural District Police Commander, Kyakashari Micheal, a the Deputy Resident District Commissioner (RDC) of Hoima district, a one Gafayo William Ndawula, Kizza Nathan Byarugonjo, Oketcha Micheal, Asimwe Moses Byangire, Oromo Luzira and Magnum security company limited among others.
Both communities are accusing the latter of carrying out a forceful and violent eviction from their land, alleging a disregard of lawful procedures driven by a desire to profit from EACOP related projects.
In both suits, both communities demand for several remedies from the courts of law, such as a permanent injunction restraining all defendants and their agents from further interference with their land, an order for an immediate return onto their land, and compensation.
Arinaitwe Peter, one of the lawyers, expressed optimism that Courts would hear the cries of the Kapapi people, who have endured destitution, significant suffering, and displacement, with some living in internally displaced people's camps following the brutal eviction.
"We are optimistic that the honorable Court will listen to the cries of the Kapapi people. These people are destitute, they have suffered immensely, and some of them are currently residing in internally displaced people's camps due to a brutal eviction carried out by the individuals mentioned in different suits. Our purpose here is to ensure that their voices are heard, have justice served, and that they are immediately returned to their land while the legal case is ongoing." Said Mr. Arinaitwe.
Mr. Kataza Samuel, one of the community environmental defenders, called on Hoima Court to expedite the hearing of their matters since many of the residents are undergoing hardships as a result of forceful evictions.
"Our people are enduring immense suffering, with many families torn apart by poverty. They are scattered across in different parts of the country, struggling for survival, while some are forced to live with relatives. Unfortunately, essential services like shelter, food, healthcare, and education for their children remain elusive. We are here to seek justice for our violated rights, and, therefore, we implore Court to intervene urgently," He added.
As we write this story, the grabbed land continues to be heavily guarded by Uganda People's Defense Forces (UPDF) Soldiers and Magnum Security Company guards.
Court is yet to fix hearing dates for both suits.
A multi-billion project funded by AfDB and NDF is furthering poverty and food insecurity in Paten community targeted for a development project.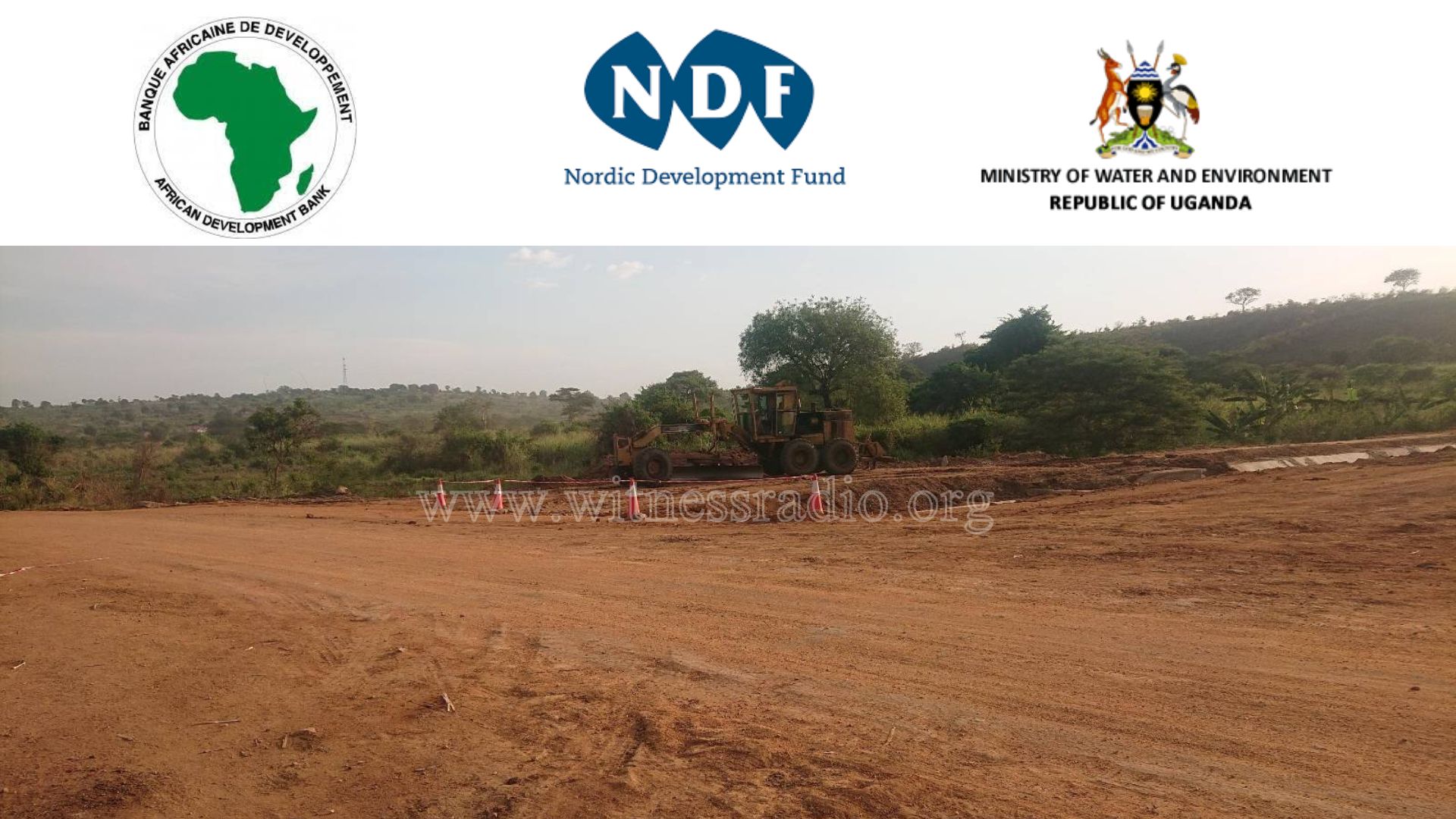 By Witness Radio team
The Wadelai irrigation scheme project funded by the African Development Bank (AfDB) and Nordic Development Fund (NDF) has turned out to be a curse to the Paten community targeted to benefit from a development project as individual members of the local community for some time now spend their precious time pushing back forced land eviction and human rights violations perpetrated by the army and police force personnel brought to guard the project.
The Wadelai irrigation scheme, under the Farm Income Enhancement and Forest Conservation Programme –Phase 2 (FIEFOC-2Project) is financed with an African Development Bank (ADB) loan of USD 76.70 million. The Project is co-financed by the Nordic Development Fund with a grant of Euro 5.00 million, and the Government of Uganda's counterpart contribution of USD 9.13 million. The overall cost of this project is USD 91.43 million (341,576,079,900.00 Ugandan Shillings), approved in January 2016.
According to documents on the African Development Bank's website, the Wadelai Irrigation Scheme covers a total area of about 1365 hectares (ha) including the proposed extension area of Paten. The original design of the Wadelai Irrigation Scheme included a portion of the command area of 365 hectares which, was owned by Ragem Prison (government facility). During the Mid-Term Review and upon the request of the Paten Community through their district head, the Executing Agency (Ministry of Water and Environment) proposed to substitute the same land area (365 ha) with Paten community land which the Bank agreed to.
The project objective is to improve household incomes, food security, and climate resilience through sustainable natural resources management and agricultural enterprise development. However, residents have expressed concerns that it is pushing them further into a state of extreme poverty.
To the contrary, the "development project" is being fought by locals to save their land which is the source of their livelihood.
The fight to defend Paten's land rights from being grabbed by Wadelai irrigation scheme project has been marked by courage, and those who have stood against the project have endured violence orchestrated by project implementers.
The Paten Clan, an integral part of the Shilluk Luo tribe, traces its roots to a migration that took place between the 14th and 16th centuries from South Sudan. Initially, they found their first settlement in the Acholi region. However, their journey continued as they crossed both the Omee River and the formidable River Nile, eventually arriving at their current homeland, which they aptly named Paten.
The heart of Paten's identity is in its language, as the inhabitants predominantly speak Jonam. Their way of life is deeply intertwined with their environment, primarily revolving around fishing and farming as their main sources of livelihood.
This resilient clan is composed of  seven (7) villages namely Adiri, Paten Upper and Lower, Paten Central, Borowio, Oborowio central and Paten Ocayo, each contributing to the rich tapestry of Paten's culture and heritage. Located within the Pakwach district, Paten enjoys a picturesque setting on the western bank of the majestic River Nile. The clan's geographical boundaries are defined by the Oraa River to the north, Madi Ayabu to the east, the Ocayo Clan to the west, and the Kaal Ragem chiefdom to the south. In this lush and historically significant region, the Paten Clan has thrived for generations, nurturing its traditions and cherishing its ancestral lands.
This community is known for its unique traditional mud and thatch homes, which serve as a proud representation of their rich cultural heritage. These dwellings, showcasing local craftsmanship, seamlessly integrate with the environment, underscoring the clan's dedication to preserving their ancestral traditions.
The Clan accuses financiers and government of Uganda for forcibly taking their land through violent means. According to them, the government has been expanding the Wadelai Irrigation Scheme in the sub-county since 2020 and in the process, they allege that their land is being seized without compensation or being offered alternative settlements.
At least 16 Paten clan members fell victim to violence when they were shot and wounded. These grievous injuries were inflicted on them by soldiers from the Uganda Police and Uganda People's Defense Forces (UPDF) who had been deployed by the Resident District Commissioner, district chairperson, and Chief Administrative Officer of the Pakwach district local government.
One of the victims, whose identity remains confidential due to concerns about potential retaliation, recounted to Witness Radio Uganda that on "August 9th, 2021, UPDF and police officers, under the command of Resident District Commissioner (RDC) Sunday Eseru, arrived on their land with a team of people from the Pakwach district. They began surveying and clearing communities' land without prior notification. In response, the following morning on 10th August 2021, "we went to the site to plant trees, demonstrating our commitment to utilizing our land. The heavily guarded RDC, returned and got us planting trees in our land. We explained that this is our land, which was being forcibly taken from us without compensation. The RDC then ordered his soldiers to take action against us for interfering with their project. This marked the beginning of the confrontation." A victim revealed.
According to eye-witnesses, about 20 community members were shot at using rubber bullets and wounded by security personnel.
"As if the shooting was not enough, victims were denied medical treatment at a government hospital in Pakwach district. Police refused to give us a medical check-up form known as police form three (3) to be used while diagnosing victims of violence. Sadly, area police refused to register our case when we went to report the attack" one of the victims said.
On August 11th, 2021, another distressing incident occurred when four women, one of whom was pregnant, were severely beaten and forced to sleep in dirty and stagnant water because they attempted to access their land to fetch water.
Adding to the already troubling circumstances, on August 16th, 2021, two clan members who also served as civil servants within the Pakwach district local government faced dire consequences when they were interdicted from their position.
Residents continue to live in fear as their land remains heavily guarded by government officers, severely limiting their access to and use of their own land.
The Resident District Commissioner (RDC) of Pakwach, Mr. Sunday Eseru maintains that the issue was resolved three months ago when representatives from the African Development Bank and the Ministry of Water and Environment visited. According to the commissioner, during this visit, the concerned parties were taken to Gulu, where they engaged in discussions and negotiations.
Furthermore, a Cooperation Agreement was signed to formalize the agreed-upon terms and conditions. The commissioner asserts that, to date, no formal complaints or disputes have been raised regarding the project.
"Every project affected person was compensated, and if there is anybody who hasn't compensated, they will be compensated because there is nobody that government can't compensate." The commissioner said during an interview with Witness Radio on August 27, 2023.
Efforts to contact the African Development Bank for confirmation of the RDC's statements proved to be challenging.
Members of the Paten Clan however maintain that they have not received any compensation and argue that the government has imposed the project on their land through coercive methods.