Monoculture tree plantations are a false climate solution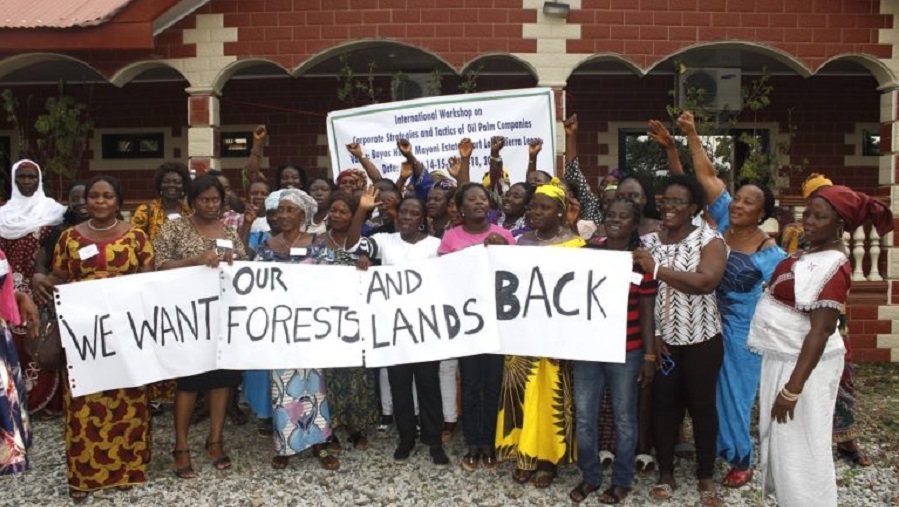 Yesterday was the 16th International Day of Struggle against Monoculture Tree Plantations. In 2004, rural communities in Brazil declared the day to commemorate the resistance against the expansion of monoculture tree plantations in Brazil. Through solidarity statements and actions around the world the day has evolved to become an International Day of Struggle.
This year, a group of organisations from African countries, together with the World Rainforest Movement, has issued an open letter about investments in monoculture tree plantations in the global South, particularly in Africa.
The letter is a response and critique of a June 2019 report titled, "Towards Large-Scale Commercial Investment in African Forestry". The report was prepared by an outfit called Acacia Sustainable Business Advisors, which was set up by Martin Poulsen, a development banker. One of his co-authors for the study was Mads Asprem, the ex-CEO of Green Resources, a Norwegian industrial tree plantation and carbon offsets company. Green Resources' land grabs in Mozambique, Tanzania, and Uganda have resulted in loss of land, evictions, loss of livelihoods and increased hunger for local communities.
The study was produced for the African Development Bank and WWF Kenya, with funding from the World Bank's Climate Investment Funds.
The Open Letter (signed by 117 organisations and people) is posted here in full:
International Day of Struggle against Monoculture Tree Plantations
Open Letter about investments in monoculture tree plantations in the global South, especially in Africa, and in solidarity with communities resisting the occupation of their territories.
September 21st is the International Day of Struggle against Monoculture Tree Plantations. Unlike others, this Day was not created by the United Nations (UN) or by governments. The Day was created in 2004 by rural communities, gathered in the Brazilian hinterland, to denounce and shed light on the impacts of monoculture tree plantations on their territories, and affirm their determination to resist such plantations and take back their territories from the hands of corporations.
16 years later, the Day remains as relevant as ever: there is a real danger of a gigantic, worldwide expansion of monoculture tree plantation. This is promoted as a solution to prevent climate chaos and to the industrialized world's dependence on oil, gas and coal. A group of governments, corporations, consultants, investors and major conservationist NGOs have come together to put their mega-plans[1] for tree plantation expansions on the table.
Although highly questioned, a forest as defined by the FAO (UN Food and Agriculture Organization) and several national governments mistakenly includes monoculture tree plantations. In their eyes, plantations are "planted forests". This definition favours only the plantation corporations, thus guaranteeing their main objective: generating profits.
Africa is the continent with "the most profitable afforestation potential worldwide", according to a report produced in 2019 by consultants for the African Development Bank (AfDB) and the conservationist NGO WWF-Kenya. "The study has identified around 500,000 ha of viable plantation land in ten countries: Angola, Republic of Congo, Ghana, Mozambique, Malawi, South Sudan, Tanzania, Uganda, Zambia and Zimbabwe." The study proposes the speedy creation of a Fund, headquartered in a tax haven (Mauritius), to finance the planting of the first 100,000 hectares of trees.
In order for these plantations to generate profits for private investors, the study claims that aid will be necessary from European public international cooperation agencies, i.e., taxpayers' money from Northern European countries, namely, Finland, Sweden, Norway, Denmark, Iceland, the United Kingdom and The Netherlands, as well as from the World Bank via the International Finance Corporation (IFC), which makes loans to private companies.
The study and its recommendations leave us perplexed and indignant, given the false assumptions and inconsistencies on which it is based (see Annex I for a more detailed description). Below, we present a summary of our main criticism.
The study repeats the same treacherous and false promises that corporations and their advocates always make. It states that plantations improve communities' living conditions, create jobs, improve the soil and the quality and quantity of water. The corporations' 'social' projects would be attractive to the communities. However, plantations lead to a large number of violations of rights, create very few poorly-paid and dangerous jobs, destroy forests and savannas, degrade soils, contaminate and dry up water sources and destroy communities' way of life. With the plantations, guards arrive who will restrict communities' freedom of movement; cases of abuse, sexual violence against women and HIV/AIDS infections increase in number. The promise of 'social' projects, often not fulfilled, is the main bargaining chip for corporations to gain access to communities' lands.
The study refers to land conflicts only as "challenges" and the proposed solution is to "follow FSC and other best practises". Firstly, the 500,000 hectares that the study suggests corporations should plant as monoculture tree plantations are not abandoned or degraded lands. Corporations always want fertile lands, usually flat and with availability of water – in other words, lands that tend to be used by communities. By recommending the FSC, the study ignores ample documentation that proves that the FSC does not solve plantations' structural problems, and land conflicts even less. The FSC deceives consumers by considering the model of large-scale monoculture plantations "sustainable", for it always leads to large tracts of land being controlled by corporations and to the intensive use of agro-chemicals and synthetic fertilizers. So far, compensation for the populations that have lost their lands and means of subsistence has always been derisory or inexistent. Meanwhile, the social, environmental, economic and cultural damage caused by monoculture tree plantations in rural areas of African countries has never been compensated by corporations. There exists no way to calculate the damage and much of the harm done is irreparable.
The study references a World Bank/IFC project in Mozambique, stressing that "one important element of the IFC approach will be to define and register land rights". In fact, the World Bank, as well as financing plantations, has a policy of encouraging governments in countries of the South to speed up the granting of individual deeds and, therefore, the privatization of land, in an attempt to prevent its collective recognition as community land. The World Bank has been promoting the handing over of community lands to private capital all over the world. It is important to highlight the fact that in recent years, the government of Mozambique has put in place a number of reforms in the forestry sector. These include a review of the Forestry Policy and its Implementation Strategy and, very recently, a public consultation process with a view to also reviewing the National Land Policy. In all of these processes the World Bank is the common denominator in terms of promotion and financial "support". This review is taking place under the pretext of improving transparency and efficacy in land management and policies, and will inevitably force an alteration of the Land Law and respective Regulation, thus legitimizing the occupation of community lands which provide living conditions for communities and peoples.
The study states that the tree plantations would be "a stable, long-term carbon sink", and result in "substantial adaptation benefits" vis-à-vis climate change at the local level. By stating this, the study ignores a growing body of scientific work showing that monoculture tree plantations are a false climate solution. The experiences of communities all over the world with monoculture tree plantations show that they create a local environment even less prepared for responding to the ever more perceptible impacts of climate change.
The study states that "Global oil and industrial companies" want to "become part of the solution rather than a major part of the problem. They are beginning to see the potential of forestry investments." Oil and gas companies are an integral part of the climate crisis, regardless of such proclamations. They have not shown any interest in solving it; on the contrary, they intend to invest first and foremost in false solutions – after all, profits are above all else.
Other false statements include: "the world will need the type of intensive afforestation (…) that the Brazilian forestry industry is implementing"; and that Brazil's neighbour, Uruguay, is "the world's most recently developed forestry country". The truth is that the Brazilian experience with industrial tree plantations over the course of the last few decades has led to numerous land conflicts and environmental degradation. Municipalities with the highest concentrations of plantations are among the poorest, compared with those with diversified agriculture based on smallholders. In Uruguay, the same negative impacts occur. Rural areas have seen a massive exodus of people, with the rural population reduced by half. Furthermore, citizens of Uruguay have taken on an enormous debt, owing to a recent contract between its government and Finnish multinational UPM. According to this contract, the government agreed to carry out multi-million dollar infrastructure works to service UPM and the export plans of its second pulp factory.
The study also states that "The main barrier to successful investments in African greenfield planting is low historic returns. New planting by private companies has ground to a halt in recent years." This not only reveals that profits are what really matters to private investors, but also that the authors of the study deliberately ignore the main reason why the expansion of industrial plantations has been impeded in various African countries: the resistance of communities against such monoculture plantations.
The study also seeks to attract investors, suggesting "the possibility of planting [trees] at significantly lower costs (…), more or less half of 10 years ago (…)". Promising companies that they will have to spend less means that the weight of the industrial plantation projects from the proposed fund will fall even more upon already indebted African countries and, consequently, on their populations, particularly rural communities that run the risk of losing their most fertile lands.
It is important to stress that a "conservationist" NGO is a co-producer of this study that promotes investments that will benefit first and foremost private companies. The study itself reveals how NGOs like WWF should no longer be considered NGOs since they function and act as the 'right hand of the plantation industry'.
The report refers to a non-public version of the study which has not been disclosed to the public as far as we are aware. The report also notes that "(…) there is a clear coalition of DFIs [development finance institutions] interested in further discussion on this topic [creation of the Fund], including: CDC [United Kingdom], Finnfund [Finland], IFC [World Bank], NDF [Nordic countries: Finland, Norway, Sweden, Denmark, Iceland] and FMO [The Netherlands]". This demonstrates that decisions about investments are being made without the participation of the communities and other civil society organizations and social movements from the regions in question, i.e., the parties most affected. How can it still be acceptable in the 21st century that public international cooperation agencies use money from their taxpayers in this way? Hiding their decisions from their own citizens and from the populations that will be affected? When plantation corporations and their investors, after everything has been decided, state that they are applying the principle of communities' "free, prior and informed consent", does this merit any credibility?
We demand that the non-public version of this study be published immediately by the AfdB and WWF-Kenya, so that its content may be known to the communities and organized civil society in the countries where they intend to implement their plans.
We reiterate our indignation with regard to the channelling of public resources towards private investments, through tax havens, to be invested in highly damaging activities, such as large-scale monoculture plantations.
We further demand a wide-ranging review of the process of allocation of land to plantation corporations, ensuring the return of land to the communities that depend on this land, today and in the future. In Mozambique, for example, peasant agriculture constitutes the main guarantee of subsistence for more than 80% of the population, and the land is the only thing to which communities can resort to ensure food safety and sovereignty.
We reiterate our solidarity on this September 21st with the legitimate and just struggles of communities around the world that resist the advance of plantations and strive to take back their lost lands. They must be remembered and made visible every day. And they will certainly resist this new and insane expansion plan proposed in the AfDB and WWF-Kenya study and commented on in this Open Letter.
We appeal to the solidarity and unity, so that together we may demand the immediate abandonment of any and every afforestation programme based on large-scale monoculture plantation.
The Struggle Continues!
Plantations Are Not Forests!
Signed by:
ADECRU (Mozambique)
Justiça Ambiental (Mozambique)
Missão Tabita (Mozambique)
SUHODE Foundation (Tanzania)
WRM (International)
Museveni barks but Chinese refuse to leave wetlands.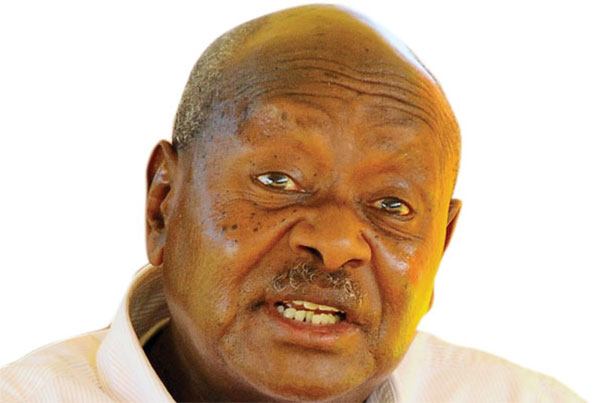 Speaking at the closing of the Inter-Ministerial Conference on Migration, Environment, and Climate Change last Friday at the Commonwealth Resort Munyonyo, President Museveni ordered Chinese nationals growing rice in wetlands to vacate with immediate effect.
This was the fifth time the president is ordering rice farmers and factories to steer clear of wetlands. From 2019 to date, President Museveni has issued over five orders for rice farmers and factories in wetlands to move but with little success.
The president has even ordered the arrest of government officials who parcelled out the wetlands to private developers but none has been arrested and not one land title has been cancelled.
Last Friday, the president said, "Here in Uganda we are contributing to the destruction of wetlands. It is our responsibility. It is not the Europeans who are destroying the wetlands; it is us. When we got in touch with the Chinese, they introduced a culture here that our people didn't know. The culture of growing rice in swamps. I don't know what swamps they use in Asia but here what they call swamps are tributaries of River Nile. When you grow rice in the swamps, you are committing a big crime. This must stop! I don't know what the scientists told you but here in Uganda, 60 per cent of the rain is from the oceans and 40 per- cent is from the wetlands…"
"Therefore, by interfering with the forests and wetlands in Uganda, we are interfering with the rainfall of this area. The countries in the Great Lakes region should be bold and watch. In Uganda, I am fighting to make sure that nobody cultivates in the wetlands… This is terrible! How can we kill ourselves and commit suicide by attacking the wetlands? The wetlands must be vacated…" Museveni said.
Chinese have a rice farm in the Lwera wetland along the Kampala-Masaka high- way at Lukaya. Kehong Uganda Industrial Development Limited has a rice farm in Lubenge wetland in Luweero district. There are rice farms and several factories in wetlands along the Mukono-Jinja highway like Tian Tang, Abacus Pharmaceutical Industries Limited and Global Paper, etc.
In October 2017, Pastor Samuel Kakande of the Synagogue Church of All Nations in Kampala appeared before Justice Catherine Bamugemereire-led commission of inquiry into land matters. Kakande at the time was accused of having a 40-square miles rice farm in a wetland yet he had been licensed by National Environment Management Authority (NEMA) to grow palm trees there.
In November 2021, the Environmental Police arrested two people at a project site owned by Rajiv Ruparelia under M/S Speke Hotel (1996) Limited; in Kitubulu, Katabi sub-county, Wakiso district.
In their November 3, 2021 statement, Nema said that although the developer (Rajiv) had a valid Environment and Social Impact Assessment (ESIA) certificate permitting him to develop a recreational area including a sand beach, marina, and hotel within the 200 metres buffer zone of Lake Victoria; he was found dumping murram into the lake, despite a recommendation by the District Environment Committee to preserve a 30-meter buffer zone from the shoreline.
"The developer claimed that murram was being dumped into the lake to recover the original project area that was taken up by the rising water levels. On the contrary, one of the conditions in the ESIA certificate is that the developer is duty bound to prevent degradation of the lake-shore following the National Environment (Wetlands, Riverbanks and Lake Shores Management) Regulations S.I. No. 153-5," the statement added.
While opening the 10th Africa-China poverty reduction and development conference at Commonwealth Resort Munyonyo, in November 2019, President Museveni ordered Chinese firms and individuals growing rice in wetlands to vacate immediately.
"I don't like swamp rice, swamp rice here is dangerous be- cause they grow it in the Nile tributaries. They are branches of the Nile, they dry them up and so I want to stop it," President Museveni said.
In an April 22, 2020 letter to Sam Cheptoris, the minister for Water and Environment, President Museveni directed him to evict encroachers on wetlands, river banks, and government forests with immediate effect to mitigate the effects of climate change. Museveni's letter read in part, "…I am therefore directing you to remove all the people on the wetlands, shoreline, river banks, and government forests. Since I know Uganda very well, I can confirm to you that all the other encroachers on wetlands are not bonafide people. They are not genuine but conscious liars and must be removed".
The directive, however, exempted people residing in historical wetlands in Bukedi, Kigezi and Busoga whom Museveni said had been misled by the previous governments to occupy these pieces of land.
In July 2021, Beatrice Anywar, the minister of state for Environment, announced that the cabinet chaired by President Museveni had banned rice growing in Ugandan wetlands, and approved the cancellation of at least 420 land titles in wetlands, especially in the districts of Wakiso and Mukono. Anywar said the cabinet directed that government officials who participated in the issuance of titles in wetlands and forest reserves, be held culpable.
Asked whether the land titles issued in wetlands had been cancelled, Denis Obbo, the spokesperson for the ministry of Lands, Housing and Urban Development, said,
"Progress towards cancellation of the over 420 titles has taken place. We have at least advertised the intention to cancel these land titles in the newspaper. Some sittings with the said land owners have taken place at the zonal offices of the ministry of Lands and we have registered some progress. We have faced some challenges in the process because when a person takes the matter to court, no progress can be made unless the matter is first cleared by a court. Despite all these challenges, we shall be implementing the presidential directive to the letter."
Asked whether the land titles issued in wetlands like Lwera will be cancelled, Obbo said the matter was under the docket of the National Environment Management Authority.
Responding to questions shared via WhatsApp, Dr Barirega Akankwatsah, the executive director of Nema said, "Nema is determined to implement the presidential directive to stop rice growing in wetlands. We are coming up with programs to educate the masses, and also design alternative sources of livelihoods like fish farming for communities dependent on rice growing in wetlands".
Asked whether licenses for rice farming in Lwera along the Masaka-Kampala highway shall be withdrawn, Barirega added, "The president was very clear, no more rice growing in wetlands. However, the Lwera issue is a complex one as the Lwera rice scheme is on privately titled land. It's very different from community rice schemes grown on public land or wetlands".
Commenting on Museveni's pronouncements, Eron Kiiza, an environmental lawyer and chief executive officer of the Environment Shield, said, "It is good to talk. Museveni just needs to take his words on environmental protection seriously and ensure that government agencies enforce them. He should also ensure that wetland encroachers do not use their political or military muscle to ignore environmental laws, environmental institutions, and environmental protection directives. The president has done enough talking and issuing orders. It is about time he walked the walk of wetlands protection."
Asked whether there was a loophole in the environment law being exploited by the encroachers, Kiiza added, "The law is not the problem. Impunity is the problem and the failure of relevant government agencies to enforce the great environmental laws, policies, and executive orders…A culture of impunity, militarism, and corruption in environmental and natural resources governance in Uganda worsens the matters. Environmental laws should be enforced uniformly and strictly."
Source: The Observer 
Offsets don't stop climate change.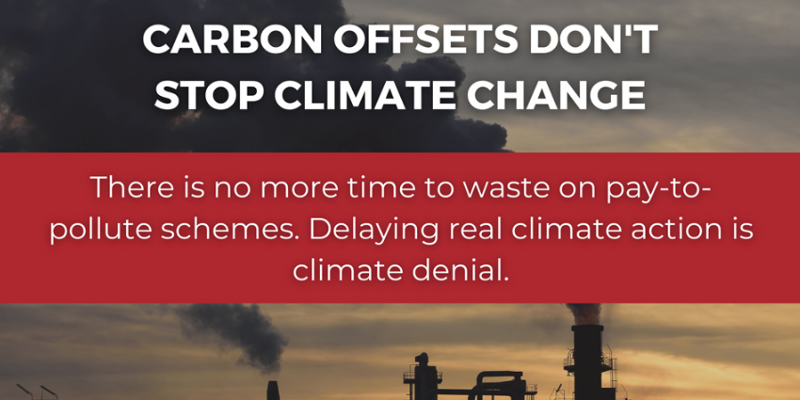 Shortly before COP26, Amazon Watch and more than 170 organisations signed on to a statement under the headline "Offsets don't stop climate change".
The headline is borrowed from a December 2020 letter to the Financial Times in response to an editorial about Mark Carney's Taskforce on Scaling Voluntary Carbon Markets.
The letter, from Doreen Stabinsky (College of the Atlantic, USA), Wim Carton (Lund University, Sweden), Kate Dooley (University of Melbourne, Australia), Jens Friis Lund (University of Copenhagen, Denmark), and Kathy McAfee (San Francisco State University, USA), states that, "Offsets don't stop climate change because they don't stop emissions."
They write that,
In an ideal world, some types of offsets might theoretically balance out emissions with removals. But the whole point of an offset is that one entity gets to keep emitting.
And they explain that the problem is that with continued emissions, CO2 continues "to accumulate in the atmosphere where it resides for hundreds to thousands of years, and the temperature of the planet continues to increase".
They point out that the oil industry is a primary beneficiary of offsetting and Carney's taskforce was stacked with respresentatives of Big Polluters:
All the major oil companies are planning to continue with exploration and new extraction projects. None of them have plans for a managed decline of production that is anywhere near in line with the Paris goal aiming to limit warming to 1.5C. Indeed some fossil fuel majors have even stated their intent to increase exploration and production for at least the next five years. These are hardly decarbonisation goals. All of them intend to rely heavily on carbon offsetting to keep drilling and emitting-as-usual.
They conclude that if Carney were serious about addressing the climate crisis, he would "convene a taskforce on the managed decline of fossil fuels and bring the fossil fuel industry to the table".
It's not controversial to point out that offsetting does not reduce emissions (and therefore does not help address the climate crisis). Even proponents of offsetting will, if pushed, admit this fact:
In a press release about the statement signed by more than 170 organisations, Jim Walsh of Food & Water Watch says,
"Offsets are nothing short of a scam that corporate interests push, allowing them to continue polluting our climate and frontline communities with impunity. The harm does not end there, as these offset schemes displace indigenous communities and prop-up corporate agriculture and factory farming. Addressing the climate crisis means keeping fossil fuels in the ground, rather than pursuing these scams that harm our communities and climate for nothing other than corporate profits."
Here is the statement, "Offsets don't stop climate climate change". The list of signatories is available here:
Offsets don't stop climate changeClimate-driven wildfires, flooding, droughts and other extreme weather events daily impact every corner of the globe.Yet the fossil fuel industry, big utilities, big agriculture, big finance — and their political allies — are pushing carbon offset schemes to allow them to continue releasing the greenhouse gases driving the climate crisis, harming Indigenous, Black, and other already-marginalized communities, and undermining sustainable farming and forestry practices.The science is clear: we need to rapidly phase out fossil fuels and emissions-intensive agricultural practices like factory farming, while protecting forests, wetlands, and other natural carbon sinks. Every delay means greater impacts on our climate and more pollution in historically overburdened communities.[1]We call on leaders around the world to join us in rejecting offset schemes because these pay-to-pollute practices are nothing more than false and harmful solutions to the climate crisis.
We call on global policy makers to reject offset schemes and embrace real climate solutions that will keep fossil fuels in the ground, support sustainable food systems, and end deforestation, while eliminating pollution in frontline communities.
---
[1] IPCC, Global Warming of 1.5°C. International Energy Agency, Net Zero by 2050. IPCC, AR6 Climate Change 2021.
[2] Carton et al. "Undoing Equivalence: Rethinking Carbon Accounting for Just Carbon Removal," Frontiers in Climate, 16 April 2021.
[3] Anderegg, W. et al., Climate-driven risks to the climate mitigation potential of forests, Science 368 (6947) 2020. Mackey, B. et al. 2013., "Untangling the confusion around land carbon science and climate change mitigation policy," Nature Climate Change, 3(6),pp.552-557, 2013.
[4] Food & Water Watch, "Cap and trade: More pollution for the poor and people of color," November 2019 at 1 to 2.
[5] Gilbertson, Tamara, Carbon Pricing: A Critical Perspective for Community Resistance, Indigenous Environment Network and Climate Justice Alliance, 2017.[6] Anderegg, W., "Gambling with the climate: how risky of a bet are natural climate solutions?," AGU Advances, 2021. Coffield, S.R. et al., "Climate-driven limits to future carbon storage in California's wildland ecosystems," AGU Advances, 2021.
[7] Ahmend, N., "World Bank and UN carbon offset scheme 'complicit in genocidal land grabs – NGOs," The Guardian, 3 July 2014. Forest Peoples Programme, The Reality of REDD in Peru: Between Theory and Practice, November 2011.
[8] Institute for Agriculture and Trade Policy, "Why carbon markets won't work for agriculture," January 2020 at 2.
[9] Elgin, B., "A Top U.S. Seller of Carbon Offsets Starts Investigating Its Own Projects," Bloomberg. 5 April 2021.
[10] Hache, F., Shades of Green: The Rise of Natural Capital Markets and Sustainable Finance, Green Finance Observatory, March 2019.
Original Source: Redd-monitor.
NO more GE trees! Open Letter Denouncing Suzano Papel e Celulose's glyphosate-resistant Genetically Engineered (GE) Eucalyptus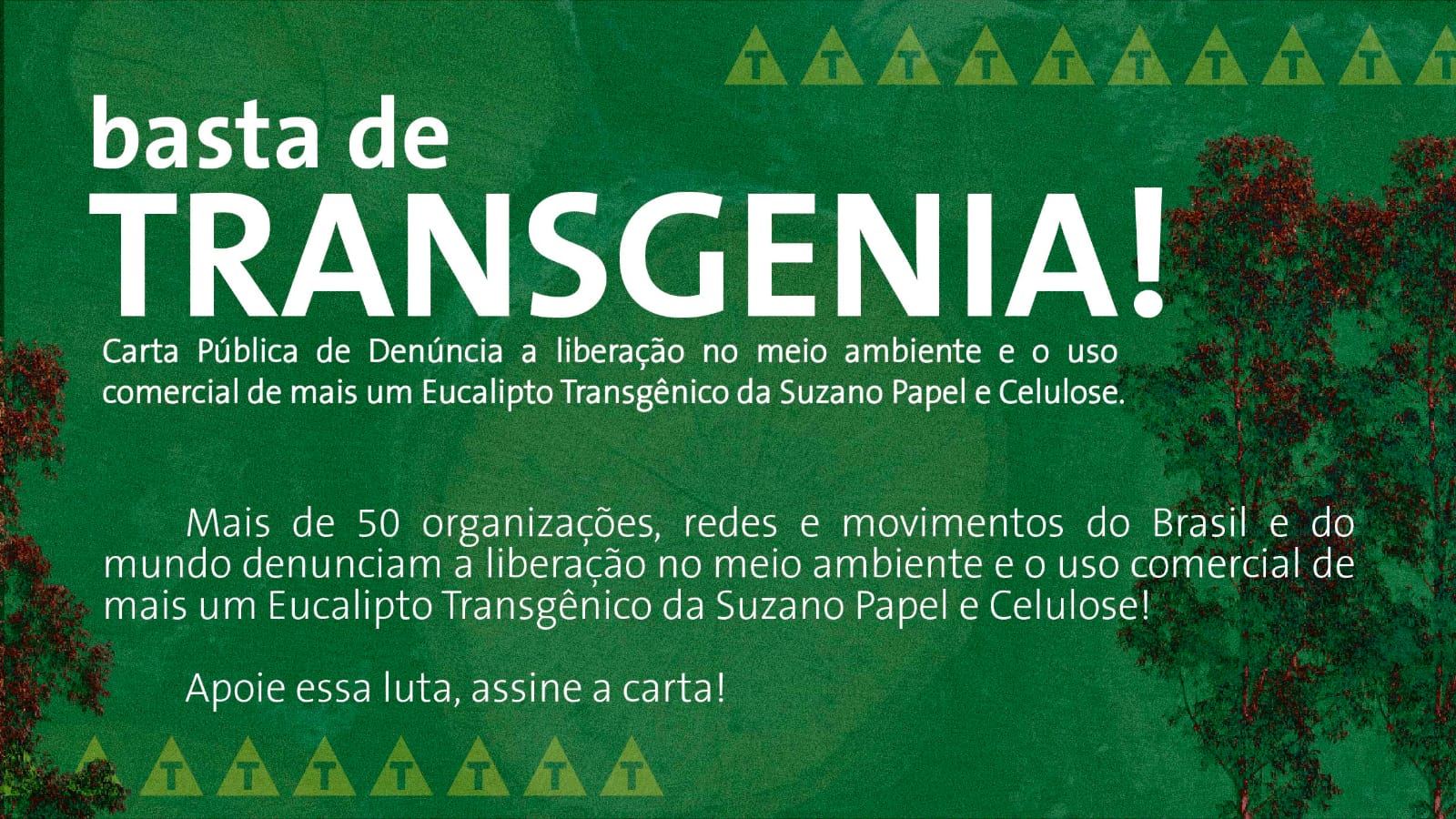 More than 50 organizations, networks and movements from Brazil and around the world denounce the release into the environment and the commercial use of a new transgenic eucalyptus from the Brazilian company Suzano Papel e Celulose!
The approval by the National Technical Commission on Biosafety (CTNBio) of the GE eucalyptus resistant to glyphosate, identified as 751K032, is a serious threat to life, to society and to nature. It was approved without any democratic consultation with Brazilian civil society in general and the neighboring communities of the areas where the plantations will be located in particular. The only concern was granting the license in the benefit of the commercial interests of Suzano Papel e Celulose, instead of the detrimental effect on life.
Organizations denounce the CTNBio decision from November 16, 2021 to approve the release into the environment, commercial use and any other related activities of the new GE eucalyptus developed by FuturaGene, owned by Suzano Papel e Celulose.
The letter ends by demanding the immediate revocation of the license granted for the use of Suzano GE eucalyptus 751KO32, as well as the action and intervention of the Federal Public Prosecution Service to revoke the decision made by the CTNBio, a decision made without a full public debate, especially in regions of Brazil that have been exposed for many years to eucalyptus monoculture.
Read the complete letter here.
Original Source:  Alert Against Green Desert.