The African Development Bank and the Tree Plantations Industry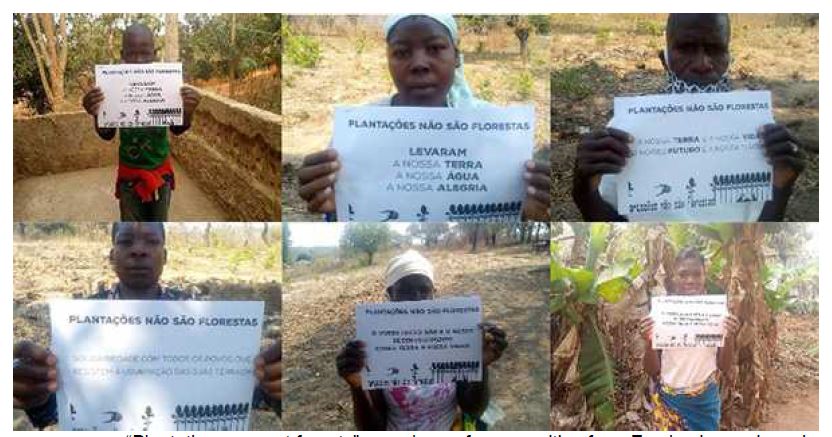 "Plantations are not forests", members of communities from Zambezia province, in Mozambique.
In June 2019, the report "Towards Large-Scale Commercial Investment in African Forestry,"
(1) made a call to development-funding agencies, mainly from Europe, and the World Bank,
to provide aid money to a new Fund for financing 100,000 hectares of (new) industrial tree
plantations, to support the potential development of 500,000 hectares, in Eastern and
Southern Africa. This money, according to the report, would be crucial for private investors to
generate profits from the plantations. The new Fund would be headquartered in the tax
haven of Mauritius.
The African Development Bank (AfDB) and WWF Kenya produced this report with funding
from the World Bank's Climate Investment Funds. The purpose of the report is to assist the
AfDB "in evaluating and designing alternative private funding models for commercial forestry
in Africa with a view to ultimately establishing, or aiding the establishment of, a specialized
investment vehicle for commercial forestry plantations." The report declares that the
development agencies from Finland, Sweden, Norway, Denmark, Iceland, the United
Kingdom and The Netherlands are interested.
Essentially, the report is a praise to industrial monoculture plantations. It repeats, without
providing any evidence, most of the deceiving arguments that plantations companies use in
their propagandas to cover up the impacts of this devastating industry. The report's focus is
on outlining the possible financial instruments that would attract companies to this region and
make their investments most profitable.
The report identifies "readily available projects with the potential to establish almost 500,000
ha of new forest (sic) on about 1 million ha of landscape, not including areas that existing
companies and developers are already planning to use for own expansion. It also excludes
early stage or speculative projects." (italics added) In particular, the report identifies "viable
plantation land" in ten countries: Angola, Republic of Congo, Ghana, Mozambique, Malawi,
South Sudan, Tanzania, Uganda, Zambia and Zimbabwe.
The report further affirms that "Africa may be positioned to have the most profitable
afforestation potential worldwide." And, then, it goes into explaining the possible investment
schemes that can make profit-oriented business and afforestation objectives (from climate or
voluntary targets) to be aligned and, thus, generate more profits for shareholders.
None of the pages in the report mention, however, not even indirectly, the overwhelming
amount of information that evidences the many negative impacts that industrial plantations
cause to communities and their environments. The report's authors chose to ignore
plantations companies' destruction of forests and savannahs; erosion of soils; contamination
and dry-up of water sources; overall violence inflicted on communities which include
restriction of movement, criminalization when resistance emerges, abuse, harassment and
sexual violence in particular to women and girls; destruction of livelihoods and food
sovereignty; destruction of cultural, spiritual and social fabrics within and among
neighbouring communities; few precarious and hazardous jobs; unfulfilled "social" projects or
promises made to communities; destruction of ways of living; rise in HIV/AIDS; and the list
goes on.
In front of this, on September 21, 2020, the International Day of Struggle against
Monoculture Plantations, 121 organisations from 47 countries and 730 members from
different rural communities in Mozambique that are facing industrial tree plantations,
disseminated an open letter to demand the immediate abandonment of any and every
afforestation programme based on large-scale monoculture plantations. (2)
The report, nonetheless, brags about having used a "sector-wide consultation exercise."
For the authors, the sector includes "industry participants ranging from investors, industrial
players, and Non-Governmental Organizations (NGOs) through to forestry fund managers
(…) To further enrich and triangulate inputs to the study, the team also participated in three
forestry industry events and consulted with a broad range of personal contacts in the sector."
The report also mentions consultations made to Development Finance Institutions and
agencies as well as oil and other industrial companies. It is clear however how communities
living in or around the almost 500,000 hectares of land identified to be transformed into
industrial monocultures, are not considered part of the sector. Nor were considered the many
communities and groups that have been resisting for decades the plantations in the countries
the report use as examples: Tanzania, Mozambique, Ghana and Brazil. (3)
The report further sustains that the NGO Conservation International confirmed "that it sees
potential in associating large global businesses with the forestry sector." It further mentions
WWF and The Nature Conservancy – namely, the same category of NGOs mainly concerned
on promoting programs and policies that are aligned with corporate interests as an easy way
to keep their funding, projects and investments.
The purely financial focus of this report, with an eye on how to make most profits, should not
come as a surprise though. It was prepared by a company called Acacia Sustainable
Business Advisors (4), which was set up by Martin Poulsen, a development banker active in
rising private Equity Funds particularly in Africa. Equity Funds try to offer big returns by
spreading investments across companies from different sectors. (5) One co-author of the
report was Mads Asprem, the ex-director of Green Resources, a Norwegian industrial tree
plantation and carbon offsets company. Green Resources' tree plantations in Mozambique,
Tanzania, and Uganda have resulted in land grabs, evictions, loss of livelihoods and
increased hunger for local communities. (6)
The report also shows the possible responses that investors could have to potential
"barriers". One "structural barrier" identified is called "stakeholder relations," a very vague
concept that seems to be related to possible conflicts with communities living in or around
the plantation projects. The term "conflicts" however is not mentioned once in the whole
report. The recommended response to this "barrier" is to "Use AfDB or other MDB
[Multilateral Development Bank] "honest broker" profile to convene stakeholders." So it
seems that the strategy is to use development banks to make communities believe that the
project has the intention of improving (developing) people's lives. Another "structural barrier"
identified in the report is "land tenure challenges," to which the recommended response is to
"Follow FSC and other best practices." This, of course, is recommended despite the vast
amount of information that shows how, in practice, FSC certifies as "sustainable" industrial
tree plantations that destroy peoples' livelihoods.
When the climate and development agendas blend for profit
It is relevant to underline how the report makes use of the Sustainable Development Goals
(SDG) and the need for climate change mitigation and adaptation in the African region to
promote the further expansion of industrial plantations. It goes as far as to conclude that
"Channelling financial resources to such efforts [afforestation in the framework of the SDGs]
is within the mandate of international development organizations and special climate funds."
The report also states that "preliminary interviews yielded information that some oil
companies are already forming alliances with sustainable forestry investment companies."
This despite the fact that oil and gas companies are a fundamental driver of climate change,
which would undermine any possible positive outcome for the climate. Besides, these
'alliances' also give these companies an easy way out of any responsibility for their business
operations. This is clearly exemplified with the announcement of oil giant companies, such as
Italian ENI and Anglo-Dutch Shell, to invest in mega tree plantation projects to supposedly
"compensate" their mega levels of pollution they provoke. These two companies are
responsible for environmental disasters and crimes as a result of their fossil fuel activities in
many places across the globe. (7)
The African Development Bank is complicit in this strategy. While the Bank finances this
report encouraging the expansion of industrial plantations in Africa as a climate solution, it
finances in Mozambique a new gas extraction mega-project in the Cabo Delgado province,
undertaken by a consortium of companies including ENI.
This report is one more proof of how investments from profit-seeking corporations are put in
front of the social well being of people in the name of development and now also of
addressing climate change. There is no "unused" or "degraded" land available at the scale
proposed, which means countless people in Africa will be directly and indirectly affected if
this expansion plan materialise.
Another relevant omission of the report is how it bluntly assumes that the current scarcity of
investment in large-scale tree plantations in this African region is due to the few investment
opportunities available. However, the communities and groups on the ground organizing
almost on a daily basis to oppose the seizing of their lands and lives by these plantations
companies, have clear that their resistance has been successful to halt the expansion of
these plantations in many places. And as the open letter launched on September 21st said,
communities around the world "will certainly resist this new and insane expansion plan
proposed in the AfDB and WWF-Kenya."
(1) AfDB, CIF, WWF, Acacia Sustainable, Towards large-scale investment in African forestry, 2019,
http://redd-monitor.org/wp-content/uploads/2020/09/towards_largescale_
commercial_investment_in_african_forestry.pdf
(2) Open Letter about investments in monoculture tree plantations in the Global South, especially in
Africa, and in solidarity with communities resisting the occupation of their territories, 2020,
https://wrm.org.uy/wp-content/uploads/2020/10/carta-con-firmas-en-inglés_upd201008.pdf
(3) See more information on resistance struggles against plantations here: https://wrm.org.uy/browseby-
subject/international-movement-building/local-struggles-against-plantations/
(4) Acacia Sustainable Business Advisors, https://www.acaciasba.com/about
(5) Groww, Equity Mutual Funds, https://groww.in/p/equity-funds/
(6) REDD-Monitor, How WWF and the African Development Bank are promoting lang grabs in Africa,
2020, https://redd-monitor.org/2020/09/22/international-day-of-struggle-against-monoculture-treeplantations-
how-wwf-and-the-african-development-bank-are-promoting-land-grabs-in-africa/ ; The
Expansion of Tree Plantations on Peasant Territories in the Nacala Territories: Green Resources in
Mozambique, 2018, https://wrm.org.uy/articles-from-the-wrm-bulletin/recommended/the-expansion-oftree-
plantations-on-peasant-territories-in-the-nacala-corridor-green-resources-in-mozambique/ ; WRM
bulletin, Green Resources Mozambique: More False Promises! 2018, https://wrm.org.uy/articles-fromthe-
wrm-bulletin/section1/green-resources-mozambique-more-false-promises/ ; WRM bulletin, Carbon
Colonialism: Failure of Green Resources' Carbon Offset Project in Uganda, 2018,
https://wrm.org.uy/articles-from-the-wrm-bulletin/section1/carbon-colonialism-failure-of-greenresources-
carbon-offset-project-in-uganda/ ; WRM bulletin, Tanzania: Community resistance against
monoculture tree plantations, 2018,
https://wrm.org.uy/articles-from-the-wrm-bulletin/section1/tanzania-community-resistance-againstmonoculture-
tree-plantations/ ; and WRM bulletin, The farce of "Smart forestry": The cases of Green
Resources in Mozambique and Suzano in Brazil, 2015, https://wrm.org.uy/articles-from-the-wrmbulletin/
section1/the-farce-of-smart-forestry-the-cases-of-green-resources-in-mozambique-andsuzano-
in-brazil/
(7) REDD-Monitor, NGOs oppose the oil industry's Natural Climate Solutions and demand that ENI
and Shell keep fossil fuels in the ground, 2019, https://wrm.org.uy/other-relevant-information/ngosoppose-
the-oil-industrys-natural-climate-solutions-and-demand-that-eni-and-shell-keep-fossil-fuels-in the-
ground /
WRM Bulletin
Six cattlemen opposed to the Tilenga oil project-related forced land eviction have been granted bail but will remain in prison…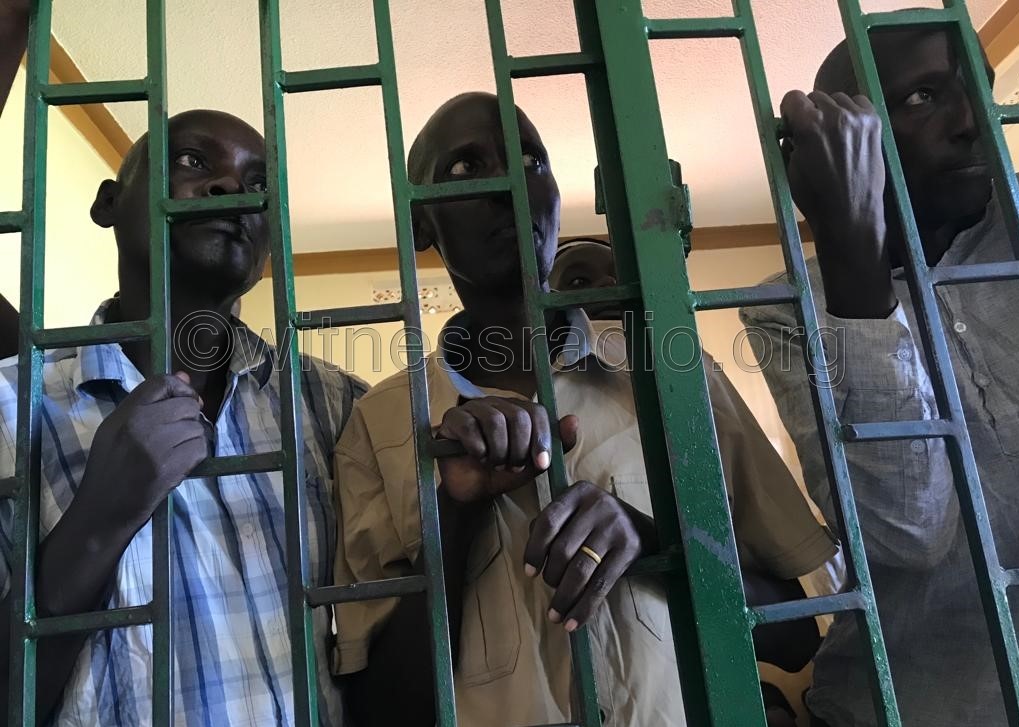 By Witness Radio team
A magistrate court sitting in Hoima City in mid-western Uganda has granted bail to six cattlemen but, will remain in prison due to other criminal charges framed against them.
The six cattlemen are part of a group of over 20 cattlemen that have been slapped with multiple criminal charges by the Hoima City resident state attorney for opposing an illegal land eviction that is taking away their grazing land for the Tilenga Feeder Pipeline Component.
They are part of a larger community of 2500 people that have legally occupied and cultivated their land measuring 1294.99 hectares at Kapapi North, Kapapi Central, Waaki North, Waaki South, and Lunga villages in Kapapi and Kiryatete sub-counties in Hoima District since the 1950s, which is gazetted as public land.
This follows Witness Radio – Uganda's intervention with its legal team to provide criminal defense to victims of irresponsible oil investment. The majority of the cattlemen in prison were arbitrarily arrested, maliciously charged, and sent to prison a few days before a violent and forceful land eviction.
On 10th February 2023 at 1:00 am, Hoima District Police, soldiers from Uganda People's Defense Force (UPDF), with the assistance of security guards from Magnum, a Private Security Company descended on the community violently and illegally evicted them without a court order.
Kataza Samuel is granted bail on both charges of malicious damage to property and stealing cattle; Mulega Eria on both charges of criminal trespass and stealing cattle, Karongo Stephen on both threatening violence and stealing cattle; Rangira Stephen on both threatening violence and stealing cattle; Karongo Edward on both charges of theft and stealing cattle while Mbombo Stephen has been granted bail on threatening violence charge.
On a sad note, the six plus other cattlemen in prison cannot get out and enjoy their freedoms because they are still facing many criminal charges namely assaulting Tilenga Feeder Pipeline Component workers, new charges of threatening violence, and malicious damage to property among others.
Each of the victims was granted a cash bail of one million shillings (1,000,000=) about 273.9 US dollars on their first charge while on the second charge, each was granted a cash bail of three hundred thousand Shillings (300,000=) about 80.43 US Dollars. Sureties were conditioned to a noncash bail of twenty million shillings about 5,479.4 US dollars.
According to the 2022 bail guidelines, if an offense is triable by both the High Court and Magistrates Court and the accused person has been on remand for 60 days before the commencement of trial, the person shall be released on bail on such conditions that the court considers reasonable.
Bail conditions; court ordered the six to report back for their bail on the 20th of June 2023.
However, bail applications for other criminal charges have been fixed to be heard on the 2nd of June 2023 by different trial magistrates.
Persecution: The prosecutor's office is turned into a tool to harass locals for opposing land grabs to give way to the oil project in Mid Western Uganda.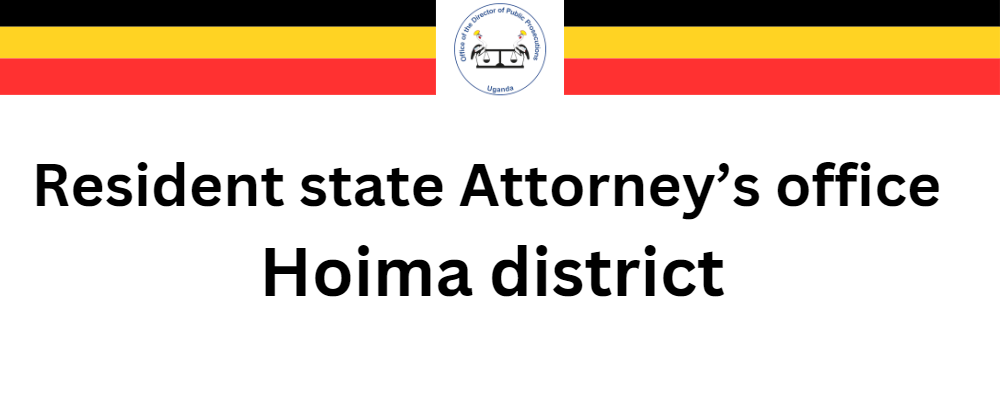 By Witness Radio team,
Mr. Karongo Edward, a smallholder farmer in Kapapi village, is one of the dozens of local farmers slapped with multiple criminal charges by the Director of Public Prosecution's office in Hoima district, Western Uganda because they are resisting an illegal eviction to give way to Tilenga Feeder Pipeline Component.
Arbitrarily arrested on the 25th of January 2023 between 15:00 and 15:30 EAT at Kapapi trading center by two armed police officers attached to Kigolobya police station under the command of one Ndahura Gafayo, now he faces three separate criminal files from criminal trespass, assault to stealing cattle and he's likely to face more charges resulting from his opposition to an illegal land eviction to give way for Feeder Pipeline Component of the Tilenga Project.
According to his family, Kalong was not informed about the reasons for his arrest instead, he was grabbed, handcuffed, and bundled into a private car with registration number UAT 135J.  He was driven to Kigorobya police, where he spent a night before being transferred to Kitoba police station on the 26th, the following day.
Karongo is one of the 2500 people that have legally occupied and cultivated their land at Kapapi village, Kapapi Sub County, in Hoima District since the 1950s, which is gazetted as public land. No sooner had Karongo and other local farmers been imprisoned than their land was grabbed at gunpoint in the wee hours of the night without a court order.
According to the locals, as soon as the news started circulating that Kapapi North, Kapapi Central, Waaki North, Waaki South, and Lunga villages' land had been identified as suitable for the oil project, people masquerading as landlords emerged and started ordering and threatening locals to vacate their land.
On the 10th of February 2023, over 2500 locals were forcefully and violently evicted from 1294.99 hectares of their land with no compensation or resettlement.
The eviction was spearheaded by Ndahura Gafayo, Aston Muhwezi, David Mpora, Monica Rwashadika, one Agaba, Wilber Kiiza, and Moses Asimwe with full backup from the area police, soldiers from Uganda People's Defense Forces (UPDF), and security guards from Magnum, a private security company.
Many adults and children were severely beaten and wounded, women are alleging being raped, and houses were set ablaze. In contrast, others were destroyed, animals were slaughtered, and others were looted. Evictors and their agents looted properties worth millions of Uganda Shillings.
As Witness Radio writes this report, dozens of local farmers opposed to forced land evictions to benefit the Tilenga oil project are facing multiple criminal charges and currently remain at Hoima government prison.
Below are tables drawn to showcase files, names of prisoners (locals from Kapapi opposed to forced land eviction to give way for the Tilenga oil project), court file numbers, and their charges;
File No. 1
| | | |
| --- | --- | --- |
| Name | Court File Number | Charge |
| Kataza Samuel | 237 of 2023 | Malicious damage to property |
| Mulega Eria | 237 of 2023 | Criminal trespass |
| Karongo Stephen | 237 of 2023 | Threatening violence |
| Rangira Stephen | 237 of 2023 | Threatening violence |
| Karongo Edward | 237 of 2023 | Theft |
File No.2
| | | |
| --- | --- | --- |
| Name | Court File Number | Charge |
| Kataza Samuel | 77 of 2023 | Stealing cattle |
| Mulega Eria | 77 of 2023 | Stealing cattle |
| Karongo Stephen | 77 of 2023 | Stealing cattle |
| Rangira Stephen | 77 of 2023 | Stealing cattle |
File No. 3
| | | |
| --- | --- | --- |
| Name | Court File Number | Charge |
| Karongo Stephen | 238 of 2023 | Assault |
| Karongo Edward | 238 of 2023 | Assault |
| Rangira Stephen | 238 of 2023 | Assault |
File No.4
| | | |
| --- | --- | --- |
| Name | Court File Number | Charge |
| Rubyogo David | 241 of 2023 | Threatening violence |
| Twinobigezo Edrine | 241 of 2023 | Threatening violence |
File No. 5
| | | |
| --- | --- | --- |
| Name | Court File Number | Charge |
| Mbombo Stephen | 60 of 2023 | Malicious Damage to property |
File No. 6
| | | |
| --- | --- | --- |
| Name | Court File Number | Charge |
| Mbombo Stephen | 64 of 23 | Threatening violence |
| Kamugisha Enock | 64 of 23 | Threatening violence |
| Murungi John | 64 of 23 | Threatening violence |
| Musinguzi Peter | 64 of 23 | Threatening violence |
Witness Radio – Uganda provides criminal defense to victims and has filed bail applications.
Profiting from misery: A case of a multimillion-dollar tree project sold off before resolving land grab and human rights violation claims with local communities.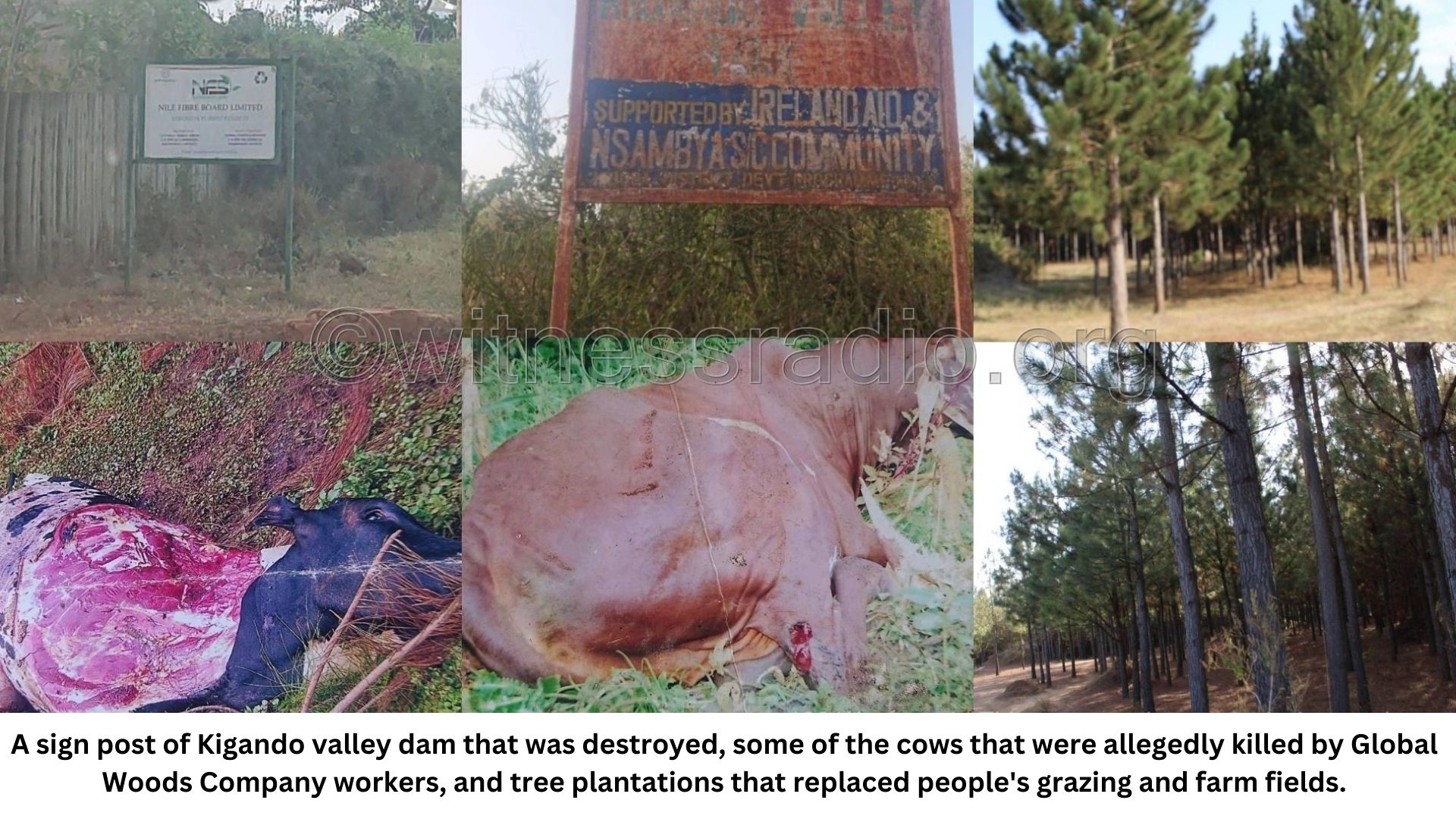 By Witness Radio team
In 2002, Global Woods Limited allegedly acquired a 49-year lease on 12,182 hectares where thousands of local communities were deriving their livelihood, forcefully and violently evicted them, and later turned the land into a commercial tree plantation. Before resolving land grabbing, human rights violations and abuse issues with the victim community, the company is sold off. Witness Radio – Uganda has learned.
The monoculture (pine and eucalyptus) tree plantation was certified by the CarbonFix Standard in January 2009, which enables global woods to sell certified carbon credits to interested buyers.
Leveraging on its contacts, the plantation attracted many financiers namely, the British International Investment under the GEF Africa Sustainable Forestry Fund LP managed by Global Environment Facility and Africa Forestry Fund II from Criterion Africa Sustainable Forestry Management, DANIDA, and the European Union among others supported the cause.
Kikonda tree plantation located in Kyankwanzi district has been a beneficiary of the 16 million Euros (over 65 billion Ugx) Sawlog Production Grant Scheme (SPGS) III implemented by the Food and Agriculture Organization (FAO) and the Ministry of Water and Environment.
The five-year project was designed to meet long-term industrial and market demand for sawlog products by establishing commercial plantations and ensuring downstream processing and utilization efficiency of forest resources.
With all resources at its disposal, Global Woods Limited overlooked standards of responsible investments. The company never consulted the pastoralist and farming community occupying the land as they were unaware of the project.
Instead, with support from government security forces including the Uganda Police Force, over 10,000 people were forcefully and violently evicted from their land.
Cries and grief locked more than 30 villages namely; Kakindu, Neeme, Nakibizi, Ngando, Kalungu, Kiwamirembe, Kachwamango, Bulaza, Kyebajojjo, Rwenkonge, Kyambogo, Mbari, Kikonda, Kasambya, Kyiryakye, Kiyigikiwa, Ndaga, Kiteredde, Kyakabuga among others as locals faced extreme violence with no alternative settlement in the then, Kiboga district.
The local population lost homes, and family fields to the company, and dozens of local people were reportedly arrested and slapped with trumped-up criminal charges. Other locals claim that the company workers and their agents looted dozens of animals and different types of grains found in people's granaries.
Global Woods Limited is also accused of destroying a water dam worth millions of Uganda Shillings at Kigando village constructed in 1992 to provide water to animals of the local farming communities. The construction of the water dam was financed by the Irish Aid from the Irish tax Payers' money. Land bordering the plantation is allegedly grabbed at gunpoint too. One of the victims who never wanted his name to be mentioned here due to fear of reprisals, reported that he surrendered his 6.879 hectares of land on a private Mailo land tenure to the company without compensation. He further narrated that, as the plantation continues expanding on other people's land, he fears losing the remaining piece of land too.
Additionally, the neighboring communities claim that they continue losing their animals as a result of chemicals used on the plantation. "Some animals usually come out blind, while others tend to have miscarriages. And at the end, they die." One of the herders told the Witness Radio team. He further claims that in 2017, he lost over 30 heads of cattle, calling for the regulation of chemical use on the plantation.
Without resolving the harmful impacts caused to the local communities as some highlighted above, Global Woods Limited plantation in Kikonda has been sold to Nile Fibre Board Limited at a cost not yet established by Witness Radio – Uganda.
Global Woods AG is a Germany-based Company founded by a former Green politician from the European Parliament, Mr. Manfred Vohrer. The company has different tree projects in Paraguay and Argentina. Global-woods International remains assisting the Kikonda project in promoting and selling carbon credits.
Recently, Witness Radio – Uganda landed on a document indicating that Criterion Africa Partners, Inc. ("CAP"), a private equity firm investing in the forestry sector in Sub-Saharan Africa, announced that its portfolio company Global Woods AG ("GW") had completed the sale of its Uganda timber plantation to Nile Fibre Board Ltd. ("NFB").
"The sale of Global Woods' plantations to Nile Fibre Board represents a successful outcome for all stakeholders involved," said Jim Heyes, CAP's Managing Director responsible for East Africa. "CAP is pleased to hand the reins to a family-owned local company."
The Nile Fibre Board Limited (NFB) is a subsidiary of Nileply Woods. NFB now holds the FSC Chain of Custody (COC) and FSC Forest Management certificates upon taking over 12,182ha of Kikonda Forest reserve from Global Woods AG.
The Nile fibreboard has a processing plant in the Nakasongola district in Central Uganda, which produces Melamine Faced Boards (MFB) used in the furniture and construction industry. The two companies (Nile Fibre Board Limited and Nile Plywood Board) are owned by the Sarrai Group of Companies.
The Sarrai group owns more than ten (10) other companies. Some are Kiryandongo Sugar Limited, Kinyara Sugar Works Limited, Hoima Sugar Limited, and Tulip properties and others are mentioned in land-grab scandals, causing tens of thousands of indigenous and local communities to landlessness and homeless.