The enduring legacy of a little-known World Bank project to secure African plantations for European billionaires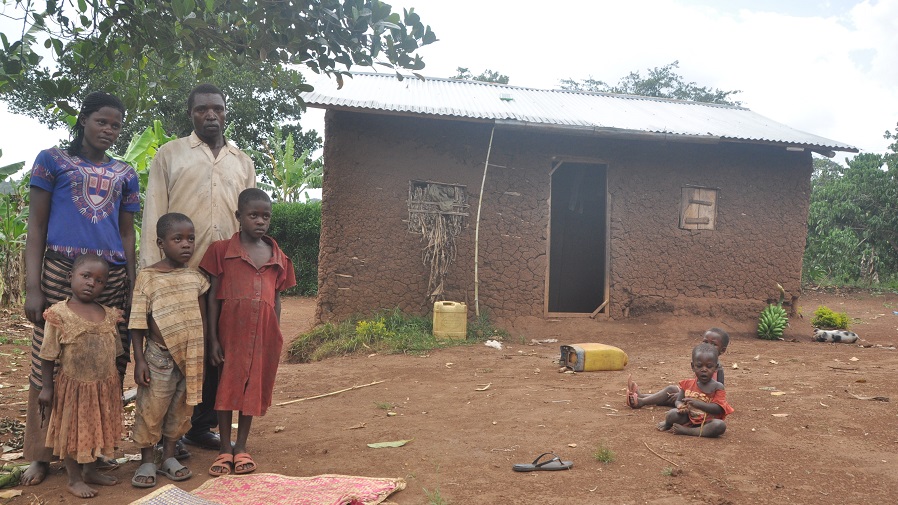 (Originally published in the WRM Bulletin, Issue 252)
The enduring legacy of a little-known World Bank project to secure African plantations for European billionaires
In October 2020, a group of 79 Kenyans filed a lawsuit in a UK court against one of the world's largest plantation companies, Camelia Plc. They say the company is responsible for the killings, rapes and other abuses that its security guards have carried out against local villagers over the years at its 20,000 hectare plantation, which produces avocados for European supermarkets.
Such abuses are unfortunately all too routine on Africa's industrial plantations. It has been this way since Europeans introduced monoculture plantations to Africa in the early 20th century, using forced labour and violence to steal people's lands. Camelia's plantations share this legacy, and the abuses suffered by the Kenyan villagers today are not so different from those suffered by the generations before them.
Abuses and injustices are fundamental to the plantation model. The question that should be asked is why any of these colonial plantations still exist in Africa today. Why haven't Africa's post-colonial governments dismantled this model of exploitation and extraction, returned the lands to their people and emboldened a resurgence of Africa's diverse, local food and farming systems?
One important piece of this puzzle can be found in the archives of the World Bank.
Last year, an alliance of African organisations, together with GRAIN and WRM, produced a 
database
 on industrial oil palm plantations in Africa. Through this research, we found that many of the oil palm plantations, as well as rubber plantations, currently operating in West and Central Africa, were initiated or restored through coordinated World Bank projects implemented in the region in the 1970s and 1980s. The ostensible goal of these projects was to develop state-owned plantations that could drive "national development". The World Bank not only provided participating governments with large loans, but it also supplied the consultants who crafted the national plantation projects and oversaw the management of the plantations.
In case after case that we looked at, we found that the consultants hired by the World Bank for these projects were from a company called SOCFINCO, a subsidiary of the Luxembourg holding company Société Financière des Caoutchoucs (SOCFIN). SOCFIN was a leading plantation company during the colonial period, with operations stretching from the Congo to Southeast Asia. When the colonial powers were sent packing in the 1960s, SOCFIN lost several of its plantations, and it was then that it set up its consultancy branch, SOCFINCO.
According to documents we obtained in the World Bank's archives, SOCFINCO was hired by the Bank to oversee the development and implementation of oil palm and rubber plantation projects in several African countries, including Cameroon, Côte d'Ivoire, Gabon, Guinée, Nigeria, and São Tomé and Príncipe. SOCFINCO oversaw the development of blueprints for national oil palm and rubber plantation programmes, helped identify the lands for conversions to industrial plantations, and was paid to manage the plantations and, in some cases, organise the sales of the rubber and palm oil by the state plantation companies established through the programme.
SOCFIN received lucrative management fees through these projects, but, more importantly, the projects positioned the company to both take control of the trade in agri-commodity exports from Africa and to eventually even take over the plantations. It was a huge coup for SOCFIN. As the World Bank projects were operated through parastatal companies (i.e. companies owned or controlled wholly or partly by the government), local communities could be dispossessed from their lands for plantations under the justification of "national development", something that would be much more difficult for a foreign company like SOCFIN to do. Indeed, a condition for World Bank loans was that the governments secure lands for the projects, something made easier by the fact that most of the projects were being implemented by military regimes.
The World Bank projects also allowed SOCFIN to avoid the costs of building the plantations and the associated facilities itself. Under the projects, the African governments paid the bill, via loans from the World Bank and other development banks.
It was not long before the parastatal companies set up by the World Bank were mired in debt. Of course, the Bank blamed the governments for mismanagement, and called for the privatisation of the plantations as a solution– even if they were being run by the high-priced managers of SOCFINCO and other foreign consultants.
In the privatisation process that then followed, SOCFIN and SIAT, a Belgian company founded by a SOCFINCO consultant, took over many of the prized plantations. Today, these two companies control a quarter of all the large oil palm plantations in Africa and are significant players in the rubber sector as well.
Nigeria is a good example of how this scheme worked. Between 1974 and the end of the 1980s, SOCFINCO crafted master plans for at least 7 World Bank-backed oil palm projects in 5 different states of Nigeria. Each project involved the creation of a parastatal company that would both take over the state's existing plantations and develop new plantations and palm oil mills as well as large-scale outgrower schemes. Overseeing all of SOCFINCO's work in Nigeria was Pierre Vandebeeck, who would later found the company SIAT.
All of the World Bank projects in Nigeria generated enduring land conflicts with local communities, such as with the Oghareki community in Delta State or the villagers of Egbeda in Rivers State. After dispossessing numerous communities from their lands and incurring huge losses for the Nigerian government, the parastatal companies were then privatised, with the more valuable of the plantation assets eventually ending up in the hands of SOCFIN or Vandebeeck's company SIAT.
SIAT took over the plantations in Bendel state through its subsidiary Presco and then, in 2011, it acquired the Rivers State palm oil company, Risonpalm, through its company SIAT Nigeria Limited. Vandebeek was SOCFINCO's plantation manager for Risonpalm under the World Bank between 1978-1983.
SOCFIN, for its part, took over the oil palm plantations in the Okomu area that were also developed under a World Bank project. It was SOCFINCO that first identified this area for plantation development as part of the appraisal study it was hired to undertake in 1974. The Okomu Oil Palm Company Plc. (OOPC) was subsequently established as a parastatal company in 1976 and 15,580 hectares of land within the Okomu Forest Reserve of Edo State was de-reserved and taken from the local communities to make way for oil palm plantations. The company hired SOCFINCO as the managing agent to oversee its activities from 1976-1990. Reports vary, but at some point between 1986 and 1990, OOPC was then divested to SOCFIN's subsidiary Indufina Luxembourg.
This sordid history explains why so many of SOCFIN and SIAT's subsidiaries in Africa still carry national sounding names, like SOCAPALM in Cameroon or the Ghana Oil Palm Development Company. It also explains why these companies are so well designed to extract profits into the hands of their owners and the crucial role of the World Bank for facilitating this corporate profit-seeking process in the name of "national development". The two French and Belgian families that control SOCFIN pocketed an estimated 30 million euros from SOCFIN in 2019 alone!
Business & Human Rights: Industrial Park Development in Buikwe is dispossessing hundreds of Native Families…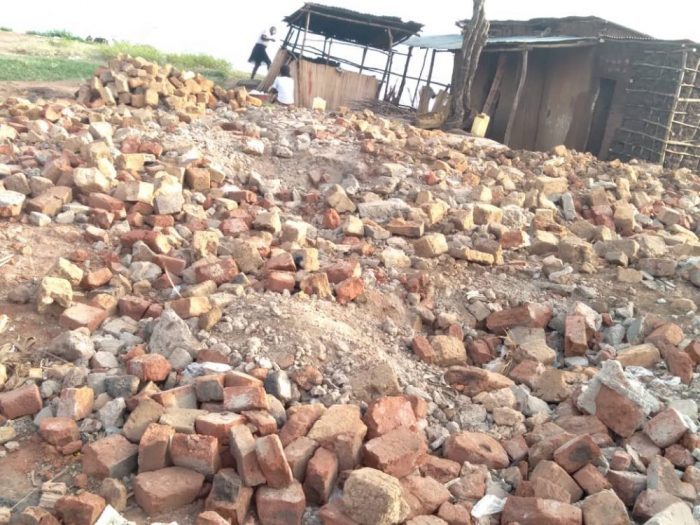 By witnessradio.org Team
Buikwe – Uganda – Close to 1000 families in Namabere landing site, Buikwe District are forcefully being evicted off their land to give way for an industrial park, witnessradio.org has learned.
The industrial park which measures approximately 329.5 Ha, along the shores of Lake Victoria, is the brainchild of Magan Patel, the head of Nile Group of Companies. It is not clear whether the park authorities obtained the social and environmental impact assessment from environmental regulatory bodies as it is adjacent to the lake.
witnessradio.org findings indicate that so far the park has attracted about 26 companies amongst others include; Nile Agro Ltd; Nile Aluminum Ltd; Nile Batteries Ltd; Nile Wheat Ltd; Auro Meera Paper Ltd; Modern Distillers Ltd; Modern Laminates Ltd; Nile GM Plastics Ltd;  Modern Rubber Ltd; and Cable Ltd and many others.
According to the affected persons, GM Sugar Company one of the companies targeting their land, since November 2020 with the help of Buikwe police has been forcing natives to receive payment in form of transport on a gunpoint to vacate the land. The payment ranges from 100,000 – 200,000 Ugandan shillings to residents of the area to vacate their land.
"Imagine at a gunpoint, someone is paid Uganda Shillings 100,000, his/her properties get destroyed and your forced to vacate where you earn a living. How do you feel? Do you know how hard this is?" angrily asked a 45-year-old Bayati Kafuuko.
Bayati, a mother of six (6) said that she has nowhere to go and left with nothing to feed her family since all her property was destroyed by the armed men.
"What can that money do, it can't even meet transport costs," added Bayati.
Several affected persons revealed that before the eviction, there was neither consultation and concession to the project nor valuation and fair compensation of their property.
"Ever since the attack started we live in fear, we cannot sleep because most of our houses were pulled down. All our fish was taken by soldiers, we have nothing to eat," said a 58-year-old Francis Obiire.
He added that he cannot accept being illegally evicted on land he has lived on since his birth.
"My father has lived on this land since 1950. I was born here in 1962. With this little money, which land do they expect me to buy," Obiire added.
The chairman of Namabere village Mr. Ochen Peter said his people are being intimidated without due process is followed.
He further said that workers of the investors under the protection of police carry out daily patrolling of the area just to intimidate residents.
When witnessradio.org contacted Ssekamatte Musa, one of the GM Sugar company managers, he declined to speak.
"I am busy, I will call you," he said.
Two Witness Radio members, 26 others have been released on bail after spending close to 3 years in jail…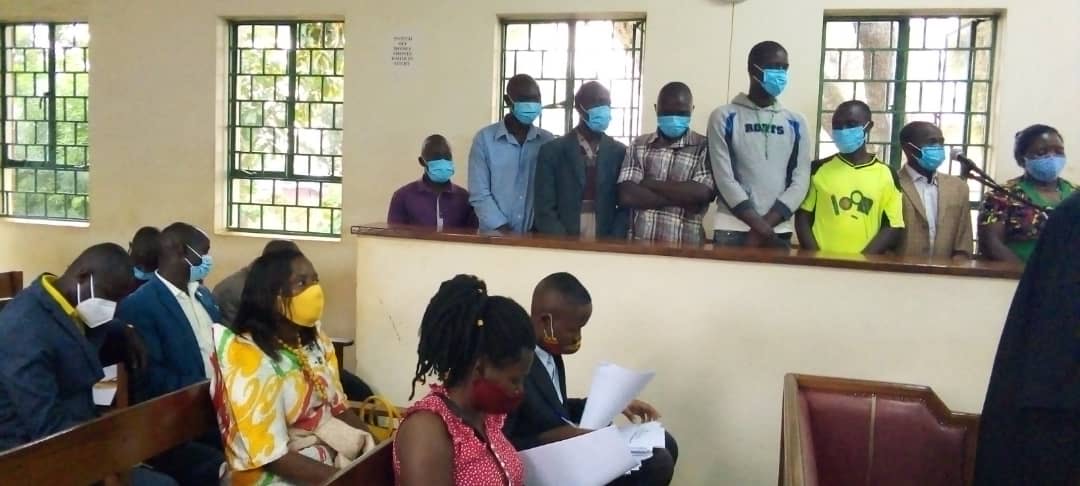 By witnessradio.org Team
Mubende – Uganda – the High Court in Mubende has released two Witness Radio members and 26 others on bail after spending 28 months in prison. In late 2018, all the 28 were targeted and arrested because of their role in empowering the community to lawfully desist an illegal eviction, charged with 9 counts including murder and aggravated robbery, and remanded.
This was the second bail attempt after the 2019 bail for two Witness Radio members Grace Nantubiro and Ronald Mugwabya was rejected by the then Mubende High Court resident Judge Justice Joseph Murangira on pretty flimsy excuses.
Before the arrest of Grace Nantubiro and Ronald Mugwabya, the duo had used the media platforms local radio stations, and community meetings to call upon Mubende district authorities to intervene and stop an illegal and forceful eviction of 3500 inhabitants off five villages namely; Kambuye, Kikono, Kyabaana, Kanseera, and Lwensanga in East Division in Mubende municipality by one Kaweesi George.
Also in the line of fighting for the protection of the community's land, Grace Nantubiro, Ronald Mugwabya, and some members of the press at one point were waylaid and kidnapped by laborers of the businessman. Mubende police rescued them but the perpetrators remained scot-free.
Due to public pressure, the situation was arrested by the then Mubende district police commander Martin Okoyo and other leaders, stopped the eviction, and ordered the withdraw of the businessman's casual laborers from the community's land until the land matter is resolved.
Shortly after the withdrawal, the laborers were secretly returned on the conflicted land in the wee hours in the following night and a fight ensued between businessman's laborers and some locals. In a process, the life of one Yunusu Tabu was lost. Tabu was a manager of laborers.
The deadly scuffle introduced the criminalization of land rights defense and caused a random arrest that targeted Grace Nantubiro and Ronald Mugwabya because of their work. Some of the activists namely; Mugisha Focus, Ssekamana Kaloli, Mwikirize Keleti, Ssewanyana Kizza John, Tumwine Moses, Bigirwa Gilbert, Mulindwa Tadeo, Kayesu Patrick, Kyalimpa Tobias, Mugisha Stephen, Mwesigye John, Kiiza John Bosco, Byakatonda Aroon, Manirikiza Elidefunce, Tabalamule William, Kobwemi Christopher,  Kiwanuka Emmanuel, Senkula Charles, Ssemombwe George, Musinguzi Paul, Biryomumisho Fred, Maniriho Forodis,  Habimana Ernest, Byaruhanga Emmanuel, Mwesigye Julius, and Kezaala Saul were severely beaten and tortured by Mubende police during the arrest and as result, some still have visible scars all over their bodies.
The ill-planned arrest and conduct by Mubende police facilitated a land grab of more than 322.5 hectares, registered on Block 168; Plots 19, 22, and 23 in Mubende Municipality, Mubende district.
While appearing before Mubende High Court Judge Justice Isaac Muwata, all the 28 were released on a cash bail of 100,000 Uganda Shillings (one hundred thousand shillings) equivalent to about US dollars 28 while sureties were conditioned UGX 2 million not cash.
Other conditions, the 28 are required to report to the Mubende High Court registrar's chambers every first Monday of the month.
Renewing demand for justice; the 28 land rights defenders have applied for bail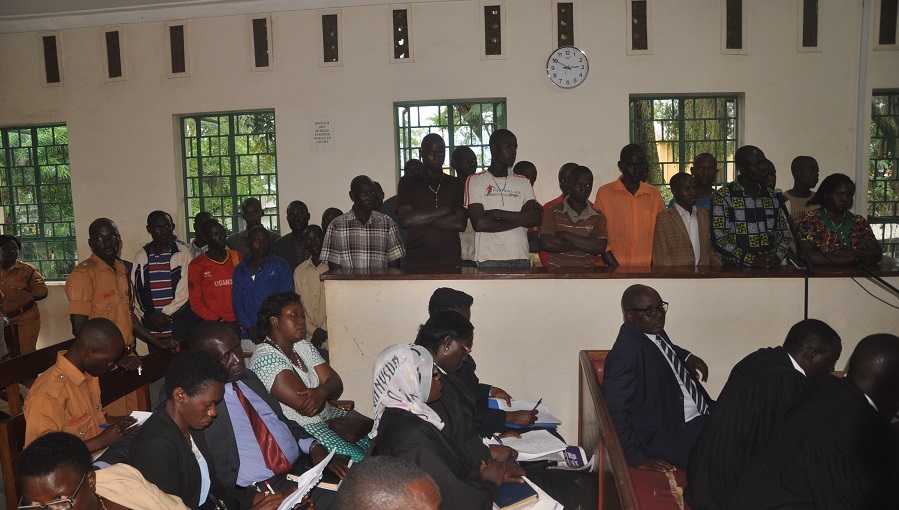 By witnessradio.org Team
Mubende – Uganda – the defense lawyers of the 28 community land rights defenders have filed new applications for bail at Mubende High Court after spending 3 years in prison.
The 28 include two staff members of Witnessradio.org's Nantubiro Grace and Mugwabya Ronald.
Others are; Mugisha Focus, Ssekamana Kaloli, Mwikirize Keleti, Ssewanyana Kizza John, Tumwine Moses, Bigirwa Gilbert, Mulindwa Tadeo, Kayesu Patrick, Kyalimpa Tobias, Mugisha Stephen, Mwesigye John, Kiiza John Bosco, Byakatonda Aroon, Manirikiza Elidefunce, Tabalamule William, Kobwemi Christopher,  Kiwanuka Emmanuel, Senkula Charles, Ssemombwe George, Musinguzi Paul, Biryomumisho Fred, Maniriho Forodis,  Habimana Ernest, Byaruhanga Emmanuel, Mwesigye Julius and Kezaala Saul.
They are facing 9 counts including murder, and aggravated robbery among others.
The prosecution alleges that on October 12, 2018, the accused at Kambuye-Kanseera, Mubende district, killed and robbed Yunus Kasajja Tabu of his three mobile phones.
Late Tabu allegedly died during a fight with land grab affected community whose assailants are still unknown. Tabu was a manager of local businessman one Kaweesi George, under the protection of police grabbed 322.5 hectares and violently evicted over 3500 lawful occupants on Block 168; Plot 19, 22 and 23 covering five villages namely; Kambuye, Kikono, Kyabaana, Kanseera and Lwensanga in East Division, Mubende Municipality, Mubende district. The land is adjacent to Kaweeri Coffee Plantation is covering on.
However, police carried out a random arrest and targeted land rights defenders and activists that were mobilizing and empowering the landgrab affected community to resist an illegal and forceful eviction.
In January 2019, the attempt to get bail for witnessradio.org's Nantubiro Grace and Mugwabya Ronald was denied High Court in Mubende's justice Joseph Mulangira.
According to officials at Mubende High Court, bail applications will be heard this afternoon.