How food and water are driving a 21st-century African land grab
A woman tends vegetables at a giant Saudi-financed farm in Ethiopia.
An Observer investigation reveals how rich countries faced by a global food shortage now farm an area double the size of the UK to guarantee supplies for their citizens.
We turned off the main road to Awassa, talked our way past security guards and drove a mile across empty land before we found what will soon be Ethiopia's largest greenhouse. Nestling below an escarpment of the Rift Valley, the development is far from finished, but the plastic and steel structure already stretches over 20 hectares – the size of 20 football pitches.
The farm manager shows us millions of tomatoes, peppers and other vegetables being grown in 500m rows in computer controlled conditions. Spanish engineers are building the steel structure, Dutch technology minimises water use from two bore-holes and 1,000 women pick and pack 50 tonnes of food a day. Within 24 hours, it has been driven 200 miles to Addis Ababa and flown 1,000 miles to the shops and restaurants of Dubai, Jeddah and elsewhere in the Middle East.
Ethiopia is one of the hungriest countries in the world with 2.8 million people needing food aid, but paradoxically the government is offering at least 3m hectares of its most fertile land to rich countries and some of the world's most wealthy individuals to export food for their own populations.
The 1,000 hectares of land which contain the Awassa greenhouses are leased for 99 years to a Saudi billionaire businessman, Ethiopian-born Sheikh Mohammed al-Amoudi, one of the 50 richest men in the world. His Saudi Star company plans to spend up to $2bn acquiring and developing 500,000 hectares of land in Ethiopia in the next few years. So far, it has bought four farms and is already growing wheat, rice, vegetables and flowers for the Saudi market. It expects eventually to employ more than 10,000 people.
But Ethiopia is only one of 20 or more African countries where land is being bought or leased for intensive agriculture on an immense scale in what may be the greatest change of ownership since the colonial era.
An Observer investigation estimates that up to 50m hectares of land – an area more than double the size of the UK – has been acquired in the last few years or is in the process of being negotiated by governments and wealthy investors working with state subsidies. The data used was collected by Grain, the International Institute for Environment and Development, the International Land Coalition, ActionAid and other non-governmental groups.
The land rush, which is still accelerating, has been triggered by the worldwide food shortages which followed the sharp oil price rises in 2008, growing water shortages and the European Union's insistence that 10% of all transport fuel must come from plant-based biofuels by 2015.
In many areas the deals have led to evictions, civil unrest and complaints of "land grabbing".
The experience of Nyikaw Ochalla, an indigenous Anuak from the Gambella region of Ethiopia now living in Britain but who is in regular contact with farmers in his region, is typical. He said: "All of the land in the Gambella region is utilised. Each community has and looks after its own territory and the rivers and farmlands within it. It is a myth propagated by the government and investors to say that there is waste land or land that is not utilised in Gambella.
"The foreign companies are arriving in large numbers, depriving people of land they have used for centuries. There is no consultation with the indigenous population. The deals are done secretly. The only thing the local people see is people coming with lots of tractors to invade their lands.
"All the land round my family village of Illia has been taken over and is being cleared. People now have to work for an Indian company. Their land has been compulsorily taken and they have been given no compensation. People cannot believe what is happening. Thousands of people will be affected and people will go hungry."
It is not known if the acquisitions will improve or worsen food security in Africa, or if they will stimulate separatist conflicts, but a major World Bank report due to be published this month is expected to warn of both the potential benefits and the immense dangers they represent to people and nature.
Leading the rush are international agribusinesses, investment banks, hedge funds, commodity traders, sovereign wealth funds as well as UK pension funds, foundations and individuals attracted by some of the world's cheapest land.
Together they are scouring Sudan, Kenya, Nigeria, Tanzania, Malawi, Ethiopia, Congo, Zambia, Uganda, Madagascar, Zimbabwe, Mali, Sierra Leone, Ghana and elsewhere. Ethiopia alone has approved 815 foreign-financed agricultural projects since 2007. Any land there, which investors have not been able to buy, is being leased for approximately $1 per year per hectare.
Saudi Arabia, along with other Middle Eastern emirate states such as Qatar, Kuwait and Abu Dhabi, is thought to be the biggest buyer. In 2008 the Saudi government, which was one of the Middle East's largest wheat-growers, announced it was to reduce its domestic cereal production by 12% a year to conserve its water. It earmarked $5bn to provide loans at preferential rates to Saudi companies which wanted to invest in countries with strong agricultural potential .
Meanwhile, the Saudi investment company Foras, backed by the Islamic Development Bank and wealthy Saudi investors, plans to spend $1bn buying land and growing 7m tonnes of rice for the Saudi market within seven years. The company says it is investigating buying land in Mali, Senegal, Sudan and Uganda. By turning to Africa to grow its staple crops, Saudi Arabia is not just acquiring Africa's land but is securing itself the equivalent of hundreds of millions of gallons of scarce water a year. Water, says the UN, will be the defining resource of the next 100 years.
Since 2008 Saudi investors have bought heavily in Sudan, Egypt, Ethiopia and Kenya. Last year the first sacks of wheat grown in Ethiopia for the Saudi market were presented by al-Amoudi to King Abdullah.
Some of the African deals lined up are eye-wateringly large: China has signed a contract with the Democratic Republic of Congo to grow 2.8m hectares of palm oil for biofuels. Before it fell apart after riots, a proposed 1.2m hectares deal between Madagascar and the South Korean company Daewoo would have included nearly half of the country's arable land.
Land to grow biofuel crops is also in demand. "European biofuel companies have acquired or requested about 3.9m hectares in Africa. This has led to displacement of people, lack of consultation and compensation, broken promises about wages and job opportunities," said Tim Rice, author of an ActionAid report which estimates that the EU needs to grow crops on 17.5m hectares, well over half the size of Italy, if it is to meet its 10% biofuel target by 2015.
"The biofuel land grab in Africa is already displacing farmers and food production. The number of people going hungry will increase," he said. British firms have secured tracts of land in Angola, Ethiopia, Mozambique, Nigeria and Tanzania to grow flowers and vegetables.
Indian companies, backed by government loans, have bought or leased hundreds of thousands of hectares in Ethiopia, Kenya, Madagascar, Senegal and Mozambique, where they are growing rice, sugar cane, maize and lentils to feed their domestic market.
Nowhere is now out of bounds. Sudan, emerging from civil war and mostly bereft of development for a generation, is one of the new hot spots. South Korean companies last year bought 700,000 hectares of northern Sudan for wheat cultivation; the United Arab Emirates have acquired 750,000 hectares and Saudi Arabia last month concluded a 42,000-hectare deal in Nile province.
The government of southern Sudan says many companies are now trying to acquire land. "We have had many requests from many developers. Negotiations are going on," said Peter Chooli, director of water resources and irrigation, in Juba last week. "A Danish group is in discussions with the state and another wants to use land near the Nile."
In one of the most extraordinary deals, buccaneering New York investment firm Jarch Capital, run by a former commodities trader, Philip Heilberg, has leased 800,000 hectares in southern Sudan near Darfur. Heilberg has promised not only to create jobs but also to put 10% or more of his profits back into the local community. But he has been accused by Sudanese of "grabbing" communal land and leading an American attempt to fragment Sudan and exploit its resources.
Devlin Kuyek, a Montreal-based researcher with Grain, said investing in Africa was now seen as a new food supply strategy by many governments. "Rich countries are eyeing Africa not just for a healthy return on capital, but also as an insurance policy. Food shortages and riots in 28 countries in 2008, declining water supplies, climate change and huge population growth have together made land attractive. Africa has the most land and, compared with other continents, is cheap," he said.
"Farmland in sub-Saharan Africa is giving 25% returns a year and new technology can treble crop yields in short time frames," said Susan Payne, chief executive of Emergent Asset Management, a UK investment fund seeking to spend $50m on African land, which, she said, was attracting governments, corporations, multinationals and other investors. "Agricultural development is not only sustainable, it is our future. If we do not pay great care and attention now to increase food production by over 50% before 2050, we will face serious food shortages globally," she said.
But many of the deals are widely condemned by both western non-government groups and nationals as "new colonialism", driving people off the land and taking scarce resources away from people.
We met Tegenu Morku, a land agent, in a roadside cafe on his way to the region of Oromia in Ethiopia to find 500 hectares of land for a group of Egyptian investors. They planned to fatten cattle, grow cereals and spices and export as much as possible to Egypt. There had to be water available and he expected the price to be about 15 birr (75p) per hectare per year – less than a quarter of the cost of land in Egypt and a tenth of the price of land in Asia.
"The land and labour is cheap and the climate is good here. Everyone – Saudis, Turks, Chinese, Egyptians – is looking. The farmers do not like it because they get displaced, but they can find land elsewhere and, besides, they get compensation, equivalent to about 10 years' crop yield," he said.
Oromia is one of the centres of the African land rush. Haile Hirpa, president of the Oromia studies' association, said last week in a letter of protest to UN secretary-general Ban Ki-moon that India had acquired 1m hectares, Djibouti 10,000 hectares, Saudi Arabia 100,000 hectares, and that Egyptian, South Korean, Chinese, Nigerian and other Arab investors were all active in the state.
"This is the new, 21st-century colonisation. The Saudis are enjoying the rice harvest, while the Oromos are dying from man-made famine as we speak," he said.
The Ethiopian government denied the deals were causing hunger and said that the land deals were attracting hundreds of millions of dollars of foreign investments and tens of thousands of jobs. A spokesman said: "Ethiopia has 74m hectares of fertile land, of which only 15% is currently in use – mainly by subsistence farmers. Of the remaining land, only a small percentage – 3 to 4% – is offered to foreign investors. Investors are never given land that belongs to Ethiopian farmers. The government also encourages Ethiopians in the diaspora to invest in their homeland. They bring badly needed technology, they offer jobs and training to Ethiopians, they operate in areas where there is suitable land and access to water."
The reality on the ground is different, according to Michael Taylor, a policy specialist at the International Land Coalition. "If land in Africa hasn't been planted, it's probably for a reason. Maybe it's used to graze livestock or deliberately left fallow to prevent nutrient depletion and erosion. Anybody who has seen these areas identified as unused understands that there is no land in Ethiopia that has no owners and users."
Development experts are divided on the benefits of large-scale, intensive farming. Indian ecologist Vandana Shiva said in London last week that large-scale industrial agriculture not only threw people off the land but also required chemicals, pesticides, herbicides, fertilisers, intensive water use, and large-scale transport, storage and distribution which together turned landscapes into enormous mono-cultural plantations.
"We are seeing dispossession on a massive scale. It means less food is available and local people will have less. There will be more conflict and political instability and cultures will be uprooted. The small farmers of Africa are the basis of food security. The food availability of the planet will decline," she says. But Rodney Cooke, director at the UN's International Fund for Agricultural Development, sees potential benefits. "I would avoid the blanket term 'land-grabbing'. Done the right way, these deals can bring benefits for all parties and be a tool for development."
Lorenzo Cotula, senior researcher with the International Institute for Environment and Development, who co-authored a report on African land exchanges with the UN fund last year, found that well-structured deals could guarantee employment, better infrastructures and better crop yields. But badly handled they could cause great harm, especially if local people were excluded from decisions about allocating land and if their land rights were not protected.
Water is also controversial. Local government officers in Ethiopia told the Observer that foreign companies that set up flower farms and other large intensive farms were not being charged for water. "We would like to, but the deal is made by central government," said one. In Awassa, the al-Amouni farm uses as much water a year as 100,000 Ethiopians.
• This article was amended on 22 March 2011. Owing to an editing error the original said that more than 13 million people in Ethiopia need food aid. This has been corrected.
Original Post: The Guardian
East Africa poised to monitor carbon emission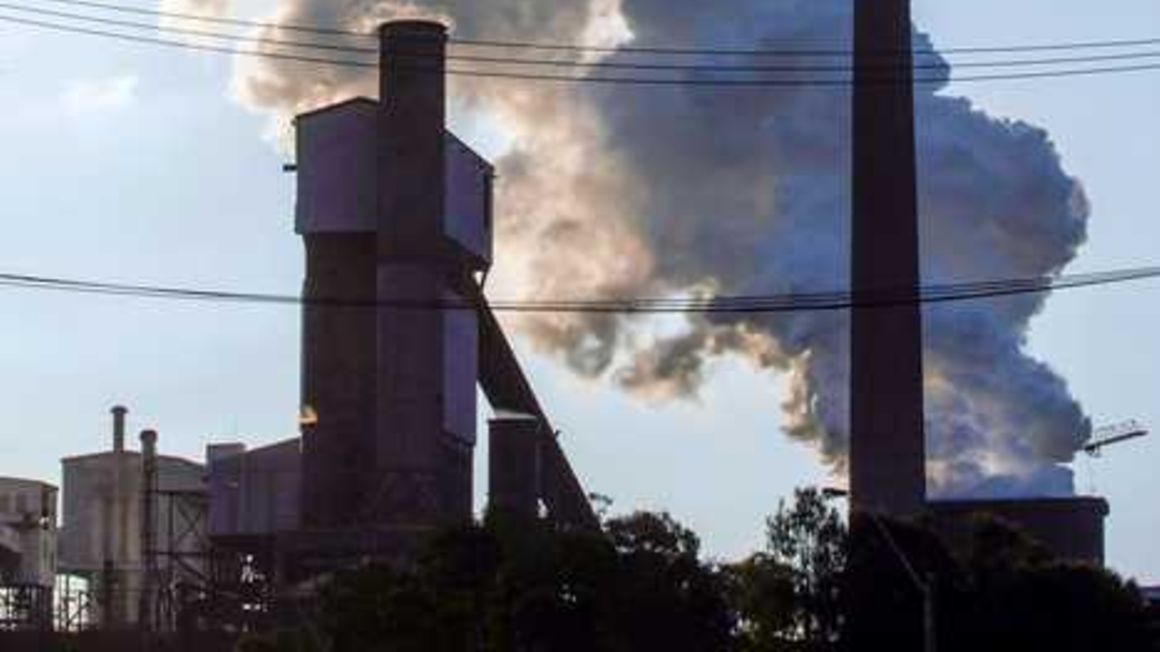 A factory emits smoke.
East Africa will soon be able to monitor how much carbon dioxide or methane is produced by particular activity at any particular point in time thanks to a NASA-aided system that combines observable ground data, real time satellite measurements of carbon dioxide and next-generation microbial soil modelling.
Cornell University researchers will develop the system that combines what they called "bottom-up" ecological modelling with "top-down" satellite data, thanks to a three-year, $1 million NASA grant, which began on July 1.
The researchers said last week Kenya, Tanzania, Uganda and Ethiopia have experienced deforestation will be covered by the system.
The system estimate will help in monitoring increase in carbon gained from potential afforestation, as well as how long this accumulation could take. These East African countries have ambitious climate mitigation programmes to sequester carbon in soils. Since the countries don't produce a lot of energy that emits carbon, their mitigation measures rely on putting carbon into ecosystems such as soils.
It is hoped that the rigorous, accurate and low-cost carbon monitoring system will help policymakers verify the effectiveness of their efforts when they seek international climate financing. The data will also inform food-security policies, as more soil carbon provides crop resilience to climate change.
Carbon also helps store more water in soils, making crops more tolerant and resistant to droughts, which increases yields.
Original Source:   THE EAST AFRICAN
Climate change will see East Africa get wetter say scientists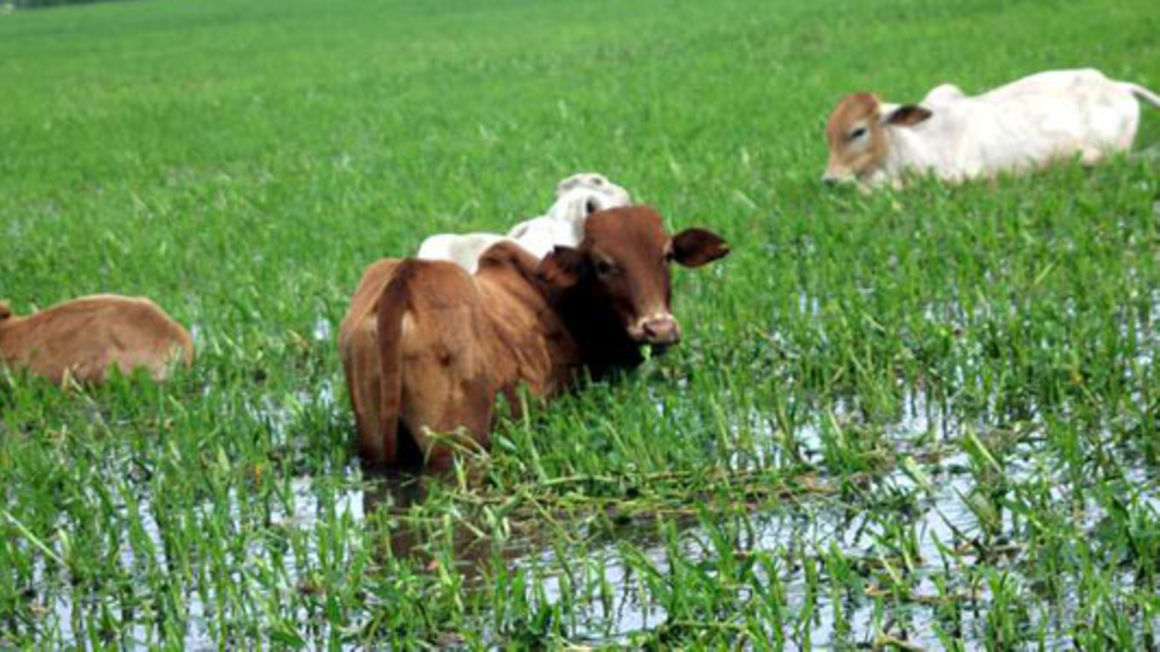 Cows in flooded pastures in the Tana delta, Kenya. According to scientists, while temperatures are predicted to rise, the region will likely get wetter mid-century. 
East Africa could be the lucky exception to the disastrous effects of climate change as scientists predict increased precipitation as temperatures rise.
Four scientists — working with the Association for Strengthening Agricultural Research in Eastern and Central Africa (Asareca) — Kizito Kwena, William Ndegwa, Imad Ali-Babiker and Hezron Mogaka — say the flipside to rising temperatures is that East Africa is likely to get wetter mid-century.
Citing separate studies by the Food and Agriculture Organisation (FAO) and the World Bank, the researchers say the projected 2°C increase in surface temperatures will result in an 11 per cent increase in rainfall over 80 per cent of the region.
"As unfamiliar as this counter-narrative seems, climate change presents the region an opportunity to think and act differently, to change the way it views growth and interacts with the environment," says of their paper titled The curse of food insecurity and climate change in Africa.
The scientists say the 2025 zero hunger target set by African leaders is achievable, if governments in the region invest at least 10 per cent of their GDP in agriculture and direct resources into climate-smart agriculture.
READ: Climate-smart farming boosting food security around the globe
According to Dr Kwena, while most climate models remain optimistic about the rainfall situation in East Africa — where vast areas of land are arid or semi-arid — the challenge is that governments may not be prepared to maximise the associated benefits.
"Climate change is not disaster all round. Climate models are predicting drought in one part of the continent and increased rainfall in the other. That is a huge opportunity considering the vast areas in the region that are arid or semi-arid. The challenge is how we harness this opportunity," said Dr Kwena.
And while there have been attempts, Dr Kwena said most climate-smart interventions have been limited to a farm or plot level, which restricts the impacts that could be achieved if climate smart agriculture technologies were applied on a larger scale.
There will also be a need for some adjustments. For instance, if the arid and semi-arid areas of the region become wetter, communities may be required to adopt new livelihood activities. These views stand in sharp contrast to other scenarios that predict that in many parts of Africa, every 1°C increase in temperature will result in a five per cent decline in food yields.
"Already, there have been several climate-induced grain shocks in the world. In the medium-term, climate change causes production losses and increases cost structures. In the long-term, climate change causes production collapse," said Asareca's executive secretary Professor Francis Wachira, adding, "With this kind of forecast, it is important to make our cropping systems better adapted to a warming world."
Enhance resilience
Climate-smart agriculture would enhance the resilience of food systems while also contributing to reduction of emissions, Prof Wachira said, adding that every dollar invested in agricultural research and development results in a 68kg reduction in emissions of carbon dioxide while a one per cent increase in agricultural water productivity frees up 24 litres of water per person per day.
Prof Wachira added that despite its potential, Africa remains a net importer of food even as other regions of the world have tripled their output.
In East and Central Africa, crop yields have stagnated over the past half a century, leading to sharp declines in per capita food production and an increase in poverty and hunger.
He pointed to market failures and over-dependence on rain-fed agriculture as the major factors behind the under-performance of African agriculture, a situation he warns will be exacerbated by climate change.
Original Source:  THE EAST AFRICAN
Finnish carbon offsetting firm Compensate finds 91% of carbon offset projects fail its evaluation process. Of course the remaining 9% will also not help address the climate crisis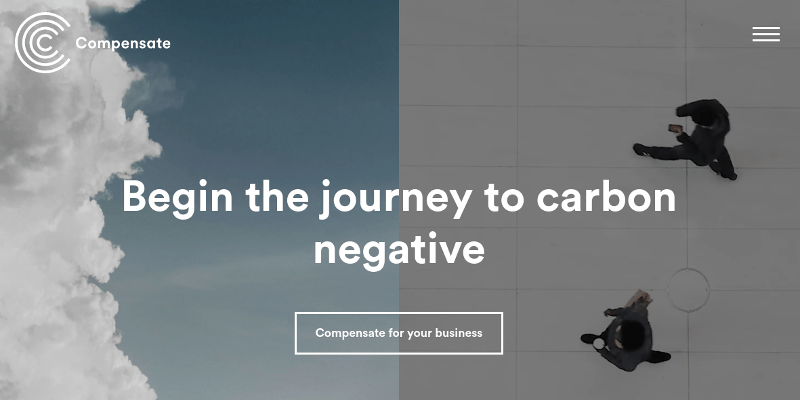 Compensate is a Finland-based carbon offsetting company set up in 2019 by Antero Vartia, an entrepreneur, actor, and former member of parliament. In 2020, Compensate created project criteria to evaluate the projects from which it buys carbon offsets. One year later, Compensate reported on its experience with the project criteria:
90% of evaluated projects fail the criteria. The reasons vary, but are all equally alarming. Some projects can not be considered additional, others have serious permanence risks. Some have unreliable baselines, because assumed deforestation is largely inflated. Worryingly, many projects also cause serious human rights violations.
"International carbon standards are fundamentally flawed"
Compensate's report exposes some of the structural problems with the voluntary carbon market:
The voluntary carbon market is characterized by a plethora of actors, methodologies, project types, and standards. It's a tough job for businesses, organizations and individual consumers to try to navigate this complex market. Outright opportunism and greenwashing are not uncommon.
Compensate points out that standards like Verra, Gold Standard, and American Carbon Registry exist to reassure offset buyers about the quality of the carbon offsets they are buying. "Still," Compensate adds, "these leading standards leave a lot to be desired."
Compensate writes that,
[N]ot even the most renowned international standards guarantee real climate impact. Compensate has come across projects with unbelievably overestimated impact, or, worse yet, no impact at all. The market is flooded with millions of essentially worthless credits. Still, these credits have the stamp of approval of the leading international standards, and offsetters keep buying them with no knowledge of the fact they're engaging in a lie.
And Compensate writes that,
International carbon standards are fundamentally flawed, as they develop and accept project methodologies that allow for the issuance of millions of meaningless credits.
Compensate is critical of corporate promises to reach "net zero":
While companies claim they only purchase carbon credits for offsetting unavoidable emissions, there is little transparency on companies' efforts to reduce emissions from operations, and how much of net-zero targets are achieved by offsetting. Company emissions cannot simply be balanced out by purchasing carbon credits. It is known that emissions stay in the atmosphere for 300-1000 years, whereas a tree can sequester CO2 for several decades or until its logged and burned, then releasing all the CO2 back into the atmosphere. This is why the best way to mitigate companies' climate impacts is to reduce emissions.
Which raises the obvious question: Why is Compensate in the carbon offsetting business?
Compensate's report includes a section titled "Characteristics of a good carbon credit". According to Compensate, the following characteristics have to be recognised: additionality, reliability (i.e. the climate impact is not overestimated), permanence, avoided double counting, and environmental and social net impact.
The section would have been better titled "Why offsetting cannot work". Compensate acknowledges that many projects struggle with demonstrating financial additionality, and even fewer can tackle policy level additionality.
Permanence is a problem, Compensate writes, because "the majority of forestation projects have a lifetime of 30 years. If the protected forest is logged immediately after the project is completed, and the trees are used for energy, the CO2 will be released into the atmosphere."
Compensate argues that "missing links between theory and practice have left room for double counting to happen quite often":
Commonly, the two claiming parties are an organization offsetting its emission and the host country trying to reach its nationally determined contribution under the Paris Agreement.
Compensate acknowledges that "Project developers can influence the number of credits issued with the selection of the baseline scenario." And that this baseline "could be artificially inflated". Buying credits from a project with an artificially inflated baseline "could actually add carbon into the atmosphere".
But the problem of counterfactual baselines is not something that can be resolved with "robust methodologies" or "stricter additionality criteria" as Compensate's report suggests. Larry Lohmann of The CornerHouse points out, "the problem is not 'bad baselines' but the concept of counterfactual baselines itself. That reality does more than invalidate any particular REDD project. It invalidates REDD (and all other offsets) as a whole."
91% of carbon offset projects fail
Compensate started using its criteria early in 2020. The company has evaluated more than 100 nature-based projects (mainly forest conservation and tree planting projects). All the projects are certified by international organisations such as Gold Standard, Verra, Plan Vivo, American Carbon Registry and Climate Action Reserve.
Only 9% of the projects passed Compensate's evaluation process.
Compensate found that 52% of the projects are not additional. Examples include selling carbon credits by protecting forests that were never in danger. Commercial timber plantations do not pass the financial additionality criteria "as the project could be implemented without the need for revenue from carbon credits". Compensate argues that when project activities are already included in national laws and policies there is a lack of policy level additionality. Compensate gives the example of Indonesia and the Democratic Republic of Congo: "Examples include protecting a forest in a country where there is a moratorium on converting natural forests to palm oil plantations (Indonesia) or a moratorium on granting new timber concessions (Democratic Republic of Congo)." Leakage occurs when a government grants conservation concession status to the project area, but also grants a logging concession elsewhere.
Compensate found that 16% of the projects it evaluated had permanence risks due to an unstable political situation and high risk of corruption, natural disasters such as floods or fires, postponing timber harvest until after the project ends, or illegal logging.
12% of projects had "unreliable baselines" according to Compensate's evaluation. Artificially inflating baseline emissions generates more carbon credits for the project.But Compensate does not take into consideration the fact that all baselines are unverifiable because they are based on a counterfactual story about what would have happened in the absence of the project.
6% of the projects Compensate evaluated failed because of community conflicts, for example through human rights violations and evictions, or a failure to deliver the promised benefits.
And 5% of the projects did not meet Compensate's criteria because they offset emissions that take place today with hoped for removals in the future. Compensate gives the example of tree planting projects that calculate the amount of carbon the trees with sequester over the next 50 years.
Carbon markets need to be eliminated not reformed
Compensate is a non-profit organisation, but as a carbon broker, the company's continued existence depends on selling carbon offsets. It's a smart marketing ploy to claim that 91% of carbon offsets are flawed, in that it suggests that Compensate is particularly careful about selecting which projects it buys carbon offsets from.
Indeed, Compensate's report states that,
Like investment managers manage a fund to deliver the best value, Compensate manages a diverse carbon capture portfolio to deliver the best possible climate impact.
Compensate doesn't point out the fundamental flaw of carbon offsets. The companies buying carbon offsets are using them in order to continue burning fossil fuels. Offsetting does not reduce emissions, it just shuffles them around the world. Often it is the poorest of the poor who have to adjust their livelihoods in order that the rich can continue flying, for example.
And Compensate's experts make no mention of the carbon cycle. At the end of 2020, 23 researchers and experts published an article in the Swedish newspaper Dagens Nyheter titled, "Misleading and false myths about carbon offsets". The second myth that the authors highlight is that "We can compensate for fossil fuel emissions using so-called 'nature-based solutions' (such as carbon sequestration in vegetation and soils)."
The authors explain the carbon cycle as follows:
The carbon cycle has two parts: one fast cycle whereby carbon circulates between the atmosphere, land and seas, and one slow cycle whereby carbon circulates between the atmosphere and the rocks which make up Earth's interior.
Fossil fuels are part of the slow carbon cycle. Nature-based solutions are part of the fast carbon cycle. This biological carbon storage is not permanent. Carbon stored in trees can be released by forest fires – something we are seeing more and more often as the climate heats up.
Rather than calling for carbon markets to be abolished, Compensate is calling for an oxymoron: "a more sustainable carbon market".
Original Source: redd-monitor.org