FAO launches solar powered irrigation systems in Kalungu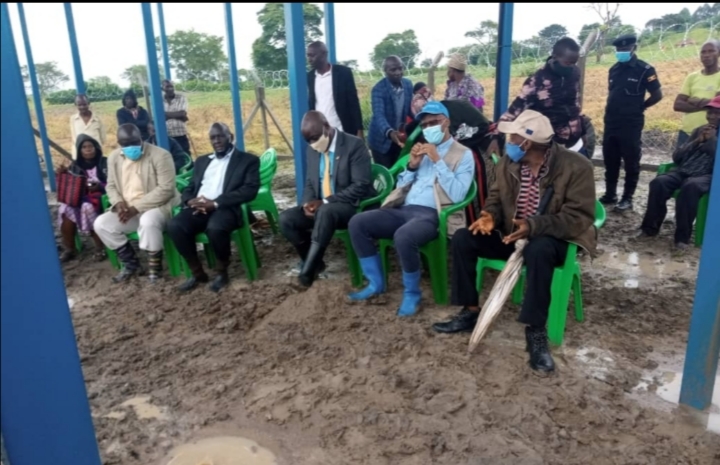 FAO Country Representative Dr. Antonio Querido, Agriculture Minister Vincent Ssempijja flanked by Kalungu District leadership during the commissioning of a solar irrigation system in Bugomola A, Lwebenge Sub County in Kalungu
KALUNGU — The Food and Agriculture Organization of the United Nations (FAO,) last week, launched two solar powered irrigation systems in Kalungu District. The projects are part of efforts to strengthen resilience of rural populations and agricultural production systems through the provision of water for irrigation in the the cattle corridor districts.
FAO, in collaboration with the Ministry of Agriculture, Animal Industry and Fisheries – MAAIF has been implementing a Global Climate Change Alliance (GCCA) Project on agriculture adaptation to climate change in Uganda since 2012 — through the establishment of small scale irrigation systems in the Central Cattle Corridor districts of Mubende, Nakasongola, Luwero, Kiboga, Nakaseke, Sembabule, Kalungu and Rakai amongst others, to help farmers cope with harsh climatic conditions by sustaining all season crop production, but mainly during the dry seasons.
Residents in Bugomola A, Lwebenge Sub County and Mabuyenzo village in Kalungu District were the first beneficiaries of the small scale micro irrigation system in the greater Masaka.
Agriculture Minister – Vincent Ssempijja and Dr. Antonio Querido – the FAO Country Representative in Uganda, jointly launched the solar powered irrigation systems, last week.
The area has been prone to water shortage, especially during drought spells, affecting both domestic and commercial agricultural activities.
The system is, according to Dr Querido, part of FAO and government of Uganda's efforts to build capacities of communities and farmers to cope with climate change and strengthen resilience of rural populations and agricultural production systems through provision of water for irrigation, particularly in districts vulnerable to drought and climate variability.
In Bugomola A, for instance, the Ugx260m solar powered irrigation project will provide water for the four-acre Lwabenge Integrated Group garden.
"Agriculture in the cattle corridor region of Uganda is rain-fed and highly dependent on local weather conditions. This means that farming activities have to be put on hold during the dry season.
"With the new sprinkles system, we are certain that farmers will have access to water for dry season agricultural activities," said Dr. Querido.
The FAO boss noted further that the system will not only increase agricultural production and returns to small scale farmers, but will also improve living conditions of the rural population.
Minister Ssempijja commended FAO for 'changing lives of my people,' adding that the solar irrigation systems in Kalungu will serve as a demonstration of modern agricultural practices to small scale farmers.
The Minister exclusively told PML Daily that historically, the government had been more engaged in promoting large-scale irrigation for commercial farmers due to a limited understanding of the business cases for small-scale irrigation.
He said that access to irrigation will provide farmers with a more reliable income, since one farm can produce several yields a year.
"Many will be ready in three months, which means farmers can gather three or four harvests in a year," he said.
FAO engineer Mr. Denis Besigye said solar was a great fit with irrigation, because on days when plants need the most water, 'you get the most water out of the pump.'
The engineer advised farmers' groups to advantage of the availaable opportunity ofsolar irrigation systems in their areas to change their lives as well as vigirously guarding the facilities against vandalism, noting that each facility cost FAO about Ugx 260m.
Josephine Namagga Muwanga, a member of the beneficiary group in Lwabenge-Bugomola said for tomato cultivation, timely irrigation was vital – cautining that even missing one day could severely affect the crop quality and yield. She said her group had depended on expensive diesel generators for irrigation – a scenario that presented one of the biggest challenges to the farmers.
The solar irrigation systems in Kalungu are some of such other similar projects under construction in 13 other districts in the cattle corridor.
In addition, other schemes such biogas construction are being done in the same area to support local communities.
In reference to Uganda solar water pumping report 2019, the ratio of cultivated area under irrigation to Uganda's irrigation potential is lower than the Sub Saharan Africa average at only 0.5 per cent, whereas approximately 15 percent of the country's surface area is covered by fresh water sources.
The land under irrigation in Uganda is almost exclusively under large-scale projects.
However, the national focus is increasingly shifting towards smaller projects, driven by a combination of demographics and rural realities.
Original Source: pmldaily.com
Kigezi In Famine Scare After Drought Hits The Region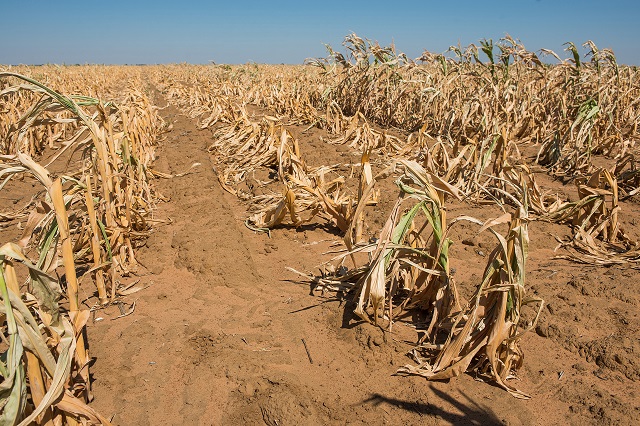 Farmers in Rubanda district are living in fear that they may be hit by famine due to the prolonged drought that has greatly affected the area. This comes after the area was hit by heavy rains in the month of May 2023, which left most of the gardens washed away, and since then the dry season has started up to date.
This is the first of its kind for Rubanda district and Kigezi at large to undergo such a prolonged drought.
According to farmers, this is the first of its kind for Rubanda to go through a long drought, adding that they are in fear that they may be hit by famine since they were used to receiving rains at the beginning of August, which is not the case this year. They add that even the seedlings that they had planted excepting that the rains would come have all dried up by the long spell.
Farmers also say that they don't know what could be the cause that has stopped the rains,adding that the government should come up with a program that provides them with seedlings.
Akampurira Prossy Mbabazi, a woman Member of Parliament for Rubanda District, says that the issue of drought is not only in Rubanda District; however, this is the first of its kind. She adds that the drought comes after the area was hit by heavy rains, which caused a lot of challenges, adding that now it is the drought that may affect the farmers.
Akampurira further says that, as a leader,she will continue to educate farmers on better methods of farming depending on climate change.
Kikafunda Evelyne, founder of Green Environment Promotion (GEP), says it's sad that farmers in Rubanda district and Kigezi at large are experiencing a long drought. She attributes it to problems of environmental degradation that include swamps being reclaimed, deforestation, and plastic pollution, adding that this is an indication that people don't mind about the environment.
Kikafunda calls upon all people to take part in protecting the environment, adding that environmentalists should devise means on how to protect the environment.
It's now been four months since it last rained in the districts of greater Kabale, that is, Rubanda, Kabale, and Rukiga districts, as well as other parts of the Kigezi Subregion.
Source: chimpreports.com
Ban GMOs in Africa, farmers urge govts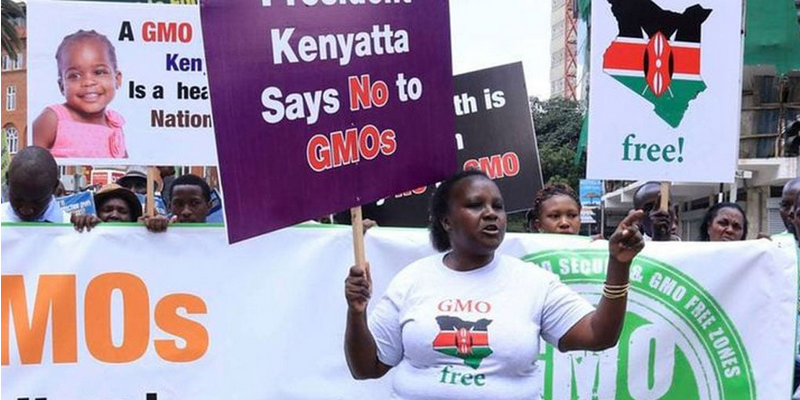 A cross section of residents from the oil-rich Albertine Region have petitioned African heads of state to ban genetically modified organism (GMOs) and crops across the continent to save Africa's indigenous crops and animal species from extinction.
The August 26, petition addressed to President William Ruto of Kenya, the Chairperson of the Committee of African Heads of State and Government on Climate Change, asks African heads of states who are meeting this week for Africa Climate Dialogue to pass strong resolutions to ban GMOs.
Africa Climate Dialogue kicks off today in Nairobi, Kenya under the theme "Driving green growth and climate finance solutions for Africa and the World."
Co-hosted by the Kenya and the African Union Commission, it brings together heads of state and Government, policymakers, civil society organisations, the private sector, multilateral institutions and the youth to design and catalyse actions and solutions for climate change in Africa.
The petitioners under the Uganda Oil Refinery Residents, have made a raft of recommendations including passing a strong resolution to immediately ban the use and promotion of GMO products in African countries, a resolution for promotion of indigenous species of plant seeds and animals in all African states and another resolution to increase budget allocation for agriculture with focus on research in preservation and conservation of indigenous species of plants and animals in Africa.
"This will contribute to knowledge sharing and awareness creation on the relevance of indigenous species as a response to climate change," the petition recommends, adding: "Lastly, pass resolution to integrate indigenous agriculture practices in education curriculum in some relevant subjects like agriculture and biology in all African countries. This will enable preservation and increased knowledge among the young people on the need to preserve and promote indigenous species."
The petitioners, drawn from Kabaale and Busheruka sub-counties in Hoima District Uganda where there are planned oil refineries and other infrastructure, say GMOs present a number of risks and their introduction onto the continent could have a huge negative impact on food security, indigenous crops and organisms, health risks and associated problems.
The petitioners say while different African states have made a number of policies, laws and commitments regarding climate change, including integrating the aspect of climate justice into their different state legislations, as a grass root community whose livelihood entirely depends on agriculture, they still believe that leaders have not done enough to respond to these calamities.
"The major concern is about the use and promotion of genetically modified organisms [for both plants and animals] in Africa.
Uganda, whose backbone is agriculture, once known for its indigenous plants and animals now faces many difficulties in dealing with these invasive species. Maintenance and management strategies of these species require a lot of capital in terms of purchasing inputs such as fertilisers, herbicides and pesticides, among others," the petition reads in part.
The petitioners say with the worsening climate change, the introduction of one season fast maturing plants has made it difficult for farmers to plan. They argue that GMOs, which they claim are invasive species onto the continent, cannot withstand climate change and weather vagaries and therefore increase food insecurity on the continent.
"As earlier stated, these species require many inputs in terms of chemicals like fertilisers, pesticides, herbicides, processed feeds, and vaccines, among others that are all expensive for the ordinary African farmers," they add in the petition.
The petitioners also contend that in Africa, more than 85 percent of grass root communities heavily rely on rain-fed agriculture and that the 'invasive species' are not resistant and not compatible with the local environmental conditions.
"As such, they require effective irrigation as an alternative, which is extremely expensive for grass root communities. Whereas these GMOs were initially introduced as a solution to enhance agricultural productivity and food security, there has been a concerning trend of a financial strain on communities due to the high costs associated with these invasive species," the petition states.
"Buying seasonal seeds for planting and agricultural inputs to manage these species among others is not sustainable and oftentimes leads to significant drain of limited financial resources within the communities. The local farmers are often compelled to divert funds from other essential needs such as education, healthcare and basic infrastructure development," the petition adds.
They also say there is an increased outbreak of pests and disease, which is attributed to the increase in temperatures caused by the changing climate. Unfortunately, they say, GMOs are prone to attack by these pests and diseases.
They also say the GMOs present huge health risks to the local communities, who are illiterate and do not understand the precautions to follow while using these pesticides and herbicides.
This, according to the petition, exposes the users to high risks of contracting diseases through ingestion, inhalation, or skin contact that can lead to acute and chronic health related issues.
"These include respiratory diseases, skin irritations, neurological disorders, and even certain types of cancers in the end. Most grass root women are also worried about the consumption of these genetically modified organisms since they are mainly treated with chemicals; others are injected with hormones to increase their shelf-life spans," the petition states.
Source: Daily Monitor
NEBBI: Livestock disease kills 14,000 goats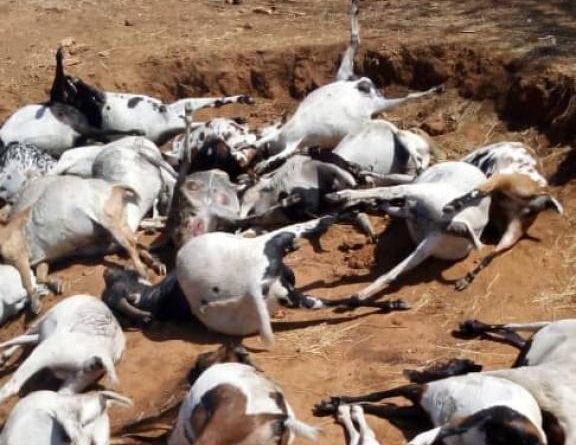 Nebbi, Uganda. The Nebbi district veterinary department is struggling to contain an outbreak of the Contagious Caprine Pleuropneumonia (CCPP), a disease which is highly fatal in cattle and other hoofed animals.
At least 14,650 goats have died and 53,397 goats have been infected following the outbreak of the disease which was first reported in 2022.
According to the local authorities, the disease has since spread to a cross all the sub counties like Erussi, Nebbi ,Alala Jupangira Atego ,Ndhew and Kucwiny as well as Nebbi Municipality.
Moreen Awekonimungu, a livestock farmer in Nebbi Municipality says that she has so far lost three goats since the outbreak was reported a year ago. She further notes that an infected animal dies within two weeks after presenting with signs and symptoms of the disease.
The Contagious Caprine Pleuropneumonia (CCPP) is an infectious disease caused by mycoplasmas and it mostly affects ruminants.
The diseases are transmitted through direct contact and inhalation of droplets from infected animals. Symptoms include fever, nasal discharge, coughing, difficult respiration, edema, and lung tissue abnormalities.
Emmauel Ongeitho, the Nebbi Municipality assistant veterinary officer blames the persistence of the diseases on the poor attitude of farmers against vaccination of their livestock. According to Ongeitho several farmers shunned the mass vaccination exercise which resulted in a spike in livestock deaths.
According to Dr. William Abedkane, the principal veterinary Officer for Nebbi district, the outbreak which started last year has been killing goats silently since farmers are hesitant to report the cases to the veterinary officers in their respective sub counties.
Abedkane further appealed to farmers to pay attention to animal health just like they do with their own health.
According to information from the Minister of Agriculture, Animal Industry and Fisheries (MAAIF), the outbreak of Contagious Caprine Pleuropneumonia (CCPP disease was first confirmed in Uganda in 1995 in Karamoja region.
Original Source: URA Via The Independent.