FAO launches solar powered irrigation systems in Kalungu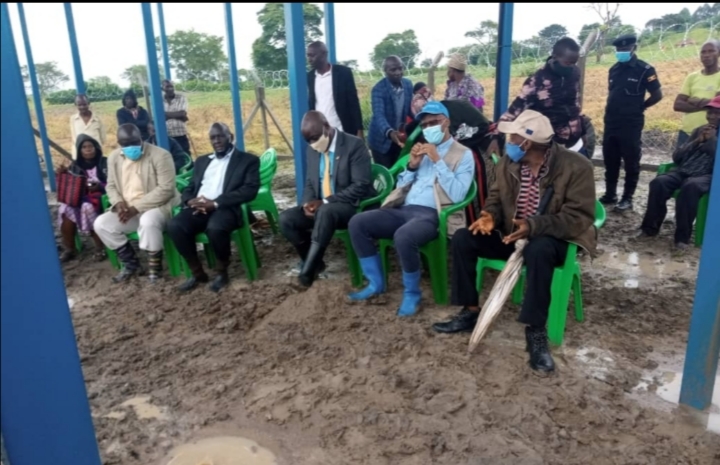 FAO Country Representative Dr. Antonio Querido, Agriculture Minister Vincent Ssempijja flanked by Kalungu District leadership during the commissioning of a solar irrigation system in Bugomola A, Lwebenge Sub County in Kalungu
KALUNGU — The Food and Agriculture Organization of the United Nations (FAO,) last week, launched two solar powered irrigation systems in Kalungu District. The projects are part of efforts to strengthen resilience of rural populations and agricultural production systems through the provision of water for irrigation in the the cattle corridor districts.
FAO, in collaboration with the Ministry of Agriculture, Animal Industry and Fisheries – MAAIF has been implementing a Global Climate Change Alliance (GCCA) Project on agriculture adaptation to climate change in Uganda since 2012 — through the establishment of small scale irrigation systems in the Central Cattle Corridor districts of Mubende, Nakasongola, Luwero, Kiboga, Nakaseke, Sembabule, Kalungu and Rakai amongst others, to help farmers cope with harsh climatic conditions by sustaining all season crop production, but mainly during the dry seasons.
Residents in Bugomola A, Lwebenge Sub County and Mabuyenzo village in Kalungu District were the first beneficiaries of the small scale micro irrigation system in the greater Masaka.
Agriculture Minister – Vincent Ssempijja and Dr. Antonio Querido – the FAO Country Representative in Uganda, jointly launched the solar powered irrigation systems, last week.
The area has been prone to water shortage, especially during drought spells, affecting both domestic and commercial agricultural activities.
The system is, according to Dr Querido, part of FAO and government of Uganda's efforts to build capacities of communities and farmers to cope with climate change and strengthen resilience of rural populations and agricultural production systems through provision of water for irrigation, particularly in districts vulnerable to drought and climate variability.
In Bugomola A, for instance, the Ugx260m solar powered irrigation project will provide water for the four-acre Lwabenge Integrated Group garden.
"Agriculture in the cattle corridor region of Uganda is rain-fed and highly dependent on local weather conditions. This means that farming activities have to be put on hold during the dry season.
"With the new sprinkles system, we are certain that farmers will have access to water for dry season agricultural activities," said Dr. Querido.
The FAO boss noted further that the system will not only increase agricultural production and returns to small scale farmers, but will also improve living conditions of the rural population.
Minister Ssempijja commended FAO for 'changing lives of my people,' adding that the solar irrigation systems in Kalungu will serve as a demonstration of modern agricultural practices to small scale farmers.
The Minister exclusively told PML Daily that historically, the government had been more engaged in promoting large-scale irrigation for commercial farmers due to a limited understanding of the business cases for small-scale irrigation.
He said that access to irrigation will provide farmers with a more reliable income, since one farm can produce several yields a year.
"Many will be ready in three months, which means farmers can gather three or four harvests in a year," he said.
FAO engineer Mr. Denis Besigye said solar was a great fit with irrigation, because on days when plants need the most water, 'you get the most water out of the pump.'
The engineer advised farmers' groups to advantage of the availaable opportunity ofsolar irrigation systems in their areas to change their lives as well as vigirously guarding the facilities against vandalism, noting that each facility cost FAO about Ugx 260m.
Josephine Namagga Muwanga, a member of the beneficiary group in Lwabenge-Bugomola said for tomato cultivation, timely irrigation was vital – cautining that even missing one day could severely affect the crop quality and yield. She said her group had depended on expensive diesel generators for irrigation – a scenario that presented one of the biggest challenges to the farmers.
The solar irrigation systems in Kalungu are some of such other similar projects under construction in 13 other districts in the cattle corridor.
In addition, other schemes such biogas construction are being done in the same area to support local communities.
In reference to Uganda solar water pumping report 2019, the ratio of cultivated area under irrigation to Uganda's irrigation potential is lower than the Sub Saharan Africa average at only 0.5 per cent, whereas approximately 15 percent of the country's surface area is covered by fresh water sources.
The land under irrigation in Uganda is almost exclusively under large-scale projects.
However, the national focus is increasingly shifting towards smaller projects, driven by a combination of demographics and rural realities.
Original Source: pmldaily.com
How the Gates Foundation is driving the food system, in the wrong direction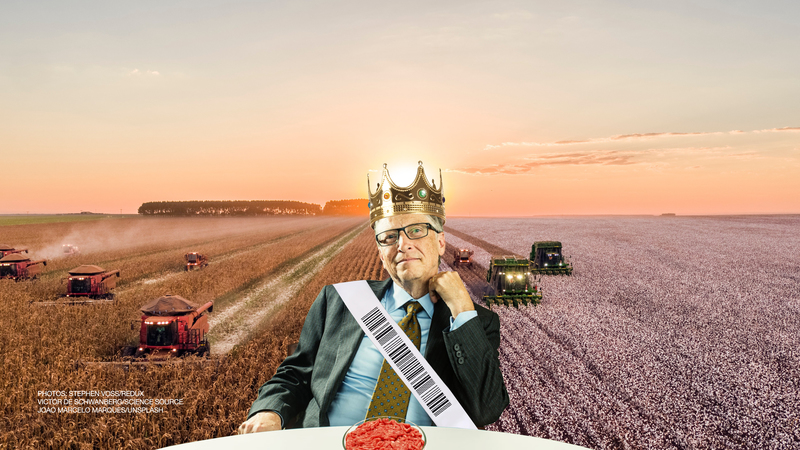 Agency

$US million

Main recipients

CGIAR

1,373

The CGIAR is a consortium of 15 international research centres set up to promote the Green Revolution across the world. Gates is now amongst its major donors. Main recipients include: IFPRI ($223 million), CIMMYT ($346m), IRRI ($197m), ICRISAT ($151m), IITA ($166m), ILRI ($74m), CIP ($91m), and others. Most of the grants are in the form of project support to each of the centres, and many of them are focusing on developing new crop varieties.

AGRA

638

A total of 20 grants for core support and AGRA's main issue areas: seeds, soils, markets, and lobbying African governments to change policies and legislation.

Int'l orgs (UN, World Bank, etc.)

601

World Bank – IBRD ($192m); World Food Programme (WFP) ($99m); UNDP ($54m.); FAO ($88m.) UN Foundation ($76m). The lion's share of the grants to the World Bank are to promote public and private sector investment in agriculture ($70m), WFP is supported to improve market opportunities for small farmers, UNDP to establish rural agro-enterprises in West Africa, and the support to FAO is mostly for statistical and policy work.

AATF

170

AATF (African Agricultural Technology Foundation) is a blatantly pro-GMO pro-corporate research outfit based in Nairobi. The bulk of the Gates' support is to develop GMO drought-resistant maize, a project that has already 

miserably failed

 according to many. But it also gets support to raise "awareness on agricultural biotechnology for improved understanding and appreciation", and to get legislation approved for allowing GMOs in African countries.

Universities & National Research Centres

1,393

Over three quarters of all Gates' funding to universities and research centres goes to institutions in the US and Europe, such as Cornell, Michigan and Harvard in the US, and Cambridge and Greenwich Universities in the UK, amongst many others. The work supported is a mix of basic agronomic, breeding and molecular research, as well as policy research. A lot of it includes genetic engineering. Michigan State University, for example, got $13m to help African policy-makers "to make informed decisions on how to use biotechnology".

Although most of the Foundation's grants are supposed to benefit Africa, barely 11% of its grants to universities and research centres go directly to African universities and research institutions ($147m in total, of which $30m for the Uganda based Regional University Forum set up by the Rockefeller Foundation).

Service delivery NGOs

1,446

The Gates Foundation sees these as agents to implement its work on the ground. They include both large development NGOs and foundations, and the activities supported tend to have a strong technology development angle or focus on policy and education work in line with the Foundation's philosophy. A whopping 70% of these grants end up with US-based beneficiaries, and another 19% in Europe. African NGOs get 4% of the NGO grants ($73m total, $36m of which goes to groups in South Africa, and another $13m for "Farm Concern International"- an NGO based in Nairobi with the mission of building "market-led business models" for small farmers).

Corporations

244

A relatively minor share of Gates' funding goes directly to the corporate sector. Most of the grants are for specific technologies developed by the corporations in question. Major grantees include the World Cocoa Foundation ($31m), a corporate outfit representing the world's major food and cocoa processors, for improving marketing and production efficiency, and Zoetis (a Belgium based veterinary transnational – $14m) for getting veterinary products to farmers.

Total

5,865
| | | |
| --- | --- | --- |
| | | |
| USA | 1,657 | The USA is by far the largest recipient country of Gates agricultural grants meant to benefit farmers in poor countries: $1,657 million dished out in over 400 grants. Recipients include US universities and research institutions to produce crop varieties and biotechnology research for farmers in Africa (e.g. Cornell University, a whopping $212m in 26 grants), big NGO projects mostly oriented to develop technology and markets (e.g. Heifer, $51m, to increase cow productivity and Technoserve Inc., $51m, to push new technologies), and several policy and capacity building projects to push the foundation's agenda in Africa and elsewhere. |
| UK | 466 | A total of 81 grants with a focus on research such as for the University of Greenwich to work on pests and diseases in cassava and other crops (10 grants totalling $73m), and for the Global Alliance for Livestock Veterinary Medicines (9 grants totalling $169m) to produce livestock medicines and vaccines sold by the private sector to African farmers. |
| Germany | 154 | 8 grants for the German Federal Enterprise for International Cooperation (GIZ) to develop supply chains for African cashew and rice farmers and other projects ($57m), and another three grants for the German Investment Corporation to work on African cotton and coffee farming ($47m), amongst others. |
| India | 98 | Total of 33 grants to a variety of grantees including three grants to PRADAN ($34m for women farmers training), and three grants to BAIF ($16m) to give farmers access to the latest livestock breeding technologies. |
| Netherlands | 95 | Mostly for five grants to the Wageningen University for agronomic research on grain legumes, supporting digital farming and other projects ($57m). |
| Canada | 74 | A total of 20 grants mostly towards universities to ensure adoption of new technologies, develop commercial cassava seed supply chains in Tanzania, and to produce vaccines for livestock diseases, amongst other programmes. |
| Australia | 61 | A total of 24 grants mostly to universities and research centres (including $30 million for the University of Queensland) to develop sorghum and cowpea hybrids for Africa, and provide genetically improved cattle, amongst other programmes. |
| China | 48 | Mostly for the Chinese Academy of Agricultural Sciences (two grants totalling $33 million) to develop new rice varieties for farmers across the world. |
| Uganda | 46 | Mostly for RUFORUM (two grants totalling over $30 million to support agricultural research universities in the region). RUFORUM was established as a programme of the Rockefeller Foundation in 1992 and became an independent Regional University Forum in 2004. |
| Kenya | 43 | Grants for Farm Concern International to create market-oriented value chains for a number of crops, and to a number of agribusiness companies active in the region to do the same. |
| | | $US2.7 billion, or almost half of all agriculture funding from Gates went to grantees in these 10 countries: over 90% to countries in the North. |
Covid has pushed more Ugandans into agriculture, says World Bank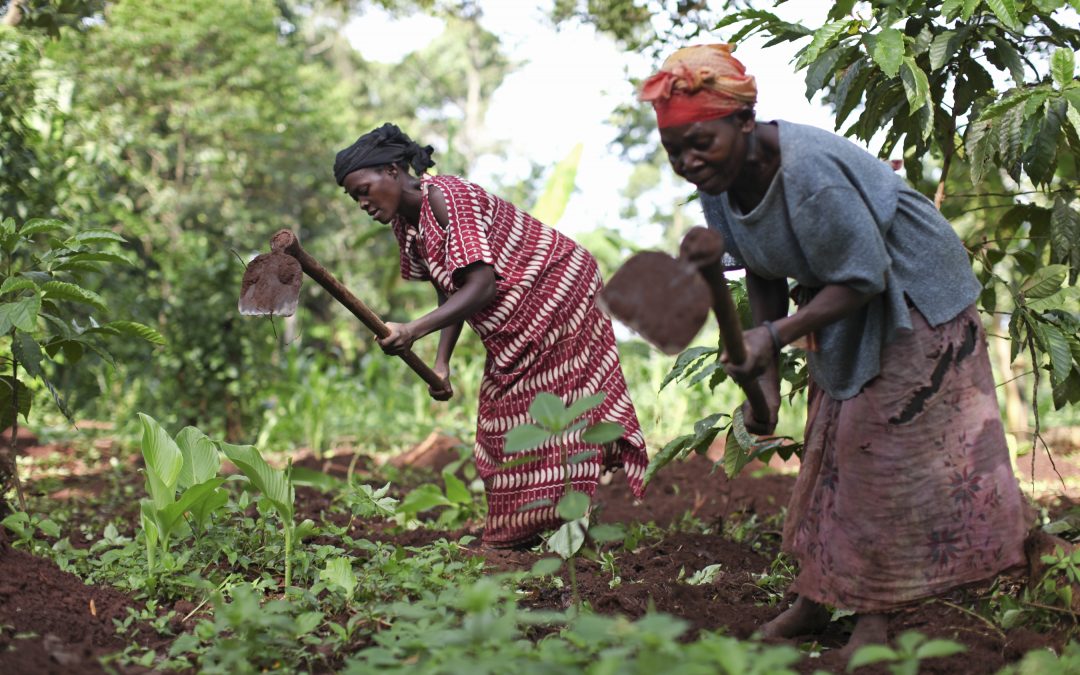 A number of Ugandans have moved into agriculture to survive the Covid-19 crisis.
Job losses and closure of small businesses due to Covid-19 related challenges has forced a number of Ugandans into agriculture, according to World Bank Country Manager Mr Tony Thompson.
However, he noted, this has created a lot of pressure on natural resources as people scramble for available land to manage and survive the Covid-19 crisis.
Speaking during the virtual release of the World Bank 17th Uganda Economic Update, Mr Thompson said: "Following job losses and closure of small businesses, many people [have] returned to agriculture and other natural resources dependent activities to manage and survive the crisis.
This has further strained natural resources, which were already under pressure from rapid population growth, urbanisation, refugee influx and the country's drive for industrialisation."
The World Bank noted that forests have been the worst hit with an average depletion of 2.6 per cent per annum.
Over the past 60 years Uganda's forest cover has been declining at an annual rate of 2.6 per cent, which makes it one of the highest rates of forest loss globally.
This presents climate risks, among which include extreme weather exacerbated by natural capital degradation.
Therefore, the World Bank under the: From crisis to green resilient growth: Investing in sustainable land management and climate-smart agriculture report, noted that government must adopt sustainable land management to achieve inclusive economic and social growth.
During the meeting, Ms Rachel Sebudde, the World Bank senior economist and lead author of the report, said increased budgetary support and incentives towards uptake of sustainable management of land, climate and smart agriculture, must be adopted to streamline natural resource governance for consistency, comprehensiveness and effectiveness.
Ms Sebudde also noted that Covid-19 had presented a number of disruptions, which call for a multifaceted approaches such as stimulus packages and structural measures to sustainably increase productivity and build resilience to enhance livelihoods, the economy and general well-being of Ugandans.
At least 70 per cent of Ugandans, according to Uganda Bureau of Statistics, are involved in agriculture. However, the biggest percentage of this is in subsistence farming.
Ms Sebudde said the significant shift of Ugandans to agriculture in response to the crisis has heightened the urgency for the country to enhance sustainable use of land to check encroachment on forests, swamps and other vulnerable natural resources.
According to the World Bank, the combined impact of land degradation and unsustainable soil erosion, is estimated to cost Uganda 17 per cent of gross domestic product while environmental degradation causes a loss of 27 per cent to agricultural gross domestic product.
Therefore, the World Bank noted, there is need to streamline natural resource governance policies and institutions for consistency, comprehensiveness and effectiveness across all levels, suggesting that natural resource governance policies must be coherent and cross-sectoral coordinated through the green economy focused institutional arrangements and budgeting.
Uganda, the World Bank also noted, must strengthen the link between national, local, and community-based institutions to effectively close the gap between policy and implementation to effectively accommodate customary land tenure and open access to land to a broader set of actors.
Original Source: Daily Monitor
Ankole farmers want government to fix produce prices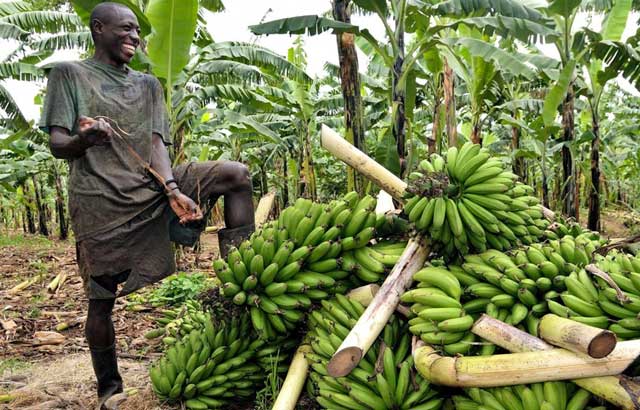 Farmers want the government to formulate policies favouring and determining the sale of their produce
Kampala, Uganda. Farmers in the Ankole region are demanding that the government be the one to determine and declare standard market prices to save them from being cheated by traders and middlemen.
Market prices for most food crops like beans, maize, banana and groundnuts have lately fallen at the farm gate but increased on consumer market.
Currently, a kilogram of beans goes for 1,600 Shillings at the farmer's gate while on market, it goes for between 2,500 and 3,000 shillings which according to them is much higher compared to farm price.
The largest bunch of bananas is bought for 4,000 Shillings from the farmer while the market price is between 8,000 and 10,000. Tomatoes prices have also fallen from 130,000 to 80,000 Shillings a box at the farm while in the market a small basin goes for 7,000 shillings.
A similar situation was experienced during last year's Covid-19 pandemic lockdown and now farmers are expressing a repeat.
Macklin Sabiiti, a farmer in Buyanja wants the government to provide efficient market information which she believes can show positive benefits for both farmers, and traders.
She says since the outbreak of the Covid-19 pandemic, prices have failed to stabilize and traders have used this opportunity to cheat farmers noting that up-to-date, current market information would enable farmers to negotiate with traders from a position of strength.
Yason Mwebesa Mushaba, the director of Agriculture Hands-On Africa says the biggest challenge faced by farmers are the middlemen who have monopolized and determine the prices both at gardens and markets.
He now wants government to formulate policies favouring farmers in determining the sale of their produce.
He says that farmers should also consider value addition to their produce, however, Mwebesa says that government should also come on board to assist farmers to get markets without middlemen.
Amos Atukwase, a farmer in Isingiro district says that prices reduce mostly during harvest timebecause  produce is plenty compared to the available market.
Petero Bagerize, a farmer says farmers have failed to follow up in the market to understand how the prices which traders and middlemen offer are determined.
He says some farmers sell depending on the problem at home because most farmers use loans to cultivate.
He wants the government to 'own back' the buying of products and have stores to collect the produce with a known buyer employed by the government and determine the price.
Muhamed Nyombi, chairperson of the Mbarara Central Market Traders Association agrees with the demand for proper information on prices noting that with clear information of prices to both farmers and traders, the distribution of produce from rural to urban areas would stabilise both market and garden prices.
Emmanuel Kishe, Chairperson of Farmers Association Kiruhura wants farmers to start cooperative societies and unions to have bargaining power.
He says every time the farmer lacks the power to bargain, the more the middlemen and traders benefit.
Godfrey Mutebi, Mbarara district commercial officer faults the middlemen on the price fluctuation, noting that farmers should come together to form a society to give themselves one voice.
He also advises farmers who can afford to always carry their produce to market directly without waiting for middlemen.
According to Food Agriculture Organization, Market Information Services have unfortunately often proven to be unreliable and where they have endured, they have often failed to provide commercially useful advice, confining themselves to the gathering of data that is rarely used.
Original Source: URN via independent.co.ug