Persistent drought worries Turkana, Karimojong pastoralists.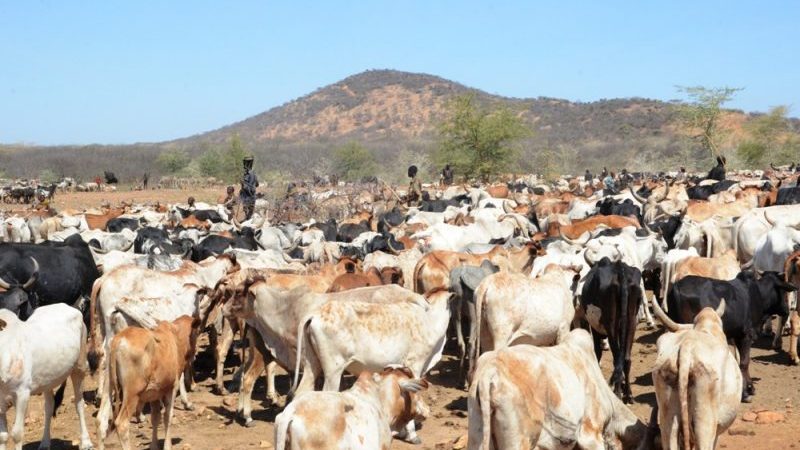 Moroto, Uganda , The persistent drought in the Karamoja region has created a lot of worries among the pastoralists.
The region has for last four months been hit by a dry spell that has dried up several water sources and grass that the pastoralists have been grazing their animals.
John Bosco Apaloris one of the pastoralists in Nakapelimoru Sub County in Kotido district says that the current drought was posing risk to the health of the animals.
He describes the current drought in the region as unfortunate adding that several animals that had grown fat are now growing malnourished due to lack of pasture and water.
According to Apaloris most of the rivers which used to help them water their animals have also all dried up forcing the pastoralists to graze and water their animals in Kobebe dam which could also dry up.
Our cattle were very healthy when pasture and water were there but since the drought started the health of our livestock is threatening due to lack of enough water and pasture," he said.
John Dengel another pastoralist in Moroto appealed to the government to embark on constructing valley dams that can keep high levels of water even during the dry spell.
"We thank the government for constructing some of the valley dams but most of these valley dams are shallow they dry up very first because they don't store adequate water that can push the all drought season," he said.
Francis Kiyonga the LCV Chairperson of Amudat district said the current drought might again cause conflicts among the pastoralists with the neighbouring districts.
"As leaders, we are not sure how to save the livestock because the pastoralists of Amudat, Nakapiripirit and part of Napak always cross with their livestock to the wetland areas of Lokilotor and Bunamutye in the border between Kween and Bunamutye districts but all these wet areas have been converted Chinese investor into rice Scheme," he said.
Joseph Lomonyang the LCV Chairperson Napak said the current drought is worse compared to the dry spells that Karamoja has experienced in the past.
Ambrose Lotukei the LCV Chairperson of Kotido said the government needs to embark on constructing a multipurpose dam that can help to keep water for animals in Karamoja.
********
URN
Kasolwe stock farm to revive Busoga's livestock industry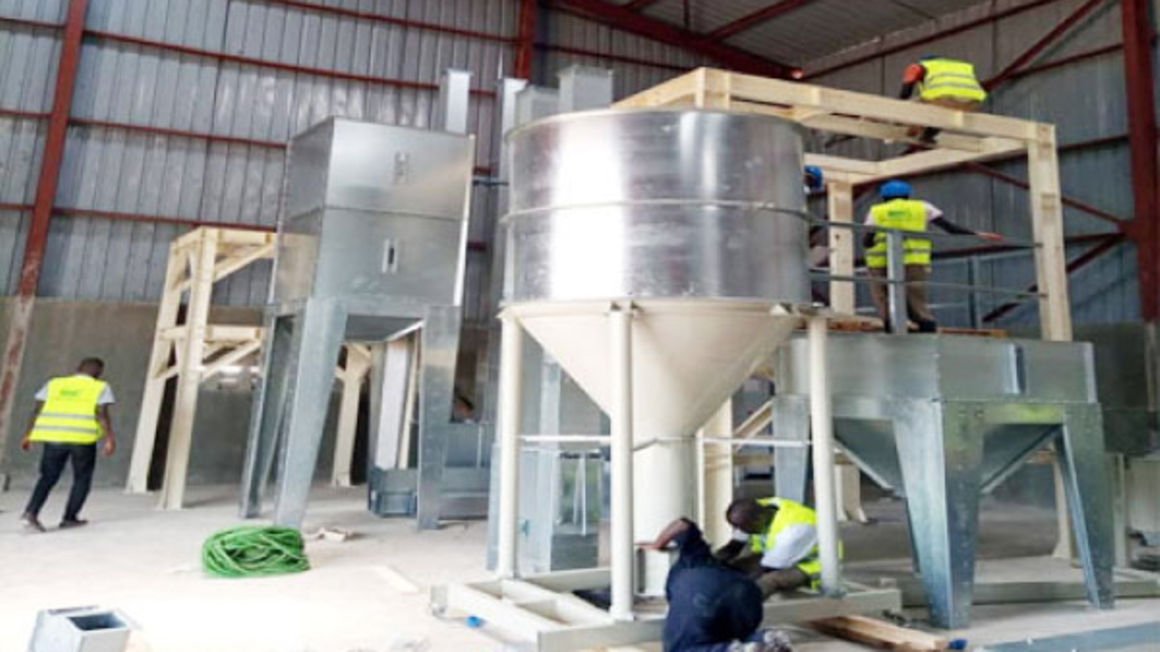 Workers put final touches on the new high-capacity feeds mill at the upgraded Kasolwe stock farm in Bugabula County, Kamuli District recently. PHOTO/PHILP WAFULA
The livestock industry is fundamental to Uganda's economy. The sector contributes 13.1 per cent of the agricultural gross domestic product (GDP) and 5 per cent of the national GDP.
The importance of livestock is set to rise further, as growing incomes lead to higher meat consumption. For example, the 2020 annual agricultural survey by the Uganda Bureau of Statistics (UBOS), indicates that demand for beef in Uganda is expected to increase by more than 150 per cent between 2020 and 2040.
Production of meat products is predominantly through smallholder farmers, who own 90 per cent of livestock in the country.
The UBOS survey further shows that in Busoga Sub-region, the livestock sector provides 15 per cent of employment opportunities and 23 per cent of family income and security.
However, a combination of irregular weather patterns, poor agricultural methods and lack of modern technology has left the sub-region playing catch-up with other parts of the country.
New lease of life
However, all that is set to change if the recently upgraded Kasolwe stock farm fulfils its mandate.
During a recent visit to the farm in Balawoli Sub-county, Kamuli District, there were significant changes at the place that had been written off.
For instance, a spray race with a loading ramp has been constructed to act as the modern disease control unit to fight tick-borne diseases.
The holding ground will be able to hold at least 150 animals and be used for practical illustration to farmers on how to mix and apply acaricides.
John Muwanga, a farmer in the area, says the spray race will greatly help in treating cows in the community since many smallholder farmers couldn't afford hiring veterinary doctors.
"Hiring a veterinary doctor is very expensive, but we now have an opportunity to bring all our cows here for treatment," he says.
Authorities say the newly-installed cattle sheds with calf pens and milking parlours will have the capacity to hold 150 cattle.
This undertaking will be used to teach farmers modern dairy practices, and be a model for replicating similar structures using locally available materials. The structure will also be a central dissemination point for dairy cattle genetics to the entire sub-region.
Furthermore, the high-capacity hay barn will hold 35,000 bales of hay. The structure will also aid in training farmers on how to make and store hay.
The most innovative technology at the site is the new high-capacity feeds mill, which will have the ability to produce 10,000kg of feeds per day.
This undertaking will enable the surrounding community in Bugabula County to be out growers of ingredients such as maize, soya bean and millet, among others, that will be mixed in recommended ratios to produce animal feeds nationally.
All this effort is part of the National Animal Genetic Resources Centre and Data Bank (NAGRC&DB) to improve livestock production, productivity and marketing in Busoga sub-region.
NAGRC&DB is partnering with Operation Wealth Creation (OWC) programme to transform agriculture from a subsistence sector into a commercial industry in line with the National Development Plan III.
Dr Peter Beine, the NAGRC&DB executive director, says the livestock sub-sector is a significant player in our economy, which must be enhanced to create more wealth and jobs for people.
"A time has come for us to adapt our cultures to the needs of today. We must embrace new technologies in order to upscale our farming for quality production, if we are to survive and compete in the global market."
About the farm
It is one of the national ranches established in 1965 to conserve the indigenous short-horned Zebu cattle. Initially, the farm was for citrus, which failed due to insufficient water for irrigation.
After an evaluation, the citrus farm was shifted to Kiige near the shores of Lake Kyoga, thus paving the way for establishment of Kasolwe Stock Farm.
The farm occupies 2,000 hectares of land and lies within the cattle corridor that stretches from Mbarara, Masaka, Nakasongola, Kayunga, Kamuli, Teso, and Karamoja.
Currently, the farm has 986 head of cattle, of which 64 are crosses of Jersey and Friesians, 922 short-horned Zebu and 740 small East Africa goats.
What next for Uganda's agricultural surplus?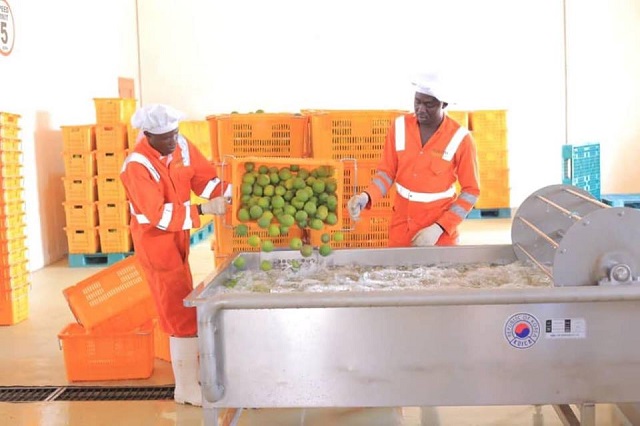 Kampala, Uganda | Government has advised farmers to take seriously complaints from regional and international markets about the quality of Ugandan produce. Ugandan products have undergone a series of rejection over the last three years from the regional markets of Kenya, Rwanda and Tanzania over quality concerns and dumping.
Finance Minister Matia Kasaijja says the country is facing a problem of market for local goods which has resulted in surplus yet farmers are ignoring calls for change. Some of the rejected products include milk, eggs, sugar and maize among others.
According to statistics from the Ministry of Trade and Industry, Uganda produces 510,000 tons of sugar. However, only 360,000 tons are consumed locally. The surplus of 150,000 tons is exported within East Africa, COMESA regions and DR Congo.
However, due to the import restrictions in neighbouring countries over quality concerns, over 50,000 tons of sugar are flooding causing a drop in the price from 150,000 to 130,000 for a 50 kg bag of sugar.
Agriculture Minister Vincent Bamulangaki Ssempijja says the surplus is temporary, adding that they have embarked on the implementation and expansion of the agro industrialization to address the quality challenges.
Pius Wakabi Kasajja, the Agriculture Ministry Permanent Secretary says that the government is investing over 200 million pounds (over a trillion Ugandan Shillings) in post-harvest handling, sensitization and value chain agenda to boost the quality of the products for export.
Wakabi says that they are now looking at taking the Nucleus farmer model to all parts of the country to ensure bulk production. The nucleus farmer's premises are designed to host a demonstration of certified inputs and best practices on input usage.
This will help farmers around them to access credit and have the same output in terms of quality for exports.
Julian Adyeri Omalla, a commercial farmer and managing director of Delight Uganda, the producers of Cheers juice is a nucleus farmer. He has signed a memorandum of understanding with government through the ministry of agriculture to train farmers in Northern Uganda.
Julia owns 1700 hectares of farmland on which he grows mangoes and citrus working with over 500 out-growers in Lungulu sub-county in Nwoya district. In this memorandum, the government is to construct a Shillings 30 billion fruit juice factory.
Gideon Badagawa, the Executive Director Private Sector Foundation Uganda advises the farmers to embrace research and work under organized groups that understand the market dynamics for countries to appreciate their goods.
Uganda has had several meetings with regional heads to forge a way out of the ban but the fruits seem slow. Recently, Kenya allowed importing several metric tons of sugar from Uganda.
*****
URN
Agriculture insurance still a mystery among farmers in Acholi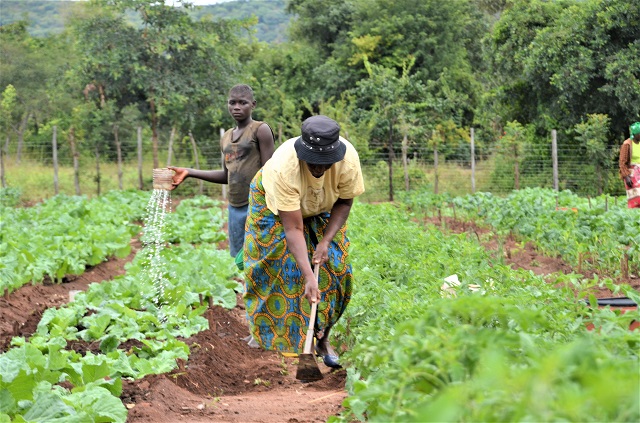 Many farmers in Acholi believe that any talk about insurance is a trick to steal from them.
Kampala, Uganda. Farmers in Acholi sub-region are yet to embrace insurance policies put in place to protect them from losses arising out of drought, pests and disease and floods among other calamities.
The government unveiled in the financial year 2016-2017, a 5 billion Shillings Agriculture Insurance Premium subsidy, for an initial five-year period to boost the uptake of agriculture insurance policies for both crops and livestock farmers.
The policy encourages commercial banks to lend to both small and large scale farmers whose activities focus on National priority crops and livestock. Through the scheme, the loans disbursed by the financial institutions are protected from the effects of agriculture risks and natural disasters over which the farmers have limited or no control.
However, a number of farmers say they have no idea that crops can be insured while others are reluctant to adopt it. A 2019 study by the Economic Policy Research Centre shows that northern Uganda has the lowest uptake of agriculture insurance with only slightly 7,000 farmers translating to only 10.5 percent insuring their crops.
Simon Opiro, the chairperson of Paicho Central Kal Cooperative Society Limited says that many farmers believe that any talk about insurance is a trick to steal from them. The cooperative formed and registered in 1964 in Paicho sub county in Gulu district has 219-members, but none of them has bought the idea of insuring their crops.
"When you tell farmers about insurance, they ask many questions. First, because there is no local word we can use to replace "insurance", so most of them say it is a ploy to steal their money especially if the risk they insured their crop against did not happen," Opiro said.
Denis Ojara whose family owns a 40-acre farm in Abwoch Onang in Omoro district where they are engaged in poultry, piggery and crop production says he first heard about agricultural insurance from this interview, adding that it is obvious many farmers don't have even the most basic knowledge on agriculture insurance.
He says there is a need for the insurance companies offering such services to sensitise the farmers about it.
Ben Ocan, the chairperson of Latyeng farmers group in Bungatira sub-county in Gulu district says it has not been easy to convince the 300 members who produce about 700 acres of rice every season, about the need to insure their crops.
"I personally have knowledge about agriculture insurance, but it has been hard for me to make fellow farmers understand it. I think it needs another organization or authority to sensitize my members of the benefits of crop insurance," Ocan said.
Morrish Atwom, the Kitgum district commercial officer says that insurance is part of the packages they give farmers when training them on financial literacy, but its uptake remains very low.
"When we train them on insurance, they really show interest, but the practicality is zero. I have not heard of anyone farmer in the district who has insured their crop," Atwom said. Atwom says there is a need for rigorous sensitization of farmers on the benefits of insurance if they are to take it up.
An agricultural risk assessment study done in 2015 shows that Uganda loses between USD 606 million to USD 804 million per year due to pests and diseases in crops and animals, post-harvest loses and drought and price fluctuations.
There are ten insurance firms working with the government to insure the loans. The firms include APA, Lion Insurance, Pax Insurance, Gold Star Insurance, Phoenix Insurance and Jubilee Insurance among others to help farmers neutralize losses from these hazards.
*****
URN
Source: The Independent.