Smallholder Farmers Can Now Access Agricultural Credit Facility Without Collateral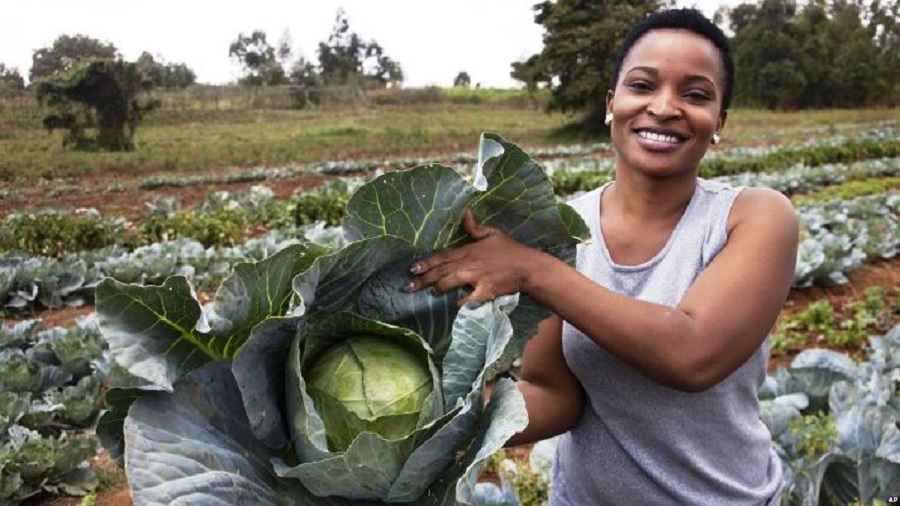 The Agricultural Credit Facility (ACF) has devised a path-breaking innovation of block allocation to enable farmers access loans based on alternative collateral such as chattel mortgages, cash flow based financing, and character-based loans, among others, Dr. Michael Atingi-Ego, Deputy Governor, Bank of Uganda, has revealed.
"This innovation is unlocking access to credit in areas with communal land tenure; and most especially, for micro and smallholder farmers who are otherwise excluded for lack of collateral to secure credit.
"By September 2020, the ACF had advanced UGX 2.8 billion to 187 small and micro borrowers with non-traditional collateral under block allocation," he said.
The ACF is administered by the Bank of Uganda on behalf of the Government of Uganda.
The Deputy Governor said that through this innovation, the ACF working with the participating institutions, has extended loans of up to UGX 20 million to small-scale farmers.
He further said that block allocations support financial inclusion and advance equity in economic activity by serving women and youths with limited property rights.
Dr. Atingi-Ego made the remarks just before he a launched the 2020 Agricultural Finance Yearbook at Imperial Royal Hotel, Kampala on Tuesday.
The Agricultural Finance Yearbook  has produced by the Economic Policy Research Centre (EPRC) since 2014/15.
The yearbook contains several agri-financing models for various commodities such as rice, dairy, coffee, among others. The models have some standard features:aggregation of producers for economies of scale, functional linkages between value chain actors (input distributors, extension agents, agri-markets information providers, producers, storage units, marketing agents, processors, financial service providers, wherein some players are 'lead agents' in the segments where value chains are weak.
The Ugandan economy is still heavily reliant on agriculture, with 69 percent of households dependent on subsistence farming and nearly 75 percent of all households.
Atingi-Ego  revealed that the share of value-added by the agriculture sector in the economy stands at about 25 percent, presently.
"Boldly facing these facts, it is clear that whenever the BoU announces the Central Bank Rate (CBR), the intended policy signal may not penetrate through to the majority of the population. It is, also, quite evident that the route for the CBR signals to reach the people will be unblocked through agricultural finance," Atingi-Ego said.
He added: "Fortunately, by seeking to close the information gap between agriculture and finance, these yearbooks bring much-needed illumination to the recesses of information asymmetry, thereby improving risk analysis and credit scoring of agricultural credit."
Access to land, capital hampering youth's involvement in agri-business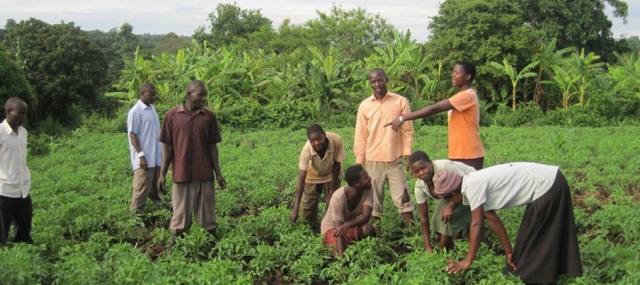 Stakeholder engagement with governments to support the youths should be a component of every programme
Young people in sub-Saharan Africa have keen interest in agriculture especially with the use of technology but are hampered with numerous challenges including limited access to land, skills set, sustainable financing and access to markets, a new report has revealed.
A new study carried out by Heifer International in 21 African countries titled 'The Future of Africa's Agriculture – An Assessment of the Role of Youth and Technology,' reveals that 10 out of 11 countries, with the exception of Tanzania agreed that the most important support required is funding.
However, more training and mentorship were seen as more important than funding in Ghana, Kenya, Tanzania and Zimbabwe.
The survey also reveals that whereas more youths in Uganda, Tanzania and Zimbabwe stressed the need for support in the area of access to markets, their counterparts in Senegal, Kenya, Nigeria and Ghana prioritized the need for support in agri-technologies. Access to land was the major concern for the youth in Rwanda, Zimbabwe and Zambia.
The organisations working in the sector suggested that the best way to engage youths in agriculture is through technological innovation (39%), government support for young farmers (32%) and inclusion of youths in agriculture policy formulation (21%).
"Most youths in Africa also do not have access to land for agriculture.  59% of youths surveyed do not have access or own land. Land ownership amongst young people is lowest in Ghana, Zambia, Senegal and Rwanda," the survey notes. "Youths in Malawi seem to have access to land, with only 14% having no access, the lowest among countries surveyed."
Technology adoption
Overall, technology adoption in Africa too remains low, with Ghana, Senegal and Zambia having the lowest agri-tech adoption rate.  Zimbabwe, Kenya and Nigeria have the highest technological adoption rates, according to the survey that featured 30,000 youths, stakeholders in innovations and small holder farmers.
William Matovu, a director at Heifer International-Uganda said the paradox of Africa's economic development is that the continent's urban and rural populations who produce most of the food is mostly comprised of smallholder farmers practicing subsistence farming while living in extreme poverty.
"This scenario scares away the continent's youth from careers in agriculture, yet ordinarily Africa's youth should be replacing the aging farming population but this generational shift is not happening fast and well enough to secure Africa's food security goals," he said.
He reckoned that Africa's youths disapproving attitude towards agriculture is mainly a result of lack of funding which is the biggest barrier towards their interest in the sector.
Africa's agricultural sector accounts for nearly 30% of the GDP of sub-Saharan Africa and employs 54% of the work force, but it is still underdeveloped.
Mondo Kyateeka, the Commissioner for Youth and Child Affairs at the Ministry of Gender, Labour and Social Development said unfortunately, young people are selling off the only available land to migrate to cities or go abroad for low-skills jobs
He said there are also feelings that older people are not willing to relinquish the land they can no longer use, to the younger persons to use it.
He, however, said the government is seeking ways of curbing the sale of agricultural land, saying the position is that agricultural land should remain for that purpose.
Key recommendations
As a result, the survey recommends a review of existing programmes that targets smallholder farmers and that youths must be conducted to determine if the current strategies support the African farmer with the use of technology.
"Innovation must be viewed within the context of the current realities,' the survey notes. Beyond a smart App, the survey says providing linkages to local and regional markets will go a long way in improving the financial bottom-line of every farmer. The survey says digital literacy must also be a key consideration.
The survey says while smallholder farmers in rural areas do not have access to smart phones or Internet access, a basic phone is a good starting point in introducing the use of technology, through weekly SMS on prevailing market prices and best input bargains.
Furthermore, youths with a keen interest in agri-tech must work collaboratively with smallholder farmers to get a better understanding of their challenges and how to provide sustainable and affordable solutions.
"There is also need to capture data to provide evidence-based results on the immediate benefit and long-term impact of the use of technology by smallholder farmers," the survey notes, adding that stakeholder engagement with the governments to provide access to land, tax waivers and fiscal policies that deliberately support youths in the sector should be a component of every programme.
Butaleja farmers oppose govt ban on growing rice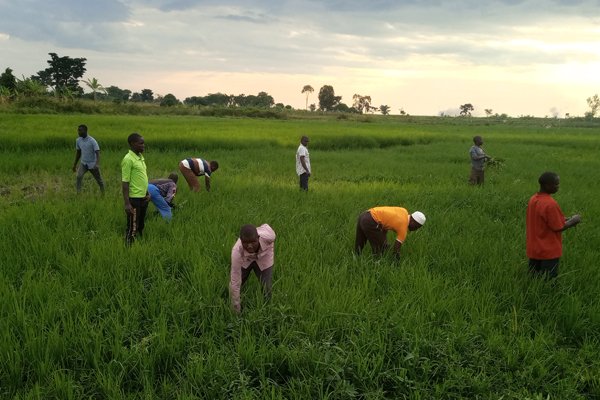 Farmers in rice gardens in Hisega Village, Butaleja Town Council, Butaleja District last week.
Farmers in Butaleja District have opposed the government's decision of banning the growing of rice and other crops in wetlands across the country, saying they should have been consulted.
The farmers say the decision will affect their livelihoods and push them further into poverty.
Last week, the government banned the growing of rice and other crops in wetlands.
In a resolution passed by Cabinetand communicated by the Minister of State for Water and Environment, Ms Beatrice Anywar, the government said the move will restore the environment that has been degraded by farming activities.
Ms Anywar said Uganda's wetland coverage has dropped from 17.5 per cent in the early 1990s to 8.5 per cent, while forest coverage has dropped from 24 per cent to 12.4 per cent.
Mr David Mulabi, a rice farmer and former contestant for Bunyole East MP,  last week said the decision is inhuman and one of the examples of the many discriminative and recklessly managed policy processes.
"The government has been giving out forests to foreigners to build industries. They have not said anything about urban encroachment on wetlands for home construction. Why target the poor farmers who have nowhere to go and have been farming in  these wetlands for over 50 years,"Mr Mulabi wondered.
He such a policy with a huge potential for social impact should have gone through long studies and consultations before its implemented.
Mr Mulabi said this could be another  government ploy to marginalise the rice farmers in the district, which is about 40 per cent covered by water bodies and wetlands.
"They j simply need to drop the whole thing and start afresh with proper policy consultation with a view of not evicting farmers but to get sustainable and practical solutions," he said.
Mr Mulabi also accused government for giving a tax waiver to traders to import rice, something he said has led to price drop and has affected the farmers' income.
"Instead of giving such money to our farmers to improve output, they supported foreign farmers at the expense of Ugandan farmers," he said.
Ms Sarah Nagawa, another rice farmer, said the decision should be shelved, saying they earn their livelihoods from wetlands.
"These wetlands have paid for my children's school fees including myself.They should think of better ways instead of taking decisions without consulting us," he said.
Mr Abdu Walubya, a resident, said the district has  been depending on wetlands for farming.
"Almost 70 per cent of the homesteads of the population generate their income through use of these wetlands.Others live and sleep in wetlands. How will the government handle those who sleep and stay in wetlands, "Mr Walubya said.
The district chairperson, Mr Micheal Higenyi Bory, said if the government takes over  wetlands without a clear plan, it will  lead to bloodshed.
Raw deal for Sebei as Irish potato prices drop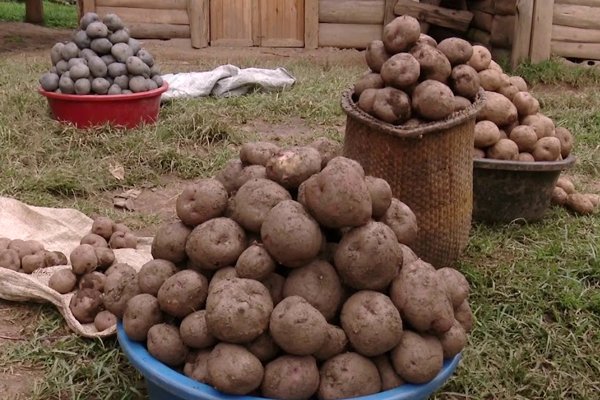 Farmers in Sebei Sub-region are counting losses following a drastic drop in the prices of Irish potatoes
Farmers in Sebei Sub-region are counting losses following a drastic drop in the prices of Irish potatoes.
A bag of Irish at a farm gate costs about Shs30,000 from Shs70,000 and a kilogramme goes for Shs300 from Shs700.
Farmers attribute the drop in prices to the Covid-19 disruptions, poor road network and the surplus harvest of Irish in neighbouring Kenya, which has now ended in the Uganda market.
In an interview with Daily Monitor at the weekend, the farmers said they were expecting to make fortunes out of the bumper harvest.
They have asked the government to start up a processing plant so that they can add value to the irish.
Mr Isaac Sande, a farmer in Chemonge Village, Kapchesombe, East Division in Kapchorwa District, said they were giving away their produce to middlemen.
"We are just dumping our produce because we don't have any other alternative. We are making losses and yet we had anticipated better prices," he said.
Mr Sande said this was the worst price they had experienced in a decade.
"I had invested about Shs3 million as part of a loan from a savings group, expecting to get Shs7 million, but this is now impossible," he said.
Mr Satya Malewa, the vice chairperson of Kwoti Kapenguria Farmers Group, attributed the low prices to an influx of Irish from Kenya.
"Buyers would easily move here for potatoes, but it is now hard because of hiked transport costs," he said, adding: "The government should provide us with soft loans."
Mr Joshua Cherotich,a farmer in Kamakunga, Kapchesombe Sub-county, Kapchorwa District, said he is stuck with about 2 tonnes of irish.
"I invested a lot of money, but the middlemen are giving us peanuts. But by all means, I will give it away because it will rot," he said.
Mr Joseph Mangusho, a resident of Benet Sub-County in Kween District, said the government should improve the transport network.
"We also don't have warehouses from where we can store our Irish," he said.
Production capacity
Ms Susan Chemutai, the secretary for production of Kapchorwa District, said the district produces between 400 and 500 tonnes of Irish potatoes per season.
Ms Everlyne Kubarika, the chairperson of Kapchorwa District, said Sebei Sub-region produces a lot of Irish, which if processed can lift the farmers out of poverty.
Mr William Chemonges, the MP for Kween County,  who also seats in the Parliamentary Committee of Science, Technology and Innovation, said they made a presentation to the line minister (on value addition for Irish) who will brief them next month.
"Our farmers face a major challenge of prices. We need a processing plant and machines that can transform the raw Irish into other products in powder form. The Irish should also be preserved for two to three years,'' he said.
Original Source: Daily monitor.co.ug