African Civil Society Refuses To Engage With UNFSS Without Radical Change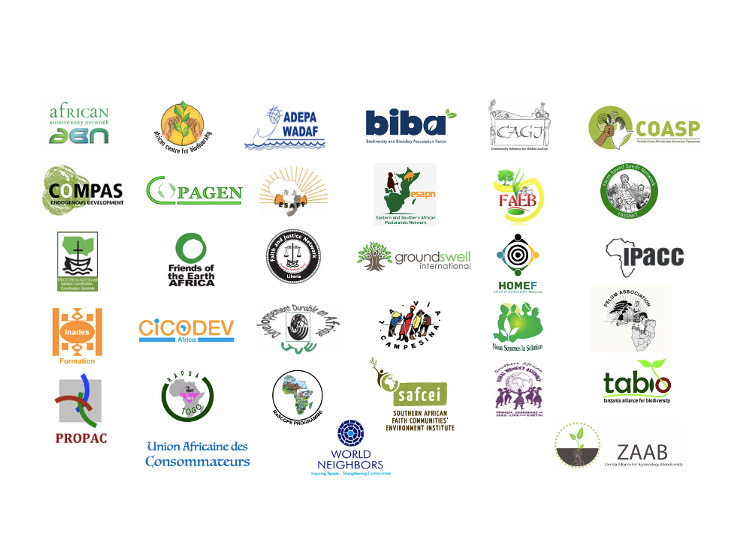 Members of the Alliance for Food Sovereignty in Africa 
Dr. Agnes Kalibata 
Special Envoy of the UN Secretary-General for the 2021 UN Food Systems Summit 
Prerequisites for engaging with the UNFSS 
Dear Dr. Kalibata 
AFSA acknowledges your invitation of 17th September 2020 to be part of the champions group and represent African civil society. At first, we declined, for reasons set out below. However, after careful deliberation, we, the undersigned 36 network members of AFSA, came to a consensus that we would be prepared to engage with the United Nations Food Systems Summit (UNFSS), scheduled to take place in September 2021 in New York, USA, dependant upon the UNFSS agreeing to the conditions set out below. 
AFSA initially welcomed the UN Secretary-General's announcement to convene the world Food Systems Summit in 2021 with profound hope and enormous optimism. The food systems transformation agenda is long overdue, and many social movements and civil society actors, in Africa and globally, have been fighting for systemic and structural transformation of food systems, stressing the urgent need for a radical shift from fossil fuel-based industrial agriculture and corporate monopolies of food and agriculture to food sovereignty and agroecology. 
However, our genuine hope for a vibrant, inclusive, and democratic summit on food systems transformation has consistently been eroded. Below, we declare the reasons that pushed AFSA to officially refuse the invitation and set conditions for engaging with the UNFSS summit. 
Industrial agriculture is a key driver of biodiversity loss and a significant contributor to carbon emissions. Further, as COVID-19 illustrates, there are complex interactions among deforestation, reduced biological diversity, ecosystem destruction, and human health and safety, in large part driven by globalised agricultural and food systems. Exposure to existing and emerging pathogens, as ecosystem destruction continues and essential protective barriers provided by nature are breached, are tremendous public health threats. 
The inextricable connections between climate change, deforestation and industrial agriculture – a prime mechanism of agrarian extractivism and extractivist development – drive social and political instability and food insecurity on the continent, which further fuel the systemic, existential crises we face globally. 
Development interventions to date have and continue to reinforce indebtedness, inequalities and social exclusion. They deepen dependency on destructive, short-sighted and short-lived fossil fuel and capital intensive projects, and global agricultural and forest value chains, which all contribute to creating conditions for extreme vulnerability to shocks, including but not limited to the COVID-19 pandemic. 
Rapid and unplanned urbanisation, with the consequent shift in the labour force from largely food producing to non-food producing jobs, and a rising African middle class, is affecting rural land use and changing our food systems. The rapid erosion of Africa's culture coincides with the degradation of our soils, which is becoming a major issue affecting the livelihoods of many, while the growing retail/supermarket sector is also destroying and displacing local food systems and local markets. 
Yet Africa remains essentially a continent of smallholder food producers. Solutions will only work for Africa if they work for millions of farmers, pastoralists, fisherfolks, indigenous communities, custodians of nature, and women and youth in the food system. Hence, how Africa will feed itself in a situation of rapidly changing, catastrophic and chaotic climate change, and in a manner that heals nature and cools the planet, is one of our most urgent and pressing survival questions. 
About 20% of Africans – more than 250 million people – go to bed hungry every night. At the same time, industrial ultra-processed foods and sweetened beverages have penetrated African markets – many of which are high in sugar, salt, saturated fats and preservatives, thus contributing to the spread of non-communicable diseases, such as diabetes, cardiovascular diseases, and cancer. This has also contributed to a major rise in excess weight and obesity, with the rate of overweight children under five having increased by nearly 24% since 2000. And affected populations are more vulnerable to COVID-19. 
Fiscal policies and regulations, such as sugar taxes, labelling of unhealthy foods, and restricting marketing, often face strong opposition from large food companies that dominate markets. Thus, Africa faces a triple burden of hunger, malnutrition, and obesity and ill health from poor quality food. Clearly, the people of Africa are facing a multitude of intertwined crises linked to changes in our farming and food systems. 
Even so, Africa has much to offer its citizens and to the world. With appropriate redirection of policies and investment, the wealth of our seed, agrobiodiversity, land, vibrant cultures and nature can contribute to solving the food crisis affecting so many of our people. 
The answer lies in our collective ability to effect holistic and systemic transformation of our food systems. Such a fundamental transformation would tackle the climate crisis, lift millions out of chronic poverty, help our people defeat hunger, nurture a healthy life for all, revive vibrant cultural practices, address structural inequality, and rejuvenate the biosphere. 
We are deeply concerned that the current rushed, corporate-controlled, unaccountable and opaque process for this UNFSS will not lead towards the transformation we envision of revitalised, sustainable and healthy food systems. A summit geared towards repeating the agri-business-as-usual model to solve the food and climate crisis cannot deliver on this visionary future. 
The current multi-stakeholder approach and structure of the UNFSS give major influence over our food system to a few corporations and philanthro-capitalists, many of whom are part of the problems. We are profoundly concerned that the UNFSS will be used as a conduit to echo the business-as-usual, quick-technofix policy prescriptions of the agribusiness agendas. 
The science is clear. Climate chaos, land-use change and erosion, and alarming biodiversity loss are the biggest existential threats to all life forms on Earth. The industrial food chain and corporate concentration around food and agriculture is the primary driver of many of the underpinning crises that humanity faces today – including health, hunger, malnutrition, deforestation, land degradation, loss of soil fertility, structural injustice and inequality. 
Nothing short of a fundamental rethink of our food systems will reverse the trajectory of chaos and crises. Incremental change is no longer enough. "Agriculture at the Crossroads," the 2009 report by the International Assessment of Agricultural Knowledge, Science and Technology for Development (IAASTD), clearly indicated more than ten years ago that the future of the food supply lies in the hands of smallholder and peasant farmers. That report is still relevant today, with several of its authors having issued a follow-up earlier this year titled "Transformation of Our Food Systems: The Making of A Paradigm Shift". 
Agroecology is an alternative bottom-up paradigm that fundamentally addresses the nexus of environmental, economic, cultural and social regeneration in agriculture and overall food systems. AFSA, as part of the food sovereignty movement, stands in solidarity with peasant/family farmers, indigenous peoples, pastoralists, fishers and other citizens to exercise their fundamental human right to determine their own food and agricultural policies. AFSA stands in solidarity with thousands of farmers' organisations and social movements worldwide to push for this holistic vision of a transition to agroecology and food sovereignty. We believe embracing agroecology is the right path to restore the damage done to our nature and cultures, cool the planet, feed the increasing population, fix the nutrition and health crisis, and build fair and just economies and thriving livelihoods. We demand that agroecology is put at the centre of the recommendations coming from the FSS. 
The current UNFSS process gives little space to traditional ecological knowledge, the celebration of traditional diets and cuisine, and the social sciences, which are critical for the future of our food system. Indigenous and local community Africans have experience and knowledge relevant to the current and future food system. Any process or outcome that does not recognise this is an affront to millions of African food producers and consumers. 
Therefore, AFSA must see the following conditions fulfilled before we engage with the summit: 
– A transition to agroecology should be central to any outcomes of the UNFSS, based on the 13 principles of agroecology outlined in the High Level Panel of Experts for Food Security and Nutrition (HLPE) report on agroecology and how these can effectively be implemented globally in support of the Sustainable Development Goals. 
– The formal FSS process should establish an additional track to focus on the transformation of corporate food systems to food sovereignty, as also demanded by the Civil Society and Indigenous Peoples' Mechanism (CSM) of the Committee on World Food Security. 
– The CSM should be given the mandate to lead proceedings of this 6th Action Track, in collaboration with relevant UN bodies and governments, and attention must be given to cross-cutting implications in the other Action Tracks. 
– The traditional knowledge and practices of people, inclusive of Indigenous peoples, must be included in all processes and outcomes in a clear and demonstrable way. 
– The AFSA strongly believes that the ideal and legitimate forum to host and facilitate debates as significant, complex, and crucial as rethinking global food systems should remain under the United Nation's Committee for World Food Security (CFS). 
– The FSS must commit to turning over any recommendations or outcomes to the CFS for implementation, and commit resources to strengthening the CFS and reversing its capture by corporate interests and governments. 
Sincerely, 
Original Source: afsafrica.org
Almost 2,000 land and environmental defenders were killed between 2012 and 2022 for simply standing up to protect our planet and us all from the accelerating climate crisis.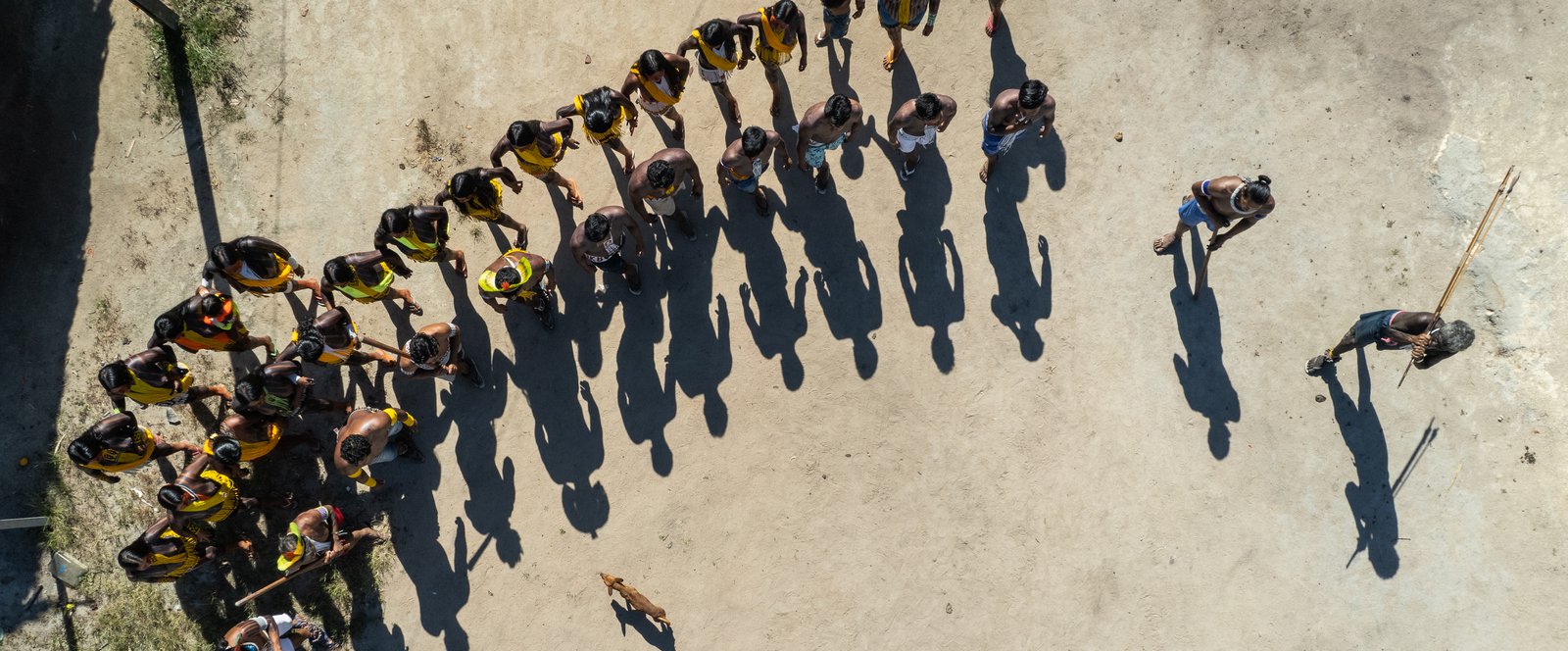 For the past 11 years, Global Witness has documented and denounced waves of threats, violence and killings of land and environmental defenders across the world, and 2022 marks the beginning of our second decade documenting lethal attacks. The world has changed dramatically since we started documenting these in 2012. But one thing that has not changed is the relentlessness of the killings.
Last year, at least 177 defenders lost their lives for protecting our planet, bringing the total number of killings to 1,910 since 2012. At least 1,390 of these killings took place between the adoption of the Paris Agreement on 12 December 2015 and 31 December 2022.
On average, a defender was killed every other day in 2022, just as was the case in 2021. Although the overall figure is slightly lower last year than in 2021, when we recorded 200 killings, this does not mean that the situation has significantly improved. The worsening climate crisis and the ever-increasing demand for agricultural commodities, fuel and minerals will only intensify the pressure on the environment – and those who risk their lives to defend it. Increasingly, non-lethal strategies such as criminalisation, harassment and digital attacks are also being used to silence defenders.
The situation in Latin America remains particularly concerning. In 2022, the region accounted for 88% of killings – an ever-growing majority of the world's cases. A total of 11 of the 18 countries where we documented cases in 2022 were in Latin America.
Colombia tops the global ranking with 60 murders in yet another dire year for the country. This is almost double the number of killings compared to 2021, when 33 defenders lost their lives. Once again, Indigenous peoples, Afro-descendant communities, small-scale farmers and environmental activists have been viciously targeted. Yet there is hope; when Gustavo Petro, the first leftist president in contemporary Colombia, took office in August 2022, he promised social transformation and enhanced protection for defenders. No government had committed to that before.
In Brazil, 34 defenders lost their lives, compared to 26 in 2021. Defenders in Brazil faced relentless hostility from former president Jair Bolsonaro's government, whose policies have opened up the Amazon to exploitation and destruction, have undermined environmental institutions and have fuelled illegal invasions of indigenous lands.
Mexico, the country with the highest number of killings in 2021, saw a significant drop from 54 murders in 2021 to 31 in 2022. At least 16 of those killed were Indigenous peoples, and four were lawyers. The overall situation in Mexico remained dire for land and environmental defenders, and non-lethal attacks – including intimidation, threats, forced displacement, harassment and criminalisation – continued to seriously hamper their work.
With 14 murders in 2022, Honduras has the world's highest per-capita killings. The country's first-ever female president, Xiomara Castro, has committed to protecting defenders. Yet early trends from 2023 point to ongoing rife violence, with reports of killings and non-lethal attacks across the country.
Read more: globalwitness
Africa Climate Summit 2023 Set to Surrender the Continent to Green Colonialism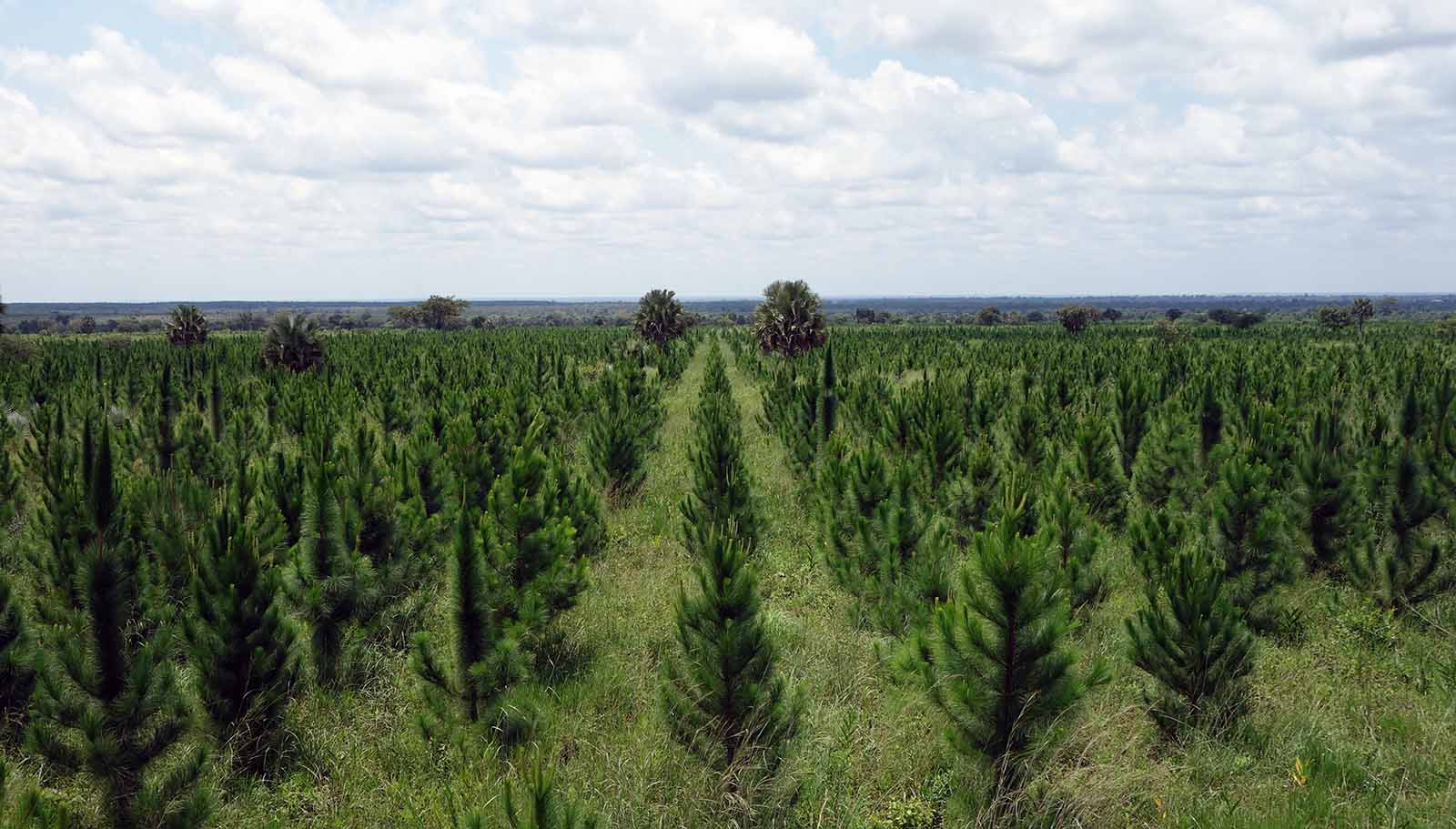 —FOR IMMEDIATE RELEASE—
August 30, 2023; 12:00 AM PDT
Media Contact: amittal@oaklandinstitute.org, +1 510-469-5228
Officials from African governments, international institutions, and the private sector will converge at the Africa Climate Summit in Nairobi, September 4 – 6, 2023, to shape the course of Africa's climate action.
With carbon offset schemes and tree plantations set to take center stage — despite their devastating impact along with the corruption and fraud that plague voluntary carbon markets — the Oakland Institute denounces the alarming direction taken by the event.
An examination of the African Forestry Impact Platform (AFIP), bankrolled by European development finance institutions, Japanese oil interests, and an Australian investment firm, lays bare the green colonialism that President Ruto of Kenya is promoting on the continent.
Oakland, CA — With carbon offset schemes and tree plantations set to take center stage at the Africa Climate Summit (ACS) and Africa Climate Week (ACW) — despite their devastating social and environmental impacts and the prevailing corruption and fraud within the voluntary carbon markets — a new report from the Oakland Institute, Green Colonialism 2.0: Tree Plantations and Carbon Offsets in Africa, denounces the alarming direction taken by the Summit. Starting on September 4, 2023 in Nairobi, Kenya, the two events aim to establish a common position for Africa on the climate crisis for the upcoming COP 28 conference in Dubai, slated for December 2023.
The outcome will have significant implications, given the ACS and ACW — both organized by the government of Kenya — are expected to shape the trajectory of climate action for the continent. The focus and intentions of the events, centered on "leveraging" Africa's abundant "assets" to drive "green growth and climate finance solutions," raise serious concerns. "This approach only paves the way for further resource extraction while sidelining the rights and interests of local and Indigenous communities," said Anuradha Mittal, Executive Director of the Oakland Institute.
Bankrolled by European development finance institutions, Japanese oil interests, and an Australian investment firm, the African Forestry Impact Platform (AFIP), examined in the report, exemplifies the green colonialism that President Ruto of Kenya is promoting on the continent — opening the door for more extraction of Africa's resources. Despite AFIP's claim of promoting "nature-based solutions," a troubling pattern of exploitation and greenwashing underscores its investments, stakeholders, and financial backers. AFIP's first acquisition is Green Resources, a Norwegian plantation forestry and carbon credit company notorious for its history of land grabbing, human rights violations, and environmental destruction across Uganda, Mozambique, and Tanzania.
Kenya's promotion of voluntary carbon markets overlooks their fundamental flaws. Over the span of more than two decades, they have miserably failed to reduce carbon emissions, and instead wreaked social havoc by causing forced evictions, loss of livelihoods, and violence. Conflicts of interest, fraud, and speculation plague these markets while the expansion of carbon offset schemes and tree plantations results in expropriation of community lands to generate profits for investors. Far from benefiting Africa, the expansion of carbon markets sustains the status quo of resource exploitation, greenhouse gas pollution, and North/South power imbalances.
"The ACS and ACW represent a pivotal moment. African leaders have a historic opportunity to reject the false solutions that perpetuate the same exploitative model of colonialism that has fueled this environmental catastrophe. Instead, they must listen to the calls of over 400 African civil society organizations(link is external) and prioritize real solutions that account for historical responsibility, uphold the rights of Indigenous and local communities, and pave the way for an equitable and just transition. African people deserve climate justice, not more extractivism," concluded Mittal.
Source: oaklandinstitute.org
African Development Bank's Push for large scale Agriculture in Africa will spark more concerns over Food Sovereignty and Environmental Impacts.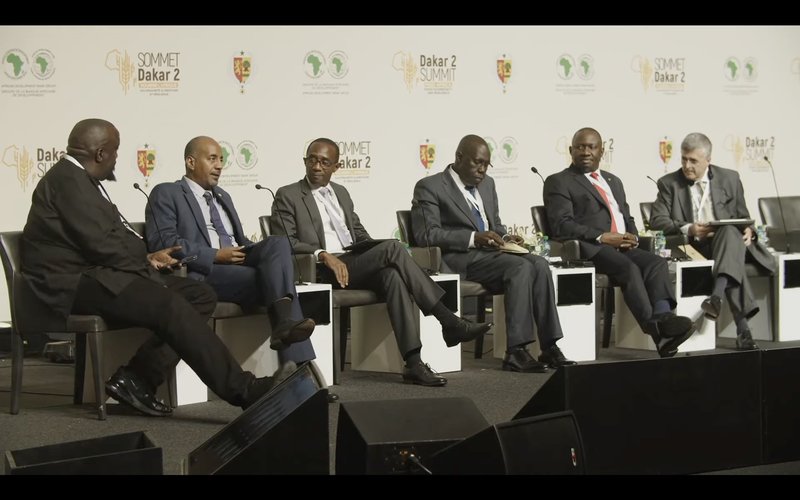 Panel at the second international summit on food production in Dakar, 10 February 2023, from left to right: Allan Kasujja, BBC (moderator); Admassu Tadesse, Trade and Development Bank; Danladi Verheijen, Verod Capital; M. Malick Ndiaye, Banque Agricole; Dr. Olagunju Ashimolowo, ECOWAS Bank for Investment and Development; M. Wagner Albuquerque de Almeida, International Finance Corporation. Source: African Development Bank Group.
"Agriculture must become Africa's new oil," said Akinwumi Adesina, President of the African Development Bank (AfDB), at the inauguration of the "Feed Africa: Food Sovereignty and Resilience" (Dakar 2) summit, held in late January 2023 in Senegal. He spoke to 34 African heads of state and 70 ministers, representatives of the European Commission, the United States and several European countries, as well as multilateral institutions such as the International Fund for Agricultural Development (IFAD).[1]
While one of the main objectives of the Bank at the summit was to attract private financing for its projects, the intervention of the director of the Nigerian private equity fund Verod Capital explains the challenge: "I know that we talk about the future of Africa as being that of smallholder farmers, but (…), it is really difficult to experience governance at this level. Smallholder farmers are not the most efficient enterprises. Their bargaining power is limited, they have less money to invest in the infrastructure needed for more efficient agriculture and to get their products to market (…). So, we need bigger businesses where we can deploy capital. I think it will attract more private capital. »[2] Verod is one of the 70 private equity funds in which the AfDB is a shareholder.[3]
In financial terms, the Bank has a certain weight in the continent. It currently has USD 240 billion to invest and a portfolio of USD 56.6 billion already invested.[4] The main sectors covered by this portfolio are: transport (27%), electricity (20%), finance (18%) and agriculture (13%).[5]
Often these investments lead to conflicts with affected local communities. According to the Environmental Justice Atlas, the Bank is involved in at least 14 ongoing social and environmental conflicts.[6] It is in this context that social movements and women's groups are preparing an African civil society campaign against the AfDB.[7]
So how does the Bank work? Which actors benefit the most? What agricultural model is it promoting? And what role does it play in relation to the struggles for food sovereignty in Africa?
Dakar 2 and the Era of Pacts
Among the "successes" of Dakar 2 claimed by the AfDB is the agreement to implement the "Food and Agricultural Supply Pacts" for 40 countries for the next 5 years.[8] The African Union has declared its strong support for this initiative.[9]
A first reading of the pacts surprises by the lack of care taken in their drafting. For example, the pacts of Burundi and Cape Verde are incomplete, and that of Togo does not make it possible to know whether it concerns this country, Niger or Madagascar. In others, like that of Cameroon, certain parts of the text are copied several times. Despite the supposed importance of these initiatives in attracting funding from the private sector and development banks and agencies, the total cost of the projects is unclear. Our conservative estimate of the total cost is around USD 65 billion.[10]
Far from promoting agro-biodiversity, which is Africa's wealth, the pacts aim to promote mainly corn, wheat, rice, soybeans and palm oil. The aim is to increase their yields through the industrialisation of "value chains", which will extend to livestock, dairy and fisheries. To do this, the pacts will promote mechanisation, certified seeds, chemical fertilisers and pesticides, often via tax exemption on imports and other types of subsidies.
Throughout the summit it was repeated that 65% of the world's uncultivated arable land is in Africa.[11] This is why the expansion of cultivated area is strongly on the agenda in the pacts and covers tens, hundreds of thousands or even millions of hectares, depending on the country. For example, under the Tanzania pact, only 23% of the land available for agriculture would be cultivated. The document proposes prioritising the production of wheat, avocado, market garden produce and sunflower. For this, it refers to the need to expand the agricultural area by more than two million hectares by 2025, in particular through a "transfer" of land currently owned by the village councils. The government is reportedly already identifying and acquiring land for industrial agriculture, installing irrigation infrastructure, an agreement with the "Building Better Tomorrow" initiative.[12]
The provision of open trade policies aimed at attracting investment, especially from the private sector, is also mentioned in the pacts, often in the form of very problematic public-private partnerships.[13] Among other policies aimed at attracting investment, the Kenya pact refers to the absence of restrictions on the repatriation of earnings and capital. It is also worrying that the pacts are based on failed agro-industrial programs. This is the case, for example, of that of Gabon, which specifies that the implementation will be based "on the institutional mechanism already existing and set up by the support project for the GRAINE program". This program was entrusted to a public-private partnership between the Gabonese government and the multinational Olam in 2015. It has been denounced by the affected communities for having led to the grabbing of thousands of hectares by oil palm plantations.[14]