Forests Are Not Empty Spaces: To Save the Climate, Recognize Our Land Rights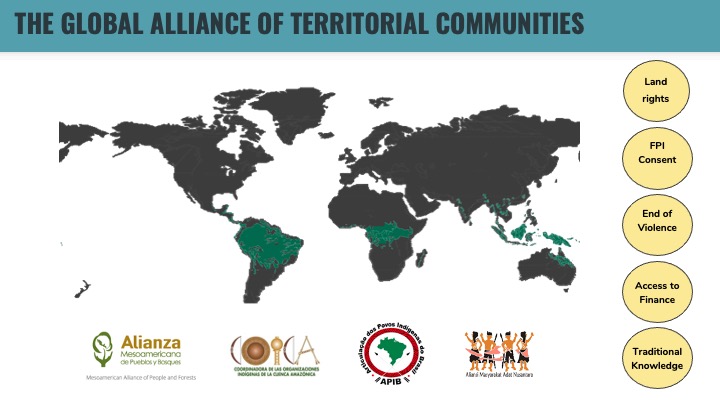 MESSAGE FROM AN INDIGENOUS LEADER AT THE BIDEN CLIMATE SUMMIT
*** Global indigenous leadership welcomes the commitment to finance the protection of tropical forests to save the climate, while pointing out that success depends on recognition of the rights of indigenous peoples and local communities to their lands ***
WASHINGTON DC / ONLINE (22 April 2021).— The Global Alliance of Territorial Communities, a coalition of organizations representing indigenous and local communities from Brazil, Indonesia and  the nations of the Amazon and Mesoamerica, called for the recognition of the ancestral and traditional peoples' lands, during the Leaders Summit on Climate organized by President Biden.
"It is not a request for charity, nor even for justice: It is our right and also what western science and the data indicate as the only possible course of action to confront this climate crisis," said Tuntiak Katan, coordinator of the Global Alliance of Territorial Communities and Indigenous leader of the Shuar people of Ecuador. Katan was invited to speak at the Summit session on "Nature-Based Solutions" session, led by the US Secretary of the Interior, Debra Ann Haaland.
The time for truth has arrived, Katan said, addressing a global audience gathered for the Summit: "Just as our elders traveled to Geneva in 1923 to claim their right to live according to their own laws, on their own lands, and according to their own cosmovision, we come again before all nations, with open hearts, looking ahead to the future together and building a new era, all of us, the protagonists in implementing the solutions that will determine the future of humanity."
On behalf of the Global Alliance of Territorial Communities, Katan welcomed the Biden Administration's announcements of funding for climate action and the launch of an initiative on Lowering Emission through Accelerated Forest Finance (LEAF). He also invited governments and international institutions to, "learn from past mistakes and avoid depending on the same financing model that has not resulted in the expected outcomes in climate impacts and solutions", in clear reference to the REDD + initiative, and its single minded focus on the capture of carbon.
Katan noted that the findings of a recent study had reported that Indigenous and other local communities receive less than 1% of climate finance for mitigation and adaptation to climate change.
"That must change, if we really want to avoid climate change," Katan said. "The forests that are the focus of this Climate Summit are not immense empty spaces:
"We, indigenous peoples and local communities, occupy those forests, and we are ready to contribute our forests to one of the most important challenges of our era: the restoration of the Earth", he said. "However, real restoration can only happen with legal recognition of our rights to our territories. Without this, it will not be possible to ensure the integrity of ecosystems or climate security."
In the 18 countries that are home to the organizations represented by the Global Alliance of Territorial Communities, Indigenous Peoples and local communities occupy more than 840 million hectares of land, the equivalent of 80% of the area of the United States.
"Out of those 840 million hectares, at least 400 million hectares have no recognized legal rights (1), Katan said. "We need those land rights to be recognized as the first step to ensure the integrity of ecosystems and to live according to our own rights.".
He urged the US president and other heads of state to consider investing in the $5 cost per hectare of titling the forests claimed by Indigenous Peoples and local communities in tropical forest countries. Funding this proven climate solution, as calculated by experts at the Rights and Resources Initiative and other research groups, would channel at least US$2 billion dollars into securing land rights.
"Numerous scientific studies(link is external) show the key role of indigenous peoples and local communities in protecting forests and other key ecosystems," Katan said. "Where our rights are recognized there is less deforestation and degradation."
At a time, "full of darkness, it is also time to wake up", Katan said. "This is a time when Western science and our traditional wisdom are building bridges."
For this reason, Katan said,  the Indigenous leaders of the organizations represented by the  Global Alliance disagree with the concept of "Solutions Based on Nature." Instead they call on the international community to speak and act with a focus on "Nature and Community-based solutions".
"The communities are already implementing initiatives for the sustainable management of forests," Katan said. "We are part of the solution to climate change, and that is why recognition of our rights to land is the first step in any serious effort to tackle the climate crisis."
He ended with the following message: "Mr. Biden, you have the opportunity and the historic responsibility, along with other world leaders, to make the right political decisions to stop the climate crisis."
For more information: Lucas Tolentino, +55 61 9254-0990 (WhatsApp), lucas.tolentino@alianzaglobal.me(link sends e-mail)
Notes to editor: 
(1) Recent research shows that in the last 10 years, less than 1% of cooperation funds against climate change have been allocated to forest management and recognition of rights (RRI and Woodwell Climate Research Center: preliminary evidence from a study of forthcoming publication).
ABOUT THE GLOBAL ALLIANCE:
The Global Alliance of Territorial Communities represents indigenous peoples and local communities from the Amazon Basin, Brazil, Indonesia and Mesoamerica, grouped in four territorial organizations: the Alliance of Indigenous Peoples of the Archipelago (AMAN), the Mesoamerican Alliance of Peoples and Forests (AMPB), the Articulation of the Indigenous Peoples of Brazil (APIB) and the Coordinator of Indigenous Organizations of the Amazon River Basin (COICA).
Original Source: Landportal.org
EACOP Was Anchored On Disinformation, Persons Affected By Pipeline Declare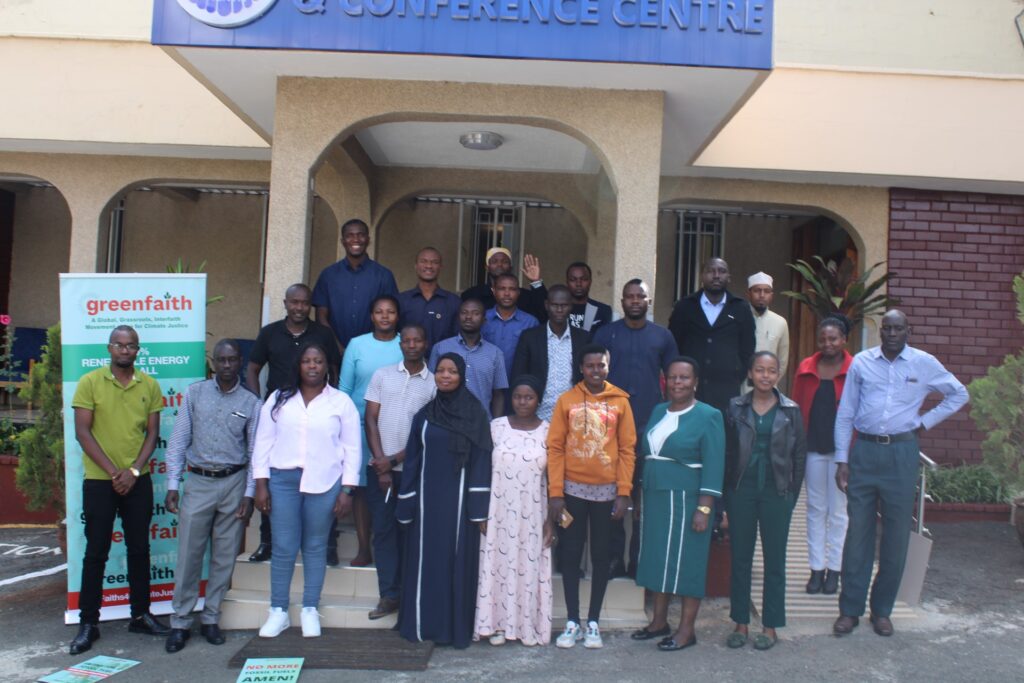 At least 30 persons affected by the East African Crude Oil Pipeline (EACOP) in Uganda and Tanzania have resorted to pushing beyond compensation for losses incurred in the project's initial stages.
The EACOP Project Affected Persons (PAPs) from Uganda and Tanzania grassroots met for the first time at a three-day conference in Nairobi, where experiences and lessons learnt were shared. They were also joined by participants from Nigeria, Sierra Leone and Gambia, who shared their experiences with fossil fuels, especially in Niger Delta.
Both the Ugandan and Tanzanian PAPs, some of them faith leaders, complained of misinformation, disinformation by the project's proponents' agents, intimidation, bribery, forced land possession, coercion to accept government terms for land acquired and unfair subsequent compensation for the property lost. The PAPs also complained of intentional classification of primary PAPs as secondary to reduce the compensation due them.
"During the social Impact Assessment, a lot of clans, especially the Bagungu, were given volumes of literature to read within two weeks, then decide to relinquish their property. But we could not make head or tail of the documents. Those who signed them were not left with copies," said Jealusy Mugisha, a religious leader and PAP from Uganda's Hoima District.
His sentiments were echoed by Swalleh Nkungu from Tanzania, who added: "Information scarcity played a huge role in enabling EACOP. We are knowledgeable enough to tell that the project is harmful, but a lot of secret planning went into this project before it was made public. Some people acting as CSOs also came to the grassroots and intentionally shared false and misleading information to boost EACOP acceptance".
The participants, including those from Laudato Si Movement and youth in Kenya, were grateful for the event dubbed "Experience sharing meeting for grassroots persons affected by EACOP in Uganda and Tanzania".
TotalEnergies holds 62 per cent stake of EACOP. Others stakeholders in the would-be world's longest heated pipeline expected to cover 1,443km from Northern Uganda to Tanzania's Tanga Port are Ugandan National Oil Company (15 per cent), Tanzania National Oil Company (15 per cent) and Chinese National Offshore Oil Company at 8 per cent.
Pastor Mugisha said: "I declined to receive money in exchange for my land and instead demanded to be relocated. This made the Uganda government to mark me and others, claiming we were sabotaging its project," he said.
"Is it wrong for me to demand justice over my damaged home? Once I was chained and harassed at the Entebbe airport when I returned from France where I had attended a hearing about rights of PAPs. After release they kept sending my friends to tell me to be silent about EACOP. I became louder on it, even at funerals".
Several other participants at the event organised by GreenFaith Africa spoke of bribery for people opposed to the EACOP to change their minds. "My father was very decisive when EACOP started, but he later caved in to pressure. We lost acres of land. What this means to women and children is helplessness, less food and loss of sources of living. But we can still act because EACOP is evil," said Mwajuma Tunu from Tanzania.
Kamili Fabiano from Tanzania said: "It is no longer about compensation; it is now about climate justice. We need a conducive environment to farm and take care of our current and future generations".
Julius Caesar, a faith leader from Uganda, urged the affected persons to act fast. "Staying near the anthill turned the antelope brown. Anyone lying to you in broad daylight is capable of deceiving you more in the dark. The disinformation was to divide us and keep us in the dark," he said.
Mugisha said currently the EACOP's Central Processing Facility for the oil was a key polluter through dust. "Multiple letters were written to TotalEnergies regarding this, but nothing much has happened. I fear for our water sources."
The conference that ended yesterday also featured Baraka Lenga, an anti-EACOP activist from Tanzania, and a grassroots organizer for GreenFaith. "For people of faith, water is central to life in many ways. The pipeline is a threat to over 200 precious water sources that support our livelihoods and biodiversity. This is an attack on the very foundations of our spirituality," he said.
Baraka outlined the projected pollutant emissions, should the project start, as millions of tonnes of carbon, adding that it would worsen the climate crisis. "The roads constructed in the Murchison National Park to enable easy transportation of oil is the reason cases of human/wildlife conflict have gone up. This also affects food security".
Maxwell Atuhura of Uganda said not only were oil and gas firms from developed nations targeting Africa. "They are more likely to be successful where dictatorship seems to work."
He urged participants to study Kenya and Nigeria cases. "I'm inspired by how Kenya fought the Lamu coal project. They knew they had a UNESCO-recognised heritage to protect. They defended their indigenous identity, even coming up with policies around it. East Africa can have such an identity," he said, giving an example of powers that the EU Parliament wields. "Europe respects decisions made at the EU parliament. We can use the East African Legislative Assembly the same way; with binding laws for East Africa. Uganda, Kenya and Tanzania are, for instance, joined by Lake Victoria. An East African law protecting the lake basin can be great."
Pius Oko, a Lift Humanity Foundation leader, narrated Nigerians' experiences with oil. "Oil drilling in Niger Delta started in 1950s, but people are poorest there. Residents eat oil contaminated fish and cassava. Water bodies are filled with oil. Land is filled with oil, making farming untenable. The atmosphere is filled with suit. People inhale a lot of dirt. Diseases are more rampant in the Niger Delta. Life expectancy has gone below 50 years. EACOP will benefit a few rich people. The rest will suffer like those in the Niger Delta," he said, sharing images of women and children scooping oil from ditches, fire, gas flaring and fish laced with oil, but which many consumed for lack of alternatives.
Early this year Uganda and Tanzania cabinets approved EACOP construction license. The project continues to face opposition, including from grassroots people.
Last year the EU Parliament pointed out human rights abuse in EACOP. In addition, 25 multinational financial institutions have either disassociated themselves from EACOP or vowed not to loan it for the $5 billion dollar project that still needs over $2 billion loan to be financially secure.
At the end of the Nairobi conference, Meryne Warah, the GreenFaith's Global Director for Advocacy, urged the PAPs to remain focused in their quest for justice guided by their beliefs and values. "From participants' sentiments since the beginning of this conference, it is clear that the governments of Uganda and Tanzania did not listen to project affected persons. However, despite all the atrocities committed, we need each other. We need to stand together as one, encouraged by our faiths teachings.
She said the meeting gave the persons affected by EACOP and Tilenga an opportunity to share their experiences about the various adverse effects of the pipeline, as well as build resilience towards effective continued campaigning against the EACOP.
Source: Panafricanvisions.com
Press statement: CSOs call on NEMA to disclose Bugoma forest restoration plan

FOR IMMEDIATE RELEASE KAMPALA & KIKUUBE
NEMA MUST ENSURE HOIMA SUGAR LTD RESTORES BUGOMA FOREST
Today, as various actors across the globe mark World Environment Day (WED), the Save Bugoma Forest Campaign (SBFC) has written to the National Environment Management Authority (NEMA) requesting that the authority avails the SBFC and general public with a copy of the approved restoration plan for Bugoma Central Forest Reserve (CFR), which is found in Kikuube district in Western Uganda.
The SBFC consists of the forest host communities, civil society and private sector entities whose main objective is to defend Bugoma CFR from land grabbing, sugarcane growing and oil threats.
The SBFC is also calling on NEMA and the National Forestry Authority (NFA) to ensure that Hoima Sugar Limited (HSL) halts all its destructive activities in Bugoma CFR and restores the forest.
HISTORY
Despite protestations from NFA, Uganda Wildlife Authority (UWA), Kikuube District Local
Government (KDLG), civil society and the general public, NEMA authorised HSL's activities in Bugoma forest in August 2020.
The authority illegally and irregularly issued an Environmental and Social Impact Assessment (ESIA) of approval allowing HSL to do the following in Bugoma forest:
Set up a sugarcane plantation on 9.24sq. miles;
Develop an urban centre on 1.206 sq. miles;
Set up an ecotourism site on 1.97 sq. miles;
Land for a cultural site covering 0.156 sq. miles; and
Leave a natural forested area and set up nature trails on 6.17 sq. miles.
While NEMA allowed HSL to grow sugarcane in some parts of Bugoma forest, reports by the SBFC in January 2021 and investigations by NEMA in September 2022 showed that the company had grown sugarcane in the area reserved for ecotourism purposes. The area reserved for natural forested purposes was also degraded.
In September 2022, NEMA acknowledged that HSL had violated condition 4.3 (i)(c) contained in the company's ESIA certificate of approval. NEMA therefore exercised her powers under section 129 of the National Environment Act, 2019 and among others, directed as follows:
That HSL immediately stops any further destruction of the natural reserved forest area, eco-tourism area, cultural site and the land reserved for an urban centre;
That no sugarcane is planted in the above-mentioned areas;
That no urban centre is developed;
That HSL restores all the degraded areas of the natural reserved forest area, ecotourism area, cultural area and land reserved for an urban centre at its own cost; and
That Hoima Sugar prepares a restoration plan for the degraded areas of Bugoma forest in consultation with the Forestry Sector Support Department of the Ministry of Water and Environment (FSSD), NFA and UWA and submits the same to NEMA for approval within a period of not more than three months from the date of the aforementioned order. "Over eight months have elapsed since NEMA ordered Hoima Sugar to submit a restoration plan. While the forest host communities and the public are highly interested in the restoration of Bugoma forest, NEMA has not publicly shared the restoration plan that Hoima Sugar submitted to the authority, if any was," Mr. Dickens Kamugisha, the chairperson of the SBFC, says.
He adds, "NEMA must build goodwill and show that it is interested in promoting public participation in forest conservation by publicly disclosing the restoration order. The forest must also be restored and all destructive activities by Hoima Sugar Ltd stopped."
Mr. Hassan Mugenyi, the chairperson of the SBFC local taskforce adds, "We do not know if any restoration plan for Bugoma exists. If it does, we were not consulted on it yet as people who have lived near Bugoma forest for a long time and have enjoyed benefits from the forest, we are interested in conservation of the forest. We can also share information to inform restoration of the forest."
Ms. Lamla Asasira who lives near Bugoma forest says, "Women are very unhappy that Bugoma forest from which we used to get free herbs and which brought us rain is being destroyed. We are worried that if the forest is not restored and the destruction by Hoima Sugar continues, government will not be able to stop other encroachers and the entire forest will be destroyed."
BUGOMA FOREST'S TOURISM POTENTIAL
 Research conducted by the Inclusive Green Economy Network, East Africa (IGEN-EA) to determine the tourism potential of Bugoma forest, showed that the forest has immense potential. The research found the following:
That Bugoma forest is home to tourist attractions including 570 or 11.4% of Uganda's chimpanzees, 225 bird species, the Uganda Mangabey, bush elephants and others.
That entities such as Jane Goodall Institute were engaged in habituation of chimpanzees and the Ugandan Mangabey to make them ready for trekking (tourist visits). The habituation of chimpanzees was expected to be completed early in 2023.
Further, that tourist activities such as chimpanzee and Uganda Mangabey trekking, forest walks, tree climbing and others could be promoted in the forest.
In addition, that if the above activities were promoted, Bugoma forest could earn the country more than half a million dollars a year.
Over 90% of tour operators who participated in the study were willing to sell tourism experiences within Bugoma forest.
CONCLUSION
To save Bugoma forest, the SBFC recommends the following:
NEMA should publicly share a copy of the approved restoration plan for Bugoma forest by HSL.
The ongoing destruction of Bugoma forest should be immediately stopped.
The Ministry of Lands, Housing and Urban Development (MLHUD) should make public the boundary opening report of Bugoma forest. The ministry opened the forest boundaries in 2021 and 2022.
The Ugandan government should ensure that the conservation of Bugoma forest is promoted under the Forest Partnership that government signed with the European Union in November 2022.
Bugoma forest should be turned into a national park so better conserve the forest and protect the environment.
 Source: Afiego

A corporate cartel fertilises food inflation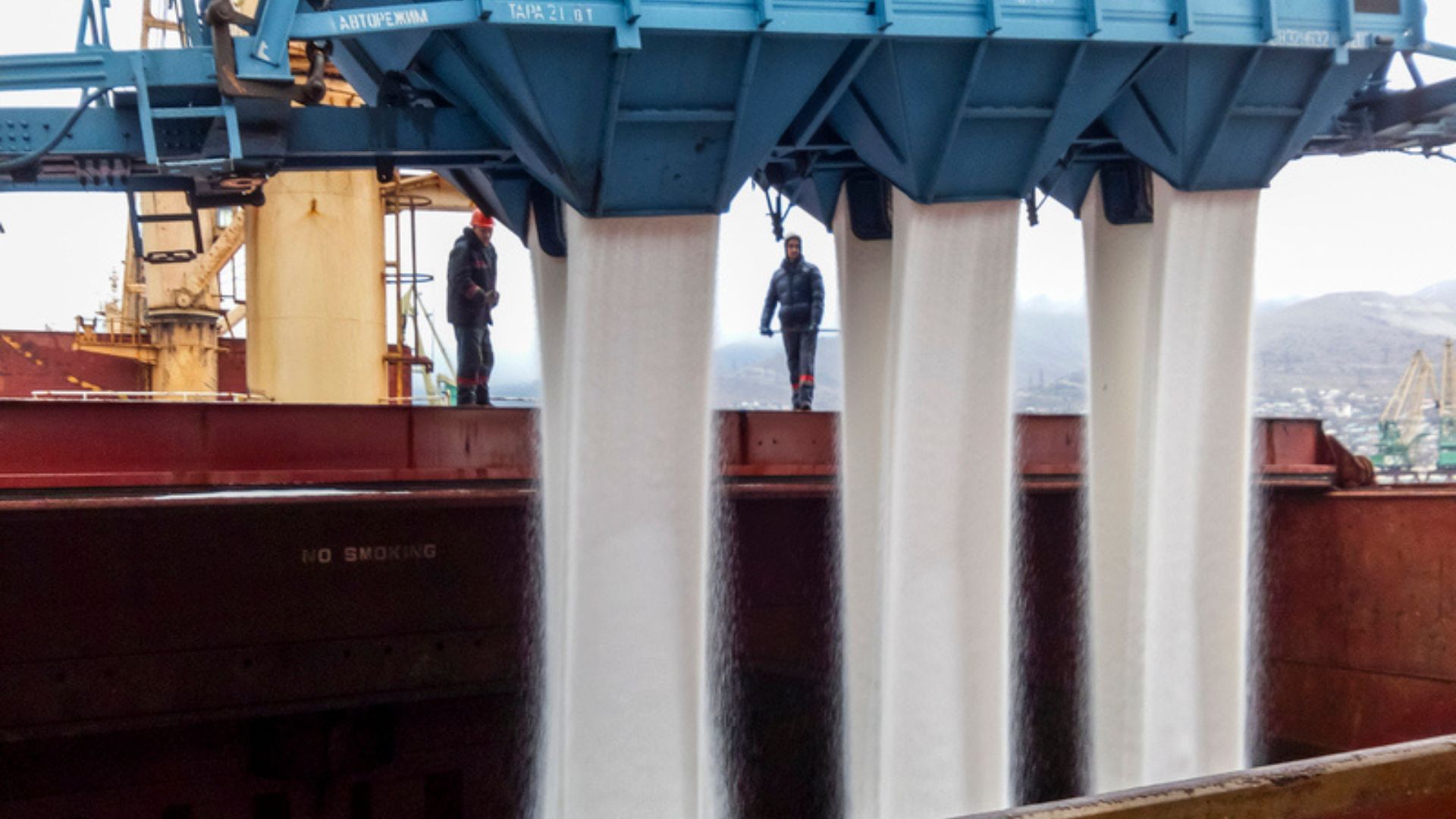 Last year's financial results from the world's largest fertiliser companies are now in — and it's a shocker. Given the sky high fertiliser prices of 2022, it was
anticipated
that their revenues would break records, but no one could have predicted this scale of profiteering. As the world grappled with a severe food crisis and farmers saw costs rise, the world's largest fertiliser firms ramped up their margins and more than tripled their profits from two years ago.
Graph 1 shows the total profits of the big nine fertiliser companies over the past five years. They exponentially grew from an average of around US$14 billion before the Covid-19 pandemic to US$28 billion in 2021 and then to an astounding US$49 billion last year. International agencies like the
World Bank
blamed the spike in fertiliser prices on the Russian war in Ukraine, resulting in high natural gas prices (used to produce nitrogen fertiliser) from shortages and trade disruptions. But as can be seen in Graph 2, a major part of the story is the monopoly power of the fertiliser companies. These companies increased prices far beyond the increases in production costs and boosted their profit margins to a massive 36% in 2022.
There are signs that fertiliser prices are
coming down
from their stratospheric heights earlier this year, but the effects of the price spike are still being felt. The high prices and lack of supply in some countries caused farmers to cut fertiliser use, thereby reducing production levels and contributing to an alarming
rise in
global food insecurity
. The high prices also pushed many farmers deeper into debt. Farmers from
Cameroon
to the
U.S
.
say they are still spending three times as much on fertilisers as they were a few years ago. And in countries where fertilisers are heavily subsidised, the price spike has saddled governments with huge debts. In India alone, the central government's expenditure on fertiliser subsidies last year
surged
from US$9.8 billion to US$17.1 billion. People are paying the price for the fertiliser industry's price gouging.
The costs are also rising for the planet. Chemical fertilisers are a major source of
environmental pollution
and
greenhouse gas emissions
, with nitrogen fertilisers alone accounting for one out of every 40 tonnes of annual emissions. New reports from the
UN's Food and Agriculture Organisation
and
Earth4All
, a global collective of leading scientists and economists, make it clear that steep and immediate reductions in global fertiliser use are
required
to avert catastrophic climate change. Both recommend a near phase-out of nitrogen fertiliser consumption by 2050 (see Graph 3). The idea is not to
recklessly crash production levels
, but a planned transition toward more sustainable, agroecological farming systems that require less or no fertiliser.
It is increasingly clear that today's food inflation is a product of both corporate greed and ecological breakdown. Obscene levels of
profit-taking by corporations
are happening across the food system, from fertilisers to processing to retail, and this is pushing up prices. But the way these corporations
organise our food production and distribution
is also driving climate change and, undermining the capacity for the global food system to deliver affordable and accessible food, now and over the long term.
Bold new approaches are urgently needed to reign in corporate power in the food system and turn the food crisis around. When it comes to fertilisers, policy actions like windfall taxes and price controls can help. But to deal with both profiteering and environmental catastrophe we need to transition food production to rely far less on chemical fertilisers. The fertiliser industry will be pushing for the opposite when it gathers for its
annual meeting in Prague
this week, yet around the world there are farmers and rural movements already leading a transition away from chemical fertilisers, with
plenty of successful examples
to learn from. What's holding us back is the structural political change needed at all levels to address the excess profiteering from the fertiliser industry, and chart a new path toward more resilient food systems.