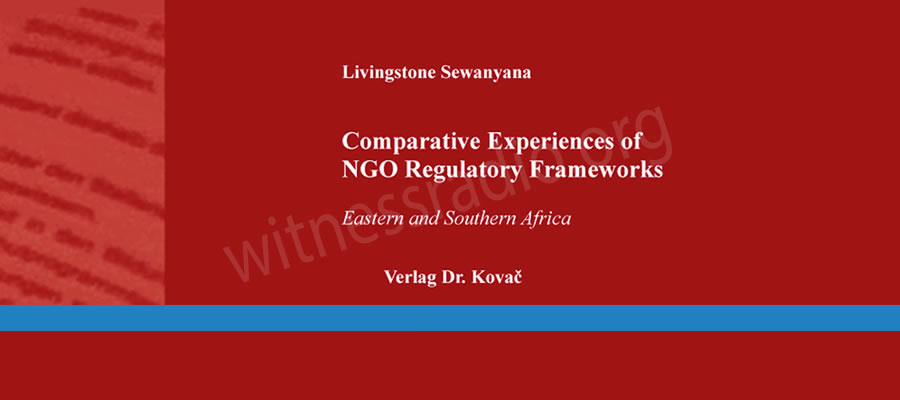 By witnessradio.org Team
Non Government Organisations in Most African countries will never operate under a leveled ground due to fear from ruling governments says a new book; the comparative experiences of NGO regulatory frameworks: Eastern and Southern written by Dr. Livingston Ssewanyana.
Ssewanyana said that most organizations are involved in empowerment of citizens who then hold leaders and government accountable, which is not liked by most African governments. https://www.verlagdrkovac.de/978-3-8300-9548-4.html
The book comes at a time when Uganda's civic space is shrinking. Currently, bank accounts of two NGOs namely ActionAid Uganda and Great Lakes Institute for Strategic Studies have been frozen, 25 national NGOs face closure after being listed by government for allegedly involving in criminal acts, public rallies and closed door meetings for CSOs and political parties are blocked, demonstrators are brutally dispersed by police with of live ammunition and tear-gas with demonstrators being killed in abroad day light among others.
Speaking at the launch of the book, Ssewanyana said that Uganda's regulatory framework on Non Governmental Organizations pits the state against the organizations causing constant friction.
"Countries like South African and Ghana have self regulation frame work, organizations just begin doing work and report even after, in other countries in Eastern Africa, CSOs register and begin to do work with a cordial relationship between the two, it's unfortunate that in Uganda, and other countries like Zimbabwe, the state drives everything…" SSewanyana said at the launch of his book at Protea Hotel.
Speaking at the same function, the principal of school of law at Makerere University, Prof. Christopher Mbaziira said that it was absurd that government has misunderstood civil society organizations accusing them often times of serving foreign interests.
Meanwhile, the executive Director of the NGO Forum Richard Ssewakiryanga says that the book written by Dr, Ssewanyana will go a long way in helping people understand the history of the Civil Society Movement in the country. He says that the failure by people to understand NGOs exposes intellectual laziness and such publications help clear this.
The director Human Rights Center (HRC-U) and a member of the NGO bureau that monitors the organizations, Margret Ssekaggya expressed concern over the unfair laws that continue to stifle their work. She said that laws like the NGO Act under which they operate is not fair at all and create friction between the organizations and government which should not be.
Uganda currently has over 14,000 registered NGOs but queries have been raised on the legal frame work under which they run.