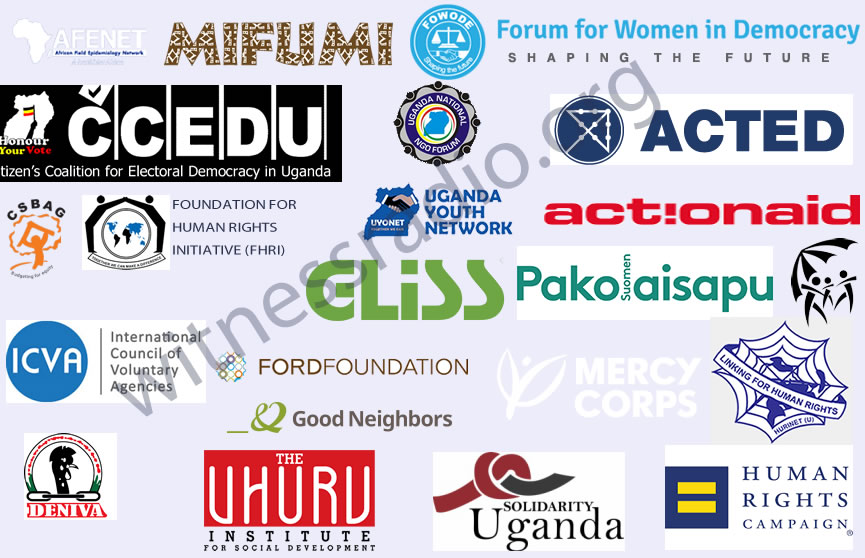 By Witnessradio.org Team
Civil society organizations are not taking attacks on their work lightly. Several organizations have already the wrath of government security agencies that have raided their offices and confiscated documents, equipment, money and bank accounts frozen.
In response, the organizations will tomorrow hold a consultative meeting to discuss the deteriorating environment in which they operate and forge a way forward. The organizations will among other things discuss the continuous raids on their offices, freezing of accounts, seizure of equipment during raids and interrogation of CSO bosses and workers among others.
This comes at a time when several organizations are living in fear over what might happen in the future after raids on several organizations. These include Action Aid Uganda that was stormed by security agents who confiscated documents, equipment and resources hence disabling their operations. The same agents also raided Uhuru institute for Social Development and Great Lakes Institute for Strategic Studies[GLISS].
The executive director of the Uganda national NGO forum, an umbrella body for all NGOs Richard Ssewakiryanga says that 25 organizations have already been blacklisted by government and face closure over unclear reasons.
The organizations include http://www.actionaid.org/uganda, http://www.afenet.net/, http://www.acted.org/en, https://www.hrc.org/, Be Forward Uganda, http://www.ccedu.org.ug/, http://csbag.org/, http://www.deniva.or.ug/, Educate Uganda, http://ww7.ftcu.org/, http://pakolaisapu.fi/en/, https://www.fordfoundation.org/, http://www.fhri.or.ug/ and http://fowode.org/wordpress/.
Others include http://hurinet.or.ug/, https://www.icvanetwork.org/resources, http://gliss.org/, http://www.goodneighbors.org/, http://www.hrcug.org/, https://www.mercycorps.org/, https://mifumi.org/, http://solidarityuganda.org/, Synagogue Church of all Nations, http://tacteso.org/, http://ngoforum.or.ug/, https://www.uyonet.or.ug/ and http://1.uhuruinstitute.org/.
Ssewakiryanga says that the national bureau of NGOs has already written to some organizations requesting for various documents and financial information to be submitted within a week. "On the 4th of October 2017, the national bureau of NGOs wrote to atleast 25 NGOs requesting for various documents…we need a united the attention of a United civil society sector front" he said.
He says this is an infringement on the enjoyment of civic rights and need the attention of a united civil society sector front hence tomorrow's consultative meeting.
The organizations are expected to deliberate on the nature of the threats they face and come up with well coordinated response efforts.
"The purpose of the consultative meeting is to also reaffirm our mission to serve the citizens of Uganda and agree on collective strategies to defend civic space in Uganda" Ssewakiryanga adds.