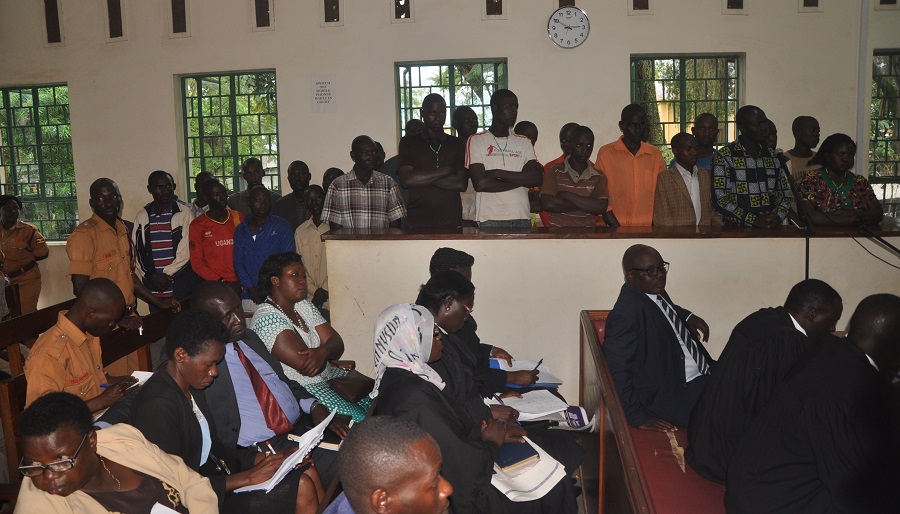 By witnessradio.org Team
Mubende – Uganda – After a year of detention without trial, the 28 land rights defenders have appeared on Friday, the 11th/10/2019 before High Court judge  Anthony Oyuko Ojoko and denied all the charges levelled against them. They entered a plea of not guilty to all nine charges including aggravated robbery, theft, murder, and attempted murder, inter-alia. Justice Anthony Oyuko  Ojoko who is now camped in Mubende to preside over other 40 cases in a special criminal session was co-opted from Arua High Court.
The decision by the judiciary to bring in Justice Ojoko albeit on a temporary basis to hear the case stems from the fact that Mubende Resident judge Joseph Murangira controversially recused himself from the case. This was after the accused persons and their lawyers turned the tables on the embattled judge accusing of apparent bias and corruption, among other things.
Before fixing November 13, 2019, as the hearing date for the case, Justice Ojoko directed the prosecution to disclose all the documents and evidence they will rely on during trial to defence lawyers before October, 15th 2019.   He also ordered defence lawyers to file and serve the prosecution with their responses by November 22, 2019 respectively.
The 28 victims were framed, arrested and jailed because of their stiff resistance against an illegal and forceful eviction of over 3000 inhabitants off their 322.5 hectare piece of land registered on block Block 168, Plot 19, 22 and 23 covering five villages namely, Kambuye, Kikono, Kyabaana, Kanseera and Lwensanga in East Division, Mubende Municipality, Mubende district.  The arrest of the 28 land right defenders ultimately weakened the fight indigenous community had put up and consequently over 3000 inhabitants were dispossessed of their land by one businessman Kaweesi George with help of security agencies including Mubende police.
The grabbed land was hosting some of the families that were evicted by Kaweeri Coffee Plantation limited in the early 2000s. The 600 families are part of over 2000 families, relocated to that land adjacent to the plantation as compensation for what they had lost to Kaweeri Coffee Plantation limited owned Emmanuel Kayiwa  Bikko who has since passed on.
In the aftermath of this land grab, witnessradio.org unearthed an organized and a clear pattern of connivance amongst justice, law and order sector departments in Mubende district.   Playing a key role was resident was justice Murangira who offered a blank cheque to land grabbers through issuing orders without involving the affected families. The office of the Directorate of Public Prosecutions (DPP) was also compromised since the Mubende District Resident State Attorney Richard Birivumbuka presided over meetings organized by land grabbers who are now the key complainants in the case against land rights defenders, Lastly, police, which carried out an eviction without a court order is the investigator in case against 28 land rights defenders.