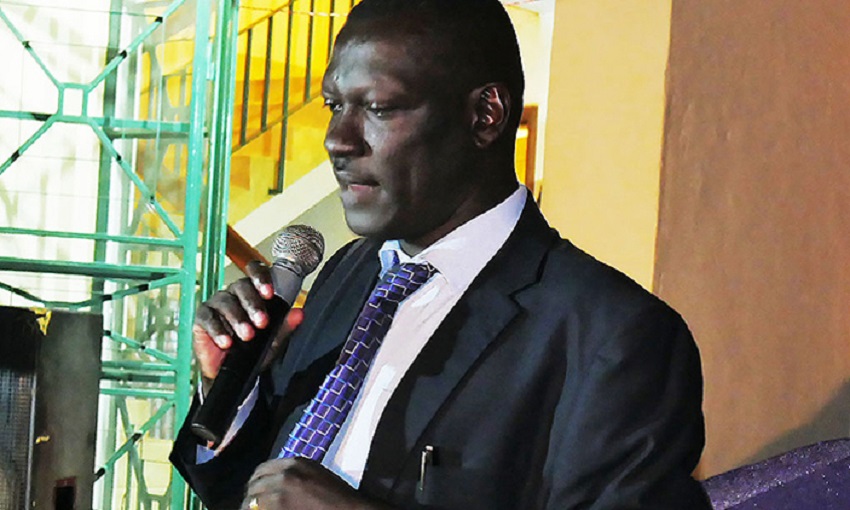 Justice Anthony Oyuk Ojoko.
By witnessradio.org Team
Mubende – Uganda – the criminal Trial for the jailed 28 land rights defenders has kicked off today at Mubende high court circuit in a special criminal session being presided over by a visiting judge, Justice Anthony Oyuk Ojoko.
The commencement of the criminal trial has come after court yesterday, November 12th, 2019 dismissed an application filed by defense lawyers seeking disqualification of Mubende district Resident Senior State Attorney Birivumbuka Richard over bias and conflict of interest.
The evidence tabled before court indicated that Birvumbuka chaired meetings in the office of Director of Public Prosecution (DPP), a public office, acted as a negotiator and legal advisor to Kaweesi George, a land grabber. Evidence further indicated that when negotiations failed, Kaweesi George, a land grabber used force and violence to evict over 3000 inhabitants off their land, whose actions triggered crushes between casual laborers of the land grabber and communities, causing the death of one person.
"Birivumbuka's negotiations and legal advise to Kaweesi George, the land grabber in the land dispute culminated into Criminal case No. MBD-CO-AA-153/2018, a criminal case in which Birivumbuka is a prosecutor" the application read in part.
Well as the court conceded with evidence to be true and condemned the actions of the DPP, the application was dismissed on grounds that the applicants failed to 'prove prosecutor's bias' in the criminal case.
Virtually one year of pre-trial detention, the 28 land rights defenders are now to be tried on nine trumped-up charges including aggravated robbery and murder because they empowered communities with skills and knowledge to resist illegal land evictions.
After the framing, arrest and imprisonment of the 28 land rights defenders, the targeted community of 3000 inhabitants was weakened and later, evicted off their land, which is registered on Block 168, Plot 19, 22 and 23 with over 322.5 hectares covering five villages namely, Kambuye, Kikono, Kyabaana, Kanseera and Lwensanga in East Division, Mubende Municipality, Mubende district.
The land that was forcefully taken was hosting some of those families that were evicted by Kaweeri Coffee Plantation limited in the early 2000s and relocated to that land as compensation by one Emmanuel Kayiwa  Bikko who claimed ownership of that land which Kaweeri Coffee is occupying. Emmanuel Kayiwa Bikko has since passed on.