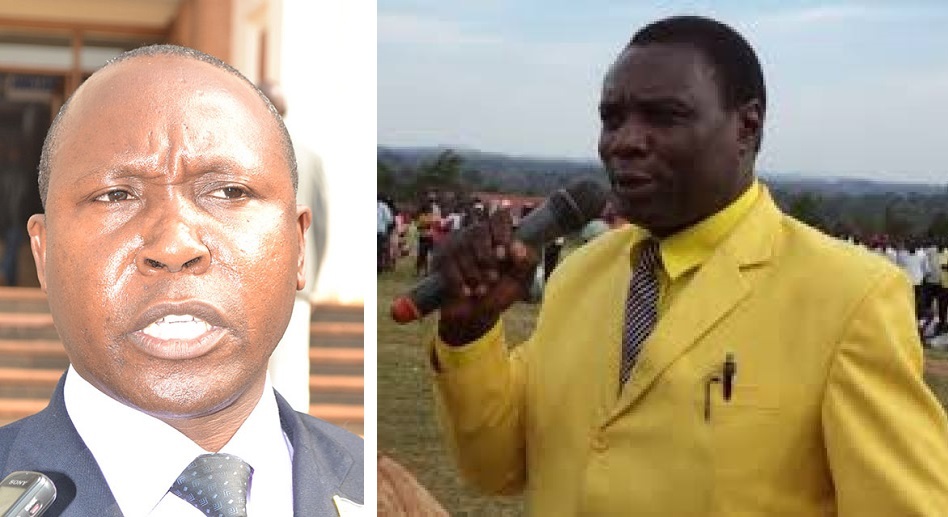 MP Anthony Ssemuli (left) and LCV Chairperson Kibuuka Francis Amooti (right)
By witnessradio.org Team
Two Mubende district leaders have joined the campaign seeking to disqualify prosecutor Birivumbuka Richard from the case against 28 land rights defenders over conflict of interest and bias.
Mubende Municipality Member of Parliament, Anthony Ssemuli and Local Council Five (LC V) Chairperson, Kibuuka Francis Amooti are the latest to swear supplementary affidavits indicating that Birivumbuka acted as advisor to Kaweesi George, the land grabber in the land dispute which culminated into Criminal case No. MBD-CO-AA-153/2018. 
In his affidavit, Kibuuka states that he first met Birivumbuka in a meeting held at the Mubende DPP's office and its here he claimed to have received a letter, purportedly, from some community members of Kambuye, which directed him (Birivumbuka) not to allow all Mubende political leaders to interfere with matters concerning the land comprised in Buwekula Block 168 Plot 28 measuring 322.5 Hectares and that they should be left to deal with Kaweesi directly.
"From the above meeting, I realized that Birivumbuka, the Resident Senior State Attorney, had become an advisor of sorts to Kaweesi and a small number of community members" Reads the affidavit sworn in by Kibuuka Amooti.
Relatedly, the area member of parliament, Ssemuli said Birivumbuka was instrumental in the land dispute as Kaweesi George's land advisor which culminated into Criminal Case No. MBD – CO – AA – 153/2018.
Both leaders say it is inappropriate for Birivumbuka to prosecute the same case for which he acted and played the role of land grabbers' transaction advisor and lawyer prior to the fatal eviction of over 3000 inhabitants from eviction site, the associated death and the concomitant prosecution.
Defense lawyers led by Kiiza and Mugisha Advocates filed an application in Mubende High Court on November 1st, 2019, seeking to disqualify Birivumbuka Richard a Resident Senior State Attorney due to conflict of interest thus defense intends to call him (Birivumbuka) as a witness.
Mr Birivumbuka will be the second court official to be kicked out of the trial of 28 land rights defenders after the Mubende Resident Judge Justice Joseph Murangira who voluntarily recused himself over similar accusations.
The 28 victims were framed, arrested and jailed because of their stiff resistance against an illegal and forceful eviction of over 3000 inhabitants off their 322.5 hectare piece of land comprised in Block 168, Plot 19, 22 and 23 covering five villages of Kambuye, Kikono, Kyabaana, Kanseera and Lwensanga in the East Division of Mubende Municipality, Mubende district.  The arrest of the 28 land right defenders ultimately weakened the fight the indigenous communities had put up and consequently over 3000 inhabitants were dispossessed of their land by one businessman Kaweesi George with help of security agencies including Mubende police.