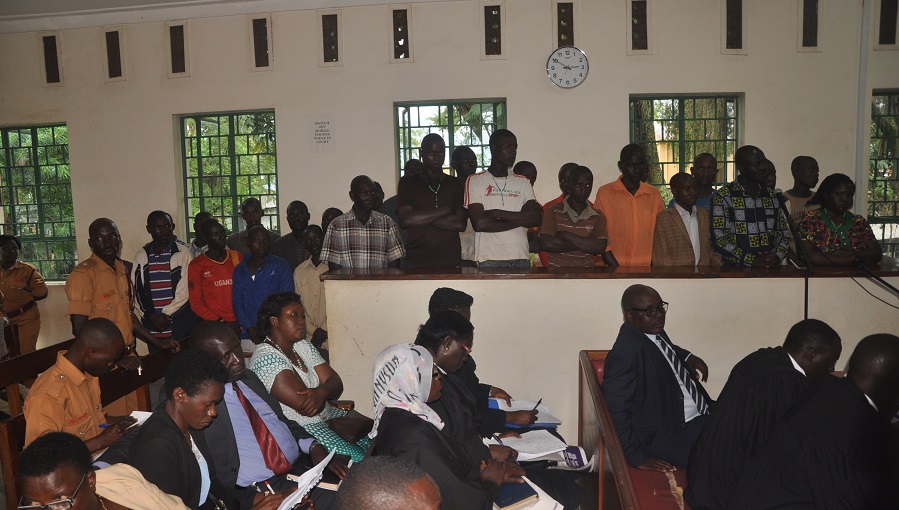 By witnessradio.org Team
Mubende – Uganda – As the criminal trial for 28 land rights defenders is rescheduled to Monday, November, 11th, 2019, defense lawyers have applied for the disqualification of state prosecutor Birivumbuka Richard over bias and lack of impartiality.
Mr Birivumbuka will be the second court official to be kicked out of the trial of 28 land rights defenders after the Mubende Resident Judge Justice Joseph Murangira to voluntarily recuse himself over similar accusations.
The 28 victims were framed, arrested and jailed because of their stiff resistance against an illegal and forceful eviction of over 3000 inhabitants off their 322.5 hectare piece of land comprised in Block 168, Plot 19, 22 and 23 covering five villages of Kambuye, Kikono, Kyabaana, Kanseera and Lwensanga in the East Division of Mubende Municipality, Mubende district.  The arrest of the 28 land right defenders ultimately weakened the fight the indigenous communities had put up and consequently over 3000 inhabitants were dispossessed of their land by one businessman Kaweesi George with help of security agencies including Mubende police.
The grabbed land was hosting some of the families that were evicted by Kaweeri Coffee Plantation limited in the early 2000s. The 600 families are part of over 2000 families, relocated to that land adjacent to the plantation as compensation for what they had lost to Kaweeri Coffee Plantation limited owned Emmanuel Kayiwa  Buko who has since passed on.
The trial now is to be presided over by Justice Anthony Oyuku  Ojok, the Resident Judge of Arua High Court who is now camped in Mubende for a special criminal session.
In an application filed before Mubende High Court on November 1st, 2019, witnesses contend that Birivumbuka a Senior Resident State Attorney was involved in meetings and negotiations associated with eviction scandal that begot the crimes in the indictment vide MBD-CO-AA-153/2018 thus defense intends to call him (Birivumbuka) as a witness.
Witnesses further contend that Birivumbuka acted and played the role of land grabbers' transaction advisor and lawyer prior to the fatal eviction of over 3000 inhabitants from eviction site, the associated death and the concomitant prosecution.
The application to disqualify Birivumbuka from prosecuting is expected to be heard on November 4th, 2019 before the trial kicks off.