…..Special Report; Abridged testimony….. Arbitrary arrested and detained for representing PAPs; an experience of the Witness Radio – Uganda lawyer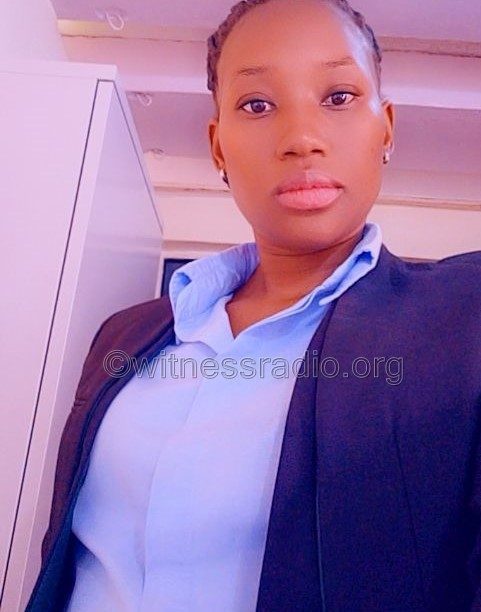 By witnessradio.org Team
Joan Buryerali is one of the seven lawyers who were kidnapped during the COVID-19 lockdown in the Kiryandongo district. The basis for the lawyers' physical interface with Project Affected Persons (PAPs) was to gather more evidence in the run-up to the numerous cases filed against multinationals at the Masindi High Court.
Since 2017, three multinational companies namely; Great Seasons SMC Limited, owned by a Sudanese investor based in Dubai, Kiryandongo Sugar Limited, belonging to one Mauritius family called RAI Dynasty, and Agilis Partners Limited run by American twin brothers (Benjamin Prinz and Phillip Prinz) that are illegally and forcefully evicting more than 35,000 people off their land.
In March 2020, the Government of Uganda issued a directive halting any land eviction during the COVID period. However, this was disregarded; illegal evictions and violations/abuses of human rights continued across the country. Kiryandongo was among the hard-hit districts. Kiryandongo district recorded the highest level of impunity from some powerful investors and security operatives.
In response to the numerous distress calls, a team of seven lawyers set out to collect real evidence from individual community members affected by large-scale agricultural projects. On 29th June 2020, they traveled 220 Kilometers Northwest of Kampala on a mission to address the increased violence meted against the local population.
The actual work started on 30th June 2020. The lawyers drove 45 minutes deep in villages to meet victim communities and work commenced at 0900 hours East Africa Standard time from the hotel.
According to Buryerali, COVID-19 Standard Operating Procedures (SOPs) were observed as each lawyer had to keep a distance from each other and 6 meters with the victim being interviewed.
At around 15:00 hours, anti-riot police attached to Kiryandongo district police under the command of ASP Joseph Bakaleke arbitrarily rounded and forcefully arrested all the lawyers plus the seven (7) victim members that were being interviewed.  Police bundled them on a police patrol and another private numbered double cabin vehicle, which was later discovered to be driven by one of the Agilis Partners' managers.
Below is Joan's ordeal on the day of the arbitrary arrest and detention;
"We were ordered to stop whatever we were doing and jump onto police vehicles. When we tried to ask for reasons behind our kidnap, the Kiryandongo district Deputy Head of Criminal Investigation Department D/OCCID) Nyakaisiki Beatrice told us it was an order from above. She added that the DPC wanted us at  Kiryadongo central police station.  At that point, we had no choice but surrender ourselves to the gun wielding police officers who took us to the station.
On reaching there, neither was the District Police Commander (DPC) nor the Resident District Commissioner (President's representative at the district) in office. There was one Ochenge Ismael, (Officer-in-charge of police unit administration) who stood in for the DPC. We tried to explain the essence of our work but our efforts were futile; the intention was to intimidate and have us detained. The sole purpose for this was to instill fear in us so that we abandon the eviction case.
The police officers had been bribed by these multinational companies to humiliate us before the people we were helping. Subsequent to failure to provide answers, the officer in charge ordered us to remove our shoes, enter the police cells, and wait for the DPC who later showed up the following morning.
While at the station, we kept on asking what crimes we had committed to whoever cared to listen. The D/OC CID insisted that it was an order from above.
After like three minutes another police officer came and commanded our team leader to move out. The same police officer returned and told us to vacant his office since it was time for official closure.
When we moved out, we found other police officers degrading and lifting our team leader by his trousers, yet he was calm. Irked by their inhumane treatment, we asked the police officers to stop harassing him. Our verbal exchange with the police escalated and they threatened to beat us. We were again told to remove shoes and leave our belongings at the police reception. We objected because we could no longer trust them. We instead handed over the items to our driver who would later transferred them to the hotel where we had previously spent the night. That evening, we were separated. The female lawyers were put in a congested cell separate from the one designated for men.
The police cell was very horrible! The foul smell was unbearable. The walls and floor were a mess. There was no cleaner space for any of us to scramble. The stench coming from the toilet was sickening if not stomach-turning! The filthy mattresses emitted urinal and faecal stench. The blankets were equally soiled. They had taken ages unwashed. The disturbing atmosphere kept us awake. At different intervals, each of us planted our nostrils on some big hole on the door to catch some fresh air. Kiryandongo police cell was not fit for human habitant. It was unhealthy for human beings to be there. Worst of all you were told to remove our shoes and move barefoot on such a dirty floor. Every single time I think about how dirty the cell was I feel disgusted. We even failed to eat have dinner. We surrendered our share to the women inmates. There was no way one could comfortably eat something in such a dirty place.
We could not use the sanitary facilities inside the cells. The women we found there had infections as a result of the dirty toilets. We instead accessed the outside facilities barefoot. To our dismay, they were also unclean. The following day, as we left the cell I could not touch my soiled and pathetic feet.
At about 9:00 am, Bakaleke Joseph, the then DPC showed up and we were released on bond. However, what saddened my heart was that the police officers knew that we had not committed any crime but detained us to sabotage our work.
At first, we were released without being charged. But for fear of being questioned, they arrested us again. This time we were charged with the offenses of conducting an unlawful assembly and spreading an infectious disease. These offenses were all false and fabricated. We had followed all COVID rules to the letter. Instead, the anti riot police flouted the rules by not wearing masks during the arbitrary arrest.
Immediately after our release, I imagined how our clients had lost faith in us. I felt harassed and belittled in front of the people I was supporting to get justice. Kiryandongo police painted a picture that they were superior and that the PAPs have nowhere to run to for any immediate assistance.
I have a dented professional because of the arbitrary arrest. I am being viewed as a chaotic person if not a criminal. This is because most people think that police only arrest offenders of the law. I no longer have a clear criminal record in the eyes of the public.
Why Criminalization?
Criminalization may be defined as the use of legal framework strategies targeting HRDs to illegitimate the work of HRDs. Its ultimate aim is to attack HRDs and/or impede their work. The criminalization of human rights defenders' work through the misuse of criminal law involves the manipulation of the state's punitive power by state and non-state actors to hinder their work in defense and thus prevent the legitimate exercise of their right to defend human rights
Criminalizing Human rights defenders' work may lead to stigmatizations and delegitimization which affects the honor and public reputation of HRDs. Many analysts argue that stigmatization is part of the criminalization process.  The explanation of why delegitimization, stigmatization, and other forms of disparagement are sometimes equated with criminalization may lie in the fact that they may precede, or occur in parallel to, criminalization processes and that the aim in both cases appears to be to damage the public image of the HRDs so targeted.
"Speaking on behalf of the seven lawyers that were arbitrarily arrested and detained in Kiryandongo during COVID 19 lock-down, the actions of police tarnished our names. A mark was left on our reputation whereby some people in the society see us as chaotic and criminal individuals. Once you're profiled and your name enters that criminal book, some officials may conclude that you no longer have a clear record." Said Joan Buryerali
Effects of Criminalization of a PAPs' lawyer?
There could be more effects to the use criminalize the work of a defense lawyer but, the immediate one is stigmatization. In other words, stigmatization and delegitimization should be considered as causes and/or consequences of criminalization. Criminalization involves the use of criminal charges to attack the work of human rights defenders. It may also be organized in such a way that it questions the personal or professional integrity of the HRDs it targets.
"Some Law firms and Organizations would not want to work with someone who does not have a clean record. They may hesitate to employ you thinking you will become a problem to them. This limits my working opportunities." Said Bulyerali.
Criminalization may cause a financial burden on the victim HRD. Upon being released either on police bond or court bail, HRDs are required to report back (travel 440 Kilometers on every reporting) until a matter is heard and disposed of. Also, HRDs are forced to hire a lawyer to defend themselves.
Most importantly, criminalization is time-consuming and can ably cause physiological torture. Kampala where I am based and Kiryandongo district, these two places are distant from the other when reporting on police bond or court bail, you need two days on every reporting.
Criminalization has restricted my freedom of expression;
Restrictions on the freedom of expression are aimed at causing generalized fear, intimidating and silencing the denunciations, claims, and grievances of the victims of human rights violations, spurring on impunity, and impeding the full realization of the rule of law and democracy. For stance in Kiryandongo district several lawyers and many community land right defenders, some of them include Stella Akitenge, Atyaluk David Richard, Olupot James, Benon Baryaija and many others have been subjected to inhuman and degrading treatment or tortured, just because they are helping victim communities to mobilize, resist and push back such illegal evictions.
Using the restrictive legal framework to criminalize my work.
Some laws such as the Public Order Management Act, 2013 (POMA), Non-Governmental Organizations Act, 2016, the Anti-Terrorism Act, and the Financial Intelligence Act, have been used by some duty bearers to restrict the extent of work/ operations of HRDs.
In 2013, the POMA was passed to regulate freedom of assembly and ultimately the freedom of association. As seen above, the POMA is often cited by duty bearers to restrict civil society space. The law as it currently stands imposes conditions on holding public gatherings and demonstrations and criminalizes meetings held in contravention of section 5 of the POMA.
The police have on many occasions said that we did not ask for permission before conducting a meeting and they break it up. And yet the POMA only mentions giving notification to the authorized officer if the meeting falls within those regulated by the POMA.
Regarding the seven lawyers that were arrested in Kiryandongo by police, it hind behind POMA to detain the lawyers in cells for the whole night with an aim of not wanting them to proceed with their work and intimidate them. These arrests meanwhile are just to scare them trying to instill fear in them that in case they proceed with their work, they will be dealt with.
Conclusion
In many aspects as already demonstrated above, the COVID-19 period in Uganda presented difficulties and effects on the work of HRDs particularly lawyers for the PAPs, which projects a dark future. The challenging situation shared in this article should be used as a precursor to reflect and discuss the best environment for all defenders to do their work.
The lives and properties of community activists and land rights defenders continue to be targeted as harmful investments are getting rooted in the Kiryandongo district.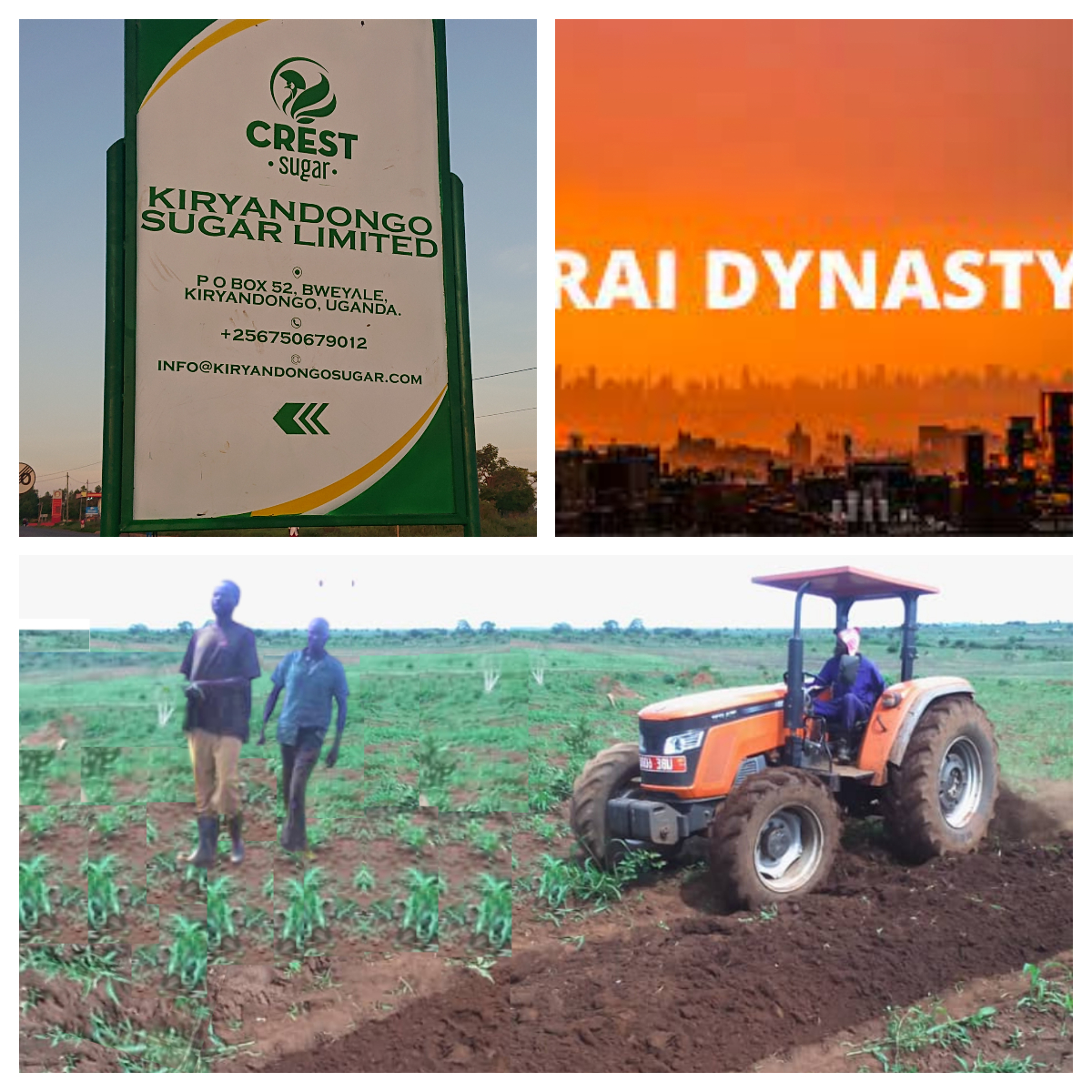 By Witness Radio Team.
As land grabs spike in Uganda, community land rights defenders continue to pay the price for protecting land for vulnerable and poor people.
In areas affected by forced evictions, land rights defenders mobilize and organize local communities to resist the forced evictions. But their work gets appreciated by arrests, detention, and prosecution on trumped-up charges.
The main target of the grabbers is to eliminate the few people that amplify the voices of the communities to ease the forced eviction processes. In this instance, forms of human rights violations/abuses include arbitrary arrests, kidnaps, illegal detentions, and tortures, among others with the intent to instill fear among community members.
One of the most targeted community land rights defenders is Mr. Otyaluk Ben Wilson. At first, land grabbers targeted his life but, he could bow down and now, tactics changed to his garden, which is a source of food for him and his family. At the beginning of 2022, Otyaluk planted 6 acres of Maize and intercropped it with Sorghum but the company workers of Kiryandongo Sugar Company limited came with a tractor and plowed it down.
Kiryandongo Sugar Limited, owned by the Rai dynasty is one of the multinationals that practice violence in name of making profits.  For over 5 years, the company has targeted community activists and land rights defenders speaking against harmful investment.
The company is one of the three multinational companies that have evicted over 35000 residents in the Kiryandongo district since 2017. The other companies are Great seasons SMC Limited and Agilis Partners Limited.
On several occasions, particulars of tractors and agents behind forced evictions have been written down and reported to the police but, nothing changes. According to eyewitnesses, the company tractor with registered number plate UBE 600U came at around 15:00 hours (E.A.T) on the 30th of April and razed down Otyaluk's 6 acres of maize and sorghum with impunity whereby after, company agents directed him (Otyaluk) vacate his land with out compensation.
Before the above incident, on the 13th and 29th of April, 16 acres of maize that belonged to Otyaluk, 06 acres belonging to Mr. Amanyi Tom and 03 acres of maize belonging to Mr. Tusabe Emmanuel were razed down by the same company workers using tractors whose numbers were written down namely UAM 823L and UBA 737A. He was never compensated and Kiryandongo Sugar Limited does not allow him to use his land to date, which situation is causing suffering and poverty to his family of 8. Anywar is the
According to Anywar David, the area Local Council One (1) Chairperson, he wrote a letter as an elected leader of the area to the Kapundu area police Officer in Charge to intervene but in vain.
"This has become a serious headache and a norm in my area of jurisdiction, I herein forward them to you for further assistance," a letter seen by Witness Radio – Uganda reads in part.
Another incident happened on 25 March 2020, at Nyamuntende village. Agents of Kiryandongo Sugar Limited in the company of four government soldiers from Uganda People's Defence Forces (UPDF), entered the property of the defender with a tractor and plowed down his maize garden. When he (Otyaluk) tried to stop the tractor from destroying his crops, the soldiers roughed him up, took him to a kangaroo detention center, and he was badly beaten. He was later taken to a facility located on the sugarcane plantation. At the company facility, he (Otyaluk) alleges that he was tortured before being transferred to the Kiryandongo district Police headquarter where he was illegally held for seven days before being charged with an abusive criminal charge of trespass. Later, he was released on bond.
Similarly, on Friday 12th March 2021, Otyaluk was assaulted and picked from his home at gunpoint by armed soldiers guarding Kiryandongo Sugar Limited's sugarcane plantation and tortured. He was later transferred to Kiryandongo Central Police station and charged with setting fire to crops. https://witnessradio.org/violence-escalation-land-right-defender-is-picked-from-his-home-on-a-gunpoint/
On 21st October, the defender was picked from his garden, arrested, and charged with criminal trespass. https://www.farmlandgrab.org/post/view/30575-uganda-militarized-corporate-agriculture-companies-are-resorting-to-reprisals-to-grab-land
Since 12th August 2021, the Kiryandongo Sugar Limited workers under the protection of the army have repeatedly parked their tractors in front of people's houses to instill fear among community members.
He added that this work has not spared his family since he is not allowed to cultivate on his land.
"I am being harassed because of my work of defending the land for the poor and vulnerable communities, which I must defend jealously from grabbers. My family land is being targeted and we have no food to eat, ever since COVID lockdown was lifted my children no longer go to school because of the company." a weeping Otyaluk revealed.
Gov't body evicts hundreds, orders the remaining families on the land to de-molish their houses…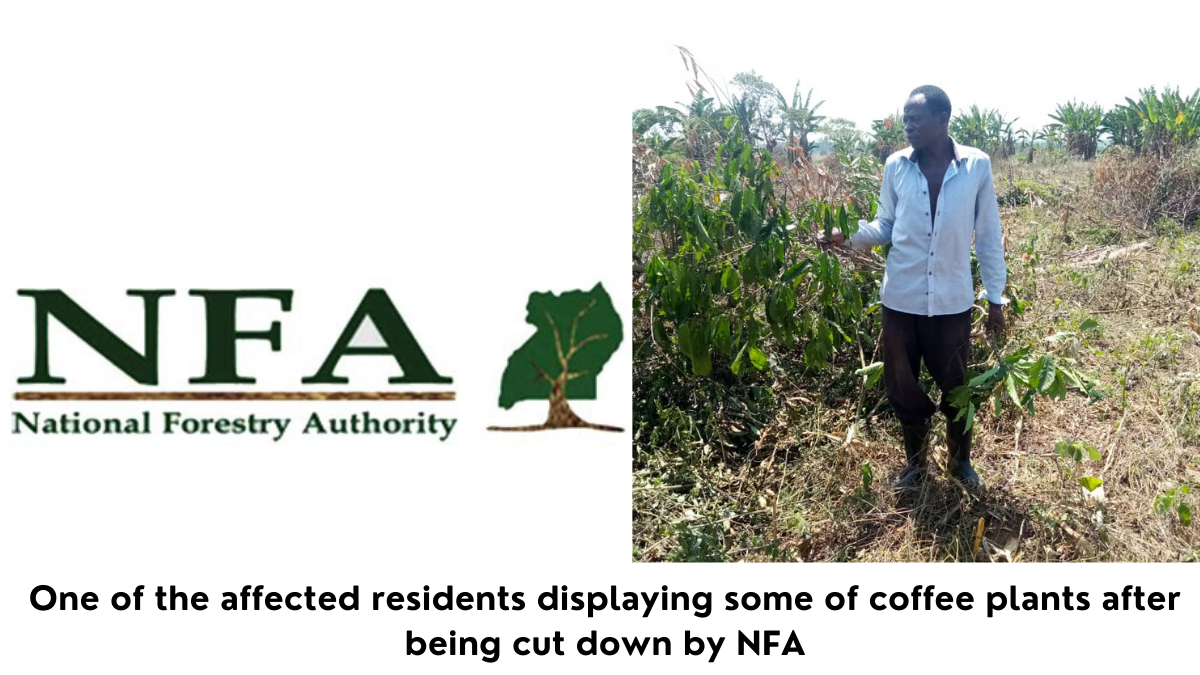 A forest body in Uganda, the National Forestry Authority (NFA) is displacing over 700 poor families that have lawfully settled and cultivated their land since the 1920s. The targeted land is needed to plant monoculture trees.
The National Forestry Authority is a semi-autonomous statutory body established by c National Forestry and Tree Planting Act of 2003 and it's charged with the responsibility to manage and control the country's forests.
The land measuring about 2900 acres is located at Yandwe village, Butuntumula Sub County in Luweero district in Buganda region, in Uganda.
The forest authority is responsible for causing loss of properties and committing human rights violations/abuses against local and indigenous communities as land belonging to them is leased out to investors to plant trees for carbon offsets without following due processes.
According to Global Forest Watch (GFW), in 2010, Uganda had a tree cover of 6.93 Mha, extending over 29% of its land area. However as of 2020 the GFW latest data presented a tree cover loss of 76.3 kha in Uganda. In the same year, Luwero district was named with the most tree cover loss. It lost 9.10kha of tree cover, equivalent to 4.48Mt of CO₂ emissions.
Principle 10 of the Rio Declaration asserts that 'environmental issues are best handled with the participation of all concerned citizens. This principle is seen to be in reverse in Uganda's practice.
Before forced evictions which started in 2015, families used the land for subsistence farming to raise money to meet basic needs and grow food for feeding, burial grounds and constructed permanent houses that have earned them a sense of belonging for generations but NFA has since destroyed 70% of their heritage.
Since 2015, the families have been forcefully evicted without court orders, prior consultation, and consent to give away their land. "There has not been any single document that permitted them to evict us since 2015. They came with graders, armed police, and soldiers to terrorize the whole village and enforce their evictions. We were not informed, consulted, and neither did we consent to give them our land." The local council chairman, Mr. Buule Cossy, also one of the affected said in an interview with Witness Radio – Uganda.
According to documents seen by Witness Radio – Uganda, ownership of land by the indigenous community is traced between the 1910s and early 1920s. Some locals have receipts indicating payments made to the then colonial matters while others have presented sale agreements.
On a fateful night, 18th March 2019, the entire village of Yandwe woke up to face the wrath of armed police, soldiers, and armed workers of NFA. Victims narrated that armed groups burnt their houses, razed gardens, and looted their properties at gunpoint before the majority of community members fled their homes.
The violence orchestrated by different armed groups left one villager identified as Ntalo Simon shot and badly wounded.
"We had one incident in which our community member Ntale was shot in the process of eviction and the victim was badly wounded while others were beaten, houses demolished and crops were cut down," Buule confirmed.
The NFA claims that residents are occupying the forest land illegally. According to residents, Mbale Forestry Reserve was gazetted in 1967 as a central forest reserve land, found their ancestors already on the land. They claim they are the lawful owners of the land and accuse the NFA of forcefully grabbing their land tactically.
Another victim, Katongole John said his grandparents settled on this land in 1915 and claimed that they were paying some dues to the colonial administrators then.
"Upon making payment, colonial matters would issue a certificate known as an occupational license to the payee. The documents would prove land ownership". he claimed.
Hundreds of families affected by several dev't projects in Kiryandongo turn up in big numbers as Masindi High Court attends to their cases filed in 2020.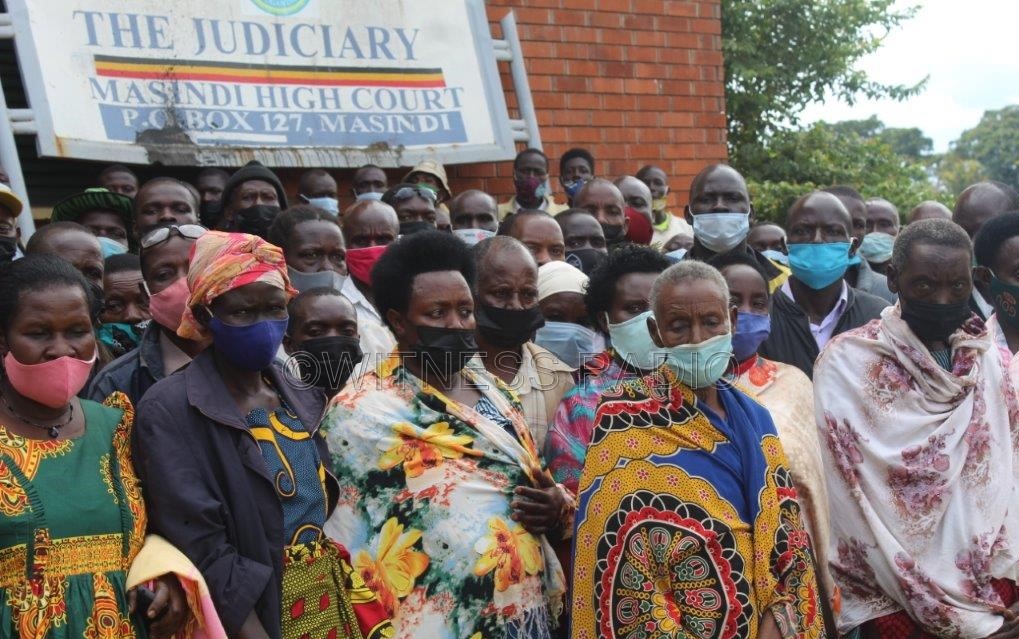 Some of the affected families turn up in big numbers at the Masindi High court for hearing of their cases.
By Witness Radio Team
Hundreds of families on Wednesday 20th and Thursday 21st gathered at the Masindi High Court for the first hearing of the human rights suits filed against multinational companies. The families from Jerusalem, Kisalanda, Kapapula, Nyamutende, Kikungulu, Canani, Kamisoni, and Kololo villages, amongst others in the Kiryandongo District all affected by large-scale agriculture operations of multinational companies. Kiryandongo sugar Company Limited, Agilis Partners Limited, and Great Seasons SMC limited are implicated in human rights violations. Communities accuse multinationals of forced evictions and committing gross human rights violations and abuses that deprived them of their rights to property, food, education, and a good living.
The High Court had set Wednesday 20th April 2022 for a hearing of Miscellaneous Cause No. 11 of 2020 filed against Agilis Partners Limited and Thursday 21st April 2022 for a Miscellaneous Cause No. 007 of 2020 filed against Great Seasons SMC limited, but both cases were adjourned to the 20th of May, this year as some respondents on the case were not in court.
For the case against Agilis Partners Limited and others, the attorney general chambers and former Kiryandongo district police commander during 2017 and thereabout Byaruhanga Patrick were not in court while, for the case against Great Season SMC Limited and others, former Kiryandongo Police Commander during 2019 and thereabout Bakaleke Joseph neither did he attend court.
Court heard from applicants lawyers led by Kiiza and Mugisha Advocates that all former police commanders of Kiryandongo district could not be traced or located and get served as the duo have since been transferred from their known places of work and were re-deployed elsewhere. However, Masindi High Court extended the time of service for two weeks from the dates both suits were heard and guided the applicants' lawyers to look for police officers.
Uganda Police Force is being held responsible for aiding multinationals and participating in committing violence and human rights violations while carrying out force evictions of local communities
48-year-old Mukangwizi Grace, a mother of five that was evicted by Agilis Partners Limited, boarded a Boda Boda to travel over 70 km distance from Kisalanda to Masindi town, where the High Court sits. "All my property on my 6 acres were destroyed including gardens and houses by the Agilis men at a gunpoint. I was not even given chance to pick my belongings," she said in an interview with Witness Radio before the court session.
Currently, Grace rents land in the nearby Gasper center where she owns a makeshift structure covered with a tarpaulin as a roof. She said she borrows money from the Maize buyers and rents one acre of land at 150,000 Uganda Shillings (about 42 USD) each season to plant maize that she sells to pay back the borrowed money and the rest is milled for flour.  This is the same for all evictees.
The land in question was settled on by two groups; the residents displaced by the northern war insurgency and those under the Nyamalebe Landless Association, who were also permitted to settle on the land by the government of Uganda through the Ministry of Lands, Housing, and Urban Development. But in 2017, their lives and dreams were shattered by the companies interested in large-scale commercial farming. Over 35,000 residents were evicted by the Kiryandongo-based multinationals with the assistance of state- agencies such as the police and the army.
The mother of five was one of those who braved the day to see the justice that they had long sought. "I needed to be in court to pin their abuses. These companies have disturbed us a lot. I had to borrow money from my relatives to cater for my transport. She was overwhelmed with happiness after the court started hearing their case and hopes for justice. We are only waiting for the court's decision because these companies thought they are untouchables." She said.
The Masindi High Court resident Judge, Justice Jesse Byaruhanga adjourned the two cases, to 20th May at 11 am. The victims' lawyers said the Judge, for convenience and expeditious disposal of the matters, adjourned the two applications to the same date.
"We believe this time will be enough to serve the missing respondents though it has not been easier to trace these respondents." Said Achak Carol Kay of M/s. Kiiza and Mugisha Advocates.
Mr. Wokulira Geoffrey Ssebaggala, on behalf of Witness Radio – Uganda which provides support to development-affected communities, said "we are happy that the court has finally allocated time to listen to the cries of poor local communities that have lost livelihood to 'investors'. We want this to act as an example to other investors who do take the land of poor people for free and use violence as means to acquire land that your time is up".
He said Ugandans deserve responsible investments that respect their land rights and bring real development.
Meanwhile Agilis Partners Limited continues to deny having forcefully evicted communities in the areas where they operate while the known contacts for Wycliffe Birungi, a lawyer for Great Season SMC Limited were switched off.