The New Forests Company in Uganda: Villages Evicted, Deceived and Dumped into Poverty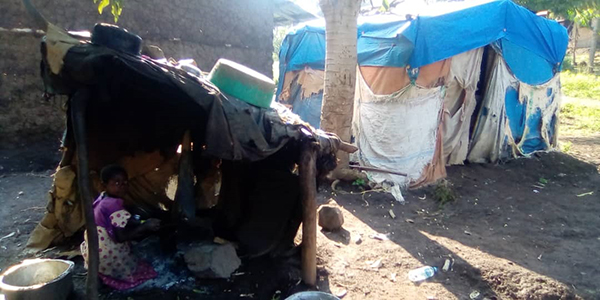 In the early 2000s, neighbouring villages envied Kanamire, a village located in the Mubende district, in the central region of Uganda. It had made a name in farming, and its story of success was spreading like a wild bushfire. Its inhabitants had set a high bar for anyone who practiced small-holder farming. The arable land and farming practices was the magic behind their success.
Kanamire's villagers used to spend the entire day either tilling their gardens or weeding their crops in anticipation of a bountiful harvest.
"The population in the village had surged and was now entirely thriving on farming. Bigger and sprawling shops were everywhere. Houses made of baked brick were replacing the grass thatched ones. We proudly called it home," 54-year-old Obutu Danial reminiscences about the heydays.
As a norm, amongst the rural women, there is an unwritten creed of maintaining peace with your neighbours. The first person to harvest, at least, shared part of the harvest with the neighbours. This belief had stood the test of time and Kanamire's women were no exception. "We had enough land. We grew enough food for the families. We would give yields to our neighbours, for example beans, and in return, they would also do the same when theirs are ready. And [we would] also sell the surplus to cater for other needs", a woman farmer reveals.
Twenty years down the road, the exemplary village no longer exists. Acreages of banana, coffee and maize crops, among others, were razed down, and families were brutally evicted by the London-based New Forests Company (NFC).
New Forests Company and the carbon market
NFC was founded in 2004 with the "vision" of producing "sustainable" timber in East Africa amidst rampant deforestation. It was funded by Agri-Vie Agribusiness Fund, a private equity investment fund, and UK-bank HSBC Private Equity. The East Africa region in which Uganda lies is one of the most fertile regions and thus, it was chosen for the plantations business.
In 2005, the tree plantations company signed a deal with Uganda's National Forestry Authority (NFA) to develop 20,000 hectares of tree plantations in the Namwasa and Luwunga forest reserves under the carbon trading program, a market-based approach to privatize the carbon dioxide stored in trees for selling it as carbon credits to polluters. This generates additional profits for the Company.
NFC is currently also benefiting from a new project supported by the Dutch Fund for Climate and Development (DFCD); a 160 million euros (more than 185 million dollars) from Dutch government fund that aims to mobilize private sector finance into carbon projects. The DFCD is managed by investment manager Climate Fund Managers (CFM), NGO Worldwide Fund for Nature Netherlands (WWF-NL) and NGO SNV, and it is led by the Dutch Development Bank, FMO. (1)
On august 2020, DFCD approved a 279,001 euros (around 327,000 dollars) grant and WWF technical assistance package for The New Forests Company (NFC), with the aim of developing the final business investment proposal for carbon certification in Uganda, for sustainable smallholder growth and timber market diversification. This in reality would translate into generating carbon finance to support expanding their monoculture plantations and land grabbing.
The Kanamire village's eviction
The National Forestry Authority (NFA) is a Government agency established under the National Forestry and Tree Planting Act of 2003, as a corporate body responsible for the so-called "sustainable development," the management of Central Forest Reserves (CFRs) and the provision of technical support to stakeholders in the forestry sub-sector.
Between 2006 and 2010, more than 10,000 people were evicted from their lands in the district of Mubende to make way for the NFC plantations. Despite this, in 2008, the Uganda Investment Authority, which is mandated to "advise Government on appropriate policies conducive for investment promotion and growth" (2) named NFC an 'Investor of the Year' for planting monocultures of pines and eucalyptus while villagers miserably live on a barren and crowded piece of land.
In February 2010, residents of Kanamire woke up to a hail of NFC representatives and graders, who were under the protection of the Uganda People's Defense Forces (UPDF) and the Uganda Police Force (UPF), which in turn were under the command of the then Mubende Resident District Commissioner Nsubuga Bewaayo. They destroyed the villagers' properties worth billions of Uganda shillings before the forced eviction, to give way for a NFC monoculture plantation.
The others villages that suffered forced eviction in the Mubende district due to NFC plantations are Kyamukasa, Kigumya, Kyato, Kisita, Mpologoma, and Bulagano villages.
Three years after the evictions, NFC agreed to resettle victims after fretful engagements with human rights activists and other villagers' supporters addressing the violence that locals experienced during the evictions.
In an agreement signed by the company and the villagers of Kanamire, NFC agreed to pay them a total of 1.2 billion Uganda Shillings (around 340 thousand dollars). And residents were requested to form and join a cooperative society, which would allocate half of the money to buy land and the other half to cater development projects, such as boreholes and schools. Evictees were forced to pay subscription fees to become a member. Those that had no money by then to join the cooperative, were not included in the resettlement process. (3)
"We formed Bukakikama Cooperative Society and 600 million [Uganda Shillings] for land was wired on the cooperative account," (around 170 thousand dollars) Mr. Bakesisha William, the former cooperative chairman said.
Mr. Bakesisha said the 600 million Uganda Shillings bought land equivalent to 473 acres (around 190 hectares) in the Kampindu village, in the Mubende district. Out of the 901 families, 453 were allocated 1 acre (less than half an hectare) of land. The remaining 448 families haven't been compensated or resettled up to date.
Everyone in the cooperative had to pay 30,000 Uganda Shillings (around 8.5 dollars) to join. There were additional payments victims had to make, namely: 3,000 Uganda Shillings (almost one dollar) for having a share in the Cooperative and 5,000 Uganda Shillings (1.42 dollars) as the initial saving pot. Upon the fulfilment of the above required payments, the cooperative chairman would issue identification numbers.
And only those who had met such requirements would be registered as an eligible member of the cooperative to benefit from one acre of land to resettle.
In Kampindu, the place where the evictees from Kanamire were 'resettled', malnourished children in tattered clothes wandering all over the village are your first sight. The angry, hungry and mean-looking youth and their fatigued elders are crowded in makeshifts and muddy houses. Others with hoes on their backs and dirty feet reveal their destitution.
Even those that received one acre of land are not in any way better than those that did not receive it. They too are wallowing in poverty. They were resettled on a barren piece of land.
It has been established that even what is supposed to be claimed as resettlement has not been met. No relief support was offered, like basic housing, foodstuffs, water or clothing. They were dumped and abandoned by the UK-based multimillionaire company.
"Both groups are living poor lives. Those that got a chance to resettle on an acre of land are suffering. The land is too small to cultivate. It is located in hilly areas that can't either be built in or be farmed. And the others that had no chance are starving and working as labourers on other people's plantations for survival. About 5 cases of fatality resulting from the displacement have been recorded in the areas," a researcher at Ugandan media platform Witness Radio noted.
Mr. Rwabinyansi Charles is one of those that were allocated land in Kampindu. The 75-year-old father of 11 cannot forget the ruthless manner in which NFC grabbed his land and threw him at Kampindu, a place he describes as hell.
"It is as if I don't have land. Look, it is filled with stones hard to build in or farm. When you plant crops, they dry. Look at the maize that was planted last season," he said while referring to a piece of land he had received from NFC.
11 years back, Mr. Rwabinyansi was a happy villager. Before his eviction, he had 30 acres (around 12 hectares) filled with crops of coffee, bananas, cassava, among others. Besides this, he also practiced animal husbandry on his land.
"On a good season, I would harvest over 30 bags of coffee, 20 of maize, and 15 of cassava. I would sell them while my wife at home would grow what fed us. We also sold the milk from our four cows, so it was indeed a good life," he narrated.
Now, on a well-wisher's piece of land in Kampindu, stands a makeshift tent that Mr. Rwabinyansi and his family call home, but that is just the tip of the iceberg. Not even death will relieve the eviction-related pain because even in death, the eviction has continued to haunt them.
"I cannot build on that land. It is not safe for me. I cannot also build here, because any time, the owner may want to use it. I recently lost my daughter in law and I had nowhere to bury her", he reveals.
When someone dies, among the Baganda indigenous, a condolence message is accompanied with a decent burial and a farewell message to the deceased, "Wummula mirembe" which is akin to "Rest in Peace", however, this was not the case for Mr. Rwabinyansi's daughter in law. "We struggled to get where to bury her. But finally, God had mercy on us. A nearby friend gave a portion of his land to lay her to rest," he added.
The chairperson of the affected communities for NFC, Mr. Julius Ndagize, faults the criteria that informed the processes of allocating the evictees the one-acre piece of land.
"Firstly, the land is too small to accommodate all of us, and the procedures of first buying shares and savings in the cooperative were also not favouring my people since they had no money. People including those who got land to have nothing to eat. Imagine a family of 15 children, all have grown and built on the same land, where will they dig. The only benefit that the group which got land has ahead of those that did not get is that they have where to bury their beloved ones," he explained.
The pain of losing a promising young generation to an eviction
The evictees are now grappling with shocking eviction-related consequences, including child pregnancies, child labour, and school dropouts.
"Cases of early marriages and child labour are high in the area, children no longer go to school because ideally if a parent lacks what to eat, can he educate a child. And people are dying because they have no money to go to the hospitals" he further said.
Mr. Ndagize said the smallholder farmers are now working as casual labourers. "Given the fact that the land is small and infertile, these people go and work in the neighbouring farms to get what to eat," he added.
Smallholder farmers' contribution to the national food basket remains unrivalled, but when you speak to them, they believe they have been let down by their government, and thrown under the bus by multinationals like NFC.
"If agriculture is the backbone of Uganda as they say, why do they take the small we have, we were not starving, and neither were we begging anyone. But look at me now. Next time you will either find me on the streets begging or dead in my house," depressed villager Rwoga Nyange concludes.
Efforts to talk to the Corporate Social Responsibility Programme Manager from New Forests Company, Mr. Kyabawampi Alex, were unsuccessful, as he did not respond to Witness Radio's emails by press time.  
Original Source: World Rainforest Movement
Police harassment: Six land rights defenders from Kawaala have been summoned for interrogation.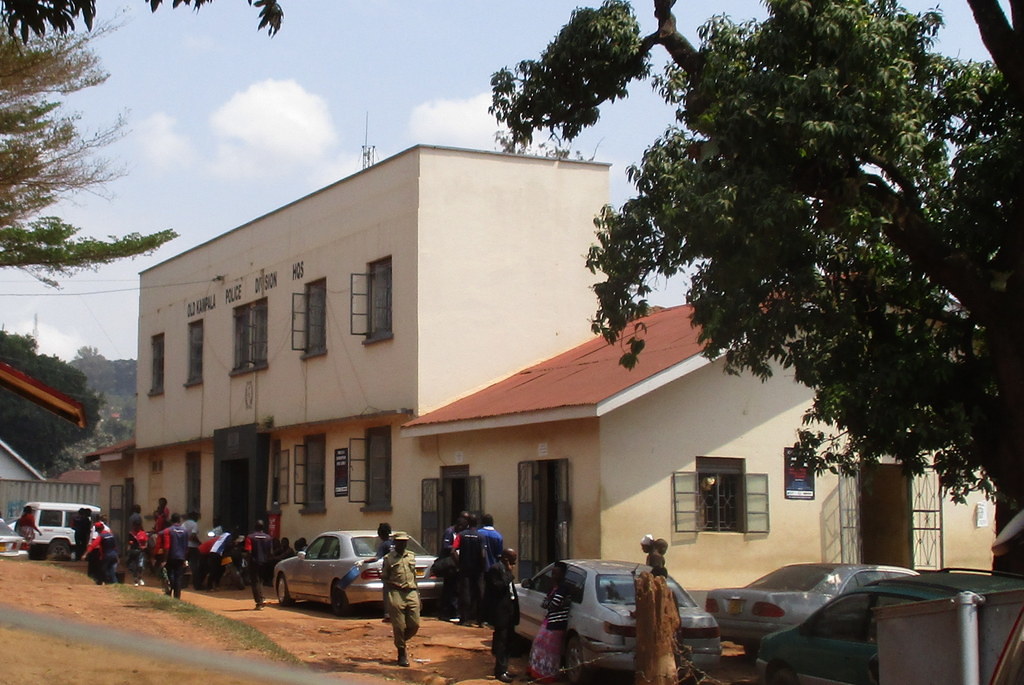 A photo of old Kampala police station where defenders are expected to report tomorrow. 
By Witness Radio – Uganda team
As forced evictions and land giveaways to investors accelerate in Uganda, police continue to be deployed to criminalize the work of community land and environmental rights defenders supporting communities to push back illegal evictions.
For many years ago, hundreds have been arrested, charged, abducted, and beaten for their work by machete-wielding men, police, and army sidelining with investors or grabbers.
The latest to fall prey is a group of six community land rights defenders and a local council vice-chairperson of Kawaala zone II, Lubaga Division, in Kampala district. The group and other defenders have been leading a pushback campaign since 2020 against the multimillion dollars drainage channel being implemented by Kampala Capital City Authority (KCCA) with finances from the World Bank under Kampala Institutional and Infrastructure Development Project (KIIDP-2)
This project first impacted Kawaala Zone II around 2014, when a channel diversion was constructed. The current planned expansion will widen that channel and require forced evictions across an area at least 70 meters wide and 2.5 km long.
The group must appear at the Old Kampala Regional Police headquarters criminal investigations directorate tomorrow, 29th/06/2022 before the Deputy Assistant Inspector of Police (D/AIP) Domara Patrick at 9: 00 AM local time.
The defenders summoned include; Kasozi Paul, Busobolwa Adam, Kabugo Micheal, Serugo Charles, Ssemanda David, Sserukwaya David, and vice-chairman of Kawaala zone II Mr. Patrick Kato Lubwama.
According to the police summons, a copy obtained by Witness Radio – Uganda does not mention the charge nor state the complainant (s).
The chairman of the affected group of people Mr. Kasozi Paul believes these are retaliation for their strong resistance to land grabs being spearheaded by KCCA to construct a drainage channel.
"We have always been targeted by KCCA and other fellow opportunists that we are sabotaging the drainage construction which is not true. We refused to give away our land without being compensated. We believe this is the reason for the summons. We shall go and meet the police tomorrow," Kasozi stated.
When Witness Radio contacted Deputy Assistant Inspector of Police (D/AIP) Domara Patrick who signed those summons declined to share details of the charges instead he invited the Witness Radio team to visit his bosses.
Advocates criticize AfDB for excluding CSOs and communities from participating in the Bank's policy review process.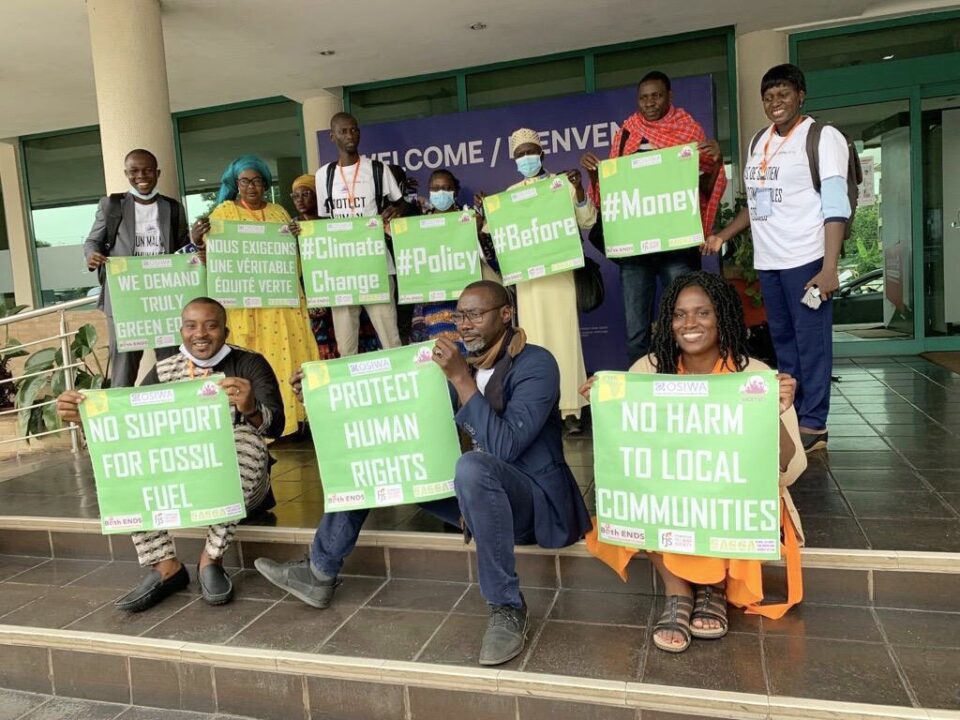 Some of the activists staging a demo in Accra, Ghana
By Witness Radio Team
Witness Radio Uganda joins other civil society organizations across Africa and beyond to criticize the bank's decision to exclude CSOs and communities from participating in the recently concluded African Development Bank (AfDB) 2022 annual meeting in Accra. The groups also called upon the bank to stop funding projects that exacerbate climate change and human rights violations. When member states signed an agreement on August 14, 1963, that consequently led to the establishment of the Bank, many touted it as one of the long-lasting solutions to African problems, however, that hope has dwindled.
The annual meetings held from the 23rd to 27th of May in Accra, Ghana presented an opportunity for the Bank to redeem itself from sustainable development mediocrity, and convince and commit to the world that it was willing to be metamorphosized from a sustainable development jester into a people-centered bank, instead, the AfDB opted to bury its head in the sand.
Key on its agenda; is the role the bank can play in the just energy transition and achieving climate resilience in Africa. However, communities most affected by climate change, and civil society groups supporting them were excluded. It was restricted to a clique of Governors, Senators, Bank Colleagues, investors, presidents, and other cherry-picked participants that were invited to discuss pressing issues affecting mankind.
As expected, the pertinent issues affecting the poor African communities, including those resulting from the adverse impacts of projects financed by AfDB, that is, the disintegration of families, lost livelihoods, and the continued affront to dignity was sacrificed at the altar of painting a Rosy picture about the Banks "gains and projections."
In Uganda, the downtrodden have paid the biggest price for AfDB's irresponsible banking. The Paten clan in the Pakwach district has experienced and continues to experience gross human rights violations arising from the Wadelai irrigation scheme implementation funded by the AfDB.
According to the communities, the project forcefully acquired more land for the Wadelai Irrigation Scheme project under The Farm Income Enhancement and Forestry Conservation Project-Phase 2 (FIEFOC-2). This was contrary to the earlier understanding with the community that the project would utilize 365 acres which the community had freely offered for the project. Instead, 365 hectares were forcefully acquired.
Information obtained from the Coalition for Development's website and published on August 10, 2021, indicates, that sixteen members of the Paten Clan, a community in Pakwach District in northern Uganda, were shot at and wounded by local police and army officers for opposing the Wadelai irrigation project implementation.
"…Staff of the construction company in charge of implementing the project, together with representatives of the local authorities and the police, forcefully entered the community. When communities questioned and protested against the trespass, the local police and members of the Uganda People's Defence Force (UPDF) started firing bullets and teargas to disperse them. 16 community members were injured.
After the shooting, the police refused to hand them the forms for documenting the injuries suffered, meaning they were unable to easily access healthcare in government health centers. The day after, UPDF officers arrested and beat up four women, including one pregnant woman, while they were on their way to fetch water…, according to victims.
A community in Kiyindi, Buikwe district was also evicted by the African Development Bank's water project that allegedly aimed at benefiting them and given little compensation in 2020.
The area Councilor, Mr. Amir Kiggundu says the community now grapples with cases of hunger and poverty. "The government said we would benefit a lot if we accepted the project but people were paid as little as 2 million Uganda Shillings (Approximately 540 US Dollars) for their land. This was little money that could not afford to relocate them and buy the land elsewhere in Uganda. As a result, these people are now renting and work hand to mouth. Their children have since dropped out of school" the area Councilor said in an interview with Witness Radio.
Listed as one of the Development Bank's principles, it has fallen short of inclusivity and participation of all stakeholders during the review process of the bank's policies.
"Transparency and participation are among the greatest shortcomings in AfDB's governance, and the 2022 Annual Meetings, unfortunately, demonstrate the failure to prioritize engagement with civil society and communities. We are so concerned that there is no space for civil society in the official program." Aly Marie Sagne, Founder and Executive Director, Lumìere Synergie pour le Développement, Sénégal said.
Apart from including climate change, food security, and energy development on its agenda list, the Bank was equivocal on these issues. The speeches delivered by Dr. Akinwumi Adesina , the bank's President and the ilk were carefully scripted and choreographed to paint a wrong picture, transparency as a key driver of sustainable development was not mentioned.
On food security, Dr. Akinwumi Adesina said there is no need for Africans begging food and that the bank has approved the $1.5 billion plan that will be used to support African countries to produce food rapidly to ensure sustained supply producing 38 million metric tons of food, including wheat, maize, rice, and soybeans.
About the increased climate crisis, Adesina said Africa suffers $7-15 billion per year in losses to climate change, and losses are projected to rise to $40 billion per year by 2030. "Africa has no choice but to adapt to climate change but African Development Bank has doubled its financing for the climate to $25 billion by 2025," he said.
The Bank is also implementing the $20 billion Desert to Power initiative in the Sahel, to build 10,000 megawatts of solar power generation. This will provide electricity via solar for 250 million people and turn the Sahel into the largest solar zone in the world.
Whereas all these strategies mentioned are meant to uplift the project beneficiaries, there is no guarantee to ensure the realization of their commitments.
Witness Radio's Executive director, Mr. Wokulira Ssebaggala added his voice to the 30 participants in 11 countries that held a separate meeting in Accra from 23-25 May to allude to his concerns over the absence of the project beneficiaries excluding their views in critical issues.
"Many development projects have proven harmful including those funded by this Bank. They have had issues with human rights violations and propelled many into excess poverty and hunger. Because the local people are the beneficiaries, their interests should be represented". He spoke.
The AfDB funds hundreds of projects across the continent and it is one of the key economic players in Africa. Through its direct and indirect financing, it supports projects and policies across a wide range of sectors. However, in practice, the Bank is not different from the loan sharks operating in the streets of Kampala.
"Although the AfDB is supposed to serve the interests of African people, it lags behind its peer institutions in terms of transparent and participatory policies and implementation, and it is very difficult for civil society, local communities, indigenous Peoples, and all rights holders to hold the Bank accountable at all stages of its operations," a statement from members of the #Dev4Africa campaign read.
This approach to development has led to negative impacts on communities from AfDB projects, including human rights, labor, and environmental violations. Additionally, it has led to contradictory approaches to challenges like the climate crisis, whereby the AfDB is supporting needed adaptation and mitigation projects on the one hand, and funding climate-harmful fossil fuel projects on the other hand.
"We don't understand why the AfDB put such a risky project in our community." Fatou Samba is a representative of a community whose livelihoods and environment have been affected by the AfDB-financed Sendou coal power project in Senegal said.
As the court starts to hear a case filed against Kiryandongo Sugar Limited, president Museveni offers to compensate forced eviction victims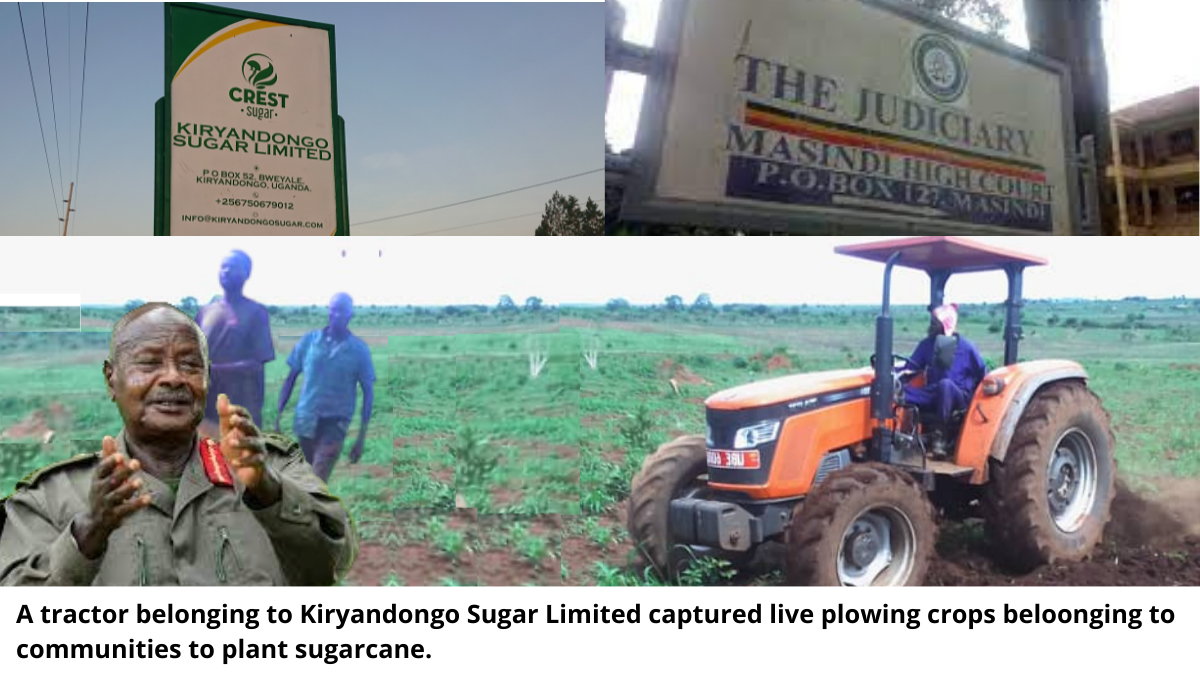 By Witness Radio Team
President Yoweri Museveni pledged to compensate Kiryandongo Sugar Limited forced eviction victims shortly after the Masindi High court fixed a hearing date.
Today, the 30th May 2022, Witness Radio lawyers, representing the victim community are in court as the hearing of the case kicks off.
A victim community that is part of a bigger group of 35,000 people being forced off their land by several multinationals, has suffered unabated violence and gross human rights violations/abuses orchestrated by government soldiers that grab land on behalf of the company.
Since 2017, a year after the company arrived in the area, human rights violations/abuses ranging from abduction, torture, and inhuman and degrading treatment, keeping people in kangaroo detention centers, rape, defilement, demolition of houses, cutting down food plantations for community members, demolishing of schools and private health centers to plowing gardens have been committed against local communities.
Kiryandongo Sugar Limited is one of the many companies owned by the Rai Group of Mauritius. The dynasty owns several other companies in DR Congo, Kenya and Malawi, and Uganda. A dynasty owns companies such as West Kenya Sugar (which owns Kabras Sugar), Timsales Limited, Menengai Oil Refineries, RaiPly, and Webuye Panpaper.
In Uganda, the Rai Group of Mauritius owns Nile Ply limited, Kinyara Sugar Limited, and Masindi Sugar Limited among others and one of its directors is a shareholder of a British Virgin Islands company, which was listed in the Panama Papers database recently.
The same company has fraudulently gotten a license to replace part of Bugoma natural forest with sugarcane plantation.
Mrs. Anna Maria Mukabaryanga, a mother of 5 is one of the hundreds of victims that have tested the wrath of the army. She sustained serious injuries during forced evictions.
"I was sternly beaten by Uganda People's Defense Forces soldiers (UPDF) on my back while I was pregnant. They were very many and eventually got a miscarriage and lost my twins. I did not get enough treatment since I did not have money to cater for the bills. I have visible scars and I cannot afford to do any work due to severe pain. It is hurting that I continue to suffer when the foreign company is reaping big on grabbed land. Whereas I lost everything during the evictions, I was not compensated nor treated. I am deeply suffering up to now." The 32-year-old recounts.
Although Anna Maria and her community have been tormented by forceful and violent evictions, they were blocked to open a case with the area police against the company.
"The police officers attached to Kiryandongo and Kimogola police units refused us to open cases of criminal trespass and destruction of property against the company. When we went to report, we were threatened with arrests, which caused us to abandon our fight for justice," Anna revealed.
The area Woman Member of Parliament, Hon. Hellen Max Kahunde said her office had been receiving several complaints of forced evictions, human rights violations by armed soldiers guarding Kiryandongo Sugar Company, and the little compensation offered to them.
"People were beaten, arrested, tortured, and forcefully evicted by the company on the land that they called home. People have visible scars resulting from the torture by the army on behalf of the investors. Can you imagine even the company went ahead to deduct the already undervalued properties by 40%? It's very unfair," she added.
While commissioning the $60 million equivalent to Uganda Shillings 216 billion, factory last week in Kimogora village in Kiryandongo, President Museveni said that the government will compensate the people despite encroachment on government ranch land.
In his speech quoted by one of Uganda's dailies, the Daily monitor on Monday 16th, Museveni said, "The squatters had encroached on government ranch land and were not bona fide occupants but are our people. Bonafide occupants are those who had stayed on the land before 1983, but these came much later. The NRM government, however, we will compensate them."
In 2020, the Kiryandongo affected victims through their lawyers from Witness Radio lodged a case at Masindi High court against the Kiryandongo Sugar Limited over forced eviction and committing human rights abuses/violations. The victims are seeking compensation and to be returned to their land.
The Masindi resident Judge Hon Jessie Byaruhanga fixed the hearing of Miscellaneous Cause Number 12 of 2020 of Otyaluk Ben Wilson and 8 others vs. Kiryandongo Sugar Company