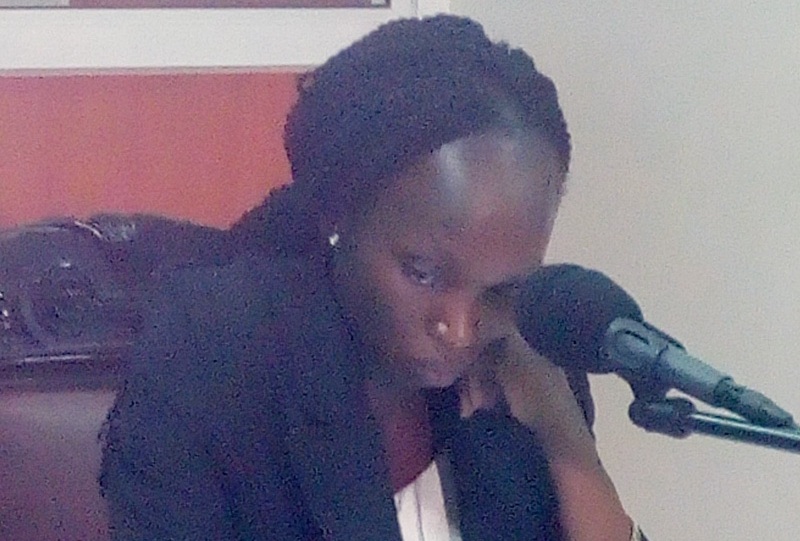 In one of the most heart-rending revelations, a senior registrar of titles at the ministry of Lands, has admitted masterminding a fraudulent land transaction in which she created and issued a fake special certificate of land title, that may see 161 households including the auditor general John Muwanga evicted.
Acting against the provisions of the law, Luella Ataro Bogere, without any due consideration of the normal procedures, acted illegally and created a special certificate of title for land under contention, located on Block 185, Plot 1131 at Namavundu sub-county Wakiso district. The fake title was created in the name of Peninah Karenge Busingye.
In collaboration with other surveyors, among them Vianney Lutaaya, a surveyor in the ministry of Lands, Ataro, issued a special certificate of title, knowing that all the plots in the mother certificate had proprietors.
Ataro did not also consider the normal procedures that when somebody applies for special certificate of title, the registrar has to wait for 30 days after an announcement is made in the national gazette.
Appearing before the Commission of Inquiry into land matters on November 20, the senior registrar of titles failed to defend herself saying it was an oversight. The commission is investigating allegations of double titling of land in Namavundu, Kasangati town council in Wakiso district. Commissioner Fred Ruhindi put Ataro to task to explain why she is always implicated in serious land fraudlent deals.
"This is not the first time you have caused a change in proprietorship on people's titles. And this one is gigantic. What is it that it is you constantly? How many times so far have you been here on very grave matters and this one is worse? You have been compromised to the marrow," Ruhindi said.
"You knew the transactions were taking place on this title but you didn't act. Don't try to white wash things here… but even if you wanted to do things fishy, you can't even do it nicely".
Ruhindi lashed out at the way the likes of Ataro testify against complainants in court.
"In courts of law you are the very people who go and testify against the complainants and testify against the commission. You earn twice from your deals. You earn from a person claiming money from government and the ones you are giving fake titles. Assuming our commission never came into existence, how could you actually cover this?" Ruhindi asked.
Commissioner Mary Oduka questioned why Ataro decided to ignore the statutory 30 days required by the law before issues of the fraudulent title.
"How much money was that that was involved that you couldn't even wait for the days (30 days). Don't tell me it was an oversight, you didn't know. Not even God will listen to it." said Oduka..
This is the fourth time Ataro whose name has hit the post office box for notorious fraudulent land deals, is appearing and being questioned before the commission. In June 2017, the Land Probe chairperson, Justice Catherine Bamugemereire ordered for the arrest of Ataro who she accused of obstructing justice and disrespect. Ataro was detained at Wandegeya police station.
Ataro, who was then appearing for the second time before the commission to explain her role in the issuance of a set of land titles to individuals in wetlands located at Kijabijo, was also accused of telling lies by the commission.
"And I am asking you again today and you said no. What exactly do you mean? Which means you actually knew about it", a visibly exasperated Bamugemereire said.
Ataro who had been avoiding some of the questions put to her by the commission could not, despite overwhelming evidence from witnesses, admit that she had a hand in deceptive land deals and did not follow right due procedures when processing applications leading to grant of certificate of titles in wetlands.
Records obtained by the commission showed that title 170 plot 644 was registered by Ataro and her senior land management officer, Satya Mwangushya without following laid down procedures. The two, the commission heard, avoided the district land officer and the district land board by approving the award of certificate of titles in a wetland.
In March 2018, the commission told Ataro to resign after she was accused of allegedly conniving with land grabbers to take the central forest reserve in Ssayi, Mukono municipality, and soliciting for money in order to sign transfer forms.
The revelation followed an earlier testimony from one Evelyn Kafeero, who had wanted to transfer a piece of land she bought from Jude Clement Kidega in 2014. Ataro, the commission heard, refused to sign the transfer forms and instead demanded for Shs 10 million for the transaction.
Kidega, an employee of ministry of Works, is also accused of selling part of Ssayi central forest reserve in Mukono, which is under contention to Kafeero, admitted before the commission that he paid Shs 10m to Ataro to help her sign his transfer forms
The land probe team also heard that Ataro illegally authorised the sub division of Kabaka's land at block 369 plot 3 at Golomolo Kiyaga without Buganda kingdom's consent. It is alleged that Ataro, through  a mutation form, authorised the sub-division of Kabaka's land from block 369 into plots 8,9,10, 11 and 13.
Mutation is the transfer or change of title ownership from one person to another when the property is sold. 
Ataro has further been implicated in the issuing of title in Mabira central forest reserve to Nurdin Yusuf and Bashir Yusuf illegally.
In all these incidences, Ataro, vehemently denied any involvement in the bribery scandal.
"My lord, it is not true that I received money. It is totally false," Ataro said. She also stated that she did not know that the land in dispute was a forest reserve.
But in a turn of events and unlike other appearances where denial was been the order of the day, Ataro, who was again arraigned before the commission this time round succumbed to her deceitful woes and admitted creating the special title for the Namavundu land located on block 185, plot 1131 in the names of Peninah Karenge Busingye.
"My lord and commissioners, it was an oversight and I apologise for it, I did not know the magnitude of the problem but now I realise there was a problem," Ataro told the commission during cross examination.
She admitted she did not advertise the application for the special title in the newspapers, as it is required by law, to establish whether or not there were people with interest on the land.
But this did not solve the equation: "The way you minimalise mistakes by saying it was an oversight…, I apologise…is rather appalling. You issued the certificate of title in violation of all the rules, regulations and procedures of the law. You had made up your mind that you have to get a title out" Justice Bamugemereire.
"This thing of titling a certificate that belongs to over 160 people and you keep saying I apologise is ridiculous."
Documents tendered before the commission show that the fraudulent special title was issued only nine days after the application was submitted as opposed to the 30 statutory days required by law.
Furthermore, the commission found out that the special title that was supposed to be issued in the original names, was instead issued in the in the name of Natasha Karenge. Kerenge has been summoned to appear before the commission. However, last week he submitted a letter, to the commission purporting that she was indisposed and that her doctor had prescribed a bed rest. Karenge asked to be given some time before she can appear before the commission.
The presence of the illegal special title came to the forefront when one Karenge together with her daughter, Natasha Karenge, under duress, fenced off the land claimed by one Stanley Lwanga, who holds the original title of the land under contention.
Lwanga, a retired accountant formerly with the ministry of Health, is one of the 161 households in Namavundu who face eviction as a result of the fraudulent transaction. Others include the auditor general, John Muwanga.
The land probe commission was created by President Yoweri Museveni in December 2016 and is chaired by Justice Catherine Bamugemereire. Bamugemereire is assisted by six commissioners; Fredrick Ruhindi, Dr Rose Nakayi, George Bagonza Tinkamanyire, Joyce Gunze Habaasa, Mary Oduka Ochan and Robert Ssebunnya
The commission's lead counsel is Ebert Byenkya while the deputy and assistant lead counsels are John Bosco Suuza and Andrew Odiit respectively. The commission's mandate is to probe the efficiency of the laws, policies and processes of land registration, acquisition, administration and management.
It is also tasked with inquiring into the effectiveness of the Uganda Land Commission (ULC) in administering public land and relevant bodies in the reservation of wetlands, forests, road reserves and national parks.
–Observer