Land registrar admits to issuing fake land titles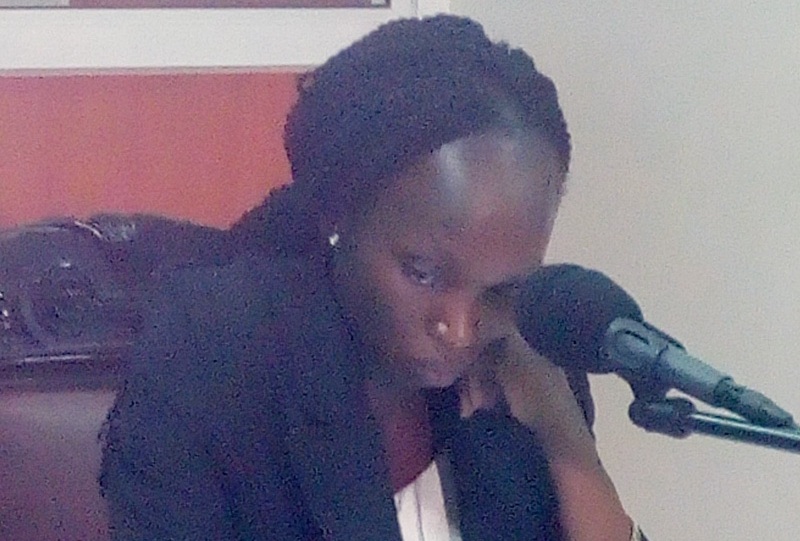 In one of the most heart-rending revelations, a senior registrar of titles at the ministry of Lands, has admitted masterminding a fraudulent land transaction in which she created and issued a fake special certificate of land title, that may see 161 households including the auditor general John Muwanga evicted.
Acting against the provisions of the law, Luella Ataro Bogere, without any due consideration of the normal procedures, acted illegally and created a special certificate of title for land under contention, located on Block 185, Plot 1131 at Namavundu sub-county Wakiso district. The fake title was created in the name of Peninah Karenge Busingye.
In collaboration with other surveyors, among them Vianney Lutaaya, a surveyor in the ministry of Lands, Ataro, issued a special certificate of title, knowing that all the plots in the mother certificate had proprietors.
Ataro did not also consider the normal procedures that when somebody applies for special certificate of title, the registrar has to wait for 30 days after an announcement is made in the national gazette.
Appearing before the Commission of Inquiry into land matters on November 20, the senior registrar of titles failed to defend herself saying it was an oversight. The commission is investigating allegations of double titling of land in Namavundu, Kasangati town council in Wakiso district. Commissioner Fred Ruhindi put Ataro to task to explain why she is always implicated in serious land fraudlent deals.
"This is not the first time you have caused a change in proprietorship on people's titles. And this one is gigantic. What is it that it is you constantly? How many times so far have you been here on very grave matters and this one is worse? You have been compromised to the marrow," Ruhindi said.
"You knew the transactions were taking place on this title but you didn't act. Don't try to white wash things here… but even if you wanted to do things fishy, you can't even do it nicely".
Ruhindi lashed out at the way the likes of Ataro testify against complainants in court.
"In courts of law you are the very people who go and testify against the complainants and testify against the commission. You earn twice from your deals. You earn from a person claiming money from government and the ones you are giving fake titles. Assuming our commission never came into existence, how could you actually cover this?" Ruhindi asked.
Commissioner Mary Oduka questioned why Ataro decided to ignore the statutory 30 days required by the law before issues of the fraudulent title.
"How much money was that that was involved that you couldn't even wait for the days (30 days). Don't tell me it was an oversight, you didn't know. Not even God will listen to it." said Oduka..
This is the fourth time Ataro whose name has hit the post office box for notorious fraudulent land deals, is appearing and being questioned before the commission. In June 2017, the Land Probe chairperson, Justice Catherine Bamugemereire ordered for the arrest of Ataro who she accused of obstructing justice and disrespect. Ataro was detained at Wandegeya police station.
Ataro, who was then appearing for the second time before the commission to explain her role in the issuance of a set of land titles to individuals in wetlands located at Kijabijo, was also accused of telling lies by the commission.
"And I am asking you again today and you said no. What exactly do you mean? Which means you actually knew about it", a visibly exasperated Bamugemereire said.
Ataro who had been avoiding some of the questions put to her by the commission could not, despite overwhelming evidence from witnesses, admit that she had a hand in deceptive land deals and did not follow right due procedures when processing applications leading to grant of certificate of titles in wetlands.
Records obtained by the commission showed that title 170 plot 644 was registered by Ataro and her senior land management officer, Satya Mwangushya without following laid down procedures. The two, the commission heard, avoided the district land officer and the district land board by approving the award of certificate of titles in a wetland.
In March 2018, the commission told Ataro to resign after she was accused of allegedly conniving with land grabbers to take the central forest reserve in Ssayi, Mukono municipality, and soliciting for money in order to sign transfer forms.
The revelation followed an earlier testimony from one Evelyn Kafeero, who had wanted to transfer a piece of land she bought from Jude Clement Kidega in 2014. Ataro, the commission heard, refused to sign the transfer forms and instead demanded for Shs 10 million for the transaction.
Kidega, an employee of ministry of Works, is also accused of selling part of Ssayi central forest reserve in Mukono, which is under contention to Kafeero, admitted before the commission that he paid Shs 10m to Ataro to help her sign his transfer forms
The land probe team also heard that Ataro illegally authorised the sub division of Kabaka's land at block 369 plot 3 at Golomolo Kiyaga without Buganda kingdom's consent. It is alleged that Ataro, through  a mutation form, authorised the sub-division of Kabaka's land from block 369 into plots 8,9,10, 11 and 13.
Mutation is the transfer or change of title ownership from one person to another when the property is sold. 
Ataro has further been implicated in the issuing of title in Mabira central forest reserve to Nurdin Yusuf and Bashir Yusuf illegally.
In all these incidences, Ataro, vehemently denied any involvement in the bribery scandal.
"My lord, it is not true that I received money. It is totally false," Ataro said. She also stated that she did not know that the land in dispute was a forest reserve.
But in a turn of events and unlike other appearances where denial was been the order of the day, Ataro, who was again arraigned before the commission this time round succumbed to her deceitful woes and admitted creating the special title for the Namavundu land located on block 185, plot 1131 in the names of Peninah Karenge Busingye.
"My lord and commissioners, it was an oversight and I apologise for it, I did not know the magnitude of the problem but now I realise there was a problem," Ataro told the commission during cross examination.
She admitted she did not advertise the application for the special title in the newspapers, as it is required by law, to establish whether or not there were people with interest on the land.
But this did not solve the equation: "The way you minimalise mistakes by saying it was an oversight…, I apologise…is rather appalling. You issued the certificate of title in violation of all the rules, regulations and procedures of the law. You had made up your mind that you have to get a title out" Justice Bamugemereire.
"This thing of titling a certificate that belongs to over 160 people and you keep saying I apologise is ridiculous."
Documents tendered before the commission show that the fraudulent special title was issued only nine days after the application was submitted as opposed to the 30 statutory days required by law.
Furthermore, the commission found out that the special title that was supposed to be issued in the original names, was instead issued in the in the name of Natasha Karenge. Kerenge has been summoned to appear before the commission. However, last week he submitted a letter, to the commission purporting that she was indisposed and that her doctor had prescribed a bed rest. Karenge asked to be given some time before she can appear before the commission.
The presence of the illegal special title came to the forefront when one Karenge together with her daughter, Natasha Karenge, under duress, fenced off the land claimed by one Stanley Lwanga, who holds the original title of the land under contention.
Lwanga, a retired accountant formerly with the ministry of Health, is one of the 161 households in Namavundu who face eviction as a result of the fraudulent transaction. Others include the auditor general, John Muwanga.
The land probe commission was created by President Yoweri Museveni in December 2016 and is chaired by Justice Catherine Bamugemereire. Bamugemereire is assisted by six commissioners; Fredrick Ruhindi, Dr Rose Nakayi, George Bagonza Tinkamanyire, Joyce Gunze Habaasa, Mary Oduka Ochan and Robert Ssebunnya
The commission's lead counsel is Ebert Byenkya while the deputy and assistant lead counsels are John Bosco Suuza and Andrew Odiit respectively. The commission's mandate is to probe the efficiency of the laws, policies and processes of land registration, acquisition, administration and management.
It is also tasked with inquiring into the effectiveness of the Uganda Land Commission (ULC) in administering public land and relevant bodies in the reservation of wetlands, forests, road reserves and national parks.
–Observer
Tension as over 3000 people face unlawful eviction in Lwengo district.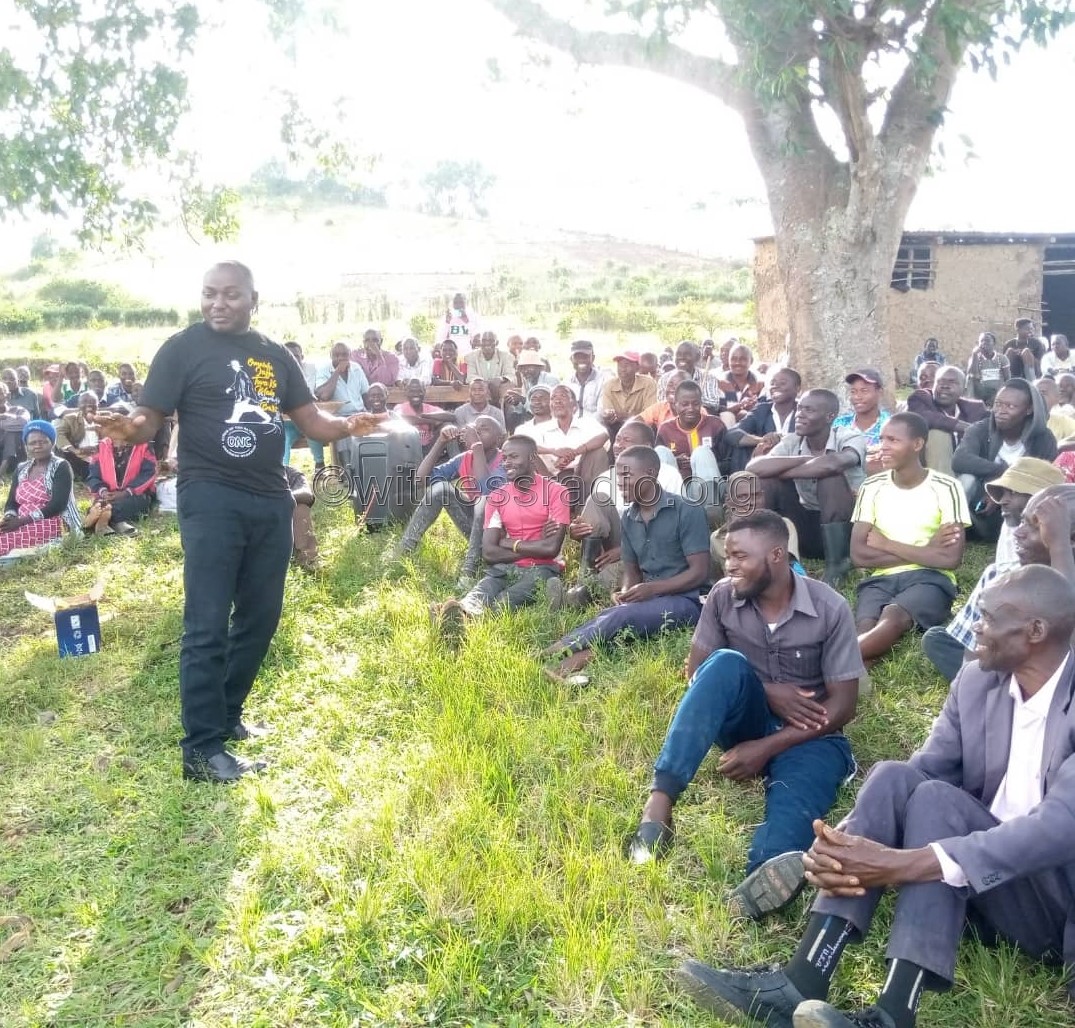 By Witness Radio team
As illegal land evictions escalate in Uganda, land speculators and grabbers with the help of District Land Boards, continue to target and grab land for the less privileged communities.
Section 60 (2c) of the Land Act CAP 22 states that the District Land Board is mandated to manage all public lands in the district, and it has powers to sell, lease, or otherwise deal with the land held by it, among others. 
Witness Radio has documented scenarios where District Land Boards give away communities' land they have lived on for decades without providing alternative settlements. 
In Kiboga district, Flavia Kizito, a Senior Secretary to the District Land Board, irregularly issued three leases on land belonging to a family of the late Edirisa Kyakulagira in 2018 and 2019. 
In yet another shocking news, there's a looming forced eviction on land belonging to over 3000 residents in three villages, Kalagala Parish, Malongo sub-county in Lwengo district whose livelihood has been entirely dependent on their land.
The subsistence farming communities have lived on the public land undisturbed for decades until February 2022, when different groups started targeting and claiming land ownership.
Local farmers accuse land speculators and brokers that have compromised with some of their peers to work for them and grab their land measuring 153 acres in Kawule, Kasagazi, and Lugologolo villages.
"We have been on this land for so long, and we are wondering how those people acquired its title. We heard rumors that the so-called Bamwesigye and Mwebesa are behind selling us, but we have nowhere to go. We are ready to defend it." Said Kosi Joseph, the Lugologolo Chairman and one of the affected persons. 
He added that he has lived on his land for over 32 years.
Residents learned of a looming eviction on WhatsApp Message sent to one of the area's Councilor Herbert Ssekabira by an unknown person, reading that "the land on which the villages sit belongs to them."
"Mr. Ssekabira, upon receiving the sad news, informed the community and prompted them to seek assistance from our leaders to stop the land grab. The WhatsApp message said the land was bought in 2014 and later acquired a leasehold in 2022." Mr. Kosi further added.
Kittatta Ibrahim, the Lwengo district Local Council Five (5) chairperson, informed the community that investigations surrounding the acquisition of their land had commenced immediately. He added that they intend to lodge a caveat on the said land.
Breaking; Lands Minister directs police chief to arrest armed mobs involved in forced and illegal land evictions.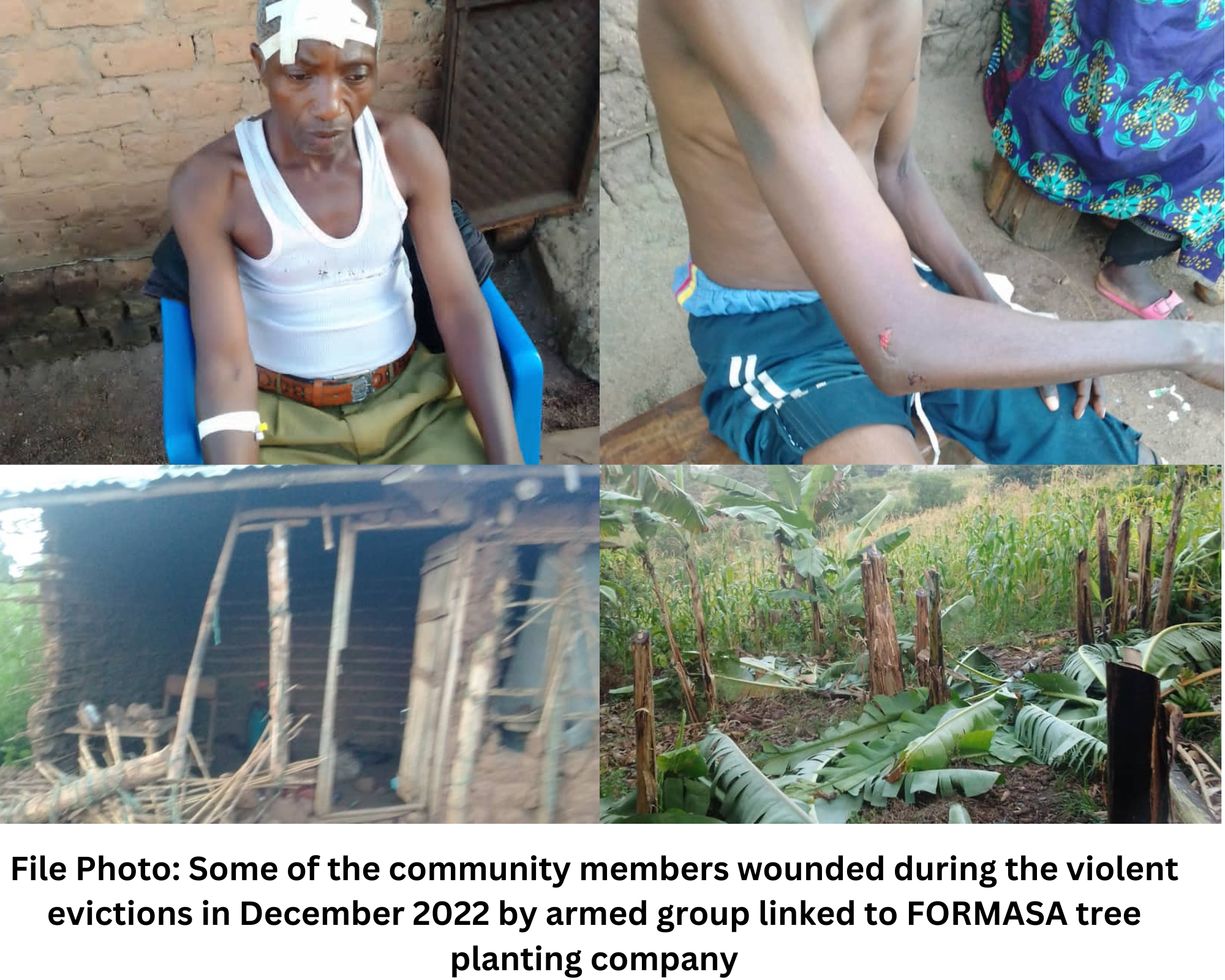 By Witness Radio team
Uganda's Lands Minister Judith Nabakooba has directed the Inspector General of Police (IGP), Martins Okoth Ochola to arrest all organized and armed mobs involved in forced and illegal land evictions.
The directive is the second one from the same minister to the police chief in three (3) months due to widespread forced and illegal land evictions in Uganda.
On February 28, 2022, President Yoweri Museveni came out and banned all land evictions in the country that are carried out without the consent of the respective District Security Committees (DSC).
The latest directive was triggered by violent scenes that occurred on the 19th of March 2023 when armed groups of men with graders invaded the St peter's Church of Uganda's land in Kibiri and started destroying crops planted on the church land. The armed group whose employer is not yet established claims the church is occupying someone's land illegally.
In an attempt to stop the unlawful eviction, Church leaders, led by Reverend Maxwell Ssebuggwawo and some faithful tried to intervene but in vain.
According to eyewitnesses, the armed group immediately attacked the Clergyman and other Christians causing severe bodily injuries. In the scuffle, Rev. Maxwell Ssebuggwawo's vestments were torn by the mob, whom the community believes was being targeted.
In response to the violent attack against the church leader and congregation, the minister observed that many land grabbers have resorted to using organized and armed mobs to evict people from their land. She further describes eviction as illegal and unacceptable since the government has capable security agencies that can effect lawful evictions.
"We have noted incidents where some crooks employ mobs to evict people yet we have security forces that can do this concerning the law. This is wrong. I have therefore directed the IGP to arrest everybody involved in these illegal acts and be brought to book", the Minister added in an interview with the local media.
Witness Radio in the recent past has documented incidents where organized and armed mobs are participating in violent land evictions.  For instance, a recent eviction of a 99-year-old Hellena Namazzi in Numugongo in Kira Municipality in Wakiso district by Sema Properties boss, Ssemakula Sulait, another ugly case involved a violent eviction of over 2000 people off 328.1 hectares by one Moses Karangwa and Abid Alam in Kassanda district among others.
Over 500 Kapapi families in Hoima district remain stranded after the district security committee fails to resettle them back on their land as directed by the minister.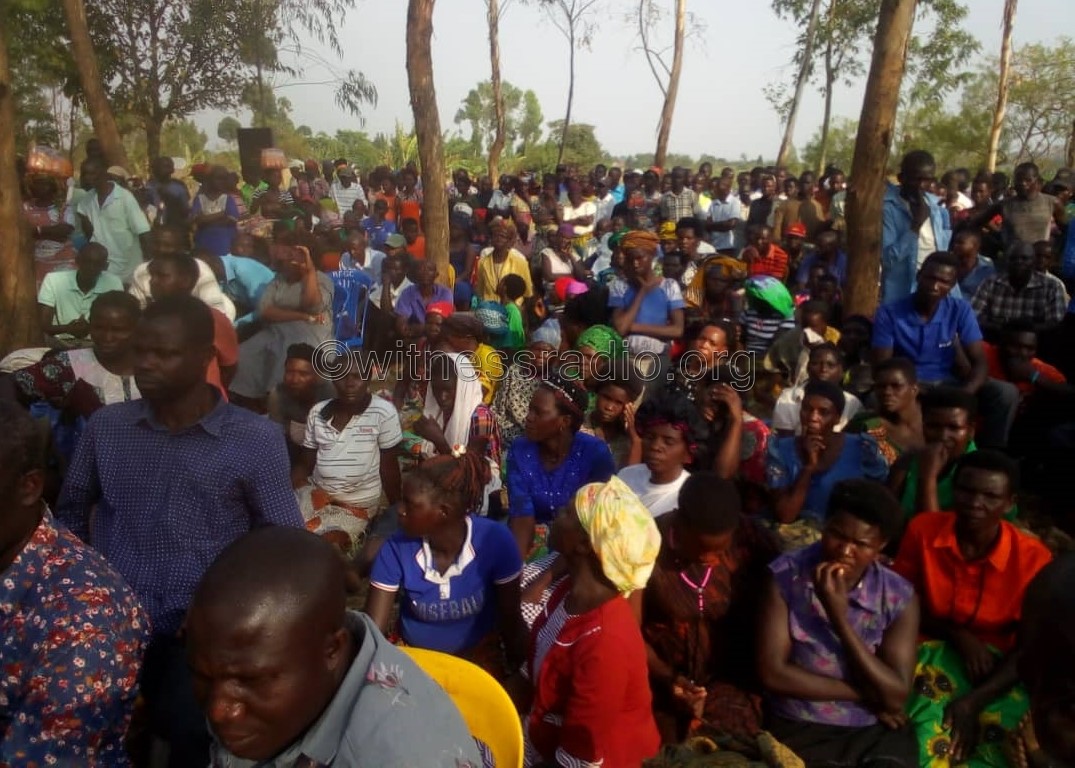 By Witness Radio team.
Hundreds of families, violently evicted from their land in Kapapi and Kiganja sub-counties in Hoima district are still pondering their next moves as efforts to return to their grabbed land remain ambiguous.
The directive came after Hoima district police and private guards from Magnum, a private security company raided people's homes in Waaki North, Kapapi Central, Waaki South, Runga, and Kiryatete villages in Kapapi and Kiganja sub-counties, Hoima district on 10th of February 2023 at 1:00 am.
The violent scenes left hundreds of children with scores of injuries, houses were torched, and property worth billions was destroyed.  The animals such as goats, sheep, and cows were butchered and others were looted.
On 22nd of February 2023, the Minister of Lands, Housing and Urban Development, Honorable Judith Nabakooba while addressing a meeting in Rukola village Kapapi sub-county, Hoima district directed the security committee to return the victim villagers back to their land.
She considered the eviction unlawful since it was conducted at night and without a court order.
In that meeting, area leaders, Hoima district police and Hoima Resident District commissioner, Mr. Rogers Mbabazi, Deputy Resident District Commissioner, Mr. Michael Kyakashari were in attendance.
The victim community accuses a group of people including Ndahura Gafayo, Aston Muhwezi, David Mpora, Monica Rwashadika, Agaba, and Wilber Kiiza of being responsible for the land grab.
The grabbed land is situated at the shores of Lake Albert adjacent to the Kabaale parish in Buseruka Sub-county where the greenfield oil refinery is to be established. In April 2018, the government selected the Albertine Graben Refinery Consortium (AGRC) as the private sector investment to finance, develop, construct, and operate the Greenfield oil Refinery estimated to cost $4b.
According to the Witness Radio research team, ever since the directive was made instead, there's increased human rights violations including arbitrary arrests, detentions and threats, and intimidation against victims of residents encamped at Rwenyana Church to vacate.
The evictees report that after the minister's directive, three community members include; Mbombo Steven, and Kalongo Steven have been arrested, charged, and remanded to Hoima government prison.
"Our families encamping at church and waiting to be resettled back as directed by the Minister are facing further threats and intimidation to go away. They say they don't want us at the church. Some of us are currently in hiding for fear of arbitrary arrests or kidnaps." A community member who preferred to be called Enos due to fear of retaliation told Witness Radio.
He further added that the community is living at the mercy of God, with no food, or shelter, and predicted an uncertain future for their children since they are not attending school.
"Families are scattered in different centers while others continue to live with their relatives. However essential services such as shelter, food, health services, and education for their children remain a challenge. These people found us on land and started claiming ownership of this land. Imagine when we went for a search at a land registry, we found out that they only have a title of 2 acres but everyone knows we have been on this land for over 30 years. We have people who were born on this land." He added.
Witness Radio contacted Mr. Rogers Mbabazi, Hoima Resident District Commissioner who heads the district security committee, to understand how far the committee had gone with the implementation of the minister's directive. He instead referred us to his Deputy Mr. Michael Kyakashari.
Mr. Michael Kyakashari, when asked about the status of the directive, told our reporter that he did not have an answer for him before he hung up.
"I don't have an answer for you" He repeatedly said.