Government cancels Pastor Kakande's Mubende land titles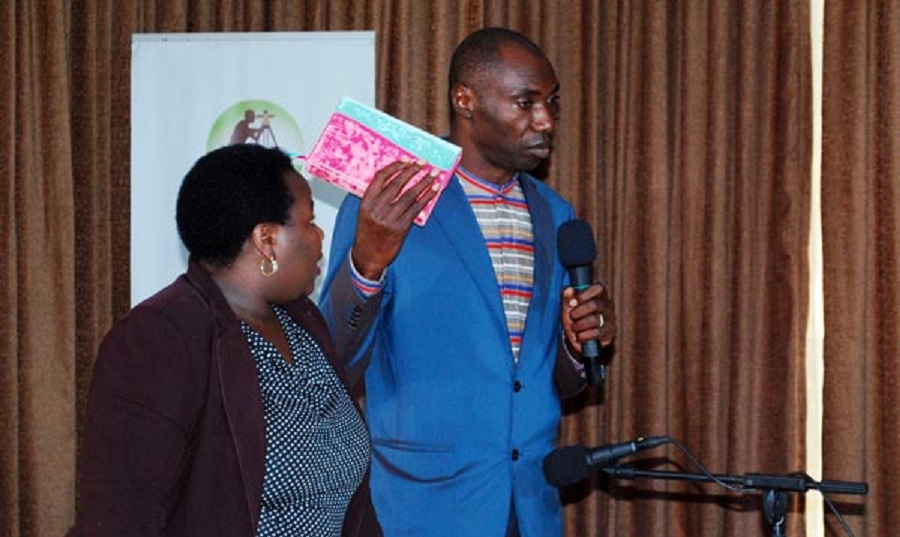 Government has cancelled land titles which had been issued to Pastor Samuel Kakande for the 26 square miles of land he acquired in Mubende District.
Pastor Kakande, who heads the Kampala based Synagogue Church of All Nations, had reportedly planned to use the land to expand his rice scheme.
The affected residents are spread in 56 villages. The cancellation is in response to Mubende District Land Board secretary, Ms Mary Jessica Nankabirwa who admitted that the process of giving away land to Pastor Kakande was marred by gross irregularities.
"… this is therefore to inform you that this office has gone ahead to cancel the said certificates of title mentioned above. The complainants as may thus go ahead and apply to the land board for their land," reads part of the letter written by the senior registrar of titles at the ministry of lands, Ms Aisha Kibira.
The disputed land has over 10,000 sitting tenants spread in two Sub Counties of Manyogaseka and Kiganda.
On January 22, 2018, Ms Nankabirwa wrote to the registrar of titles in the ministry of Lands saying they had revoked a resolution that had granted Pastor Kakande lease to utilize the land.
Mubende District had issued two copies of freehold land titles to Pastor Kakande.
One of the canceled titles was in the names of Mechanised Agro Uganda Limited where Pastor Kakande is the biggest shareholder. Other shareholders are Mr Jonathan Byabasaija, Ms Joy Male, Mr Jonson Mwanguzi and Ms Eva Nakatudde.
The land titles
Mechanised Agro Uganda Limited was allocated 13 square miles on Block 436, Plot 33 in Ndeeba Village, Kiganda Sub County. The second title was in the names of Pride Chick Uganda Ltd where Pastor Kakande and his secretary, Ms Noeline Ndagire, are shareholders.
The land, measuring 13 square miles, is on Block 436, Plot 34, in Lwakabuutu Village, Singo. Both titles were issued on August 4, 2016.
When news of cancelling the titles reached Mubende on Monday, the sitting tenants were seen celebrating.
Kasanda South MP Mr Simeo Nsubuga who is the area MP mobilized residents to celebrate this milestone and commended government for listening to the cries of poor residents.
"If people in the Ministry of Land continue to care about the plight of the poor Ugandans who are pushed off their land like they have done in this case, I am sure the current episodes where people are deprived of their land by rich people will come to an end," he said.
The tenants had earlier complained that they were not given first priority, as stipulated in the law to buy the land and develop it.
They claim that the district officials had frustrated all their efforts to regularise their tenancy on the land, claiming that it is a forest reserve.
Meanwhile, after detecting the anomalies in the land titles in January this year, Pastor Kakande through his lawyers, Bakara Legal Associated Advocates unconditionally surrendered the duplicate certificates of title to the district land board for cancelation. In a letter dated January 16, 2018, a copy of which Daily Monitor has seen, Pastor Kakande's lawyers, said though their client was the registered proprietor of the disputed land, they had discovered that the sitting tenants' claim had merit.
"Therefore, our clients have taken a decision to forward the said two duplicate certificates of title to you [Mubende District Land Board] unconditionally for cancelation. Kindly acknowledge receipt thereof in writing," Julius Mukholi Wamukota, one of Pastor Kakande's lawyers, wrote.
Pastor Kakande already owns rice schemes in Kibaale, Masindi and Masaka Districts.
He was, however, last year faulted by the Justice Catherine Bamugemereire-led Commission of Inquiry into land matters for destroying wetlands on the shores of Lake Victoria in Masaka and ordered to halt all his activities.
Mubende, is one of the few remaining districts with vast arable land and the area has been the scene of intense land wrangles for many years which have led to loss of lives in some villages.
Source: Daily Monitor
…
Over 500 Kapapi families in Hoima district remain stranded after the district security committee fails to resettle them back on their land as directed by the minister.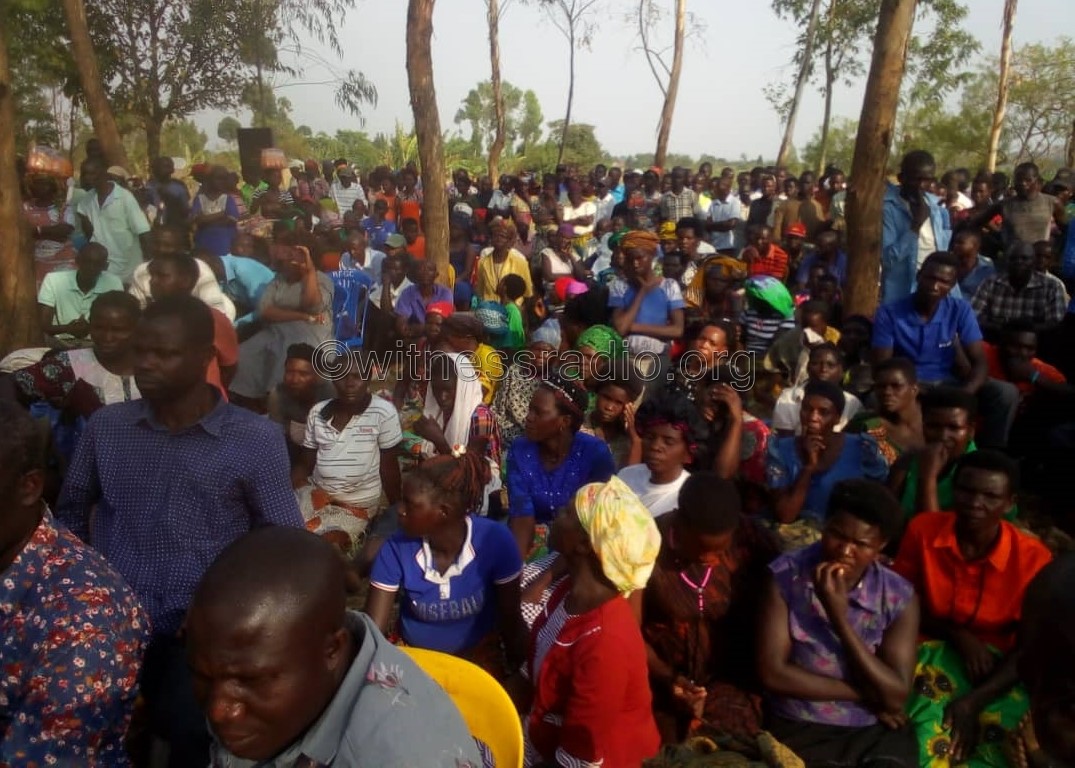 By Witness Radio team.
Hundreds of families, violently evicted from their land in Kapapi and Kiganja sub-counties in Hoima district are still pondering their next moves as efforts to return to their grabbed land remain ambiguous.
The directive came after Hoima district police and private guards from Magnum, a private security company raided people's homes in Waaki North, Kapapi Central, Waaki South, Runga, and Kiryatete villages in Kapapi and Kiganja sub-counties, Hoima district on 10th of February 2023 at 1:00 am.
The violent scenes left hundreds of children with scores of injuries, houses were torched, and property worth billions was destroyed.  The animals such as goats, sheep, and cows were butchered and others were looted.
On 22nd of February 2023, the Minister of Lands, Housing and Urban Development, Honorable Judith Nabakooba while addressing a meeting in Rukola village Kapapi sub-county, Hoima district directed the security committee to return the victim villagers back to their land.
She considered the eviction unlawful since it was conducted at night and without a court order.
In that meeting, area leaders, Hoima district police and Hoima Resident District commissioner, Mr. Rogers Mbabazi, Deputy Resident District Commissioner, Mr. Michael Kyakashari were in attendance.
The victim community accuses a group of people including Ndahura Gafayo, Aston Muhwezi, David Mpora, Monica Rwashadika, Agaba, and Wilber Kiiza of being responsible for the land grab.
The grabbed land is situated at the shores of Lake Albert adjacent to the Kabaale parish in Buseruka Sub-county where the greenfield oil refinery is to be established. In April 2018, the government selected the Albertine Graben Refinery Consortium (AGRC) as the private sector investment to finance, develop, construct, and operate the Greenfield oil Refinery estimated to cost $4b.
According to the Witness Radio research team, ever since the directive was made instead, there's increased human rights violations including arbitrary arrests, detentions and threats, and intimidation against victims of residents encamped at Rwenyana Church to vacate.
The evictees report that after the minister's directive, three community members include; Mbombo Steven, and Kalongo Steven have been arrested, charged, and remanded to Hoima government prison.
"Our families encamping at church and waiting to be resettled back as directed by the Minister are facing further threats and intimidation to go away. They say they don't want us at the church. Some of us are currently in hiding for fear of arbitrary arrests or kidnaps." A community member who preferred to be called Enos due to fear of retaliation told Witness Radio.
He further added that the community is living at the mercy of God, with no food, or shelter, and predicted an uncertain future for their children since they are not attending school.
"Families are scattered in different centers while others continue to live with their relatives. However essential services such as shelter, food, health services, and education for their children remain a challenge. These people found us on land and started claiming ownership of this land. Imagine when we went for a search at a land registry, we found out that they only have a title of 2 acres but everyone knows we have been on this land for over 30 years. We have people who were born on this land." He added.
Witness Radio contacted Mr. Rogers Mbabazi, Hoima Resident District Commissioner who heads the district security committee, to understand how far the committee had gone with the implementation of the minister's directive. He instead referred us to his Deputy Mr. Michael Kyakashari.
Mr. Michael Kyakashari, when asked about the status of the directive, told our reporter that he did not have an answer for him before he hung up.
"I don't have an answer for you" He repeatedly said.
State House Anti-Corruption Unit nets a surveyor implicated in Mubende district land-grabs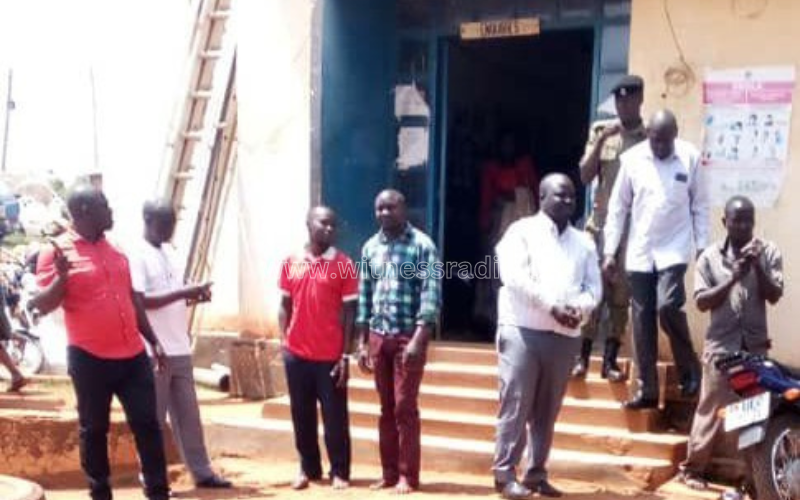 By Witness Radio Team,
The State House Anti-corruption Unit has arrested an alleged landgrabber in Mubende district whose evictions have rendered masses homeless.
Mr. Mafumu Paul, a Mubende based surveyor is accused of using police and conniving with some officials in the Lands ministry to issue forged titles that have been instrumental in illegal land evictions in the districts of Mubende, Kiboga and Kyankwanzi.
The alleged land grabber has been arrested alongside two of his farm workers who include Ssenyondo Ronald and Sseruyange Ben.
The arrest follows complaints of grave human rights abuses to the State House Anti-Corruption Unit and the minister for lands housing and urban development. In response, the Minister of Lands, Housing and Urban Development, the Hon. Judith Nabakooba Nalule, visited the families whose crops were sprayed with chemicals by Mafumu's workers. She later requested the State House Anti-Corruption Unit to intervene and investigate circumstances under which forged certificate of land titles are issued and used to forcefully evict local communities off their land. She further directed the Mubende Police to oversee the arrest of the Mufumu.
He has been implicated in instigating unlawful arrests, beating people, denying communities to access clean water sources, razing-down people's houses and gardens, fly-grazing, and spraying their crops with chemicals in order to evict them from their land.
In one of the recent cases, on the 14th of January 2023, violence was meted out on the residents in Nalyankanja village, Kyenda Town Council in Mubende district. Mafumu is said to have ordered his workers to spray their crops, an act they believe has escalated hunger in their area. The crops sprayed with chemicals included: sweet potatoes, pineapples, coffee, bananas, and Cassava.
According to Witness Radio research, Mafumu has been accused of violently evicting over 17 families since 2018 from their land measuring approximately 248 acres.
The alleged land grabber and his accomplices are currently being detained at Mubende Police.
Kiboga district senior lands officer is arrested and detained over land fraud.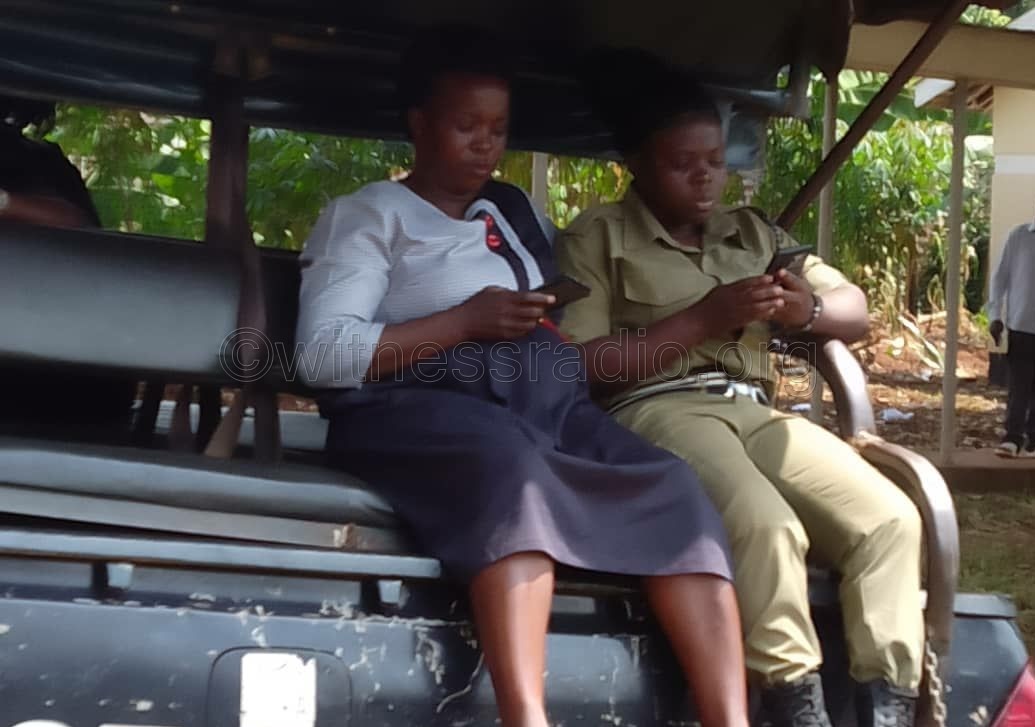 By Witness Radio Team
A joint team of investigators has arrested Kiboga district senior lands officer for allegedly committing cases of land fraud, Witness Radio has established.
The operation led by the Deputy Resident District Commissioner (D/RDC) of Kiboga district, Mr. Mathias Lutwama, was jointly carried out by the State House Anti-Corruption Unit and three officers attached to the Central Police station of Kiboga district.
According to Lutwama, the suspect has been on the run after deliberately refusing to respond to the State House Anti-Corruption Unit and the police summons.
Mrs. Flavia Kizito, a Senior Secretary to the Kiboga district Land Board before the arrest, leased land belonging to a family of the late Edirisa Kyakulagira respectively in 2018 and 2019 to three different leasees without their knowledge.
The three people including Mr. James Kagolo, One Mateka, and Mr. Kayondo Moses were separately given 1080 acres of land by Kiboga District Land Board.
In the process of taking possession of the grabbed land by different leasees, 3 members of a victim family (occupying the piece of the land) were shot at and injured by armed agents of the agents of leasees while protesting an illegal eviction.
"The shootings happened differently, but the recent one was in February 2022, I was shot at, in the palm and the armpit by Mr. Kagolo James. The incident happened when the operators of my tractor that were cultivating our orchard of mangoes were stopped from cultivating and got arrested. So, they called and I had to rush to the farm to rescue my workers. Upon reaching the farm, one Kagolo who was accompanied by armed gangs with machetes asked me why I was cultivating their land. In response, I told him that this has been our land which angered him. He coked the gun and shot me in the palm and armpit. I lost a finger in the process."  Mr. Nyanja Erikka, one of the victims revealed.
Eyewitnesses told Witness Radio that the victim (Nyanja) who was down and bleeding was handcuffed, and arrested by Kiboga police on charges of illegally possessing a firearm, before being driven to Kiboga main hospital to get treatment first.
The following day, the witness further narrates that Nyanja was put off the handcuffs and given a police bond to get treatment.
Our investigations further reveal that victim families have since 2020 been facing violent and forced evictions from the alleged land grabbers during the Covid-19 lockdowns. Violence intensified as houses got torched and mangoes plantations got cut down.
Our research team further established that Kagolo and one Mateka, during COVID-19 lockdowns, they brought over 1000 heads of cattle and started grazing them on people's farms. The cattle keepers were allegedly armed with rifles for about a month.
The same Land Board of Kiboga district on December 2022 got suspended by the Minister of State for lands Dr. Sam Mayanja over land fraud.
Currently, the suspect is being held at the Kiboga district Central Police Station.