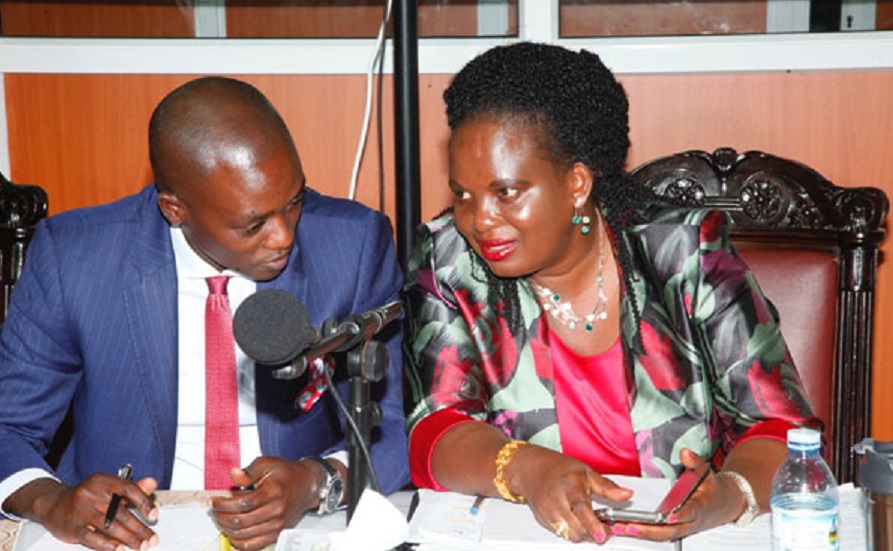 Lands minister Betty Amongi has today appeared before the Commission of Inquiry into land matters for the second time to answer questions regarding Asian property dispute and management of the land fund.
Ms Amongi yesterday appeared before the Commission for grilling after President Museveni directed her to heed to Justice Catherine Bamugemereire's summons.
This was after she shunned the first commission summons that directed her to appear on Monday, reasoning that she would first seek Cabinet approval.
Ms Amongi walked on Tuesday into the Commission's hearing hall at the National Records and Archives Centre in Wandegeya at 12.30pm and was grilled on matters related to line minister's role in handling of the land fund, issues related to her company, Amobet Investments limited and handling of dispute related to property on Plot 29 Acacia Avenue in Kololo.
She answered some of the questions but apparently the package of the questions the land probe had prepared for her was not exploited, thus directing her to appear for the second time, today.
Accusations
On Friday last week, the land probe chaired by Justice Catherine Bamugemereire quizzed Mr Albert Jethro Mugumya, the Uganda Land Commission (ULC) Undersecretary, in connection with the involvement of Ms Amongi in the management of land fund.
It is alleged that in 2016, Ms Amongi directed Mr Mugumya to effect payment of millions of shillings under the land fund contrary to her mandate.
Mr Mugumya admitted that Ms Amongi directed him to make the payments to various people citing special requests.
Mr Mugumya who declined to divulge details, testified that the minister's involvement amounted to micro management of the land fund contrary to her role of providing policy guidelines.
Documents presented before the land probe shows that on November 23, 2016, Ms Amongi directed Mr Mugumya for urgent payment of land compensation of more than Shs620 million to nine people.
In another letter dated October 31, 2016, Ms Amongi directed Mr Mugumya to effect payments for special consideration to two sick persons.
According to the letter, the minister directed Mr Mugumya to advance Shs100 million out of Shs776,780,000 as payment claim for Ms Victoria Kakoko-Sebagereka who was very sick and due for treatment abroad, and Shs50million of Shs210 million to a one Mzee Kuriash Barinda of Isingiro.
"I have received many urgent pleas for consideration for payment from Uganda land fund which cannot all be accommodated this quarter due to limited funds. However, exceptional two cases that require our humanitarian considerations," reads the minister's letter.
In another letter dated November 29, 2017, Ms Amongi directed for payment of Shs675.8 million to Yisaka Lwakana for land at Kooki, Katete.
"The payments were effected basing on special requests as indicated in the minister's letters and the land is known to ULC as per the records," said Mr Mugumya adding that he complied with the minister's directive upon making consultations with the chairman.
Evidence presented before the land probe indicates that Ms Amongi contravened the Public Service Standing Orders when she directed the accounting officer (Mugumya) instead of the ULC chairman to effect the payments.
Earlier on, Ms Amongi was accused before the Commission for allegedly attempting to fraudulently acquire and grabbing of property in upscale of Kololo, Kampala District.
The property in dispute is comprised on Plot 29 under leasehold number 235 Acacia Avenue in Kololo registered in the names of Toshak Munubhai Patel.
It is alleged that in December 2017, Ms Amongi through her company, Amobet Investments Limited acquired temporary possession of the property after it was repossessed by the Asian family in 1992.
Documents indicate that the allocation by Amobet Investments Limited was signed by George William Bizibu, the Executive Secretary of the Departed Asian Property Custodian Board.
Evidence presented before the seven-member Commission shows how government officials at the Uganda Land Commission (ULC) in connivance with businessmen and influential people in government offices fraudulently acquired billions of Shillings from the land fund.
The land fund was established under Section 41 of the Land Act to bring to an end the long standing conflict in regard to multiple interests on land in the counties of Bugangayizi and Buyaga, Bunyoro Sub region.
Source: Daily Monitor
…