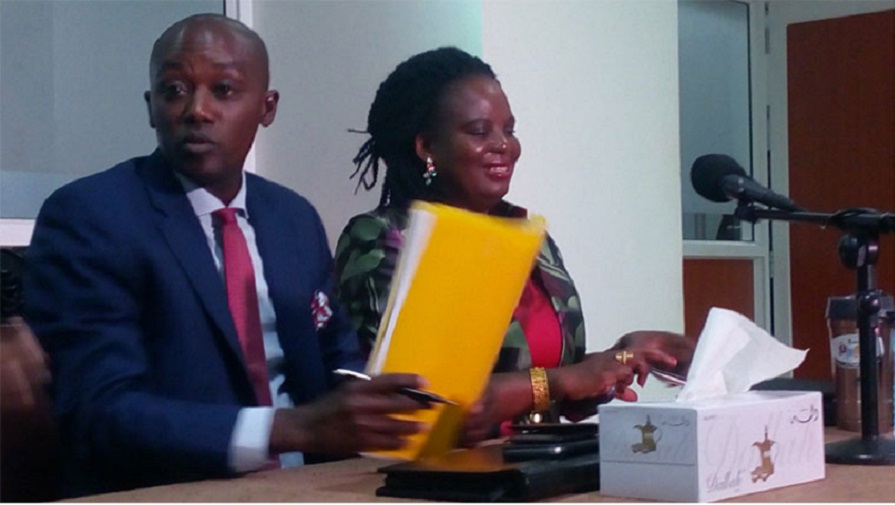 Accused of conflict of interest, Betty Amongi, the minister for Lands was nudged yesterday by a rather angry Justice Catherine Bamugemereire to resign.
Appearing before the Justice Bamugemereire-led Commission of Inquiry into Land Matters; Amongi tried hard but failed to separate herself from the questionable actions of her private company, AMOBET Investment Ltd.
According to the commission, the minister's company forged land titles and fraudulently acquired four high-end government properties. The minister runs the company with her sister, Ketty Amongi, a Lira-based businesswoman.
During cross-examination, Justice Bamugemereire asked the minister whether she knew what conflict of interest means and the consequences it carries for a culpable senior government official such as a minister. Before she could answer, the judge asked the minister to read out loud the Leadership Code Act section 5 sub-sections 1 and section 12 sub-section 2.
In reading out loud, the minister said, "A leader cannot put himself or herself in a position in which his or her personal interests conflict with his or her duties and responsibilities. A leader shall not participate in the deliberations of a public body or board or council or commission or committee of which he or she is a member at any meetings at which any matter in which he or she has personal interest is to be discussed."
She added, "A leader who contravenes that sub section 1 breaches the code and is liable to vacate office or be dismissed…"
"Don't you see that this Leadership Code Act is asking you what to do?" the judge said, sending a rather tense minister and the audience gathered in the National Records Centre and Archives Building in Wandegeya into laughter.
Before she finally showed up yesterday at 9 o'clock, the minister had skipped two summonses, which prompted an angry Bamugemereire to issue the latest criminal summons.
Amongi is accused of attempting to fraudulently acquire property on Plot 29, Acacia avenue in Kololo, Kampala.
The property in dispute is under leasehold number 235 and registered in the names of Toshak Patel, an architect.
But the minister insisted that all operational functions of the company were executed by the managing director called Henry Mubiru.
Amongi denied knowing the disputed property on Plot 29, Acacia avenue. But documents in possession of the commission showed that the minister has in the past signed off many transactions as managing director of AMOBET.
It is alleged that inDecember 2017, Amongi through her company, AMOBET, acquired temporary possession of the property after it was repossessed by the Asian family in 1992.
Documents indicate that the allocation by AMOBET, Investments Limited was signed by the executive secretary of the Departed Asians Property Custodian Board (DAPCB), George William Bizibu.
Bizibu who appeared before the Commission on May 7, made some contradictory statements and was subsequently detained for further questioning.
He was also instructed to present to the Commission, documents on the alleged board meetings he held. During cross examination, the seven Commissioners found that Bizibu, without the consent of the full DAPCB board, underestimated properties owned by government and doled them out at giveaway prices.
A case in point is the above mentioned property on Plot 29 Acacia Avenue which commands rent of US$9,000 per month, but was fraudulently allocated to somebody else at a paltry US$150 per month.
While there are no exact figures, reports indicate that government has lost billions of shilling through these shoddy dealings.
Last week, the land probe questioned the Uganda Land Commission (ULC) Undersecretary, Albert Jethro Mugumya, in regard to the minister's hand in the management of the land fund. It is alleged that in 2016, Amongi directed Mugumya to pay millions of shillings under the Land Fund contrary to her mandate.
Mugumya said Amongi directed him to make the payments to various people citing special requests.
Mugumya who declined to divulge details, said Amongi's involvement amounted to micro management of the land fund contrary to her role of providing policy guidelines.
Documents presented before the commission confirm that on November 23, 2016, the minister directed Mugumya to make an urgent payment of land compensation of more than Shs 620 million to nine people.
In another letter dated October 31, 2016, Amongi directed Mugumya to effect payments for special consideration to two sick persons.
According to the letter, the minister directed Mugumya to advance Shs 100 million out of Shs 776,780,000 to Victoria Kakoko-Sebagereka who was very sick and due for treatment abroad, and Shs 50 million to a one Mzee Kuriash Barinda of Isingiro.
In another letter dated November 29, 2017, Amongi directed the payment of Shs 675.8 million to Yisaka Lwakana for land at Kooki, Katete.
"The payments were effected basing on special requests as indicated in the minister's letters and the land is known to ULC as per the records," said Mugumya adding that he complied with the minister's directive.
Evidence presented before the land probe indicates that Amongi contravened the Public Service Standing Orders when she directed the accounting officer instead of the ULC chairman to effect the payments.
Extracted from the observer
…