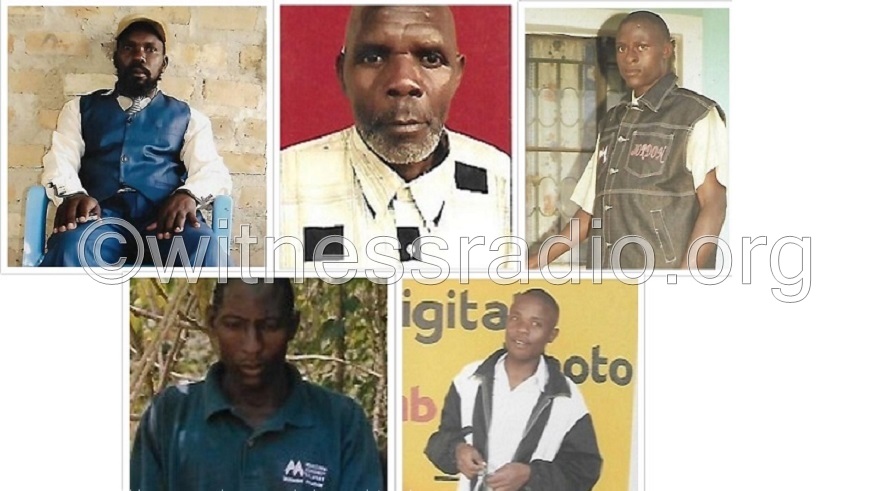 By witnessradio.org Team
A sitting judge at Mubende High Court Justice Joseph Mulangira has declined to hear a bail application for seven community leaders who resisted illegal land eviction by Formosa limited, got kidnapped and charged with murder and aggravated robbery. Formosa limited is a Chinese Tree planting company.
Paul Sinamenya, Richard Ssemombwe, Fenehansi Kaberuka, Esau Hategeka, Godfrey Bukenya, Yonnah Ssebanenya and Sserugo Sam Ssemigo are among the 1400 bonafide occupants on the 10 square miles chunk of land being taken with no consultation and adequate compensation by Formosa limited with assistance from Mubende police and office of Mubende Resident District Commissioner (RDC). An RDC is president representative at a district.
The 10 square mile land used for substance farming by majority indigenous communities covers eight villages that include Butolo, Kyedikyo, Namayindi, Kitebe, Kisiigwa, Mukiguluka, Busabaala and Kicuculo all found in both Maddudu and Butoloogo Sub Counties, Mubende district.
Through their lawyers Rwakafuuzi & Co. Advocates, the suspects applied for bail last November 2017 until today where it was heard and denied to the suspects.
Prosecution led by Richard Birivumbuka said, investigations into the case are complete and ready to proceed with the hearing.
Court has now fixed the 18th/04/2018 as a hearing date
…