Mubende Land Grab: Land grabbing is costing children's right to food and education in Mubende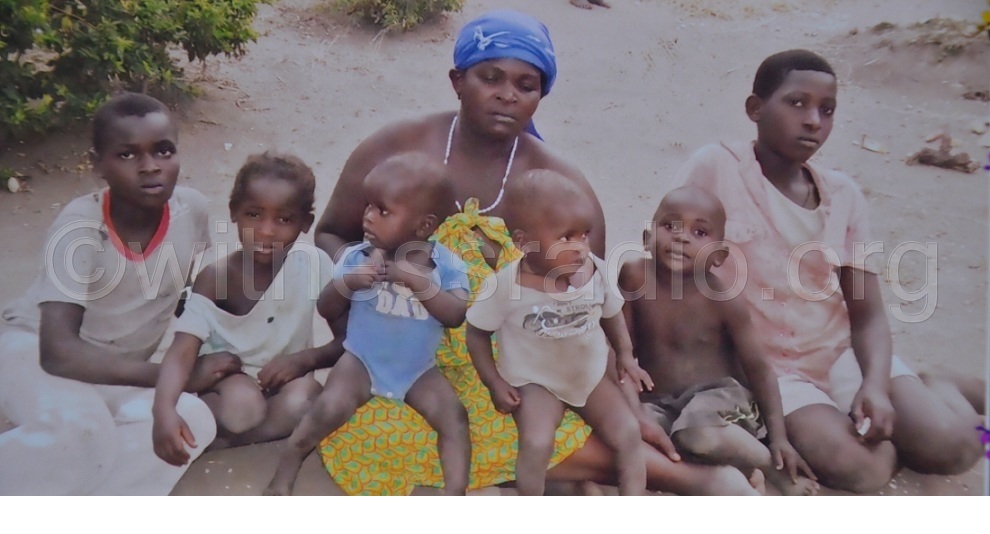 By witnessradio.org Team
A mother of 8 children whose husband was kidnapped by agents of tree planting company is struggling to feed her children and raise school frees. Since the family land was grab by Formasa company, children dropped out of school and suffering from hunger and starvation.
Nanyunja Annet, a wife of Ssemmombwe Richard, 43 currently in prison, said they forcefully lost their marital house
and land equivalent to 10 acres to the Formasa company. "Our land has been a source of food and school fees for our seven (7) school going children" Said Nanyunja…
She added that the grabbing of their land occurred shortly after the disappearance of her husband Ssemmombwe who had refused to vacate it without adequate compensation.
Ssemmombwe, a resident of Butoro local council 1, Maduddu sub county was kidnapped from his home on 18th/07/2017 at 10:00am by unidentified men in plain clothes and whisked away in a private numbered salon car. Ssemmombwe is a father of 8 children with the youngest being a pair of twins aged one year old.
According to Nanyunja, Ssemmombwe was kept in unknown detention center for 8 (eight) days before he was paraded before magistrate court in Mubende. He was later charged with aggravated robbery and murder before being remanded to Kaweeri prison, where he's currently being imprisoned.
Nanyunja said after losing their land, she's being hired as a casual laborer to raise money to feed her big family.
…
LOCKDOWN VIOLENCE ALERT: As lockdown bites, multinationals resort to the use of herds hired from pastoralists to evict locals off their land.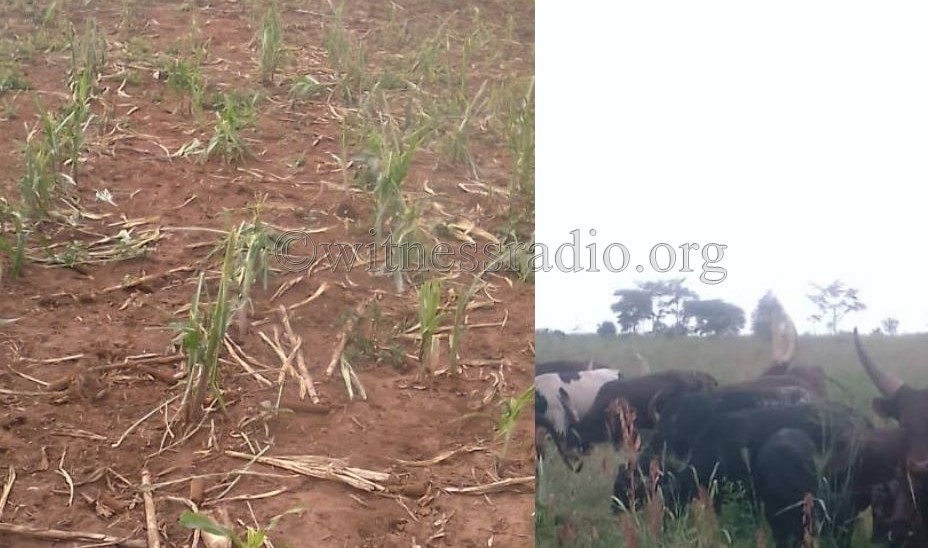 A herd of cattle after destroying a local resident's maize plantation.
By witnessradio.org Team
Kiryandongo – Uganda – As natives continue to resist illegal evictions, multinational companies opt to hire livestock as a new tactic to forcefully evict smallholder farmers from their land.
Ever since the government of Uganda announced the second lockdown, on 6th June 2021,  to curb the spread of COVID-19 and a blanket lockdown further on June, 18th 2021, dozens of local farmers are crying foul for their gardens that have been ravaged their gardens and destroyed food crops by animals brought by multinationals including Agilis Partners Limited.
On June, 18th 2021, on top of the closure of schools and a ban on inter-district travels, closure of courts, the government announced a total ban on both private and public transport, reduced human workforce presence in public offices to 10, and announced a stay home for 42 days.
The violence from multinationals, which started with the arbitrary arrest of four people including two community land rights defenders; Baluma Sepriano, and Martin Munyansi, has now spread to gardens owned by smallholder farmers, which have been a food basket in the presence of the lockdown.
It is important to note that since 2017, families whose land is targeted by multinationals have experienced cruelty ranging from rape, defilement, and gender-based violence as a tool to evict women and girls, houses have been torched, kidnaps, torture, arbitrary arrests, to beatings, among others.
Witness Radio – Uganda findings, indicate that Agilis Partners Limited is one of the multinationals that has allegedly hired cattle to destroy the communities' food baskets and cause hunger to evictees, which in the end the situation at hand would force poor communities off the land. Other multinational companies include the Great Season SMC Limited and the Kiryandongo Sugar Limited.
Since the second lockdown started, about 15 homesteads have lost family gardens to animals. The 15 homesteads are owned by individuals who are part of the 35000 that are forcefully being evicted by three multinationals. More than half of the evictees have lost their farmland to multinationals as more land is acquired by force.
Mr. Samuel Kusiima is among the residents affected, he said all his crops including maize, beans, banana plantations, and groundnuts have been destroyed.
The 45 year- old's dream was to build a better house for his family after the harvest but all this was shuttered by the Balaalo's invasion.
"Look at my house, it is leaking, I bought seeds with my hard-earned money intending to construct a better house but all of my crops have been destroyed," he added.
Mr. Kusiima fears that their families are at risk of being attacked by famine since they are left with nothing to feed on.
"We don't have anywhere to get food and these people do not mind, they say they paid for the land. This is to force us to vacate our land for large scale plantations but we shall not," he added
M/s Harriet Mbabazi, another resident, says the pastoralists locally known as Balaalo invade her land at night with their animals and graze on her food crops.
"The first time they came was at around 2:00 AM in the night, I heard a loud noise and at first I thought they were buffalos passing. When the sound could not stop, I decided to sneak through the window to see what was happening. This is where my eyes landed on a large herd of cattle in my garden. I did not know who owned the cattle but I had heard of several other villagers before complaining about the cows" Mbabazi added.
"I had over 56 acres but the 53 were taken by the company, with only 3 acres of land, and all I had planted was destroyed. This is our land, we are Ugandans and they found us here. We shall not leave it and we are ready to defend it. What do they want us to do!" she further added.
To understand the amount of money Balaalo paid, the size of land they will be working on and the amount of time/ number of seasons they will take while using the land, Witness Radio – Uganda contacted the manager of the company Mr. Odong Sam for the truth of the matter, but he refused to comment. Instead, he invited Witness Radio – Uganda to their offices.
Fresh arrests of land rights defenders, villagers in a newly announced second COVID-19 lockdown in Uganda…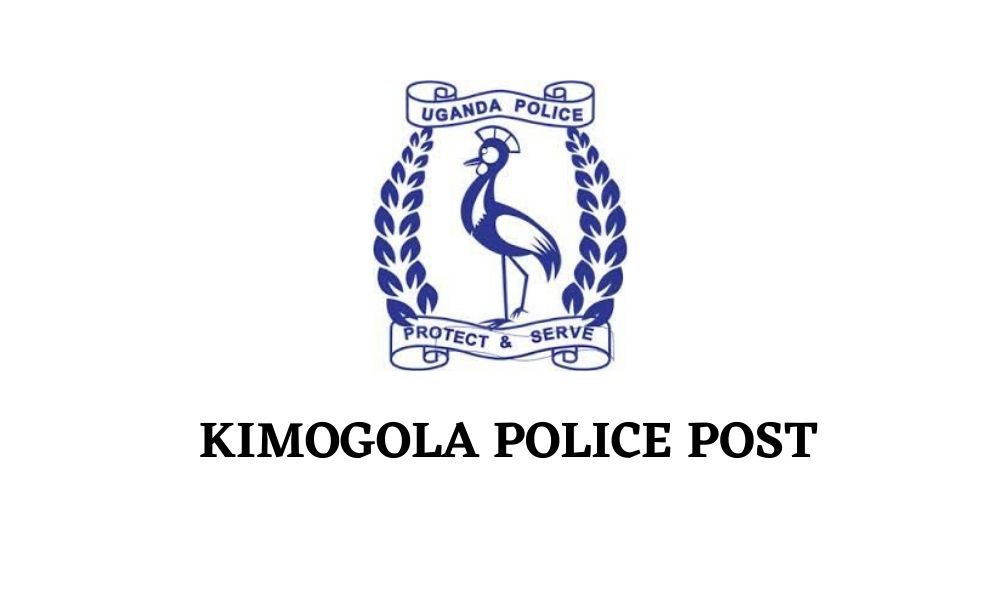 By witnessradio.org Team
Kiryandongo – Uganda, barely a week and few days into the second COVID-19 lockdown, multinationals have again taken the advantage of the situation and returned to the use of violence to dispossess poor communities of their lands and properties as four people including two land rights defenders have unlawfully been arrested by police guarding Great Seasons SMC Limited plantations.
Apart from being uniquely vulnerable to the health risk, no access to public transport, or courts of law posed by COVID-19 lockdown, multinationals are taking advantage of the situation to harass and intimidate villagers to grab their land.
In the first lockdown, which was announced on March, 18th, 2020, and eased later in the year, Witness Radio – Uganda documented more than 120 cases of criminalization of land rights defenders. Illegal arrests were made and persecutions fuelled by multinationals and their agents.
The second COVID-19 lockdown was first announced on June, 06th 2021, and later revised by the government on June, 18th 2021 is expected to last for the next 42 days. 234 deaths of Ugandans due to COVID-19 were recorded in one month of May 2021.
The four victims include land rights defenders; Baluma Sepriano, and Martin Munyansia, and the other two villagers identified as Byaruhanga Ronald aged 16, and Godfrey Munyansia aged 24, all residents of Jerusalem- Kisalanda, Kitwala sub-county in Kiryandongo district.
Both Baluma and Munyasia have pending police and court cases both at Kiryandongo central police station and Grade I (One) Magistrate court emanating from their land rights defense work.  Munyansia and the other seven (7) land rights that are charged with threatening violence are set to appear in court on August 6th, 2021 for trial.
Eyewitnesses told Witness Radio – Uganda that the operation that led to the unlawful arrest of the four people was led by the Officer in Charge (OC), Kimogola police Post, Bagadya Steven, and Abula Felix, a police officer heading the Police Protection Unit attached to Great Seasons SMC. Others in the operation were five (5) private security guards attached to the company that was armed with spears, bows, and arrows.
Eyewitnesses further explained that the police and guards attacked the families from their gardens in Kisalanda, claiming that they had trespassed on company land.
"They came in a white land cruiser numbered UBF 417C owned by Great Seasons SMC. Handcuffed and arrested them from different localities. Baluma was beaten in the process. Police and guards were loudly saying that communities have no land and they should vacate it," one of the locals said.
Great Season SMC is among the three multinational companies that have perpetrated violence and forcefully evicted natives off their land. The others are Kiryandongo sugar company and Agilis Partners limited.
It's also important to note that so far two people, one is a Kiryandongo district lands officer and a land broker have been arrested and charged with three counts including fraud in connection to grabbing this very land from poor communities.
Since 2017 when the multinationals entered on this land, local communities have experienced unabated violence being perpetrated by companies' agents (private security guards, and police officers attached to Kiryandongo district police) including, sexual and gender-based violence, illegal arrest and detention, torture, kidnap, demolition of houses, cutting down their food crops, and stealing their household properties among others.
The four are being held at Kimogola police post waiting to appear before the court.
waiting to appear before the court.
A senior lands officer is arrested in connection to the Kiryandongo district land grab saga.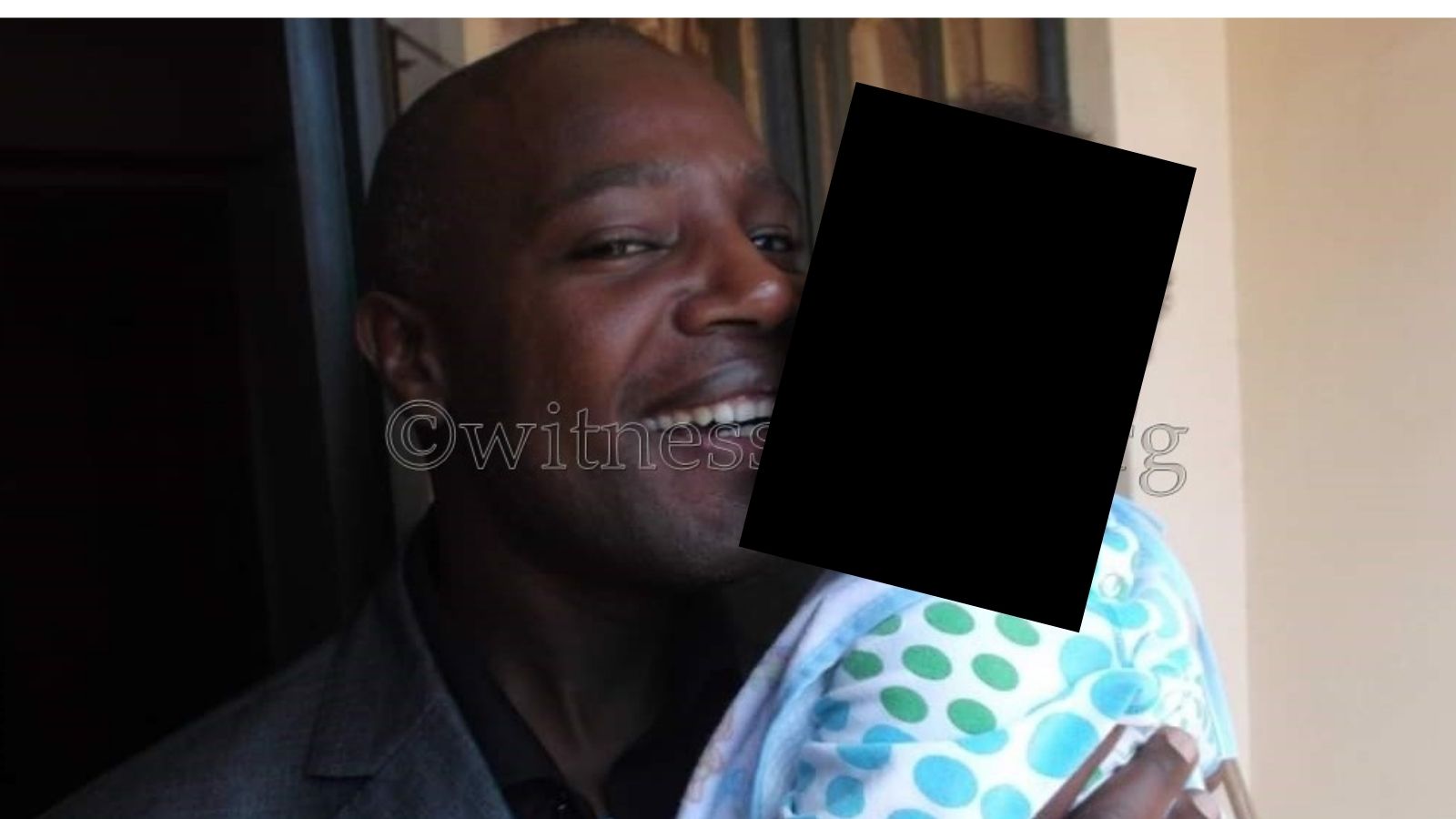 A photo of a Kiryandongo senior lands officer John Lubambula.
By witnessradio.org team
Kiryandongo – Uganda – A team of police detectives attached to the Land Protection Unit, the Special Investigations Unit (SIU), and the Criminal Intelligence and Investigation Directorate (CIID) have arrested a senior lands officer, Kiryandongo District Land Board for land fraud that caused a forced displacement of thousands of natives off their land.
John Lubambula is the second person to be arrested in connection to the Kiryandongo district land grab saga after a land broker Mwesigye Reuben, who was arrested and charged with three counts including fraud by a chief magistrate court based in Masindi district, mid-western Uganda.
According to police investigations, While acting as the secretary to the Kiryandingo District Land Board, Lubambula John, Mwesigye Reuben, and others at large, fraudulently transferred land ownership comprised in Block 7, Plots 66, 68, and 69 at Kimogora in Kiryandongo, and gave it to multinationals for large scale agribusiness.
Police investigations further establish that upon stealing land from the poor communities, the benefactors created plots of land and shared them amongst themselves.
The stolen land belonged to families that are part of the 35000 people being forcefully displaced by three multinational companies including Great Seasons SMC Limited, Agilis Partners Limited, and Kiryandongo Sugar Limited.
The communities plagued by the continued forced evictions comprise three categories: The first category consists of people who were born on the land since 1935; the second, those that settled on the land during and after civil wars, including the Lord's Resistance Army (LRA) which lasted for 2 decades in Northern Uganda from the late 1990s; and lastly, those who settled on the eviction site at the instance of government in 2011 through the Nyamalebe Landless Association.
Victims of forced land eviction accuse the group of land brokers of perpetrating violence through hiring and using machete-wielding men, private security guards, and police officers attached to Kiryandongo district police to commit violent acts which include: sexual and gender-based violence, illegal arrest and detention, torture, kidnap, demolition of houses, cutting down their food crops, and stealing their household properties among others.
"We are dying of hunger, we have nowhere to dig, and all our farming gardens were taken by the grabbers. If they see you digging, you are beaten and arrested and charged," said, Martin Haweka, one of the project-affected families.
Led by detective Richard Ekebu, Lubambula was arrested from his office located at Kiryandongo district land board, at 1:30 pm local time on June, 16th 2021.
Lubambula is currently being detained at Kabalaga police station, waiting to be taken to Masindi magistrates court.