The criminal trial of 8 land rights defenders is set to take off tomorrow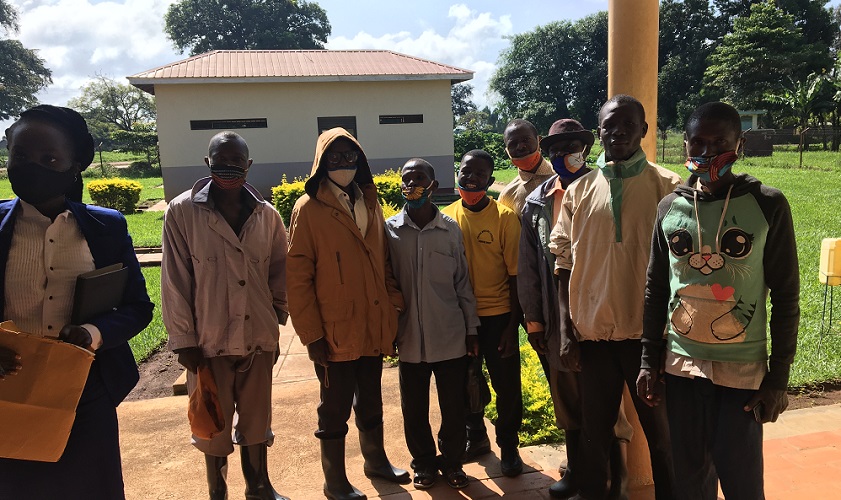 By Witnessradio.org Team
Kiryandongo – Uganda – the criminal trial of the 8 land rights defenders is set to start tomorrow December 15th, 2020, at 10 am at Kiryandongo Magistrate's court. This follows after the flop of the November trial due to the absence of the magistrate.
Fred Mwawula, Ramu Ndahimana, Samuel Kusiima, Martin Munyansia, Martin Haweka, Amos Wafula, Eliot Talemwa, and George Rwakabisha are facing a prison sentence of four years upon conviction of threatening violence charge.
The prosecution alleges that on September 4th, 2020 the eight and others at large while at Kisalanda, threatened to harm one of the police officers guarding Great Season SMC limited's plantation.
On November 12, 2020, the prosecution made the disclosure and informed the court that investigations were done and the prosecutor's chambers were ready to proceed to trial.
Before the illegal arrest and prosecution of the 8 defenders, NGOs including Witness Radio – Uganda, GRAIN, and Alliance for Food Sovereignty in Africa released a Kiryandongo report "landgrabs at gunpoint", which exposed gross human rights violations and abuses committed by security agencies and 3 multinationals against communities. The motive for persecution is regarded as retaliation from district security agencies and multinational companies pinned in the report.
The defenders believe that the charges brought against them are linked to their human rights work of mobilizing and empowering communities to legally resist the forceful and violent evictions.
A government project is pushing hundreds of families off the land without re-settlement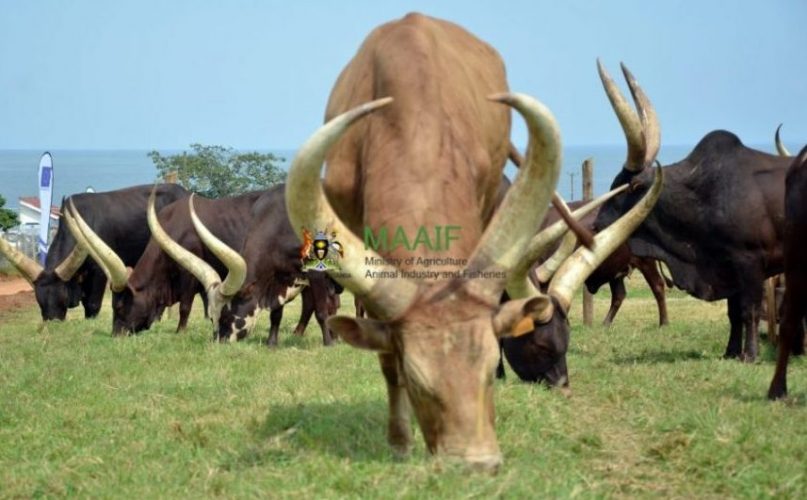 By witnessradio.org Team.
Lyantonde – Uganda – without any informed consultations or community engagements, the government of Uganda is constructing a world-class pre-export quarantine facility for animals on a piece of land which has been feedings hundreds of native families for more than three decades.
Once the project takes off, a source of food, employment, education, and a provider of finances to meet basic needs for hundreds of families will be no more.
According to the Ministry of Agriculture, Animal Industry, and Fisheries, the facility will act as a quarantine ground for animals before export for a specified period of time for veterinary observation, sampling, testing, and vaccination among others.
The project which targets land measuring approximately 98.2 Hectares, shall facilitate the export of animals and meat in bulk from Burundi, Rwanda, and DR Congo, and other neighboring East and Central African countries.
But, Grace Batine, 57 years and a mother of 12 children who has been deriving a livelihood from the targeted land says, the project is shattering the future of her family as it will deprive them of the right to food and other basic rights.
"I settled on the land in 1994, which has been a source of everything. When the government decided to develop it, why do they fear to consult us and whose responsibility is it to protect and care about our wellbeing? Do they want the European governments to care for us if they can't," a poor Batine questioned.
Benon Musinguzi, a resident of Makukulu Village, says they only want the government to compensate if not, resettle them because they have nowhere to go.
"We respect the government's move to construct the facility but it would not be fair if they evict us from our only livelihood. We think if they have no money for the compensation they should allocate to us part of the land for us to continue thriving. We admit this is not our land but for more than 30 years we have been on this land," adds Musinguzi a father of 8.
In an interview with the land desk officer at the Ministry of Agriculture, Bruce Turyatunga, claimed the move to evict residents is ready and the government shall not even compensate a single coin to them since they illegally occupied the land.
"This is a government land that was surveyed and we have a title on it, how do you compensate someone on your land, we are even consulting from the Attorney General and Administrator-General to see how these people can compensate us for using our land for all that time," Mr. Turyatunga added.
2,000 Karimojong flee to Teso in search for food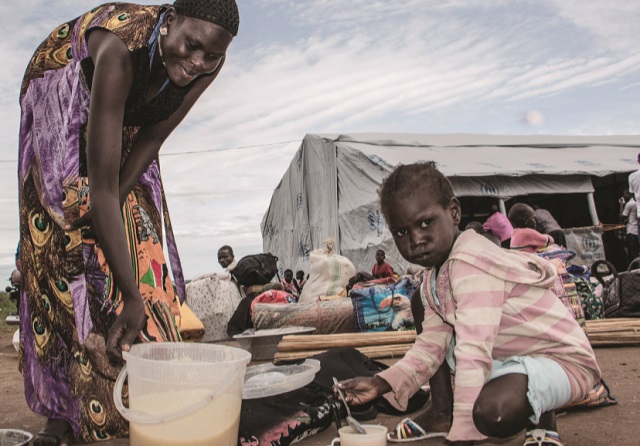 Kampala, Uganda | Several families in Napak district in the Karamoja sub-region have fled their homes into the Teso region to search for casual jobs. This follows the current food shortage which is hitting the region.
Joseph Lomonyang the Napak LC V chairperson says that over 2,000 people mainly from six sub-counties of Matany, Lopei, Lokopo, Lorengechora, Iriiri and Apeitolim have crossed to the neighbouring  Teso districts of Amuria, Katakwi, Kapelebyong and Soroti looking for food.
According to Lomonyang, the number of people to flee the district is most likely to go higher given the current hunger situation.
"Last year, very many people planted crops but all the crops got destroyed by floods making our people vulnerable," he said.
Elijah Lobucel, the Lokopo sub-county chairperson said everyday mothers and their children walk while those who can afford the costs pay for transport to Teso.
"What we are advising them is not to go to Kampala streets, but if its going to Teso for work to get food it is not bad since the Itesot are brothers and sisters under Ateker cluster," he said.
Jimmy Tebenyang, the district councillor for Ngoleriet sub-county in Napak district said many children were getting emaciated as a result of lack of enough food.
"There are families where you find children yawning from morning to evening without eating anything and that is why we are calling the government to come to the rescue of people," he said.
Robert Okitoi, the LC V chairperson Amuria confirmed the presence of Karamoja families in the district and urged the Itesot families to treat the Karimojong as their brothers and sisters.
He also appealed to other district leaders in the Teso region to receive the people of Karamoja with a good heart and share the little they have.
"This is the situation that requires to share, I call upon the people of Amuria and Teso at large that not all the Karimojong are bad people, those who are bad disturbing to raid people of Teso are few and so we should not victimise every one because the law will deal with those raiding but let's support the Karimojong families," he said.
******
Source: THE INDEPENDENT 
A local businessman embroiled in land-grab scandals, is in a new case of illegal land eviction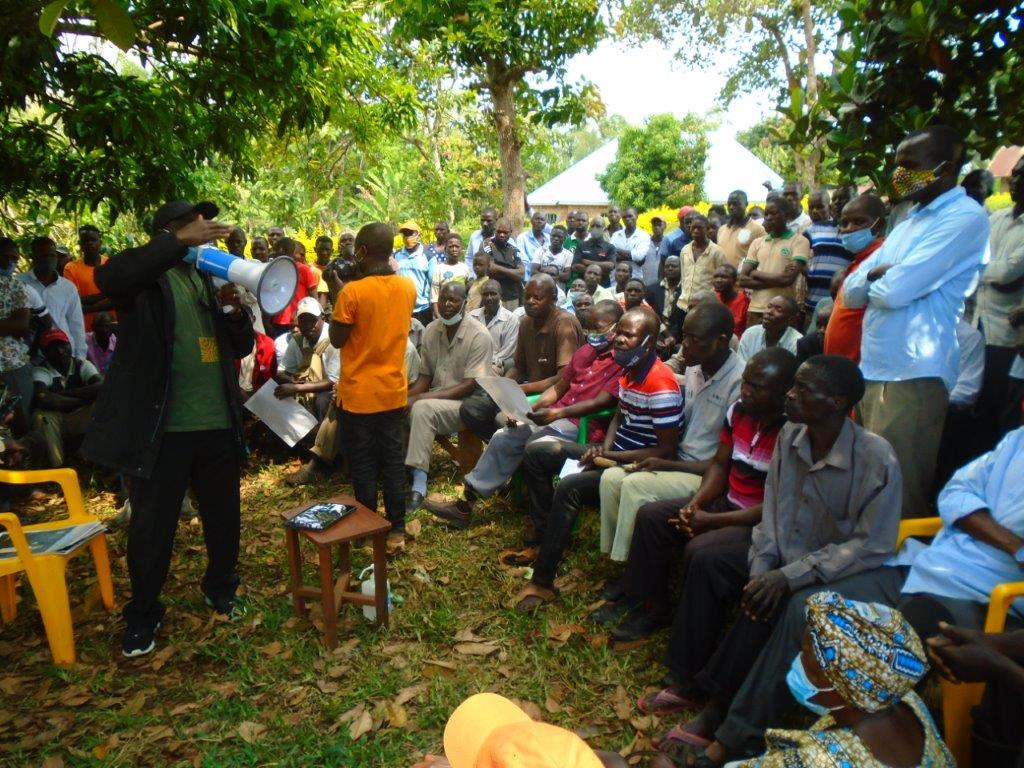 By witnessradio.org Team
Hoima – Uganda – Hoima – Uganda – at least six villages in the Hoima district are on the verge of being grabbed from native communities that have derived their livelihood from the targeted land for decades. The land in contention accommodates more than 10,000 residents.
The affected families are from Kigomba, Kyamucumba, Kalyambuzi, Kyataruga, Kamugembe 1 and 2 villages in Kigorobya Sub County in Hoima district.
Residents accuse a prominent businessman Edgar Agaba of illegally acquiring a title measuring about 438 hectares on which the six villages sit.
The affected learned Agaba's move when the leadership of Kamugembe Church of Uganda, which also seats on the land wanted to title its land.
According to one of the church leaders who preferred anonymity, the Bunyoro – Kitala diocese suggested that all churches in the dioceses should have titles in order to secure their land, however, we were surprised to see the land we have occupied for decades titled in someone else's names.
"It's the district land board that halted our work of registering our land on a condition that we cannot obtain another title on the same land," a source added.
The source also revealed that all developments on the church land have been halted due to fear of eviction.
"We are in fear, stranded and we don't even know what is next. That rich man 2 years back evicted our neighboring communities forcefully, and now he is back for us", says a 68 year old Yedida Nyamwabura a resident of Kamugembe II
Nyamwabura who has been on her 6 acres since her birth calls for help from well-wishers to halt the move.
"We shall have to defend our land, we cannot allow him to evict us, though we are experiencing sleepless nights we know we shall succeed," says Christopher Kirisi, a 60 years old resident from Kigomba village in an exclusive interview.
In an interview with the vice chairperson of Kamugembe II LC I, Mr. Tibananuka Johnson, he refers a move as a tactic by Mr. Agaba to evict the villages.
"Agaba claims his surveyors surveyed a different chunk of land, but how comes he is not aware, we imagine if the church had not started a move, it would have remained in silence," added Mr. Tibananuka.
In our interview with Mr. Agaba, he denied the allegations
"I am not aware of what you are talking about, it seems my surveyors made a mistake" he added.
Mr Agaba has been implicated in several forceful and brutal land evictions in areas of hoima, In February 2019, Agaba with the help of the army and the police, forcefully evicted over 500 families off their 485 acres of land from residents of Kyabisagazi 1 and Kyabisagazi 2 villages in Kyabisagazi parish in Kigorobya Sub County. In the brutal eviction four toddlers were reported dead and others with severe injuries.
The toddlers were identified as Samuel Owuuchi, Stephen Ondizi, Rogers Jalwing and Samuel Awungi.