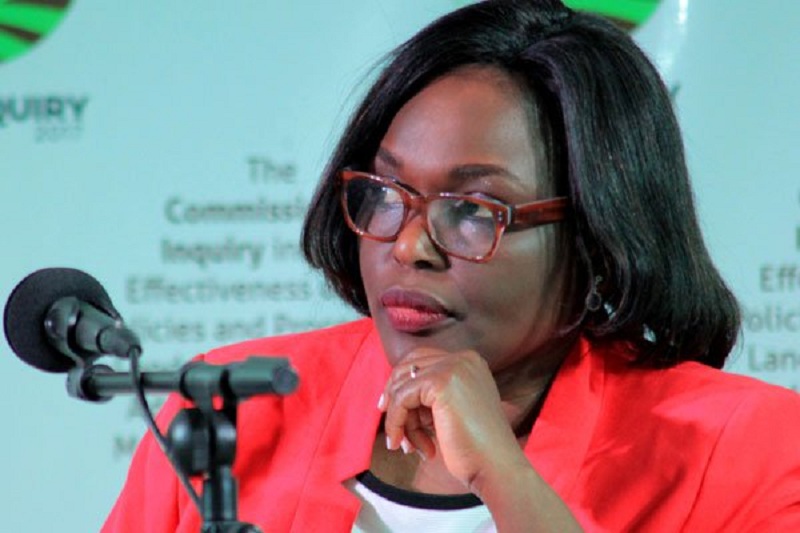 The Chairperson of the Commission of Inquiry into land matters, Justice Catherine Bamugemereire, at one of the public hearings. PHOTO BY RACHEL MABALA
The High Court has quashed the order by the Commission of Inquiry into Land Matters, which had halted payment of billions of Shillings in compensation to businessmen by the Uganda Land Commission (ULC).
In August, the Justice Catherine Bamugemereire-led Commission of Inquiry into land matters instructed ULC chairman, Mr Baguma Isoke to halt any payment from the Land Fund to claimants including Mr Robert Mwesigwa through his company, American Procurement Company (Amproc Inc) pending conclusion of the commission's investigations into alleged dubious payments.
The land inquiry had directed that payment be made directly to the landlords who sold their interests in the various plots of land located at Kyaggwe, Buyaga and Bugangayizi to the businessmen.
However, High Court Judge, Dr Andrew Bashaija, quashed the land commission's directive and prohibited the officials of Finance ministry, ULC and any other government department from implementing the recommendation.
"A permanent injunction doth issue restraining any government department or official or any commission of inquiry from interfering with compensation as directed by court relating to land in issue or any other plot of land which is subject of court judgment or order," the court ruled.
The judge also quashed a decision by the Inspector General of Government to investigate compensation by ULC as well as compensation for the said land having been ordered by court.
Court ruled that the land inquiry order invariably interferes with the independence of the judiciary.
"It cannot be overemphasised that the Commission of inquiry has no mandate whatsoever to issue orders contrary to court orders or judgments over the same subject matter. The commission of inquiry is not a court of law. By ordering payment to persons other than the one ordered by court, the commission of inquiry overstepped its mandate and as such acted illegally," the court ruled.
The judge further ordered: "An order of prohibition doth issue prohibiting the Ministry of Finance officials, the ULC and any other government department or official from implementing the recommendation, decision or order of the commission of inquiry contained in a letter dated August 2, to the chairman ULC from the said commission of inquiry directing that compensation be paid to the landlords."
-Daily Monitor