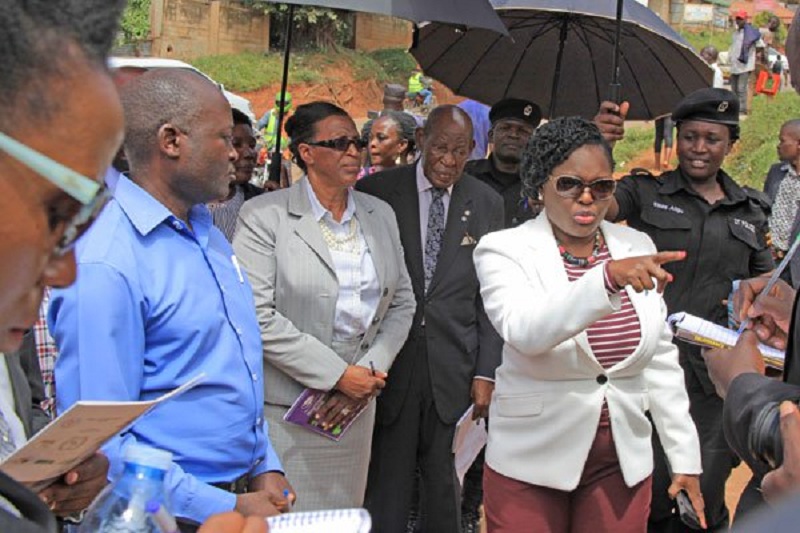 Kampala. The Commission of Inquiry into Land Matters has directed for a fresh boundary opening on various plots of land on Block 185 in Namavundu, Namugongo to establish the right owner of the contested land.
The Commission chairperson, Justice Catherine Bamugemereire, on Wednesday invited all the parties in the Namavundu land dispute to appear with their surveyors before the commission.
A complainant, Mr Stanley Lwanga, petitioned the land probe team in May after his farm was forcibly fenced off by Ms Peninah Karenge Busingye alias Maama Kisanja using a special title on Block 185 Plot 1131.
The plot in the names of Natasha Karenge was created on land where there are 161 existing titles including that of the Auditor General, John Muwanga.
"In order to conclude this investigation, we invited all the parties to come with their surveyors so that we have a fresh boundary opening. We want to get to know whose land passes where," Justice Bamugemereire said.
She said the surveyors for Karenge and Lwanga will work with Wakiso District surveyors and the Commission to reopen the boundaries of the dispute land.
"You people need to agree on a date, so that we get a clear view and know where each person's land passes," Justice Bamugemereire told Lwanga and Karenge.
Among officials present during the issuing of the directive was Wakiso District staff surveyor, Mr Joseph Batume, Dr Ronald Sengendo, surveyor for Mr Lwanga and Senior staff surveyor for Ministry of Lands Zonal Office in Wakiso, Mr Jaspher Kakooza
Ms Karenge, a claimant to the said land, did not come with her surveyor Mr Dennis Asiimwe saying she had received the summons late.
However, other surveyors protested the inclusion of both Mr Asiimwe and Hezekia Mukiibi, the surveyor for the late Kupriano Lufu Kisosonkole because the two are not registered surveyors.
"My lord, Mr Asiimwe is not a registered surveyor. We may have lots of disagreements. I request that Ms Natasha appoints a registered surveyor that will help us to have a meaningful survey," Dr Sengendo told the probe.
Justice Bamugemereire concurred with Dr Sengendo and directed Ms Natasha to appoint a registered surveyor and inform the commission before the commencement of the survey. Justice Bamugemereire assured the surveyors that they would have security while carrying out their work.
-Daily Monitor